The week at a glance
A teasing second week of March tantalized birders nationwide, with signs of spring scattered widely across much of the southern half of Britain and Ireland. Odds and sods seemed to be 'making it through' but, despite the weather, a widespread arrival of summer migrants was still lacking, leaving many baffled south-coast birders wandering around their patches seeing very little in the warm sunshine. Presumably it is still just that little bit early for anything spectacular...
Having said that, the arrival of a Short-toed Treecreeper at Samphire Hoe Country Park (Kent) on 10th was perhaps too easily swept under the carpet following last year's co-operative long-stayer in Suffolk. This latest individual means that Kent has played host to no fewer than 21 of the 26 British records and, with conditions ideal for an early-season overshoot, the report consequently took few by surprise.
However, a few brief glimpses of a female Rock Thrush near Botallack Head (Cornwall) during the afternoon of 13th certainly caused birders to prick up their ears: it's been a long time since the last gettable individual, and a dazzling male on Dartmoor for one evening only in May 2004 is the sole documented occurrence since the turn of the century. Most spring records come from May, but the seemingly early date of this individual is surpassed by a male in Kent in February–March 1983.
It seems that lack of coverage is the likely reason for the sporadic nature of reports of the Gwent Common Yellowthroat: a dearth of reports during the working week was causing concern that the bird had departed, but it was again seen on Saturday 10th and each day after that. 'Sporadic' is certainly a suitable word to summarise sightings of Scilly's wintering Northern Waterthrush, which was again noted at Lower Moors, St. Mary's on 14th.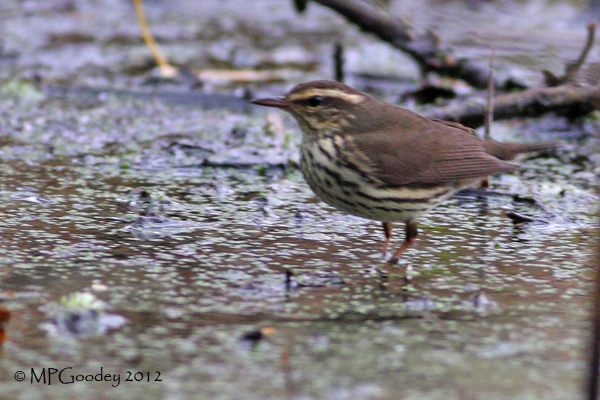 Northern Waterthrush, St. Mary's, Isles of Scilly (Photo: Martin Goodey)
Lack of coverage doesn't seem to be a problem for Hampshire's big birds, though. The Spanish Sparrow was noted in Calshot all week, and the Dark-eyed Junco was still being reported regularly to 11th at least.

Spanish Sparrow, Calshot, Hampshire (Photo: Roy Woodward)

Dark-eyed Junco, Hawkhill Inclosure, Hampshire (Photo: Mick Southcott)
Ross's Geese among Pink-footed Geese at Budle Bay (Northumberland) on 11th and near Forth (Clyde) on 14th are no doubt two of the birds that spent most of the winter in Norfolk (or perhaps even the same bird...?). Another Norfolk bird showed its true colours, reverting to touring with a flock of six Barnacle Geese. The Cumbrian blue-morph Snow Goose raised its (white) head from among the Solway Pink-feet once more, this time at Lessonhall from 12th. Not too far away, the white morph remained with Greylags at Douglas Water (Clyde).

Snow Goose, Douglas Water, Clyde (Photo: Ian Fulton)
The highlight of a full house of lingering Red-breasted Geese was the reappearance of the Essex individual at Old Hall Marshes on 11th–13th. The Hampshire individual relocated to Lepe Beach from 10th, with others still in Suffolk and Dumfries & Galloway. Vagrant white-cheeked geese showed a distinct Irish bias: the smoky Todd's Canada Goose was still near Termoncarragh Lough (Mayo) on 13th, three Richardson's Canada Geese were still at Ballintemple (Sligo) to 12th, and an unassigned 'big' bird was also still at Lurgan Green (Louth). With no reports from Islay, all Britain could muster was the adult Richardson's lingering on at Torr Reservoir (Somerset). Black Brants were reported from Kerry, Wexford, Lincolnshire, West Sussex, Devon and the Isle of Wight.
The drake American Wigeon was again at Rahasane Turlough (Galway) to 13th, with the Orkney bird again at Bay of Suckquoy on 10th. Other long-stayers remained in Devon, West Yorkshire and Dumfries & Galloway, while the Marlingford (Norfolk) individual was last noted on 9th. The appearance of a drake Blue-winged Teal at Pat Reddan's Lake (Tipperary) from 12th was the fourth county record in five years, including spring appearances at the same site in 2008 and 2009. It seems feasible to assume that one returning bird is responsible.

American Wigeon, Anglers CP, West Yorkshire (Photo: Jason Atkinson)
Eight Green-winged Teal were all leftovers: last week's Saltholme (Cleveland) bird relocated to nearby Dorman's Pool, with others still at Farlington Marshes (Hants) and Maldon (Essex). Scottish birds remained at Loch of Strathbeg (Aberdeenshire), Loch of Kinnordy (Angus & Dundee), Kinneil Lagoon (Forth) and Mersehead (Dumf & Gall) while the sole Irish record came from Tacumshin (Wexford).

Green-winged Teal, Maldon, Essex (Photo: Stephen Allen)
A good arrival of Garganey took place, with groups of seven seen at Hove (E Sussex) and Ferring (W Sussex). Other singletons and small groups were widespread across much of the southern half of Britain, and four reached as far northwest as The Mullet (Mayo) on 13th.
Despite Aythya numbers dwindling nationwide, Slimbridge (Glos) held onto the female Lesser Scaup to 13th at least, and the drake was still at Cosmeston Lakes (Glamorgan) before apparently relocating to Chew Valley Lake (Somerset) on 11th–13th. Such a movement is not unprecedented: indeed, the same bird was briefly at Chew in early November before relocating to nearby Wimbleball Lake in December before its arrival in South Wales towards New Year.

Lesser Scaup, Chew Valley Lake, Somerset & Bristol (Photo: Chris Stone)
A drake Ring-necked Duck was a new arrival at Cuskinny Marsh (Cork) from 11th, as was that at Dunfanaghy New Lake (Donegal) on 10th, although another at Lough Atedaun (Clare) on 14th is presumably the same bird as that seen in November. In Cornwall, drakes were still at Par Beach Pool and College Reservoir, while the somewhat restless Ayrshire individual toured both Martnaham and Trabboch Lochs during the week. A female Ferruginous Duck at Linford Nature Reserve (Bucks) on 11th–12th was the sole representative of its species.
Two drake Surf Scoters were still off Llanddulas (Conwy) on 11th, and the female was also still off Morfa Nefyn (Gwynedd). Young drakes remained off Garretstown (Cork) and Mount's Bay (Cornwall), with another still in the traditional location of Largo Bay (Fife) on 9th. A couple of White-billed Divers — off Islay (Argyll) on 12th and five miles north of Buckie (Moray/Nairn) the following day — are hints that the annual spring rush of northbound adults in the north and west of our region is imminent.

Surf Scoter, Morfa Nefyn, Gwynedd (Photo: Peter Wood)
While nothing else seemed to be arriving in more than dribs and drabs, an early rush of overshooting Night Herons enlivened the Southwest with an irresistible splash of Mediterranean colour. A showy adult at Kenidjack Valley (Cornwall) heralded the arrival on 12th, with another reported flying over Tralee (Kerry) that evening. The main event came late the following day, when news of an impressive four — three adults and a first-summer — at Woolacombe (Devon) was made public. It transpired they had also arrived on 12th, and at least three were still present on 14th. A further individual was also found in the county at a farm pond near Halsinger on 13th, and the mini-influx concluded with an adult by the duckpond at Polgigga (Cornwall) during the evening of 14th. If the Rock Thrush is pinned down, they will certainly make for delightful day-list 'padders'.

Night Heron, Kenidjack Valley, Cornwall (Photo: Tony Mills)
Content continues after advertisements
Two Cattle Egret records involved birds at Kingston Maurward (Devon) from 11th and another flying north past Frinton-on-Sea (Essex) the same day. At least 18 Great White Egrets were also spread as far north as Cumbria, with three still at Meare Heath (Somerset), two at Dungeness (Kent) and a sole Irish record from Ballycarney (Wexford).

Great White Egret, Campfield Marsh RSPB, Cumbria (Photo: Judith Rogers)
Several merry bands of Glossy Ibis continued to tour much of England and Wales, with numerous new birds reported. Four flying over Haverfordwest (Pembrokeshire) on 9th may be remnants of the mega-flock in the county several weeks earlier, while three were also still at Marloes. Three at Saltfleet Haven (Lincs) on 9th flew out to sea at Gibraltar Point later that day, only to bemuse everyone by reappearing at their original site the following day. Two also arrived on the Nene Washes (Cambs) from 12th, with up to four still touring several sites in east Norfolk and a further two dropping in at Radipole Lake (Dorset) intermittently. Further north, a new bird at Cowpen Marsh (Cleveland) from 8th eventually settled at nearby Saltholme Pools, while another reappeared at Timoleague (Cork) on 14th. The bird at Heybridge (Essex) is a fine example of the nomadic nature of these creatures: bearing the tell-tale ring "8J9", it has been traced as the same bird that spent February in fields near Borth (Ceredigion) and also briefly visited Broom Gravel Pits (Beds) en route to Essex, marking a fascinating eastward movement of some 340 kilometres. A good Surrey record concerned two over Queen Elizabeth II Reservoir on the evening of 14th. Others remained in Lancashire, Suffolk and Kent (2), with another reported at Draycote Water (Warks) briefly on 11th.

Glossy Ibis, Grove Ferry NNR, Kent (Photo: Mike Hook)
The Pallid Harrier was still to be found roosting at Lough Corrib (Galway) on the occasions it was looked for, while the Emerald Isle also claimed two Rough-legged Buzzards: a new bird near Strabane (Tyrone) on 12th was an excellent record, while the Chapel Island (Down) individual was also seen. A spontaneous occurrence of two at Gedling Pit Top (Notts) on 11th was the highlight of eleven British records, the others coming from usual sites between Shetland and West Sussex. In the warm sunshine, Ospreys were reported migrating over East Sussex, Suffolk, Norfolk, Wiltshire, Staffordshire and North Yorkshire, with one already back at Bassenthwaite Lake (Cumbria) by 10th.
After a brief appearance last week, there was no doubt great relief among county listers when the first-winter Greater Yellowlegs finally settled into a more predictable routine at Loch of Strathbeg (Aberdeenshire) from 9th: it is the first county record since a brief bird on the Ythan Estuary in October 1958, which succumbed shortly after its finding. Also looking relaxed was the Cornish Lesser Yellowlegs, still making visits to Kingsmill Lake throughout the week.

Lesser Yellowlegs, Kingsmill Lake, Cornwall (Photo: Phil Stidwill)
In Ayrshire, the Pectoral Sandpiper continued to poke around happily in the flooded fields at Dundonald Camp, although only one Spotted Sandpiper — the adult at Chew Valley Lake — was reported. Two Long-billed Dowitchers remained at The Cull (Wexford), with the first-winter again at Kidwelly (Carmarthenshire) to 13th. The first arrival of Little Ringed Plovers at sites as far north as Lancashire was to be expected for the time of year.

Pectoral Sandpiper, Dundonald Camp, Ayrshire (Photo: D Abraham)
Three adult Bonaparte's Gulls included a new adult at Stornoway, Lewis (Outer Hebrides) on 10th, with long-stayers still in Cardiff Bay (Glamorgan) and at Ballygalley (Antrim). A relatively convincing description of a first-winter was received from Topsham (Devon) on 9th but, alas, it was not seen again. A dozen or so Irish Ring-billed Gulls included new adults at Pilmore (Cork) and on the Bann Estuary (L'derry), with up to three still at Blennerville (Kerry) throughout the week. In Britain, second-winters were found at Cardigan (Ceredigion) on 9th–12th and Lochgilphead (Argyll) on 13th, with the first-winter still in Ayrshire and adults in Pembrokeshire and Hampshire.

Ring-billed Gull, Bantry, Cork (Photo: Richard Bonser)
Iceland Gulls seem to be on the move: a good shuffle of the pack produced a new record high of at least 88 in Stornoway Harbour, Lewis on 9th. At least 50 around Lerwick (Shetland) included three Kumlien's Gulls, with five Kumlien's among a reduced 20 Icelands at Killybegs (Donegal). Marwick (Orkney) could only muster around 16 birds, but coverage of some of the more remote sites in northwest Highland produced an impressive 32+ at Kylescu on 14th. Just to illustrate there were still plenty about in England, the Upper Poppleton/Wheldrake area of North Yorkshire continues to hold at least six birds. Glaucous Gulls were again much less prominent, although counts of eight from Orkney and The Mullet (Mayo) suggested that there were still decent numbers scattered among the Icelands.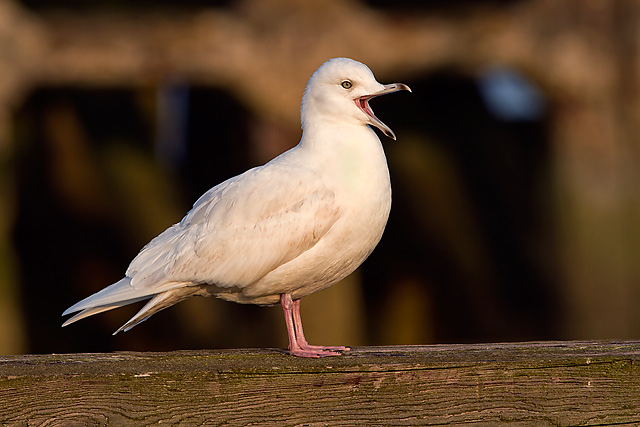 Iceland Gull, Newhaven, East Sussex (Photo: Marc Read)

Glaucous Gull, Dungeness, Kent (Photo: Richard Smith)
A Hoopoe in Lowestoft (Suffolk) on 14th could be the first of the spring but, with a mobile bird present in the town over New Year, could it be the same, elusive individual? Passerine migrants were otherwise relatively thin on the ground, although the first notable push of Wheatears occurred towards the end of the week. Sand Martins were fairly widespread, and the odd Ring Ouzel and Willow Warbler also appeared in the Southwest. A Tree Pipit on Cape Clear (Cork) on 13th was early.
After an absence of a few weeks, the Richard's Pipit was seen again at Wyke Regis (Dorset) over the weekend, while the Siberian Stonechat continued to delight the Irish contingent at South Slob (Wexford) to 12th. Also still in residence was the Black-bellied Dipper on the River Aire in Shipley (W Yorks).
The Paddyfield Warbler continued to show admirably and occasionally give bursts of song throughout the week at Pagham Harbour (W Sussex): it must be feeling altogether more content now temperatures have risen. Last reported on Valentine's Day, the Dorset Hume's Leaf Warbler made a surprise reappearance at Wyke Regis on 11th. A Yellow-browed Warbler was an excellent Worcestershire find at Warndon from 10th, with another reported in Lowestoft (Suffolk) on 12th. Lingering birds remained in West Sussex, Somerset, Devon and Cornwall.

Paddyfield Warbler, Pagham Harbour LNR, West Sussex (Photo: Dave Hutton)

Yellow-browed Warbler, Worthing, West Sussex (Photo: Brian Harrison)
Twenty-something
Great Grey Shrikes
were confined to England and Wales, with two birds again at Thursley Common (Surrey) and four Welsh individuals in Clwyd, Powys, Ceredigion and Pembrokeshire.

Great Grey Shrike, Santon Downham, Suffolk (Photo: Stephen Allen)
Three Rose-coloured Starlings continued to frequent gardens in Hordle (Hants), Holyhead (Anglesey), and Muirhead (Ayrshire), the first-mentioned still singing and showing very well indeed. Belated news leaked out of Breckland that a Coues's Arctic Redpoll had been trapped and ringed at Santon Downham (Suffolk) on 4th, while the regular first-winter also remained at Titchwell (Norfolk) throughout.

Rose-coloured Starling, Hordle, Hampshire (Photo: Mick Southcott)
Last but certainly not least, a spanking male Rustic Bunting was a brief visitor to Heysham Nature Reserve (Lancs) on 14th. Located on call, it tumbled out of the sky into bushes by the visitor centre for a matter of seconds, before heading off high to the north once more. Although early, March records are not unprecedented: indeed, a female occurred in Hampshire as recently as 2010.
Photo of the Week: 8th–14th March

Dipper, undisclosed site, Devon (Photo: Charlie Fleming)
Devon-based bird photographer Charlie Fleming uses the tried-and-tested approach adopted by many of the world's top wildlife photographers, namely to spend day after day revisiting the same subjects in the same location. One of the key advantages of this approach is the increased likelihood of being present when the subjects do something unusual. This approach has helped Charlie to win two previous Photos of the Week and has now earned him a third. His latest image has come out of a month-long project to photograph local Dippers, several images from which he has shared through BirdGuides. On this occasion, the Dipper managed to catch a good-sized Salmon Parr — a much bigger prey item than usual — which it then beat against a boulder before struggling to swallow. Charlie's image is perfectly timed to freeze the action, document the behaviour and sum up the event.
Other notable photos

Red Grouse, undisclosed site, Highland (Photo: Marcus Conway - ebirder)

Gannet, Bempton Cliffs RSPB, East Yorkshire (Photo: Ian Appleton)

Common Crossbill, Upper Hollesley Common, Suffolk (Photo: John Richardson)

Black Redstart, Portland, Dorset (Photo: Simon Johnson)

Great Crested Grebe, Abberton Reservoir, Essex (Photo: Chris Upson)

Gadwall, Coate Water CP, Wiltshire (Photo: Marek Szczepanek)

Black Guillemot, Annalong, Down (Photo: Mark Killops)

Nuthatch, Honingham, Norfolk (Photo: Mark Skipper)

Skylark, North Wirral, Cheshire (Photo: David Cookson)

Common Treecreeper, undisclosed site, Cheshire (Photo: Steve Round)

Bullfinch, Stover CP, Devon (Photo: Rob Cross)

Oystercatcher, Upton Warren NR, Worcestershire (Photo: Stuart Andrews)

Lesser Redpoll, Llandrindod Wells, Powys (Photo: Kev Joynes)