The week at a glance
Persistent westerlies in the second week of November are rarely a recipe for exceptional birding, and so it proved this week: a reasonably quiet week nationwide was broken up by a handful of notable arrivals. One feels that, unless an easterly blow is forthcoming in the next week or two, that might just be that for autumn 2013 — not that we can complain too much!
Indeed, potentially this week's rarest visitor was one very much associated with the winter months: a juvenile Thayer's Gull came in to roost at Cley Marshes (Norfolk) late on 13th, and was still present early this morning [Thursday 14th] before flying off. Presumably the bird is spending the days at Edgefield Tip, south of Holt. This site is unfortunately very difficult to view, so many will be hoping it decides to roost again at Cley this evening.
Other star birds included a smart Black-throated Thrush on Shetland — at Gulberwick then Sound — for three days from 9th. The archipelago is by far and away the most productive area of Britain for the species, boasting 30 previous records including two just last year.

Black-throated Thrush, Sound, Mainland, Shetland (Photo: Hugh Harrop)
The most popular bird of the week, though, was a female Pied Wheatear inland at Collingham Pits (Notts) on 9th–10th, though news was only released after dark on 9th and thus the Sunday was the only day it was available. Birders made the most of this nevertheless, and the bird attracted quite a crowd throughout the day. Many excellent photographs were taken, documenting an unprecedented inland find.

Pied Wheatear, Collingham Pits, Nottinghamshire (Photo: Chris Orders)

Pied Wheatear, Collingham Pits, Nottinghamshire (Photo: Dave Kelsall)
Wintering geese are becoming ever more prominent as November progresses, and at least a dozen Black Brants included returning birds to the familiar north Norfolk sites of Cley and Wells. Irish records came from Ardtermon (Sligo) on 8th–12th, Barrow Harbour (Kerry) on 12th and Bull Island (Dublin) on 7th, where there was also a possible Gray-bellied Brant (or Black Brant × Pale-bellied Brent Goose hybrid) from 11th. With no reports from Islay, the only rare Canada Goose was a Todd's at Rockcliffe Marsh (Cumbria) on 10th. The yellow-ringed Red-breasted Goose was also still in with the Solway Barnacle Geese early on, and the adult was still in Hampshire throughout. At least half a dozen Snow Geese included two blue morphs again at Loch of Skene (Aberdeenshire) on 13th and two still near Rhunahaorine Point (Argyll). Potentially the most interesting goose record of the week, though, was an apparent first-winter Ross's Goose at Marshside (Lancs) from 11th. Though on its own, there was a report of a flyover Snow Goose with Pink-footed Geese at Leighton Moss on 9th — could it be the same bird? The jury is still undecided, but the bird's arrival in late autumn (and its being a first-winter) must count in its favour.

Black Brant, Cley Marshes NWT, Norfolk (Photo: Chris Upson)

Red-breasted Goose, Sturt Pond, Hampshire (Photo: Simon Johnson)

Red-breasted Goose, Milford-on-Sea, Hampshire (Photo: Mike Trew)

Ross's Goose, Marshside RSPB, Lancashire (Photo: Mark Fanshawe)
A first-winter female Lesser Scaup was an expert find at Ballyconneely (Galway) on 9th, and was favouring the same small lough as last year's American Coot. Another, a drake this time, was discovered at the 'traditional' site at Lough Owel (Westmeath) on 12th, while the drake was also still at Chew Valley Lake (Somerset), visiting Blagdon Lake on 9th. A young drake Ring-necked Duck was new at Lough Gill (Kerry) on 11th, with the drake returning to Loughrea (Galway) from 10th. Others were still in Ayrshire, Leicestershire and County Sligo.

Lesser Scaup, Ballyconneely, Galway (Photo: Dermot Breen)

Lesser Scaup, Ballyconneely, Galway (Photo: Dermot Breen)
A drake American Wigeon was new at Marshside (Lancs) on 13th, with a returning drake again at Loch Bee (Outer Hebrides) on 9th, and further drakes remaining in Aberdeenshire and Highland. Green-winged Teal remained on Islay (Argyll) and in Dumfries & Galloway and Gloucestershire. A drake Blue-winged Teal was new at Wellington Gravel Pits (Herefordshire) on 10th, and a single bird was still at Boultham Mere (Lincs) throughout.

Blue-winged Teal, Wellington GPs, Herefordshire (Photo: Philip John Parsons)

Green-winged Teal, Rutland Water, Leicestershire and Rutland (Photo: Bob Pacey)
Two new King Eiders were found this week — a drake off Hascosay (Shetland) on 10th and a female/immature that flew past Rubha Ardvule, South Uist on 11th — in addition to the lingering drake still off Burghead (Moray/Nairn). New Surf Scoters comprised first-winters in Brand's Bay (Dorset) from 7th and off Dungarvan (Waterford) from 9th, and a drake off Mill Sand (Orkney) on 10th. Two remained off Llanddulas (Conwy) all week, and others were still in the Outer Hebrides and County Cork. A White-billed Diver was again off Kirkabister (Shetland) from 10th.

Surf Scoter, Brand's Bay, Dorset (Photo: Brian Harrison)
The Cattle Egret was still on Sheppey (Kent) over the weekend, while 51 reports of Great White Egrets included up to six still at Dungeness (Kent) and twos at Pitsford Reservoir (Northants) and along the Lancashire coastline. A good selection of Glossy Ibis also remained on show, with new birds at Seaton Marshes (Devon) on 8th, and at Tramore (Waterford) and North Slob (Wexford) on 10th, potentially fresh arrivals from the south. One also reached as far north as Wick (Highland) on 8th.

Great White Egret, Dungeness RSPB, Kent (Photo: Richard Jones)
Raptors included a Gyr Falcon at Balemore, North Uist on 9th and the Northern Harriers still in County Wexford and Cambridgeshire. A Black Kite flew over Dungeness (Kent) on 13th though, after a couple of productive weeks, only one Rough-legged Buzzard was seen: the long-staying individual still at Orford Ness (Suffolk) throughout.

Northern Harrier, Ouse Washes RSPB, Cambridgeshire (Photo: Kevin Du Rose)

Rough-legged Buzzard, Orford Ness, Suffolk (Photo: John Richardson)
Content continues after advertisements
Rare waders included an American Golden Plover at Aughinish Island (Limerick) on 8th, a Lesser Yellowlegs at Lepe Country Park (Hants) from 10th and a first-winter Semipalmated Sandpiper in the Knott End/Preesall Sands area of Lancashire from 12th. Three White-rumped Sandpipers remained on the Hayle Estuary (Cornwall) to 9th, with one still on 13th. Two juveniles remained on South Uist to 9th, a juvenile was at Alkborough Flats (Lincs) and Blacktoft Sands (E Yorks) on 9th, and an adult was at Frampton Marsh (Lincs) from 12th — the second to be seen there this month. The Long-billed Dowitcher was again at Keyhaven (Hants) on 13th while, of the Grey Phalaropes seen this week, showy birds remained at Salthouse (Norfolk) on 8th and Roadford Reservoir (Devon) to 10th while a further bird performed well at South Shields (Durham) throughout the day on 10th.

Lesser Yellowlegs, Lepe CP, Hampshire (Photo: Andy Johnson)

White-rumped Sandpiper, Hayle Estuary, Cornwall (Photo: Brian Mellow)

Grey Phalarope, South Shields, Durham (Photo: Colin Bradshaw)

Grey Phalarope, Salthouse, Norfolk (Photo: Josh Jones)
Thayer's Gull aside, rare gulls included new Bonaparte's Gulls roosting at Rostherne Mere (Cheshire) on 7th and at Swillington Ings (W Yorks) on 10th. The adult was again off the Farne Islands (Northumberland) on 9th and the Devon adult commuted between Dawlish Warren and Teignmouth. Eight Ring-billed Gulls included a first-winter at Portavogie (Down) on 9th, and County Galway scored a couple of Kumlien's Gulls: a second-winter at Nimmo's Pier on 10th–11th and an adult at Ross Beach on 13th. Just a handful of Iceland and Glaucous Gulls were seen.

Kumlien's Gull, Nimmo's Pier, Galway (Photo: Tom Cuffe)

Bonaparte's Gull, Dawlish Warren NNR, Devon (Photo: Andrew Grinter)
A Siberian Stonechat spent three days on Westray (Orkney) from 11th, but newsworthy passerines were otherwise in short supply. Typically for November, Dusky Warblers feature prominently, and new birds were at Portland (Dorset) on 7th, St Buryan (Cornwall) on 10th and Berry Head (Devon) on 11th–12th in addition to the Scilly bird again at Covean, St Agnes on 10th–12th. Spurn's Barred Warbler lingered another week, and a second bird was found at Fethard-on-Sea (Wexford) on 8th, staying to 12th. The Subalpine Warbler was also still on St Mary's (Scilly) to 8th. Yellow-browed Warblers showed a strong south-west bias; at least six were at Porth Hellick, St Mary's on 10th.

Dusky Warbler, Berry Head, Devon (Photo: Alan Doidge)
Late Red-backed Shrikes remained on St Mary's and at Pagham Harbour (W Sussex) until 9th, while Rose-coloured Starlings extended their respective stays at Caister-on-Sea (Norfolk), Marazion (Cornwall) and Port Nis, Lewis (Outer Hebrides). The Common Rosefinch was last seen at Carnaby (E Yorks) on 7th, and Red-breasted Flycatchers were still at St Levan (Cornwall) to 8th and on the Pevensey Levels (E Sussex) to 11th.

Rose-coloured Starling, Caister-on-Sea, Norfolk (Photo: Allan Chard)

Common Rosefinch, Carnaby, East Yorkshire (Photo: Dave Mansell)
Gwent's first Penduline Tit was found outside the visitor centre at the Newport Wetlands on 7th–9th, and performed particularly well for the cameras. A young male Serin was a great find at Flamborough (E Yorks) on 13th, and the Little Bunting lingered on North Ronaldsay (Orkney) to 8th. Two Coues's Arctic Redpolls were trapped and ringed during the week: one at Dungeness (Kent) on 7th, and another well inland at Whixall Moss (Shropshire) on 9th. It seems likely that a few more will be found in the coming weeks, given the strong arrival of Mealy Redpolls this autumn.

Penduline Tit, Newport Wetlands, Gwent (Photo: Katie Horrocks)

Penduline Tit, Newport Wetlands, Gwent (Photo: Stevehinton)

Coues' Arctic Redpoll, Whixall Moss, Shropshire (Photo: Allan Heath)
Also continuing to arrive are crossbills, and an impressive flock of a dozen Parrot Crossbills was discovered at Holt Country Park (Norfolk) on 11th, lingering until the end of the review period. A singleton remained in Hemsted Forest (Kent) alongside the male Two-barred Crossbill. Two male Two-barreds were photographed in the Forest of Dean at Woorgreens Lake (Glos) on 9th, while further individuals remained at Broomhead Reservoir (S Yorks), Lynford Arboretum (Norfolk) and Leith Hill Wood (Surrey).

Parrot Crossbill, Holt, Norfolk (Photo: Mike Rawlings)

Two-barred Crossbill, Woorgreens Lake GWT, Gloucestershire (Photo: Gavin Black)
Despite one or two flocks in Scotland, including 52 in Echt (Aberdeens) and 36 at Elgin (Moray/Nairn), Waxwings remained thin on the ground. One was as far south as Beeston Bump (Norfolk) on 7th and there were records of brief birds in both South and West Yorkshire, but there were no other English reports. In total, there were just 22 Waxwing reports on Bird News Extra during the week — compare that to a momentous 1,011 during the corresponding week in 2012! Needless to say, this November is proving somewhat quieter for our news team.

Waxwing reports over the corresponding weeks in 2012 and 2013 — slightly quieter this time out!
So, what next? November has often produced big, unexpected rarities in the past, but the weather charts are looking uninspiring for any arrivals from the east at least. This is particularly galling considering the roll-call Sweden boasted this week: Black-faced Bunting, two Black-throated Accentors, Siberian Rubythroat and Hume's Warbler all suggest that there are still plenty of birds on the move, and that we just need the winds to encourage them a little further west! Arrivals from the west are also far from unprecedented at this time of year, as the American Purple Gallinule on show in Lisbon (Portugal) over the weekend demonstrates. However, a northerly airflow in the early part of the coming weekend will likely kill any great hope for late migrants as colder weather arrives, but there should be plenty of Little Auks about. It's also about time we had another gettable Brünnich's Guillemot — it's been a long time since the long-staying Bressay bird of late 2005!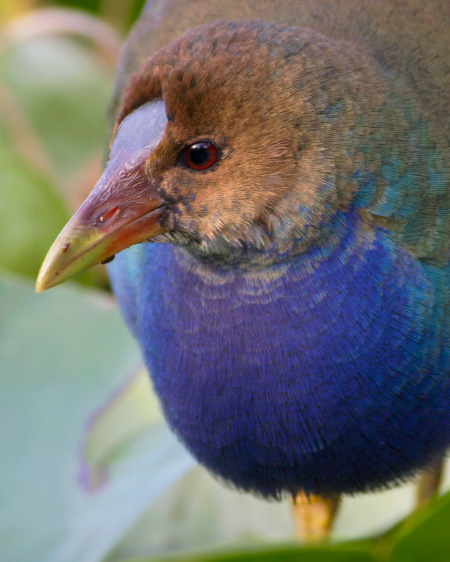 American Purple Gallinule, Portugal (Photo: Josh Jones)
Photo of the Week

Penduline Tit, Newport Wetlands, Gwent (Photo: Dave Perrett)
Since receiving his first Photo of the Week over four years ago, bird photographer Dave Perrett has regularly had images included in our weekly Notables selection, featuring both common and rare birds taken from Shetland to the Scilly Isles. This week, the arrival of a male Penduline Tit to Newport Wetlands in Gwent provided an opportunity for Dave to prove once again that rarity shots can be much more than just record shots. Dave's image shows this tidy individual camouflaged within its typical habitat. Great colours, great pose and a natural setting add up to an authentic environmental portrait.
Other notable images

Kestrel, Widewater Lagoon, West Sussex (Photo: Dorian Mason)

Sanderling, Winterton-on-Sea, Norfolk (Photo: Matt Crosby)

Bearded Tit, Cosmeston Lakes CP, Glamorgan (Photo: Norman West)

Grey Phalarope, Roadford Reservoir, Devon (Photo: John Lee)

Crossbill, West Stow CP, Suffolk (Photo: Garth Peacock)

Snow Bunting, Cleethorpes, Lincolnshire (Photo: Russ Telfer)

Redwing, Elan Valley, Powys (Photo: Kev Joynes)

Magpie, National Wetlands Centre, Carmarthen (Photo: Wayne Davies)

Goosander, Widewater Lagoon, West Sussex (Photo: Howard Kearley)

Spoon-billed Sandpiper, China (Photo: Baz Scampion)