The week at a glance
The cold weather returned this week with further bouts of snowfall, predominately in eastern areas. However, it was a handful of arrivals in the west that drew the headlines, the highlight being a fine drake Baikal Teal found at Tacumshin (Wexford) on Friday 9th. Present the next day among many thousands of Teal and Wigeon, it could be elusive and was generally only seen at extreme range, reflecting a bird here for a few days in February 2010. After an all-too-brief cameo from a bird in Essex in October 2010, many will be hoping that another becomes accessible soon — particularly those that didn't see the Minsmere bird of 2001.
Up on Shetland, the first-winter (probably male) Pine Grosbeak continued to lope around the North Collafirth area throughout the week, although it did manage to disappear for the entirety of 11th and the morning of 12th. A combination of the bird's mobile and unobtrusive nature and a lack of observer coverage are no doubt the reason for its sporadic disappearances, and any twitchers planning to head north this coming weekend need not necessarily be put off by a lack of forthcoming news.

Pine Grosbeak, Collafirth, Northmavine, Mainland, Shetland (Photo: Hugh Harrop)

Spot the Grosbeak! (Photo: Steve Lawton)
Other lingering highlights included the continuing American Coot still at Ballyconneely (Galway) on 12th and the adult Pacific Diver again in Mount's Bay off Marazion (Cornwall) on 12th and 13th. Last week's Glaucous-winged Gull candidate in Kerry proved to be a chunky Kumlien's Gull rather than its rarer Pacific cousin.

Kumlien's Gull, Cromane, Kerry (Photo: Davey)
Two drake Black Ducks otherwise proved the best find of the week, being located on flooded fields near Crookhaven (Cork) on 7th and lingering there to 13th. Meanwhile, long-staying drakes were again noted on Achill Island (Mayo) and at Strontian (Highland). A dozen Green-winged Teals included at least five new birds: at Holes Bay (Dorset) from 7th, Hickling Broad (Norfolk) on 7th with possibly the same at Breydon Water from 9th, Cahore Marsh (Wexford) on 9th, Loch of Tankerness (Orkney) on 11th and Dunfanaghy New Lake (Donegal) on 12th. Unusually, three new drake American Wigeon were found: at Liddel Loch, South Ronaldsay (Orkney), Tacumshin then Cahore (Wexford) and Fiskerton then Branston Fens (Lincs); regular birds were still at Udale Bay (Highland) and Loch Bee, South Uist (Outer Hebrides).

Black Duck, Crookhaven, Cork (Photo: Colin Barton)

Black Duck, Crookhaven, Cork (Photo: Sean Cronin)

Green-winged Teal, St. John's Lake, Cornwall (Photo: Phil Edmonds)
Fourteen Ring-necked Ducks included a new female at Kennick Reservoir (Devon) on 11th and drakes at Wet Moor (Somerset) and Dunfanaghy New Lake (Donegal), while three remained on St. Mary's (Scilly) and two were still at Slapton Ley (Devon). The drake Ferruginous Duck remained at Priory Country Park (Beds) throughout, while the female was again at Cockshoot Broad (Norfolk) on 8th–10th. Drake Lesser Scaup remained at Cardiff Bay (Glamorgan), Colliford Lake (Cornwall) and Lough Gash (Clare).

Ferruginous Duck, Priory CP, Bedfordshire (Photo: John DArcy)
A drake Surf Scoter off Rerwick Head (Orkney) on 9th is presumably the bird last seen there in April 2012; meanwhile Scottish birds remained at Hougharry, North Uist (Outer Hebrides), The Wig (Dumf & Gall) and in Largo Bay (Fife), a Welsh drake was again off Llanddulas (Conwy) and the Kerry immature was still in Ballinskelligs Bay on 10th. White-billed Diver records came from familiar sites in Orkney and Shetland. A Leach's Storm-petrel at Brogborough Lake (Beds) on 8th was a surprise, but presumably a belated casualty of the previous week's gales.
Content continues after advertisements
The continued presence of the Richardson's Canada Goose still among naturalized Canada Geese at Frampton Marsh (Lincs) suggested that another found among Pink-feet at North Wootton (Norfolk) on 7th and 9th could well be the 'real deal'. Further birds with Barnacle Geese continued on North Uist and on Islay. Further head-scratching was provided by four Red-breasted Geese with Dark-bellied Brent Geese at The Naze (Essex) — could they be the Suffolk birds wandering? No such questions were asked about the nine Black Brants between Tetney Marshes (Lincs) and Portsmouth (Hants), while a possible at Walney Island on 10th would be a fantastic record for Cumbria. Finally, the blue-morph Snow Goose was again seen at Lower Lough MacNean (Fermanagh) on 11th.

Richardson's Canada Goose, Frampton Marsh RSPB, Lincolnshire (Photo: Ian Appleton)
Extralimital Common Cranes included seven still on Sheppey (Kent) and a singleton in the county at Walland Marsh, five still at Tacumshin and a further bird found at Barrow (Kerry) on 7th. The Glossy Ibis was still at Marloes Mere (Pembrokeshire) on 9th. Of the Great White Egrets, four remained at Dungeness (Kent), three commuted between Pett Level and Rye Harbour (E Sussex) and twos were seen in Glamorgan and Cheshire.

Great White Egret, Dungeness RSPB, Kent (Photo: Dorian Mason)
Tacumshin's rich vein of form was reinforced by the remaining juvenile Northern Harrier still there on 12th, with another hudsonicus candidate seen at Mill Sand (Orkney) on 12th and apparently present several days. Also on the Orkney archipelago, the white-morph Gyr was noted at Yesnaby on 8th. A Snowy Owl was seen on private land atop the Pettigo Plateau (Donegal) on 10th. Rough-legged Buzzards comprised two twos in Norfolk: at Haddiscoe Marshes and Burnham Overy Marshes.
The Temminck's Stint was again seen at Steart (Somerset) on 8th and the Long-billed Dowitchers in Wexford and Pembrokeshire and the Lesser Yellowlegs in Devon all remained in residence. A Grey Phalarope was off Flamborough Head (E Yorks) on 11th.
In Cork, the first-winter American Herring Gull was again noted at Baltimore fish factory on 9th, while showy Bonaparte's Gulls remained on the Ogmore Estuary (Glamorgan) and in Eastbourne (E Sussex) to 8th and 12th respectively. Fourteen of 19 Ring-billed Gulls were in Ireland, and included three still in the Tralee (Kerry) area; in Britain, birds were seen in Cornwall, Hampshire, Highland, Shetland and an adult roosted at Llys-y-Fran Reservoir (Pembrokeshire) on 8th. A slight increase in white-winged gulls saw Glaucous once again outnumber Iceland, this time by about 80 to 60.

Bonaparte's Gull, Eastbourne, East Sussex (Photo: Richard Smith)

Ring-billed Gull, Scalloway, Mainland, Shetland (Photo: Hugh Harrop)

Glaucous Gull, Wernffrwd, Gower, Glamorgan (Photo: Jeff Slocombe)
The passerine line-up was more or less identical to that of previous weeks, with the notable additions being two Penduline Tits at Dungeness (Kent) on 8th and at Stodmarsh (Kent) throughout the week; otherwise the Desert Wheatear in Aberdeenshire, Black-bellied Dipper in Norfolk, Pallas's Warbler in Berkshire, Yellow-browed Warbler in Cornwall, Richard's Pipit in Louth and Rose-coloured Starling in Devon all remained in residence. The female/juvenile Common Rosefinch was again seen at Broadstone (Dorset) on 8th, while upwards of 480 Waxwing reports were disseminated on Bird News Extra throughout the week.

Penduline Tit, Stodmarsh NNR, Kent (Photo: Marc Heath)

Black-bellied Dipper, Thetford, Norfolk (Photo: Ian Clarke)
Photo of the Week

Crested Tit, undisclosed site, Highland (Photo: Peter Walkden)
Birmingham-based bird photographer Peter Walkden has posted over 500 images to BirdGuides over the past five years, more than 20 of which have been selected as "Notable". Finally, from a trip to the Scottish Highlands, Peter captured the image needed to bag his first Photo of the Week. Crested Tits are always popular subjects, so a clean portrait of one looking straight at the camera/viewer was always going to be a crowd-pleaser. Peter's image, though, goes well beyond just a winning formula. Cool, even lighting and subdued tones give an evocative wintry feel to the image, enhanced by the frosty lichen-covered branch. 'Bird-on-a-stick' shots are often criticised for failing to convey a sense of place and so more 'environmental' images are increasing in popularity. However, as Peter shows, with the right perch and a backdrop comprising a diffuse mix of natural hues, the bird can still be isolated for clarity while helping the viewer to create their own mental picture of the setting. Finally, Peter has made the most of this subject by using a vertical crop with the bird centred in the frame (eyes on a third-line). A great all-round portrait image.
Other notable images

Barn Owl, undisclosed site, Lancashire (Photo: David Shallcross)

Pine Grosbeak, Collafirth, Northmavine, Mainland, Shetland (Photo: G Petrie)

Red Kite, Lllanddeusant, Powys (Photo: Norman West)

Red Grouse, undisclosed site, Highland (Photo: John Fielding)

Long-tailed Duck, Ythan Estuary, Aberdeenshire (Photo: Peter Stronach)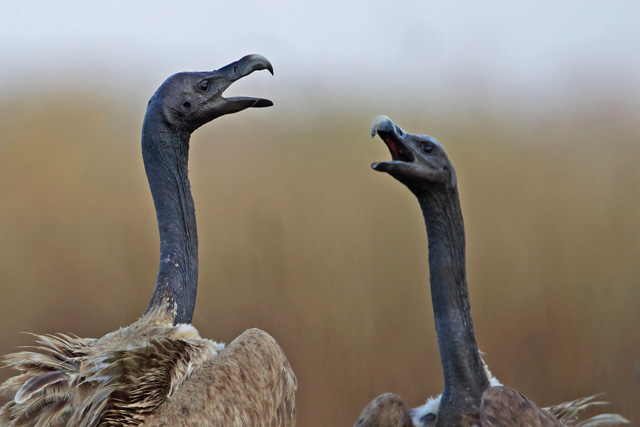 Slender-billed Vulture, Cambodia (Photo: Neil Bowman)

Black-bellied Dipper, Thetford, Norfolk (Photo: Ian Curran)

Long-tailed Tit, Garstang, Lancashire (Photo: Martin Jump)

Treecreeper, Stocker's Lake, Hertfordshire (Photo: Tom Hines)