The week at a glance
It was a quiet week for birders as wintry conditions persisted. A possible White's Thrush reported near Brechin on Wednesday 11th went the way of so many such reports and so far has come to nothing. There was much excitement in the press when the first White-tailed Eagle for 200 years was found on the Solway coast of Cumbria on Tuesday 10th, though this excitement was perhaps tempered when the bird (having crossed the Solway Firth into Dumfries and Galloway later the same day) was found to be bearing a tracking aerial and colour rings, revealing it to be from the east Scottish release scheme.

White-tailed Eagle, Threave, Dumfries & Galloway (Photo: Keith Kirk)
Seawatchers had a thin time of it too. Shearwaters were conspicuous by their absence: the only reports this week were of Balearic Shearwaters passing Pendeen and St. Ives in Cornwall. Still in north Cornwall, a probable Pomarine Skua passed Pentire Point, and Great Skuas were reported from Oare (Kent), Scarborough (N. Yorks) and Flamborough (E. Yorks). A Little Auk was at North Bull (Dublin) on Thursday 5th. A handful of Grey Phalaropes were noted off the Cornish coast, notably groups of two to four off the Cot Valley.
A "new" Cattle Egret arrived at Barningham Hall south of Sheringham in Norfolk on Wednesday 11th, though it may have been the same bird as was seen in the Gadder valley last week. Singles and small groups remained in the southwest of England from the Scillies to Devon. Ireland produced groups of up to six in Co. Cork and five in Co. Waterford. New Great White Egrets appeared at Collycroft Lake (Derbyshire) on Friday 6th (staying to 11th at least), Merryton then Baron's Haugh (Clyde) on Saturday 7th, Stockcross near Newbury (Berks) on Sunday 8th and Seaton (Devon) on Wednesday 11th. Lingering birds from previous weeks included those at Thurlby Fen (Lincs), Shapwick Heath (Somerset), Castle Marsh (Suffolk) and Middleton Hall (Warwickshire), though none of these has been reported to us since the weekend. Spoonbill reports came from Cornwall, Devon and Dorset, with the only sighting away from the southwest being a single at Goldhanger (Essex) on Sunday 8th, possibly the bird seen a week previously at Old Hall Marshes. The only Common Cranes reported were from the resident population in the Waxham (Norfolk) area.

Cattle Egret, Seaton, Devon (Photo: Gavin Haig)

Great White Egret, Baron's Haugh RSPB, Clyde (Photo: Mark Molloy)

Spoonbill, Holes Bay, Dorset (Photo: Simon Johnson)
Long-staying Snow Geese remained at North Slob (Wexford), at several sites in Ayrshire, at Craobh Haven (Argyll) and at Loch of Strathbeg (Aberdeenshire). The Ross's Goose remained in North Norfolk, appearing near Langham on Tuesday 10th and at Holkham the following day. Black Brants were reported from southern and eastern coastal counties from Devon round to Lincolnshire. The only rare Canada Goose reported was the Richardson's Canada Goose at Loch Gruinart (Islay) on Thursday 5th.
The drake Lesser Scaup at Holme Pierrepont (Notts) was not seen after Thursday 5th, but the drake on Loch Leven (Perth & Kinross) lingered to Monday 9th, with two drakes there on Sunday 8th. North Ronaldsay's first Ring-necked Duck, a female, appeared on Wednesday 11th; long-staying drakes remained on Lough Fern (Donegal), Cwm Rheidol Reservoir (Ceredigion) and Foxcote Reservoir (Bucks), and the female was still on Martnaham Loch (Ayrshire) on Wednesday 11th. "New" Green-winged Teal were at Lough Gur in Co. Limerick, Lurgan Green in Co. Louth (probably for its third winter in the area), at Stanwick GPs in Northamptonshire (again presumed to be a returning bird), on Llyn Coron in Anglesey, and on Loch Torornish on South Uist. Birds that arrived in previous weeks were still being recorded at Capringstone Flash (Ayrshire), Bowesfield Marsh (Cleveland), Kinneil Lagoon (Forth), Marshside (Lancs), Eyebrook Reservoir (Leics), Spynie Loch (Moray & Nairn), Strumpshaw Fen and Buckenham Marshes (Norfolk), and Minsmere (Suffolk). A drake Ferruginous Duck appeared at Wroxham Broad (Norfolk) on Monday 9th, but was not seen the following day, and the bird present at Oxford Island (Co. Armagh) since mid-January was reported on Friday 6th, but could not be found on 10th. The American Wigeon that has favoured the river at Wick (Highland) every winter since 2003 was on site on Friday 6th, having last been reported in December 2008. Single Surf Scoters remained off Dawlish Warren (Devon), Ruddon's Point (Fife), Silver Strand (Galway) and Hough Bay (Tiree) and the group of five (3 drakes and 2 females) was still in the Sound of Taransay off Harris (Outer Hebrides). Similarly, the drake King Eiders were still to be found off Fidra Island (Lothian) and Kincraig Point (Fife), and the female and 1st-winter male were still off Lissadell (Sligo) during the week. The Hooded Merganser of controversial origin was still appearing daily at Radipole (Dorset).

Ring-necked Duck, North Ronaldsay, Orkney (Photo: Paul A Brown)

Green-winged Teal, Marshside RSPB, Lancs (Photo: Sean Gray)
Again there were no new waders of note. The Long-billed Dowitcher was still at Dundalk docks on Saturday 7th, and a second Long-billed Dowitcher was at West Gerinish on South Uist on Monday 9th, reported for the first time since 18th December 2008. The Lesser Yellowlegs at Walberswick (Suffolk) was last reported on Sunday 8th.

Long-billed Dowitcher, West Gerinish, S. Uist, Outer Hebrides (Photo: J B Kemp)

Lesser Yellowlegs, Walberswick, Suffolk (Photo: Chris Upson)
"New" Rough-legged Buzzards were reported from Carryduff (Co. Down) on Thursday 5th, Blithfield Reservoir (Staffordshire) on 6th and Sandringham (Norfolk) on 9th, but none of these was pinned down. The juvenile in Sleddale (Cleveland) was last seen on Friday 6th, and two were on the Isle of Sheppey, with the last sighting (of a single) near the prison on Wednesday 11th. A Dark-breasted Barn Owl first reported at Welney (Norfolk) on 28th January performed well over the weekend but was last reported on Sunday 8th. The first-winter Snowy Owl in Cornwall (again last reported on 28th, at nearby Men-an-Tol) was sighted once again near Zennor on Friday 6th, but has not been reported subsequently.
A Bonaparte's Gull was found with Black-headed Gulls at Ferryden (Angus & Dundee) on the morning of Saturday 7th, but could not be located early that afternoon; an adult was on the beach at Ballybrannigan (Co. Cork) on Tuesday 10th. New Ring-billed Gulls (all adults) pitched up at Sandbach Flashes (Cheshire) briefly and Ballynagaul (Co. Waterford) on 7th, and at Dungeness (Kent) on 8th. Other birds remaining from previous weeks were at Dundee, Portrush (Co. Antrim), Helston (Cornwall), Westcliff-on-Sea (Essex), Kinneil Lagoon (Forth), Nimmo's Pier (Galway), Lamby (Glamorgan), Gosport (Hants), Lough Foyle (Londonderry) and Bray (Wicklow) with up to seven at various sites in Co. Cork. Kumlien's Gulls reports came mainly from Ireland, with reports from Antrim, Donegal, Down, Galway and Sligo; elsewhere widely scattered sightings were at Forfar Loch (Angus & Dundee), Newbiggin-by-the-Sea (Northumberland) and St. Mary's (Scilly). Iceland and Glaucous Gulls were again widely reported (124 and 103 reports respectively, though these figures do not account for multiple reports of the same birds), and Caspian Gulls were reported from ten sites ranging from Potteric Carr (S. Yorks) in the north to Dungeness (Kent) in the south. The Forster's Tern that has wintered in Co. Galway since 2003 was again in the Nimmo's Pier area during the week.

Ring-billed Gull, Dundee, Angus & Dundee (Photo: Willie McBay)

Kumlien's Gull, Galway, Galway (Photo: Tom Cuffe)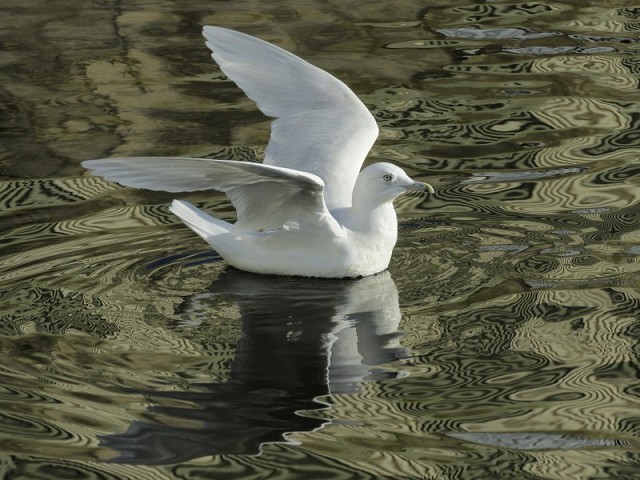 Iceland Gull, Galway, Galway (Photo: Tom Cuffe)

Glaucous Gull, North Ronaldsay, Orkney (Photo: Jennifer Batten)

Caspian Gull, Pitsea, Essex (Photo: Steve Arlow)
Content continues after advertisements
Turning to passerines, an Olive-backed Pipit was reported briefly in a stubble field at Ripple (Kent) but was not relocated after flying south. The Black-bellied Dipper was still on the River Glaven in Norfolk to Tuesday 10th at least. The number of Great Grey Shrikes at large dropped from around 12 last week to just 5 this, at Wishmoor Bottom (Berks), Cirencester (Glos), Beaulieu Road Station (Hants), Dersingham (Norfolk) and Lakenheath Fen (Suffolk/Norfolk border). A wintering Yellow-browed Warbler was found in Southampton (Hampshire) on Friday 6th, but a plausible report of another by the Grand Union Canal at Bourne End near Hemel Hempstead (Herts) was not confirmed by later sightings despite the efforts of local birders.
Waxwings continued to be enthusiastically reported, but the gradual decline in numbers seemed to continue: the only three-figure flocks were those of up to 130 at Old Moor (S. Yorks), 150+ in Birtley (Durham), 100 in Rainworth (Notts), 100 in Kilnamanagh (Dublin), and a flock of c.100 (with 40 elsewhere) in Belfast. Locations ranged from Stromness (Orkney) in the north, to Canford Heath (Dorset) in the south; there was little obvious geographical pattern to the sightings, though clusters of sightings suggested concentrations in the Central Belt of Scotland, Lancashire and Yorkshire, Co. Durham, northeastern Northern Ireland and East Anglia.

Waxwing, Roslin, Lothian (Photo: Mike Thrower)
The Penduline Tit found last week at Strumpshaw Fen (Norfolk) was seen on the morning of Tuesday 10th, but did not show during a morning visit the following day; the two birds at Rainham Marshes (London/Essex) were still present as of Wednesday 11th. Siberian Chiffchaffs were identified (with varying degrees of certainty) at Sandhurst (Berks), St. Austell sewage works (Cornwall), South Milton and West Charleton Marsh (Devon), Lodmoor and Portland (Dorset). A Serin was in the Lee Valley Country Park (Herts) on Saturday 7th and an adult Rose-coloured Starling was reported at Poyston Cross near Haverfordwest (Pembrokeshire) on Tuesday 10th but could not be found the following day.

Penduline Tit, Strumpshaw Fen RSPB, Norfolk (Photo: Dave Andrews)
Photo of the Week

Black-headed Gull, undisclosed site, N Yorks (Photo: Marcus Conway — Ebirder)
Most of the time, bird photographers go to great lengths to make sure they use the fastest possible shutter speed, to avoid any trace of motion blur. Taking an alternative approach, though, Marcus Conway set out deliberately to capture the motion of a flock of Black-headed Gulls in flight. This is much harder to achieve than it seems, requiring smooth and accurate panning to ensure the birds are still recognisable and to avoid spoiling the birds' motion blur with the erratic blur caused by 'camera shake'. By photographing these light birds against a dark background, Marcus has created an unusual and dramatic image that compels you to try to trace the perfect arcs of every wingbeat. A great way to stand out from the crowd!

Barn Owl, undisclosed site, Lancs (Photo: David Cookson)

Lesser Yellowlegs, Walberswick, Suffolk (Photo: Jon Evans)

Turnstone, Salthouse, Norfolk (Photo: Nigel Pye)

Common Kingfisher, Forest Farm, Glamorgan (Photo: Raymond King)

Greenfinch, Girton, Cambs (Photo: Garth Peacock)

Chaffinch, Blashford Lakes HWT, Hants (Photo: Daniel Trim)

Beautiful Sunbird, Gambia (Photo: Terry Gunby)

Bittern, Hendre Lake, Glamorgan (Photo: Nathan Casburn)

Goosander, undisclosed site, Gwynedd (Photo: Richard Steel)

Nuthatch, New Fancy View, Glos (Photo: George Ewart)

Magpie, Summer Leys LNR, Northants (Photo: Ben Harrold)

Great Spotted Woodpecker, Over Haddon, Derbys (Photo: Robert Askew)

Blackbird, Forest of Dean, Glos (Photo: David J Slater)