The week at a glance
Another cool week was dominated by a seasonable mix of sunshine and showers, some wintry further north — the flood of overshoots and migrants witnessed during those warm, sunny days of March seems a long way away! Nevertheless, a few new bits and bobs did manage to struggle through and, with plenty of fare lingering on, birders were assured there was still plenty to go at.
Outstanding highlight of the week was the beautiful, dark juvenile Thayer's Gull that continued to perform in the Elsham (Lincs) area. Advertised as no more than a "probable" last week, better views (and photos) on the Thursday and Friday seemed to firm up this Nearctic wanderer as about as good a candidate for a juvenile thayeri we are ever likely to get: it's at the dark end of the 'spectrum', so any Kumlien's Gull influence looks highly unlikely. Sooty-brown in colour, the bird also possesses a delightfully strong secondary bar, dark tertials, good-looking scapulars and (important when ruling out Herring Gull hybrids), a delicate, almost Iceland-like structure. Sure enough, it wouldn't look out of place on a Californian beach in winter. Although it disappeared over the Easter weekend, it was back again on 10th, lingering to the week's end. And in Lincolnshire, of all places! A superb find.

Thayer's Gull, Elsham, Lincolnshire (Photo: Andy Lawson)

Thayer's Gull, Elsham, Lincolnshire (Photo: Paul Hackett)
Many find it hard to muster much enthusiasm (let alone excitement) when Falcated Ducks turn up, but such blasé attitudes leave this species undeservedly underrated. Besides being a stunning bird, the drake at Cross Lough, Mullet (Mayo) is surely worthy of the admiration given to it by Irish birders this week: arriving in early spring with Wigeon, this unringed beast is about as good as it gets, and was present all week. Surely it is about time one was accepted by the BOU? Many rated the Devon bird of 2007, but there are no signs that approval is near. Perhaps the IRBC will be more liberal?

Falcated Duck, Cross Lough, Mullet, Mayo (Photo: Dermot Breen)
With no reports of the Common Yellowthroat, all eyes turned back to Scilly's Northern Waterthrush. Still present on St. Mary's to 10th, it has now been present eight calendar months and doesn't look keen to leave just yet. Surely that dreaded day is near, though....
The Solway Firth continued to hold on the best geese of the week: the Red-breasted Goose was still with Barnacles at Loaningfoot (Dumf & Gall) throughout the week, while the Ross's Goose reappeared at Rockcliffe Marsh (Cumbria) on 6th–9th. Furthermore, reports of a large, dark Canada Goose at Redkirk (Dumf & Gall) on 8th presumably refer to the wintering Todd's. The Mayo Todd's also remained around Termoncarragh Lough to 8th, a Richardson's was still on Islay (Argyll) on 11th, and Slimbridge (Glos) held on to its Cackler. The only Black Brant report came from Rosslare then South Slob (Wexford) on 7th.
With The Mullet receiving plenty of visitors during the week, it was no surprise that the Black Duck at Sruhill Lough, Achill Island was reported with uncharacteristic regularity, padding out several Irish notebooks to 8th at least. A drake American Wigeon at Portmore Lough (Antrim) from 7th was new, and the drake was again in Dumfries & Galloway at Castle Loch on 5th. The drake Blue-winged Teal was still at Gilmourton (Clyde) throughout, with the female still at Walmsley Sanctuary (Cornwall) on 9th and a further possible drake at Ham Wall (Somerset) during the evening of 11th. Nine Green-winged Teal included new birds in Hampshire, and Counties Down and Londonderry.

Blue-winged Teal, Gilmourton, Clyde (Photo: Jim Mackenzie)
Northbound Ring-necked Ducks turned up at West Ashby (Lincs) from 8th, Ballynahinch Lake (Galway) on 9th and Dungeness (Kent) from 10th, while two drakes were again at Loch Kinord (Aberdeenshire) on 7th. Others were still in Waterford and Cornwall (2). The sole Lesser Scaup record concerned the drake soldiering on at Cosmeston Lakes (Glamorgan) to 10th. Also in the county, a female Ferruginous Duck popped up at Lisvane Reservoir 6th–7th.

Ring-necked Duck, West Ashby, Lincolnshire (Photo: Russ Telfer)
Three Surf Scoters were still in Colwyn Bay (Conwy) on 5th, with the Morfa Nefyn (Gwynedd) female still there the same day. Otherwise, it was first-winter drakes remaining off Garretstown (Cork) to 8th and Penzance (Cornwall) to 9th. The drake King Eider was still at the mouth of the Ythan Estuary (Aberdeenshire) throughout the week, and looks set for another lazy summer at the site.
New White-billed Divers continued to be found: one was off Boor (Highland) on 11th, while two were still off Ports Nis and Skigersta, Lewis (Outer Hebrides), at least one was off Portsoy (Aberdeenshire) and another was again in Bluemull Sound (Shetland) on 6th.
In Cork, the last remaining Night Heron following March's influx remained at Skibbereen to 8th, while the Purple Heron remained on the Otter Estuary (Devon) to 10th. An arrival of Cattle Egrets included two at Bannow Bay (Wexford) from 9th, with new singletons at Walmsley Sanctuary (Cornwall) on 6th, Chigborough Lakes (Essex) on 6th–8th, and Lytchett Bay (Dorset) from 10th. Furthermore, the Lydney (Glos) bird made another brief appearance on 5th. A scattering of Great White Egrets included new birds in Bedfordshire, Northamptonshire and Greater Manchester.

Purple Heron, Otter Estuary NR, Devon (Photo: Lee Dingain)
A White Stork near East Allington (Devon) on 11th could well be a genuine overshoot, although the other bird this week was ringed. First seen over Dudley (Northumberland) on 5th, it was in Borders later that day before being seen in Perth & Kinross on 8th. It finally settled at the Tesco store in Banchory (Aberdeenshire) on 9th–10th where, coincidentally, a ringed White Stork was also seen for a few days from 11th April 2011!
Content continues after advertisements
New Glossy Ibises turned up at Chigborough (Essex) on 6th, Pennington Marshes (Hants) on 7th, Foryd Bay (Gwynedd) from 8th and Brading Marshes (IoW) on 8th–10th, while the Outer Hebrides bird remained at Aird an Rùnair. Others were still in Dorset (2), Essex, Pembrokeshire (3), Lancashire and Cleveland.

Glossy Ibis, Brading Marshes RSPB, Isle of Wight (Photo: Graham Sparshott)
Birds of prey proved frustrating this week. A white-morph Gyr continued this winter's untwitchable theme, being seen briefly over Rueval, South Uist (Outer Hebrides). A Black Kite was seen at Pool of Virkie then Loch of Clumlie (Shetland) on 7th, with another possible in Essex on 5th. There was also a belated report of a male Pallid Harrier from Ham Wall (Somerset) on 6th, with a couple of Cornish Montagu's Harriers representing the first of the spring. Several Rough-legged Buzzards also remained in the north and east.
A stunning male Black-winged Stilt at Chew Valley Lake (Somerset) on 10th was yet another great wader for the site, although it failed to stick like many of last autumn's stars: it had relocated to Radipole Lake (Dorset) by the afternoon of 11th. In addition, the Tacumshin (Wexford) bird remained to 10th. The first Dotterel of the spring was at Rye Harbour (E Sussex) on 11th.

Black-winged Stilt, Chew Valley Lake, Somerset & Bristol (Photo: Gary Thoburn)
The Pectoral Sandpiper continued its stay at Dundonald Camp (Ayrshire) throughout the week, as did the hardy Greater Yellowlegs at Loch of Strathbeg (Aberdeenshire) and the Spotted Sandpiper at Chew Valley Lake. Pairs of Long-billed Dowitchers remained at Meare Heath (Somerset) and The Cull (Wexford), with a fifth individual still at Wigtown (Dumf & Gall).
The Bonaparte's Gull was again seen at Larne (Antrim) on 11th. A few migrant adult Ring-billed Gulls were noted this week, and included an excellent record from Scorton Quarry (N Yorks) on 7th. The same day, another was at Rosslare (Wexford) and a third was at Cruisetown Strand (Louth) on 8th–9th. Further birds remained in Argyll, Ceredigion, Kerry and Down. Plenty of Iceland Gulls were still about, including 29 at Killybegs (Donegal) on 6th with 6 Kumlien's Gulls there the same day. A Caspian Tern associating with Gannets off Hermitage (Louth) on 5th clearly thought it was even bigger than it actually was.

Ring-billed Gull, Cruisetown Strand, Louth (Photo: Gerry O Neill)
Following a mega March for the species, the number of Hoopoe records tailed off this week. Norfolk claimed two of the three new birds, at Waxham from 9th and Sheringham on 10th. The third was at Bishop's Dyke (Hants) on 11th, while birds remained at Little Haldon (Devon) to 6th, and Guileen (Cork) and Kennack Sands (Cornwall) to 7th. A Wryneck was photographed in a private garden in Bodiam (E Sussex) on 9th.

Hoopoe, Guileen, Cork (Photo: Ronan McLaughlin)
Kilcoole (Wicklow) claimed the only Alpine Swift of the week on 7th, while Guernsey held on to its Red-rumped Swallow to 10th at least and another was briefly at Castletown (Highland) on 9th. The Richard's Pipit was still at Wyke Regis (Dorset) on 8th. Two male White-spotted Bluethroats at Spurn (E Yorks) on 8th were typical deliveries in the cooler, easterly-orientated winds.

White-spotted Bluethroat, Spurn, East Yorkshire (Photo: Justin Carr)
Also at Wyke Regis, the ever-present Hume's Leaf Warbler continued to 8th at least, although it was overshadowed by the first Iberian Chiffchaff report of the spring — a probable singing male at Elvetham Heath (Hants) on 6th. Although sounding good from recordings, local birders were left frustrated: there was no sign the following morning. Siberian Chiffchaffs including the lingering bird in Dublin, and another trapped and ringed at Woolston Eyes (Cheshire) on 7th. A cryptic message also leaked out of east Norfolk, concerning the presence of a Subalpine Warbler in Eccles "some time in late March".

Siberian Chiffchaff, Woolston Eyes NR (PERMIT ONLY), Cheshire (Photo: Jason Atkinson)
The Rose-coloured Starling reappeared in Holyhead (Anglesey) on 7th, while the male was still performing well at Hordle (Hants) all week. Elusive Penduline Tits were again noted at Minsmere (Suffolk) on 6th and Leighton Moss (Lancs) on 7th, the former heard only.
A small influx of Serins included two birds in a private garden in Swanage (Dorset) on 9th–10th — the first confirmed breeding record in Britain came from the town, so perhaps there is hope for a repeat performance. Three East Anglian records came from Waxham (Norfolk) on 9th, and Landguard and Lowestoft (both Suffolk) on 10th and 11th respectively.
A possible female Two-barred Crossbill at Lynford Arboretum (Norfolk) on 6th could easily be one of the two seen and photographed in February, and a Hornemann's Arctic Redpoll reported at Sanaigmore, Islay (Argyll) on 10th would be unseasonable. Finally, the Little Bunting was seen at South Milton Ley (Devon) until 8th only.
Photo of the Week: 5th–11th April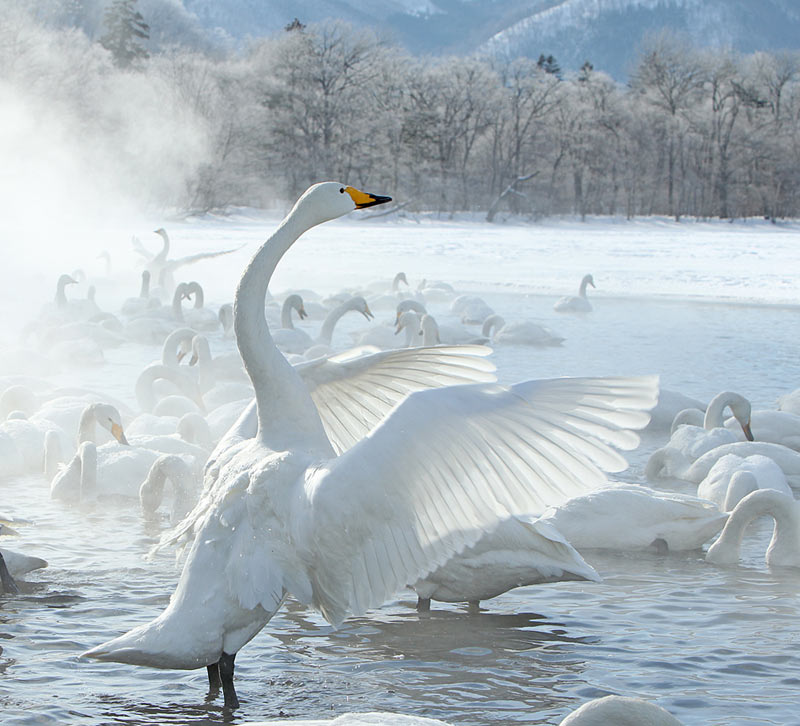 Whooper Swan, Japan (Photo: Andrew Moon)
Until now, only one swan photo has been selected as a BirdGuides Photo of the Week, and that was over five years ago. Given the magnificence of these birds, this is perhaps surprising, but it's difficult to take a swan photo that appeals to birders and doesn't just look like a stereotyped commercial image. Through a combination of subject species, location, lighting and behaviour, UK bird photographer Andrew Moon managed to do what it takes. On a recent trip to Japan, Andrew captured an active flock of Whooper Swans in a wintry setting, the sun backlighting both the birds and the mist hanging over the lake on which they were feeding. A perfectly-captured wing-flap by the central bird provides a focal point to a wild and atmospheric image that's a far cry from a snapshot of a Mute Swan on the local boating lake.
Other notable photos

Lesser Black-backed Gull, National Wetlands Centre, Carmarthen (Photo: Wayne Davies)

Ring Ouzel, Titterstone Clee Hill, Shropshire (Photo: Peter Walkden)

Wren, undisclosed site, Cheshire (Photo: Graham Allbutt)

Short-eared Owl, Worlaby Carrs, Lincolnshire (Photo: David Newby)

Red-breasted Merganser, Fife Ness, Fife (Photo: John Anderson)

Black-winged Stilt, Chew Valley Lake, Somerset & Bristol (Photo: James Packer)

Bittern, Minsmere RSPB, Suffolk (Photo: Steve)

Golden Plover, Tan Hill, North Yorkshire (Photo: Garth Peacock)

Stone Curlew, Canary Islands (Photo: Austin Thomas)

Moorhen, Culzean CP, Ayrshire (Photo: Mark Medcalf)

Firecrest, Romania (Photo: Jamie MacArthur)

Common Redstart, New Forest, Hampshire (Photo: Simon Johnson)

Hoopoe, Little Haldon, Devon (Photo: Charlie Fleming)

Gadwall, Kingsmill Reservoir, Nottinghamshire (Photo: John Dickenson)

Raven, Marazion, Cornwall (Photo: Bobbster)