The week at a glance
After the amazing set of top-drawer early-autumn arrivals in County Cork that took August by storm, it was always going to be tough for September to live up to the quality of those Irish "megas". Still, with another storm dashing from west to east, something was going to happen, and as the weather system headed further across the country, the resulting rain and northeasterly winds meant that somewhere along the North Sea coast, birders were likely to be in with a chance of a decent fall.

Hudsonian Whimbrel, St. Mary's, Isles of Scilly (Photo: Martin Goodey)
The relatively swift-moving Atlantic depression that swept across much of southern England during the early part of the week always looked likely to drop a decent bird from the Americas somewhere—so there was little surprise when a juvenile Hudsonian Whimbrel was found on St. Mary's (Scilly) on 6th. The bird, discovered in the early morning at Porthloo, disappeared pretty rapidly, but was then relocated the following day on neighbouring St. Agnes, before flying back to St. Mary's, heading across Porthcressa Bay. On 9th, the bird was seen again, roosting on the rocks offshore from Porthloo, at dawn and dusk. This distinctive form of Whimbrel has been claimed on numerous occasions in recent years, and birders have had the chance to enjoy two birds on the British mainland since then turn of the millennium: one appeared in south Wales at Newport Wetlands (Gwent) in May 2000 (and again in 2002) while the (eventually) popular bird at Walney Island (Cumbria) spent nearly two months last summer on site. Also in 2007, another Hudsonian Whimbrel spent three days on Fair Isle (Shetland), where it was photographed, beautifully. Another species-in-waiting is Caspian Stonechat (form variegatus) and one was reported from Portland Bill (Dorset) on 9th for just 45 minutes. The only other records of this lovely "eastern" form are from Porthgwarra (Cornwall) in October 1985 and on Shetland in May 2006. A Black-browed Albatross was seen and well photographed around 60 nautical miles west of Slea Head (Co. Kerry) on 7th—could it be the same bird seen well to the west of Kilkee (Co. Clare) in June this year? It's hard to tell from the pictures, but they do look similar.

Grey Phalarope, Woolmer Pond, Hampshire (Photo: Richard Ford)

Sabine's Gull, Lyme Regis, Dorset (Photo: Gavin Haig)

Sabine's Gull, Lyme Regis, Dorset (Photo: Gavin Haig)

Sooty Shearwater, Bridlington RSPB Skua Cruise, East Yorkshire (Photo: Chrys)
Little doubting the most significant species in terms of pelagic fare this week: step forward Grey Phalarope and Sabine's Gull. Significant numbers of both species were noted around the country this week (after impressive showings in recent weeks) with Grey Phalaropes totalling at least 160 birds. The highest single counts were 18 off Cape Clear Island (C. Cork) on 10th, followed by 11 from Pendeen (Cornwall) and nine from Inish Mor (Co. Galway), both on 7th, while five at Bracklesham (West Sussex) on 8th was exceptional. Five birds were seen from Bridges of Ross (Co. Clare) on 7th, while counts of four birds were noted at Porthcawl (Glamorgan) on 4th, Lligwy Bay (Anglesey) on 6th and at Chesil Cove (Dorset) on 7th. At least nine birds appeared on inland waters, from West Yorkshire, through Staffordshire, Lincolnshire and Derbyshire, to Warwickshire, Oxfordshire, Buckinghamshire and Bedfordshire. Around 80 Sabine's Gulls were noted, firstly along southwestern coasts before the emphasis shifted to the east coast. On 5th, at least seven birds were seen off Greenore Point (Co. Wexford) and on the same date, two birds appeared inland at Clifford Hill GPs (Northamptonshire). On 7th, it was Norfolk that fared best for this cracking little gull, with Sheringham laying claim to five, Titchwell bagging six, while Holme muscled in with perhaps as many as nine birds. Seven birds were seen from both Toe Head and Galley Head (Co. Cork) on 10th. Back to the 7th, which proved a pretty productive seawatching day along North Sea coasts, and Cley regulars took the spoils with two single showy Cory's Shearwaters, both heading east and, thanks to a couple of prompt phone calls, the close-inshore ambling duo were picked up elsewhere with ease, passing several other spots along the north Norfolk coast. Another Cory's was reported from Titchwell on the same day. On 5th, a Cory's Shearwater passed Dunwich and Minsmere (Suffolk) while the only other records this week were four off Porthgwarra (Cornwall) on 4th and five off Galley Head (Co. Cork) on 10th. A Great Shearwater was also in the southern North Sea on 7th, one heading north past Flamborough Head (East Yorkshire). Further single Greats were seen from Porthgwarra on 4th and 5th, with others seen from Strumble Head (Pembrokeshire) and a Scilly pelagic, both on 4th, while on 10th, two were seen from Cape Clear, three were off Toe Head and 10 were seen off Galley Head. Balearic Shearwaters were seen in dribs and drabs from North-Sea counties during the seawatching weather of 7th, but the highest counts of the week came from Strumble Head (18) and Pendeen (32), both counts taken on 6th. Sooty Shearwaters were recorded far and wide, often in rather low numbers, except for 110 off Galley Head and 73 off Toe Head on 10th, 70 off Flamborough Head on 6th (with at least 58 off there the following day) and 65 from Whitburn (Co. Durham) on 6th. In Ireland, another Fea's Petrel was added to the autumn tally on 10th—one flying past Galley Head. Only three Leach's Storm Petrels were seen during the week (perhaps no surprise given the type of weather system involved) with one seen from Old Nab, Staithes (North Yorkshire) on 6th, one passing Minehead (Somerset) on 7th (when a rather early Little Auk was also seen—with another seen from Dunany Point in County Louth on 4th), with the final Leach's of the week seen from Pendeen (Cornwall) on 9th. Well over 60 Pomarine Skuas were seen during the week, with plenty of ones and two recorded and high counts being seven from Greenore Point in Wexford on 5th and nine from Berry Head (Devon) on the same date. These were followed by nine from Flamborough Head on 6th and 10 at Keyhaven Marshes (Hampshire) on 7th. Long-tailed Skuas had a decent week too—not huge numbers, but rather better than recent weeks. Singles and doubles were seen from Lothian to Wexford and Cornwall, with Strumble Head scoring four on 5th, three from South Gare (Cleveland or North Yorkshire, depending on your county allegiances) on 6th and three from Minehead on 7th. Four birds were seen from Toe Head on 10th. Those birds helped to boost the total for the week to at least 50 birds. However, this doesn't include the one count at complete odds with any other this week. That came from Sheringham (Norfolk) on 7th, where 19 birds were reported. Aside from a handful of singles elsewhere in Norfolk and in Yorkshire on the same day, the Sheringham tally really does stick out. Internet debate suggests that the often-distant birds were engaging in the characteristic twist-and-turn stalling manoeuvres so favoured by the species, so it would seem likely that 19 is an accurate total (even if many observers came away seeing anywhere between one and 19). Away from the seawatching shenanigans, the rather uncomplicated adult White-billed Diver remained around St. Margaret's Hope, South Ronaldsay (Orkney) until 8th at least.

Great White Egret, The Mere, Shropshire (Photo: Philip John Parsons)

Spoonbill, Kirkcudbright, Dumfries & Galloway (Photo: Brian Henderson)

Common Crane, Dungeness RSPB, Kent (Photo: Sandra Solly)
Late news from last week concerned a Cattle Egret at Marlborough (Wiltshire) on 3rd, with the only records this week one at Kidwelly (Carmarthenshire) on 5th and two birds at Shapwick Heath (Somerset) on 10th. Three Great White Egrets were reported this week with birds at Blashford Lakes (Hampshire) on 8th–10th, the now long-staying bird at Ellesmere (Shropshire) to 10th, and a new arrival at Rainham Marshes (London) on 9th. The Scottish-bred family party of five Spoonbills were still present at Kirkcudbright (Dumfries & Galloway) to 10th. As usual, half a dozen birds were at Middlebere, Poole Harbour (Dorset) throughout the week, and five birds were in Norfolk (three at Titchwell and two at Welney). In Gloucestershire, two birds remained at Coombe Hill Meadows until 4th, with one there to 6th and another seen along the Severn on 5th. Other "twos" were seen at Orford Ness (Suffolk) on 6th and around the Ouse Washes in Cambridgeshire on 7th. Two different singles were noted on Anglesey this week, with others in Gwent, Clwyd and Kent, and three appearing at Dungeness on 9th–10th. Staying in the Garden of England, indeed staying at Dungeness, the two Common Cranes remained on the RSPB reserve until 10th and further single Cranes were seen at Welney on 6th, with one at the Ouse Washes (Cambridgeshire) on 8th. A White Stork was reported at Harrington (Northamptonshire) on 10th, while the somewhat transient Glossy Ibis in West Yorkshire popped in to Fairburn Ings on 6th and again on 10th. In the next-door county of East Yorkshire, a Night Heron was seen at Blacktoft Sands at dusk on 8th and on the same date a Spotted Crake was noted at Gibraltar Point (Lincolnshire) and a Corncrake was found at Porthgwarra (Cornwall). Another Spotted Crake was found at Dunstable Sewage Works (Bedfordshire) on 9th, while the bird at Oare Marshes (Kent) was seen again on 10th.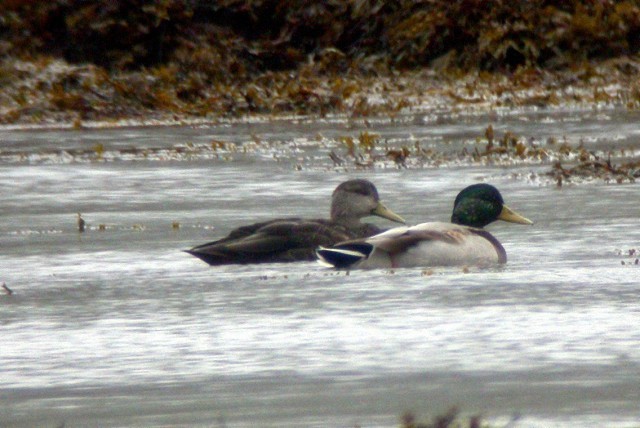 Black Duck, Ventry, Kerry (Photo: Owen Foley)
It was a poor week indeed for rare wildfowl: a drake Black Duck was seen at the harbour in Ventry (Co. Kerry) on 7th, while in Dorset, the first-summer male Hooded Merganser was still trying to entice visitors to Radipole Lake throughout the week.

Honey Buzzard and Common Buzzard, Foul Anchor, Cambridgeshire (Photo: Stuart Elsom)
At least 28 migrant Honey Buzzards appeared over the past week, including three juveniles over Easington Quarry Pool (Staffordshire) on 7th, four birds over Brighton (East Sussex) in the space of 90 minutes on 8th (along with an Osprey) and four more (an adult and three juveniles) over Ivinghoe Beacon (Buckinghamshire) on 9th. Single birds were reported from nine other counties, with eight individuals noted on 7th (excluding the trio in Staffordshire), including two birds in Cambridgeshire and three in Kent, while six birds were seen on 8th, including singles in Highland, Lancashire and London. Three Montagu's Harriers were reported through the week: two on 7th—a juvenile at Ogston Reservoir (Derbyshire) and a female at Tacumshin (Co. Wexford)—and a male seen at Bawdsey (Suffolk) on 10th. In Norfolk, a female Red-footed Falcon was reported briefly at Lenwade on 10th, before flying off south.

Semipalmated Sandpiper, Dawlish Warren NNR, Devon (Photo: Jim Almond)

Baird's Sandpiper, Black Rock Strand, Kerry (Photo: Owen Foley)

Buff-breasted Sandpiper, Carrahane Strand, Kerry (Photo: Owen Foley)

Red-necked Phalarope, Mersea Island, Essex (Photo: anon)
The photogenic juvenile Semipalmated Sandpiper remained at Dawlish Warren (Devon) until 6th. A new arrival that made the news too late for last week's review was the Baird's Sandpiper that arrived on St. Kilda (Outer Hebrides) on 3rd. This bird was followed by four more birds, including the reappearance of the bird at Paxton Pits (Cambridgeshire) on 6th–7th (having been last seen on 1st). Three new birds appeared in Ireland this week: two in County Kerry—at Black Rock Strand on 6th–8th and at Carrahane Strand on 7th—and another at Leam Lough in County Mayo. In Norfolk, the adult White-rumped Sandpiper was still being seen at Titchwell until 6th and a new bird was seen at Ballyteige (Co. Wexford) on 4th. Another Nearctic wader whose arrival was announced after the last review was a Buff-breasted Sandpiper at Orford Ness (Suffolk) on 3rd. At least seven birds were noted this week (four of them new arrivals). Last week's bird on St. Agnes (Scilly) remained to 9th (with perhaps another bird arriving on St. Mary's on 10th), while in Cornwall singles were reported on the Hayle Estuary on 5th, at Land's End on 8th and at Davidstow on 9th–10th. In Northumberland one was found at Cresswell Pond on 10th. In Ireland, last week's Buff-breast at Ballycotton (Co. Cork) was present to 7th and a new bird was found at Carrahane Strand on 8th. Another new American shorebird arrival was the juvenile Lesser Yellowlegs at Burnham Lagoon, near Dingle (Co. Kerry) on 4th–6th, and the juvenile was still at Guardbridge (Fife) on 10th. The stars-and-stripes theme continued with three American Golden Plovers: the adult was seen again at Elmley (Kent) on 4th and was followed by new birds on Tiree (Argyll) on 5th–6th and at Ballycotton on 7th. Up to 11 Pectoral Sandpipers were seen this week, with last week's bird at Hickling Broad (Norfolk) remaining to 9th, when it was joined by a second bird. Two birds were at Tacumshin (Co. Wexford) on 6th and singles were noted at Coward's Marsh and Christchurch Harbour (Dorset) on 4th and 7th, at Annesley (Nottinghamshire) on 6th and at Minsmere (Suffolk) on 8th–9th. On 10th, new arrivals appeared at Belfast Lough (Co. Antrim), Ballycotton (Co. Cork), Lundy (Devon) and St. Martin's (Scilly). The long-staying Pacific Golden Plover remained on North Ronaldsay (Orkney) to 7th and in Dumfries & Galloway, an adult was seen at Dornock on 6th–8th (and was perhaps the bird seen in Cumbria recently). Two juvenile Red-necked Phalaropes were found this week: one was at Martin Mere (Lancashire) on 5th and the other was at Mersea Island (Essex) from 6th–10th. Over 20 Dotterels were seen, including two birds on Bryher (Scilly) on 7th and three birds together at Rame Head (Cornwall) on the same date. The juvenile Dotterel at Slimbridge (Gloucestershire) remained until 8th at least and other notable singles were seen on the Ouse Washes (Cambridgeshire) on 6th–7th, and at Rottingdean (East Sussex) and Fornham St. Martin (Suffolk), both on 8th. Last, but certainly not least, was the Great Snipe discovered on 7th at South Gare that was welcomed by birders from both Cleveland and North Yorkshire alike.
The adult Ring-billed Gull was noted again at Kinneil Lagoons (Forth) on 6th, while new adults were seen at Spanish Point (Co. Clare) on 7th, Black Rock Strand (Co. Kerry) on 7th–8th, Portrush (Co. Antrim) on 9th and Ballycotton (Co. Cork) on 10th. At Southend-on-Sea (Essex), "Rossi" the returning adult Ring-billed Gull was still on show to 9th at least. An Iceland Gull was still being seen in Sligo Town this week, and a Glaucous Gull was seen in fields near Southwold (Suffolk) on 7th, while a second-summer was at Portrush on 9th. The only Caspian Gull this week was a juvenile that appeared at Farmoor Reservoir (Oxfordshire) on 6th–10th. Three juvenile White-winged Black Terns lingered from last week throughout this week. The bird at Blithfield Reservoir (Staffordshire) remained to 8th, while the birds at Dungeness (Kent) and Shotwick (Clwyd) were still present to 10th (with the Shotwick bird making a sneaky visit to Inner Marsh Farm (Cheshire), also on 10th). A probable Forster's Tern was reported at Hill Head (Hampshire) on 5th, but there was no sign there in subsequent days.

Alpine Swift, Holme NOA, Norfolk (Photo: Penny Clarke)

Citrine Wagtail, St. Mary's, Isles of Scilly (Photo: Martin Goodey)

Tawny Pipit, Portland, Dorset (Photo: Jim Almond)

Wryneck, Minehead, Somerset & Bristol (Photo: Roger Musgrove)

Red-backed Shrike, St. Mary's Island, Northumberland (Photo: Colin Bradshaw)
In County Mayo, the female Snowy Owl was still on Termon Hill, Blacksod until 4th and, on the Outer Hebrides, the female was still at Aird an Runair, North Uist to 8th. An Alpine Swift was seen at Gimingham and Mundesley (Norfolk) on 8th, before drifting off northwest. Despite skyward eyes along the north Norfolk coast, it wasn't until 9th when the bird resurfaced at Holme Dunes, some 40 miles to the west. A Red-rumped Swallow was reported on 7th near Darley Dale (Derbyshire). Another bird rather more typical of spring than autumn appearances is Golden Oriole, and one was seen this week at Nanjizal (Cornwall) on 10th, while a Hoopoe was seen on Tresco (Scilly) on the same date. A belated Hoopoe report came from Margate (Kent) on 8th. Citrine Wagtails again totalled five birds this week—with three new arrivals added in to the mix. Lingerers from last week were on Fair Isle (Shetland) and at Porth Hellick, St. Mary's (Scilly), both to 6th. On 7th, two birds graced the Outer Hebrides: one was at Carnan, South Uist, and the other was seen on St. Kilda. The final Citrine Wagtail of the week was seen on North Ronaldsay (Orkney) on 10th. In Dorset, the Tawny Pipit at Portland Bill was still present to 5th, with another there on 10th, while on 7th, at Durlston Country Park, the county's third Tawny Pipit of the week was noted. A Red-throated Pipit made landfall at Prior's Park, Tynemouth (Northumberland) during the northeast-coast fall on 7th, with another flushed at Minsmere (Suffolk) on 10th. A juvenile Woodchat Shrike was a nice find at Portland on 10th, while Red-backed Shrikes just made it in to double figures again this week, with at least 13 birds being reported. These included three at Sandwich Bay (Kent) on 7th (with two remaining to the following day). Two singles were on Scilly (St. Agnes on 4th and St. Mary's on 7th), while four birds arrived along the east coast on 7th (in Norfolk, Lincolnshire, Cleveland and Northumberland). On 8th, a Red-backed Shrike was found at Scoughall (Lothian), while on 9th–10th one was on Anglesey, at Soldier's Point. Following last week's excellent tally of over 50 birds, this week saw the total number of Wrynecks leap higher still, with over 85 birds recorded. After a few stragglers from last week remained in place on 4th, a handful of new birds appeared on 5th (from Shetland down to Cornwall, and Glamorgan to Sussex) and by 6th, birds began to pepper the northeast coast (as well as making it inland to Hertfordshire). The 7th was the big arrival day (again mainly in northeastern counties) and the arrival continued on into 8th. Perhaps as many as 20 birds were found in Northumberland during the mini-invasion, with Holy Island and Newbiggin grabbing four apiece on 7th. In South Shields (Co. Durham) up to five birds were seen on 5th, while Cleveland staked a claim to a bare minimum nine birds on 6th–7th. Two birds made their way into London on 7th, singles found at Beddington SF and Fairlop Waters. At Spurn (East Yorkshire), the Shore Lark remained until 10th and on St. Agnes (Scilly) a Short-toed Lark was found on 10th.

Paddyfield Warbler, Burrafirth, Unst, Shetland (Photo: Mike Pennington)

Icterine Warbler, Hartlepool, Cleveland (Photo: Derek C.)

Subalpine Warbler, The Leas, South Shields, Durham (Photo: Ross Ahmed)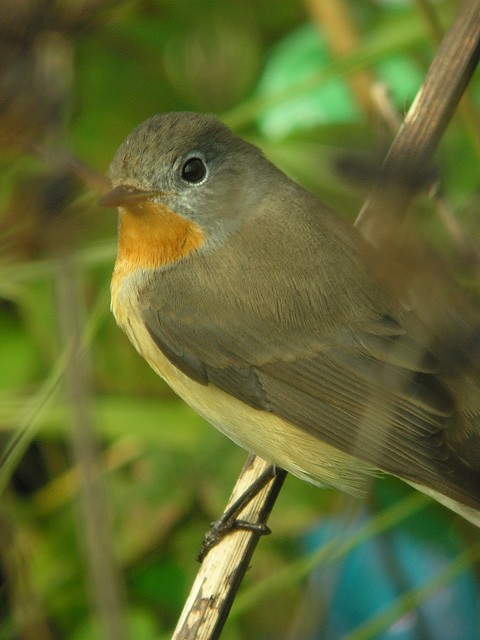 Red-breasted Flycatcher, South Gare, Cleveland (Photo: Ian Boustead)
Rarest warbler of the week was the Paddyfield Warbler found on Unst (Shetland) on 9th, the second Paddyfield of the autumn on the islands. The Aquatic Warbler found last week at Rainham Marshes (London) continued a game of cat and mouse this week, showing occasionally until 8th. Another bird was found near Weston-super-Mare (Somerset) on 6th. A Marsh Warbler was found at Baltasound, Unst (Shetland) on 6th and one trapped and ringed at Brew Pool (Cornwall) was an excellent record for the county on 7th. Also in Cornwall, a Melodious Warbler was still being seen in the 60 Foot Cover at Porthgwarra until 9th, with the second of the week appearing at Portland Bill on 10th. Icterine Warbler was another notable species caught up in the east-coast fall on 6th–7th, with at least 34 birds found. Once again, the arrivals were pretty much centred in a narrow belt running from East and North Yorkshire, Cleveland, through County Durham to Northumberland, although some birds did stray further south. Six of the seven birds found on 6th were in that coastal belt, including two at South Gare, but one made it to Thorpeness (Suffolk). On 7th, three Icterine Warblers were at Flamborough Head (East Yorkshire), with two or three birds noted in both Hartlepool (Cleveland) and Tynemouth (Northumberland) on the same day. Also on 7th, notable singles away from the northeast were found at Torness and Thortonloch (both Lothian) and at Winterton (Norfolk), with another in Lothian, at Skateraw, on 10th. A Subalpine Warbler was one of the rarest birds of the fall, one appearing at South Shields (Co. Durham) on 7th and remaining until 10th. Barred Warblers also featured heavily in the fall this week: at least 40 birds were seen, with records slightly more spread out compared to Wryneck and Icterine Warbler. At least four birds lingered on Fair Isle (Shetland) to 5th, with a further four elsewhere on Shetland on the same day. On 6th, singles appeared in Durham, Northumberland and at Walney Island (Cumbria) and Nanjizal (Cornwall). As many as 16 birds were reported on 7th, including three birds on Yell (Shetland) (with four more around the islands) and notable singles at Holyhead (Anglesey) and at East Bog, Cape Clear Island (Co. Cork). On 8th, two birds were seen at St. Abb's Head (Borders) and one made it out to Barra (Outer Hebrides). A rather localised arrival of seven Greenish Warblers took place on 7th–8th, with five birds found in Northumberland and singles in County Durham and Cleveland. The quintet in Northumberland were found (on 7th) at East Chevington, Newbiggin, Druridge Pools, Bamburgh (this bird was trapped and ringed) and, on 8th, at Low Newton-by-the-Sea (this bird remaining to 10th). In Cleveland, one was at Hartlepool on 7th–8th and in County Durham one was at Whitburn on the same dates. Northumberland also dominated the numbers of Red-breasted Flycatchers seen this week, with up to 10 birds seen in the county out of a national tally of 13! The first of the week appeared at Sumburgh Head (Shetland) with singles on 6th at South Gare and Tynemouth. On 7th, two birds, including a handsome adult male, arrived at Newbiggin, with birds also at Tynemouth and Whitley Bay while, on 8th, new arrivals in Northumberland were two on Holy Island and one at Craster. Another Red-breasted Flycatcher was found at Flamborough Head (East Yorkshire) on the same date, remaining to 9th.

Ortolan Bunting, Norwick, Unst, Shetland (Photo: Mike Pennington)
In Dorset, a juvenile Rose-coloured Starling was seen at Lytchett Bay on 10th. After eight birds last week, this week saw a further seven (or eight) Ortolan Buntings found in what is comfortably the best autumn for the species for years. On Shetland, singles were at Norwick, Unst on 5th (with another there on 10th) and Fair Isle on 6th, while Northumberland (inevitably) scored two on 7th, one each for Holy Island and Prior's Park, Tynemouth, while at least one was seen at Portland (Dorset) on 8th, with another Dorset sighting coming from Hengistbury Head on 10th. A juvenile Two-barred Crossbill was discovered on Fair Isle on 8th, remaining there until 9th—that record-breaking invasion seems an age ago, but it is less than a month since five were seen on the island. Four Common Rosefinches round off the review—one was on Fair Isle (Shetland) on 7th, with others on North Ronaldsay (Orkney) on 8th–10th, at Wester Quarff, Mainland (Shetland) and near John O'Groats (Highland), both on 10th.
Photo of the Week

Barn Owl, undisclosed site, Lancashire (Photo: Tom Charles)
With a strong portfolio of images taken with atmospheric lighting, it's no surprise that Tom Charles' shot of a hunting Barn Owl makes the most of warm evening sunlight and a uniform background to emphasise the subject. In this image, though, there are added elements of action and composition: Tom has frozen the owl only inches above the ground in a dynamic dive posture, its head and wings stretched to form a shape like an arrow plunging to earth.
Other notable photos

Little Egret, Venus Pool NR, Shropshire (Photo: Jim Almond)

Knot, Seahouses, Northumberland (Photo: David Cookson)

Sand Martin, Shustoke Reservoir, Warwickshire (Photo: Steve Seal)

Manx Shearwater, Point of Ayre, Isle of Man (Photo: Pete Hadfield)

Jackdaw, Bushy Park, London, Greater (Photo: Richard Steel)

Curlew Sandpiper, Titchwell RSPB, Norfolk (Photo: Nigel Pye)

Common Kestrel, Fleet, Hampshire (Photo: Richard Bond)

Yellow Wagtail, Spain (Photo: Steve Fletcher)

Grey Phalarope, Farmoor Reservoir, Oxfordshire (Photo: Lee Fuller)

Dotterel, Newbiggin-by-the-Sea, Northumberland (Photo: Stewart Sexton)

Common Kingfisher, Brandon Marsh NR, Warwickshire (Photo: Richard Steel)

Wryneck, Minehead, Somerset & Bristol (Photo: Roger Musgrove)

Shy Albatross, South Africa (Photo: Jeff Hazell)

Black-tailed Godwit, Marshside RSPB, Lancashire (Photo: Pauline Greenhalgh)

Willow Warbler, Wyre Forest, Worcestershire (Photo: John Robinson)

Spotted Flycatcher, Seeswood Pool, Warwickshire (Photo: Dave Hutton)