The week at a glance
As we move forward into June, the inevitable deceleration of spring migration has become evident but the excitement has nonetheless continued, chiefly down to last week's star birds continuing to make the headlines and further arrivals of rarities and scarcities, albeit now on a smaller scale. Last week's Short-toed Eagle (at Morden Bog, Dorset on 31 May and 1 June) clearly didn't head straight for the Continent when it departed, having made two more appearances in Britain this week. However, it proved slippery and very few people managed to catch up with it; a week after it was lost to sight in Dorset it was relocated at Bishop's Dyke in the New Forest (Hants) on Sunday 8th and there it stayed for less than three hours. It was a slightly shorter wait until it next showed up in Ashdown Forest (E Sussex) on Tuesday 10th. The eagle has clearly been moving eastwards and calling in at some of the southern England's reptile hotspots, no doubt snacking on a selection of snakes and lizards.
Unlike the eagle, Norfolk's Spectacled Warbler was nothing if not dependable as it closely guarded its territory among the Suaeda near Gun Hill at Burnham Overy (Norfolk), where its nest-building behaviour and frequent bursts of song delighted a constant stream of admirers. With its stay at nine days and counting, it has become Britain's longest-staying example of this very attractive Mediterranean Sylvia and perhaps the best-photographed yet.

Spectacled Warbler, Burnham Overy, Norfolk (Photo: John Richardson)

Spectacled Warbler, Burnham Overy, Norfolk (Photo: Jaz)
A report of an adult male Red-flanked Bluetail from Launceston (Cornwall) on the evening of 10th potentially made for an astonishing record, but the bird was unfortunately on private land. Early June is a fantastic time for Squacco Heron to turn up in Britain and one was duly found on 9th on the Ouse Washes (Cambs), where it remained on 10th. A Black Stork flew east over Hickling (Norfolk) on 4th and was presumably the same individual that tracked the Suffolk coast the following day, picked up over Pakefield, Kessingland and Covehithe; one also flew south over Newby, Scarborough (N Yorks) on 10th and the same day a White Stork was seen dropping low in the Abington area (Cumbria).
Viewing Ross's Gull alongside Bonaparte's Gull is something of a unique opportunity that attracted a number of birders to the Exe Estuary this week. The Ross's Gull, staying on from last week, was mobile but predictable as it moved between Bowling Green Marsh and the Exe Estuary, where it was often seen off the railway station platform at Exton. The Bonaparte's, found on 6th, proceeded to behave in a similar way and represented the second bird at Bowling Green this year, following an adult on May 14th. Both were present to 10th. A small number of white-winged gulls clung on this week, mainly at remote locations, with Iceland Gulls on South Uist and Harris (Outer Hebrides), Big Sand (Highland), Lossie Estuary (Moray/Nairn), Graemeshall (Orkney) and Tresco (Isles of Scilly). Glaucous Gulls were on North Uist and South Uist (Outer Hebrides) as well as Achnahaird (Highland).

Ross's Gull (with Black-headed Gulls), Bowling Green Marsh, Devon (Photo: Dave Stone)

Iceland Gull, Northton, Harris, Outer Hebrides (Photo: Roger Ridley)

Glaucous Gull, Achnahaird, Highland (Photo: Ross Doughty)
The Purple Heron at Marazion Marsh (Cornwall) remained to 7th and one was seen the next day over Skokholm (Pembrokeshire). On 9th, a Cattle Egret was at Brading Marshes (Isle of Wight) and another flew over Huntspill (Somerset); possibly the same bird was at Steart till 8th, when the two at Tacumshin were still present. A Night Heron was photographed at Shapwick Heath (Somerset) on 7th and another was reported as being present recently at Porthpean (Cornwall). A trickle of Balearic Shearwaters along the south coast became noticeable; although not huge counts, it is early days and 7th produced the highest numbers, with 12 off Portland Bill (Dorset) and 28 past Grosnez Point (Jersey).
Portland Bill (Dorset) produced a Pallid Swift that flew south over the bird observatory on the afternoon of 7th, and later that day a lucky observer was treated to an Alpine Swift over their garden in Braintree (Essex). A Black Kite circled over North Creake (Norfolk) on 6th and another was reported on 9th over Wolvey (Warks). The Snowy Owl at Black Head (Cork) was still present on 5th. In a good week for terns, a White-winged Black Tern was briefly at Saltholme (Cleveland) on 8th, a Caspian Tern was at Loch of Hillwell (Shetland) on 4-5th and there was a Whiskered Tern on Loch Bhrusda, Berneray (Outer Hebrides) on 4th.

Caspian Tern, Loch of Hillwell, Mainland, Shetland (Photo: Roger Riddington)
The ever-faithful drake King Eider continued to frequent the Ythan Estuary (Aberdeenshire) on 10th, while the 'Queen' could still be found off the mouth of the River Esk on 8th. Other wildfowl included the drake American Wigeon on Tiree, which could be seen at Loch a' Phuill on 10th, while other individuals were at Balnakeil (Highland) on 4th and Loch na Reivil, North Uist (Outer Hebrides), on 10th. A Ring-necked Duck at Quoile Pondage (Down) was viewable on 4-5th, two were at Lough Beg (Derry) on 8th and one found at Murton GP (Angus & Dundee) on 9th was still there on 10th. A drake Green-winged Teal was at Portmore Lough (Antrim) on 6th, and Tacumshin (Wexford) held onto its drake to 7th at least. The drake Surf Scoter remained off Murcar Links Golf Course (Aberdeenshire) to 8th at least, and the Lesser Scaup was at Frodsham Marsh (Cheshire) to 10th.

Female King Eider with male Common Eider, Musselburgh, Lothian (Photo: Dennis Morrison)

Ring-necked Duck, Murton GPs, Angus & Dundee (Photo: Stuart Green)
It was a very slow week for waders but some gems were on offer, the Buff-breasted Sandpiper still at Cowpen Marsh (Cleveland) to 6th generating the most interest, along with three Red-necked Phalaropes, one at Burton Mere Wetlands (Cheshire) on 5th, another at Slimbridge (Glos) from 6-9th and one east past Hengistbury Head (Dorset) on 5th. Trimley Marshes (Suffolk) hosted its Pectoral Sandpiper till 4th and the breeding Black-winged Stilts were still in situ in West Sussex and Kent.

Black-winged Stilt, Bracklesham Bay, West Sussex (Photo: Mick Davis)
Another classic bird of early June is Greenish Warbler, and this week saw four arrive, the lead taken by one on Fair Isle on 6th that preceded the unearthing of a further three the next day: on Skomer (Pembrokeshire), at North Locheynort, South Uist (Outer Hebrides), and at Tyninghame Bay (Lothian), this last individual singing to 10th. The popular Savi's Warbler at Newport Wetlands (Gwent) was not reported after 8th and the Loch of Strathbeg (Aberdeenshire) bird sang only to 7th, but new birds this week reeled at Wicken Fen (Cambs) on 4th and Walberswick (Suffolk) from 8th to 10th.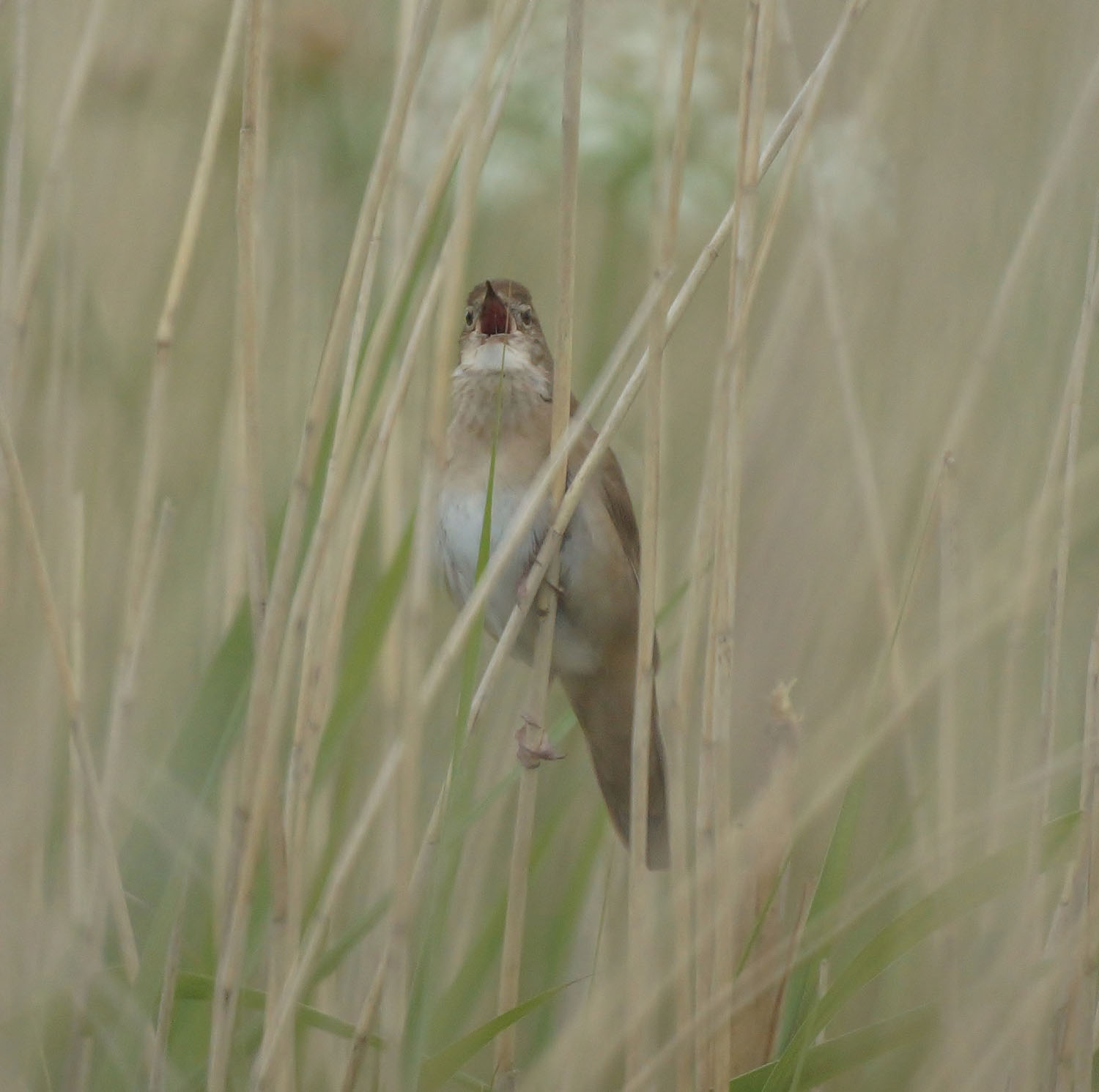 Savi's Warbler, Newport Wetlands, Gwent (Photo: John Davenport)
Wales' fifth Blyth's Reed Warbler was trapped and ringed on Bardsey Island (Gwynedd) on 7th, and another also ended up in the mist-nets at Spurn (E Yorks) on 6th. The bumper year for Great Reed Warblers continued with a one-day bird at Cresswell Pond (Northumberland) on 4th, an excellent record for the county, along with mainland Shetland supporting the Swining bird till 7th and a new bird at Sandwick from 8th to 9th. Icterine Warbler numbers were down this week; one was at St Abb's Head (Borders) on 8th, with others at Port Nis, Lewis (Outer Hebrides), on 6th and Fair Isle on 5-6th. A light scattering of Marsh Warblers included an individual at the Old Head of Kinsale (Cork) on 9th.

Great Reed Warbler, Cresswell Pond NWT, Northumberland (Photo: Rob Stonehouse)
European Bee-eaters continued to pop up, the bulk of sightings being in Dorset, but none stayed for long enough to be enjoyed widely. The Dorset records included three over Highcliffe and one over Burton on 7th, followed by a single at Portland Bill on 10th. Two at St Abb's Head (Borders) on 5th made for one of the most northerly reports this year, and at least three were seen over Niton (Isle of Wight) on 8th.
A Hoopoe was in a garden in Oldmeldrum (Aberdeenshire) till 6th, there was one at Newcott (Devon) the previous day, and another was in a Polruan garden (Cornwall) on 8-9th. The male Woodchat Shrike at Skinningrove (Cleveland) remained to 5th, and a new female was found on Gugh (Scilly) on 8th. Good numbers of Red-backed Shrikes were dotted predominantly along the east coast, with Shetland claiming the greatest numbers, including six on Fair Isle on 5th, but a male at Ladywalk NR (Warks) caused the biggest stir, being the first in the county since 1983. Red-breasted Flycatchers were at Geosetter (Shetland) on 5th on Tiree (Argyll) on 6th. The only Common Rosefinch of the week was at Spurn (E Yorks) on 10th, but a small number of Golden Orioles were seen.

Red-backed Shrike, Ladywalk NR (PERMIT ONLY), Warwickshire (Photo: Dave Hutton)

Red-backed Shrike, Fetlar, Shetland (Photo: Gavin Thomas)
The sixth Tawny Pipit of the year was at Donna Nook (Lincolnshire) on 8th. A Rose-coloured Starling was in a garden in Moorends (S Yorks) from 4-7th and one was in a garden in Looe (Cornwall) on 5th and 7th. Another was present at Tywardreath on 4th when one was on St Mary's (Scilly). After quieter times for crossbills recently, at least two Two-barred Crossbills at Tyninghame Bay (Lothian) on 8th were an interesting find, and became even more impressive when two males and five females were seen there on 10th. Also very intriguing was a report of an apparent juvenile Parrot Crossbill at Kelling Heath on 6th, hinting at the possibility that some of the birds that arrived last year ended up breeding somewhere.

Rose-coloured Starling, St. Mary's, Isles of Scilly (Photo: Joe Pender)

Two-barred Crossbill, Tyninghame Bay, Lothian (Photo: Dennis Morrison)
Photo of the Week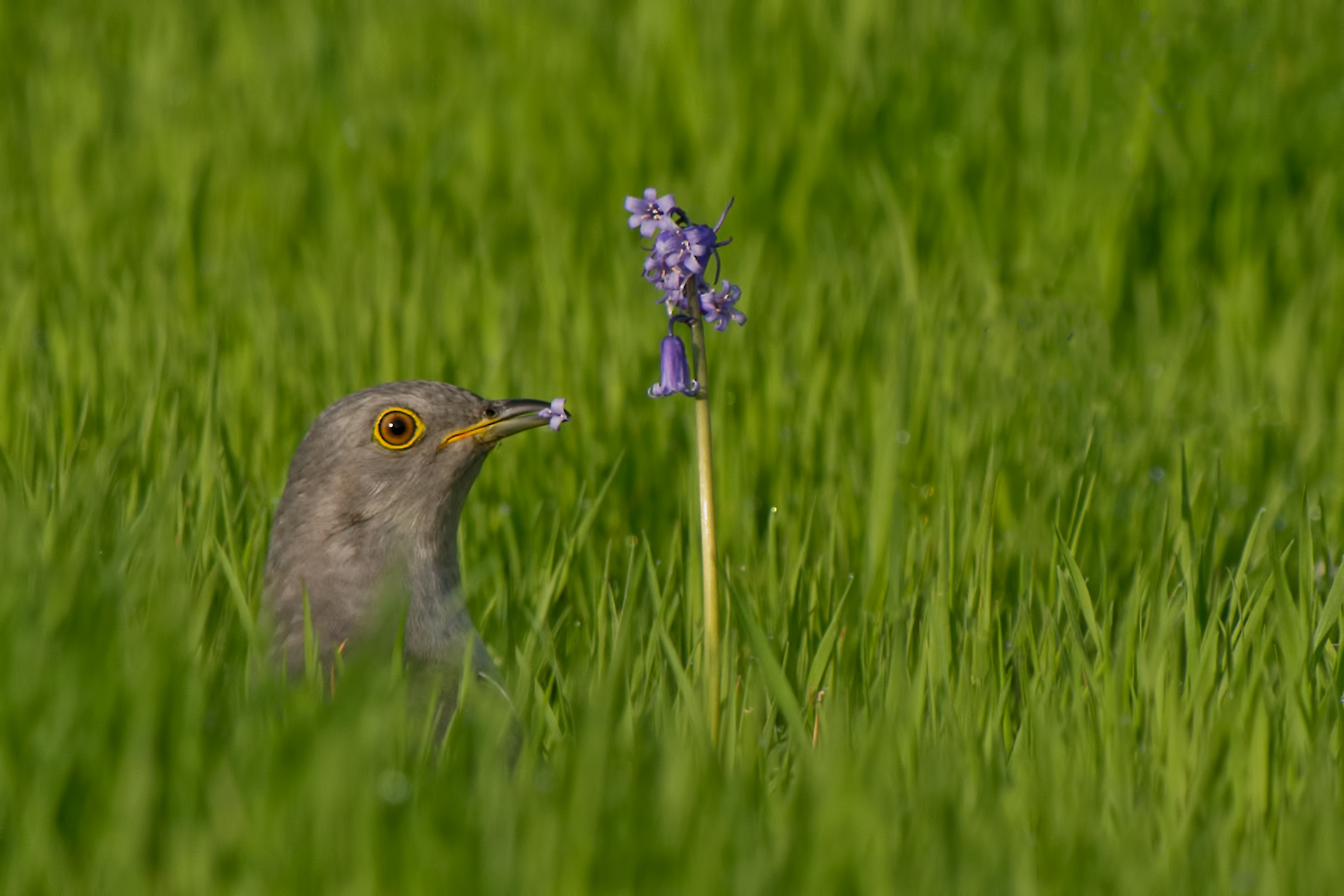 Cuckoo, Ingram, Northumberland (Photo: Mark Bowen)
Steve Young comments: "Cuckoo + bluebell = spring. Sometimes it's the simplest of photos that makes you look at them again and again. We have had plenty of Cuckoo images submitted in the past, including lots of great shots of birds on branches or rocks with or without a caterpillar, and many in flight, but this shot by Mark Bowen immediately struck me as something different. The subject on the ground in long grass with a single bluebell has that certain impact that a winning POTW should have; that the Cuckoo also appears to be eating the petals makes it an interesting behavioural shot as well."
"It seems likely that Mark spends a lot of time with this bird, getting to know its routine and favoured spots, and it has certainly paid off with this shot. The narrow depth of field throws both the foreground and background out of focus and ensures that attention is focused entirely on the main subjects."
Other notable images

Kestrel, Wayoh Reservoir, Lancashire (Photo: John Barlow)

Swift, Tomintoul, Highland (Photo: Mark Ranner)

Mallard, Goodrington, Devon (Photo: Billy Harbottle)

Swallow, Fleetwood, Lancashire (Photo: David Moreton)

Pied Wagtail, Padley Gorge, Derbyshire (Photo: John Dickenson)

Sandwich Tern, Lady's Island Lake, Wexford (Photo: Mike McKenzie)

Spectacled Warbler, Burnham Overy, Norfolk (Photo: Garth Peacock)

Red-necked Phalarope, Iceland (Photo: Colin Scott)

Cuckoo, Bulgaria (Photo: Dave Williams)

Avocet, Titchwell RSPB, Norfolk (Photo: Garth Peacock)

Bee-eater, Greece (Photo: Lee Amery)