The week at a glance
Milder air finally gained something of a grip on the weather across the British Isles this week, with the two days of the weekend in particular feeling definitely spring-like. The warmer conditions brought the first real widespread push of migrants, with several 2013 firsts noted during the week: Grasshopper, Reed and Sedge Warblers, Whitethroat, Swift and Cuckoo (among others) were all reliably recorded from south-coast locations. On the other hand came sobering news of several Stone Curlews found dead at sites in southern England — a harsh reminder of just quite how testing the cold and dry conditions of March had been for early-returning birds. Nevertheless, the forecast for the coming days looks altogether more positive, with milder conditions and southerly winds becoming established as we progress towards the weekend. Alpine Accentor, Rock Thrush or Crag Martin, anyone?
The week's headline came thanks to what was in all probability the same combination of bird and observer as occurred in Donegal last week. Gavin Thomas said to us that he was concerned he was 'losing the plot' when he heard the distinctive flight call of a Killdeer on his local patch at Alston Reservoirs (Lancs) during the morning of 7th, just ten days after he found the Killybegs individual on Good Friday! Sensationally, though, he wasn't hearing things and a short time later the bird was located on the new wetland reserve there — a first for Lancashire and the northwest of England no less! Lingering only long enough for locals to arrive, it flew off after 90 minutes, disappointing long-distance twitchers once more. There has been surprisingly little analysis as to whether or not the same bird is involved in both sightings, though there do appear to be one or two strong similarities in head and breast markings consistent with the single-bird theory (though this not conclusive from the images available). Save a brief reappearance the following afternoon, the bird had not been seen again by the time of writing.

Killdeer, Alston Reservoirs, Lancashire (Photo: Gavin Thomas)

Killdeer, Alston Reservoirs, Lancashire (Photo: Gavin Thomas)
A male Red-flanked Bluetail was belatedly reported from Burnham Overy Dunes (Norfolk) on 10th, having been seen on Sunday 7th. Though it was not seen again, the timing of this latest individual is entirely consistent with records in recent years, with three in late March (East Yorkshire in 2007, and Cork and the Outer Hebrides in 2012) and two in early April (Shetland 2007 and Dorset 2011).
Otherwise, it was very much a repeat of previous weeks: the Harlequin was still off the Balranald coastline on North Uist throughout the week and now appears to be showing exceptionally well to visitors, as the photos below suggest. The Pied-billed Grebe also remained on the Somerset Levels throughout the week, with its territorial behaviour suggesting an extended stay is in prospect. Meanwhile, out in west Galway, the American Coot was still at Ballyconneely on 8th at least.

Harlequin Duck, Balranald RSPB, N.Uist, Outer Hebrides (Photo: Mr Lawton)

Harlequin Duck, Balranald RSPB, N.Uist, Outer Hebrides (Photo: Mr Lawton)

Pied-billed Grebe, Ham Wall RSPB, Somerset & Bristol (Photo: Jeff Hazell)
Further new White-billed Divers were found during the week, with the now-traditional area of Loch Gairloch (Highland) claiming a bird on 9th–10th and a second off nearby Opinan on the later date. In the Outer Hebrides, two were again off Port Skigersta, Lewis on 10th, with another seen off Tiumpan Head on 8th. Meanwhile, the long-stayer remained off the South Ronaldsay (Orkney) coastline throughout the week, showing very well at times. Surf Scoters included two off the Lothian coastline, a drake still off Ben Heath (Meath) and the immature male again off Rosslare (Wexford), while Shetland welcomed back the drake King Eider to Symbister, Whalsay from 8th.

White-billed Diver, Herston, S.Ronaldsay, Orkney (Photo: Hugh Harrop)
Hampshire's Red-breasted Goose finally departed overnight on 5th, being seen at the Oare Marshes and Cliftonville (Kent) during the morning of 6th with migrating Dark-bellied Brent Geese. Up in Dumfriesshire, the Red-breasted Goose reappeared among the Barnacles at Loaningfoot on 9th–10th after last being reported in late January. The Richardson's Canada Goose was also seen again there on 10th, with the Todd's Canada Goose again at Whitrigg (Cumbria) on 10th and the long-staying North Uist Richardson's still there on 6th. The only new Black Brant of the week was a bird at Ballykinler Point (Down) on 5th; other birds remained in Essex, Lincolnshire and East Yorkshire.
The previous week's strong showing of drake Lesser Scaup continued, birds all remaining in Cornwall, Glamorgan, Gwent, Herefordshire, Lincolnshire, Cleveland, Clyde and County Armagh. Three Ring-necked Ducks remained on Tresco (Scilly), with two still at Slapton Ley (Devon) and further British individuals still in Cornwall, Pembrokeshire, East Yorkshire and on North Uist, while Irish birds remained in Counties Kerry, Mayo and Waterford. The drake Ferruginous Duck was still on Otmoor (Oxon) on 9th.

Lesser Scaup, Bryn Bach CP, Gwent (Photo: Keith Roylance)
In County Mayo, the Black Duck was again reported from Sruhill Lough, Achill Island on 4th, while drake American Wigeon remained at Quoile Pondage (Down) to 6th, Little Neston (Cheshire) to 7th and on the Exe Estuary (Devon) throughout. Tiree (Argyll) claimed two separate drake Green-winged Teal this week, the long-staying Loch a'Phuill bird being joined by a second on Loch an Eilein. Elsewhere, just four remained: in Hampshire, Northamptonshire, Cleveland and County Wexford.

Green-winged Teal, Pennington Marshes, Hampshire (Photo: Simon Johnson)
In the pleasant conditions of the weekend, it was perhaps no great surprise to see White Storks on the move: a new bird in-off the sea at Dungeness (Kent) on 6th was presumably that later seen over Folkestone, while one over Breydon Water (Norfolk) and Kessingland (Suffolk) the same day was quite feasibly last week's Hertfordshire individual. A bird over Yealand Redmayne (Lancs) on 8th is likely an escape. There were a handful of Cranes noted moving on the east coast between Kent and North Yorkshire, and a bird at Brechfa Pool (Powys) on 7th was a notable inland occurrence. The Glossy Ibis was again at Arundel (W Sussex) on 6th and 8th, while the Pembrokeshire bird was still at Marloes Mere.

White Stork, Dungeness NNR, Kent (Photo: Shailesh Patel)
In the frozen highlands of Scotland, the Snowy Owl again put in an appearance on Ben Macdui (Moray/Nairn) on 5th, being superbly photographed in the process. Over on the Outer Hebrides, the male was again reported at Solas on 6th. A juvenile White-tailed Eagle was tracked through East Anglia on 6th: after first being seen over Kelling Heath (Norfolk), it later flew over Felbrigg, Northrepps, Winterton and Burgh Castle before drifting into Suffolk airspace, where it was picked up at Minsmere, Leiston, Gedgrace, Boyton and finally Butley. Thoughts that it may have disappeared towards the Netherlands seem unfounded, for the bird was again in the Benacre area on 10th. And, according to observers, this is a different individual to that seen around The Wash on 19th March, so at least two have been seen in East Anglia in recent weeks.

Snowy Owl, Ben Macdui, Moray & Nairn (Photo: Alistair Todd)

White-tailed Eagle, Boyton, Suffolk (Photo: John Richardson)
A juvenile male Northern Harrier at Cahore Marsh (Wexford) may or may not be a different individual to that which spent much of the early part of the winter at Tacumshin (the recent bird there was a juvenile female). With more settled conditions in place, it was perhaps no surprise to see reports of Black Kites from Brighton and Ditchling (both E Sussex) and West Bextington (Dorset) on 8th, though the latter two were never more than probable. The only Rough-legged Buzzard seen this week was a bird at Snarravoe, Unst (Shetland, presumably the recent Fetlar bird.
One male Kentish Plover remained at Rye Harbour (E Sussex) until 9th, with further birds seen briefly at Old Hall Marshes (Essex) on 7th and at Pegwell Bay (Kent) on 8th, and a Temminck's Stint also seen at the latter site that day. Up to four Temminck's were also reported from nearby Worth Marsh on 9th, with two briefly at Sandwich Bay on 7th. The first Dotterel records of 2013 came in the shape of four at Siblyback Reservoir (Cornwall) on 5th, while the Lesser Yellowlegs was still at Ernesettle (Devon) that day and the Long-billed Dowitcher was still on the Gann Estuary on 7th.

Lesser Yellowlegs, Ernesettle, Devon (Photo: Phil Edmonds)
Last week's Bonaparte's Gull in Highland was again at Castletown on 6th. The same county's Ring-billed Gull at Dingwall was one of just nine reported this week: twos were at Waterville and Tralee (Kerry) and Cuskinny Marsh (Cork) with singletons remaining in Glamorgan and County Antrim. There was no news of the Galway Forster's Tern, although the year's first Little Terns were seen in the south as both Common and Arctic Terns began to appear across the English Midlands.

Bonaparte's Gull, Thurso, Highland (Photo: David Roche)

Ring-billed Gull, Carrickfergus, Antrim (Photo: Stephen Maxwell)
Hoopoe records came from Portland (Dorset) on 7th and 10th, and Lestowder (Cornwall) and Brynsciencyn (Anglesey) on 9th. Other scarce migrants included two Serins at Stanpit Marsh (Dorset) on 10th, with singletons at Sandy Point (Hants) the same day and at St. Catherine's Point (IoW) on 6th. Following an excellent fortnight for the species, it was no surprise to see further White-spotted Bluethroats turfed out this week: new males were on St. Agnes (Scilly) on 5th and at Start Point (Devon) on 6th and a third was trapped and ringed at a private Gloucestershire site on 3rd. Birds remained at Chesil Cove (Dorset) and St. Helens (IoW) to 6th.

White-spotted Bluethroat, St. Helens, Isle of Wight (Photo: Bill Dykes)
Lingering winter visitors included the two Penduline Tits again at Dungeness (Kent) on 10th and the male still at Stodmarsh (Kent) to 6th. Both the Berkshire/Hampshire Pallas's Warbler and the Devon Rose-coloured Starling remained throughout the week, and the Common Rosefinch was again in Broadstone (Dorset) on 10th. Waxwings persisted in many areas, with the peak flock count of 154 at Orrell Water Park (Gtr Man) on 6th. All but one of the week's seven Great Grey Shrikes were long-stayers: a new bird was trapped and ringed at Rhodi Wood (Surrey) on 8th. And, to wrap up this week's review, how about this for a reappearing act: after last being seen there on 8th November 2012, the Little Bunting was again present, showing well and occasionally singing at Elba Park (Durham) from 8th! Has it really been on site all winter, undetected until now?

Great Grey Shrike, undisclosed site, Dorset (Photo: Dave Helliar)

Little Bunting, Lambton Estate, Durham (Photo: Jack Bucknall)
Photo of the Week 4th–10th April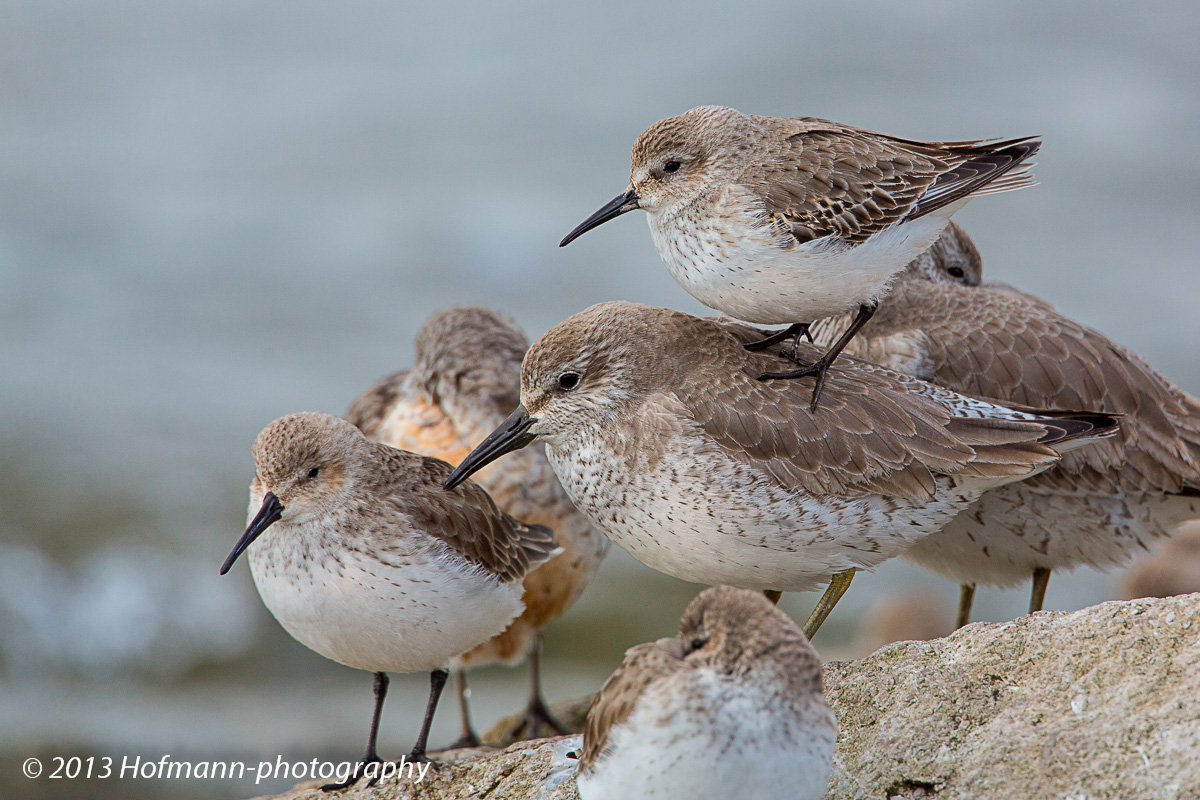 Dunlin, West Kirby, Cheshire (Photo: Gerhard)
In bird photography, it's not often you see images that make you laugh. From our collection of over a quarter of a million uploaded images, only a handful could be described as humorous. So when Gerhard Hofmann ventured out with his camera on a cold and stormy day on the Wirral Peninsula, capturing a funny bird image must surely have been far from his expectation. At the crowded wader roost, though, he managed to bag a priceless moment as a Dunlin perched on the back of a Knot, made even more amusing by the fact that all six birds in the image look so relaxed, giving the impression that this is a normal everyday occurrence. A well-captured moment!.

White-spotted Bluethroat, St. Helens, Isle of Wight (Photo: Bill Dykes)

White-billed Diver, Herston, S.Ronaldsay, Orkney (Photo: Hugh Harrop)

Ring Ouzel, Bystock Ponds NR, Devon (Photo: Charlie Fleming)

Whinchat, Malta (Photo: Natalino Fenech)

Garganey, Cannop Ponds, Gloucestershire (Photo: Norman West)

Goldcrest, Cleveleys, Lancashire (Photo: David Moreton)

Crane, Stodmarsh NNR, Kent (Photo: Brian Harrison)

Meadow Pipit, Staines Moor, Surrey (Photo: Ian Curran)

Pied-billed Grebe, Ham Wall RSPB, Somerset & Bristol (Photo: Jeff Hazell)

Blue-headed Wagtail, Shingle Street, Suffolk (Photo: John Richardson)

Chiffchaff, Westhay Moor NNR, Somerset & Bristol (Photo: Pete Blanchard)
Photo of the Week 28th March–3rd April

Hawfinch, undisclosed site, Gloucestershire (Photo: Lewis Thomson)
Since moving to the Forest of Dean in Gloucestershire in 2007, wildlife photographer Lewis Thomson has managed to photograph a wide range of scarce species. His signature subject, however, has been the ever-popular Hawfinch, which gave him his first BirdGuides Photo of the Week five years ago and has since given him a number of stunning Notable Images. This week, for the first time, we have selected an image featuring two Hawfinches in extreme close-up. We don't know the full back-story here, but the resulting image has understandably been popular amongst our online community. As well as bringing out the rich colours and striking facial features of these charismatic birds, the high-tension poses and interlocking shapes round off a high impact behavioural shot.

Long-tailed Tit, Wigan, Greater Manchester (Photo: David Cookson)

Common Scoter, Swanpool, Cornwall (Photo: Bobbster)

Woodcock, Titchwell RSPB, Norfolk (Photo: Chris Upson)

Rose-coloured Starling, Exminster, Devon (Photo: Charlie Fleming)

Little Owl, undisclosed site, Leicestershire and Rutland (Photo: Paul Riddle)

Kestrel, undisclosed site, Lancashire (Photo: Austin Thomas)

Sanderling, Cresswell, Northumberland (Photo: Terry Cavner)

Tawny Owl, Llandudno, Conwy (Photo: Dave Williams)