The week at a glance
Ah, the joys of routine birding! A trip by three Gwent birders out to Blorenge on 3rd took a much rarer turn when they heard an unfamiliar song. Rather obligingly, the bird in question came for a closer look and much to their delight they realised they were looking at Wales' first Marmora's Warbler. To the relief of many, it stuck around and even started nest-building, though the construction of such 'cock-nests' is just part of the ritual for a spring Sylvia (c.f. last year's Moltoni's Subalpine Warbler in Shetland).

Marmora's Warbler, Blorenge, Gwent (Photo: Kev Joynes)
Marmora's Warbler has a chequered history in British twitching. The first was a long-staying singing male at Midhope Moors (South Yorkshire) in May to July 1982. Since then, an elusive two-day bird at Spurn (East Yorkshire) in 1992 has been followed by one at St Abb's Head (Borders) in late May 1993, and then untwitchable birds on Scolt Head (Norfolk) in 2001 and probably the same bird for one day at Sizewell (Suffolk) 10 days later. So this fifth was a long-overdue addition to many lists, and sadly another one 'unblocked' for those of us who connected with the Spurn bird!
If we wanted to talk extremes, then the opposite end of the spectrum to the Marmora's was Devon's first Little Shearwater, hiding away on the south end of Lundy Island (Devon). Picked up by the keen ears of volunteers working on seabird monitoring, the bird was found in the wee small hours of 5th, and present until 9th at least. Just out of interest, this survey work follows the eradication of rats from the island in 2004, resulting in a healthy increase in the seabird population there (see this report for more details). As this nocturnal seabird spends most of its time singing from inside an inaccessible burrow, the chances of anyone seeing it were zero, but this didn't stop several charter-boatloads of birders making the trip. At best they would simply be able to experience this almost unique event at first hand, but for those less adventurous, a recording of the call, at times reminiscent of a wader, can be found here.
While there have been over 60 accepted records of Little Shearwater to date, it remains one of the ultimate untwitchable birds, usually passing by one of our most famous headlands. There have been just 12 records in the last 10 years, eight of which were in, or rather off, Ireland. Three of these were at Bridges of Ross (Co. Clare) over the period 23rd to 31st August, so this is the time to see these birds rather than just hear them! The heyday, of course, was at Flamborough Head (East Yorkshire) in the late 1970s, with nine records in just four years. There is just one previous record of a 'singing' male, first heard on Skomer Island (Pembrokeshire) on 26th June 1981 and remaining on the island into mid-July. What was presumably the same bird then returned from 21st June to 25th July 1982.
It perhaps shouldn't surprise us to find yet another North American passerine turning up in a private garden, but this week we had two! First up was late news of a Brown-headed Cowbird photographed in a garden in Seaburn (County Durham) on 10th May. The report and photos had gone via various unsuspecting hands before landing in the inbox of the county recorder, Mark Newsome. Needless to say he was suitably shocked, but then having 'found' last year's Eastern Crowned Warbler in a similar manner he must be used to this kind of event! Unfortunately the bird had only stayed for the one day, occasionally singing from the rooftop — but surely one day a Cowbird will make it into an accessible garden... Aside from a bird on Fair Isle for three days in May 2009 (twitchable to only the most dedicated and/or those with healthy wallets) and the first record from Islay in 1988, one-day garden reports have come from Cheshire, Northumberland, Pembrokeshire and two in Norfolk. Interestingly, all these one-day birds have been since 2008, and all bar one in early summer.
The second garden bird was yet another singing male White-throated Sparrow, this time in a private garden in Woodbridge (Suffolk) on 6th. This time news did get out in time for it to be twitched, but only by a select few county birders due to problems viewing the garden. Many may cry out at this, but it's nobody's God-given right to see every bird that turns up — where's the fun in that?! This was the fifth White-throated Sparrow of the spring (as it now transpires the two Shetland birds were one each of the tan-striped and white-striped variety), and the sixth came in the form of a 'possible', heard singing early morning at Southwell School, Portland (Dorset) on 7th.
The probable dark-morph Booted Eagle seen over Suffolk in mid-May popped up again. It was seen heading southeast over Stowmarket (Suffolk) on 3rd, and picked up 25 minutes later over Baylham. It then moved to the south coast, wandering around Hampshire. On 5th it was first seen over a Bedhampton garden at 9:45 and again at 10:28, then over Portsdown Hill at 11:00 and finally over Longparish at 17:20. It the reappeared on the 9th, seen at Kingsclere at 12:25 and then Sydmonton in the early afternoon. We are beginning to wonder if it will ever settle, but if pinned down it will be very popular!
Equally intriguing were a couple more of reports of 'possible' megas: an immature Lesser Spotted Eagle high over Winklebury (Hampshire) for five minutes on 6th, later seen at treetop height over Oakley, and an Elegant Tern at Portmarnock (Co. Dublin) briefly on 8th.
The three singing male Iberian Chiffchaffs remained at Potteric Car (South Yorkshire) until 8th, Wentwood Forest (Gwent) until 9th and Walderslade (Kent) to 9th, with a new singing male at Halligarth, Unst (Shetland) for just one day on 4th. This is a first for Shetland and only the fourth for Scotland, following last month's 'third'. Interestingly, singing birds present in Østfold and Nord Trondelag this spring are the first records for Norway, and a record in Sweden is currently being hotly debated.

Iberian Chiffchaff, Halligarth, Unst, Shetland (Photo: Robbie Brookes)
Last but not least was another report of a possible Brown Shrike at Land's End (Cornwall) on 5th. This follows the female seen at nearby Sennen on 20th May and you do wonder whether it could have gone unnoticed in this well-watched part of the world for so long...
The drake Ring-necked Duck was still at Birnie & Gaddon Lochs (Fife) on the 3rd and the Ferruginous Duck remained at Chew Valley Lake (Somerset) until 9th. The drake King Eider on the Ythan estuary (Aberdeenshire) is probably still around, but only reported to 7th, with another briefly with three Eider at Chanonry Point (Highland) on 7th. Of equal interest were two male Eiders at West Voe of Sumburgh (Shetland) on 7th, looking very much like the borealis race.

King Eider, Ythan Estuary, Aberdeenshire (Photo: Stephen Burch)

Northern Eider (Nearctic race borealis), West Voe of Sumburgh, Mainland, Shetland (Photo: Steve Minton)
Also on Shetland, an adult male Surf Scoter was at Weisdale Voe on 3rd with another off Murcar Golf Course (Aberdeenshire) on 5th. On the handsome front, a drake Green-winged Teal was at Campfield Marsh (Cumbria) on 3rd–6th and a male Blue-winged Teal dropped in to Cley Marshes (Norfolk) all too briefly on 7th.

Green-winged Teal, Campfield Marsh RSPB, Cumbria (Photo: Sam Northwood)
One of the most unusual records of the week was of a Lesser Flamingo seen over Sheringham (Norfolk) on morning of 6th. It was then photographed as it passed over Overstrand a short while later, gaining height heading off east. Much to the surprise of a local RSPB outing, it was then seen on Havergate Island (Suffolk) until mid-afternoon at least.

Lesser Flamingo, Sheringham, Norfolk (Photo: Simon Chidwick)
Aside from the breeding birds at Dungeness (Kent), Purple Herons were seen over Stalham (Norfolk) on 3rd and at Chobham Common (Surrey) on 4th, with one on the ground at last at Slimbridge (Gloucestershire) on 5th. One was also at Minsmere (Suffolk) on 5th and 7th and one wonders whether this is the same bird present since mid-May.

Purple Heron, Dungeness RSPB, Kent (Photo: Brian Harper)
The Black Stork story continued, with the roaming Scottish bird seen on Unst to 6th, finally allowing its ring to be read. It had actually been ringed in Hungary in 2007 and had been seen in spring 2008 in Hungary, spring 2009 in The Netherlands and then spring 2010 in Scotland. The only White Stork of the week was one over Conwy RSPB (Conwy) on 5th, with several Great White Egrets: at Loch of Strathbeg (Aberdeenshire) to 4th, Lawrenny (Pembrokeshire) on 3rd, Britford Water Meadows (Wiltshire) on 5th, Oare Marshes (Kent) on 7th and a report of one coming in off the sea at Birsay (Orkney) on 4th. Other egret news of note was a single Cattle Egret at Slimbridge (Gloucestershire) on 9th before heading off inland.

Black Stork, Burrafirth, Unst, Shetland (Photo: Steve Minton)
Away from the southeast, two Common Cranes were at Loch of Strathbeg (Aberdeenshire) on 3rd, with four over Scatness (Shetland) on 7th and two over Crossbost, Lewis (Outer Hebrides) on 7th. The only Glossy Ibis was the long-staying bird at Tacumshin (Co. Wexford), reported only on 9th.
Close to home (for me at least) was the pleasant sight of five Black-winged Stilts at Titchwell (Norfolk) on 5th–6th, harking back to the good old days of 'Sammy'. Other short-staying waders included a Pectoral Sandpiper at Frampton Marsh (Lincolnshire) on 6th–8th and yet another Broad-billed Sandpiper, this time at Port Clarence (Cleveland) on 6th–9th.
Content continues after advertisements

Pectoral Sandpiper, Frampton Marsh RSPB, Lincolnshire (Photo: Trevor Gunby)

Broad-billed Sandpiper, Port Clarence, Cleveland (Photo: Ian Boustead)
Again in Norfolk, but not so obliging, was a Gull-billed Tern that toured the North Norfolk coast on 5th. It was first reported past Salthouse, then over the Black-winged Stilt crowds at Titchwell at 12:42 and 12:55 before politically and prudently pleasing observers at Holme NOA at 12:59 and Holme NWT 10 minutes later. There was also a record of a bird in Cardiff Bay (Glamorgan) on 8th.
On the skua front, the most bizarre sighting of the week was of a pale-morph Arctic Skua on 8th seen mobbing Gannets in Plymouth Sound, viewed through the periscope of one of Her Majesty's attack submarines! More photogenic was a pale-morph Long-tailed Skua, seen for just one day on mainland Shetland on 5th.

Long-tailed Skua, undisclosed site, Shetland (Photo: Dougie Preston)
There was an unusual run of Glaucous Gull records on 5th, with near-adults at Kilrush (Co. Clare) and two on the Outer Hebrides, at Butt of Lewis and on North Uist, and the first-summer was still at Spurn (East Yorkshire). There was just one later record, of a first-summer at Newcastle (Co. Wicklow) on 9th.
An adult White-winged Black Tern was present at Allscott Sugar Factory (Shropshire) on 6th, and was almost certainly the same bird that was then at Belvide Reservoir (Staffordshire) the next day. Interestingly, reports of Arctic Tern from the same site probably refer to a very red-billed Common Tern (more details on the Belvide blog).

White-winged Black Tern, Allscott Sugar Factory (Permit only), Shropshire (Photo: Jim Almond)
As is usual at this time of year, several Black Kites were seen, over Chester Zoo (Cheshire) and St Justinian (Pembrokeshire) on 3rd, Budle Bay (Northumberland) on 4th and (the same) over Rennington (Northumberland) on 5th and Baydon (Wiltshire) on 6th. Other 'possibles' were seen over Arncliffe (North Yorkshire) on 5th and Wiveton (Norfolk) on 8th. An unseasonable Rough-legged Buzzard must have been a surprise on the island of Raasay (Highland) on 4th.
Red-footed Falcons remained at Dungeness (Kent) — a first-summer male — to 5th and Ouse Fen (Cambridgeshire) to 7th with others including a first-summer male over York (North Yorkshire) on 5th.
Red-backed Shrikes turned up in good numbers this week, with too many to list. The total of 13 included popular birds at Cley (Norfolk) and Banstead (Surrey) on 3rd, a singing male in Richmond Park (London) on the afternoon of 6th, and birds at Broomhill (South Yorkshire) on 7th–8th and Sunderland (Durham) on 8th–9th. The only Woodchat Shrike of the week was one at Start Point (Devon) on 8th.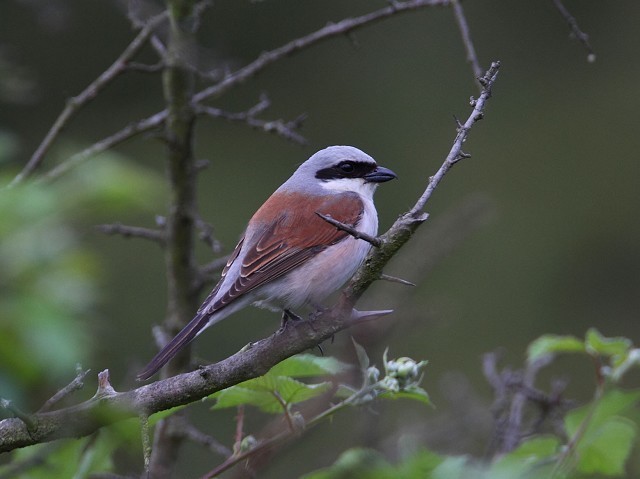 Red-backed Shrike, Richmond Park, Greater London (Photo: Phil Wallace)
Bee-eaters also increased in number, but not in 'twitchability', with a bird on Lundy (Devon) on 6th for an hour, followed by two briefly at Samphire Hoe (Kent) on 8th, one briefly at Uwchmynydd (Gwynedd) on 9th (and possibly the same over South Stack (Anglesey) later that morning) and one on wires at Trewellard (Cornwall) on 9th.
A very interesting report and photo of an Alpine Swift in Swanage Bay (Dorset) on 6th appeared to be a Common Swift carrying a white feather — actually quite convincing!
The singing male White-spotted Bluethroat at Welney (Norfolk) remained until 7th, with further 'red-spotted' birds on Fair Isle on 3rd and 5th and Spurn (East Yorkshire) on 3rd.

Bluethroat, Welney WWT, Norfolk (Photo: Stevehinton)
The flurry of Red-rumped Swallow records had to come to an end, and only the bird at South Ronaldsay (Orkney) remained, and only to 2nd. Hoopoes were also rather scarce, with a popular bird on the old heath at The Lodge (Bedfordshire) on 4th only with another single-day bird at Long Lawford (Warwickshire) on 5th, and one at Chertsey (Surrey) on 8th–9th.
Just one Tawny Pipit was reported, at Six Mile Point (Co. Wexford) on 9th, and a smart male Channel Wagtail at Fiskerton Fen (Lincolnshire) may have been the bird seen there in late May.
On the warbler front, the singing male Great Reed Warbler remained at Straw's Bridge (Derbyshire) all week, with a second bird on Hermaness, Unst (Shetland) on 6th. There was also a small flurry of Marsh Warbler sightings, with birds on Fair Isle and Quendale (Shetland) on 4th, at Long Melford (Suffolk) from 5th–9th, Druridge Pools (Northumberland) on 7th–8th, and Fetlar (Shetland) on 8th. Birds were also ringed at Cardiff Bay (Glamorgan) on 5th and Portland Bird Observatory (Dorset) on 8th, the latter still present to 9th. There was an unconfirmed report from Brandon Marsh (Warwickshire) on 4th and also unconfirmed was the Arctic Warbler on Westray (Orkney) on 4th. Perhaps more excepted at this time of year was the Greenish Warbler at Flamborough Head (East Yorkshire) on 9th.

Great Reed Warbler, Straw's Bridge NR, Derbyshire (Photo: Gordon Wright)

Marsh Warbler, Druridge Pools, Northumberland (Photo: Alan Tilmouth)
A typically elusive male Subalpine Warbler frustrated many at Long Hills, Blakeney Point (Norfolk) on 6th–7th. Despite this bird looking very washed out (suggesting an eastern-race bird), its call didn't stand up to scrutiny. The only other record was a female on Lundy (Devon) on 9th.
As is to be expected in early summer, Common Rosefinches and Golden Orioles kept turning up, with 11 Rosefinches (including two on Unst (Shetland) on 4th) and 16 migrant Orioles (including three (or more) at Gibraltar Point (Lincolnshire) on 6th).

Common Rosefinch, Cemlyn Bay, Anglesey (Photo: Steve Culley)
Last but not least was a single report of Serin over the Bryher churchyard (Scilly) on 5th, though far rarer was a Corn Bunting at North Ronaldsay Bird Observatory (Orkney) on 4th: only the third record there in the last 25 years!
Photo of the Week

Common Kingfisher, Hampton, Worcestershire (Photo: Mark Hancox)
Regular BirdGuides visitors will know that we get a good supply of high-quality images of Common Kingfishers. In fact, last year we had more image uploads of this species than any other, some of which were among the most stunning images we've ever received. It therefore takes a fair amount of dedication to create an image that can add to such a collection. Bird photographer Mark Hancox has recently made full use of the very latest camera gear (shooting at up to ISO2500!) to capture a very impressive series of action shots featuring these birds in a wide variety of poses, including those incredibly tricky diving shots. Our favourite freezes the bird in the middle of a vertical plunge, from a very unusual perpendicular angle. Outlining just the topside of the bird from this angle against a dark, diffuse background creates a very strong composition, emphasising the shape of the bird. The slight motion blur in the wings adds to the dynamic feel created by the vertical orientation of the bird and the rich colours ensure this is one image that wouldn't go unnoticed.
Other notable photos

Woodcock, Shouldham Warren, Norfolk (Photo: Kevin Du Rose)

Little Owl, South Wigston, Leicestershire and Rutland (Photo: Paul Riddle)

Marmora's Warbler, Blorenge, Gwent (Photo: Steve Wilce)

Golden Oriole, Spain (Photo: Steve Fletcher)

White-tailed Eagle, Mull, Argyll (Photo: Mark Wilson)

Crested Tit, Aviemore, Highland (Photo: Kev Joynes)

Trumpeter Finch, Cley next the Sea, Norfolk (Photo: RobWilson)

Honey Buzzard, undisclosed site, Dumfries & Galloway (Photo: Damian Waters)

Short-eared Owl, Skomer, Pembrokeshire (Photo: Maurice Gordon)

Capercaillie, undisclosed site, Highland (Photo: anon)

Black-winged Stilt, Spain (Photo: Garth Peacock)

House Martin, Old Newton, Suffolk (Photo: Jon Evans)

Willow Warbler, Wayoh Reservoir, Lancashire (Photo: John Barlow)

Avocet, undisclosed site, Norfolk (Photo: David Whistlecraft)

Gannet, Calf Sound, Isle of Man (Photo: Sean Gray)

Little Ringed Plover, Marshside RSPB, Lancashire (Photo: Ron McCombe)

Lesser Spotted Woodpecker, undisclosed site, Herefordshire (Photo: E. Bowen-Jones)

Pied Flycatcher, undisclosed site, Staffordshire (Photo: Tom Melton)

Cuckoo, Achinhoan, Argyll (Photo: Jimmy MacDonald.)