The week at a glance
There was a mixed bag of weather and a mixed bag of birds this week as December gave Britain and Ireland a random hotchpotch of snow, sun, rain, wind and frost in almost equal measure. The birds? Well, there was the now old-guard wintering mega, and another pretender to the crown, but both were usurped by a fly-by star on the east coast.
What may well be Norfolk's first accepted record of Brünnich's Guillemot was the undoubted high point of the week. It flew by close inshore, with three of its common cousins, off Cley beach (Norfolk) on the morning of 4th. Beautifully documented by the sole observer, this is almost a mirror image of another recent close flyby Brünnich's off the very same beach, noted by two independent observers after three days of Arctic storms on 12th November 2007. That bird was thrown out by the BBRC (they don't seem like southern North Sea sightings of auks from afar — at least Tufted Puffin will change that), so it's going to be an interesting ride for the 2009 bird. Hopefully its course will be rather smoother than the bird from two years ago and, at long last, there will be official recognition of what any number of east-coast seawatchers have known for aeons: the Bee-Gee is out there!
The wintering Brown Shrike on Staines Moor was well ensconced into its third month on Surrey soil, still around on 9th (60 days not out now). In Cornwall, the Pacific Diver was again on the Carnsew Basin in the Hayle Estuary from time to time from 3rd–9th, following a report of (presumably) the same bird in Mount's Bay earlier on 3rd. A probable Pallid Harrier was reported near St. Just on 4th.

Brown Shrike, Staines Moor, Surrey (Photo: Phil Wallace)
Nineteen Balearic Shearwaters were counted before noon on 3rd off St. Ives Island (Cornwall) along with a couple of Pomarine Skuas. Popular Poms elsewhere remained at Beachley (Gloucestershire) and Chew Valley Lake (Somerset), with half a dozen singles noted elsewhere. Back, briefly, to Balearic Shearwaters: the week's highest tally was 28 seen off Sennen Cove (Cornwall) on 6th, with a further 21 off Cape Cornwall the following day. Along the south coast, single Grey Phalaropes lingered in Hampshire (at Pennington Marshes) and West Sussex (at Amberley Wild Brooks), both to 6th, while further lone birds were seen in Gloucestershire, County Sligo and on Jersey. The week's tally of Little Auk barely warrants a mention, it was so low — only nine or ten birds were reported.

Pomarine Skua, Hauxley NR, Northumberland (Photo: Tim Mason)

Grey Phalarope, Amberley Wild Brooks SWT, West Sussex (Photo: John Reeves)
The trio of Glossy Ibis remained at Catcott Lows (Somerset) to 9th. In Worcestershire, a single bird was around the Holt Fleet and Grimley area of the county (to 6th, reappearing again on 9th) and was a welcome relief to any local listers who missed the appearance of the same bird in the same area on 20th November: a most welcome addition to the Worcestershire list. In Kent, the two Glossy Ibises remained at Dungeness to 9th, along with one of the week's (minimum) 11 Great White Egrets. Three of these were still at Leighton Moss (Lancashire), while at least one roamed around Leicestershire and Warwickshire, with another in Northamptonshire. Single birds were noted at three different sites in Cumbria, further north in Fife, and down to the south in Devon, while one remained on the Suffolk/Norfolk border around the Hockwold Washes.

Glossy Ibis, Grimley New Workings, Worcestershire (Photo: Jim Almond)

Great White Egret, Kilconquhar Loch, Fife (Photo: John Anderson)
Two Cattle Egrets were again around the Hampshire marshes this week (at Pennington on 5th–7th), with one still at Winkton (Dorset). Another Dorset bird was seen at Arne on 6th; in Somerset, a bird at Tatworth on 8th had first been seen on 1st, while three were again at Walton, also on 8th. In County Cork, two Cattle Egrets were at the Beamish Pool on 9th, while on Jersey a single bird was at Grouville Marsh. Seventeen Spoonbills were on the lagoons of Brownsea Island (Dorset) on 6th, while other regular fixtures included six at Isley Marsh (Devon) and five around the Camel Estuary (Cornwall). The only Common Cranes away from the Norfolk Broads were two that lingered around the Cambridgeshire Washes from 3rd–5th at least, and a White Stork (of unknown origin) was at Birtley (Co. Durham) on 3rd.
In Lancashire, the four white Snow Geese were still around Aldcliffe Marshes to 9th (popping up at Heaton on 7th). The white Snow Goose in Norfolk appeared again at Holkham and then Snettisham over 4th–5th while a blue Snow was seen at Loch of Strathbeg (Aberdeenshire) on 5th–6th. In Ireland, a Snow Goose was seen near Letterkenny (Co. Donegal) on 6th.
In Devon, the adult Red-breasted Goose hooked up with the Exe Estuary's Dark-bellied Brents on 3rd–9th, while on Jersey two remained at St. Ouen's Pond to 7th. Two Black Brants were at the Wexford Wildfowl Reserve on 5th with singles noted in Dorset, Hampshire, Essex, Norfolk (perhaps two birds on the north coast) and Lincolnshire; elsewhere in Ireland, singles were seen in counties Kerry and Cork. A Richardson's Canada Goose was again at Loch Gruinart (Islay) on 4th, while the Richardson's Canada Goose and its larger Canada Goose sp. buddy remained at Lissadell and Ballyconnell (Co. Sligo) to 7th.

Red-breasted Goose, Topsham, Devon (Photo: Colin Scott)
Nine single drake Green-winged Teal were seen during the week. New birds were at Ballycarry (Co. Antrim) on 4th and Slimbridge (Gloucestershire) and Loch Spynie (Moray) on 6th, with regulars still at Cley Marshes (Norfolk), Eyebrook Reservoir (Leicestershire), Draycote Water (Warwickshire), Caerlaverock (Dumfries & Galloway), Inch Island Lake (Co. Donegal) and Bell Harbour (Co. Clare). Two drake American Wigeon were in Dumfries & Galloway again this week: one was at Caerlaverock on 3rd (and again on 9th), with the other remaining at Kirk Loch to 6th at least. Further drakes were seen at Welney (Norfolk) on 5th–7th and at Kilmaneen (Co. Tipperary) on 6th.

Green-winged Teal, Caerlaverock WWT, Dumfries & Galloway (Photo: Colin Bushell)

American Wigeon, Kirk Loch, Dumfries & Galloway (Photo: Craig shaw)
A probable Lesser Scaup was seen at Cosmeston Lakes (Glamorgan) on 5th and the drake was again in Cardiff Bay on 8th–9th. On Guernsey, two Lesser Scaup were on Grande Mare to 6th (one was at St. Saviour's Reservoir the previous day). In Wales, a female Ring-necked Duck was at Llyn Rhosrhydd (Ceredigion) on 5th–8th and a drake was back on Blagdon Lake (Somerset) on 5th. This week has been a good one for Ferruginous Ducks,with at least four birds noted: drakes were at Corbet Lough (Co. Down) and Pugney's CP (West Yorkshire) and females were at Abbotsbury (Dorset) and Snettisham (Norfolk) from 4th.

Lesser Scaup, La Grande Mare, Guernsey (Photo: Paul Hillion)

Ferruginous Duck, Pugney's CP, West Yorkshire (Photo: Bryan Charlesworth)
In Devon, the female Surf Scoter returned to Dawlish Warren for another winter on 4th and a drake was in Largo Bay (Lothian) on 7th. In Moray, the drake King Eider at Burghead (Moray) was still in situ, to 8th at least.
The white Gyrfalcon at Raghly Harbour (Co. Sligo) on 5th must have looked a treat in such a glorious setting, but departed after just over an hour. The same bird was then seen a couple of days later, at Yellow Strand. No less impressive would have been the grey Gyr seen flying in off the sea near Stromness (Orkney) on 8th, though there is a certain reluctance shown towards this colour morph by the national records committee. In Norfolk, a Rough-legged Buzzard was reported near King's Lynn on 6th.
In Lothian, the young Baird's Sandpiper was still at Barns Ness to 9th and the resident (for now) Lesser Yellowlegs remained at Aberlady Bay, also to 9th. In Ireland, an American Golden Plover was seen at Donaghadee (Co. Down) on 6th.

Baird's Sandpiper, Dunbar, Lothian (Photo: Mike Thrower)
The impressive collection of four single Spotted Sandpipers were all still in place this week: the birds at Topsham (Devon), Brook (Hampshire), Abberton Reservoir (Essex) and Killearn (Clyde) all remained at their respective sites to 9th.

Spotted Sandpiper, Topsham, Devon (Photo: Charlie Fleming)
In Sligo, a juvenile Kumlien's Gull was at Lissadell on 5th while two of the week's five Iceland Gulls were in Ireland (in Dublin and Cork), with the others in Cambridgeshire, Lancashire and Ayrshire. Just four Glaucous Gulls were noted, in Cornwall, Cheshire, the Outer Hebrides and County Sligo.

Iceland Gull, Cobh, Cork (Photo: Ronan mclaughlin)
Six adult Ring-billed Gulls were reported during the week, regular fixtures remaining at Gosport (Hampshire), Westcliff-on-Sea (Essex), Carsington Water (Derbyshire), Portrush (Co. Antrim) and Sandymount (Co. Dublin) while a new bird was seen at Clonakilty (Co. Cork) on 9th. From a rather different direction were the 15 or so Caspian Gulls, which included two each for Calvert Lakes (Buckinghamshire) and Chasewater Reservoir (Staffordshire).

Caspian Gull, Minsmere RSPB, Suffolk (Photo: Jon Evans)
Two Richard's Pipits were reported at Abberton Reservoir on 5th, following one there the previous day. One was also on Guernsey during the week, at Clos de Pecqueries on 4th, while late news concerned a Richard's Pipit at Moore NR (Cheshire) on 1st.
In Norfolk, the Great Grey Shrike at Dersingham Bog was still present throughout the week, along with others in Gwent (at Abergavenny), Glamorgan (near Pontypridd), in Shropshire (at Fenn's Moss), in Somerset (at Wilmersham Common) and in Argyll (near Kilmartin and Slockavullin). Back in Wales, the Yellow-browed Warbler at Maesteg (Glamorgan) was still present from 3rd–9th.

Great Grey Shrike, Kilmartin, Argyll (Photo: Jim Dickson)

Yellow-browed Warbler, Maesteg, Glamorgan (Photo: Richard G. Smith)
The Rose-coloured Starling at Forest Hill (Oxfordshire) was seen again on 4th–9th and the adult was again on Orkney, at Balfour, Shapinsay, on 7th. In Cumbria, a juvenile Rose-coloured Starling was seen near Kendal on 7th–9th (and had been present for over a fortnight prior to this). In Kent, a single Penduline Tit was at Dungeness until 4th at least. Finally, in London, a single female-type Serin was still at Rainham Marshes (London) to 8th, with two birds again on 9th.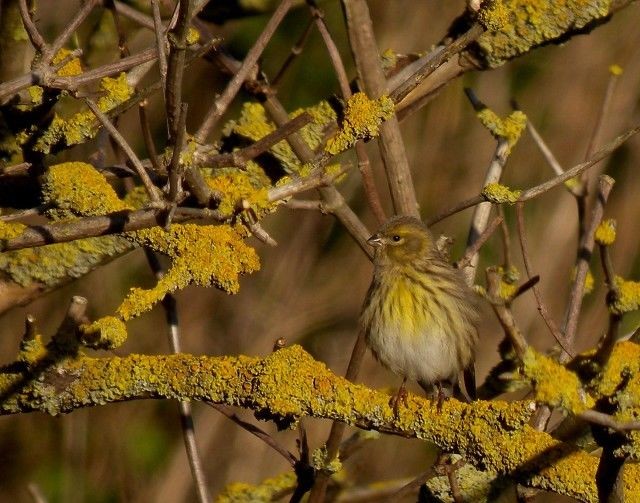 Serin, Rainham Marshes RSPB, Greater London (Photo: Priscille Preston)
Photo of the Week

Mandarin Duck, Epping Forest, Essex (Photo: Fraser Simpson)
For many bird photographers, the aim is to capture and convey as much detail as possible. To achieve this, they normally try to get as close as possible to their subjects, in bright conditions, so that they can take pin-sharp, frame-filling images. In the world of art, this type of ultra-realism is well balanced by artists who follow a more abstract or impressionistic style. In contrast, though, there are very few bird photographers who attempt a more expressive representation of their subjects. One of the few such photographers is Fraser Simpson. A look through Fraser's submissions to BirdGuides, or the pages of his website, shows how he has managed to capture highly artistic images from a wide range of shooting situations (even city centre locations!). Fraser's image of a pair of Mandarin Ducks reflected in black water is a perfect example of how he turns a challenging photographic situation into an opportunity to create a beautiful composition, in this case evoking a sense of harmony and serenity. Anyone wishing to develop the ability to realise creative visions in this way needs to learn how to see the image, not just the subject. Looking through Fraser's images would be a great starting point.
Other notable photos

Short-eared Owl, undisclosed site, South Yorkshire (Photo: Margarita Du Rose)

Blackcap, Hartlebury, Worcestershire (Photo: Mark Hancox)

Purple Sandpiper, Wallasey, Cheshire (Photo: David Cookson)

Snow Bunting, Salthouse, Norfolk (Photo: Nigel Pye)

Grey Phalarope, Seaforth LWT (Permit only), Lancashire (Photo: Jim Almond)

Redwing, undisclosed site, Clwyd (Photo: Richard Steel)

Common Kingfisher, Christchurch, Dorset (Photo: Lyndon Parkinson)

Dunlin, Thornham Point, Norfolk (Photo: Chris Mayne)

Pomarine Skua, Beachley, Gloucestershire (Photo: Lewis Thomson)

Great Northern Diver, Scammonden Dam, West Yorkshire (Photo: Sean Gray)

Great Black-backed Gull, Lyme Regis, Dorset (Photo: Simon Johnson)

Greenfinch, Big Waters NR, Northumberland (Photo: Keith Cochrane)

Hen Harrier, Stodmarsh NNR, Kent (Photo: Steve Ashton)

Purple Gallinule, Portugal (Photo: James Wood)

Baird's Sandpiper, Dunbar, Lothian (Photo: Mike Thrower)