The week at a glance
Warm days and windy days. Sunny days and soggy days. Cool days and muggy days. This week was, once again, a typically mixed-up bag of weather with plenty of bright spells along the east coast and plenty of cloud and rain across parts of southern and western Britain and Ireland. Even on the warm days, some parts of the country had a distinct, early autumn, evening nip in the air and the bird news through the week also began to ease itself towards the new season, with a decent array of classic, very early, autumn arrivals making landfall.
There was no chance though of any landfall as far as the main event of the week is concerned. August 1st 2009 will enter the record books as the best day ever for Wilson's Storm-petrels in the waters around the Irish west coast and the far southwest of England, with Bridges of Ross leading the way. This tremendous seawatching outpost in County Clare mustered an astonishing 27 birds throughout the course of the day, smashing any previous land-based records for the species within our waters by around a dozen birds or so. In County Kerry, off Brandon Point, another 15 birds were added to the total, while birders at sea around the Seven Stones reef off the Isles of Scilly scored at least 10 birds on their all-day pelagic trip. A pelagic out of Padstow (Cornwall) produced another five, with two more seen for the early starters who left St. Ives at the crack of dawn. Land-based seawatchers produced two Wilson's lingering (for up to three hours) near Porthgwarra (Cornwall) with the birders at Strumble Head (Pembrokeshire) adding a final bird to make the day's tally an incredible 62 birds. Other seabirds worthy of special note included a report of the immature Black-browed Albatross again off Porthgwarra on 2nd, with possible Yelkouan Shearwaters, both off them also from Porthgwarra, seen on 1st and 3rd.

Great Spotted Cuckoo, Weybourne, Norfolk (Photo: Jon Evans)
In Norfolk, the Great Spotted Cuckoo resurfaced on 1st within the fence-line of Weybourne Camp. The smart money was always on the bird taking up some sort of residence on this private site (out of bounds for many years, sadly). The bird was last seen in brambles just to the west of the Camp, around Kelling Quags, on 24th and luckily the bird appeared along the seaward side of the site and often showed well, from time to time, throughout the weekend (and on to the end of the review period) to those making the trip to see it. Norfolk's rarest bird of the week (and one of the rarest seen anywhere in the UK or Ireland this week) was the first-summer Baltic Gull (form fuscus) on the NWT reserve at Cley on the evening of 30th. This always-controversial northern Lesser Black-backed Gull is currently only deemed acceptable in this country if accompanied by the relevant Finnish white colour-ring. This unringed bird, a textbook classic with the full "suite of characters" (tick them off, one by one), would comfortably stand its ground against any ringed bird. Indeed this is one of the times of the year that Larophiles stand a decent chance of discovering a Baltic Gull — and, if aged correctly, a first-summer will certainly stand out from the crowd. Cley's (and Norfolk's) only other two Baltic Gulls (both photographed, both first-summers) were also late-July birds, seen on 26th and (coincidentally) 30th July 2006. In Guernsey, the two Zitting Cisticolas remained at Port Soif to 30th and the same day saw a belated report emerge from Kent of a "probable" near Gillingham on 26th July.

Zitting Cisticola, Port Soif, Guernsey (Photo: Chris Bale)
Once upon a time, a Fea's Petrel would have been a headline bird, but nowadays they are relegated to an annual (in very small numbers) near also-ran, despite the fact that many hundreds of keen birders still have a little empty square on their lists alongside Pterodroma feae. With the outside chance that a Zino's Petrel will be identified in British or Irish waters and now the even smaller chance of a South Atlantic Soft-plumaged Petrel cruising by an Irish or Cornish headland (following the photographed bird in the Norwegian fjords earlier this summer) all these Pterodromas will be noted as Fea's types. And that's probably what the bird seen from Galley Head (Co. Cork) on 2nd will go down as too. Still, Fea's-type or otherwise, it's still a cracker and one to get the heart pumping a tad quicker.
It was another curiously quiet week for Cory's Shearwaters, with just four birds reported: one was seen on the sea just offshore from Lizard Point (Cornwall) on 3rd with another, on the same day, off Mizen Head (Co. Cork). They were followed by singles from Porthgwarra and Doonloughan (Co. Galway) on 4th. Likewise, it was a quiet week for the ever-majestic Great Shearwater: singles were seen from Galley Head on 3rd and 4th, from the Scillonian III and from an evening pelagic off Scilly, also on 4th. Balearic Shearwater numbers fell away a little this week, but numbers still reached around 110 birds, with the lion's share still being seen off Porthgwarra, including 12 on 1st and 15 on 3rd. Also in Cornwall, 11 birds were seen from Pendeen on 1st, while east-coast birds were reported from North and East Yorkshire and Norfolk. Birders at Bridges of Ross managed to count at least seven Sabine's Gulls amongst the stream of Wilson's Petrels on 1st, while birders out at sea off Scilly on the same date also managed to score a Grey Phalarope. Further Sabine's Gulls were seen from Flamborough Head (East Yorkshire) on 31st and off the Farne Islands (Northumberland) on 1st, while another Grey Phalarope was seen off Galley Head on 4th. Unusual skuas were very thin on the ground this week; just a couple of Irish and two Scottish Pomarine Skuas were all that was seen.

Cattle Egret, Chew Valley Lake, Somerset & Bristol (Photo: Gary Thoburn)

Purple Heron, London Wetland Centre WWT, Greater London (Photo: Phil Wallace)
Two adult Cattle Egrets accompanied a locally fledged juvenile at Chew Valley Lakes (Somerset) on 30th with two birds still present to 5th. Another Cattle Egret was seen at Padworth Lane GP (Berkshire) on 30th–31st. The single Great White Egrets in Somerset and Suffolk continued to roam around into August, with another appearing at Oare Marshes (Kent) on 2nd and again on 5th. In Wales, a Great White Egret was seen at Ferryside (Carmarthenshire) on 2nd (having been seen first on 27th July) and the final bird of the week was in Langstone Harbour (Hampshire) on 5th. This week's highest count of Spoonbills came from Suffolk, rather than Norfolk for a change, with 11 birds at Havergate Island on 30th. Several birds still lingered between Cley and Titchwell in Norfolk during the early part of the week, with the previously mentioned Oare Marshes scoring three, and singles in Anglesey, Gloucestershire, Suffolk, Essex and East Sussex. Double figures of Common Cranes (including at least one fledged juvenile) were seen around Hickling Broad (Norfolk) on 1st, with further Norfolk birds noted at Pentney GPs and Burnham Thorpe on 1st and 2nd respectively. In County Down, a Crane was seen at Castlewellan on 30th. A super-looking juvenile Purple Heron was a great find at the London Wetland Centre on 1st while a Night Heron seen recently along the River Wensum at Guist (Norfolk) and again at Lyng on 4th has been put down as an escape from the Witchingham collection — but just how many are there left in that area? Any at all? The autumn's first Spotted Crakes were found at Christchurch Harbour (Dorset) and next door in Hampshire, at Pennington Marshes, both on 2nd, with the latter bird in place to 5th.

Spoonbill, Slimbridge WWT, Gloucestershire (Photo: Graham Cox)
Content continues after advertisements
In Fife, the Aythya double act continued at Loch Gelly, with both the eclipse drake Ferruginous Duck and the eclipse drake Ring-necked Duck present throughout the week. Another adult drake Ferruginous Duck spent a day at Buckden GPs (Cambridgeshire) on 1st and on 5th the drake was seen again at Chew Valley Lake (Somerset). Back to the duck double acts and back to Scotland, the two drake Surf Scoters stayed off Blackdog (Aberdeenshire) until 30th at least and two (more?) drakes were seen off Kinnaber (Angus) on 2nd.
A Black Kite was seen at Stanwick GPs (Northamptonshire) on 2nd, continuing a run of reports in the county through the summer. Is there one living amongst the introduced breeding population of "local" Reds? Another re-introduction raptor that was still on site was the White-tailed Eagle at Loch of Strathbeg (Aberdeenshire) throughout the week. Last week, on 29th, a Snowy Owl was seen on Tory Island (Co. Donegal).
The handsome adult Pacific Golden Plover remained at Breydon Water (Norfolk) until 2nd and in County Wexford, at Tacumshin, an American or Pacific Golden Plover flew over during the morning of 30th. The adult Marsh Sandpiper was still on Porth Hellick Pool, St. Mary's (Scilly) to 5th while the first White-rumped Sandpipers of 2009 made their respective entrances at Welney (Norfolk) on 31st and (trapped and ringed) on the Montrose Basin (Angus) on 1st. The Norfolk bird remained until 1st; the bird in Angus was still present to 3rd. Last week's Lesser Yellowlegs at Paull Holme Strays (East Yorkshire) and Aberlady Bay (Lothian) stayed to 30th and 5th respectively, with another reported on the beach at Hunstanton (Norfolk) on 30th. Six or seven Pectoral Sandpipers included two Lincolnshire records: one was still at Manby on 30th, with it or another arriving at Frampton Marsh on 3rd. Two birds were also seen in Norfolk: one was at Hickling Broad from 1st–5th and another was at Titchwell on 5th. Others were seen in Aberdeenshire, Northumberland and Cleveland. The first Dotterel of the autumn flew over Stanpit Marsh (Dorset) on 5th.

Marsh Sandpiper, St. Mary's, Isles of Scilly (Photo: Martin Goodey)
The Franklin's Gull on mainland Orkney remained around Graemeshall until 31st at least. A first-summer Ring-billed Gull was still on the beach at Sandymount Strand (Co. Dublin) from 30th–3rd and another first-summer was still at Clahane (Co. Clare). The white-winged contingent's only representatives were single Glaucous Gulls on South Uist (Outer Hebrides) and at Portree on the Isle of Skye. A Caspian Gull was at Paxton Pits (Cambridgeshire) with around 80 Yellow-legged Gulls for company, and the near-adult was again at King George VI Reservoir (Surrey) on 2nd. In Norfolk, at least three Caspian Gulls (two second-summers and a first-summer) were at Blackborough End tip on 3rd–4th, with an adult at nearby King's Lynn (along with a first-summer) on 5th.
In Gloucestershire, a Caspian Tern was seen at Ashleworth Ham and Coombe Hill Meadows on 2nd (and was reported again at Lydney Pools on 5th) while an adult Whiskered Tern spent just under 30 early-morning minutes at Ogston Reservoir (Derbyshire) on 30th with perhaps the same bird making its way to Fiskerton Fen (Lincolnshire) on 2nd. Lincolnshire then scored with a White-winged Black Tern, reported heading south across Freiston Shore on 4th.

Whiskered Tern, Fiskerton Fen, Lincolnshire (Photo: Russell Hayes)
A Hoopoe was at Windmill Farm (Cornwall) on 2nd while rather less expected in summer was the Great Grey Shrike at Alston Moor (Cumbria) from 31st–3rd. This was the site that a Great Grey Shrike was present, for just over a fortnight, from late March into April of this year, so it is widely believed to be the same bird. Much interesting debate over the age and racial identity of this fascinating-looking individual has followed since the bird was reported as a possible Steppe Grey Shrike when first found this week.

Great Grey Shrike, Alston Moor, Cumbria (Photo: Michael Foley)
The first Hippolais warblers of the autumn popped up this week, with a Melodious Warbler at Portland (Dorset) on 2nd–3rd and Icterine Warblers on Fair Isle and Out Skerries (Shetland) on 2nd, and a third Shetland bird found at Unst, Skaw, on 5th. Another Icterine Warbler was seen on North Ronaldsay (Orkney) on 3rd. In East Yorkshire, it was another year of good news from Kilnsea where Marsh Warblers have bred successfully again — at least one fledged juvenile was seen there this week. The round-up concludes with news of a male Serin at Keyhaven Marshes (Hampshire) on 31st.
Photo of the Week

Common Kingfisher, undisclosed site, Suffolk (Photo: Amanda Hayes)
An easy choice for Photo of the Week this week is one of Amanda Hayes' two flight shots of a Kingfisher. Anyone who has seen just how fast these colourful little birds fly will appreciate how difficult it is to get any shot of them in flight, let alone the pin-sharp shots Amanda managed to capture. The only difficulty was which of the two shots to select, our choice in the end being influenced by the angle and pose of the bird and the way these enabled the light to bring out the face and feather details. Amanda's certainly building a reputation for her flight-shooting abilities.
Other notable photos

Sparrowhawk, undisclosed site, Worcestershire (Photo: John Robinson)

Skylark, undisclosed site, Lancashire (Photo: Tom Charles)

Zitting Cisticola, Port Soif, Guernsey (Photo: Chris Bale)

Barn Owl, East Walton, Norfolk (Photo: Stephen Durrant)

Greenfinch, Big Waters NR, Northumberland (Photo: Keith Cochrane)

House Martin, Fleetwood, Lancashire (Photo: David Moreton)

Peregrine Falcon, Leighton Moss RSPB, Lancashire (Photo: Richard Fox)

Little Egret, Cley Marshes NWT, Norfolk (Photo: Richard Bedford)

Wood Sandpiper, Chelmarsh Reservoir, Shropshire (Photo: Jim Almond)

Dunlin, North Wirral, Cheshire (Photo: Richard Steel)

Common Tern, Summer Leys LNR, Northamptonshire (Photo: Douglas McFarlane)

Cuckoo, Glenramskill, Argyll (Photo: James MacDonald)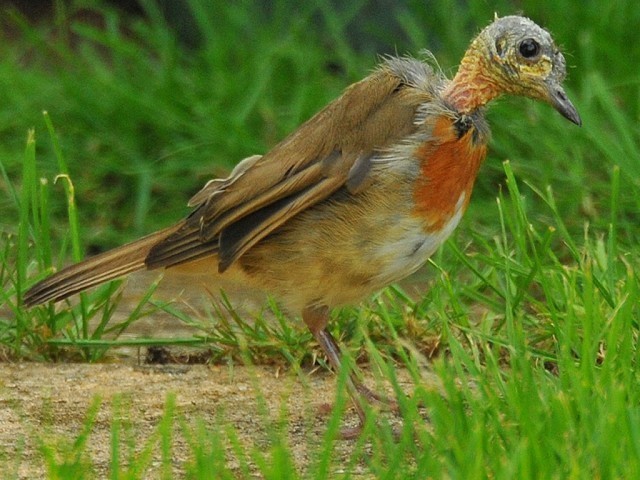 Robin, Thetford, Norfolk (Photo: David Lord)