The week at a glance
It's been a fairly routine week with very little in the way of new rarities, so first mention goes to the continuing Glaucous-winged Gull, still present at Castletownbere, Co Cork, on 4th at least. After being seen in two counties last week there was no sign of the Franklin's Gull anywhere during the latest review period, and the Cumbrian Laughing Gull also failed to appear. On a more positive note, the near-continuous battering of transatlantic storms finally seems to be producing the odd American Herring Gull — a smart juvenile was photographed near Raghly, Co Sligo, on 5th and another juvenile was discovered off Newlyn, Cornwall, late on 8th; last week's candidate was also still on Whalsay, Shetland, on 6th.

American Herring Gull, Raghly, Sligo (Photo: Seamus Feeney)
With no news of adults in Highland or County Wexford it was down to the Devon Bonaparte's Gull, still at Dawlish Warren, to represent its species. Significantly fewer Ring-billed Gulls were noted this week: just four were seen around Britain, comprising the regular adults in Hampshire, Pembrokeshire and Clyde plus the first-winter still at Sancreed, Cornwall. Eight Irish records included a second-winter in Sligo Town and an adult back at the traditional location of Cuskinny Marsh, Co Cork. Just four Kumlien's Gulls (Cambs, W Yorks, Argyll and Co Donegal) were noted, while around 60 Iceland and 50 Glaucous Gulls were reported, including counts of seven and five respectively at Killybegs, Co Donegal, on 7th.

Ring-billed Gull, Tralee, Kerry (Photo: Richard Jeffree)
The Pacific Diver continued to drift around Mount's Bay, Cornwall, and was seen off both Marazion and Penzance. Nearby the Hudsonian Whimbrel spent much of the week at either Trenow Cove or Perran Sands. In addition, Glossy Ibis and at least a couple of juvenile Glaucous Gulls in the immediate area made for a great day out this part of West Cornwall.
A drake Common Scoter with an extensively yellow bill appears to have been causing some confusion up at Bamburgh, Northumberland, with at least some reports of the recent Black Scoter apparently referring to this bird. A drake Surf Scoter remained in Largo Bay, Fife, and another was still just across the Firth of Forth at Joppa, Lothian. The immature male also hung around off Filey, N Yorks, and the adult remained off Rerwick Head, Orkney; also in the latter islands, the White-billed Diver was still off South Ronaldsay on 9th. With no sign of the two immatures seen in Co Sligo last week, the long-staying female King Eider at Ruddon's Point, Fife, was the only of its kind seen this week.
Six American Wigeon were reported, two in Ireland (Cos Wexford and Leitrim) and four in Britain, all lingering drakes, at the following locations: Steart, Somerset; Hesketh Out Marsh, Lancs; Grindon Lough, Northumberland; and Tain, Highland. Green-winged Teal were reported from 14 sites and included no fewer than eight across Scotland, of which three were in the Outer Hebrides. Further south the drake with a white nasal saddle remains on the Blyth Estuary in Suffolk.

Green-winged Teal, Loch of Kinnordy RSPB, Angus & Dundee (Photo: Gus Guthrie)
A new drake Lesser Scaup was discovered at Dargan Bay, Co Antrim, on 6th and remained thereafter; more familiar males continued their stays in Cornwall and Glamorgan. Just four Ring-necked Ducks were noted: regular drakes still near Pitlochry, Perth/Kinross, and at Trabboch Loch, Ayrshire, and Bray Gravel Pits, Berkshire, plus a drake again at Milton Loch, Dumfries & Galloway — it was last seen here on 30 December. A drake Ferruginous Duck was at Caldecotte Lake, Bucks, from 4th, while further males continued in Hampshire and Durham and the female stuck around at Holkham Park, Norfolk.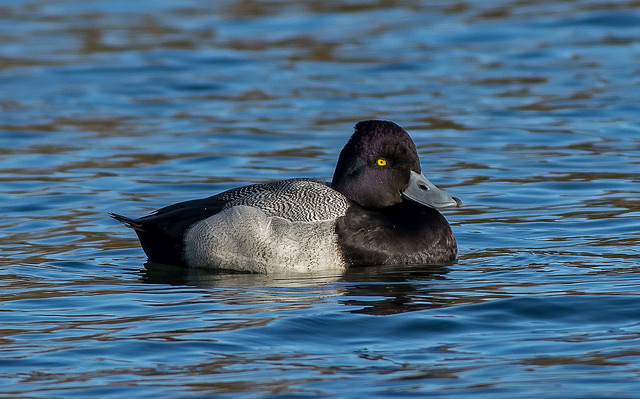 Lesser Scaup, Cosmeston Lakes CP, Glamorgan (Photo: Jeff Lack)

Ring-necked Duck, Pitlochry, Perth & Kinross (Photo: John Nadin)

Ferruginous Duck, Holkham, Norfolk (Photo: David Aitken)
A Richardson's Cackling Goose was again seen on Islay, Argyll, on 7th and the Richardson's and Todd's Canada Goose were both still in Co Sligo to 6th. The blue-morph Snow Goose and its three youngsters were seen regularly in fields at Schoolhill, Aberdeenshire, from 4th, with two in Dumfries & Galloway: the continuing intermediate morph at West Freugh Airfield and adult near Caerlaverock from 7th. An adult Red-breasted Goose was again among Dark-bellied Brents in the Deal Hall area of Essex from 3rd, while half-a-dozen Black Brants included two at Deal Hall and two at Gosport, Hants.

Red-breasted Goose, Southminster, Essex (Photo: Darren Underwood)
Glossy Ibis were reported from nine sites over the seven days, all lingering birds. British records came from Cornwall, Devon (2), Somerset, East Sussex and Suffolk, while in Ireland birds continued in Counties Wexford, Waterford and Kerry. At least four Cattle Egrets included a new bird near Biddenden, Kent, on 6th in addition to birds still in Suffolk, Somerset and County Limerick.
Belated news was received of a white-morph Gyr Falcon up at the Butt of Lewis on 1st, while the South Uist bird was at Rubha Ardvule on 5th and back at Bornish the following day. After being a mainstay at Flitcham for a couple of months, Norfolk's Pallid Harrier was actually seen at Roydon Common with greater regularity this week as it continued to roost at the reserve. At least four Rough-legged Buzzards were seen in Norfolk and others were still at Sullom, Shetland, and Holland Haven, Essex.

Pallid Harrier, Flitcham, Norfolk (Photo: Dr George Kinsman)
The Greater Yellowlegs notched up another week near Whippingham, Isle of Wight, but there was no sign this week of the Lesser Yellowlegs at Breydon Water — though presumably it's still somewhere on the expansive tidal mudflats west of Great Yarmouth. A new Long-billed Dowitcher was at Wanlip Meadows, Leics, from 5th but could go missing for extended periods; the Northumberland bird also lingered, spending most of its time at Cresswell Pond. A Grey Phalarope was at Abberton Reservoir, Essex, on 7th.
The Hoopoe continues at Wall Heath, Staffs, and Shore Larks remained in Norfolk, Cleveland and Kent. A Richard's Pipit continued on Sheppey, Kent, and at least two were still on the north side of Flamborough Head, E Yorks. A Barn Swallow was reported from Chelmsford, Essex, on 3rd.

Hoopoe, Hinksford, Staffordshire (Photo: Karl Bishop)
A total of five Yellow-browed Warblers were reported, four of them in Cornwall — the sole representative outside the county was the continuing bird at Eastleigh, Hants. There was no news on the Dusky Warbler in Somerset this week but at least 15 Siberian Chiffchaffs were noted nationwide.

Siberian Chiffchaff, Shorncote, Gloucestershire (Photo: Jon Mercer)
The first-winter Coues's Arctic Redpoll remained at Birling Carrs, Northumberland, but passerines were otherwise a tad thin on the ground. That said, a pair of Penduline Tits was a great local record at Saltholme, Cleveland, from 5th; elsewhere up to three were reported at Titchfield Haven, Hants, on 3rd and 9th and the two males remained near Gloucester all week.

Penduline Tit, Saltholme RSPB, Cleveland (Photo: Jack Bucknall)

Penduline Tit, Gloucester, Gloucestershire (Photo: Derek Lees)
Western Palearctic news
Heads continued to be scratched over a Redhead in the Netherlands which, though looking very much the part, is associating with a group of Mallards on a small canal (plenty of photos here). Rather more straightforward was the male Siberian Rubythroat, which was still looking resplendent in Hoogwoud all week, and the continuing Pine Bunting on Zuid-Holland.
Content continues after advertisements

Siberian Rubythroat, Netherlands (Photo: Steve Ray)
The White-winged Snowfinch continues to frequent seaside meadows north-east of Aljezur, Portugal, while Spain's fourth Solitary Sandpiper was found on the Almanzora river in Almería on 4th. The pair of Hooded Mergansers were again on Terceira, Azores, and the Double-crested Cormorant continued on São Miguel; the drake Hooded Merganser and American White-winged Scoter were both still present near Reykjavík, Iceland. Down in Cape Verde, a Black Heron was seen again at Santiago on 7th.
Israel's third Rough-legged Buzzard was at Kiryat Gat from 3rd and, quite astonishingly, was seen alongside the long-staying Bateleur there on 5th — surely the first time this unlikely species pairing has been observed together.

Bateleur, Israel (Photo: Rami Mizrachi)
The recent Azure Tit in Helsinki was trapped on 4th and looks to be a hybrid; a less troublesome, truly 'white', bird remains in the country at Kontiolahti. The Black-throated Thrush was still in Copenhagen, Denmark, and a new male Pine Bunting was found in Sør-Trøndelag county, Norway, on 9th.

Azure Tit, Kontiolahti, Finland (Video: Janne Aalto)