The week at a glance
May is here! At last! Yes, spring's blue-ribbon month has finally arrived and brought with it heavy rain, cool northwest to northeasterly winds, temperatures struggling to break out of double figures along with some decent spells of sunshine. Great. Thanks May. Still, it wasn't all doom and gloom; far from it, actually, as a pleasing array of the rare and the not-quite-so-rare kept birders out and about and interested throughout the week.
Top of the tree was the cracking singing male White-throated Sparrow found on the outskirts of Boscastle (Cornwall) on 1st (with confirmation, and news release, the next day). Perhaps surprisingly, given the tidy haul of Nearctic gems on the Cornish list, this was a first for the county; indeed, it was actually the first record for the southwest region as a whole. Following the record in Hampshire last year (once news was finally released) the Cornish bird may not have drawn the crowd it deserved, but that won't have stopped the men and women of Kernow enjoying the newest addition to the county's avifauna.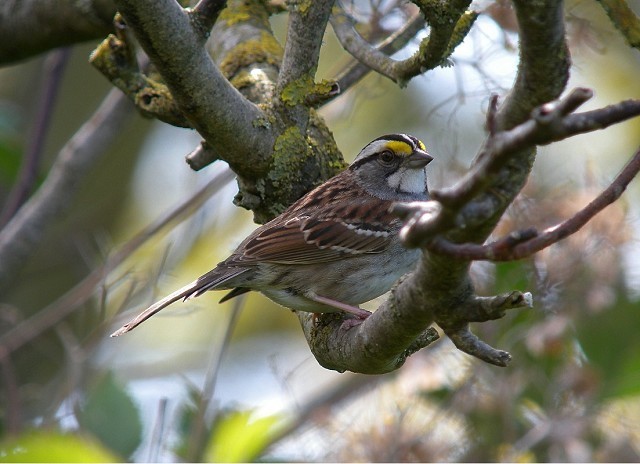 White-throated Sparrow, Boscastle, Cornwall (Photo: John Rowe)
Before the new spuggie hoisted the Stars and Stripes (or the Maple Leaf) on Red Flag Day, the attention was on two visitors from southern climes, both discovered on 29th. The Iberian Chiffchaffs at Walderslade (Kent) and Titchwell (Norfolk) did their best to generate interest, but this species does struggle sometimes. Both birds showed well (particularly the Kent individual) and, most importantly, they sang well too. The Titchwell bird disappeared after 30th, while the Walderslade bird remained to 5th.

Iberian Chiffchaff, Walderslade, Kent (Photo: James Lowen)

Iberian Chiffchaff, Walderslade, Kent (Photo: James Lowen)
In Ireland, a Pacific Diver was seen off Finvarra Point (Co. Clare) on 2nd, following the bird seen at the same site in March.
Four or five White-billed Divers were seen this week. One was noted off Hopeman Point (Moray) on 30th, with two together off nearby Burghead on 2nd (one remaining to 5th). Single birds around Shetland were seen at Bluemull Sound and Lunna Holm on 1st, with one at Kirkabister on 2nd. Only 16 Pomarine Skuas were seen during the week. A single Long-tailed Skua was reported flying north from Turnberry Point (Ayrshire) on 1st, while nine flew through Hoy Sound (Orkney) on 3rd. Back on the 1st, a Cory's Shearwater flew south past Spurn (East Yorkshire).
One or two Great White Egrets were at large around the gravel pits and fens of Cambridgeshire this week, with others in Cornwall, Nottinghamshire, Moray and Aberdeenshire. Around 14 Spoonbills included up to four birds around the Norfolk coast, while one inland in Oxfordshire, at Port Meadow and Farmoor Reservoir, on 1st was a decent inland find.

Great White Egret, Berry Fen, Cambridgeshire (Photo: Richard Thomas)
The latter county also hosted a couple of Common Cranes this week, two birds on Otmoor on 2nd, while the roaming trio made it back from East Yorkshire to Norfolk for a second time this week, heading back east over Titchwell on 1st. Two Cranes were noted in Co. Fermanagh, County Durham, Lancashire, London, Kent and West Sussex during the week, with singles on Islay and in London, Cambridgeshire, Suffolk, Lincolnshire, Wirral and East Yorkshire. The last county listed also saw a flock of five birds head over Sunk Island, on 3rd, before appearing over Ogston Reservoir (Derbyshire) later the same day.
Two magnificent adult Purple Herons were at Dungeness (Kent) from 29th–3rd (when possibly three birds were present, one remaining to 5th) and a further Kent bird was found at Sandwich Bay on 1st. Another Purple Heron was reported at Marazion Marsh (Cornwall) on 2nd, and next door in Devon the ultra-elusive Black Stork was seen near Shaugh Prior on 2nd–3rd. White Storks of unknown origin were near the Durham Tees Valley Airport (Cleveland) on 2nd, Rochdale (Greater Manchester) on 3rd and Queensbury (West Yorkshire) on 4th.
The white Snow Geese at Loch of Strathbeg lingered to 4th at least, while a Black Brant was still at Dungarvan (Co. Waterford) on 4th. Smaller wildfowl species were represented by the drake Black Duck still on Tresco (Scilly) on 4th, a drake Lesser Scaup on Bracklough Lake (Co. Cavan) on 3rd, single Ring-necked Ducks at Ballygrant, Islay (Argyll) on 30th, Portmore Lough (Co. Antrim) and Inch Island Lake (Co. Donegal) and the drake Ferruginous Duck, still at Chew Valley Lake (Somerset) until 2nd.

Ring-necked Duck, Portmore Lough RSPB, Antrim (Photo: Derek Charles)
The only Green-winged Teal reported this week were last week's birds: at Ashton's Callow (Co. Tipperary), still present on 1st, and Strand Loch (Shetland) to 3rd. A Blue-winged Teal appeared at Loch na Keal, Mull (Argyll) on 1st with presumably the same drake then on Gigha, also in Argyll, on 2nd. Another drake, also found on 2nd, was at Pepper Arden Bottom (North Yorkshire) and remained to 5th.

Blue-winged Teal, Pepper Arden Bottoms, North Yorkshire (Photo: Simon Wilson)
A drake Surf Scoter flew past Burghead Bay (Moray) on 1st and a King Eider was at Collieston (Aberdeenshire) on 2nd.
A summer-plumaged Long-billed Dowitcher was at Marshside (Lancashire) from 29th–1st and a Lesser Yellowlegs was reported for half an hour at Wissington (Norfolk) on 29th. Presumably the same bird was then seen at Frampton Marsh (Lincolnshire) on 5th. In London, an adult summer Pacific Golden Plover flew over Beddington Sewage Farm before reappearing on the other side of town, at the London Wetlands Centre, on 2nd.

Long-billed Dowitcher, Marshside RSPB, Lancashire (Photo: Gavin Thomas)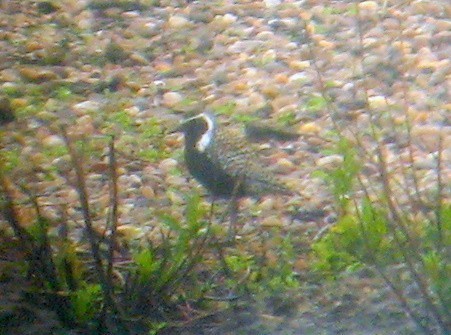 Pacific Golden Plover, London Wetland Centre WWT, Greater London (Photo: Mike Caiden)

Lesser Yellowlegs, Frampton Marsh RSPB, Lincolnshire (Photo: Paul Sullivan)
On the Gower Peninsula, a Kentish Plover was at Whiteford NR on 4th. A Pectoral Sandpiper was at Rutland Water (Leicestershire) on 29th and was followed by two birds together at North Cave Wetlands (East Yorkshire) on 30th–1st and singles at North Gare (Cleveland) on 3rd and Loch of Strathbeg on 5th. A Temminck's Stint was at Cley (Norfolk) on 30th (with two there on 5th), two appeared at Loch of Strathbeg (Aberdeenshire) on 1st and three were at Swaffham Prior Fen (Cambridgeshire) on 2nd, with one at Minsmere (Suffolk) on the same date. A Black-winged Stilt was reported over Findhorn (Highland) on 1st, potentially the first in the region since 1953.

Pectoral Sandpiper, North Cave Wetlands, East Yorkshire (Photo: Roy Harvey)

Temminck's Stint, Swaffham Prior Fen, Cambridgeshire (Photo: Willie)
At least 140 Dotterel were reported during the week, with the largest groups reported being 22 on Cairnsmore of Carsphairn (Dumfries & Galloway) on 5th, 15 on Ingleborough (North Yorkshire) on 1st, 14 still at Upavon (Wiltshire) to 3rd at least and 10 on Cross Fell (Cumbria) on 30th. At least nine birds were found in Borders on 29th, nine more were at Bethesda (Gwynedd) on 2nd, and a trip of eight flew over Annesley (Nottinghamshire) on the same day. Eight more were seen in Aberdeenshire on 3rd. In County Wicklow, four Dotterel were seen on Djouce Mountain on 30th.
In UK terms, the rarest raptor of the week was the dark-morph Montagu's Harrier seen heading east over Weybourne (Norfolk) 29th. This beautiful form is seldom seen here: one was in Bedfordshire in spring 2008, and Norfolk hosted another in June 2003, seen over Cley and Weybourne. Staying in East Anglia, a wing-tagged female Montagu's Harrier seen at various sites in east Norfolk and then Minsmere during the week was ringed as a nestling in Auvergne, central France in July 2008.

Montagu's Harrier, Minsmere RSPB, Suffolk (Photo: Jon Evans)
On the Outer Hebrides, the white Gyrfalcon was seen again on Lewis this week, near Suainebost, on 30th. An immature Golden Eagle, thought to be jess-free, was at Croft Pascoe Pool (Cornwall) on 4th–5th. A Snowy Owl was seen on Unst (Shetland) on 1st–2nd while more typical visitors for the time of year included a "dark male" Red-footed Falcon reported from Islay (Argyll) on 2nd and Black Kites over Buckfastleigh (Devon), Bristol (Somerset) and Pett Levels (East Sussex), all on 4th.

Snowy Owl, Baltasound, Unst, Shetland (Photo: Robbie Brookes)
The first-summer Ring-billed Gull remained on the Hayle Estuary (Cornwall) to 3rd and two first-summers were at Cuskinny Marsh (Co. Cork) on 2nd, with an adult at Ballyvaughan (Co. Clare) the same day. A first-summer Ring-billed Gull was also reported on Tresco on 4th. Nine Iceland Gulls and nine Glaucous Gulls were noted countrywide while Caspian Gulls were represented by a first-summer at Rainham Marshes (London) on 30th and a second-summer at Dungeness on 4th.

Ring-billed Gull, Clahane Strand, Clare (Photo: Jeffcop)
The singing male White-spotted Bluethroat continued to perform at Welney (Norfolk) this week, still on territory to 5th. Also in Norfolk, a Bee-eater was seen near Docking and then Titchwell during the early evening of 29th. Way off to the northwest, another Bee-eater was on Iona (Argyll) on 30th and one was heard over Billingham (Cleveland) on the same day. In Cornwall, a Bee-eater was at Porthcurno, briefly, on 3rd with one the following day over the Lizard. One was also reported at Durlston CP (Dorset) on 5th.

Bluethroat, Welney WWT, Norfolk (Photo: Gary Thoburn)
Up to four Red-rumped Swallows moved through East Yorkshire on the morning of 30th: one was at Barmston, two were seen heading south at Flamborough Head (one flew north there the previous day) and another was at Spurn. One of these may then have accounted for the bird seen at Gibraltar Point (Lincolnshire), also on 30th. On 1st, a single Red-rumped Swallow was at Ferry Meadows (Cambridgeshire) with one the following day at Wilstone Reservoir (Hertfordshire). The Wilstone bird was the first of up to 10 birds found on 2nd. Further singles were at Rainham Marshes (London) and Brading Marshes (Isle of Wight), while three were seen at Kingswood (East Yorkshire) and a remarkable (for spring) four were at Loompit Lake (Suffolk). Two of these were still present on the morning of 3rd, while new arrivals were at Rother Valley (South Yorkshire), Wheldrake Ings (North Yorkshire), Gunner's Park near Shoeburyness and Chigborough Lakes (Essex). The 4th saw two birds appear at Rye Harbour (East Sussex) and another was at Trimley Marshes (Suffolk), with one also reported from Oakham (Leicestershire).The week finished with one at Porchester (Hampshire).

Red-rumped Swallow, Loompit Lake, Suffolk (Photo: Mark Bicknell)
A Pallid Swift was over Winchester (Hampshire) on 30th and the week's only Alpine Swift was seen over Minsmere, also on 30th (although another was reported in Lancashire on 2nd).
Eight Hoopoes included one on Fair Isle (Shetland) on 1st–2nd, with another on Islay on 30th, while birds at Clayhanger Marsh (West Midlands) and at Lenham Heath (Kent) proved popular. The fifth of the week was on Tresco (Scilly) from 29th–4th, bird six was at Cowpen Bewley (Cleveland), bird seven was reported at Cwmcarn (Gwent) — both arrived on 4th — and bird eight was at Thetford (Norfolk) on 5th. Five Wrynecks were seen this week, two on 1st — at Glandore (Co. Cork) and Dinas RSPB (Carmarthenshire) — with the others noted near Llys-y-Fran Reservoir (Pembrokeshire) on 2nd–4th, Landguard (Suffolk) on 3rd and St. Agnes (Scilly) on 5th.

Hoopoe, Clayhanger Marsh, West Midlands (Photo: Dave Hutton)

Wryneck, Landguard NR, Suffolk (Photo: Mark Bicknell)
Another week, another Black-headed Wagtail: this week's offering, another super male, at Land's End (Cornwall) from 29th–1st, seemed to be the real deal, while the presumed hybrid male at Saltholme Pools (Cleveland) was present to 29th. In Hampshire, a probable male Ashy-headed Wagtail was at Keyhaven Marshes on 4th–5th.

Grey-headed Wagtail, Boyton Marshes, Suffolk (Photo: Bill Mackie)
A Tawny Pipit was on private land at Grimston (East Yorkshire) on 30th and another was found at Weston-super-Mare (Somerset) on 3rd. A probable Richard's Pipit was seen briefly on Papa Westray (Orkney) on 5th while Short-toed Larks were on Gugh (Scilly) to 5th and Ballynamona beach (Co. Cork) from 29th–5th.

Short-toed Lark, Ballynamona, Cork (Photo: Ronan McLaughlin)
A Savi's Warbler spent a day at Minsmere on 30th and one (the same one?) was trapped and ringed at Orford Ness on 1st. A Marsh Warbler was reported from Breydon Water (Norfolk) on 29th. In County Cork (still enjoying a terrific spell) a male Subalpine Warbler was found at Knockadoon Head on 2nd, with another male at Tronda (Shetland) on the same date.

Subalpine Warbler, Knockadoon Head, Cork (Photo: Graham Clarke)
Two of the week's five Woodchat Shrikes were new arrivals, at Shuart (Kent) on 1st and Dursey Island (Co. Cork) on 2nd–3rd. Last week's birds at Mizen Head (Co. Cork), Bass Point (Cornwall) and Winterton Dunes (Norfolk) remained to 29th, 2nd and 5th respectively. A male Red-backed Shrike was at Tidenham (Gloucestershire) on 1st and again on 4th, with the Great Grey Shrike still at Tetney Lock (Lincolnshire) to 1st.

Woodchat Shrike, Winterton Dunes NNR, Norfolk (Photo: Stephen Allen)
The first-summer Rose-coloured Starling was still in a private garden in St. David's (Pembrokeshire) on 30th and Serins were at Margate (Kent) and on Ramsey Island (Pembrokeshire) on 1st, with another at Rye Harbour on 4th. In Ireland, a Hornemann's Arctic Redpoll was a tremendous find on Dursey Island (Co. Cork) on 1st, the bird still present the following day. An Ortolan Bunting at Portland on 5th was the first of the year for this always welcome overshoot.
Photo of the Week

Wood Warbler, Llandrindod Wells, Powys (Photo: Kev Joynes)
The arrival of huge numbers of warblers in springtime is one of the UK's great seasonal spectacles: over the period of a few weeks, they bring life to vast expanses of our countryside. To many people, especially non-birders, warblers are regarded as the most boring group of birds, not to mention being dismissed as being 'all the same'. To those who spend a little time learning to appreciate the differences in their appearance, behaviour and song, though, the various warbler species tend to gain favour quickly. Kev Joynes' portrait of a singing male Wood Warbler does a great job of conveying the attractiveness of this particular species, whose relative scarcity makes it that little bit special. Perfect pose and a plain background make the subject pop, whilst the bright, defocused leaves subtly hint at both the habitat and the time of year.

Osprey, Inverness, Highland (Photo: Mark Hancox)

Shag, Isle of May, Fife (Photo: Jacqui Herrington)

Red-rumped Swallow, Gunner's Park, Essex (Photo: Steve Arlow)

Gadwall, Summer Leys LNR, Northamptonshire (Photo: Richard Bedford)

Hobby, Lakenheath (Hockwold) Fen, Suffolk (Photo: Pixellence)

Eider, North Berwick, Lothian (Photo: David Cookson)

Grasshopper Warbler, undisclosed site, Lancashire (Photo: Tom Charles)

Common Kestrel, Pagham Harbour LNR, West Sussex (Photo: Dorian Mason)

Water Rail, Minsmere RSPB, Suffolk (Photo: Jon Evans)

Dartford Warbler, Dunwich Heath NT, Suffolk (Photo: David Whistlecraft)

Bluethroat, Welney WWT, Norfolk (Photo: Gary Thoburn)

Woodchat Shrike, Winterton Dunes NNR, Norfolk (Photo: Chris Upson)

Swallow, Minsmere RSPB, Suffolk (Photo: Tom Hines)

Black Grouse, undisclosed site, Highland (Photo: Marcus Conway - ebirder)

Whimbrel, Route de la Rocque, Guernsey (Photo: Chris Bale)

Little Ringed Plover, undisclosed site, Hampshire (Photo: Richard Steel)

Common Snipe, Wayoh Reservoir, Lancashire (Photo: John Barlow)

Chiffchaff, Hethersett, Norfolk (Photo: Nigel Pye)

Common Tern, Staines Reservoirs, Surrey (Photo: Ian Curran)

Greylag Goose, St. Albans, Hertfordshire (Photo: Keith Chapman)