The week at a glance
Despite October coming to an end, quality birds continued to arrive across Britain, not least the third Eastern Crowned Warbler to grace our shores in six years. Though its arrival date (30 October) was exactly as with the 2011 Hertfordshire bird, the circumstances of the record itself were altogether more like Britain's first: both were in the North East and lingered for three days. However, unlike the famous Trow Quarry bird of 2009, this individual was found and identified well before dark and thus twitchable on its first day. Favouring the large plantation at Hunley Hall Golf Course near Brotton (Cleveland), it could at times be quite elusive as it gave arriving birders the run-around on Thursday afternoon. Happily, though, it went on to linger for two full days (including Saturday 1st) and thus gave pretty much everyone who wanted to see it the opportunity to connect. The contemporary upsurge in records is a phenomenon seemingly shared with several other extreme eastern vagrants (Rufous-tailed Robin and Chestnut-eared Bunting spring to mind) and we can presumably expect further records in the future.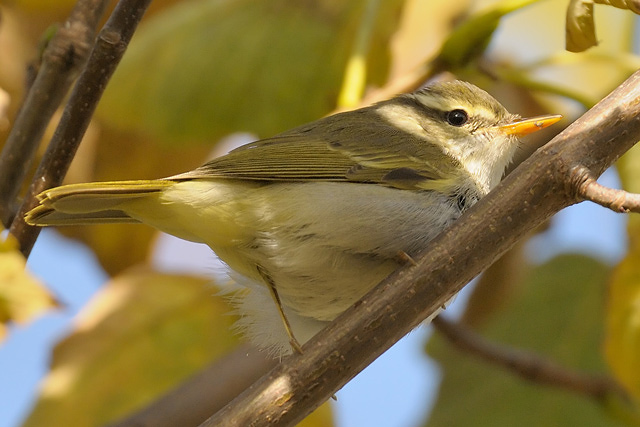 Eastern Crowned Warbler, Brotton, Cleveland (Photo: Ian Curran)
What was presumably reorienting 'fallout' from Hurricane Gonzalo came in the form of a restless Blackpoll Warbler at Easington (E Yorks) for a matter of minutes during the morning of 2 November; this second for Yorkshire (following a bird at Flamborough in October-November 1993) was searched for extensively for the rest of the day without success. Similar must apply to the Red-eyed Vireo trapped and ringed at South Walney Bird Observatory (Cumbria) on 4th, though at least this bird hung around long enough to be twitched. A first for the county, it had moved on by this morning. Earlier in the week, the autumn's fourth Grey-cheeked Thrush had been seen at Strandburgh Ness, Fetlar (Shetland), on 29th, though this could well have been a fresh arrival rather than 'trickle down'.
Content continues after advertisements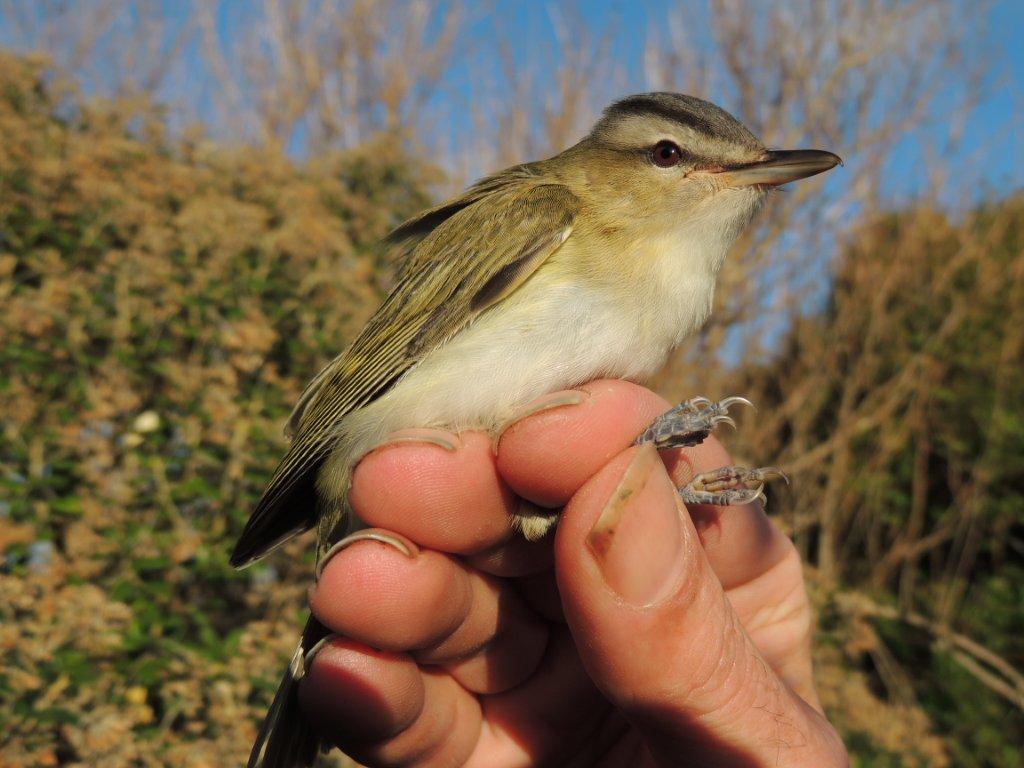 Red-eyed Vireo, Walney Island, Cumbria (Photo: Lou Cross)
What looks a very promising candidate for a female Stejneger's Stonechat was present on Fair Isle on 31 October, lingering there until 3 November. This follows last year's Portland bird, which was subsequently confirmed as stejnegeri by DNA analysis. A few photos of the Fair Isle bird are reproduced below.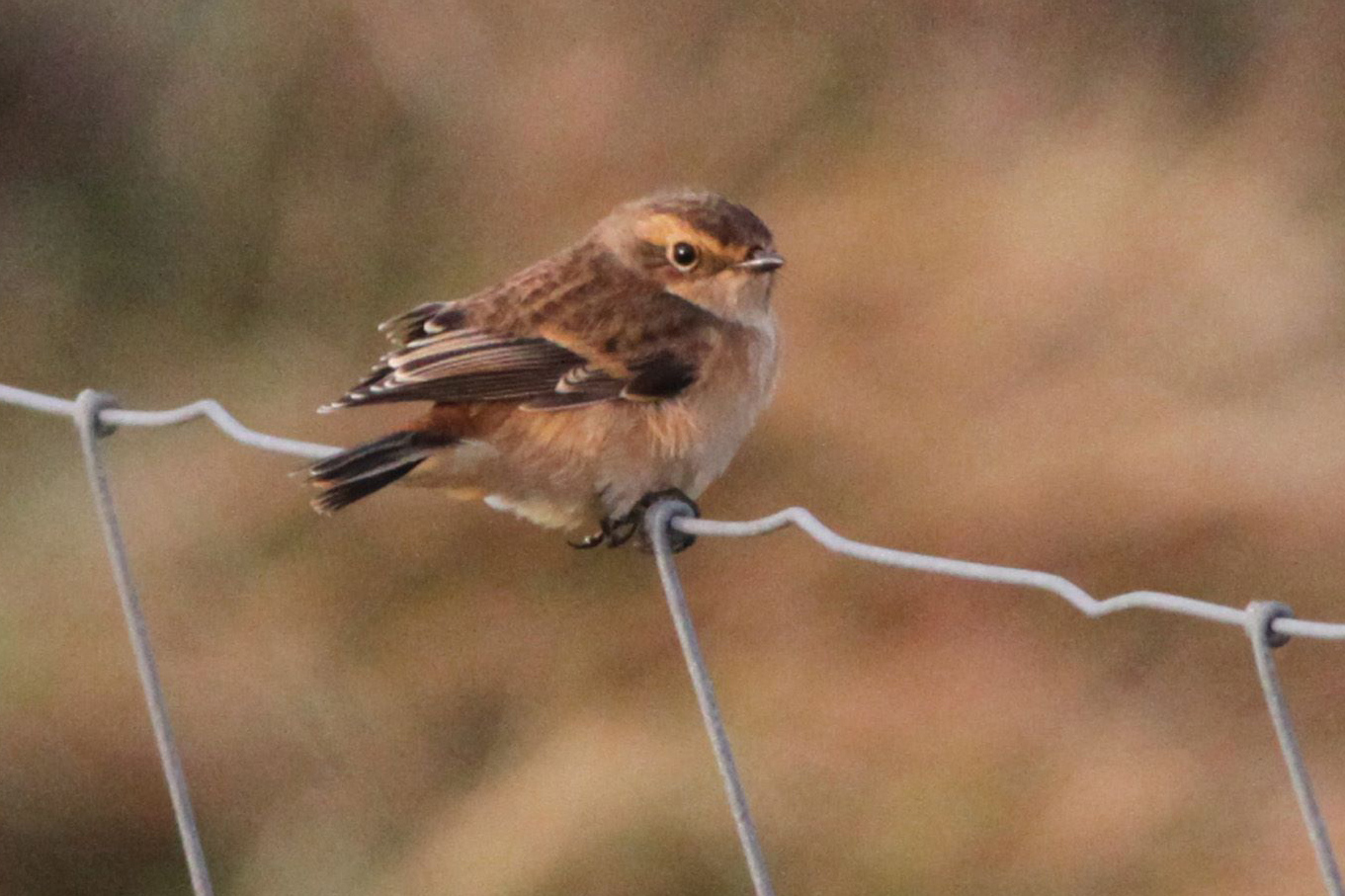 Stejneger's Stonechat, Fair Isle, Shetland (Photo: David Parnaby)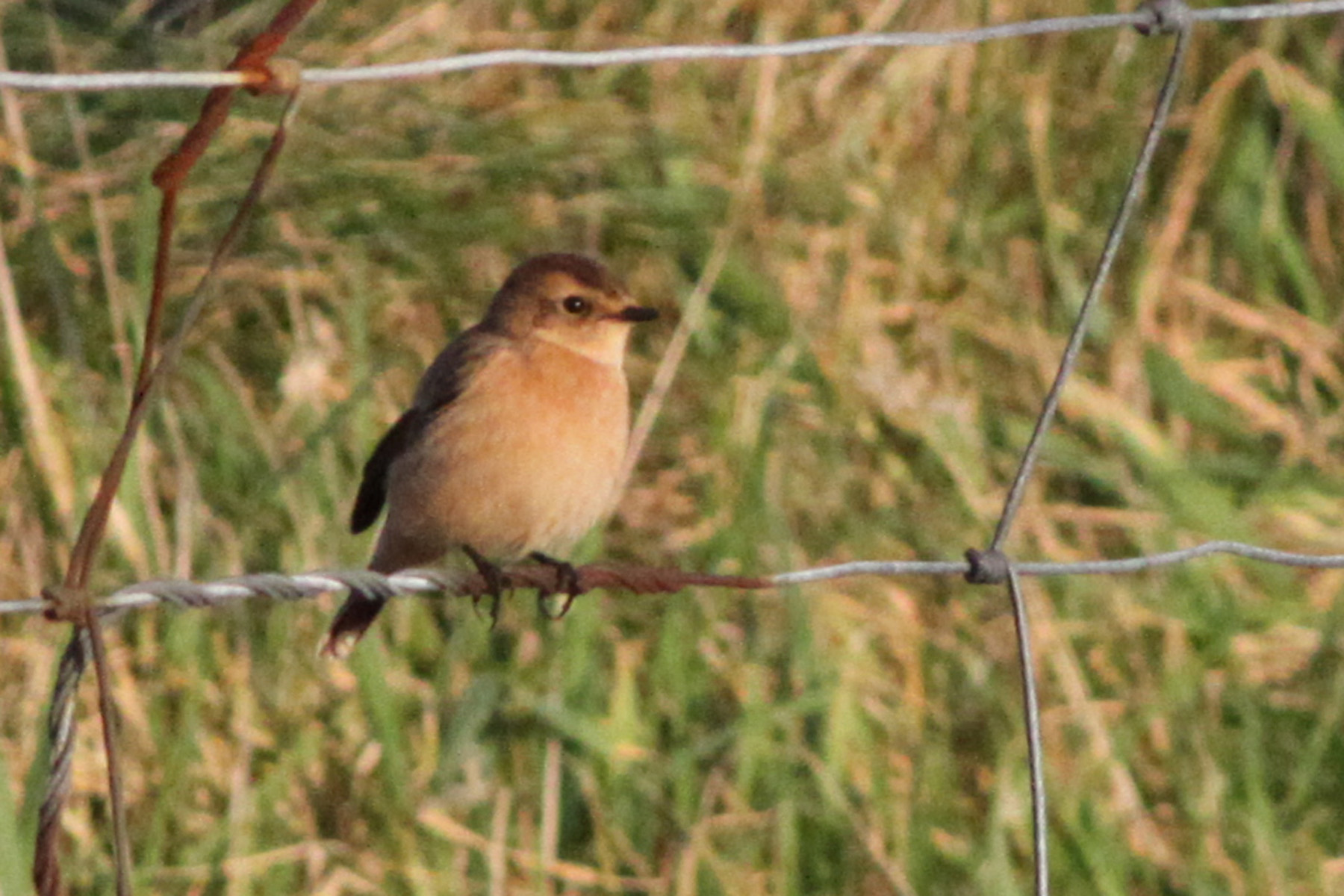 Stejneger's Stonechat, Fair Isle, Shetland (Photo: David Parnaby)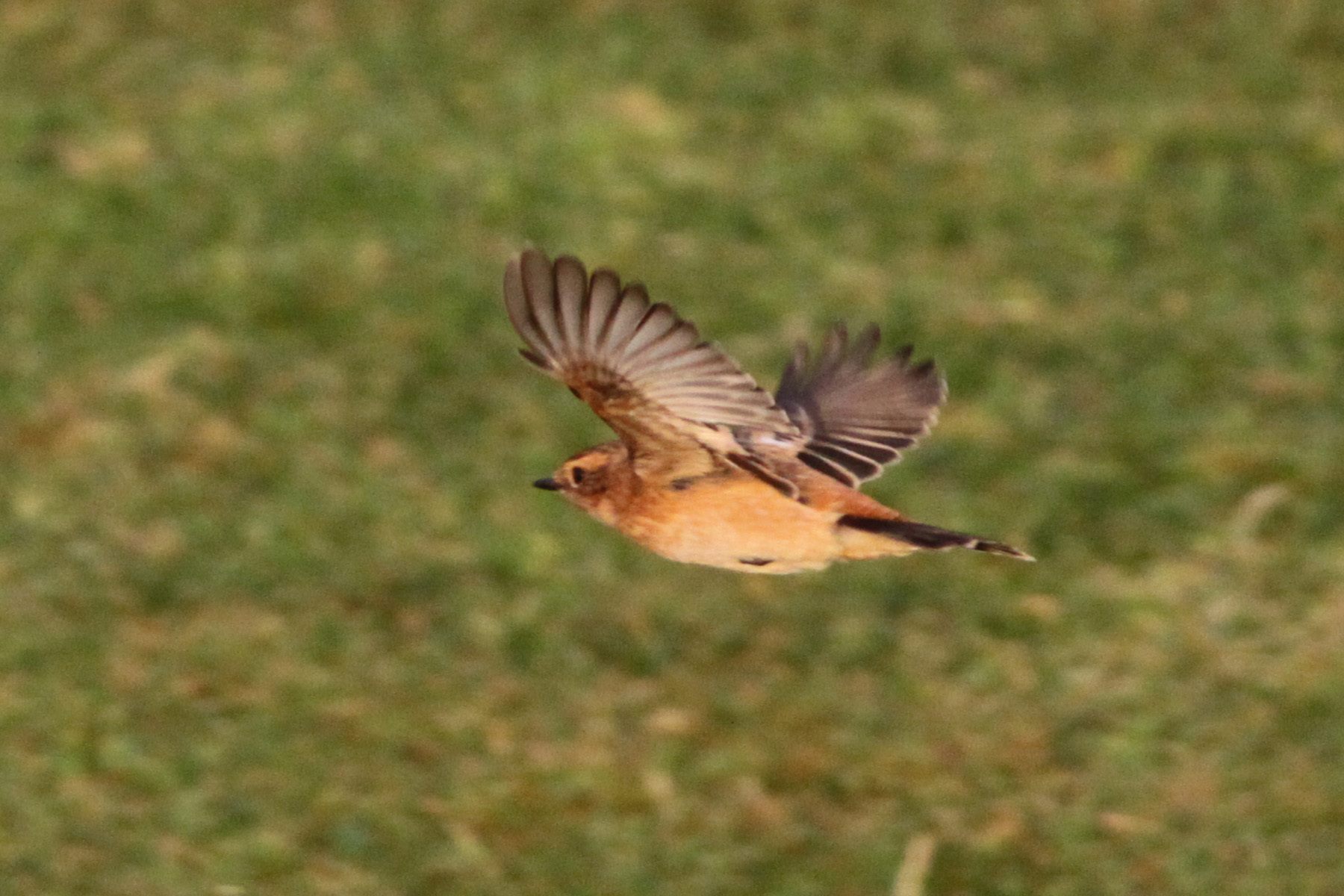 Stejneger's Stonechat, Fair Isle, Shetland (Photo: David Parnaby)
A stunning drake Bufflehead was a great find at Holm (Orkney) on 1st, when it was apparently present for its second day. Evidently vary wary, unringed and in pristine condition, this is a perfect late autumn arrival and the date corresponds closely with two recent records from Cornwall (2011) and Unst (2007). Unfortunately, it appeared to move on quickly: having still been present early on 2nd, it flew off and has not yet been seen again.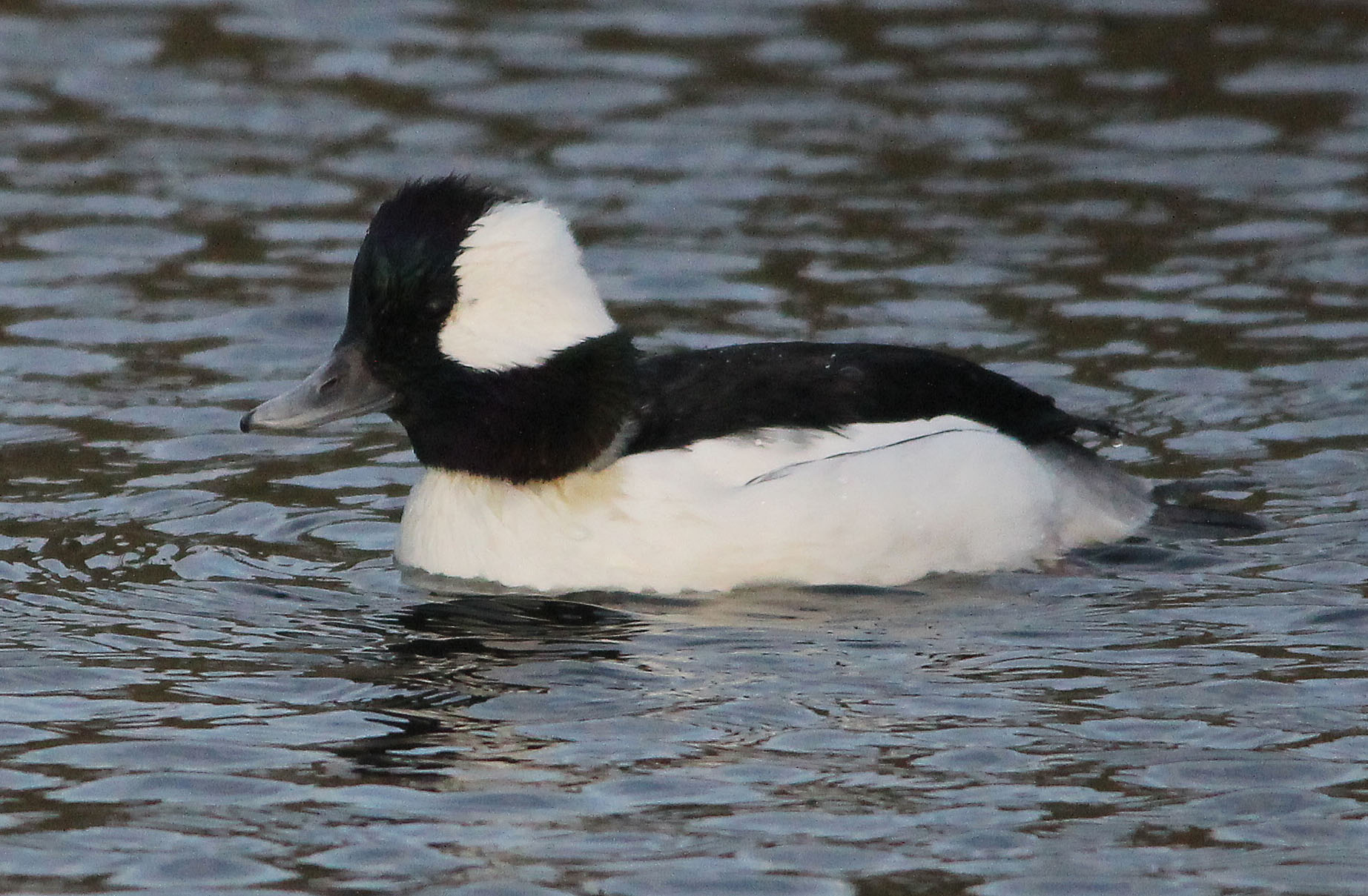 Bufflehead, Holm, Mainland, Orkney (Photo: Keith Hague)
Exciting news breaking on Sunday afternoon concerned a female Steller's Eider flying past Spurn (E Yorks) at around 13:00; identification was only realised after the event but there must be some hope that this bird might be relocated around The Wash or in north Norfolk in the coming weeks — you only have to look at last week's Surf Scoter past Spurn that reappeared at Holkham for inspiration! Incidentally that bird was still around all week and one of four or five Surf Scoters seen: two (one drake) were in Lunan Bay (Angus & Dundee) throughout the week (with the Black Scoter still there on 31st) and a drake remained off Musselburgh (Lothian) to at least 2nd; a bird in Largo Bay (Fife) on 30th could well have related to the same individual.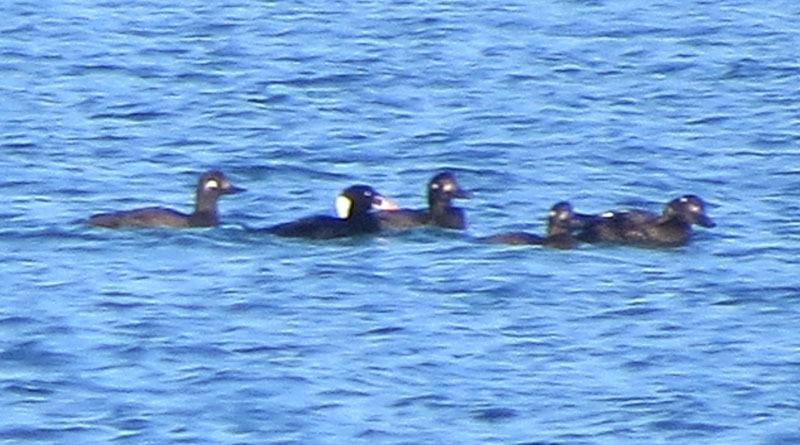 Surf Scoter, Holkham, Norfolk (Photo: Andrew P. Chick)
The two American Wigeon continued to hang out on Great Pool, Tresco (Scilly) this week as did the Green-winged Teal; further American Wigeon were at Loch Portain, North Uist on 29–30th and Bornish, South Uist on 1–2nd (same bird?) with long-stayers still in Highland and County Donegal. Other Green-winged Teals were at Alturlie Point (Highland) on 29th and still on North Ronaldsay (Orkney), at Caerlaverock (Dumfries & Galloway) and Loch Gruinart, Islay (Argyll). The Blue-winged Teal was still at Castle Island (Northumberland) on 3rd.
A drake Lesser Scaup spent four days at Wraysbury Gravel Pits (Berks) from 29th with further birds remaining at Cardiff Bay (Glamorgan) and Llangorse Lake (Powys). Young Ring-necked Ducks arrived at Loch of Skene (Aberdeenshire) from 2nd, West Loch Ollay, South Uist on 2nd and on Tiree (Argyll) on 3rd, with drakes at Lough Shivnagh (Donegal) and Rutland Water (Leics). The Drift (Cornwall) bird was last seen on 31st.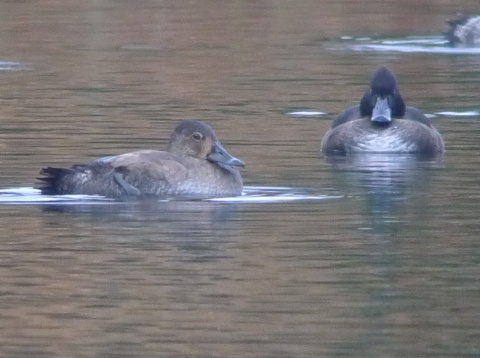 Ring-necked Duck, Dunecht, Aberdeenshire (Photo: Hugh Addlesee)
Black Brants were still in East Yorkshire and Essex with birds also back at Levington Creek (Suffolk) and at Farlington Marshes (Hants). A Richardson's Cackling Goose was still on Islay on 29th while another returned to Lissadell (Sligo) from 30th. A parvipes/interior-type Canada Goose was with just eight Barnacle Geese at the Wexford Wildfowl Reservoir on 2–3rd, the Ross's Goose was at West Water Reservoir (Borders) on 31st and two Snow Geese were again at Loch of Skene (Aberdeenshire) on 29th; an adult white morph was also located at Eagland Hill (Lancs) from 31st.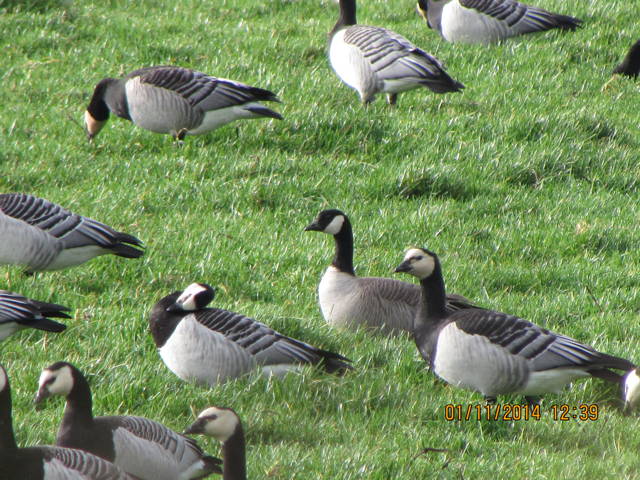 Richardson's Cackling Goose, Lissadell, Sligo (Photo: Keith Bennett)
Waterbirds included a late Purple Heron at North Warren (Suffolk) on 4th; the Dungeness (Kent) Cattle Egret was joined by a second on 3rd with other sightings from Pett Level (E Sussex) to 31st — perhaps one of the Dunge birds — and on Jersey. Glossy Ibis sightings came from Lincolnshire, Cambridgeshire and County Waterford as numbers ebb to their lowest level nationwide for quite some time. The late Spotted Crake was still on St Mary's (Scilly) to at least 31st.
Somerset's juvenile Pallid Harrier was last noted at WWT Steart on 3rd. The influx of Rough-legged Buzzards continues aplomb, with 115 main news reports on our bird news services this week. Significantly, multiple counts are now being made well inland with the Moors between Sheffield and Manchester attracting several birds; it's difficult to ascertain numbers but birds have been seen between Broomhead Moor (S Yorks) and Saddleworth Moor (Manc'r). Several also remain around the Norfolk coast while good inland records came from near Braughing (Herts) from 2nd as well as Berkshire and Buckinghamshire.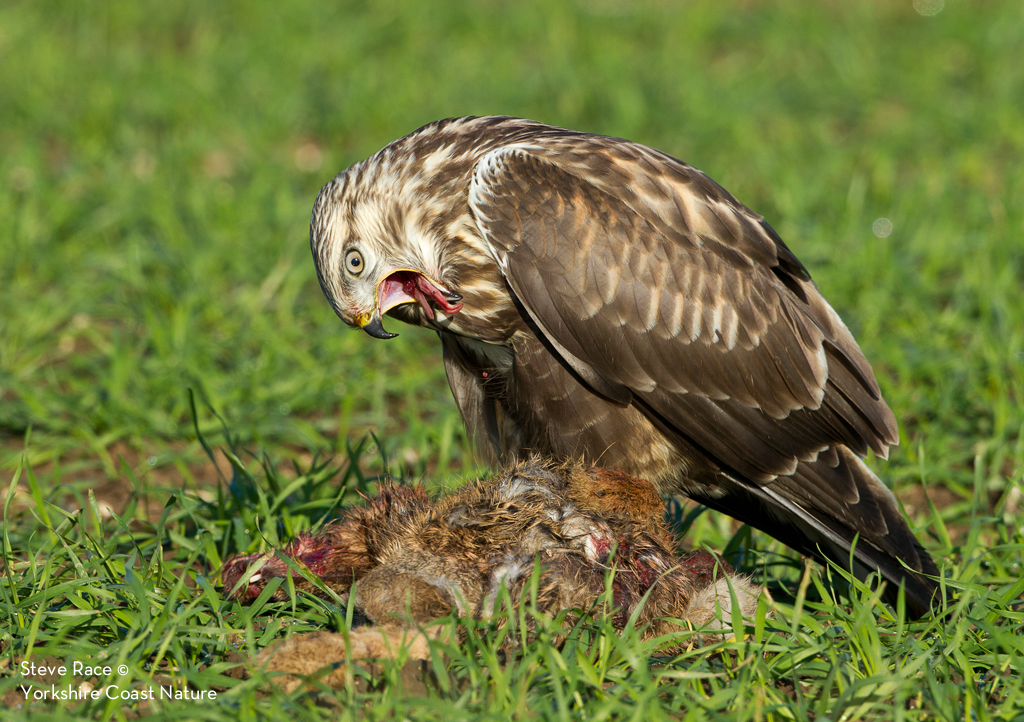 Rough-legged Buzzard, Grindale, East Yorkshire (Photo: Steve Race)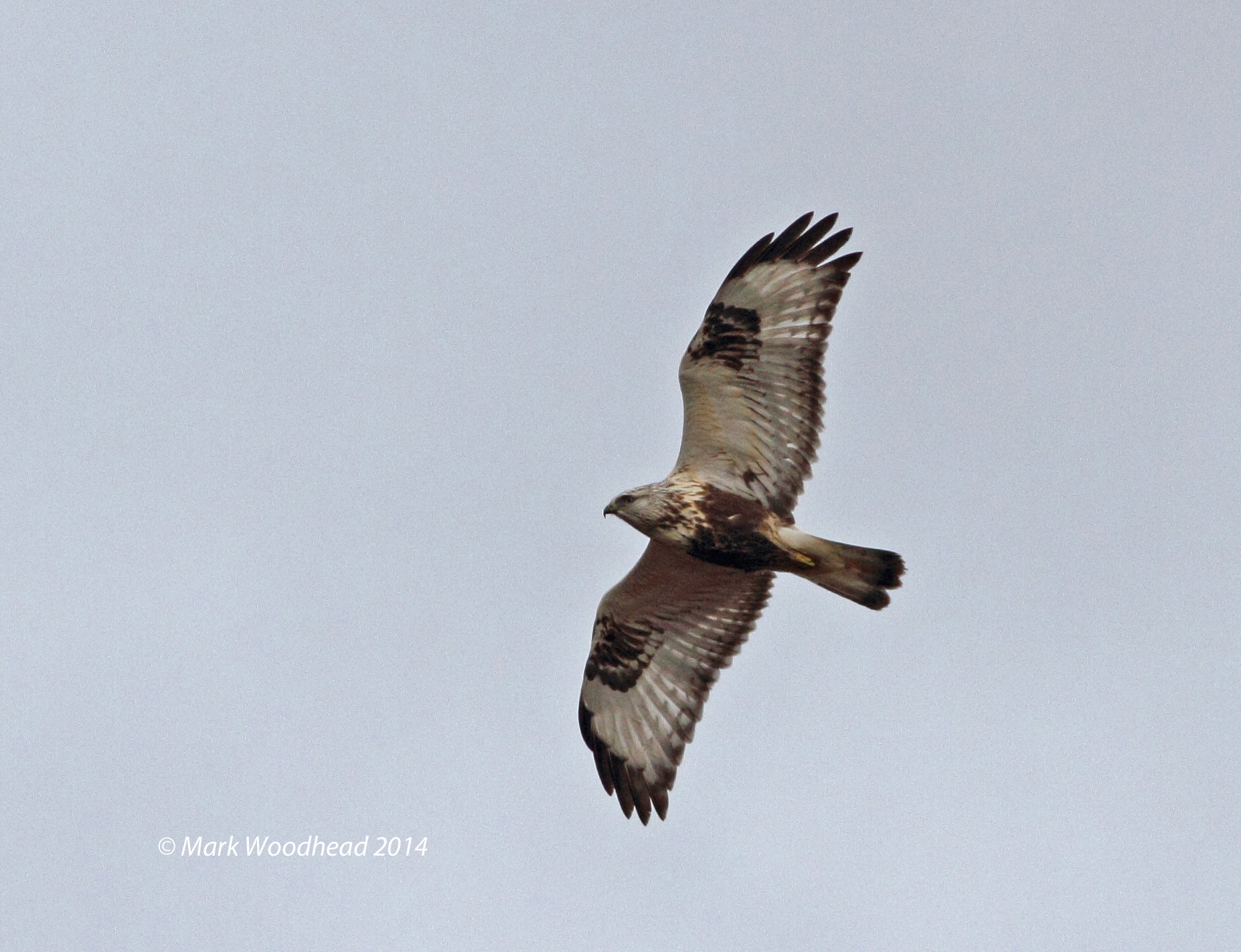 Rough-legged Buzzard, Greenfield, Greater Manchester (Photo: Mark Woodhead)
A brief Red-necked Phalarope on Tresco (Scilly) on 2nd was an odd November bird; Grey Phalaropes remained more numerous and included up to three lingering around the reserve at Cley (Norfolk). The Davidstow American Golden Plover was last reported on 31st but birds were again at Maidens Harbour (Ayrshire) on 1st–3rd at Truska (Galway) on 3rd; the former was last reported on 17 October. A Pectoral Sandpiper remained at Loch Gruinart, Islay until 29th. Lesser Yellowlegs remain in situ at Hayle Estuary (Cornwall), Poulnasherry Bay (Clare) and Rogerstown Estuary (Dublin) — given their habitat choice and current sedentary nature, one wouldn't bet against all three wintering. The same goes for Aberdeenshire's Spotted Sandpiper, which was still at Inverallochy on 2nd.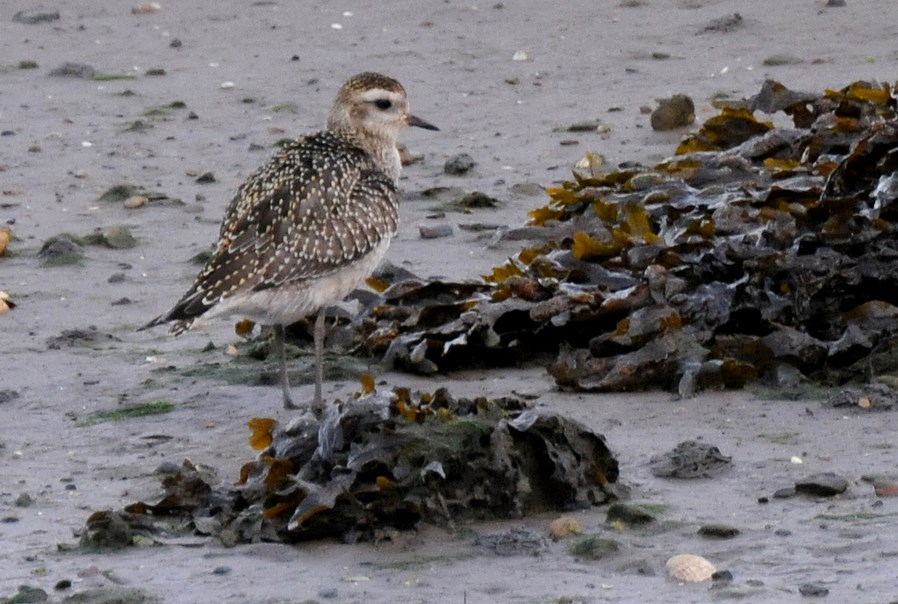 American Golden Plover, Maidens, Ayrshire (Photo: Angus Hogg)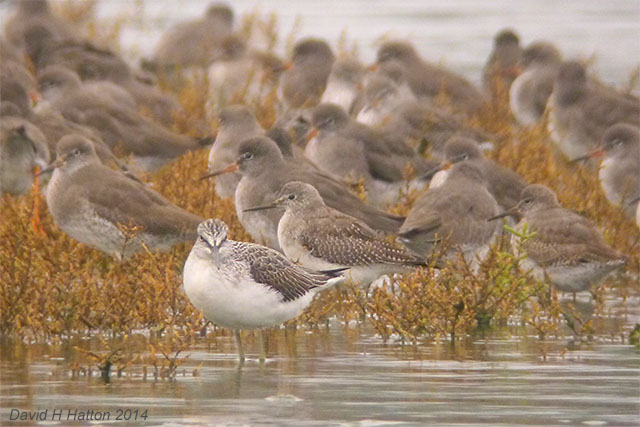 Lesser Yellowlegs, Hayle Estuary, Cornwall (Photo: David H Hatton)
The ever-present Laughing Gull was still at Ballycotton (Cork) on 2nd with the recent Franklin's Gull again at Blashford Lakes (Hants) on 28th and 30–3rd. An adult Bonaparte's Gull was a new discovery at Tramore (Waterford) on 2nd while regular adult Ring-billed Gulls were observed at Gosport (Hants), Bray (Wicklow) and Portrush (Antrim). The Forster's Tern was also still kicking about the North Dublin coastline but the White-winged Black Tern was last noted at Rye Harbour (E Sussex) on 1st.
The sensationally showy Hoopoe remained at Framsden (Suffolk) on 1st and could well be the bird recently up the coast near Kessingland; another was at Dunster Beach (Somerset) from 1st. Late Wrynecks were at Hallsands and Soar (both Devon) on 30th and 1st respectively, with the long-stayer still on Skokholm (Pembrokeshire) on 2nd.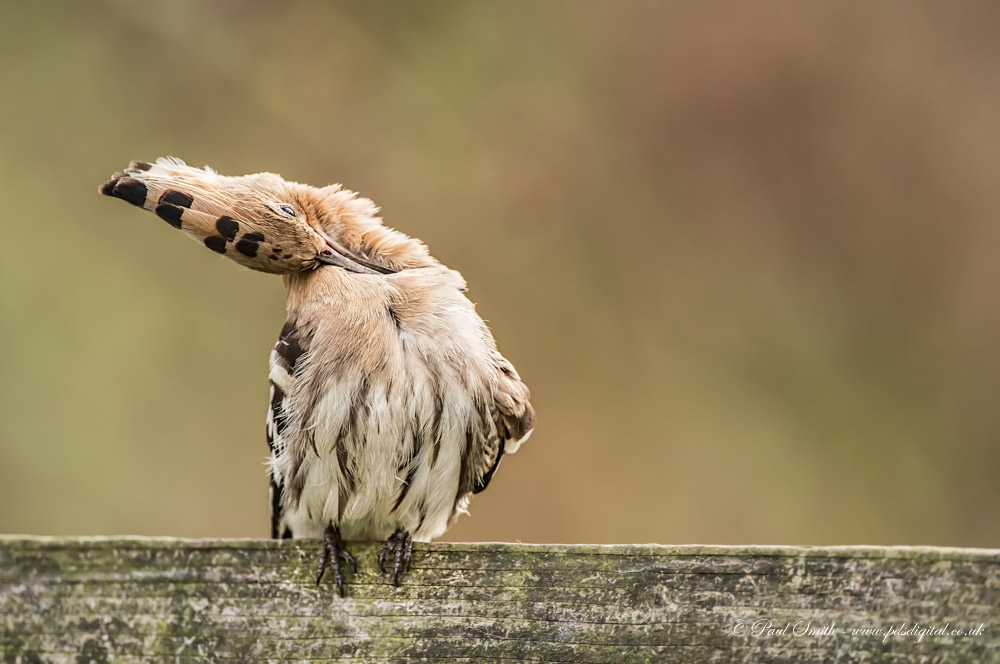 Hoopoe, Framsden, Suffolk (Photo: Paul Smith)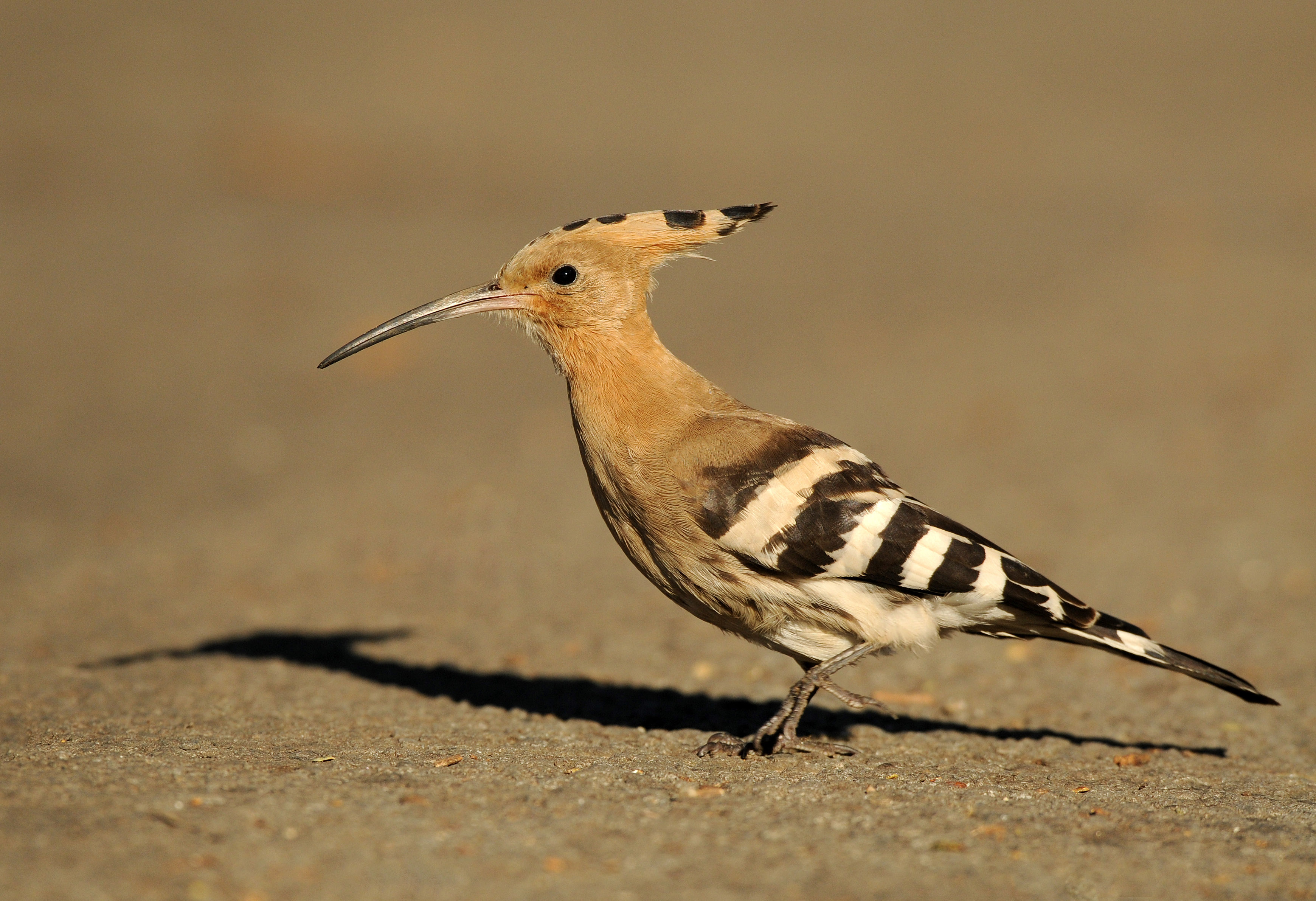 Hoopoe, Framsden, Suffolk (Photo: Jon Evans)
At least one Short-toed Lark remained on St Mary's (Scilly) until the final day of October; another was on North Ronaldsay (Orkney) on 30th. An Olive-backed Pipit was also seen on St Mary's briefly on 29th with the Red-throated Pipit last seen there on 30th — on nearby St Agnes, an adult was present on 29–31st. Richard's Pipit records came from Cornwall, Somerset, Suffolk, Norfolk, North and West Yorkshire, Durham, Lothian and Cambridgeshire, the latter the only to linger at Fordham until 4th at least. Among these, a probable Blyth's Pipit was seen and heard in flight at Whitburn (Durham) on 3rd.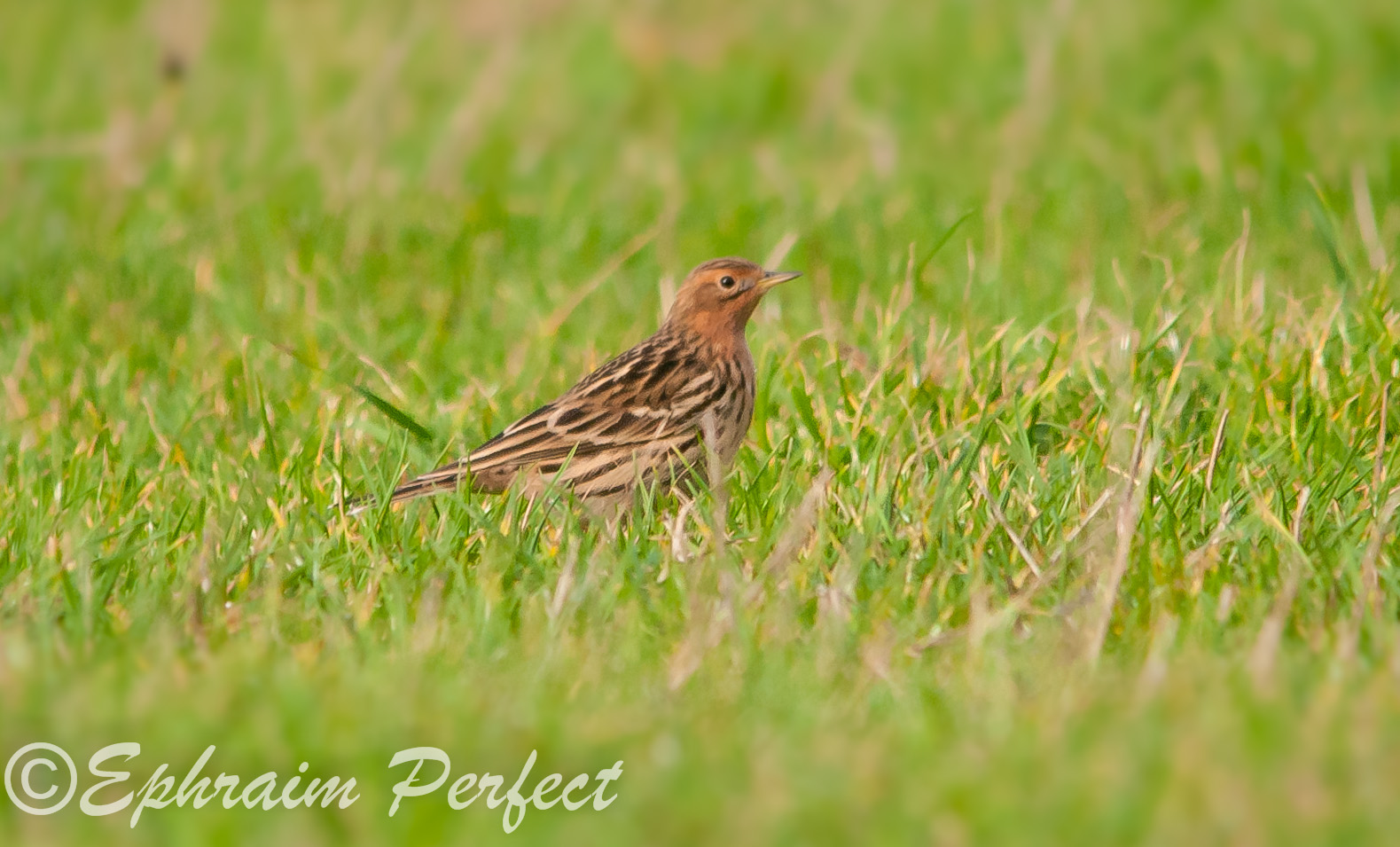 Red-throated Pipit, St. Agnes, Isles of Scilly (Photo: Ephraim Perfect)
Last week's Red-flanked Bluetail was still at Blacksod (Mayo) until 30th with new birds found at Geosetter (Shetland) on 3–4th and Hastings Country Park (E Sussex) briefly on 4th. A Pied Wheatear was a nice find at Haroldswick, Unst on 1st and lingered until the following day. A late Bluethroat was on North Ronaldsay from 31st.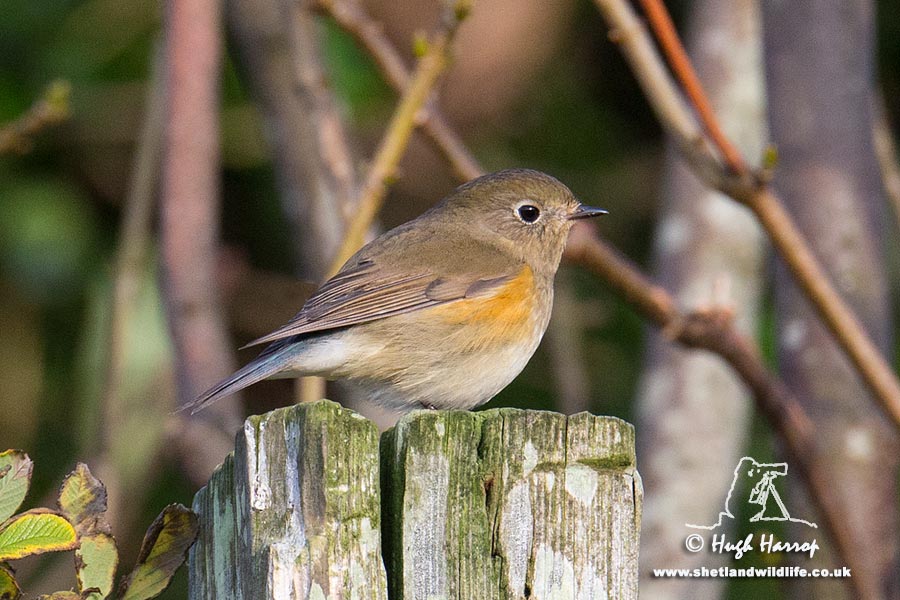 Red-flanked Bluetail, Geosetter, Mainland, Shetland (Photo: Hugh Harrop)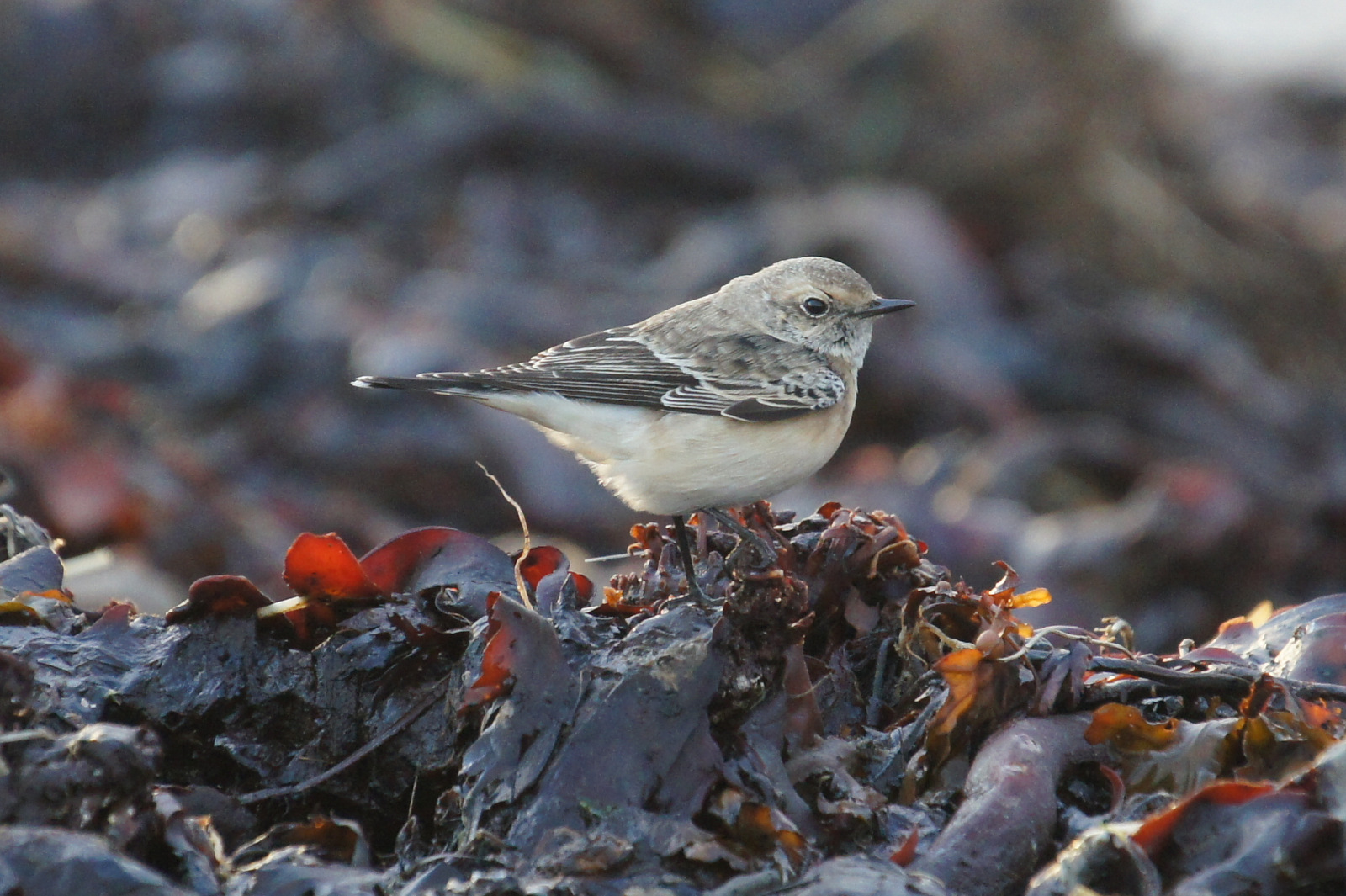 Pied Wheatear, Haroldswick, Unst, Shetland (Photo: Mike Pennington)
As many as ten Barred Warblers included the second for Gloucestershire at Splatt Bridge on 31st–2nd; twos were on Bardsey Island (Gwynedd) on 31st and Holy Island (Northumberland) on 1st. A Subalpine Warbler was a typical late season arrival on St Mary's (Scilly) from 1st, with a Dusky Warbler on Brownsman, Farne Islands on 30–1st. Just one Pallas's Warbler was seen, at Portland (Dorset) on 29–2nd.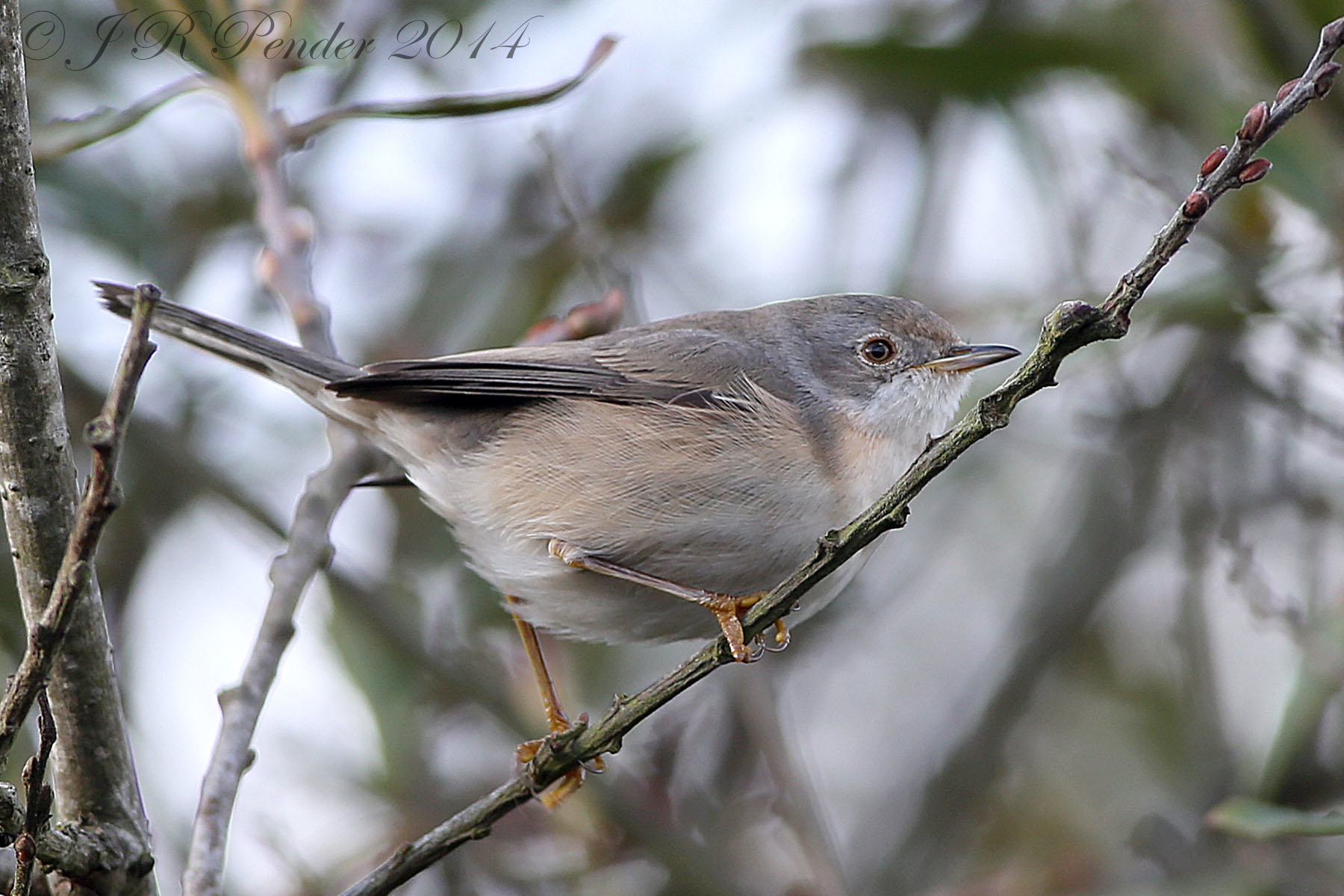 Subalpine Warbler, St. Mary's, Isles of Scilly (Photo: Joe Pender)
Scarcities included seven Red-breasted Flycatchers, six Rose-coloured Starlings, a Serin on Guernsey, the Ortolan still on St Agnes (Scilly) to 30th, Red-backed Shrikes still on St Mary's (Scilly) to 2nd and at Ness Point, Lowestoft (Suffolk) all week, and three Little Buntings on Fair Isle on 30th.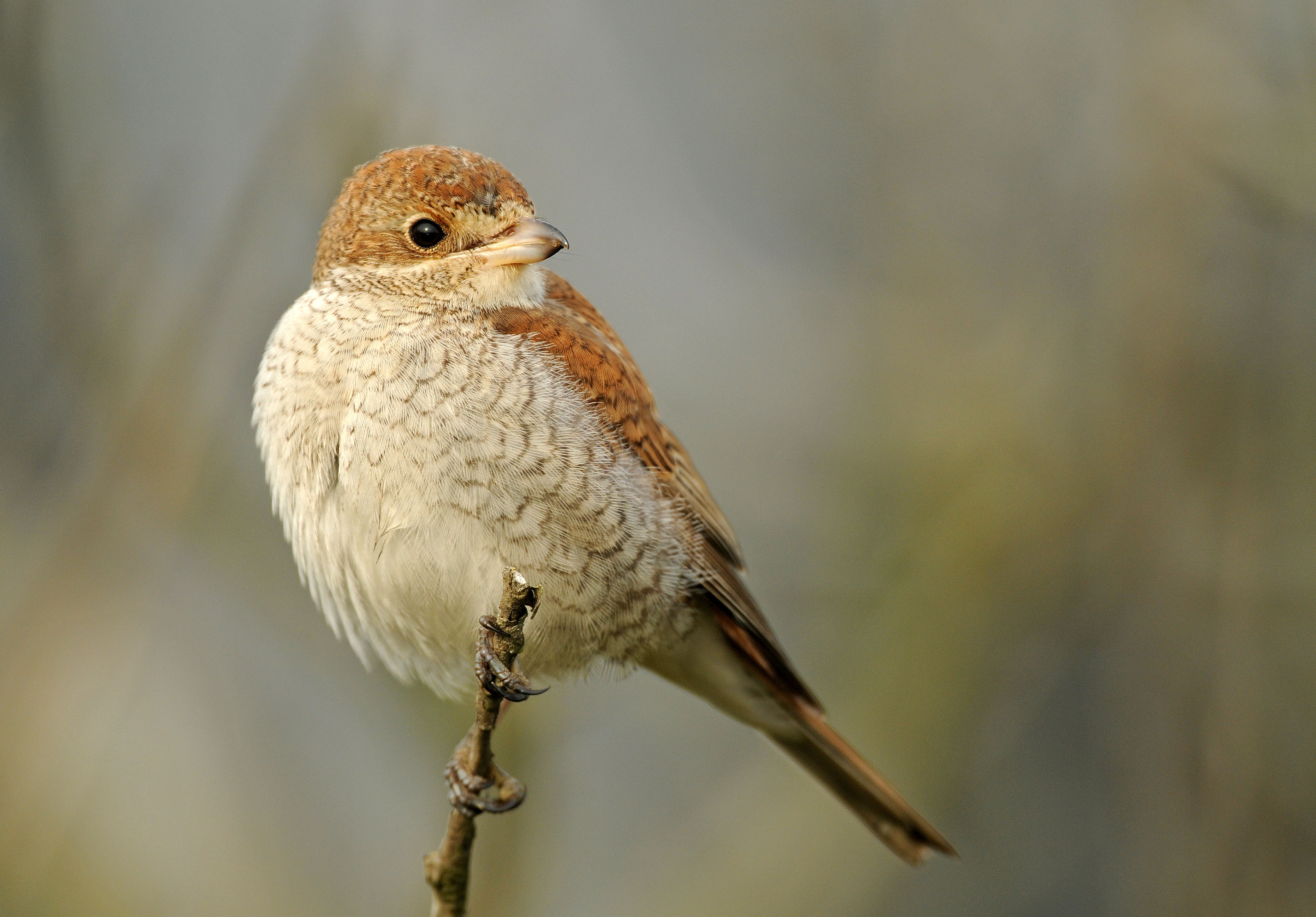 Red-backed Shrike, Lowestoft, Suffolk (Photo: Jon Evans)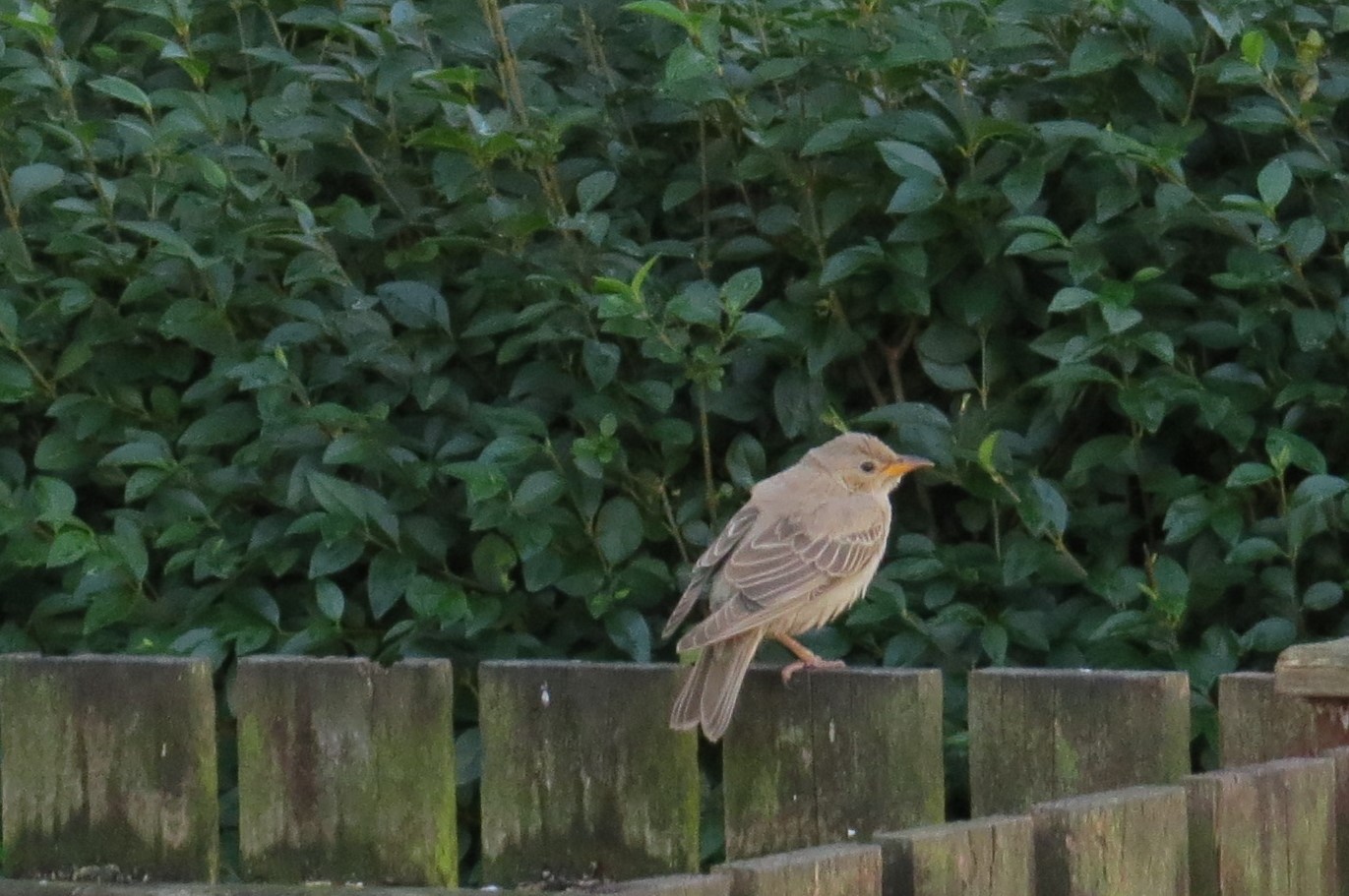 Rose-coloured Starling, Leven, Fife (Photo: John Carson)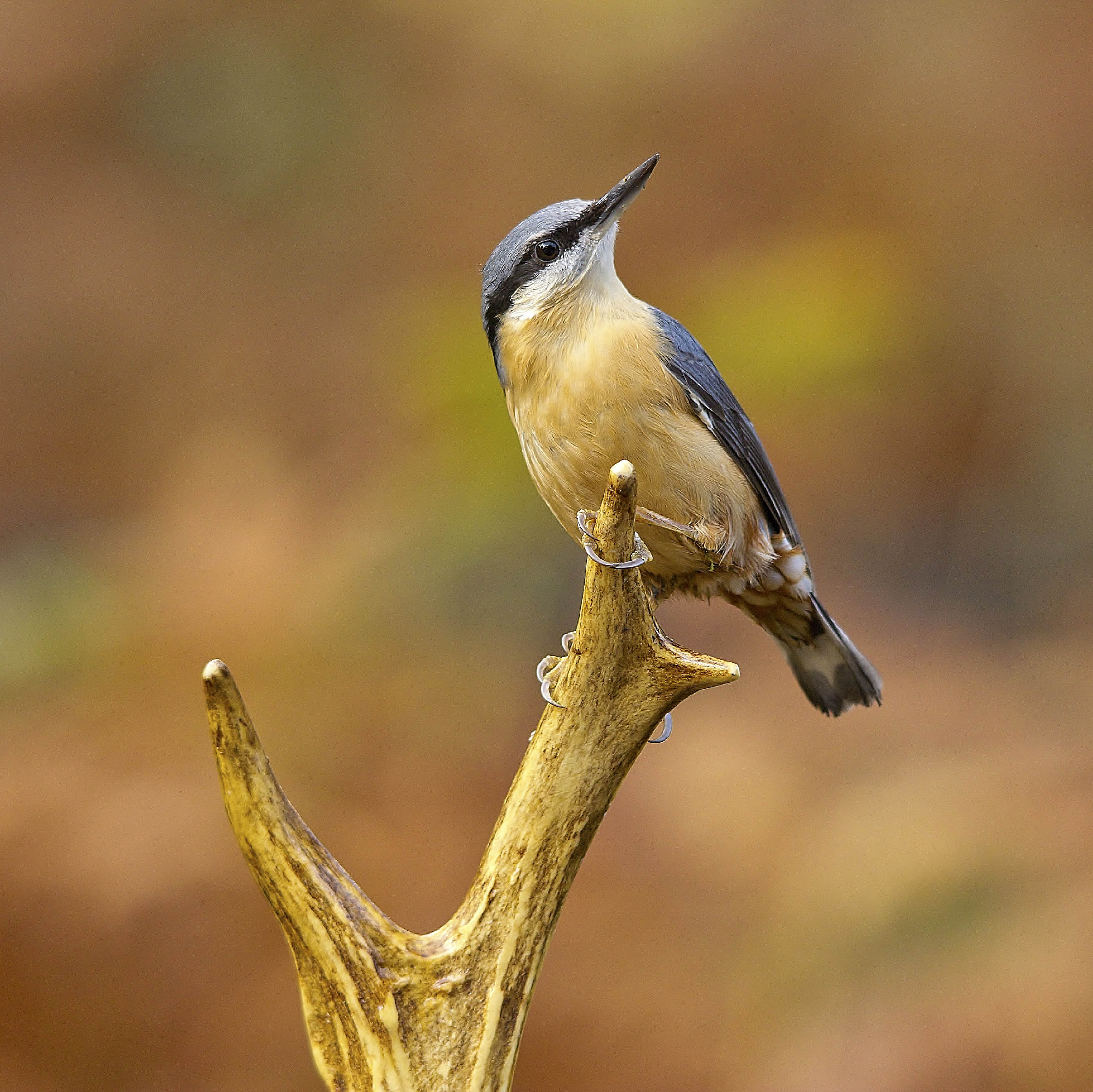 Nuthatch, Forest of Dean, Gloucestershire (Photo: Mr Clive Daelman)
If you have a feeding station near a wood, writes Steve Young, then Nuthatch is one of the species you always look forward to photographing — there is something about them that just makes you want to take more and more photos.
It is often difficult to find a situation or a perch that makes one particular image stand out from the rest, but Clive Daelman has managed to do just that with this lovely autumnal shot of a bird clinging to what appears to be an antler. The pose is slightly quirky, and with a shutter speed of only 1/125th second it's fortunate that the Nuthatch is pin-sharp, as they can be fast movers. Not only that, but the bird also has a nice highlight in the eye.
The autumn colours in the background greatly add to its credentials as a winning Photo of the Week shot — congratulations Clive.
Other notable images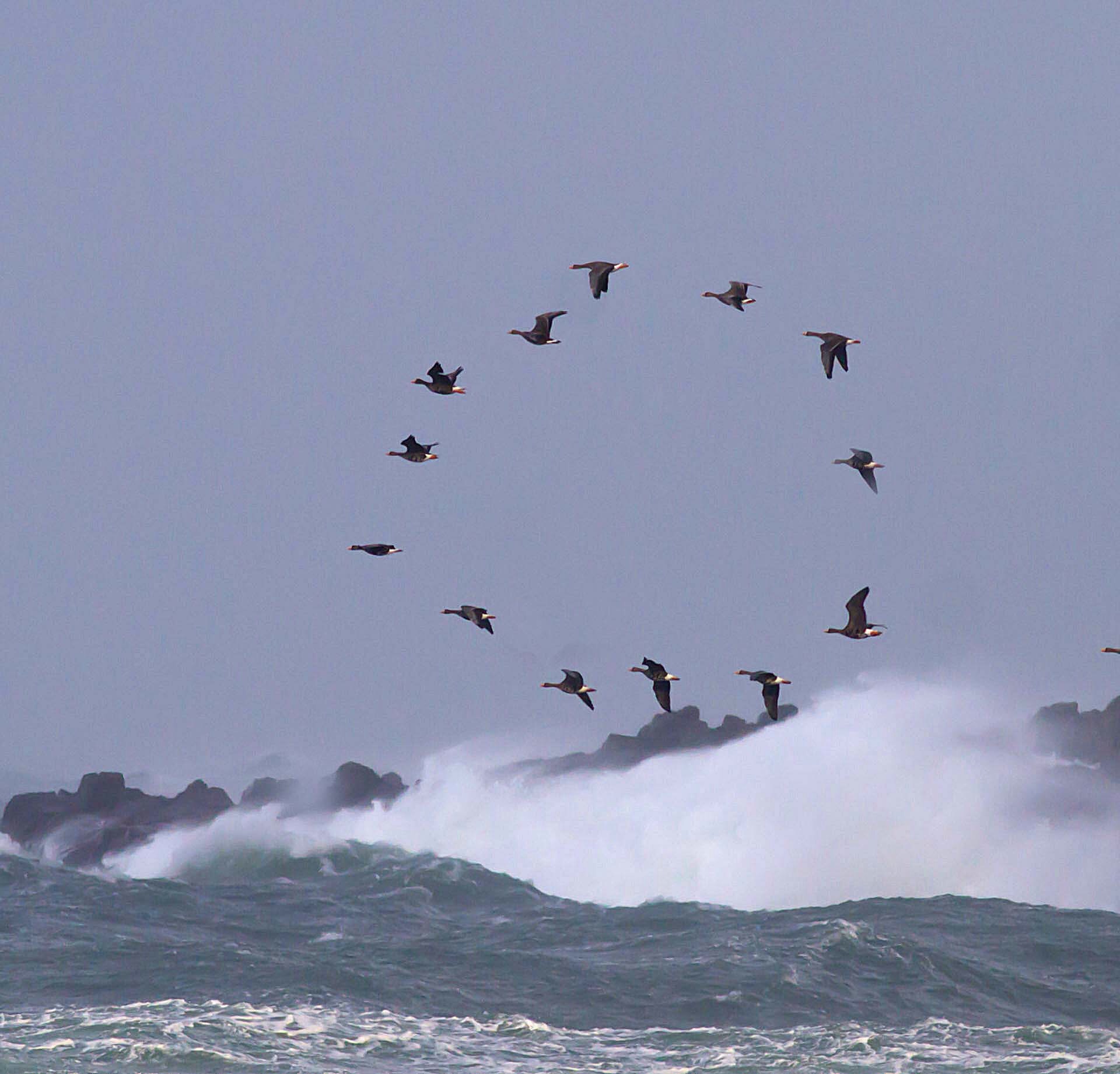 Greenland White-fronted Goose, Ramore Head, Antrim (Photo: Ian Dickey)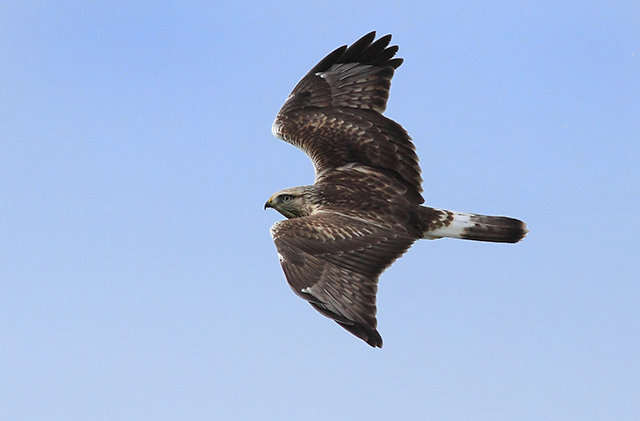 Rough-legged Buzzard, Grindale, East Yorkshire (Photo: Steve Whiteley)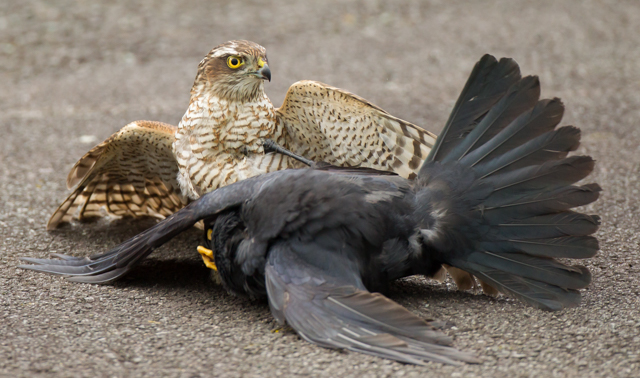 Sparrowhawk, undisclosed site, Powys (Photo: Mark Wilson)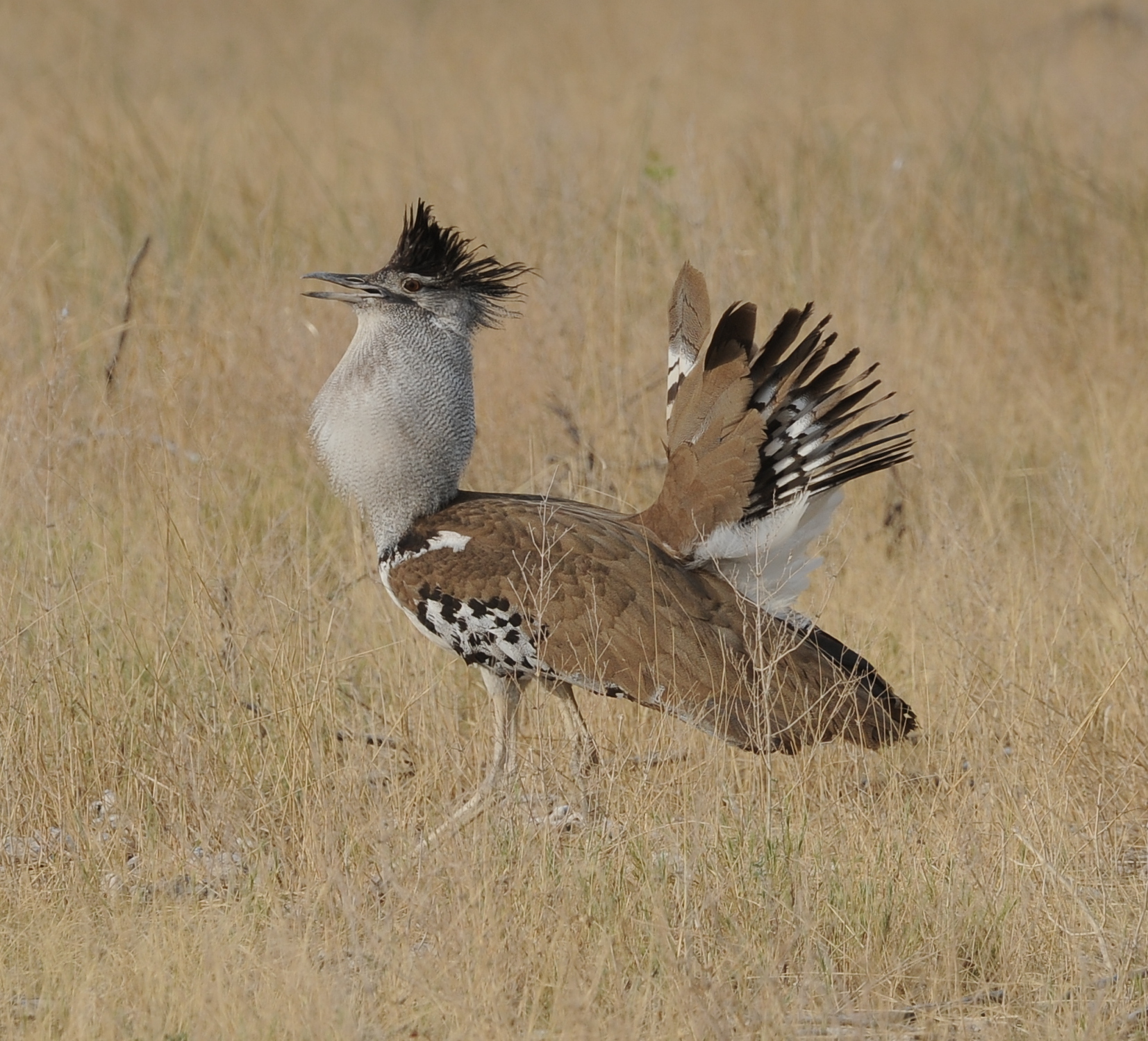 Kori Bustard, Namibia (Photo: Nick Marmont)

Rough-legged Buzzard, undisclosed site, Norfolk (Photo: Kevin Du Rose)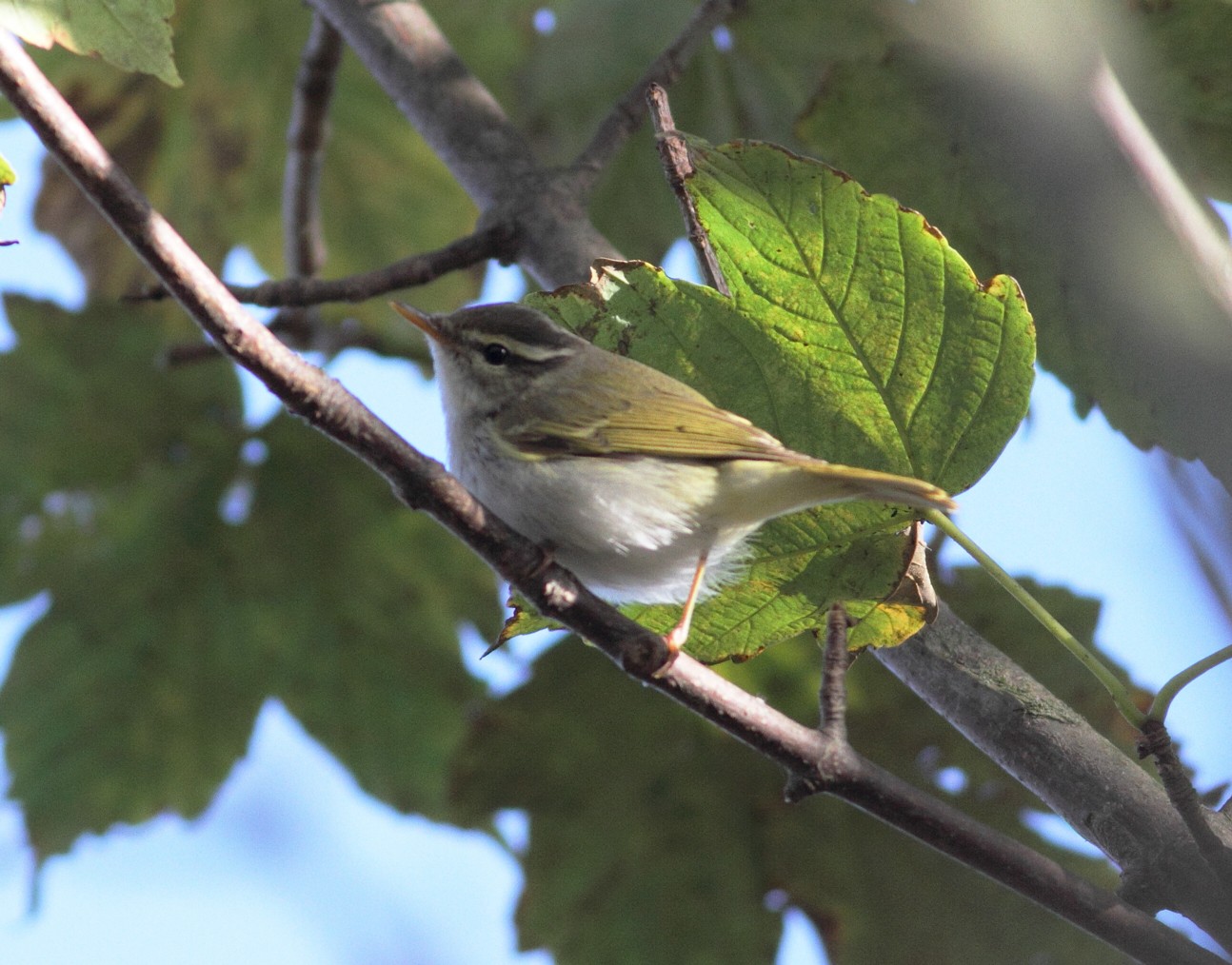 Eastern Crowned Warbler, Brotton, Cleveland (Photo: Brendan Doe)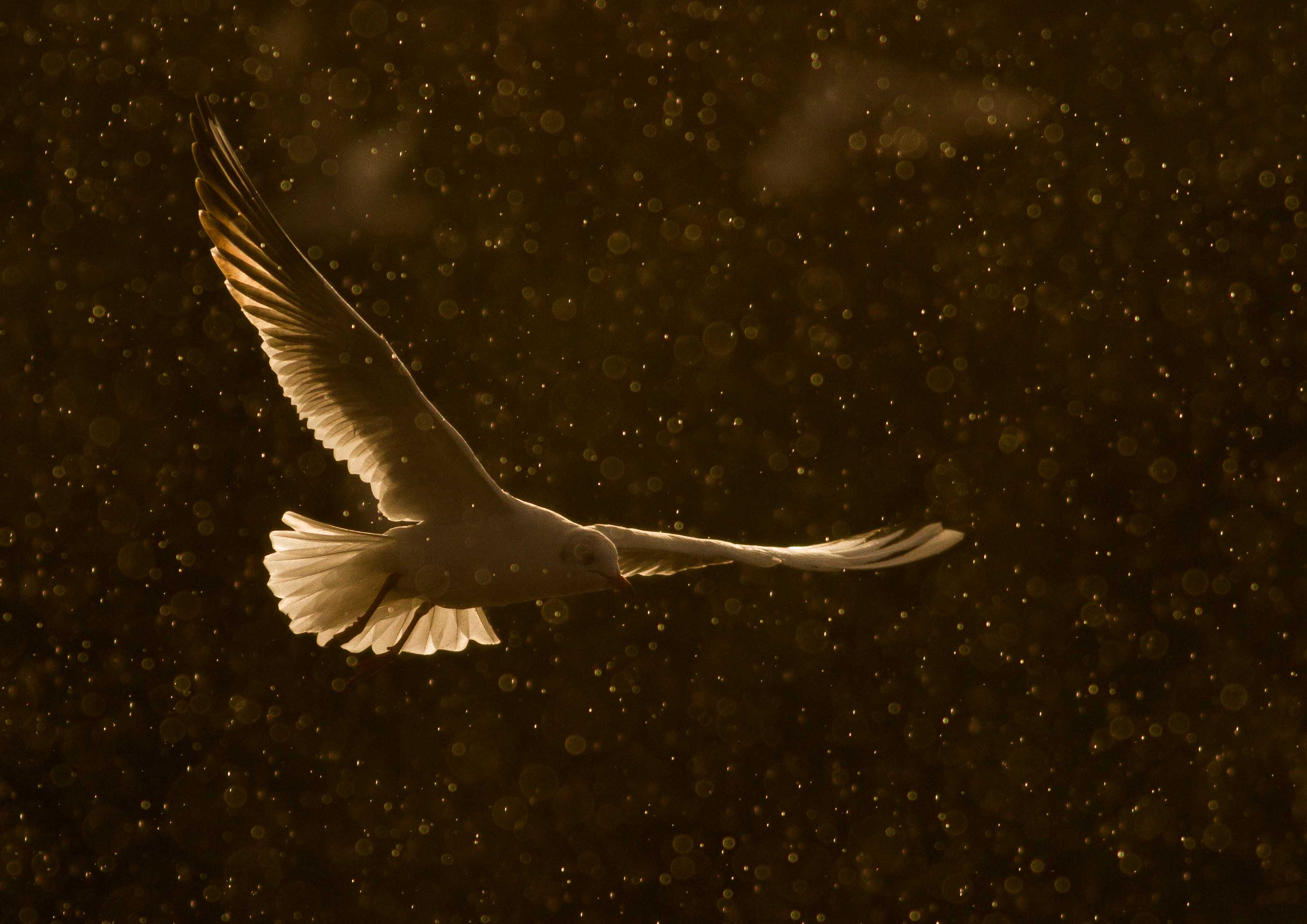 Black-headed Gull, Swansea, Glamorgan (Photo: Harry Read)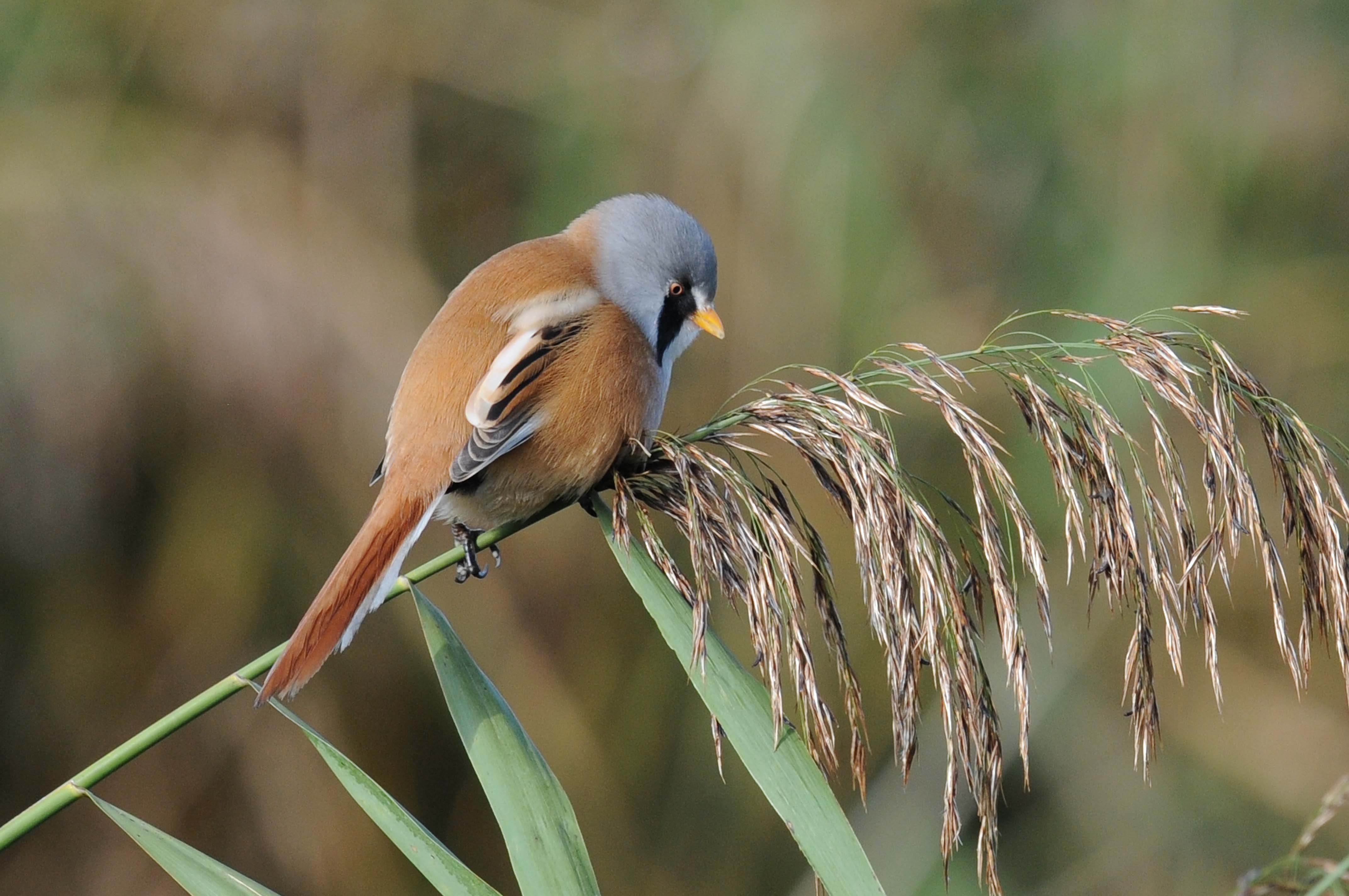 Bearded Tit, undisclosed site, Norfolk (Photo: Nick Appleton)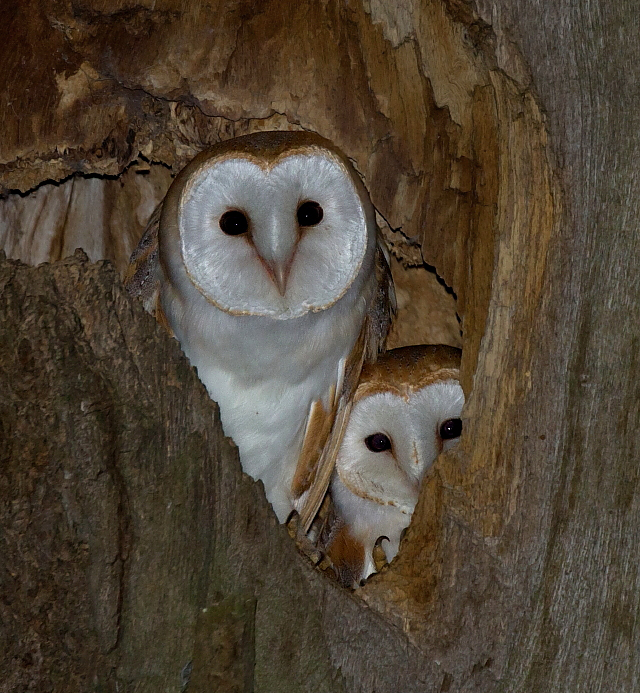 Barn Owl, undisclosed site, Leicestershire and Rutland (Photo: Paul Riddle)

Purple Sandpiper, Amble, Northumberland (Photo: Heiko Peters)