The week at a glance
Right on cue, the first days of August brought with them the first Fea's-type Petrel reports of the season, all from Co Cork. The first flew past Galley Head at 06:20 on 2nd with a report from Toe Head, 20 km to the west, some three hours later presumably concerning the same individual. The following day saw fly-bys at Galley at 10:15 and 14:00 — again, one would assume that these relate to the same bird seen the previous day. Distances and timings would suggest that the bird past Ballycotton at 11:10 on 2nd was a different individual.
In a British context the highlight was a Barolo Shearwater past Pendeen, Cornwall, on 29th. This species has always been regarded as one of the Holy Grails of British seawatching and its continued decline only makes sightings all the more valuable for the fortunate individuals involved. That said, reports do still seem to crop up annually and, with 65 accepted records up to the end of 2013, it's by no means an extreme rarity — more a species that is simply very difficult to catch up with.
Cory's Shearwaters remain scarce, with just a handful of reports this week, all from south-western areas save a single bird flying east past Cley, Norfolk, on 29th. Great Shearwaters were similarly thin on the ground — there was a scattering of records from Cornwall and Counties Cork and Kerry — but at least Balearic Shearwater numbers are on the up, with a peak count of 62 past Berry Head, Devon, during the day on 3rd. In Co Cork Grey Phalaropes flew past Galley Head on 2nd and Ballycotton on 3rd. Two Sabine's Gulls were seen from a Scilly pelagic on 2nd; further records came from Fair Isle, Cornwall and Co Kerry, while a confiding second-summer was found well inland at Pennington Flash Country Park, Gtr Manchester, on 4th and proved a real treat for local birders.

Sabine's Gull, Pennington Flash CP, Greater Manchester (Photo: Ivan Ellison)

Sabine's Gull, Pennington Flash CP, Greater Manchester (Photo: John Tymon)
In Somerset the Lesser Scaup notched up another week at Blagdon Lake. Meanwhile, far to the north, the immature drake Surf Scoter remained off the Aberdeenshire coastline near Blackdog and the drake King Eider was seen at Whiteness Head, Moray & Nairn, on 31st.
Suffolk's Purple Heron was still at King's Fleet to 2nd, while the Little Bittern was seen again at Old Moor, S Yorks, on 1st and 3rd and another male was reported barking for just a few minutes at Willington Gravel Pits, Derbys, on 2nd. A probable Night Heron bustled over Darfield, S Yorks, during the evening of 1st, and an amazing 19 Great White Egrets roosted at Shapwick Heath, Somerset, on 2nd. A Glossy Ibis at Brough Airfield Marsh, E Yorks, on 1–2nd was the first new individual for a while; another was reported at Marloes Mere, Pembrokeshire, on 1st but not subsequently.

Great White Egret, Kenfig NNR, Glamorgan (Photo: Colin Harvey)
An impressive influx of Black Storks was noted this week, with at least three individuals roaming eastern England. After flying over Greatham Creek, Cleveland, on 1st, what was presumably the same bird was then near Haggerston, Northumberland, on 2nd. Bearing a white ring, this bird was quickly identifiable as that found at Spurn, E Yorks, on 3rd, where it showed well that afternoon and throughout 4th. The ring inscription, 'F05R', traces it as a French bird.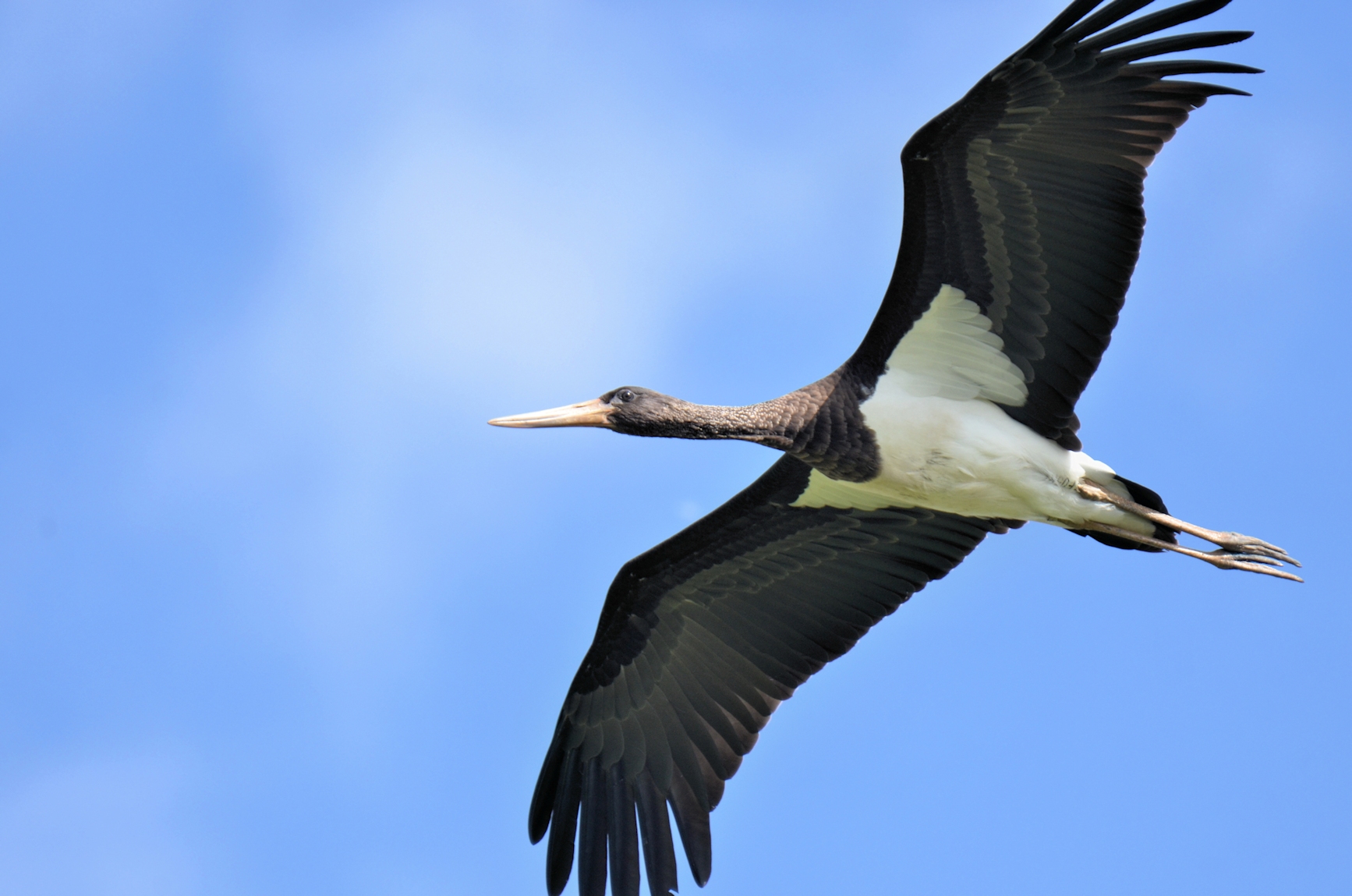 Black Stork, Spurn YWT, East Yorkshire (Photo: Phil Jones)
Late afternoon on 3rd another juvenile was seen at Blacktoft Sands, E Yorks, before drifting off east over Alkborough village. A final sighting near Tetney Lock, Lincs, late evening is assumed to be the same bird, with reports the following morning at Donna Nook, Theddlethorpe and Conisholme all likely to relate to that individual. While the Lincolnshire bird was being tracked along the coast, a third individual was seen over Hoveringham, Notts, for 10 minutes in late morning on 4th, although it's not clear which (if any) of these relate to the sighting over Read's Island, Lincs, in the late afternoon. These reports all followed belated news of a bird over Wenhaston, Suffolk, on 28th.

Black Stork, Spurn YWT, East Yorkshire (Photo: Nigel Genn)
The recent run of Black Kite records continued in Suffolk, with reports from Bawdsey on 29th and 31st and Whatfield on 3rd, with a further sighting at Elmstead Market, Essex, on 2nd. In Staffordshire the Red-footed Falcon remained near Chatterley Whitfield to 3rd at least.

Red-footed Falcon, Chatterley Whitfield, Staffordshire (Photo: Michael Sherwin)
A Spotted Crake sang at Carbarns Pool, Clyde, from 30–1st, and an elusive individual showed a few times at Brandon Marsh, Warks, on 30–31st.
It's never an easy bird to see, so many birders would have been hoping that the juvenile Kentish Plover at Overcombe, Dorset, might have lingered longer than just a few hours on the morning of 3rd. A Temminck's Stint was at Oare Marshes, Kent, on 31st, while a reduced tally of just three Pectoral Sandpipers were noted this week: at Thorne Moors, S Yorks, on 1st, St Mary's, Scilly, from 3rd and Pegwell Bay, Kent, on 4th. An adult White-rumped Sandpiper was found at South Gare, Cleveland, on 4th and birds remained at Belfast Lough, Co Antrim, to 29th and Beacon Ponds, E Yorks, all week, the latter site also hosting a Buff-breasted Sandpiper on 1st. Two Red-necked Phalaropes were found on 31st — at Levington Creek, Suffolk, and Steart WWT, Somerset — though neither lingered long.

Kentish Plover, Weymouth, Dorset (Photo: Simon Craft)

Pectoral Sandpiper, St. Mary's, Isles of Scilly (Photo: Robin Mawer)
A second-calendar-year Ring-billed Gull was discovered at Preston dock, Lancs, on 2nd and lingered to the end of the review period; further 'Ringers' of the same age remained in Cornwall and Co Kerry. The adult Bonaparte's Gull was still at Oare Marshes, Kent, on 4th, and an extremely dashing Caspian Tern was an all-too-brief visitor to Holland Haven, Essex, on 1st. The returning yellow-ringed Caspian Gull also continued to perform well in Amble harbour, Northumberland. A Whiskered Tern went past Spurn on 4th and the lightest of scatterings of Black Terns included four at Pennington Flash, Gtr Manchester, on 3rd.

Caspian Tern, Holland Haven CP, Essex (Photo: Michael Rodwell)

Ring-billed Gull, Preston, Lancashire (Photo: Michael Turner)

Caspian Gull, Amble, Northumberland (Photo: Tim Mason)
Thrilling news from Cumbria concerned the discovery of two pairs of breeding European Bee-eaters in a quarry not far from Brampton. Up to six adults have been present at the site since mid-June but with the young now hatched and an RSPB viewpoint in place, the site is now open to the public and will no doubt prove one of August's most popular attractions. For more information see here.

European Bee-eater, Brampton, Carlisle, Cumbria (Photo: Phil Birder)
Kent bee-eater records came from Dungeness on 29th and Hope Point on 31st. Two flew over Gibraltar Point, Lincs, on 1st with further singles from Minsmere, Suffolk, and South Milton Ley, Devon, on 2nd. The only Golden Oriole was a male briefly at Titchwell, Norfolk, on 29th.
Shetland's Paddyfield Warbler lingered on the Isle of Noss throughout the week, making it a full fortnight since it was first found. A Melodious Warbler was a bit of a surprise on Blakeney Point, Norfolk, on 31st, and a French-ringed Marsh Warbler was trapped at Marsworth Reservoir near Tring, Herts, on 2nd. Last week's male Red-backed Shrikes lingered at Beaulieu, Hants, and on Isle of May, Fife, to 29th while the female at Churn, Oxon, just about made it into August — it was last seen on 1st.
Including the continuing adult at South Dell, Lewis, to 31st at least, three Rose-coloured Starlings were seen during the week. A showy bird was at Aberavon, Glamorgan, from 1–4th and a bird was identified from photographs on Fair Isle on 1st (and still present on 4th); a Common Rosefinch was also on the island that day. Landguard, Suffolk, is one of the best British locations for European Serin and it lived up to that billing by producing a male on 2nd.

Rose-coloured Starling, Aberavon, Glamorgan (Photo: Jeff Lack)

Rose-coloured Starling, South Dell, Lewis, Outer Hebrides (Photo: Sam Hawkins)
Western Palearctic news
In Iceland what is presumably the returning drake Hooded Merganser was discovered at Álftanes, not far from Reykjavík, on 29th and was still there on 2nd. At the opposite corner of the Western Palearctic region, Kuwait savoured its first-ever Sabine's Gull — an adult at Jahra Pools on 31st.
A Bimaculated Lark seen briefly at Beltringharder Koog, Schleswig-Holstein, on 31st will represent the second record for Germany if accepted. Our old friend the adult Black-browed Albatross appears to have taken a liking to the Danish coastline and was present with Mute Swans at Agger Tange on 31–1st and again on 4th. In the Netherlands a Eurasian Griffon Vulture spent much of the week touring the islands of Vlieland and Texel, its willingness to cross short stretches of water a tantalising prospect for British birders. Also in the country a juvenile Black-winged Kite was present south-west of Nijmegen from 3rd.

Black-winged Kite, Netherlands (Photo: Thierry Jansen)