Gulls, gulls, gulls … trust these chaps to dominate the rarity news this week, when BirdGuides' resident larid-lover is far away in a distant neotropical land. What was a fairly routine midwinter week exploded into life on Sunday morning, when images and video taken the previous afternoon at Newnham, Glos, apparently showing a second-winter Black-tailed Gull, circulated on social media.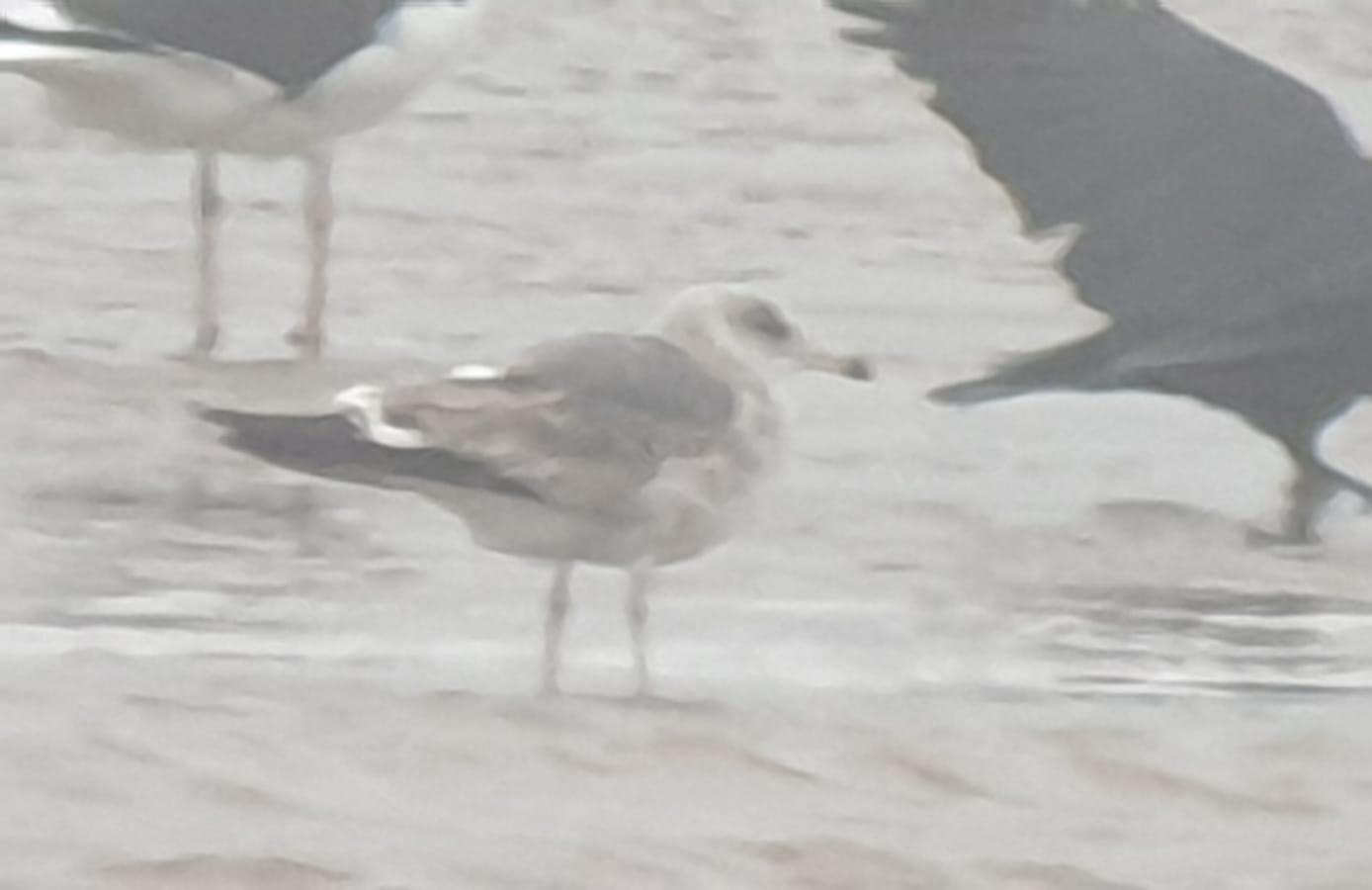 Possible Black-tailed Gull, Newnham, Gloucestershire (Twitter).
A cursory glance at the video footage and a couple of screengrabs stoked the flames of excitement – here was a strikingly structured bird, with an eye-catching long bill and nicely piebald appearance. Touted for a time as a likely addition to the Western Palearctic list, it was all set to be the mega saviour all the way from the Pacific to illuminate a somewhat pedestrian winter.
Foot soldiers soon descended on the Severn Estuary to try to relocate the bird, while those further away took a longer look at the available images. And perhaps all was not as it first seemed. While the immediate appearance of the bird was striking, a few features began to cast some doubt, not least the apparent bill structure – in video grabs taken from different angles, it seemed too uniformly thick for Black-tailed, and lacking the consistent thin tip.
Also, was it perhaps a little too large for Black-tailed Gull? It's hard to go on the available footage, but it didn't seem that dwarfed by the Great Black-backed Gull behind it. Some streaking on the neck also raised questions, along with a notable eye-mask, apparent white tips to the inner primaries and a general 'mean' expression. This last perhaps more familiar in large white-headed gulls; could it be that this bird was a weird, small graellsii Lesser Black-backed Gull with a long and bicoloured bill?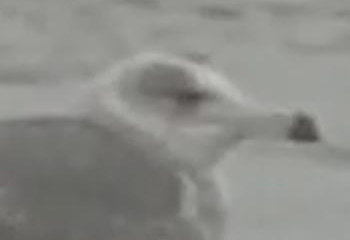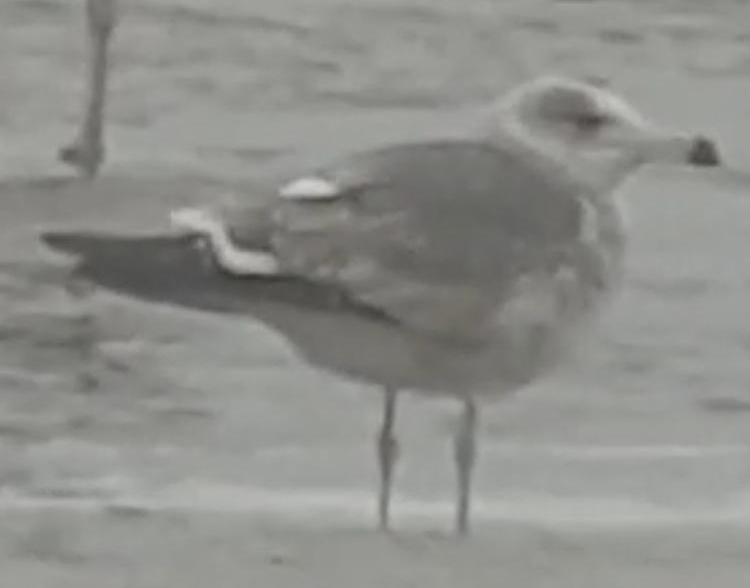 Possible Black-tailed Gull, Newnham, Gloucestershire (Twitter).
Despite noble efforts, the bird wasn't refound that afternoon or since. For now, we can only hope that the sharp eyes and diligent fieldwork of the finder can turn up the individual again for further examination.
Elsewhere during the week, more gulls that got away dominated proceedings. Remarkable news came from Liverpool on 31st – no, the city's all-conquering football team hadn't finally lost a game, but a possible adult Vega Gull had been at the recycling centre at Studholme Street, Sandhills, for two days previous. Confirmation of this would-be Western Palearctic third would have triggered as much of a twitch as a Black-tailed, but sadly there was no further sign in the following days.
In Norfolk, a Franklin's Gull got in on the 'possibles' act as it flew east past the beach car park at Cley Marshes in unconfirmed fashion on 4th. On Skye, Highland, a putative second-winter American Herring Gull was well documented by studious local birders, though this perennially tricky age might be hard to confirm over a Glaucous Gull x European Herring Gull.
It wasn't just about gulls, though, and a truly notable find came in the form of a Lincolnshire first at Grimsby: a first-winter male Black-throated Thrush no less, continuing the superb winter for the species in Europe. The bird showed well until the end of the review period, triggering quite the twitch.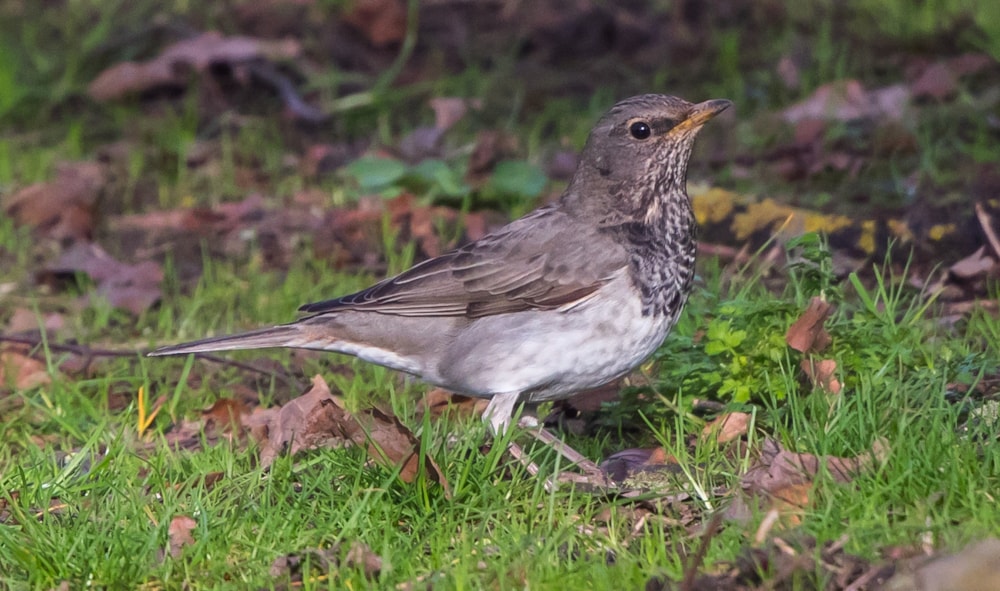 Black-throated Thrush, Grimsby, Lincolnshire (Peter Garrity).
Observations of red tones in the outer tail feathers and, seemingly, around the face and one of the coverts (on one side) raised the possibility of a Red-throated Thrush hybrid. However, this seems to be present in many Black-throated Thrushes in their native range and it seems a bit tenuous to label it a hybrid on these minor features. In Bedfordshire, the adult male was still routinely clocked at Whipsnade throughout.
Other rarities included the two well-visited Eastern Yellow Wagtails in Norfolk and Northumberland respectively, while a first-winter was at Havergate Island, Suffolk, on 4th. The American Buff-bellied Pipit remained in its favoured Sennen field in Cornwall, while the Cheshire Siberian Stonechat was similarly still up for grabs. There was also rather late news of a Black-bellied Dipper on the Ugie Estuary, Aberdeens, on 1 January.

Alaskan Yellow Wagtail, Sedgeford, Norfolk (Nigel Jones).
The nice spread of rare geese continued, with the Aberdeenshire and Dumfries and Galloway Richardson's Cackling Geese both still present, albeit rather difficult to pin down at times. An adult Grey-bellied Brant was a nice find at Marshside RSPB, Lancs, on 1st; it was at Banks Marsh the following day. The slippery Lesser White-fronted Goose reappeared in Norfolk at Burnham Market on 2nd, alongside a rather questionable trio of Red-breasted Geese. A blue ring on one of the latter birds perhaps reminding observers that they were in Burnham Market and not Bulgaria!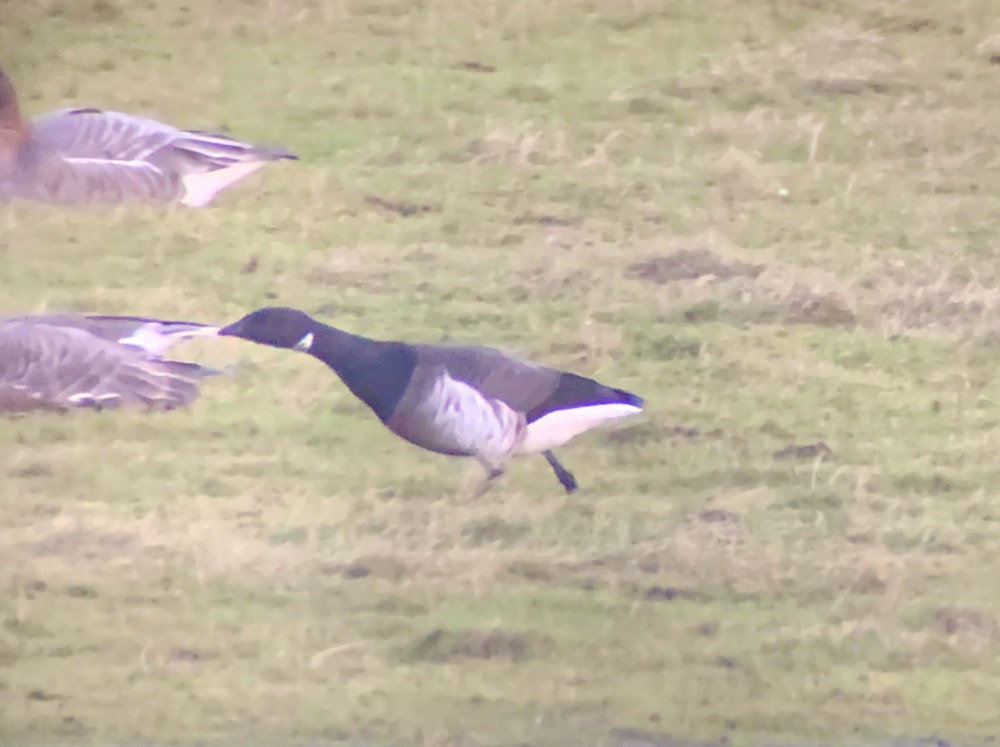 Grey-bellied Brant, Marshside RSPB, Lancashire (Stuart Darbyshire).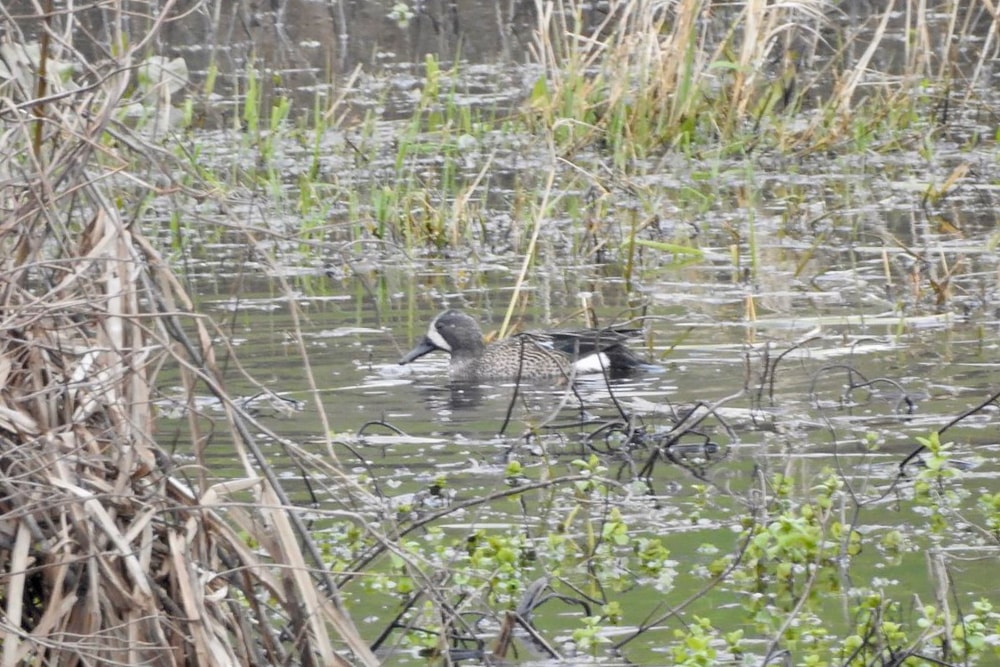 Blue-winged Teal, Man Sands, Devon (Mike King).
The rare duck roll call was a familiar one: the Devon Blue-winged Teal, King Eider in Unst, Shetland, Hampshire's Ferruginous Duck and White-winged Scoter in Mussleburgh, Lothian, were all present and correct. Furthermore, the American Black Duck was reported again at Strontian, Highland, on 28th for the first time since 2 January.
The Lancashire and Co Wexford Long-billed Dowitchers stayed put, while in the latter county, the adult Bonaparte's Gull lingered around Kilmore Quay.
Northern Isles and The Hebrides
Shetland highlights were a White-billed Diver in South Nesting Bay and a White-tailed Eagle at Norwick. Four locations held Iceland Gulls and three had Glaucous Gulls, including eight at Skaw, Unst, on Saturday. A White-billed Diver off Hunda and a drake Surf Scoter off Quanterness were new on Orkney in the week.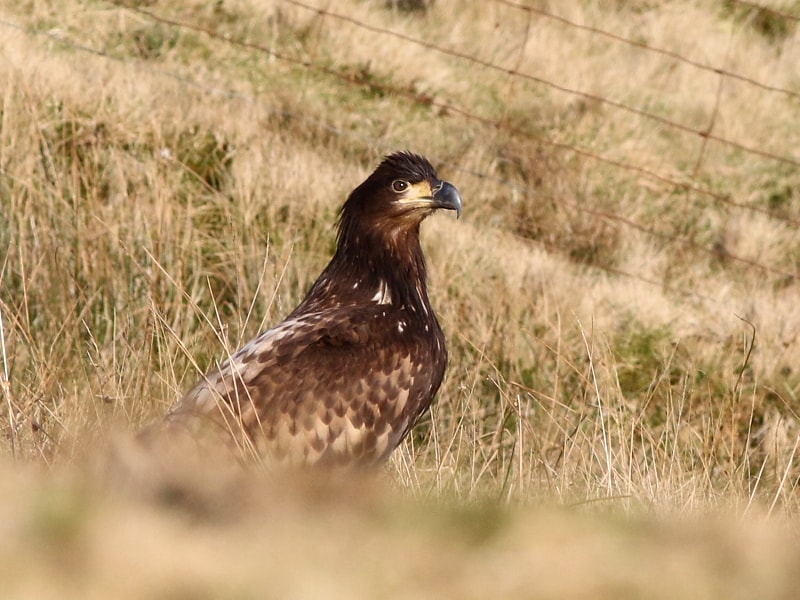 White-tailed Eagle, Norwick, Unst, Shetland (David Cooper).
The Hebrides too were quiet. Drake Green-winged Teal on Barra and South Uist and the long-staying Ring-necked Duck on Barra were the most notable sightings. Glaucous Gulls at six sites included six at Baleshare. Closer to the mainland, the drake Green-winged Teal was still at Loch Gruinart RSPB, Islay.
Scotland
Seven Little Gulls remained in the Brora area of Highland and the Udale Bay Ruddy Shelduck put in another week on site. In Moray and Nairn, four Little Auks were noted past Lossiemouth on Sunday. In Angus, the Great Grey Shrike was still around Backwater Res and a Great Egret was at Forfar Loch.
A drake Green-winged Teal was new at Guardbridge, Fife, and the redhead Smew remained at Lochore Meadows CP. A quiet Clyde continued to host Ring-billed Gull and Ring-necked Duck. An adult Greenland White-fronted Goose at Carronshore offered Forth birders an alternative to the wintering Taiga Bean Goose flock. The drake Smew remained at Gartmore Dam CP and Stirling continued to prove attractive to 75 Waxwings in the week.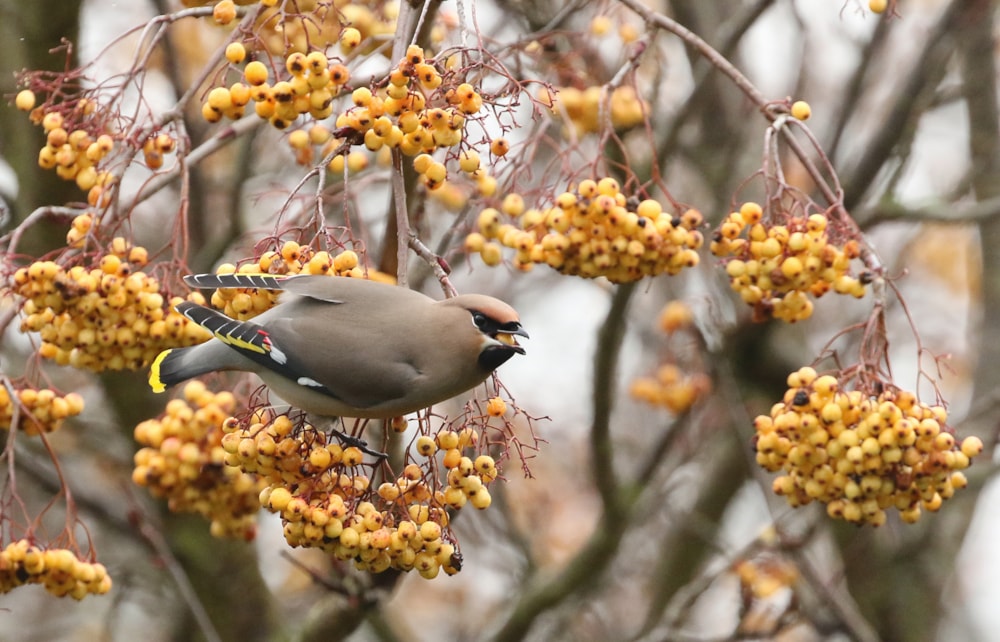 Waxwing, Falkirk, Forth (Jon Mercer).
Dumfries and Galloway also featured Smew and a smaller flock of Waxwings, though a drake Lesser Scaup on Loch Ryan on Monday was the highlight of the week . There was little change in Lothian, with the wintering Surf Scoter still off Musselburgh and the recent Tundra Bean Goose still in the Skateraw area. Edinburgh's Waxwing numbers declined to a mere 35 in the week.
North-East England
In Northumberland, a Kumlien's Gull was briefly in Blyth South Harbour on 29th but wasn't seen again in the following days, though an Iceland Gull was noted on 4th. An adult Glaucous Gull put in an appearance at North Shields Fish Quay on 30th, where at least one juvenile Iceland Gull was present throughout. An adult Little Gull was following a plough at Seaton Sluice on 4th. The adult Common Crane remained until 30th, but is likely still present in the upper Wansbeck Valley. A Tundra Bean Goose was in stubble at Birling Carrs on 2nd.
Co Durham continued to host a single Siberian Chiffchaff at Seaburn and the recent Ruddy Shelduck turned up at Lambton Pools. Whitburn's wintering Water Pipit stayed at the Steel and a smattering of Snow Buntings continued to enjoy South Shields sea-front. As the week ended, there was a mini-rush of birds in Cleveland, with a third-winter Glaucous Gull on Salthome Pools RSPB and a Waxwing in Billingham.
North-West England
Two Russian White-fronted Geese were new in for Cumbria, associating with a healthy flock of Pink-feet at Langwathby. Elsewhere in the county, the Hooded Crow remained at South Walney NR and the Firecrest at Longtown.
It was a case of different week, same story as far as Lancashire was concerned. In no particular order: the Purple Heron remained at Eagland Hill, the Ring-necked Duck at Pine Lake, the redhead Smew at Brockholes LWT and Siberian Chiffchaffs at Pilling and Newton Marsh.
Geese lovers' prayers were Anser-ed this week. Greenland White-fronts had a good turn-out, with reports coming in from Poulton-le-Fylde, Hundred End and Crossens Outer Marsh, meanwhile the Tundra Bean Goose remained at Martin Mere WWT. A healthy group of nine Bewick's Swans was at Crossens Inner Marsh on 30 January, with smaller groups still at Upper Thurnham and Hesketh Out Marsh RSPB.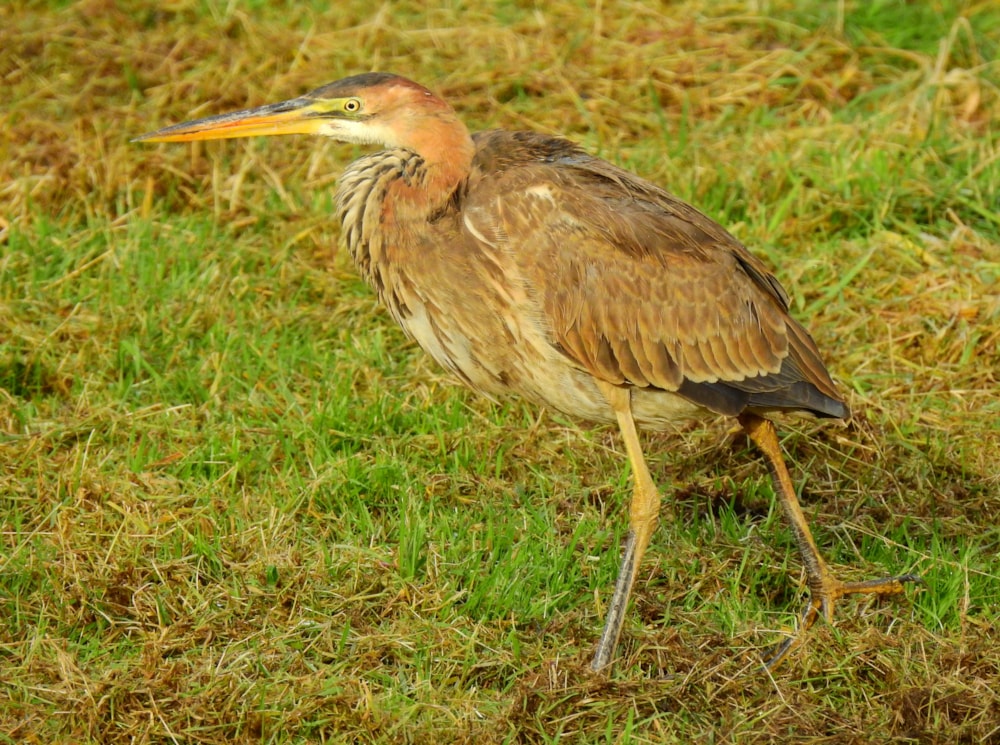 Purple Heron, Eagland Hill, Lancashire (Mark Fanshawe).
A pair of Avocets turned up at Martin Mere WWT on the morning of 3 February. This record constitutes the site's earliest by six days. Up to 10 Western Cattle Egrets were seen at Birkdale through the week, and Great Egrets were reported from a handful of regular sites.
Not to miss out on the goosing, Cheshire turned up two Tundra Bean Geese at Burton Mere Wetlands RSPB and three Russian White-fronted Geese at Lapwing Hall Pool on 1 February. A Grey Phalarope on Hilbre Island on 29 January was particularly notable for the time of year. Greater Manchester produced a typical smattering of gulls, namely adult Icelands at Pennington Flash and Audenshaw Reservoirs, and a few Yellow-legged and Caspian Gulls for good measure.
Yorkshire and Lincolnshire
There was little new of note in North Yorkshire, but the drake Green-winged Teal at Wheldrake Ings and the Ring-necked Duck in the Bolton-on-Swale area remained. At Nosterfield LNR, the wintering Lesser Yellowlegs also extended its stay. In East Yorkshire, Blacktoft Sands too retained a drake Green-winged Teal; with no date overlaps, this is presumably the Wheldrake individual moving between sites. A Grey Phalarope on Thornwick Pools was a nice midwinter find on 31st. At Kilnsea, the Black Brant was again a fixture.
Stainforth's Rough-legged Buzzard continued to brighten up the South Yorkshire post-industrial landscape and the Great Grey Shrike on Hatfield Moors was also noted in the week. A Caspian Gull was in the Old Moor area and a juvenile Iceland Gull cruised over Carlton village. Two of West Yorkshire's reservoirs, Eccup and Redcar Tarn, chipped in some decent gulls, with at least two Iceland and two Caspian Gulls. Last week's Black-necked Grebe at Anglers CP was still present as was the Long-tailed Duck at nearby Wintersett Res.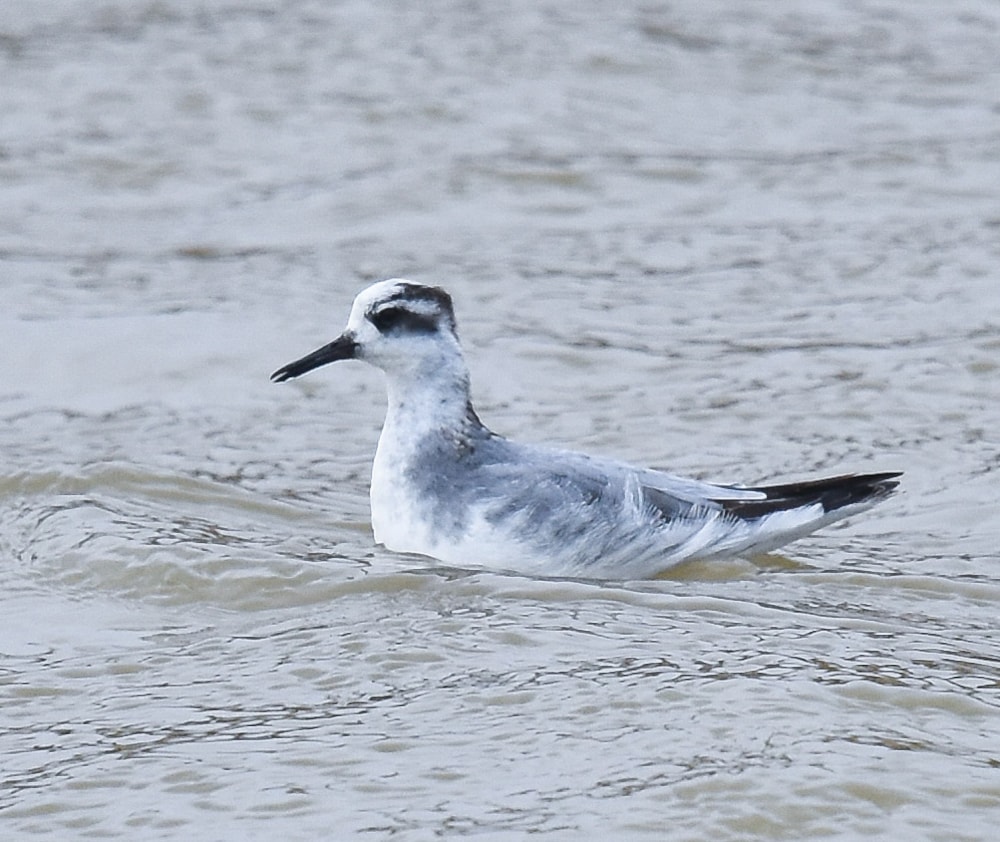 Grey Phalarope, Flamborough Head, East Yorkshire (Andy Hood).
With the attention of most Lincolnshire birders focused on Grimsby there was little change elsewhere, with the female Ring-necked Duck at Woodhall Spa Airfield remaining and the Donna Nook Black Brant also noted in the week. A Balearic Shearwater south past Chapel Point was an unusual midwinter record. The fly-over Lapland Bunting at Gibraltar Point NNR was more typical for early February.
West Midlands
The Bewick's Swan payed a further two visits to Venus Pool NR, on 31 January and 1 February. Shifnal's Yellow-browed Warbler was again reported on 2nd. Waxwings have been thin on the ground, so a group of 11 at Abbots Bromley, Staffs, was a nice count. Chasewater again supported an adult Iceland Gull. The female Long-tailed Duck remained at Branston Water Park.
In Warwickshire, a Black-necked Grebe was at Draycote Water, along with the lingering Great Northern Diver, three Greater Scaup and white-wingers. Over in Worcestershire, the Black-necked Grebe remained on offer at Upper Bittell Res, as did the Long-tailed Duck at Clifton Pits. The gull roost at Bartley Res turned up a juvenile Iceland Gull on the nights of 30 January and 1 February.
East Midlands
In Derbyshire, two Russian White-fronted Geese were fresh in at Long Eaton GPs from 31st, with a drake Smew briefly on the River Trent at Newton Solney that afternoon. Two Waxwings at Old Tupton from 1st are the first individuals in the county this winter. Nottinghamshire's popular Slavonian Grebe remained in situ, while a second-winter Glaucous Gull was at Holme Pierrepont on 1st and 2nd.
Several sprightly Smew were present in Robin Hood's county this week, with individuals present at Hoveringham GPs, Holme Pierrepont and Langford Lowfields RSPB. Two Ruddy Shelducks continued to grace Netherfield Lagoons. An assortment of all five regular British grebes remained at Rutland Water, Leicestershire and Rutland, where 12 Smew still remained. A third-winter Glaucous Gull was Shawell's main Larid attraction this week, while a Black Redstart on a barn near Market Harborough on 4th had probably been there unnoticed since November.
East Anglia
It was pretty much as you were in this part of the world. In Norfolk, the continuing goodies of Rough-legged Buzzard and Black Brant were still available, along with a few remaining Tundra Bean Geese and a couple of Iceland Gulls.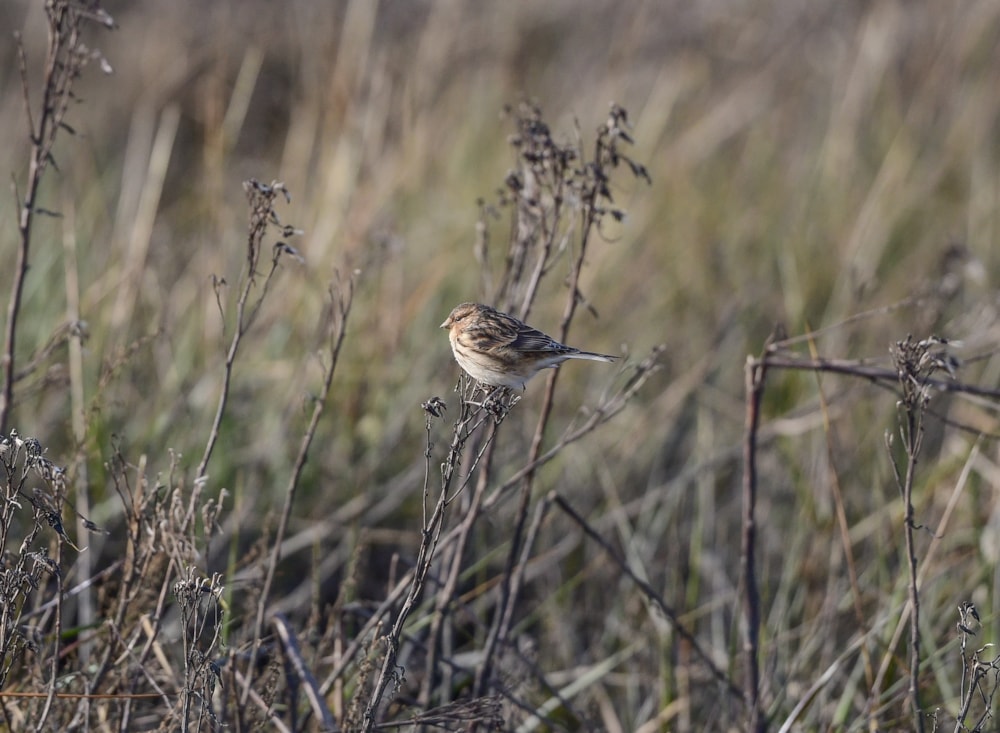 Twite, Thornham, Norfolk (Jane Rowe).
Across the border in Suffolk, the Bawdsey Rough-leg and Minsmere Green-winged Teal were reported with regularity. There was an Iceland Gull at Landguard on 2nd, and the 18 Hollesley Marshes Tundra Bean Geese remained.
Both Cambridgeshire and Hertfordshire scored Iceland Gulls, with one at Dernford Farm Res in the former county on 2nd and a juvenile in the latter at Therfield Heath on 29th. In Bedfordshire, the Ring-necked Duck and Great Grey Shrike remained as available add-ons for last-gasp Black-throated Thrush twitchers. The drake Ring-necked Duck continued at Abberton Res, Essex, with the county having a quiet week in general.
South-East England and Greater London
A little bit of colour was injected into the Hampshire winter courtesy of a Hoopoe discovered at Badminston GPs on 1st. It was still present at the end of the review period. Elsewhere in the county, the Holm Hill Great Grey Shrike lingered and the two released Great Bustards were still kicking about for those with a desire to seek them out.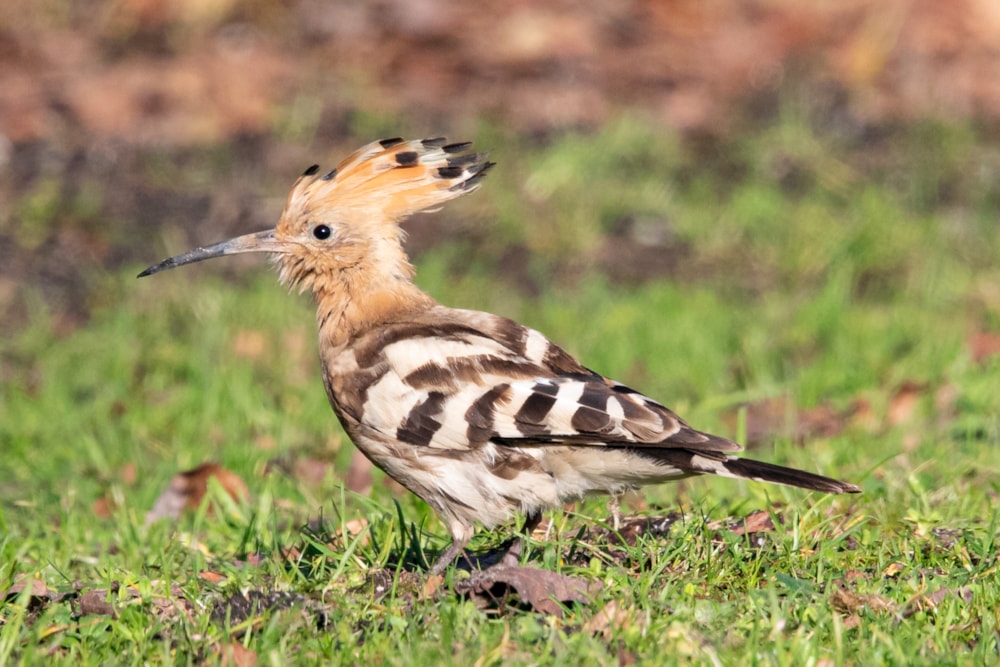 Hoopoe, Badminston GPs, Hampshire (Jeremy Mcclements).
The Buckinghamshire Ring Ouzel stood firm on Pitstone Hill throughout, while a probable White-tailed Eagle – perhaps of released Isle of Wight stock – flew over Newdigate, Surrey, on 3rd. In south London, a Yellow-browed Warbler was still at Poulter Park, Mitcham, on 3rd and 4th, having been present since 27 January.
Elsewhere in the capital, the European Turtle Dove love-in continued at Valentine's Park, while both the Beckton and London Wetland Centre Iceland Gulls were still present.
In a poor winter for rarer passerines, the Ashdown Forest Little Bunting represents good value – it was seen again on 30th but has otherwise proved elusive. West Sussex had a quiet time, with a smattering of sewage farms hosting Siberian Chiffchaffs. Over in Kent, the Richard's Pipit and Rough-legged Buzzard double act continued in the north of the county.
South-West England
In Cornwall, this winter's familiar faces lined up for another weekly roll call: the Lesser Scaup, Ring-necked Duck, Green-winged Teal and Ring-billed Gull were all present and correct. Both an adult and juvenile Kumlien's Gull were discovered, after a poor winter nationally. Over on Scilly, things were similarly routine, with the two Chough still present at Porth Hellick Down.
The theme continued into Devon, where the Glossy Ibis and Ring-necked Duck were still about. The Dorset Ring-necked Duck also continued to be up for grabs at Sturminster Marshall GPs, although in the same county, the male Eurasian Penduline Tit at Radipole Lake proved slightly less straightforward and was elusive. The Great Grey Shrike remained at Morden Bog.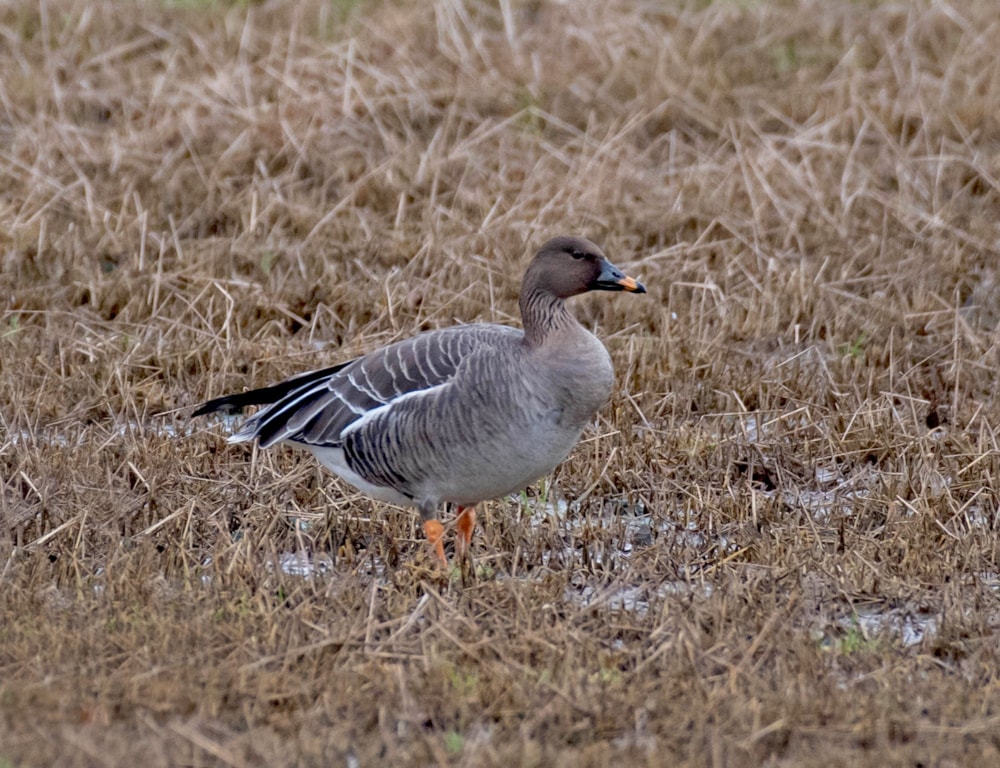 Tundra Bean Goose, Ashleworth Ham NR, Gloucestershire (Alex Barclay).
Belated news of a mighty count of 164 Western Cattle Egrets in the evening roost at Ham Wall on 19 January was quite eye catching, though otherwise Somerset and Bristol highlights peaked with the continuing Richard's Pipit and Smew.
Though Gloucestershire birders were somewhat preoccupied on Sunday, both Great Grey Shrikes were reported that day, as they were throughout the week. The drake Green-winged Teal was still at Slimbridge, while a Tundra Bean Goose was good value at Ashleworth Ham. In Wiltshire, Yellow-browed Warbler, Common Whitethroat and Siberian Chiffchaff were all at Westbury sewage works and a juvenile Iceland Gull was at Brinkworth on 31st.
Wales
A Red-necked Grebe was off Point Lynas, Anglesey, on 1 February, presumably last winter's bird at Bangor returning. A nice North Wales record came in the form of a Black-throated Diver off Benllechon 29 January. The Alaw Estuary played host to up to six Greenland White-fronted Geese, while a single was seen further south at Llanelli WWT, Carmarthen.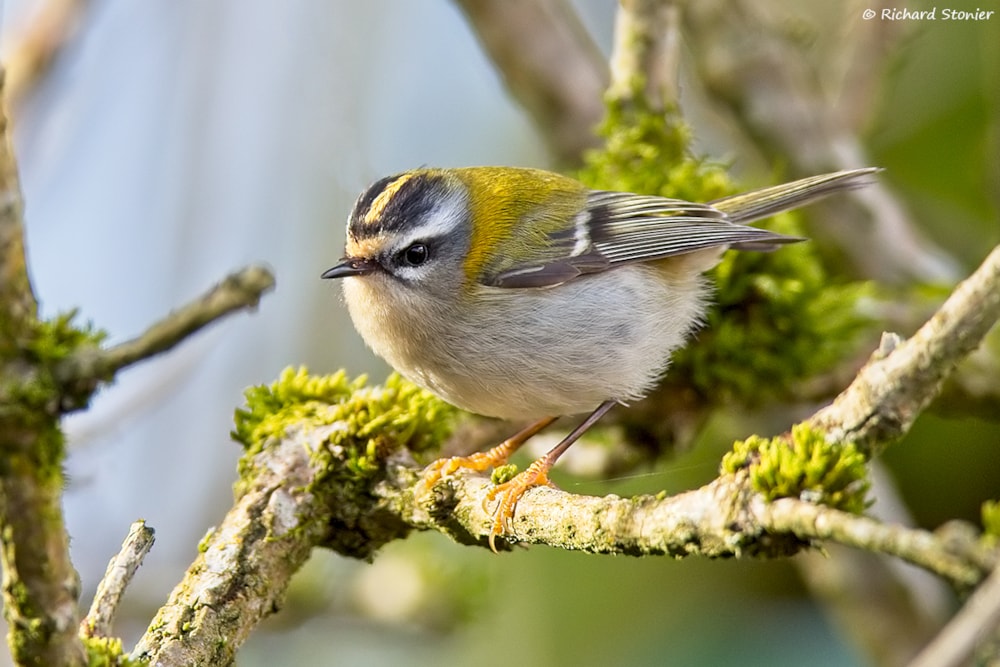 Firecrest, Carew Cheriton, Pembrokeshire (Richard Stonier).
Also at Llanelli, the usual group of Eurasian Spoonbill remained available from the British Steel Hide. The resident Glossy Ibis was still at Newport Wetlands, Gwent, along with the Black-necked Grebe. A Firecrest was at Carew Cheriton.
A scattering of Great Northern Divers was found around the country, with the adult at the small lake at Llantrisant being most notable. The adult Ring-billed Gull, the country's only individual, roosted again at Llys-y-Fran Res, Pembs, on the evening of 2nd. The drake Ring-necked Duck was still at Llyn Blawnmelindwr, Ceredigion, and the Smew was still making its home on the River Usk.

Northern Ireland
The Lesser Yellowlegs showed again briefly at Lough Beg, Co Antrim, on 30 January; the immature Eurasian Spoonbill provided more reliable sightings. A female American Wigeon was at Dargan Bay on 3 February, the drake Ring-necked Duck still at Oxford Island NNR, Co Armagh. Adult Ring-billed Gulls were at Belfast Waterworks and Carrickfergus harbour. Meanwhile over in Co Tyrone, a Western Cattle Egret was by the M9 at Cookstown.

Republic of Ireland
Another typical winter week for Ireland. Ring-billed Gulls remain scant, with six sites producing and all reports of single birds. The Glossy Ibis was again seen fleetingly at Rosslare, Co Wexford, on 29 January. A selection of Western Cattle Egrets was seen in the south of the country and the adult Eurasian Spoonbill was still at Cromane Point, Co Kerry, on 29th.
The first-winter American Golden Plover was again at Ballylongford, Co Kerry, on 3 February, and the Little Stint remained at Black Rock Strand. A family party of Bewick's Swans was noted at Wexford Wildfowl Reserve. The drake American Wigeon was still finding the Culdaff River to its liking. Perhaps more excitingly, a Lapland Bunting was in the south-east corner of Tacumshin on 2 February.
Western Palearctic
Across the continent the astounding Afrotropical midwinter influx showed no signs of abating. An Allen's Gallinule at Sanlucar de Barrmeda, Spain, on 31st broke the trend by remaining past the end of the week, while the wintering Lesser Flamingo continued strutting its stuff less than 4 km up the road. The Galician brace of American Buff-bellied Pipit and Brown Shrike didn't move very far during the week; the same could be said for Extremadura's Sociable Lapwing.
An adult Northern Bald Ibis at Aire-sur-l'Adour in southern France from 31st raised a number of eyebrows as well as questions – could it be from the Spanish reintroduction? It isn't the most outrageous theory and raised hopes for a potential British record someday. Although not currently considered to be self-sustaining, the Spanish project is, by all accounts, doing rather well and it doesn't seem too far in the distant future that this population will be tickable. Not a million miles away, the Pygmy Cormorant remained lazing by the poolside in the bushes at Carbonne.

Basalt Wheatear, Uvda Valley, Israel (Ed Stubbs).
One of Kuwait's Purple Sunbirds at Al-Adan just made the cut, still being present on 29th. Equally rockstar in appearance, the Abyssinian Roller remained a delight at Las Palmas, Gran Canaria, throughout.
Late news of a Northern Shrike in south-west Finland at Täktom was especially notable. Finishing the country's tally were two Black-throated Thrushes, at Lisalmi and Kempele respectively. The Basalt Wheatears were still in Uvda Valley, Israel.
Sweden's wintering Masked Wagtail hung on at Falkenburg, with the Eastern Yellow Wagtail still just down the coast at Trelleborg. In Iceland, the regular White-winged Scoter was again off Keflavik on 29th.
The Dutch burgeoning Pied Crow, Great Bustard, Crested Lark and Great White Pelican contingent fought on at their respective sites throughout the week, growing ever more preponderant with the addition of a meena Oriental Turtle Dove at Sneek from 30th. In Belgium, the Dusky Thrush-Pygmy Cormorant twosome lived to fight another day.
A Desert Wheatear in Romania at Mihai Viteazu on 29th is only the country's third record; the Hudsonian Whimbrel on Sal, Cape Verde, continued until the same date at least, as did Germany's White-billed Diver.