The week at a glance
The only new 'mega' this week was a very smart male Collared Flycatcher on Fair Isle on 30th–3rd, stealing the limelight on the last day from a Red-rumped Swallow, two Subalpine Warblers and four Tree Sparrows, the last a real Fair Isle rarity. There are fewer than 30 accepted records of Collared Flycatcher and Shetland has seen the lion's share, with three previous records on Fair Isle and eight elsewhere on Shetland, including the first in 1947.
The secretive Little Shearwater on Lundy (Devon) was again reported on the evenings of 27th–28th and 3rd. Elsewhere, the Oriental Turtle Dove was still in Chipping Norton (Oxon) all week and the House Crow was reported from Cobh (Co Cork) on 28th.
A few interesting "probables" included a drake Black Scoter off Barns Ness (Lothian) on 30th and two Hudsonian Whimbrels on 1st, over Bawdsey (Suffolk) and at Slimbridge (Gloucestershire).
It was a quiet week for wildfowl; the only scarce goose reported was a Black Brant at Dungarvan and Killongford (Waterford) on 3rd. Similarly, the only Ring-necked Ducks were the long-stayer at Stithians Reservoir (Cornwall), one at Castleward (Co Down) to 29th and a drake at Vane Farm (Perth & Kinross) on 1st. There were just two Green-winged Teal, at Marloes Mere (Pembrokeshire) on 30th–2nd and at Lough Atedaun (Co Clare) on 3rd, and the only Blue-winged Teal was the female at the National Wetland Centre (Carmarthenshire) to 30th.

Ring-necked Duck, Stithians Reservoir, Cornwall (Photo: Tony Mills)
Both the Lesser Scaup remained, the drake at Martin Mere (Lancs) to at least 3rd and the female again at Slimbridge (Glos) on 4th. The only remaining Surf Scoter was the drake again off Murcar Golf Course (Aberdeenshire) on 30th and, also in Aberdeenshire, the only King Eider was the drake on the Ythan estuary to at least 3rd.
There were good numbers of White-billed Divers, though. One remained at Tacumshin (Co Wexford) to 1st and at least one adult remained off Port Skigersta, Lewis (Outer Hebrides) to 2nd–3rd. Elsewhere in Scotland, up to three were off Burghead (Moray & Nairn) during the week and just one remained off Portsoy (Aberdeenshire) to 30th.
The only Smew now remaining were the redhead at Lindores Loch (Fife) on 2nd and the presumed escape drake at Blessington Basin, Dublin on 29th.
Following the recent flyovers, a single Glossy Ibis stuck this week, at Abberton Reservoir (Essex) on 2nd, but for less than an hour only. There were further reports of Sacred Ibis in northern Cheshire, with one at Delamere Forest from 28th joined by a second, ringed bird on 29th. There were then singletons over Frodsham on 28th and at Altrincham on 29th.
Purple Herons continued to arrive: there were birds six sites, including one still wandering around Bedfordshire. In the north, birds were over Hessle (East Yorks) on 29th and at Otley (West Yorks) on 3rd. In Kent, one was at Sandwich Bay on 1st and one at Dungeness on 29th was joined by a second on 4th, raising hopes of a second breeding attempt.
Both the Night Herons reappeared late in the week, the immature at Two Tree Island (Essex) on 2nd and the adult again at Stour NR, Bournemouth (Dorset) on 3rd. There was also a new adult, at Bunmahon (Waterford) on 29th–2nd — only the second county record, following one in June 2000.
There were a few new Great White Egrets this week, including one at Marazion, Cornwall, on 1st, then possibly the same in off the sea at Sennen on 3rd and refound on the Hayle estuary the next day. Others were then at East Chevington (Northumberland) on 30th, Great Ryburgh (Norfolk) on 2nd, North Ockenden (Essex) on 4th and one flew over Tresco (Scilly) on 4th. There were also three Cattle Egrets, birds over Lodmoor (Dorset) on 30th and Chedgrave Marshes (Norfolk) on 1st and one at Abbotsbury (Dorset) on 1st–2nd.
Apart from one at Killongford (Co Waterford) again to 3rd and an inland bird at Wilstone Reservoir (Herts) on 30th, Spoonbills were all coastal birds at sites from Norfolk to Gwent, including three still at Elmley Marshes (Kent) and Cley Marshes (Norfolk).
It may be that the departed Hampshire Black Stork accounted for a run of records in Dorset this week. One went over Morden Bog on 29th, later seen thermalling over Lytchett Bay and Lytchett Minster and then over Moreton on 1st.
The pattern of reports of White Storks this week was interesting, with a cluster of records in Devon, at sites including Colyford Common and Weare Giffard, between 28th and 3rd referring to a ringed escapee that may well be the same as that recently seen in Lancashire and southern Scotland. Other records may well have referred to a single eastward-bound bird, seen in Glamorgan, Gwent and Gloucestershire, then at Port Meadow, Otmoor and Bicester (Oxon) on 2nd. Further east, what may have been the same bird was at Marston Vale Millennium CP and Priory CP (Beds) on 3rd and at Godmanchester GP and Fen Drayton Lakes (Cambs) and over Needham Market (Suffolk) on 4th. Later that day it made it to the Suffolk coast, seen at Southwold, Reydon and in the late evening at Hen Reedbeds.

White Stork, Otmoor RSPB, Oxfordshire (Photo: Graham Cox)
Nothing much changed with Rough-legged Buzzards; reports came from several sites in East Anglia and Kent, and lingering birds remained in Hampshire and Oxfordshire. Further north, birds were at Dunford Bridge (South Yorks) on 29th, Flamborough Head (East Yorks) on 4th and Loch of Strathbeg (Aberdeenshire) again on 2nd.

Rough-legged Buzzard, Overton, Hampshire (Photo: Joe Stockwell)
The juvenile White-tailed Eagle remained around Ruckland and Burwell (Lincs) to 3rd and may have gone wandering again, accounting for a bird seen over East Somerton (Norfolk) and Leiston, Eastbridge and Walberswick (Suffolk) on 4th. A spanner in the works, though, was a report of a "possible" over Itteringham (Norfolk) on 28th. There was also an adult Golden Eagle of unknown origin at Pilling Moss and Leighton Moss (Lancs) on 2nd.
There were records of Black Kites from nine sites southeast of a line from the Wash to the Severn. Of note, though, was one over North Ronaldsay (Orkney) on 2nd — only the third for the island and on the same date as one in 1997. What was presumably the same bird was also seen at Outertown (Orkney) on 4th.
Small groups of Red-footed Falcons do turn up occasionally, and a male at Burnham Overy (Norfolk) on 29th was followed later by two females there, one remaining to 30th. Other records were of one in off the sea at Copt Point (Kent) on 30th and a probable female in Winterton Dunes (Norfolk) on 2nd. Also of note was an exceptional count of 65 Hobbies at Lakenheath Fen (Suffolk) on 3rd. The possible Tundra Peregrine remained at Walmsley Sanctuary (Cornwall) to at least 3rd, and the probable juvenile was also still present at Burnham Overy (Norfolk) on 28th–29th. The white-morph Gyr Falcon remained on Lewis (Outer Hebrides), seen at Suainebost on 30th, and there was also a report of a "possible" at Muirshiel Country Park (Clyde) on 30th–1st.
The male Kentish Plover remained at Tacumshin (Co Wexford) to 2nd, with a Little Ringed Plover also there. It was a good week for the Kentish Plover, with three other birds recorded. One was briefly on the beach at Kessingland (Suffolk) on 1st, one was at Weston-super-Mare (Somerset) on 2nd and a female was at Cockersand Abbey (Lancs) on 3rd–4th. The first American Golden Plover of the year was on the Hayle estuary (Cornwall) on 1st–4th.

Kentish Plover, Cockersand Abbey, Lancashire (Photo: Gavin Thomas)

American Golden Plover, Hayle Estuary, Cornwall (Photo: Alex McKenzie)
Dotterel were at a large number of sites across the country, although apart from a female on St Mary's (Scilly), the furthest south were a trip of four at Cheesefoot Head (Hampshire) on 1st–3rd, where unfortunately the temptation to trespass was just too much to resist for some...

Dotterel, Long Mynd, Shropshire (Photo: Dave Kelsall)
Both of last week's Long-billed Dowitchers remained, at Lodmoor (Dorset) to at least 30th and at Borth Bog (Ceredigion) to 28th. A long-overdue county first was a very spotted Spotted Sandpiper at Westwood Pool (Worcs) on 3rd, and thanks go to the staff there for allowing and arranging open access to the site to see this bird.

Spotted Sandpiper, Westwood Pool (PERMIT ONLY), Worcestershire (Photo: Hughie King)
In Lincolnshire, the Collared Pratincole remained at Rosper Road Pools (Lincs) to 2nd and the Pectoral Sandpiper remained at Frampton Marsh to 28th. There was also another possible, at Mountcastle Quarry (Fife) on 1st. Rather unexpected in spring were two Great Snipe in the Northern Isles, one on Fair Isle on 2nd and another at Pool of Virkie (Shetland) on 3rd — of the 700 accepted records, only 13 have been in May. Four Black-winged Stilts were at Wat Tyler CP and Bowers Marshes (Essex) on 30th; one of these might account for the singleton belatedly reported from Paxton Pits (Cambs) the following day.

Collared Pratincole, Rosper Road Pools, Lincolnshire (Photo: Russell Hayes)

Black-winged Stilt, Wat Tyler CP, Essex (Photo: Steve Arlow)
One of the highlights of the week migration-wise was the exceptional passage of Bar-tailed Godwits, with birds heading from Mauritania to the Waddenzee blown into the country by the strong easterly winds. Dungeness (Kent) saw a record count of 7,317 birds on 28th, 6,000 flew past Portland (Dorset) on the same day, and over 1,000 passed Severn Beach (Glos) on 29th. There were also reasonable-sized flocks at many inland sites.

Bar-tailed Godwit, Severn Beach, Gloucestershire (Photo: Paul Bowerman)
Content continues after advertisements
Glaucous Gulls were recorded from just four sites in Scotland, three in England — Dungeness (Kent), London Wetland Centre and Great Livermere (Suffolk) — and one in Ireland, a juvenile at Newcastle (Wicklow) on 30th. Iceland Gulls were only slightly more numerous, with again just one in Ireland, at Ardmore (Waterford) on 2nd.
There were no reports of Ring-billed Gull, but several of the Bonaparte's Gulls remained. These were all long-staying first-winters, on the Ythan estuary (Aberdeenshire), at Borve, Lewis (Outer Hebrides), on the Otter estuary, at Dawlish Warren and Exmouth (Devon), and after a short absence one returning to Hayle estuary (Cornwall) from 30th–4th. Elsewhere, one was reported at Connah's Quay (Clwyd) on 30th–1st, though not confirmed.
New terns included two adult White-winged Black Terns: a photogenic bird at Minsmere (Suffolk) on 30th–3rd and one at Chichester Gravel Pits (West Sussex) on 2nd–3rd. There was also a possible Whiskered Tern past Dungeness (Kent) on 30th and an excellent passage of Black Terns from 2nd, with peak counts of 120 past Berrow (Somerset) and 77 past Clevedon (Somerset) on 2nd, and 30 at Draycote Water (Warks) and 25 past Orcombe Point (Devon) on 3rd. Pomarine Skua passage also kicked off at Dungeness (Kent), with 79 past on 30th and 7 on 1st. Other notable counts included 64 past Splash Point (West Sussex) on 30th and 42 past Worthing (West Sussex) on 1st.

White-winged Black Tern, Minsmere RSPB, Suffolk (Photo: Carl Wright)

Black Tern, Livermere Lake (Ampton Water), Suffolk (Photo: Ian Goodall)

Pomarine Skua, Dungeness, Kent (Photo: Mike Buckland)
The regular Snowy Owl was again on North Uist (Outer Hebrides), at Greinetobht on 29th and Solas on 30th.
There was one last Alpine Swift, at Woodvale Airfield (Lancs) on 4th. The influx of Bee-eaters calmed down somewhat, with reports from just six sites this week. Two were in a garden at Blacksod (Co Mayo) on 28th, and singletons were at Fairfeld (Kent) on 29th, Portland (Dorset) on 30th, Broadstone (Dorset) on 3rd and Edinburgh (Lothian) on 4th.

European Bee-eater, Fairfield, Kent (Photo: Mike Buckland)
There were large numbers of Wrynecks this week, with birds at 14 sites in England, including inland birds at Regent's Park (London) on 30th, Todber (Dorset) on 2nd, Pulborough Brooks (West Sussex) on 3rd–4th and Brown Edge (Staffs) on 4th. There were up to three on Fair Isle over 2nd–4th and birds at four sites on Shetland over 1st–4th.

Wryneck, Cley next the Sea, Norfolk (Photo: Steve Hiscock)
Shore Larks stayed put at seven sites again between Barns Ness (Lothian) and Landguard (Suffolk), with the only significant new flock being five at Barmston (East Yorks) on 1st. The only Short-toed Lark was one over Pegwell Bay (Kent) on 29th.

Shore Lark, Cley Marshes NWT, Norfolk (Photo: anon)
Hoopoes were reported from seven sites in England, one in Wales (Devil's Bridge (Ceredigion) on 4th) and one in Scotland (Lochmaddy, North Uist (Outer Hebrides) on 29th).
The Lincolnshire Tawny Pipit remained at Tetney Lock to 28th with another possible at Cissbury Ring (West Sussex) on 30th. There was still plenty of wagtail interest, the highlight being a male Black-headed Wagtail on Tresco (Scilly) on 4th. With fewer than 15 accepted records, and most of these one-day birds, many will be hoping for a more accessible bird on the mainland.... Also of note was a Grey-headed Wagtail at Minsmere (Suffolk) on 28th and Channel Wagtails at Wilstone Reservoir (Herts), Old Wolverton (Bucks) and Venus Pool (Shropshire).

Channel Wagtail, Venus Pool NR, Shropshire (Photo: Richard Vernon.)
The only Bluethroat reported was the white-spotted male at Welney (Norfolk) on 4th.
Bird Observatories scored again with Red-rumped Swallow, with one at Dungeness (Kent) on 2nd–3rd and another at Spurn (East Yorks) on 4th. Elsewhere, singletons were at Burnham Norton (Norfolk) on 29th, Saltee Islands (Wexford) on 30th and Lodmoor (Dorset) on 2nd.

Red-rumped Swallow, Dungeness RSPB, Kent (Photo: Lee Dingain)
Waxwings are still clinging on, though it must be time soon for the remainder to move on. By the weekend, flocks were down to below 40, with only one reported over 30 by the end of the week.
The excellent run of Subalpine Warblers continued, all bar one (at Greinetobht, North Uist, on 29th) being at Bird Observatories. An eastern female was on North Ronaldsay (Orkney) on 29th–4th, a western male was on Bardsey (Gwynedd) on 29th, an eastern male and unraced female were on Fair Isle over 30th–1st and an unraced female was at Spurn (East Yorks) on 3rd–4th.

Subalpine Warbler, Spurn, East Yorkshire (Photo: Andy Hood)

Western Subalpine Warbler, Bardsey Island, Gwynedd (Photo: Steve Stansfield)
There were seemingly ever more Iberian Chiffchaffs throughout the week, with no fewer than five new birds: one belatedly reported from Southport (Lancs) on 27th, a probable at Townley Hall Woods (Co Louth) on 28th–3rd, one reported at Priory Wood (Gwent) on 29th and one at Blackpool (Lancs) on 3rd–4th. The probable also remained in Kenidjack Valley (Cornwall) to 28th and nearby the year's first Melodious Warbler was singing in Nanquidno Valley on 4th.
Many of last week's Woodchat Shrikes moved on this week, leaving just three birds. One remained at Filey (North Yorks) to 30th, in the south a female was at Prawle Point (Devon) on 28th–2nd, and in the east a male was at Halesworth (Suffolk) on 29th–3rd. This was also the first week of the year with no reports of Great Grey Shrikes.

Woodchat Shrike, Filey, North Yorkshire (Photo: Steve Race)
Interestingly the only Golden Orioles this week were in East Anglia; perhaps most migrants have already passed through the south. Two were at Woodbridge (Suffolk) on 29th and a female was at Winterton Dunes (Norfolk) on 4th. There were also just two reports of Serins: two at Townley Hall Woods (Louth) on 1st and one reported over Gilroy Nature Park (Cheshire) on 3rd.
Apart from one at Cemlyn Bay (Anglesey) on 1st and one still on Bardsey (Gwynedd) to 1st, all reports of Lapland Buntings came from northern Scotland. Peak counts were much reduced, though, with 15 on North Ronaldsay (Orkney) and 10 on Fair Isle the only double-figure counts.

Lapland Bunting, Bay of Skaill, Mainland, Orkney (Photo: anon)
The only Ortolan Bunting was a new male at Sammy's Point (East Yorks) on 30th, and nearby a male Rustic Bunting was at Spurn briefly on the evening of 3rd.

Ortolan Bunting, Sammy's Point, East Yorkshire (Photo: Lee Johnson)
Photo of the Week: 28th April–4th May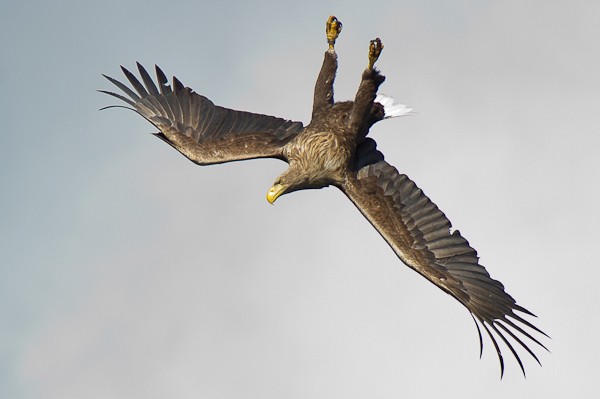 White-tailed Eagle, Loch na Keal, Mull, Argyll (Photo: Artur)
Artur Stankiewicz has uploaded over 400 images to BirdGuides, mainly from France and Poland, but also from South Africa, USA, UAE and elsewhere.  During a recent trip to Scotland, Artur photographed a good selection of the country's birdlife, including the ever-popular White-tailed Eagles on the Isle of Mull.  Photographing these magnificent raptors from a boat as they fished, Artur probably realised he would bag some stunning images. What he probably didn't expect, though, is that this eagle would be challenged by several gulls and respond by flipping over in mid-air. Thankfully, this turn of events didn't affect Artur's concentration and he managed to capture a once-in-a-lifetime image that we're pleased to select as his first Photo of the Week.
Other notable photos

Marsh Harrier, Far Ings NR, Lincolnshire (Photo: Howard Booty)

Common Redstart, undisclosed site, Shropshire (Photo: John Fielding)

Yellow Wagtail, undisclosed site, Cheshire (Photo: Richard Steel)

Collared Pratincole, Rosper Road Pools, Lincolnshire (Photo: Graham Catley)

White-winged Black Tern, Minsmere RSPB, Suffolk (Photo: Jon Evans)

Dotterel, undisclosed site, Lancashire (Photo: Pauline Greenhalgh)

Grasshopper Warbler, Penicuik, Lothian (Photo: Mike Thrower.)

Pied Flycatcher, undisclosed site, Powys (Photo: Mr Clive Daelman)

Gannet, Kildalloig Bay, Argyll (Photo: Jimmy MacDonald)

Grey Heron, Minsmere RSPB, Suffolk (Photo: Tom Hines)

Teal, Minsmere RSPB, Suffolk (Photo: Carl Wright)

Common Sandpiper, Shillmoor, Northumberland (Photo: David Cookson)

Common Tern, Czech Republic (Photo: Honza)

Swallow, Spurn, East Yorkshire (Photo: Martin Standley)

Common Redshank, Summer Leys LNR, Northamptonshire (Photo: Ben the Plumber)

Hobby, Grove Ferry NNR, Kent (Photo: Steve Ashton)

Wryneck, Holy Island, Northumberland (Photo: Colin Pears)

Wren, Attenborough NR, Nottinghamshire (Photo: Jamie MacArthur)

Lesser Whitethroat, undisclosed site, Norfolk (Photo: Mark Skipper)