The week at a glance
Whilst last week seemed a bit quiet for new quality birds, this week surpassed that as being one of the slowest weeks of the year so far, with not a single 'mega' reported! But what was lacking in real star quality was somewhat made up for with the arrival of a nice cast of interesting waders.
With the Loch Leven Ross's Goose now departed, the only real goose interest came in the form of a Snow Goose heading south past Quendale (Shetland) on the morning of 27th, with what may perhaps be the same bird coming in off the sea on North Ronaldsay (Orkney) later in the day, staying to 28th. There was some speculation that the degree of wear on the flight feathers might imply a less-than-wild origin, but the location could hardly be better. Perhaps also worthy of mention were two Ruddy Shelducks at Tittesworth Reservoir (Staffs) on 29th, with two also at Chipping (Lancs) on the same date.
Vane Farm (Perth & Kinross) did manage to hold onto one good bird, though, the drake Ring-necked Duck remaining to 28th; the other remaining drake stayed at Ham Wall (Somerset) all week. There was then a new drake, at Lough Money (Down) on 28th. Other wildfowl of note included a drake American Wigeon on Foula (Shetland) on 28th–31st and a pair at Tophill Low (East Yorks) on 1st. The drake Surf Scoter remained along the Lothian coast at Musselburgh to at least 31st, with another showing well off Blackhall Rocks (Durham) on 31st–1st, the first twitchable bird in the county for many a year. As usual, the sole King Eider was the drake on the Ythan estuary (Aberdeenshire) most of the week.

Ring-necked Duck, Vane Farm RSPB, Perth & Kinross (Photo: John Nadin)

American Wigeon, Tophill Low NR, East Yorkshire (Photo: Martin Standley)

Surf Scoter, Blackhall Rocks, Durham (Photo: Mark Newsome)
Numbers of Purple Herons also dropped off rather during the month. Apart from the bird remaining at Minsmere (Suffolk) to 31st, others were a brief bird at Bicker (Lincs) on 26th, one over Fairburn Ings (West Yorks) on 28th and one at Woodwalton Fen (Cambs) on the evening of 31st. The only remaining Night Heron was the adult at Earlswood Lakes (Warks), which was frustratingly elusive and seen in flight only to 27th. The roaming Sacred Ibis put in another appearance this week, at Dunham Massey Park (Cheshire) on 26th.

Purple Heron, Minsmere RSPB, Suffolk (Photo: Stephen Allen)
Two Great White Egrets were notable at Castle Island (Northumberland) on 28th–29th, with one on the nearby Blyth estuary presumably one of these birds. Further south, Lincolnshire saw a bird over Cleethorpes and Tetney Marshes on 29th, one was at Dungeness (Kent) on 1st and one went over Slapton Ley (Devon) on 28th. Elsewhere, one was at Carraroe (Sligo) on 26th.

Great White Egret, Castle Island, Northumberland (Photo: Steven Fryer)
The spread of Spoonbill records seems to be increasing, with reports this week from sites as far north as Tyninghame Bay (Lothian), although the only birds remaining in the southwest were two at Mable Marshes (Cornwall) on 28th. In Ireland, the sub-adult remained at Killongford (Waterford). Elsewhere, peak counts remained low, including four at Saltholme (Cleveland) and Minsmere (Suffolk) and three at Druridge Pools (Northumberland) and Holme Dunes (Norfolk).

Spoonbill, Doxey Marshes, Staffordshire (Photo: Dave Kelsall)
In Northamptonshire, the Black Stork reappeared, seen being mobbed by corvids over the M1 at Rothersthorpe on 29th. There was then another record of the mysterious East Anglian bird, over Waxham (Norfolk) on 1st. There was - just a single report of White Stork, over Dalleagles (Ayrshire) on 30th, though this may relate to the wandering escapee.
As appetites are sated, reports of the Lincolnshire White-tailed Eagle are fewer and further between now. It remained at Ruckland to at least 27th, then moved to Tathwell on 30th and was seen over Manby on 31st. With itchy wings again, will it make another jaunt into East Anglia this coming week? Lincolnshire also saw a couple of Black Kites during the week, with birds over Gibraltar Point and Kirkby on Bain on 31st, possibly relating to different birds. The Orkney bird also remained, reported from Flotta on 28th and Loch of Tankerness on 29th. Elsewhere, one headed south over Spurn (East Yorks) on 28th and one was seen distantly at Moorcourt (Hants) on 29th.
The first-summer female Red-footed Falcon remained at Ham Wall (Somerset) to 27th, with a possible also reported from Tophill Low (East Yorks) on 27th. The only other raptor of note was a presumed escape Saker Falcon at Rumney Great Wharf (Glamorgan) on 26th.
Yet another Kentish Plover was reported this week, at Bowness-on-Solway (Cumbria) on 1st, though it's not clear whether this is the same bird as present in early May. Tacumshin (Wexford) continued to play host to a trio of Nearctic waders, with an American Golden Plover to 31st, Buff-breasted Sandpiper to 29th and a Pectoral Sandpiper on 28th–29th. The only other Buff-breast was one with Dunlin at Fionnphort, Mull (Argyll) on 27th. Other 'Pecs' included birds remaining at Rigifa Pool (Aberdeenshire) to 30th and Walmsley Sanctuary (Cornwall) to 26th, and another new bird at Martin Mere (Lancs) 30th.

Buff-breasted Sandpiper, Fidden, Mull, Argyll (Photo: Bryan Rains)

Pectoral Sandpiper, Rigifa Pool, Aberdeenshire (Photo: Joseph Nichols)
One new arrival, possibly from the west, was a Lesser Yellowlegs at Uttoxeter Quarry (Staffs) on 29th–31st, the third for the county and first since 1995. The arrival of this bird prompted the photographer of a mystery wader at Willington Gravel Pits (Derbys) on the morning of 29th to look back at his photos, which confirmed this was indeed the same bird, only the second record for Derbyshire following the first in 1998. There was a photogenic Spotted Sandpiper at Brockholes NR (Lancs) on 30th. Equally popular, and equally photogenic, was a Terek Sandpiper at Hauxley NR (Northumberland) on 28th–30th, the third in the county in the last 10 years.

Lesser Yellowlegs, Uttoxeter, Staffordshire (Photo: Richard Powell)

Spotted Sandpiper, Brockholes Nature Reserve LWT, Lancashire (Photo: David Henshilwood)
Content continues after advertisements

Terek Sandpiper, Hauxley NR, Northumberland (Photo: Colin W. Pears)
These three quality waders were ousted from the top spot though by the reidentification of a Temminck's Stint at Old Moor (South Yorks) as a Least Sandpiper, present and correctly identified for just the day on 26th. Many were able to see this thanks to the efforts of staff who kept the reserve open late in the evening. This is just the third record for Yorkshire, following birds at Blacktoft Sands in 1999 and the first at Kilnsea in 1991.

Least Sandpiper, Old Moor RSPB (Dearne Valley), South Yorkshire (Photo: C R Dixon)
Breydon Water (Norfolk) played host to yet another Broad-billed Sandpiper from 27th–31st. This site saw the first British record back in 1836, and three of the first five British records were shot here. Incredibly, of the 240 accepted records, 50 have been in Norfolk, and 19 of these at Breydon Water. The draw of the site is further confirmed by a record of two birds in May 1985 and three on 22nd May 1989.
Record of Red-necked Phalaropes continued to come in from along the east coast and as far inland as Stewartby (Beds) on 30th — the county's first twitchable individual — and Upton Warren (Worcs) on 28th–1st, with two there on 30th. Rather coincidentally, this is the fourth year out of five that the site has seen a midsummer phalarope. Other inland birds were at Livermere Lake (Suffolk) and Welney (Norfolk), where there were two on 29th, with coastal birds at Frampton March (Lincs), Beacon Ponds (East Yorks), Blacktoft Sands (East Yorks) and Saltholme (Cleveland).

Red-necked Phalarope, Upton Warren NR, Worcestershire (Photo: Jim Almond)
Reporting on white-winged gulls is so much easier at this time of year, with few birds remaining. Of the four Glaucous Gulls reported, three were in the Northern and Western Isles, and the other was at Gibraltar Point (Lincs) on 31st. Of the nine Iceland Gulls, six were in Scotland, and a further three in Ireland, at Larne (Antrim), Annagh Head (Mayo) and Kilkee (Clare).
In Gwynedd, the first-summer Bonaparte's Gull remained at Porthmadog to 31st, also seen at nearby Glaslyn Marshes 28th–29th. The long-staying bird also remained in Devon, around Exton, Exmouth, Dawlish Warren and Bowling Green Marsh (Devon) to 1st. In Shetland, the first-summer Ring-billed Gull was again in Uyeasound, Unst on 30th, with new birds reported from Clonea (Waterford) on 28th and Loch Hosta, North Uist (Outer Hebrides) on 29th. More noteworthy was an adult Laughing Gull at Garrabost, Lewis (Outer Hebrides) on 1st.

Bonaparte's Gull, Porthmadog, Gwynedd (Photo: John A Davis)

Ring-billed Gull, Loch Hosta, N.Uist, Outer Hebrides (Photo: Steve Duffield)
The only tern of note was another White-winged Black Tern at Minsmere (Suffolk), present for just one day on 30th. Passage of Long-tailed Skuas continued through the Outer Hebrides, with notable counts from several sites, peaking at 152 past Rubha Ardvule, South Uist on 29th. The same day also saw 120 past Bowness-on-Solway (Cumbria), including over 100 by mid-morning alone. The same sites saw the only double-figure counts of Pomarine Skuas, with 12 past Rubha Ardvule and 22 past Bowness-on-Solway. Small numbers of Sabine's Gulls were also reported, including four past Bridges of Ross (Clare) on 26th, two at Newquay (Cornwall) on the same day and one past Cemlyn Bay (Anglesey) on 29th.
Yet another late Alpine Swift turned up, at Brandon Marsh (Warks) on 31st, though the recent high pressure might produce further records. There were also yet more Bee-eaters, but just one stayed put, at Ord, Skye (Highland) to 30th. Other briefer birds frustrated observers around Overstrand, Northrepps and Cromer (Norfolk) on 30th, with fly-by birds at South Ronaldsay (Orkney) on 27th and Lizard Point (Cornwall) on 1st, and further birds heard over Durlston (Dorset) and Stoke Marshes (Kent) on 31st.
The only Hoopoe was one in a garden at Llandegfedd Reservoir (Gwent) on 26th, and the only remaining Shore Lark was a single bird at Cley Marshes (Norfolk) to 31st. An elusive spring Tawny Pipit was at Manston (Kent) briefly on 27th with possibly the same bird equally briefly in nearby Margate on 30th. Several male Grey-headed Wagtails were reported, including birds at Cemlyn Bay (Anglesey) and Fetlar (Shetland) on 26th and Barns Ness (Lothian) on 29th.

Shore Lark, Cley Marshes NWT, Norfolk (Photo: Carl Day)
The singing male white-spotted Bluethroat remained at Welney (Norfolk) all week; the only other birds were in Scotland: one on Papa Westray (Orkney) on 28th and two on Fair Isle on 26th. The 26th was the kind of spring migration day that Fair Isle dreams of, also producing three Icterine Warblers, two Red-backed Shrikes and a Marsh Warbler. On the same day of a pair of Blackbirds were noted with two newly fledged chicks, the first confirmed breeding record for the island since 1973! Many of these birds lingered to 29th, when there were also four Common Rosefinches, a second Marsh Warbler and a rather elusive Thrush Nightingale. As if this run wasn't good enough, the 31st also saw the ringing of a male Western Subalpine Warbler, later seen fighting for territory in the Obs garden with the now almost resident Eastern Subalpine Warbler.

Red-backed Shrike, Fife Ness, Fife (Photo: Jacqui Herrington)
Just for a change, Spurn relinquished its hold on Red-rumped Swallow records this week, with three birds reported from other coastal sites. One was at Cuckmere Haven (East Sussex) on 28th–29th, another was reported from Radipole Lake (Dorset) on 30th, and in Ireland one was on Mizen Head (Cork) on 31st.
Aside from the previously mentioned duo on Fair Isle, the only Subalpine Warbler was a male at Kergord (Shetland) on 29th–30th. The singing male Savi's Warbler remained at Lodmoor (Dorset) all week, with another singing on Out Skerries (Shetland) on 27th (only the fourth Shetland record away from Fair Isle). The easterly winds on 26th that brought so much quality to Fair Isle also deposited further Icterine Warblers on North Ronaldsay (Orkney) — remaining to 30th — and the Isle of May (Fife), with others later in the week at Sumburgh and Skaw, Whalsay (Shetland). Other warblers of note included a Great Reed Warbler at Kings Sedge Moor (Somerset) on 30th and another Marsh Warbler, at Dungeness (Kent) on 1st.

Savi's Warbler, Lodmoor RSPB, Dorset (Photo: Matthew Palmer)
It has been an exceptionally late migration season across Europe for Red-backed Shrikes, but the easterly airflow early in the week did bring a rush of birds. Apart from birds at Fife Ness and Kilminning (Fife) on 28th, all other records were in the Northern Isles, with females at Holm and Point of Ayre (Orkney) over 26th–28th. Birds were then at five sites in Shetland, including two males on Out Skerries on 28th. The island also saw two Common Rosefinches on 30th, with a singing male also at Burravoe, Yell (Shetland) on 26th. Further south, a first-summer male was on Calf of Man (Isle of Man) on 31st–1st, one was on St Mary's (Scilly) on 1st and there was a singing male reported from Upton Warren (Worcs) on 29th, though it couldn't be relocated. There is just a single previous record for the West Midlands, of a bird reported to me, in my previous incarnation as BirdTrack Organiser at the BTO, in May 2003, though this was only seen by the lucky householder who photographed it at her garden bird feeder in Warwickshire.

Common Rosefinch, Burravoe, Yell, Shetland (Photo: Dougie Preston)
Another quality garden bird was a stunning male Black-headed Bunting on a garden feeder at Mallaig (Highland) on 31st–1st. May and June are the best months to find this oft-maligned species, and another this week was on the Farne Islands (Northumberland) on the morning of 31st. The Farnes also scored with the first Red-breasted Flycatcher of the year, a female on Brownsman on 26th. The only Serin reported this week was also unconfirmed, at Clayton (West Sussex) on 30th. Last but not least, an interesting mid-summer record was a possible Nordic Jackdaw at Skibbereen (Cork) on 27th.
Photo of the Week: 26th May–1st June

European Bee-eater, Hungary (Photo: Siegbert Werner)
For the second time in three weeks, our Photo of the Week has been taken in Hungary. This time, it's Siegbert Werner's perfectly timed capture of a pair of European Bee-eaters apparently sharing a freshly caught dragonfly. Although it's not possible to deduce exactly what's happening from the image itself, we're happy to go with Siegbert's caption that the prey was a gift from one bird to the other. In any case, the result is an arresting image in which the brilliant colours of the sunlit birds stand out from the plain green backdrop. In truth, with a scene like this, even a single perched bee-eater would have made a beautiful shot, but the inclusion of a second bird plus the interaction over the food make the image even richer.

Hawfinch, Hungary (Photo: Garth Peacock)

Swallow, undisclosed site, Cheshire (Photo: Austin Thomas)

Gannet, Burray, Orkney (Photo: Maxwell)

Black Guillemot, Oban, Argyll (Photo: Ron Hindhaugh)

Scintillant Hummingbird, Costa Rica (Photo: Jamie MacArthur)

Lesser Kestrel, Spain (Photo: Mike Nesbitt)

Little Owl, undisclosed site, Leicestershire and Rutland (Photo: Paul Riddle)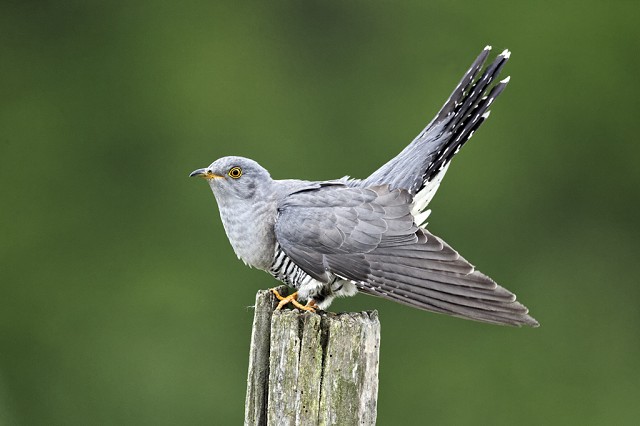 Cuckoo, Studley, Warwickshire (Photo: Mike Lane)

Pied Flycatcher, undisclosed site, Shropshire (Photo: John Fielding)

Common Redstart, undisclosed site, Powys (Photo: Rob Cross)

Spotted Flycatcher, Fressingfield, Suffolk (Photo: Jon Evans)

Greenshank, Spain (Photo: Steve Round)

Linnet, Salthouse, Norfolk (Photo: Carl Day)

Common Treecreeper, undisclosed site, Powys (Photo: Tom Melton)

Red-footed Falcon, Ham Wall RSPB, Somerset & Bristol (Photo: James Packer)

Short-eared Owl, undisclosed site, Outer Hebrides (Photo: Steve Hiscock)

Northern Wheatear, Fleetwood, Lancashire (Photo: Jackie Moreton)

Blue-winged Kookaburra, Australia (Photo: Charlie Fleming)