The week at a glance
Well, if you thought last week was lacking in excitement...yes, February departed with barely a parting shot and March crept in like the quietest mouse wearing the very finest noise-reducing carpet slippers. It was all a bit samey (as is often, though not always the way, at this time of year) and the weather was, like the birds, all a bit samey too. Some mild, brighter days hinted at the first green shoots of spring but as the week drew to a close there was another wag of winter's tail, with snow across parts of Scotland. And then something almost seismic happened.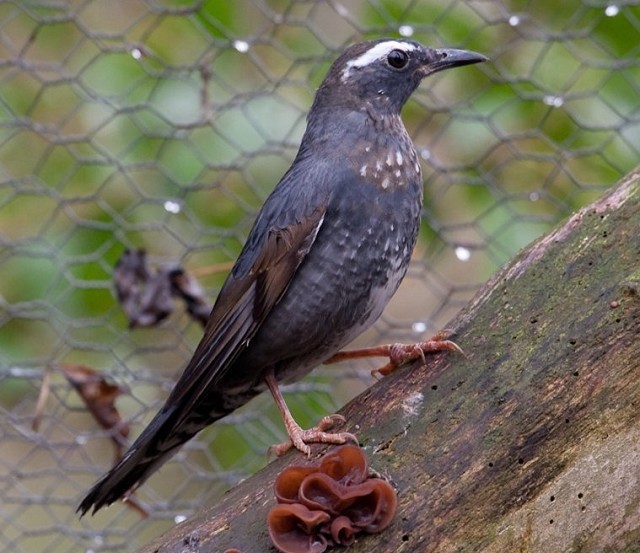 Siberian Thrush, Natural Surroundings NR, Norfolk (Photo: John Miller)
News of a first-winter male Siberian Thrush in north Norfolk came as a massive surprise in the early afternoon of 4th. Found in an apparently dazed state at the Natural Surroundings reserve at Glandford (Norfolk), the bird was picked up and kept in a large makeshift aviary (formerly a Red Squirrel pen) before being released in the middle of the afternoon. Some wear was apparent around the head at least, and so questions must be asked (like it or not) as to where this bird came from. Cage and aviary or genuine vagrant, there's no doubting that this came as a bolt from the blue (or should that be black?) and then some, stirring a slumbering birding nation. If accepted as a wild vagrant (it will take something to get this bird down as a "Not Proven" in the BBRC files) this will become the third county record, following on from the Christmas Day bird in Yarmouth in 1977 and the splendid young male in the dunes at Burnham Overy in 1994. Over in Ireland, a gloriously showy first-winter Ivory Gull was found in the harbour at Baltimore (Co. Cork) on the afternoon of 3rd and showed off throughout the following day. The last record for the county (and the country) was in January 1999, when an adult spent two days around Kinsale, which came hot on the heels of one at the once-marvellous Newport tip on the last day of 1998. There's a popular theory that this is the bird seen recently in France — plumage seems to support it, the gap between last date in France to discovery in Ireland fits, and the trajectory towards Greenland is spot on.

Ivory Gull, Baltimore, Cork (Photo: Ronan mclaughlin)
Seabirds were, once again, pretty thin on the ground this week. An adult White-billed Diver was found in Laggan Bay on Mull on 1st, while a Balearic Shearwater was seen off Pendeen (Cornwall) on 26th. A Grey Phalarope was seen off St. Mary's (Scilly) on 27th while coming as something of a surprise was the 20-minute northward movement of 180 Little Auks off Girdle Ness (Aberdeenshire) on 1st.
Numbers of Cattle Egrets held their own this week (with perhaps a slight upward turn) as one or two sunny days doubtless encouraged some wintering birds to consider making plans to make hay later this summer. Regulars this week remained on St. Mary's (Scilly), and at Powderham (Devon), with a trio still alongside the Exe Estuary to 27th at least. Also in Devon, one remained at Yelland and four were seen again on the Kingsbridge Estuary on 1st. In Cornwall, nine remained on the Hayle Estuary, while seven were still around Newtown-in-St.Martin on 1st. Two birds were still at Drift Reservoir and two at Hay Farm, near Wadebridge on 28th. Away from the southwest, singles were still present on the Nevern Estuary, Newport (Pembrokeshire), Strumpshaw (Norfolk) and Puckpool Point (Isle of Wight). On the Isle of Man, Cattle Egrets were reported at Point St. Mary and Colby Levels on 26th–28th (this bird was the first record for the island when it appeared earlier in February), while the island's second was found at Bride from 28th. In Wiltshire, a Cattle Egret was seen at the Cotswold Water Park on 26th, followed by one at Seend Cleeve on 1st–3rd. Ireland was represented by six birds at White's Marsh and seven were at Rossleague (Co. Cork) on 2nd (with seven at White's Marsh on 4th).

Cattle Egret, Powderham, Devon (Photo: Charlie Fleming)
The two Great White Egrets in Cambridgeshire popped up at Roswell Pits again on 26th–1st at least and elsewhere singletons remained around the Somerset Levels to the middle of the week at least; in Lincolnshire, at Baston & Langtoft Pits, on 26th and again at Thurlby Pits on 4th; and a Great White Egret was seen at Farlington Marshes (Hampshire) on 2nd. At least two birds were seen in Suffolk this week (at North Warren on 28th–1st and Minsmere on 3rd, as well as at Barsham Marshes on 1st). The usual half-dozen Spoonbills were at Isley Marsh (Devon) throughout the week with six more at Arne (Dorset) on 1st. There were twos each for Wacker Quay (Cornwall) and Lodmoor (Dorset) as well. Loners were noted at Fingringhoe Wick (Essex) and Slimbridge (Gloucestershire) on 26th, with another at Titchfield Haven (Hampshire) on 2nd. No word on the Norfolk birds this week, so the only Common Cranes to report were those at Woodwalton Fen (Cambridgeshire), still present to 28th; at least two at Lakenheath (Suffolk), present all week; and singles at Grainthorpe Haven and Horse Shoe Point in Lincolnshire and Snettisham (Norfolk) on 1st.

Great White Egret, Farlington Marshes HWT, Hants (Photo: anon)

Spoonbill, Slimbridge WWT, Glos (Photo: Chris Grady)

Common Crane, Stubb Mill, Hickling, Norfolk (Photo: Yvonnesimmonds)
The adult Red-breasted Goose at West Wittering (West Sussex) made it in to March, while the Cackling Canada Goose and Taverner's Canada Goose were in the same flock of Barnacle Geese at Nethertown (Dumfries & Galloway) on 3rd. The two Greater Canada Geese were still around the North Slob (Co. Wexford) to 1st. After departing Norfolk and flying past Borders last week, the Ross's Goose made a left turn after crossing the Scottish border and dropped in at Loch Leven (Perth & Kinross) on 27th. The week's Snow Geese lingered at Drongan (Ayrshire) to 26th, at Craobh Haven (Argyll) on 1st–2nd and Terrmoncarragh Loch (Co. Mayo) on 2nd. However, the flock of 25+ (including three blue-phase birds) that flew northeast over Rye Harbour (East Sussex) were undoubtedly the week's most fascinating record. Two Black Brants were seen at East Fleet (Dorset) on 26th (with another in Poole Harbour the following day) while singles remained in Devon, Hampshire, Norfolk and County Waterford.
The adult drake Lesser Scaup was still to be found at Holme Pierrepont (Nottinghamshire) to 2nd, while the first-winter drake in Cardiff Bay (Glamorgan) lingered to 3rd. Two new drakes were seen in the Irish Republic on 1st, one was seen on Lough Ennel (Co. Westmeath) and another was on Lough Sheelin (Co. Meath). By the time we'd turned the corner into March, it was fairly slim pickings as far as Ring-necked Ducks were concerned: the female at Little Sea, Studland Heath (Dorset) was still present from 26th, while the two females at Vartry Reservoir (Co. Wicklow) were still present to 27th. Things bucked up as we headed into the new month: three more Irish Ring-necked Ducks were found on 1st: in County Clare singles were seen at Lough Atedaun and in Ennis, with bird number three appearing on Lough Bo (Co. Sligo). A fourth was still on Carrowmore Lough (Co. Mayo) on 2nd and another was seen at Ashton Callows (Co. Tipperary) on 3rd, while on 4th, a female was on Lough Arrow (Co. Sligo). The usual drake was still at Foxcote Reservoir in Buckinghamshire, the drake at Frithend Sand Pits (Hampshire) reappeared (after an absence of over two months) on 3rd–4th, and the female on North Ronaldsay (Orkney) was still present on 3rd. In Essex, the female Ferruginous Duck was still to be seen on Old Hall Marshes to 26th at least. Numbers of Green-winged Teal, like almost every other duck and goose species this week, fell away, with just six birds reported. Two of those were in Ayrshire: the regular bird at Capringstone and a new bird found at Blairbowie on 28th. Also in Scotland, a Green-winged Teal was still at Kinneil Lagoons (Forth) and another was still out on South Uist (Outer Hebrides) to 26th. Down south, the drake was still in semi-residence at Eyebrook Reservoir (Leicestershire). An Irish Green-winged Teal was found at Cabragh Wetlands (Co. Tipperary) on 1st, and two drakes were at Ashton Callows on 3rd. After the guest slot as "Bird of the Week" last week, American Wigeon decided to show off a little this week, with five drakes on offer, the best weekly showing of the winter. The first-winter male remained at Slimbridge (Gloucestershire) all week, while adult males were at Carnan, South Uist, Wick (Highland) and Cabragh Wetlands from 26th–1st at least, while on 4th, one appeared (again?) at Windmill Farm (Cornwall); one was seen there on 18th January this year. There was no change this week as far as Surf Scoters were concerned: the drake was still off Ruddon's Point (Fife) and the female remained off Dawlish Warren (Devon). The first-winter drake King Eider found last week off Flamborough Head (East Yorkshire) remained in place to 27th, while the older male was still to be seen off Kincraig Point (Fife) to 1st. In Ireland, the King and Queen Eiders remained in residence in Drumcliffe Bay, Lissadell (Co. Sligo) throughout the week. Down in Dorset, the drake Hooded Merganser at Radipole Lake refused to give up the ghost in terms of "mega" status, its cause not helped by a female (of unknown origin) in Essex on 28th. Sometimes you have to question the wisdom of the BOURC in allowing a species like this on to the British List: yes, of course, it could be a vagrant (as they obviously thought the bird on the Outer Hebrides was) but delve too deeply into all really rare (potential) vagrant wildfowl (from which ever compass point you choose) and the can of worms that you could be opening is larger than you would ever imagine.

Green-winged Teal, Eyebrook Reservoir, Leics (Photo: John M Turner)

King Eider, Flamborough Head, E Yorks (Photo: Roy Harvey)

Hooded Merganser, Radipole Lake RSPB, Dorset (Photo: anon)
A release-scheme juvenile White-tailed Eagle was seen at St. Fergus (Aberdeenshire) on 28th, while rather more bona fide unusual raptors this week included up to three Rough-legged Buzzards in Norfolk (one at Haddiscoe and two around the Wolferton/Dersingham/Snettisham/North Wootton area) during the week, two still around the Harty Marshes (Kent) and singles in Lincolnshire, Hampshire and again on the Cleveland/North Yorkshire border at Sleddale. A new bird, presumably on its way out of the UK, was seen at Harwood Forest (Northumberland) on 1st and an adult female was at the Trew Plantation (Devon) on 2nd. The first Osprey of the spring was seen at Itchen Valley Country Park (Hampshire) on 2nd.
Content continues after advertisements

Rough-legged Buzzard, Isle of Sheppey, Kent (Photo: Dorian Mason)
The lone star on the shorebird front this week was the adult Long-billed Dowitcher was still in place in the docks at Dundalk (Co. Louth) to 1st.
The adult American Herring Gull was still being seen around Nimmo's Pier and Galway Docks to 3rd and a late report of a second-winter bird at Seaforth (Lancashire) on 25th was backed up by a number of impressive-looking photographs — it has a lot going for it and is no ordinary "Herring Gull". Over 20 Caspian Gulls were noted this week. An adult was again at Albert Village lake (Leicestershire) early in the week, and another Leicestershire adult was at Eyebrook Reservoir on 26th. First-winter birds were seen at Paxton Pits (Cambridgeshire), Belvide Reservoir (Staffordshire) Willen Lake (Buckinghamshire) and again at Sandbach Flashes (Cheshire), while a near-adult was at Westbere GPs (Kent) and adults were at Swillington Ings (West Yorkshire), Leadenham (Lincolnshire) Blackborough End tip (Norfolk) and Dungeness (Kent). Two birds were at Pitsea tip (Essex) on 28th and Rainham Marshes (London) on 2nd and 3rd. The 2nd also saw four Caspian Gulls (an adult, two third-winters and a second-winter) appear at Hockwold Fen, on the Norfolk/Suffolk border. Iceland Gulls remained in three figures this week, with at least 95 birds seen around Britain and 40 or more over in Ireland. On 28th, nine birds were counted at Nimmo's Pier with 10 birds (an adult, two second-winters and seven juveniles) across at Rossaveal. The only Kumlien's Gulls this week were two birds at Nimmo's Pier (the adult and a third-winter) from 26th, the relocating (from Clifden) dark juvenile at Rossaveal (Co. Galway), a second-winter over Throckmorton Tip (Worcestershire) and on St. Mary's (Scilly), the juvenile was present all week. The number of Glaucous Gulls on the Gualan spit, South Uist (Outer Hebrides) hit a fantastic 19 birds on 1st and 3rd. These were part of some 100 birds seen in Britain and Ireland this week, with up to eight seen around the Mullet (Co. Mayo) on 2nd. Elsewhere it was largely singles or twos, although four birds seen at Ballycotton (Co. Cork) on 1st and four more at Liscannor (Co. Clare) on 3rd were also of note. Ireland was still dominant in the Ring-billed Gull stakes this week. Three adults were at Sandymount (Co. Dublin) on 2nd, and three adults were at Cuskinny Marsh (Co. Cork) and in Co. Derry on 3rd (where there were two together on the Faughan Estuary). Earlier in the week two adults were still at Nimmo's Pier and two birds (an adult and a second-winter) were seen at Cuskinny Marsh (Co. Cork). Further birds in Cork, both adults, were seen at Lough Aderra and Cobh, while elsewhere in the country, single adults were at Bray (Co. Wicklow) and in Limerick City. A first-winter was found in Donegal on 4th. Two first-winter birds were still in Cornwall, the usual bird at Helston and another was again at Dinham Flats on 1st. A first-winter Ring-billed Gull was a great find at Rainton Meadows (Co. Durham) on 28th, reappearing on 1st, and adults were found seen at Seaforth on 28th and Strathclyde Loch (Clyde) on 1st. Regular adults remained in Essex, Hampshire, Argyll and Angus, while the second-winter popped in again to Lamby Lake (Glamorgan) on 2nd.

Caspian Gull, Sandbach Flashes, Cheshire (Photo: Mark Saunders)

Iceland Gull, Peterhead, Aberdeenshire (Photo: Tristan Reid)

Glaucous Gull, Peterhead, Aberdeenshire (Photo: Tristan Reid)

Kumlien's Gull, North Ronaldsay, Orkney (Photo: PAUL A BROWN)

Ring-billed Gull, Dundee, Angus & Dundee (Photo: Tristan Reid)

Ring-billed Gull, Dundee, Angus & Dundee (Photo: Tristan Reid)
The first-winter Snowy Owl was still drifting around the area near Zennor (Cornwall) until 2nd March at least and the female on Lihou island (off Guernsey) was last reported on 1st. Three Great Grey Shrikes were in Norfolk during the week and up to three were also noted around Hampshire. Suffolk claimed two birds, while singles remained in Berkshire, Herefordshire, Gloucestershire, East Sussex, North Yorkshire, Denbighshire and Highland, while one at Wilmersham Common (Somerset) on 26th–1st was a "new" arrival and a bird at Edlingham (Northumberland) on 2nd–4th was, presumably, a "new" future departure. In Norfolk, the Black-bellied Dipper was still popping up along the River Glaven at the end of the week, seen at Letheringsett and Hunworth.

Snowy Owl, Lihou, Guernsey (Photo: anon)

Great Grey Shrike, Cirencester, Glos (Photo: Rob Smith)
The largest flocks of Waxwings noted this week (with numbers understandably dropping as every week passes) were 126 at Heanor (Derbyshire) on 27th, 100+ in Huddersfield (West Yorkshire) on 28th, with 200 at Handsworth (South Yorkshire) on the same day. Another 100+ were seen at Darwen (Lancashire) on 4th. For those of a footballing bent, a group of 15 Waxwings along Gigg Lane in Bury (Greater Manchester) would have raised a smile. A lowly League Two side they may be, but when has Old Trafford or Eastlands ever had Waxwings outside them, eh?

Waxwing, Uckfield, E Sussex (Photo: Peter Solly)
Siberian Chiffchaffs this week included birds still in Dorset, at Portland, Holes Bay and Lodmoor, and one at Titchfield (Hampshire). Two Penduline Tits were noted again at Strumpshaw Fen (Norfolk) on 2nd, while the male around Clennon Valley Lakes and Paignton (Devon) remained, off and on to 2nd.

Siberian Chiffchaff, Titchfield Haven NNR, Hants (Photo: anon)
Photo of the Week

Greylag Goose, Regent's Park, London (Photo: Fraser Simpson)
It's a well-known fact that, to take photos of birds, you need to get out of the city and use a long focal length lens. This week, Fraser Simpson has disproved this fact with a highly creative series of photos of wildfowl taken in central London using an extreme wide angle lens. Our pick of the bunch, for its sheer entertainment value, is this "goose's eye view" of a Greylag which, courtesy of perspective distortion, appears to be almost completely submerged. With a defocused collection of other birds and a park scene in the background, the subject's sharp head looms forth in the foreground. The oppositely tilted angles of the camera and the bird's head add to the surreal feel of the image. Totally wacky, but you can't help but smile!

Mute Swan, Rodley NR, W Yorks (Photo: Marcus Conway)

Lesser Kestrel, Spain (Photo: Steve Fletcher)

Barn Owl and Kestrel, undisclosed site, Hants (Photo: Steve Lavington)

Grey Heron, Slimbridge WWT, Glos (Photo: anon)

Cattle Egret, Powderham, Devon (Photo: Jim Almond)

Little Egret, Walmsley Sanctuary (MEMBERS ONLY), Cornwall (Photo: Colin Selway)

Nutcracker, Sweden (Photo: anon)

Chatham Island Albatross, New Zealand (Photo: Craig Nash)

Rufous-tailed Hummingbird, Costa Rica (Photo: Neil Taylor)

Lesser Spotted Woodpecker, Rostherne Mere, Cheshire (Photo: Steve Oakes, AEBS Limited)

Hawfinch, Forest of Dean, Glos (Photo: anon)

Lesser Redpoll, private site, Norfolk (Photo: anon)

Mediterranean Gull, Scarborough, N Yorks (Photo: anon)

Firecrest, Paxton Pits NR, Cambs (Photo: Garth Peacock)

Avocet, Brownsea Island NT, Dorset (Photo: Nigel Forrow)

Common Treecreeper, Summer Leys LNR, Northants (Photo: Phil Manning)

Marsh Harrier, Far Ings NR, Lincs (Photo: Mark Ranner)

Great Grey Shrike, Bircher Common, Herefs (Photo: Kev Joynes)