The week at a glance
As the lights begin to dim on what has been, at times, an astounding September, there were a mass of birds to play with this week. Classically, they came from almost every point on the compass, with seemingly every day of the week bringing something different for the manic lister to fret upon. From the far north to the far west of the country, megas popped up almost willy-nilly as assorted weather systems dropped birds from the Americas and the more mysterious lands of eastern promise. Atlantic fronts threw birds one way, while an extended finger of high pressure lured birds from the far reaches of the Western Palearctic another way. Where on earth do you start with this week's roll call?

Sandhill Crane, South Ronaldsay, Orkney (Photo: J Stannage)
Still proving hugely popular was Britain's third Sandhill Crane, which continued to reside in the fields of South Ronaldsay on Orkney until the morning of 29th. By the time of its southerly departure, two or three hundred souls had made the trek north to enjoy this mega Grus, and many more who have so far avoided a northbound passage may reconsider their positions. After lift-off from South Ronaldsay, the Crane was quickly picked up over the Scottish mainland and was followed down the coast as far as Brora (Highland) and beyond, where the coastline was forsaken for an inland (southwesterly) route. There may have been a temporary feeding stop somewhere, or perhaps it will loom large over Cairngorm — who knows? But it seems as though there's going to be plenty of rarity mileage with this particular beastie.
As is often the case, that whole "Patagonia rest stop" scenario sort of popped its head over the Orkney parapet on 25th. A Yellow-billed Cuckoo was discovered during the morning, near The Gloup on Mainland. The lucky observer, knowing it was a cuckoo of some sort, had the good sense to take a photo and sent it to some of the islands' resident birders. Needless to say, when they saw what was on their computer screens, a scrambled panic ensued and the bird was soon tracked down, late in the afternoon, where it showed to a handful of islanders and visitors alike. There have been three previous records of this traditionally sickly species on Orkney before this: most recent was a freshly dead bird on North Ronaldsay in 1991 (funnily enough, also on 25th), while further back in time come records in 1956 and 1936. This bird was thought to be in good health and several of those who enjoyed views during the evening expected the bird to still be at its roost site the next morning. Things then took a rather mysterious, and perhaps unsavoury, twist. Residents overlooking the car park at The Gloup reported a couple of vehicles drawing in through the gathering gloom and shadowy figures running to the spot. Then three cars arrived in the car park in the middle of the night and, as dawn broke (the story has it) they "went in". Whether they connected with the bird and flushed it from its roost site no-one knows, but there was no corpse, there were fresh droppings present and birders' cars were seen departing on the early morning ferry south. A carload or two of guilty secrets, or twitcher-baiting paranoia? The case for the prosecution has been put before you m'lud! But whether the Cuckoo was the victim of a sizeable size 12 boot up the tail or not, the species has been in decline in terms of British records of late, with just two accepted for the decade (in 2000 and 2004) compared with nine birds in the 1990s.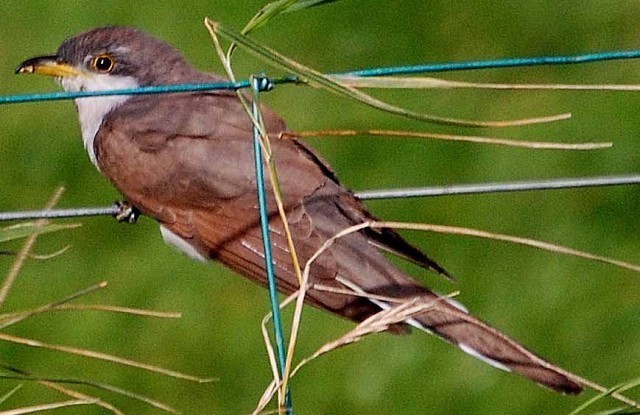 Yellow-billed Cuckoo, The Gloup, Mainland, Orkney (Photo: Gerry Cannon)
As is often the case in the autumn battle of the Northern Isles, it didn't take long for Shetland to launch its response to the neighbouring archipelago. A Taiga Flycatcher was identified on Fetlar on 27th (our own Fiona Barclay being among the finding party). The bird may well have been present since 23rd and it continued to show well until 30th, allowing the full suite of identification characters to be admired by those making the journey to enjoy this eastern mega. There are just two previous records for this (relatively recent) split: the first was the cracking male at Flamborough Head in East Yorkshire in April 2003 and this was followed, later the same year, by a first-winter on mainland Shetland. Despite a few thoughts that the species must be annual here, there has been a distinct lack of such words coming to fruition, and searches through the photographic archives have yet to produce anything significant (although there's mounting excitement about a bird at Winterton in Norfolk around the same time as a certain Puffin blitzed the news earlier this month, and a trapped bird is also doing the committee rounds from Norfolk from the start of the decade).

Taiga Flycatcher, Tresta, Fetlar, Shetland (Photo: Brydon Thomason, www.shetlandnature.net)

Taiga Flycatcher, Tresta, Fetlar, Shetland (Photo: Brydon Thomason, www.shetlandnature.net)
The run of eastern birds continued quicker than you can say "Usain Bolt" with the discovery of a fascinating shrike on the Lizard (Cornwall) on 26th. The following day saw opinion favour its identification as Brown Shrike, and photos seemed to support that: most features appeared to go down the Brown line, although the squared-looking tail was a sticking point for some. If not a Brown, what could it be? It doesn't appear to fall into the Isabelline/red-tailed shrike group, and it doesn't really resemble the Scilly shrike of last autumn (which went from Brown to Red-backed). Aside from a hybrid (for once a genuine possibility rather than a cop-out) it seems as though Brown fits best, but the debate continues. No debate though where the Isles of Scilly's first Steppe Grey Shrike was concerned — a straightforward first-winter found on St. Martin's on 25th, moving to St. Mary's the following day, allowing for some rather nice photo opportunities. No such luck for Essex listers: the brief Isabelline Wheatear reported near Great Bromley on 27th spent just seven minutes at a private site before venturing off across the busy A120. If accepted, this will be a county first.

Steppe Grey Shrike, St. Martin's, Isles of Scilly (Photo: Martin Goodey)
In Kent, the Zitting Cisticola near Pegwell Bay was seen again on 26th, which was apparently the bird's 64th day on site, before going missing until 30th. Perhaps this bird represents the first true sign that the much-vaunted colonist-in-waiting is actually thinking about it. Meanwhile, back "up north" came news of a Black-browed Albatross reported from the Pentland ferry between Gills Head and South Ronaldsay on 25th, although all too soon the bird in question was actually said to be a Gannet. A photo or two, meant to be of the bird, did indeed show a Gannet, but let's leave it to someone else to deal with any of the controversy this individual may generate. The final goodie of the week appeared out on Foula (Shetland) on 29th with an American Buff-bellied Pipit hot-footing it in from the US (or Iceland, where a few have been seen recently).

Zitting Cisticola, Pegwell Bay, Kent (Photo: Tim Corke)
This week saw several Glossy Ibises continue to filter their way into counties as yet untouched by these Spanish invaders. A day-by-day breakdown seems to be the easiest way to keep tabs on where the birds have been noted, so let's start on 24th, when singles were noted in West Sussex and Lincolnshire, along with twos for Norfolk and Suffolk and five remaining at Dungeness (Kent). By 25th "new" singles were seen in south Devon, east Norfolk and Northumberland (at Druridge Pools), while in Suffolk three were at Boyton Marshes and another trio was seen in the West Midlands at Halesowen. The largest group of the day was six on the Kent Estuary (Cumbria). By the morning of 26th, the Northumberland bird had relocated further along the coast and one was seen on Anglesey, over Carmel Head. A single bird was seen around the Somerset Levels and four birds were seen at Chew Valley Lake, while Cornwall popped up with one over Kynance Cove. Across at Tacumshin, in Wexford, a single bird lingered in the Forgotten Corner, while a probable juvenile was photographed at Loch Sween (Argyll) — with the same bird reported nearby the previous day. Birds went a'roamin' in Norfolk and one was noted in both Derbyshire and Nottinghamshire during the day, with presumably the same bird also flying through South Yorkshire. In Cambridgeshire, four birds were seen from a train near Little Thetford. By 28th, the "Dungeness five" were still in place and singles remained around Cornwall, Somerset and Northumberland, while East Sussex scored with one at Cuckmere Haven. Four birds were reported at North Berwick (Lothian) too. On 29th, singles were lingering in Somerset, Norfolk, Northumberland and Wexford, and five remained in Kent, while one was seen in Gwynedd, at Aber Ogwen.

Glossy Ibis, Covenham Reservoir, Lincolnshire (Photo: Dean Eades)
Off the Devon coast, a Wilson's Storm-petrel was seen from a Marinelife pelagic trip off Plymouth on 26th. A Cory's Shearwater was noted from the Scillonian III crossing on 25th and single Great Shearwaters were off Downpatrick Head (Co. Mayo) on 29th and North Ronaldsay (Orkney) on 30th. At least 49 Balearic Shearwaters were seen from Porthgwarra (Cornwall) on 23rd with 45 noted from the same site on 28th. Special mention must be made too of the grounded Manx Shearwater near the restaurant on top of Cairngorm (Highland) on 24th; let's hope it found its way off the mountain before a Ptarmigan duffed up the curious-looking intruder. The highest counts of Sooty Shearwaters were 134, noted from Annagh Head (Co. Mayo) on 25th, and 162 from Downpatrick Head on 29th. The juvenile Sabine's Gull remained at Blenheim (Oxfordshire) until 28th at least and was one of 15 birds noted during the week (a total that included two juveniles together, close inshore, off Cley beach in Norfolk on 29th). The same seawatch also produced a juvenile Long-tailed Skua, one of only five seen this week (the others were noted from the Tory Island ferry (Co. Donegal) on 25th, Kilbaha (Co. Clare) on 26th, two flew past Lenadoon Point (Co. Sligo) on 29th and a single was off South Queensferry (Lothian) on 30th). The same site also rattled in 27 Pomarine Skuas on the same day, with 23 off St. Andrews (Fife) and a further 32 from Downpatrick Head on 29th. The largest totals of the week were 44 birds from Annagh Head on 25th and 47 off Kilcummin Head (Co. Mayo) on 29th. Perhaps as many as 20 Grey Phalaropes included five in Stinky Bay, Benbecula (Outer Hebrides) on 24th with five off Ardivachar Point, South Uist, the following day. An inland Leach's Storm-petrel was at Marston Vale (Bedfordshire) on 26th.

Sabine's Gull, Blenheim Park, Oxfordshire (Photo: Stephen Burch)

Leach's Storm-petrel, Marston Vale CP, Bedfordshire (Photo: Jim Almond)
Three Cattle Egrets remained in Gloucestershire during the week, with another still in Hampshire, moving this week to Keyhaven Marshes. In Somerset, another Cattle Egret was seen at Meare Heath, which also hosted a Glossy Ibis and a Great White Egret! Also in Somerset, the long-staying Great White Egret was still at Chard Reservoir throughout the week, with other familiar birds still in Hampshire, Suffolk, Lancashire and Cumbria, while new individuals for the week were seen at the WWT Wetland Centre (London) on 24th, at Abbotsbury (Dorset) and Rahasane Turlough (Co. Galway) on 28th and over Elmley Marshes (Kent) and Wat Tyler Country Park (Essex) on 29th. Two Great White Egrets were seen at Leighton Moss (Lancashire) on 30th. Seven Spoonbills were seen at Brownsea Island (Dorset) on 29th and three were in their regular wintering haunts in north Devon throughout the week. A single Spoonbill remained at Abberton Reservoir (Essex) until 26th. In Highland, three Common Cranes were at Hilton of Cadboll on 27th (having arrived on 24th) while a Night Heron was seen flying over Porthcressa Bay, St. Mary's (Scilly) on 26th. In Northumberland, a White Stork flew over Whittle Dene Reservoir and then Ovingham on 30th.

Cattle Egret, Keyhaven Marshes, Hampshire (Photo: Steve Lavington)

Great White Egret, Minsmere RSPB, Suffolk (Photo: John Saxton)

Common Crane, Horsey, Norfolk (Photo: Steve Seal)
Single Spotted Crakes remained in the Dearne Valley (South Yorkshire), Ladywalk NR (Warwickshire) and the WWT Wetlands Centre (London). In Norfolk, a Spotted Crake was seen at Stiffkey Fen on 24th, with perhaps the same bird moving to Cley the following day, where it showed well until 27th.

Spotted Crake, Cley Marshes NWT, Norfolk (Photo: Rob)
Five or more white Snow Geese were seen during the week: one bird remained at Loch of Strathbeg (Aberdeenshire) from the start of the week with one (the same one?) reported from Slains Pool on 24th. One was still on mainland Orkney on 25th, and on 26th a Snow Goose flew south over Bridlington (with 100 Pink-footed Geese). The 29th saw three white and one blue Snow Goose noted in Scotland — white birds were at Aberlady Bay (Lothian) with two birds together at Blackhill (Aberdeenshire) and a blue Snow was at Loch Fleet (Highland), the latter still present on 30th. A Richardson's Canada Goose was back on Islay on 30th, arriving at Loch Gruinart.
In Cleveland, the drake Blue-winged Teal was seen at Saltholme Pools and, occasionally, Haverton Hole until 29th at least, while the female was still at Bull Island (Co. Dublin) to 27th. On 28th, a Blue-winged Teal was found on the UV Pools at Weston-super-Mare (Somerset). In Cork, a pair of American Wigeon were on The Gearagh on 26th–27th while single drake Ring-necked Ducks remained at Westport Lake (Staffordshire), Loch a'Phuill and Loch Bhasapol, Tiree (Argyll) and again at Carrowmore Lake (Co. Mayo). A new Ring-necked Duck, another drake, was at Stranraer (Dumfries & Galloway) on 30th. The drake Ferruginous Duck remained at Chew Valley Lake (Somerset) throughout the week.

Blue-winged Teal, Haverton Hole, Cleveland (Photo: Richard Jackson)

Blue-winged Teal, Bull Island, Dublin (Photo: Eric Dempsey)
Two drake Surf Scoters were still in Inganess Bay (Orkney) to 29th, while a single drake was again off Blackdog (Aberdeenshire) on 24th. The eclipse drake King Eider remained in Lincolnshire until 29th at least while a possible female Steller's Eider was reported from Bowmore, Islay (Argyll) on 25th. The female Hooded Merganser in Cleveland was still present throughout the week.
There were three Snowy Owls to report this week: in Ireland, females remained in Mayo and Donegal, while a male was seen at Mangurstadh, Lewis (Outer Hebrides) on 26th. A Black Kite was at Carsegowan Moss (Dumfries & Galloway) on 26th, with a possible in the same county, at Creetown, on 28th. In Essex, a white Gyrfalcon was reported at Church Langley on 27th (the spectre of escaped birds or look-alike hybrids is always an issue with birds away from "traditional" locations at odd times of the year). In East Anglia, single Rough-legged Buzzards were seen at Landguard (Suffolk) on 24th and Holme (Norfolk) on 28th while an adult was seen over North Anston (South Yorkshire) on 30th. In Kent, a probable dark-morph Eleonora's Falcon was reported over Northward Hill (Kent) on 28th.
The outstanding run of birds in the far north of the country continued with the discovery of a juvenile Upland Sandpiper near Quoys of Reiss (Highland) on the evening of 28th. Scotland hosted last spring's surprise visitor (in Aberdeenshire) and Shetland grabbed one in October 2006 (the most recent of six records from the islands). A juvenile Semipalmated Sandpiper spent the day at New Passage (Gloucestershire) on 26th — a first for the county.

Semipalmated Sandpiper, New Passage, Gloucestershire (Photo: John Martin)
Content continues after advertisements
This week has been a fantastic week for American Golden Plovers — 20 or more were seen and only one of them was on the British mainland! On 24th, two adults were seen at Grindigar (Orkney) and further Orkney birds on the same day were seen at Mull Head and also on North Ronaldsay. On 30th, the adults at Grindigar were joined by a juvenile — has there ever been a flock of three dominicas in Britain before? A moulting adult was still at Ballinclamper (Co. Waterford) and a juvenile was found in Inchydoney Bay (Co. Cork). The 25th saw west-coast Scottish islands record single birds at Eoropie, Lewis (Outer Hebrides) and Sandaig, Tiree (Argyll) while an adult was at Foynes (Co. Limerick). Seven new birds were found in Ireland on 26th: a single adult was at Inchydoney Bay, while there were two birds each for Ballykelly (Co. Derry), Clonea (Co. Waterford) and Rosslare (Co. Wexford). On 27th, new arrivals were seen on Unst (Shetland) and in flight over Clevedon (Somerset), and on 30th a new juvenile was at Rahasane Turlough.

American Golden Plover, Deerness, Mainland, Orkney (Photo: Josh Jenkins Shaw)
Another visitor from the west that has fared well this week is Long-billed Dowitcher. Leftovers from last week remained on Tresco (Scilly) and Chew Valley Lake (Somerset), while one at Marshside (Lancashire) on 24th was presumably the bird seen alongside the Wyre Estuary the previous week. On 26th, a single Long-billed Dowitcher pitched up at Inner Marsh Farm (Cheshire) and was joined by a second bird on 27th, both of them remaining until 30th. In Ireland, juveniles were found at Rahasane Turlough in Galway on 28th, at The Gearagh in Cork on 29th and another was near Kilcredown (Co. Clare) on 30th.

Long-billed Dowitcher, Inner Marsh Farm RSPB, Cheshire (Photo: Steve Round)
A juvenile Baird's Sandpiper remained on Davidstow Airfield (Cornwall) until 24th and two juveniles were seen on Tiree in Argyll on 26th; one was in Gott Bay, the other in Vaul Bay. Another was seen for a few minutes near Stornoway, Lewis (Outer Hebrides) on 29th, departing high to the southeast. The ringed White-rumped Sandpiper seemed to be enjoying life in Essex, remaining at Abberton Reservoir throughout the week. In Ireland, an adult was at Black Rock Strand (Co. Kerry) on 30th and another was seen at Tacumshin (Co. Wexford) at the end of last week, on 23rd.

White-rumped Sandpiper, Abberton Reservoir, Essex (Photo: Jon Evans)
There was another decent crop of Buff-breasted Sandpipers this week; leading the way, a group of five at Myroe Levels (Co. Derry) on 28th. Elsewhere in Ireland, singles were in Wicklow, Wexford and Galway (one found on Inish Mor on 28th). In Scotland, lone birds were seen on North Uist (Outer Hebrides) on 24th, mainland Shetland from 26th–28th and at Loch a'Phuill, Tiree on 29th. The only English Buff-breasted Sandpipers this week were at Sennen Cove and Trevorian Pool (Cornwall) and Saltholme Pools (Cleveland), the latter bird present from 24th–27th.

Buff-breasted Sandpiper, Saltholme Pools RSPB, Cleveland (Photo: Tristan Reid)
A bare minimum of 25 Pectoral Sandpipers were noted this week, with 13 in England, nine in Scotland and at least six in Ireland. Three birds were together at Loch a'Phuill on Tiree on 26th (with a fourth nearby at Sandaig — along with a Buff-breasted Sandpiper and the American Golden Plover). Another threesome was at Kinsale Marsh (Co. Cork), while twos were seen in Somerset, Staffordshire, Dumfries & Galloway, the Outer Hebrides and County Kerry. The Lesser Yellowlegs at Aberlady Bay (Lothian) was still present all week (an even longer stay seems assured now, the bird arriving on 22nd July, and about to enter another new month).

Pectoral Sandpiper, Hayling Island, Hampshire (Photo: Richard Ford)
A couple of Dotterel were seen in southwest England, with a third in South Yorkshire at the end of the week, and a trio of single Red-necked Phalaropes were seen at Cley (Norfolk), Stubbing Court Pond (Derbyshire) and Nosterfield Quarry (North Yorkshire).

Red-necked Phalarope, Cley Marshes NWT, Norfolk (Photo: Pete Hadfield)
An adult Bonaparte's Gull was a brief visitor to Traeth Dulas (Anglesey) on 27th while the regular Ring-billed Gull remained at Westcliff-on-Sea (Essex). An adult was seen at Prescot Reservoirs (Lancashire) on 25th, but all other records this week were from Ireland — an adult was at Black Rock Strand (Co. Kerry), with another at Portrush (Co. Antrim) and two adults in Derry, on the Roe Estuary on 27th. A second-winter Ring-billed Gull was at North Bull Island (Co. Dublin) and a first-winter was reported from Willington GPs (Derbyshire) on 30th. A second-winter Iceland Gull was at Marazion (Cornwall) on 26th and three Glaucous Gulls were seen around Scotland (one on the mainland, the others on Shetland and the Outer Hebrides). A second-winter Caspian Gull was a visitor to Queen Mother Reservoir (Berkshire) on 26th (while a possible Caspian Gull was reported from Dorset later in the week). In Hampshire, a juvenile White-winged Black Tern was in the high-tide roost at Black Point on 29th.

Ring-billed Gull, Portrush, Antrim (Photo: Derek Charles)

White-winged Black Tern, Black Point, Hampshire (Photo: Andy Johnson)
On Shetland, a first-winter Citrine Wagtail was still at Quendale, Mainland on 25th, and another bird of the year spent 26th–29th at Dungarvan (Co. Waterford). After a sprightly week last week, just one Tawny Pipit was noted this week, at Landguard (Suffolk) on 24th. By contrast, up to 16 Richard's Pipits were reported, including as many as five in Cornwall, three for Shetland and two for Norfolk. Also in Norfolk, a Red-throated Pipit was heard over the dunes at Burnham Overy on 26th. Pipits of the week (aside from Buff-bellied of course) were the single Pechora Pipits found on Fair Isle and Foula (Shetland) on 30th, much expected as the weather began to impersonate some of the conditions experienced this time last year. In Wales, a Short-toed Lark was found at Nine Wells (Pembrokeshire) on 27th and the Shore Lark lingered on the Isle of Wight, at West High Down, to 25th at least (with one of the week's Richard's Pipits here on 27th).

Citrine Wagtail, Dungarvan, Waterford (Photo: Sean Cronin)
A lovely-looking Siberian Stonechat was photographed at Pleinmont (Guernsey) on 26th, the first record of this charismatic wannabe armchair tick for almost a year. Some 15 Wrynecks were reported this week, with at least three singles in Cornwall, two apiece for Devon and Dorset, and two birds in the Sheepcote Valley (East Sussex) on 24th. A Bluethroat was on Out Skerries (Shetland) on 24th and again on 28th while, still on Shetland, a Golden Oriole remained at Cullivoe until 23rd; the only other one for this week was still at Greinetobht, North Uist (Outer Hebrides) until 25th. The only Hoopoe of the week was in Cumbria, at Broughton-in-Furness on 27th.

Siberian Stonechat, Pleinmont, Guernsey (Photo: M Lawlor)
The juvenile Woodchat Shrike at Nanquidno (Cornwall) completed a fortnight's stay this week while just four Red-backed Shrikes included three in Kent, with two still at Sandwich Bay until 24th. A Great Grey Shrike was found on Thorne Moors (South Yorkshire) on 30th and was the only one of the week.

Woodchat Shrike, Nanquidno Valley, Cornwall (Photo: Samuel Williams)

Red-backed Shrike, Dorman's Pool, Cleveland (Photo: David Brown)
County Durham's third Booted Warbler was discovered in Marsden Quarry on 29th while single Marsh Warblers were on Cape Clear Island (Co. Cork) on 25th–26th and at Skaw, Unst (Shetland) on 26th. Arguably one of the finds of the week was the inland Aquatic Warbler, at Marsh Farm Quarry (Warwickshire) on 27th. The bird showed well during the afternoon and remained to 30th (the site was "shut down" after the first date, but news still filtered out).
The only Icterine Warbler of the week was seen on Bardsey Island (Gwynedd) on 24th while the sole representative of Melodious Warbler was at Land's End (Cornwall) from 24th–29th. Barred Warblers, though, were still present in reasonable numbers; 13 or so were seen, with at least five of them on Shetland and a couple around Spurn (East Yorkshire). One also made it to Tarbet, Harris (Outer Hebrides) on 27th.
Another week, another Shetland Arctic Warbler! A new arrival was discovered at Camb, Yell on 28th (the fifth for the islands this month) while another lingered in Scalloway, Mainland until 27th. Yellow-browed Warblers were spread far and wide (from Shetland to Scilly, Cork to Norfolk) but only in (relatively) small numbers: fewer than 30 were recorded. Two birds were together on Mizen Head (Co. Cork) on 29th and two were at Flamborough Head on 30th. Three birds were on Shetland (how very different from the flocks there this time last year), with two and threes for Kent and Norfolk.

Arctic Warbler, Camb, Yell, Shetland (Photo: Dougie Preston)
After a couple of weeks of decent numbers, the total of Red-breasted Flycatchers this week fell away to just two confirmed records, both on Scilly. One was on St. Martin's from 24th–27th with another on St. Mary's on 28th.
A Rustic Bunting was a great find at Land's End on 26th — only the sixth county record (all coming since 1990, the first also at Land's End) and the first Cornish bird since October 2000. A Little Bunting was around Portland Bill and the Bird Observatory on 25th with the week's second appearing on North Ronaldsay (Orkney) on 26th. On Scilly, an Ortolan Bunting was on St. Mary's from 24th–27th while on 25th, an Ortolan was heard over Annesley (Nottinghamshire) and another was on Lundy (Devon). Last week's bird at Corton (Suffolk) was seen again on 26th.
Two juvenile Rose-coloured Starlings remained on St. Agnes (Scilly) to 26th at least, while in Devon the juvenile remained at Wembury and another was seen at Barnstaple on 24th. The final juvenile of the week was seen at Treen (Cornwall) from 27th–30th. A juvenile Common Rosefinch, trapped and ringed at Thornton (Leicestershire), was a great find on 26th and was enjoyed by many inland folk until 28th. Another found on 26th was on Lundy, while up to four birds were on Unst (Shetland) during the week. Further Rosefinches were reported from Gugh (Scilly) on 27th and Fair Isle on 30th. A couple of Serins were noted in Dorset during the week, at Portland and Durlston. The Northern Isles laid claim to three Hornemann's Arctic Redpolls this week: the first to arrive was on Foula (Shetland) on 27th, with a second there the following day. On 29th, one of these exquisite finches was trapped and ringed on North Ronaldsay.

Rose-coloured Starling, Treen, Cornwall (Photo: Tony Mills)

Common Rosefinch, Thornton, Leicestershire and Rutland (Photo: Richard Bayldon)

Arctic Redpoll, North Ronaldsay, Orkney (Photo: anon)
Photo of the Week

Tawny Owl, Pocklington, East Yorkshire (Photo: Dick Roberts)
Photographing nocturnal birds in flight is not a challenge for the faint-hearted. Most images of this type are taken using captive birds in controlled conditions and even this is no mean feat, but to get a night-time flight shot of a wild bird requires some serious dedication. After nine months of regularly putting out food for a local Tawny Owl and — no doubt — endless tweaks to his triggered flash set-up, Dick Roberts managed to capture a stunning shot of the owl flying straight towards the camera. With well-balanced illumination of the bird flying through long grass set against a complementary dusk background scene, this image is highly evocative and atmospheric.
Other notable photos

White-tailed Eagle, Norway (Photo: James Wood)

Hen Harrier, Inner Marsh Farm RSPB, Cheshire (Photo: Steve Round)

Montagu's Harrier, Spain (Photo: Steve Fletcher)

White-fronted Bee-eater, South Africa (Photo: Nigel Forrow)

Lapwing, Woodbridge, Suffolk (Photo: Richard Bedford)

Willet, United States (Photo: Kevin Du Rose)

Snow Bunting, Whitburn Coastal Park, Durham (Photo: Mark Newsome)

Cormorant, Keyhaven Marshes, Hampshire (Photo: Trik)

Common Kingfisher, Leominster, Herefordshire (Photo: George Ewart)

Curlew, Titchwell RSPB, Norfolk (Photo: Amanda Hayes)

Glossy Ibis, Covenham Reservoir, Lincolnshire (Photo: Dean Eades)

Red-backed Shrike, Coldharbour Lagoon, Kent (Photo: Steve Ashton)

Rock Pipit, Marazion, Cornwall (Photo: Jim Almond)

Bearded Tit, Minsmere RSPB, Suffolk (Photo: Matty)