The week at a glance
'Bonkers', 'incessant', 'stressful', and 'expensive': just four of the many superlatives we've seen and heard used in the past few days to describe autumn 2013. The run of extreme vagrants has been long and persistent, culminating during the week that has just passed — a week that will be long remembered as one of the finest for outstanding birds in British and Irish birding history. Though the arrival of the media-dubbed 'St. Jude Storm' through Sunday night and in to Monday morning failed to produce the wrecks of seabirds anticipated by some, the trajectory of this (and another transatlantic depression just before it) brought a legion of Nearctic arrivals to western coasts.
Some will argue that it would win no awards for beauty, but there was no question about the week's most exciting find. Lying dormant for much of the autumn so far, Cape Clear (Cork) finally woke up and responded to earlier Nearctic arrivals both to the north and to the south. And goodness, was response was of impressive magnitude! Tremors shook around Ireland, Britain and the Western Palearctic as news broke that a Ruby-crowned Kinglet had been found in the famous Cotter's Garden during the afternoon of Sunday 27th. Shock, disbelief, admiration and panic were as rife as each other as the news spread, but the bird's appearance proved all too short lived. After being trapped and ringed, it was released back in to Cotter's mid-afternoon but soon disappeared and, despite inclement weather conditions overnight which would likely have prevented it from leaving, there was no sign throughout Monday.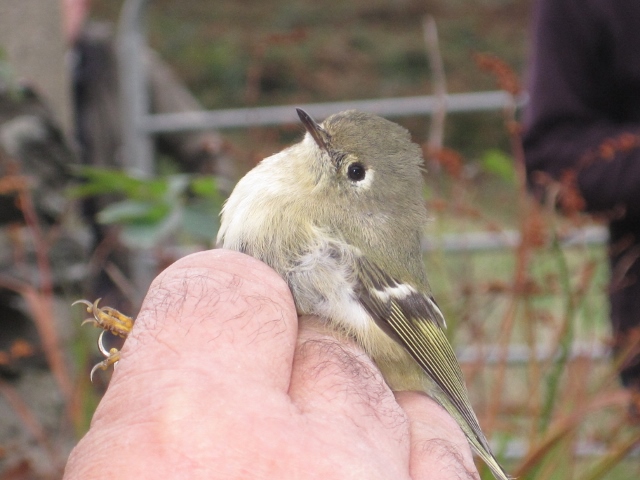 Ruby-crowned Kinglet, Cape Clear, Cork (Photo: Kerri Lorenz)

Ruby-crowned Kinglet, Cape Clear, Cork (Photo: Eamonn O'Donnell)
If the kinglet had proved entirely untwitchable, then last week's Cape May Warbler more than made up for it. After a nervous wait in poor weather the Thursday morning, the bird was eventually refound at around 11:00 — but this proved to be the only tense moment in a week-long stay that saw many journey up to Unst by car, ferry and/or plane and enjoy excellent views throughout the review period. Identified as a first-winter female, the bird co-operatively remained faithful to the Hillside area of Baltasound and was still present on 30th. You can read Mike Pennington's finders account in the BirdGuides webzine.

Cape May Warbler, Baltasound, Unst, Shetland (Photo: Robbie Brookes)

Cape May Warbler, Baltasound, Unst, Shetland (Photo: Josh Jones)
Tuesday brought with it two more succulent Nearctic waifs — first to break was a Yellow-rumped Warbler on Lundy (Devon) shortly after midday. This is the third record for Devon but, realistically, a county tick for almost everyone given that the last — also on Lundy — was in 1960! A couple of hours later, came news that Isle of Rum resident Sean Morris has found and photographed a smart Mourning Dove in his garden. After a couple of sickly individuals in times gone by, these smart little doves have gained a traditional reputation as being on death's door when seen over here but, happily, the Rum bird looked alive and well, and was still present at the end of the review period. The warbler, incidentally, was still on Lundy on 29th.

Mourning Dove, Rum, Highland (Photo: Sean Morris)
Wednesday came, bringing with it more finds as Cornwall joined the party with a Hermit Thrush at Porthgwarra from mid-morning onwards. Typically fearless for the species, it often showed very well throughout the rest of the day and that following, although it spent much of its time obscured in the middle of the 60-foot cover, representing the first record for mainland Britain. Just a quarter of an hour later, Ireland hit back with a Yellow-rumped Warbler on Inishmore (Galway) — the second (or third) bird on the island in two years following at least one on Kingbird dip day in early October 2012. But the day wasn't done there, by any means: an hour or so afterwards, news of an American Robin showing well on Tresco arrived via the BirdGuides app submission form and, minutes later, it emerged that a juvenile Lesser Kestrel had been photographed at Hope's Nose (Devon) on 28th and had just been seen again, albeit at distance. Taking nothing away from either the robin or warbler, the kestrel is a particularly handsome find — notoriously difficult to separate from Common Kestrel in immature plumages, it bucked the Nearctic flavour already served up throughout the morning and represents the first mainland record since Suffolk's male in late March 2010. Oh, and it concluded a breathless morning on Bird News Extra of course!

Hermit Thrush, Porthgwarra, Cornwall (Photo: Lisle Gwynn)

Hermit Thrush, Porthgwarra, Cornwall (Photo: Peter Moore)
Scilly actually enjoyed something of a renaissance following a quiet autumn so far. What is perhaps a new White's Thrush was discovered around The Parsonage on St. Agnes on 25th, with the identification confirmed the following morning. Though access issues predominated throughout the week, the bird continued to be seen and, by 30th, it was being seen occasionally from public rights of way — much to the delight of many visiting birders. For good measure, the Sora also lingered at Tresco Great Pool to at least 29th.

White's Thrush, St. Agnes, Isles of Scilly (Video: Steve Williams)

Sora, Tresco, Isles of Scilly (Photo: Richard Stonier)
The continuing influx of late swifts mainly involved Swift or unidentified Common/Pallid Swifts, though several Pallid Swifts were identified. One showed well around Christchurch Harbour (Dorset) on 24th-25th, but was taken by a Sparrowhawk on the latter date. At least two mobile birds toured northeast Norfolk over 24th-27th, being seen along the coast between Cromer and Trimingham but also inland as far as Felbrigg. One was at Foreness Point (Kent) on 26th with two, possibly three, on 27th reducing back to a single bird on 28th. The most interesting bird, though, failed to be clinched — a swift with a white rump, though at the time possibly to be a Pacific Swift — was seen over Paston (Norfolk) on 27th but not again. Less than a couple of hours later, news broke that Sweden was enjoying its first record of White-rumped Swift almost simultaneously, with that bird documented by some fantastic photos. One has to wonder…

Pallid Swift, Foreness Point, Kent (Photo: Steve Ashton)

Pallid Swift, Trimingham, Norfolk (Photo: Nigel Rogers)

Pallid Swift, Deal, Kent (Photo: James Lowen)
The storm of Monday morning failed to produce the numbers of seabirds that many had hoped for, although one or two interesting records did surface. Prior to the storm, admittedly, but a presumed Black-browed Albatross was seen off Hopton-on-Sea (Norfolk) early afternoon on 27th and later off Overstrand. With a recent record from the Channel Islands and three Brittany records between 26th and 28th October, there are clearly multiple birds in close proximity to our shores at present. Aside from a smattering of Leach's Storm-petrels, Grey Phalaropes, Sabine's Gulls and skuas, there was little else to shout about passing our coasts, with the number of wrecked birds thankfully also minimal. A probable Yelkouan Shearwater passed Pendeen (Cornwall) on 27th with an unconfirmed report of a Red-billed Tropicbird past Cape Cornwall on 24th not coming to anything more. Cornwall also claimed a juvenile White-billed Diver past Bass Point on 26th, with Kerry's third-ever off Castlegregory on 28th-29th and another in the traditional location of Bluemull Sound (Shetland) on 28th.

Grey Phalarope, Roadford Reservoir, Devon (Photo: Matthew Eade)
At least one Richardson's Canada Goose remained on Islay (Argyll) throughout the week with Black Brants seen in East Yorkshire, Devon and Dorset, though one of the birds seen in the latter county — at Ferrybridge — appears to be a hybrid. The Red-breasted Goose remained at Sturt Pond (Hants) to 31st. New Ring-necked Ducks included drakes at Loch o' th' Lowes (Ayrs) from 24th and at Ballyshunnock Reservoirs (Waterford) from 25th in addition to a juvenile at Wilstone Reservoir (Herts) from 26th. A female was still at Eyebrook Reservoir (Leics), as was the juvenile on North Uist. Cardiff's Lesser Scaup remained all week and a drake Ferruginous Duck was again at Chew Valley Lake (Somerset) on 29th.

Ring-necked Duck, Wilstone Reservoir, Hertfordshire (Photo: Andrew Moon)
The trio of Blue-winged Teals remained at Boultham Mere (Lincs) to at least 29th, with drake American Wigeon again at Loch of Strathbeg (Aberdeens) to 29th and at Udale Bay (Highland) on 30th. Green-winged Teals continued at Martin Mere (Lancs), Carsington Water (Derbys) and Blanket Nook (Donegal). One thing that the inclement weather did bring was a small influx of Surf Scoters: a drake was near Rosscarbery (Cork) on 27th and juveniles were in Chesil Cove (Dorset) on 28th, off Minsmere then Sizewell (Suffolk) on 29th and off Ardivachar Point, South Uist on 30th. Up to two were again off Llanddulas (Conwy) throughout, with a pair off Murcar Golf Course (Aberdeens) to at least 27th.

Blue-winged Teal, Boultham Mere, Lincolnshire (Photo: Russell Hayes)
Content continues after advertisements
Somerset once again highlighted its attractiveness to rare herons this week, with a juvenile Night Heron photographed at Shapwick Heath on 24th and a juvenile Purple Heron at Greylake two days later. A Cattle Egret was at Wallasea Island (Essex) from 26th with the usual Sheppey (Kent) bird still present on 27th. Great White Egrets included four still at Dungeness (Kent) and three at Minsmere (Suffolk). At least twenty Glossy Ibis were headlined by a flock of five touring North Uist (Outer Hebs) on 25th-28th as well as the four still in Greater Manchester; new singletons made it as far north as Hartlepool (Cleveland) from 27th and East Yorkshire on 26th.

Night Heron, Shapwick Heath NNR, Somerset & Bristol (Photo: Jeff Acreman)

Cattle Egret, Wallasea Island, Essex (Photo: Jeff Delve)

Glossy Ibis, Hartlepool, Cleveland (Photo: Alan W Gregory)

Glossy Ibis, Abberton Reservoir, Essex (Photo: Nick Brown)

Great White Egret, Lakenheath (Hockwold) Fen, Suffolk (Photo: Neil Rolph)
The small arrival of Rough-legged Buzzards continued this week with new birds at Minsmere (Suffolk) on 25th, and Dover and Dungeness (both Kent) on 29th in addition to the Orford Ness (Suffolk) bird still there on 30th. The apparent juvenile Northern Harrier continued to be seen around the Ouse Washes (Cambs) throughout the week although it proved mobile; Wexford's bird was still at Tacumshin on 27th.

Northern Harrier, Ouse Washes RSPB, Cambridgeshire (Photo: David H Hatton)
Hampshire's Semipalmated Plover was again seen at Black Point, Hayling Island on 24th-27th, and could feasibly still be in the area. New American Golden Plovers were at Carrahane Strand (Kerry) on 25th and Newtonards (Down) on 27th-28th, with another still at Rahasane Turlough (Galway) on 27th. The Long-billed Dowitcher was again at Pennington Marshes (Hants) on 30th, while a scattering of Calidrids involved Baird's Sandpipers at Ballyhiernan Bay (Donegal) on 26th and still at Black Rock Strand (Kerry) to 25th, a Semipalmated Sandpiper at Ballycotton (Cork) on 26th and Pectoral Sandpipers at Frampton Marsh (Lincs) on 25th and the National Wetlands Centre (Carmarthens) on 28th. Juvenile White-rumped Sandpipers were at Telscombe Cliffs (W Sussex) on 28th, and Ardivachar Point, South Uist and Marazion (Cornwall) on 29th-30th.

White-rumped Sandpiper, Marazion, Cornwall (Photo: Peter Moore)
An adult Bonaparte's Gull was found at Bamburgh (Northumbs) on 29th-30th with the Devon bird still at Teignmouth (Devon) to at least 29th. A first-winter Ring-billed Gull was new at Rossleague (Cork) on 27th, with adults again in Dingwall (Highland) on 25th and at Carrickfergus (Antrim) on 29th. A late adult Roseate Tern proved popular as it lingered at Mudeford Quay (Dorset) throughout the week.

Bonaparte's Gull, Bamburgh, Northumberland (Photo: Tim Dean)

Bonaparte's Gull, Bamburgh, Northumberland (Photo: Tim Dean)
The mini-influx of Hoopoes continued with brief birds at Sandbanks (Dorset) on 24th and Dormanstown (Cleveland) on 28th, though more co-operative individuals were in Rhyl (Clwyd) on 26th-27th and Woodford Halse (Northants) on 27th-29th.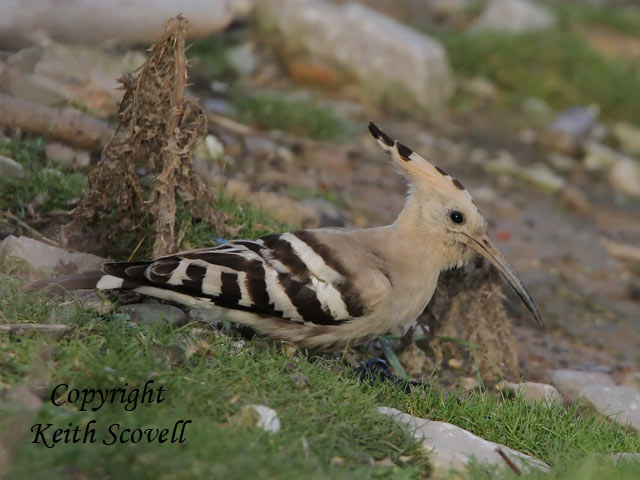 Hoopoe, Rhyl, Clwyd (Photo: Batman)
County Donegal's apparent Eastern Yellow Wagtail was still to be found on Tory Island to at least 28th, with Foula (Shetland) also holding on to Buff-bellied and Olive-backed Pipits to 27th and 28th respectively. A Red-throated Pipit was still on Fair Isle early on, while Lundy held another on 25th-27th and a third flew over Landguard (Suffolk) on 29th. A Red-flanked Bluetail at Walls (Shetland) on 25th-26th provided a nice stop for twitchers on the way back from Unst.

Red-flanked Bluetail, Walls, Mainland, Shetland (Photo: Hugh Harrop)
A Paddyfield Warbler was on St. Agnes (Scilly) on 30th, with the island also scoring both Radde's and Dusky Warblers while a Subalpine Warbler was on St. Mary's on 24th-29th. Further Radde's Warblers were at Happisburgh (Norolk) on 25th and trapped at Titchfield Haven (Hants) on 26th, with lingering Dusky Warblers still at Spurn (E Yorks) to 25th and Hartlepool Headland (Cleveland) to 29th — another was at Helendale (Shetland) on 26th-28th. The Sardinian Warbler remained at Mire Loch (Borders) throughout, and a Western Bonelli's Warbler in Holkham Pines (Norfolk) on 24th added to the long-staying Hartlepool Headland bird, which was still present on 29th.

Subalpine Warbler, St. Mary's, Isles of Scilly (Photo: Robin Mawer)

Sardinian Warbler, Mire Loch, Borders (Photo: Chris Griffin)

Western Bonelli's Warbler, Holkham Pines, Norfolk (Photo: James Lowen)
Also lingering was the Isabelline Shrike on Whalsay (Shetland), which was still there on 28th. A Penduline Tit at Dungeness (Kent) on 24th-30th was joined by a second on 26th, at least one of these birds was unringed and thus not the regularly returning individual. At least fifteen Red-breasted Flycatchers included no fewer than five in County Cork, while Rose-coloured Starlings remained in Norfolk, Cornwall, Scilly and County Donegal. Little Buntings were at Hoswick (Shetland) on 25th-27th and North Ronaldsay (Orkney) on 30th.

Red-breasted Flycatcher, Firkeel, Cork (Photo: Fionn Moore)
And finally, a short summary of the ongoing crossbill influx. The female Two-barred Crossbill was again seen in flight at Leith Hill Wood (Surrey) on 30th with two males still at Lynford Arboretum (Norfolk) throughout; the male was also still in Hemsted Forest (Kent) where up to seven Parrot Crossbills also lingered (though were erratic in their appearances). Five further Parrots were reported from Clowes Wood (Kent) on 25th, with two reported in Bacton Wood (Norfolk) on 24th and 27th.
Photo of the Week

Golden Plover, Westward Ho!, Devon (Photo: Steve Hatch)
These days, there are more ways than ever to (almost) guarantee great photo opportunities: organised trips, purpose-built hides, publicised honeypot sites, reported rarity locations and places where birds are baited in some way. The standard of bird images obtained through these methods — in terms of both subject quality and image quality — is so high that such images now dominate the world of bird photography. What tends to get overlooked as a result of this dominance is decent portrait photography of unbaited wild birds that are neither rare nor charismatic. Steve Hatch's beautiful portrait of a Golden Plover in glorious late afternoon sunlight is a perfect example. This evocative image instantly transports the viewer to an authentic, wild location at which the setting sun is lighting up this dainty wader against the dark pebbled beach. No technical wizardry, no mega-rarity, just the type of image that captures the pleasure of discovering the great birds that share our natural environment.

Nuthatch, Wayoh Reservoir, Lancashire (Photo: John Barlow)

Tawny Owl, Countesthorpe, Leicestershire and Rutland (Photo: Paul Riddle)

Pallid Swift, Foreness Point, Kent (Photo: Steve Ashton)

Snow Bunting, Llandudno, Conwy (Photo: Dave Williams)

Short-eared Owl, Shingle Street, Suffolk (Photo: John Richardson)

Firecrest, Countess Wear, Devon (Photo: Gray Clements)

Bearded Tit, Minsmere RSPB, Suffolk (Photo: Nick Appleton)

Buzzard, Castle Douglas, Dumfries & Galloway (Photo: Chas Moonie)

Yellow-browed Warbler, St. Agnes, Isles of Scilly (Photo: Lee Amery)

Grey Phalarope, Gronant, Clwyd (Photo: Ashley Cohen)

Hoopoe, Newstead & Annesley CP, Nottinghamshire (Photo: John Dickenson)

Glossy Ibis, Llanelli, Carmarthen (Photo: Norman West)

Bittern, Minsmere RSPB, Suffolk (Photo: Kev Joynes)

Carrion Crow, undisclosed site, Suffolk (Photo: Ian Clarke)

Shoveler, Slimbridge WWT, Gloucestershire (Photo: Pete Blanchard)

Jackdaw, Richmond Park, Greater London (Photo: Tom Hines)

Cape May Warbler, Baltasound, Unst, Shetland (Photo: Robbie Brookes)