The week at a glance
Changeable conditions during the week saw most areas experience a mixed bag of weather. Early on many areas were cool (if not cold!) and grey while, for most, the Bank Holiday weekend proved gloriously warm and summer-like under cloudless skies. It didn't last long, though, for by midweek the cool and miserable conditions had returned — particularly to eastern areas — although a hint of east in the wind direction did ensure at least a trickle of typical late-spring migrants.
British and Irish headlines were almost made by a displaced Far Eastern waif. On Saturday 25th, Denmark got lucky, with a twitchable Pacific Swift northwest of Copenhagen that stayed for much of the day and was seen by many. This prompted thoughts among British birders that, one day, Pacific Swift might again be available to the masses here. After all, Thursday 30th is the 20-year anniversary of the famous Cley bird, and many eagerly await a lingering repeat (there have been three brief records at Spurn since 2005). Excitement built, therefore, during the evening of 29th when news emerged of a 'white-rumped' swift photographed at Bawdsey (Suffolk) during the afternoon. And, from the rather blurry photograph — viewable on the Suffolk BINS website — it really does look quite convincing for Pacific. At the time of writing, early on a grey Thursday morning, anticipation is growing that the bird may yet be relocated in the coming days — could Cley be on for an incredible repeat?
Back to reality, and the surprise return of North Uist's immature drake Harlequin was actually the highlight of the week's rarity news. The bird was seen again off Traigh Iar (i.e. in exactly the same spot as it spent most of March and April) on 24th–27th, only to disappear again thereafter. Quite where it has been (and has gone again) is anyone's guess, although presumably not very far away! Also on North Uist, the Snowy Owl was seen sporadically in the Solas area early on, with the male again on Arranmore Island (Donegal) on 29th.

Harlequin Duck, Balranald RSPB, N.Uist, Outer Hebrides (Photo: Steve Round)
In terms of sheer glamour, Hampshire's first twitchable Roller since 1987 took some beating. News broke on 25th, the bird having been present since 23rd. Present and showing reasonably well throughout the day, it was still there early the following morning but suddenly flew off strongly to the northeast at around 09:10, reappearing briefly at Thursley Common (Surrey) but failing to linger there. What bets on a relocation?

Roller, Broxhead Common, Hampshire (Photo: Jason Ward)

Roller, Broxhead Common, Hampshire (Photo: Doug Kelson)
A White-throated Sparrow photographed in a private garden in Spalding (Lincs) on 28th would have proved equally popular with the masses were it accessible, but the sensitive nature of the estate on which it was present meant the homeowners decided (quite sensibly) not to disclose the exact location. With plenty of recent twitchable birds (including in Lincolnshire!), their decision shouldn't grate too much for most.

White-throated Sparrow, Spalding, Lincolnshire (Photo: South Lincs RSPB)
Orkney claimed a fine Balearic Woodchat Shrike on Westray on 26th; this is the first British record for a couple of years. Last year, 2012, was actually the first blank year for records of this subspecies in Britain and Ireland since 2005, following a rush of records that began in Somerset in June of that year. Elsewhere, nominate Woodchats were still at Kenfig (Glamorgan) on 25th, on Ramsey Island (Pembrokeshire) on 26th, and at Newport Wetlands (Gwent) and on Foula (Shetland) on 28th. Further characteristic southern overshoots included an Alpine Swift south over Spurn (E Yorks) on 24th, four Short-toed Larks (two on Shetland and singles in Orkney and Devon), a Tawny Pipit on North Ronaldsay (Orkney), Hoopoes in Pembrokeshire, Derbyshire and Highland, and five Bee-eater records — all but two from Kent and including a lingering bird at Dungeness on 23rd–24th. 'Dunge' claimed yet another Red-rumped Swallow on 24th–25th, with Beddington sewage farm (London) chalking up its second of the spring — this time twitchable — over the same dates. Further birds were at Weir Wood Reservoir (E Sussex) on 23rd–24th, Walland Marsh (Kent) on 25th and at Hillswick (Shetland) on 29th. Wrynecks were on Foula (Shetland) and at Spurn (E Yorks) and Blakeney Point (Norfolk) — the latter site had two on 29th.

Balearic Woodchat Shrike, Westray, Orkney (Photo: Russell Wynn)

Short-toed Lark, Sumburgh, Mainland, Shetland (Photo: James Wood)
The easterly airflow in the latter half of the week painted a familiar picture on the Northern Isles, as the Orkney and Shetland archipelagos began to claim some quality late-spring vagrants. Not one, but two, Thrush Nightingales graced Fair Isle on 29th; the island also claimed a lingering Blyth's Reed Warbler from 27th (another on Fetlar on 29th), a female Subalpine Warbler on 25th and a host of scarcities that included at least three Bluethroats, three Marsh Warblers and up to seven Red-backed Shrikes. A further Subalp was on the Shetland mainland at Scatness on 28th, with a third trapped and ringed on Copeland Island (Down) on 26th. On North Ronaldsay, last week's Paddyfield Warbler remained there until 24th, while 28th saw a Little Bunting arrive at Skaw, Unst (Shetland) and a male Rustic Bunting on Foula. Plenty of 'standard scarce' was on offer to bulk up the already impressive tallies, with double-figure tallies of Red-backed Shrike records as well as a scattering of Icterine and Marsh Warblers, Grey-headed Wagtails and Pectoral Sandpipers, a Little Ringed Plover and the two lingering first-summer Ring-billed Gulls all adding spice on the Shetland mainland.

Blyth's Reed Warbler, Funzie, Fetlar, Shetland (Photo: Brydon Thomason)
But the rest of Britain didn't miss out completely. Dank conditions from Tuesday saw Greenish Warblers arrive at Gibraltar Point (Lincs) and Scarborough (N Yorks), the latter site also claiming one each of the handful of Icterine and Marsh Warblers seen. A Black-headed Wagtail was briefly at Filey (N Yorks) on 28th, Three Red-breasted Flycatchers were seen: at Flamborough Head (E Yorks), on the Isle of May (Fife) — where there was also a Bluethroat on 29th — and on St. Mary's (Scilly). A respectable showing of sweet-singing Common Rosefinches involved around 15 records — most were along east-facing coasts between Sumburgh Head and Weybourne (Norfolk), with Gibraltar Point (Lincs) and the Spurn area claiming at least two apiece. A red male spent time on feeders in a private Slaley (Northumberland) garden from 25th, while another was trapped and ringed at the Calf of Man (IoM) observatory. At least 40 Red-backed Shrikes littered the coast between Aberdeenshire and Suffolk, with one or two extralimital birds including a female in Surrey.

Icterine Warbler, Melvich, Highland (Photo: Chris Griffin)

Common Rosefinch, Slaley, Northumberland (Photo: Tim Dean)
Content continues after advertisements

Red-backed Shrike, Pewley Down, Surrey (Photo: Brian Harrison)
The RSPB reserve at Lakenheath is a fine place to visit at any time of year, but it has really been enjoying a purple patch of late. In addition to the long-staying adult male Red-footed Falcon that was still present throughout the week, the extensive reedbed attracted a singing male Savi's Warbler from 25th, though it proved characteristically difficult to see for much of the time; another Savi's was still singing at Minsmere (Suffolk) on 29th. The only other bird of prey of note was an overflying Black Kite at Hauxley (Northumberland) on 27th.

Red-footed Falcon, Lakenheath, Suffolk (Photo: Rebecca Nason)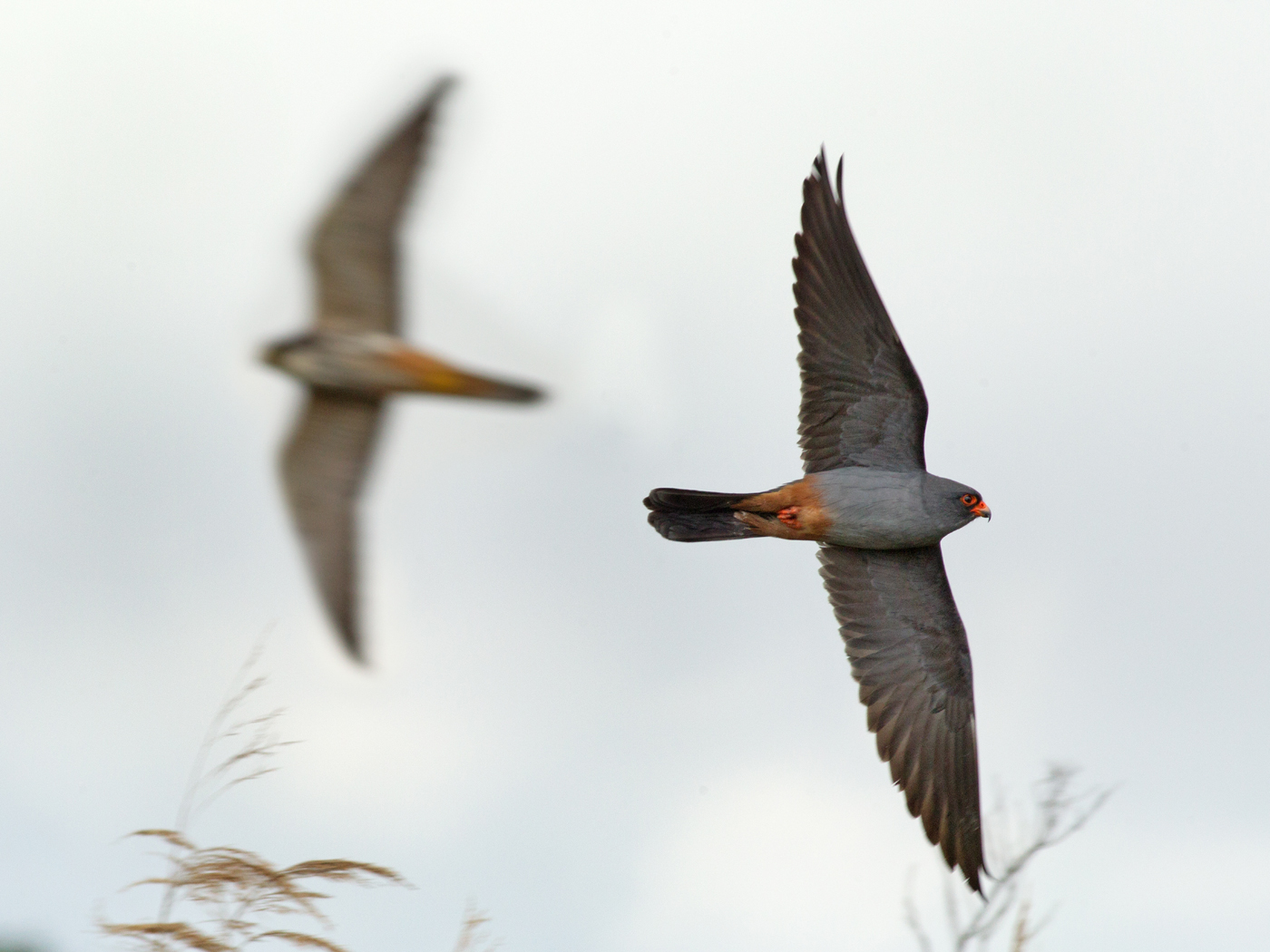 Red-footed Falcon and Hobby, Lakenheath (Hockwold) Fen, Suffolk (Photo: Jamie MacArthur)

Savi's Warbler, Lakenheath (Hockwold) Fen, Suffolk (Photo: Kevin Du Rose)
Changing the subject quite abruptly, it was another great week for Long-tailed Skuas, particularly in more northerly areas. Following last Wednesday's astonishing four-figure count from North Uist, it was the turn of several less well-known sites to get in on the action on 23rd–24th. For example, a ridiculous 834 were seen flying north up towards Fort William and the Great Glen past Corran Narrows (Highland) during the afternoon of 23rd, while lesser numbers (generally up to 50) were seen across a range of Scottish sites. Several inland Scottish locations also registered birds, including an impressive 25 birds passing over Loch of Skene (Aberdeenshire) on 23rd. Small numbers were seen in the North Sea as far south as Yorkshire, including a flock of eight past Hartlepool Headland (Cleveland) on 23rd, with the same group later seen past Seaton Sluice (Northumberland). An adult was at Queen Mother Reservoir (Berks) during the evening of 24th. Meanwhile, a Great Shearwater passed Spurn (E Yorks) on 24th, a Sabine's Gull flew past Bloody Foreland (Donegal) on 25th and a Grey Phalarope passed Saltcoats (Ayrshire) on 23rd — incidentally, totals from that site over the period 13th–24th consisted of 206 Long-tailed and 42 Pomarine Skuas.

Long-tailed Skua, Staffin Bay, Skye, Highland (Photo: Nick Davies)

Long-tailed Skua, Aird an Runair, N.Uist, Outer Hebrides (Photo: Gavin Thomas)
The impressive spring for Pectoral Sandpiper records continued, with ten seen during the week: away from the northern isles (where there were five), birds were noted in Norfolk, Cambridgeshire, Cheshire, East Yorkshire and County Donegal. Temminck's Stints were barely more frequent, with a maximum of 15 birds seen nationwide. The first Terek Sandpiper of 2013 spent an evening at Rye Harbour (E Sussex) on 25th, while a Spotted Sandpiper at Belvide Reservoir (Staffs) — the site's third — conformed to the usual pattern of spring occurrences by proving a one-day-wonder on 26th. In addition to last week's bird still on Islay, Buff-breasted Sandpipers were seen at Virkie (Shetland) and Tacumshin (Wexford). The female Red-necked Phalarope continued at Coombe Hill Meadows (Glos) throughout the week, with further migrant birds comprising a brief bird at Old Moor (S Yorks) on 24th and two in Broadford Bay, Skye (Highland) on 23rd.

Temminck's Stint, Rye Harbour NR, East Sussex (Photo: Colin Selway)

Spotted Sandpiper, Belvide Reservoir (PERMIT ONLY), Staffordshire (Photo: Steve Nuttall)
In County Wexford, the adult Forster's Tern was again noted at Tacumshin on 25th, and a White-winged Black Tern frequented the nearby tern colony at Lady's Island Lake for four days to 26th. Back in Kent, the first-summer Bonaparte's Gull continued to visit Oare Marshes to 26th and was seen on the beach at Swalecliffe in the early morning on 27th. Two different first-summer Ring-billed Gulls were seen in County Kerry.

Ring-billed Gull, Scalloway, Mainland, Shetland (Photo: N Thomas)
A Black Stork flew over two sites on Mull (Argyll) on 26th, with another over Horsted Keynes (W Sussex) on 25th; Mull also saw a Glossy Ibis reported at Dervaig on 26th and the Pembrokeshire bird was still at Marloes throughout. A Night Heron flew over Kelling Heath (Norfolk) on 26th and another was briefly near Tenby (Pembrokeshire) the previous day. The Purple Heron remained at Marazion (Cornwall) throughout, with Cattle Egrets remaining in Kent and County Down and a handful of Great White Egrets scattered around.
Both the American Wigeon and Green-winged Teal remained on Loch of Hillwell (Shetland) on 23rd. The drake Lesser Scaup was still in Highland on 27th, and Ring-necked Ducks were still at Tophill Low (E Yorks) and Forfar Loch (Angus & Dundee). The Surf Scoter was still off Musselburgh (Lothian) early in the week and the King Eider continued to laze about on the Ythan Estuary (Aberdeenshire). Late White-billed Divers comprised the County Galway bird still off Inishbofin on 23rd and another drifting past the Butt of Lewis on 29th.
Photo of the Week

Red-footed Falcon, Lakenheath (Hockwold) Fen, Suffolk (Photo: Kevin Du Rose)
On most days this month, an adult male Red-footed Falcon has been seen over the RSPB reserve at Lakenheath Fen in Suffolk. As well as being a scarce visitor to the UK, this is a highly photogenic bird that has delighted its visitors with some close-range flypasts. Not surprisingly, we've received well over a hundred images of this bird taken from just about every angle, the majority being just the type of blue-sky flight shot that bird photographers love to capture. So what does it take to stand out from such a collection of images? Photographer Kevin Du Rose certainly has the answers: the last time he was in such a situation (two years ago), he bagged not only a Photo of the Week, but our Photo of the Year as well. This time, he captured the falcon in an extremely unusual pose for a flight shot: diving straight towards the camera while looking up so its 'face' can be seen. Great lighting and composition, with plenty of space below the bird for it to 'fly into' complete the effect.
Other Notable Photos

Alpine Swift, Greece (Photo: Mick Southcott)

Hoopoe, Hungary (Photo: Dave Williams)

White-winged Black Tern, Hungary (Photo: John Fielding)

Guillemot, Bempton Cliffs RSPB, East Yorkshire (Photo: Steve Race)

Red-spotted Bluethroat, Barns Ness, Lothian (Photo: Mike Thrower)

Dusky Thrush, Margate, Kent (Photo: Ian Curran)

Cuckoo, Poland (Photo: Artur Stankiewicz)

Masked Shrike, Greece (Photo: Jamie MacArthur)

Tree Pipit, Farnham, Surrey (Photo: Brian Harrison)

Pied Flycatcher, Gilfach Farm NR, Powys (Photo: Steve Spry)

Redstart, Gilfach Farm NR, Powys (Photo: Garth Peacock)

House Martin, Ramsey, Isle of Man (Photo: B Callow)

Bullfinch, Upton Warren NR (Permit Only), Worcestershire (Photo: Robert Hart)

Wood Warbler, New Forest, Hampshire (Photo: Simon Johnson)

Puffin, Skomer, Pembrokeshire (Photo: Mike McKenzie)

Corn Bunting, Maiden Castle, Dorset (Photo: Richard Collier)

Whitethroat, Lakenheath, Suffolk (Photo: Ashley Gooding)