The week at a glance
A classic spring week came to pass, with vagrants of sufficiently high calibre to get the juices of all but the most seasoned of British twitchers flowing. With an easterly airflow taking hold, migrants began to arrive in varying (but generally decent) numbers between Shetland and East Anglia, bringing with them no shortage of exotica. Unfortunately, though, the week's three biggest fixtures were essentially inaccessible to the masses, albeit for differing reasons.
First up, early on Saturday morning, came thrilling news of an Alpine Accentor at Holme NOA (Norfolk). Glimpsed early morning, its only other showing proved almost as brief (as you can read about in Connor Rand's finder's account on the BirdGuides webzine). Fortunately, the quick-thinking finder managed to reel off a series of ultra-gripping shots as the bird sat unconcernedly just a few metres away before melting into the pines, never to be seen again — despite extensive searching of the area throughout the rest of the day. This is the first British Alpine Accentor for a decade, the last also an April record from Norfolk (Sidestrand, 20th April 2004), and a more co-operative bird would be hugely welcomed.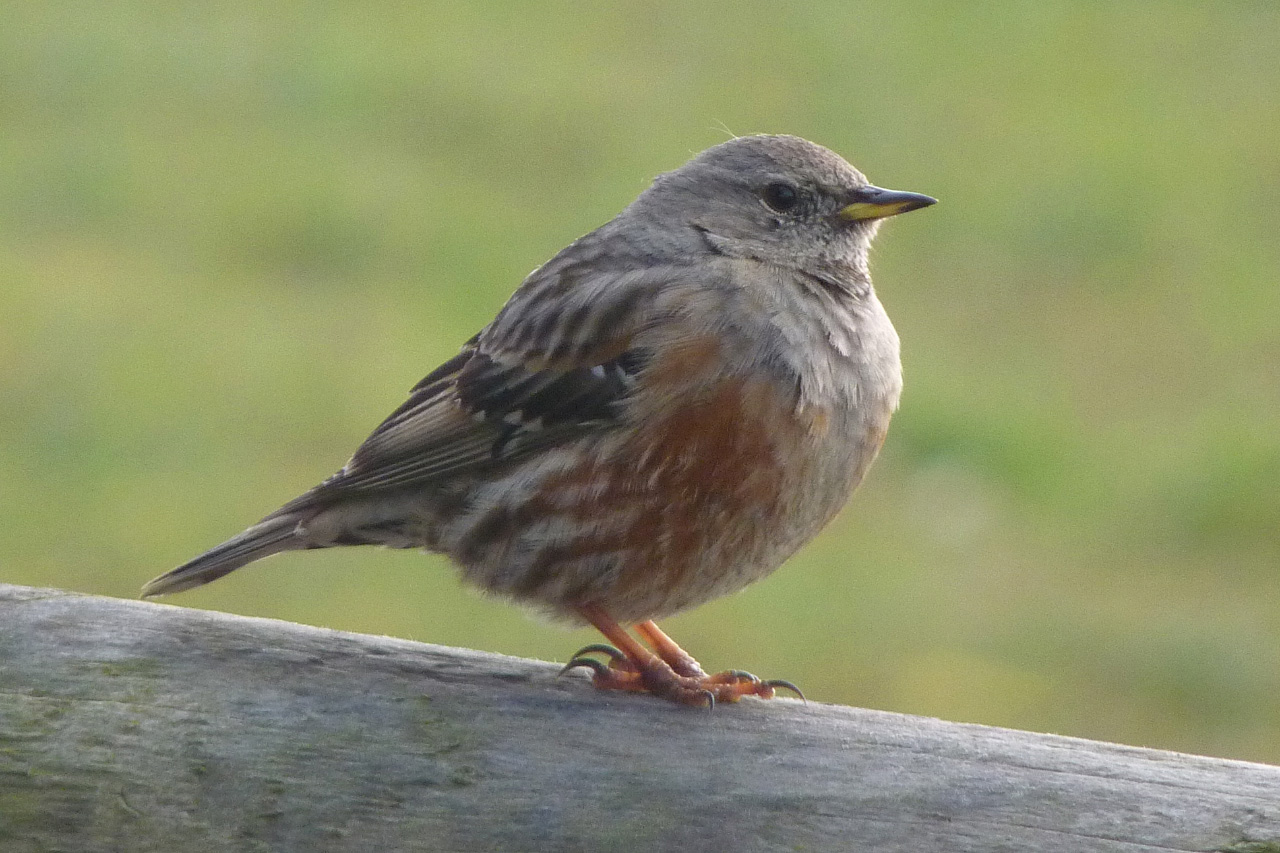 Alpine Accentor, Holme NOA, Norfolk (Photo: Connor D. Rand)
The inaccessibility of the other highlights was purely for geographical reasons, as both lingered for a few days. Fair Isle is notorious for its ability to produce off-the-scale vagrants and this week, in promising conditions, the island's spring well and truly came to life. All the signs were there early on, with good counts of commoner migrants (notably Ring Ouzels — 44 on 26th) as well as the odd Great Grey Shrike and Wryneck scattered about. Saturday 26th produced a stunning male Eastern Subalpine Warbler, but it was 27th that stole the show: firstly a male Cretzschmar's Bunting in finder Deryk Shaw's garden, but then a brilliant male Caspian Stonechat later that evening! The bunting soon disappeared, but showed up again the following evening and went on to show well until the end of the review period, whereas the stonechat went off the radar for a longer period, only resurfacing on 28th. The bunting is the fifth British record and a third for Fair Isle (following birds in 1967 and 1979), while the stonechat is also a fifth, following hot on the heels of the long stayer on Scilly last autumn. And, just to give you a flavour of what a memorable day 27th was on the island, there were also three Short-toed Larks, seven Wrynecks and a Red-breasted Flycatcher among the healthy numbers of common migrants — more, as always, can be read on the Fair Isle blog.

Caspian Stonechat, Fair Isle, Shetland (Photo: Roger Riddington)

Caspian Stonechat, Fair Isle, Shetland (Photo: Roger Riddington)

Cretzschmar's Bunting, Fair Isle, Shetland (Photo: Roger Riddington)
Traditionally notorious for its short stays and ability to frustrate twitchers, Collared Flycatcher is well on the way towards a change in status, not just in terms of rarity, but also co-operativeness. What used to be a sure-fire mega has become an expected annual spring visitor in recent years and, right on cue, a stunning male arrived at Mire Loch (Borders) on 28th. In the past that would have been it — present briefly, gone the next morning — but this latest individual continued to show well there throughout 29th, rather conforming to the recent trend for gettable birds. And, with a smart male Subalpine Warbler in the vicinity, flycatcher punters went away very happy.

Collared Flycatcher, Mire Loch, Borders (Photo: Dave Graham)

Collared Flycatcher, St. Abbs Head NNR, Borders (Photo: Frank Golding)

Subalpine Warbler, St. Abbs Head NNR, Borders (Photo: Frank Golding)
After last week's rumblings, the Pied-billed Grebe at Loch Thom (Clyde) was finally confirmed on 24th when a couple of Loch Ness Monster-type shots, taken at distance with a point-and-shoot but nevertheless just about identifiable, appeared in the BirdGuides inbox. Indeed, the bird went on to show well until the end of the review period, and later allowed local birders to fire off some fine shots. This represents the first county record.

Pied-billed Grebe, Loch Thom, Clyde (Photo: Ian Broadbent)

Pied-billed Grebe, Loch Thom, Clyde (Photo: Steven Fryer)
Wildfowl included the Baikal Teal again appearing on the Ouse Washes (Cambs) on 26th and the female Blue-winged Teal also still at Sandwich Bay (Kent) all week. Five Green-winged Teal included new birds at Loch of Spiggie (Shetland) on 25th and Tory Island (Donegal) on 26th in addition to birds still in Lincolnshire, Lancashire and County Londonderry. A female Lesser Scaup was new in on private land at Holme Pierrepont (Notts) on 23rd–24th, while the long-staying drake remained at Tittesworth Reservoir (Staffs) to 26th. A drake Ring-necked Duck toured Shropshire: after being found at Wood Lane, it moved to Ellesmere on 27th before relocating to White Mere on 28th–29th. Another drake was on the Sligo/Roscommon border at Lough Skean on 28th, with two still on Lough Beg (Co Londonderry) and the drake also still at March Farmers (Cambs) on 26th. The drake King Eider once again returned to the Aberdeenshire coastline, being seen on the Ythan Estuary and off Blackdog on 25th–26th, while the female remained off Ruddon's Point (Fife). Drake Surf Scoters remained off Lothian and Orkney.
Two white-morph Snow Geese were again on Muck (Highland) on 23rd, and a Grey-bellied Brant was still at Dundrum Bay (Down) that day. A Small Cackling Goose, very likely of captive origin, was seen at Rainham, Beddington and Beckenham (all London) during the week; Black Brants were in Norfolk and Suffolk. Two White-billed Divers were still off Portsoy (Aberdeenshire) throughout the week, and another was off West Burra (Shetland) on 27th.

Small Cackling Goose, Beckenham, Greater London (Photo: Simon Arron)
An elusive adult Night Heron was in the Leasowe (Cheshire) area on 23rd–27th and the Shetland bird was still at Spiggie to 27th, while a Black Stork was reported over Whixall Moss (Shropshire) on 28th. A White Stork was at Spencers Wood (Berks) on 24th, with possibly the same over Fen Drayton and Swaffham Prior Fen (both Cambs) on 26th. Another was at Halvergate Marshes (Norfolk) on 27th. A decent crop of Cattle Egrets included two at Tacumshin (Wexford) on 27th–29th, and singles at Saleen (Waterford), Ouse Washes and St Neots (both Cambs), and the long-stayer still at Steeple Claydon (Bucks). As usual, a fair scattering of the seemingly resident Great White Egrets and Glossy Ibis were seen.

Night Heron, Loch of Spiggie, Mainland, Shetland (Photo: Rebecca Nason)

Great White Egret, Cresswell Pond NWT, Northumberland (Photo: Hector Galley)
Among decent numbers of returning Montagu's Harriers, a possible ring-tail Pallid Harrier was found at Holland Haven (Essex) late on 26th, and seen again early the next morning. The Black Kite on Orkney, first reported on 22nd, was again at Loch of Boardhouse on 23rd. Other reports concerned birds over Grafham Water (Cambs) on 26th and Wangford (Suffolk) on 29th.
Content continues after advertisements
A magnificent flock of 10 Black-winged Stilts graced Dungeness (Kent) briefly on 24th, with two there from 26th–28th. This is presumably the same record-equalling flock seen on the Isle of Wight back on 12th (where have they been since?) and presumably at large somewhere in southern England. Another was at Bracklesham Bay (West Sussex) on 29th, and two were still on St Ouen's Pond (Jersey), where a Caspian Tern flew over on 25th. The Collared Pratincole reappeared and showed well at Northam Burrows Country Park (Devon) from 26th, while a Kentish Plover was at Rye Harbour (E Sussex) on 26th. A Marsh Sandpiper was briefly on private land near Hedon (E Yorks) on 29th, a Pectoral Sandpiper was reported at Titchwell (Norfolk) on 23rd and the first Temminck's Stints of 2014 appeared: at Oare Marshes (Kent) on 23rd, Rye Harbour (E Sussex) on 27th and Hollesley Marshes (Suffolk) on 29th.

Black-winged Stilt, Dungeness RSPB, Kent (Photo: John Reeves)

Collared Pratincole, Northam Burrows CP, Devon (Photo: Steve Hatch)

Collared Pratincole, Northam Burrows CP, Devon (Photo: Harry Murphy)
Last week's Franklin's Gull reappeared in Carmarthenshire, calling in sporadically — generally during the mornings — at the National Wetlands Centre between 23rd and 28th. An adult Bonaparte's Gull was new in Dingle Harbour (Kerry) on 23rd and a first-summer Ring-billed Gull was at Quendale (Shetland) on 24th. A flush of Whiskered Tern records included birds at Rockland Broad (Norfolk) on 24th, Otmoor (Oxon) on 25th and Minsmere (Suffolk) on 26th.

Franklin's Gull, Llanelli, Carmarthen (Photo: Cliff Woodhead)

Whiskered Tern, Otmoor RSPB, Oxfordshire (Photo: Paul Thomas)

Whiskered Tern, Rockland Broad, Norfolk (Photo: Keith Bilverstone)
Another reasonable showing of Hoopoes saw 15 or so recorded, almost all new and including a particularly popular bird around Kessingland (Suffolk) from 26–29th. It was the turn of Wrynecks to dominate scarcity news, though, with good numbers strewn along the east coast between Suffolk and Shetland. Aside from seven on Fair Isle, quite a few were spread across the latter archipelago and included up to three at Hoswick as well as ones and twos from a number of sites on Mainland. A popular bird was at Benacre (Suffolk) to 26th and two were at Whitley Bay (Northumberland) over the weekend. A handful of Norfolk records included at least one on Blakeney Point. Early Red-backed Shrikes were at Rerwick (Shetland) and Barns Ness (Lothian) on 27th, the latter lingering until the following day. Scarce so far this year, a fine male Woodchat was at Gileston (Glamorgan) on 28–29th. Even rarer, though, was the year's fourth(!) Great Spotted Cuckoo, which was photographed along the road to Kynance Cove (Cornwall) on 24th.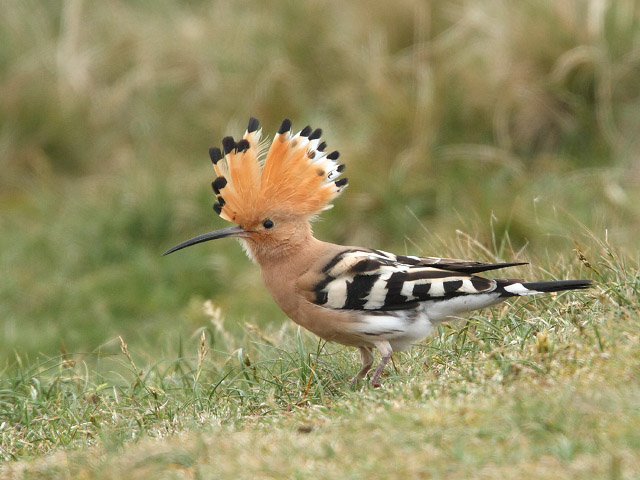 Hoopoe, Kessingland, Suffolk (Photo: Chris Mayne)

Hoopoe, Leswalt, Dumfries & Galloway (Photo: Peter Garrity)

Wryneck, Whitley Bay, Northumberland (Photo: Mark Fullerton)

Wryneck, Cromer, Norfolk (Photo: David Pattrick)

Woodchat Shrike, Gileston, Glamorgan (Photo: Richard G Smith)
A Tawny Pipit on the golf course at Scarborough (N Yorks) on 24th may well have been the recent Flamborough bird; another good showing of Richard's Pipits included new birds at Brand's Bay (Dorset) on 24th (alongside a Hoopoe!), Girdle Ness (Aberdeenshire) on 26th, Filey (N Yorks) on 28th and St Abbs Head (Borders) on 29th in addition to the long-stayer still at Gramborough Hill (Norfolk). A Red-throated Pipit showed well on Bryher (Scilly) on 25th, and the archipelago also claimed at least one Red-rumped Swallow (records from St Mary's and St Agnes). Other Red-rumpers included two at Marazion (Cornwall) on 28th and one at Steyning (W Sussex) on 27th.

Red-throated Pipit, Bryher, Isles of Scilly (Photo: Robin Mawer)
In addition to those 'Subalps' already mentioned, a male Eastern was at Virkie (Shetland) from 24–28th. The Sardinian Warbler was last reported from Dursey Island (Cork) on 25th though it could feasibly still be present (the island is hardly watched much). Northbound Yellow-browed Warblers were pleasing finds at Torness Power Station (Lothian) from 25–28th, Wester Quarff (Shetland) on 26th and Dungeness (Kent) on 29th.

Yellow-browed Warbler, Torness Power Station, Lothian (Photo: Ian Andrews)
A stunning male Red-breasted Flycatcher was perhaps the pick of the bunch at Hook Head (Wexford) on 27th; others were on Fair Isle, St Mary's (Scilly) on 28th and at Whitburn (Durham) on 29th. A Serin was at Church Norton (W Sussex) on 28th and last week's bird remained at South Glendale (Outer Hebrides) to 23rd. Little Buntings were at Holme Dunes (Norfolk) on 27th, Hilbre Island (Cheshire) on 28th and on Fair Isle on 29th. Two-barred Crossbills remained in Shropshire, South Yorkshire and Norfolk.

Red-breasted Flycatcher, Hook Head, Wexford (Video: Tom Shevlin)
Photo of the Week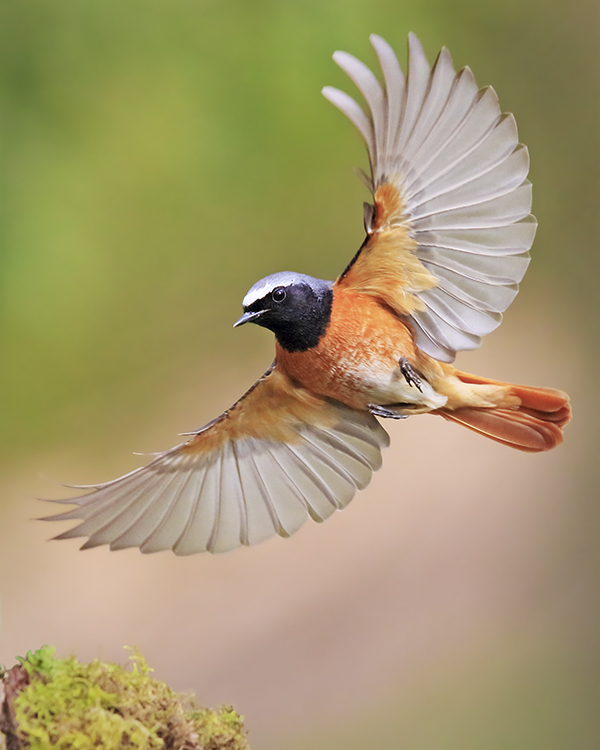 Redstart, undisclosed site, Shropshire (Photo: John Fielding)
It's been a good month for Redstarts, at least as far as John Fielding is concerned. He has focused hard on capturing images of this delightful summer visitor in flight, and has already assembled a remarkable series of freeze-frame shots in our Iris gallery. What makes this one so special is the perfectly spread wings, displaying fine feather detail and revealing the male's orangey underwing coverts — a feature virtually impossible to see in the field. John says he used no special equipment to take this outstanding shot other than a cable release with his Canon-1D X to help reduce the risk of shake. The super-fast shutter speed of 1/3200 freezes all but the very tips of the wings, providing detail where it counts while still creating the impression of movement.
Other notable images

Whinchat, Malta (Photo: Natalino Fenech)

Wryneck, Whitley Bay, Northumberland (Photo: D Johnson)

Black-headed Gull, Rothiemurchus, Highland (Photo: Phil Hacker)

Eastern Subalpine Warbler, Pool of Virkie, Mainland, Shetland (Photo: Rebecca Nason)

Cuckoo, Two Tree Island, Essex (Photo: Steve Hiscock)

Black-tailed Godwit, Titchwell RSPB, Norfolk (Photo: Mike McKenzie)

Bar-tailed Godwit, Toft Newton Reservoir, Lincolnshire (Photo: Nick Clayton)

Oystercatcher, Rhosneigr, Anglesey (Photo: Kev Joynes)

Grey Heron, Dovedale, Derbyshire (Photo: Mr Clive Daelman)

Kittiwake, Farne Islands, Northumberland (Photo: anon)

Snowcap, Costa Rica (Photo: Keith Allen)

Grey Partridge, Fowlmere RSPB, Cambridgeshire (Photo: Garth Peacock)