The week at a glance
The 'Magic 23rd' strikes again! 23 October has gained a reputation for producing mega-rarities over the past decade or so. Just to remind you:
2004: Rufous-tailed Robin, Fair Isle
2005: Siberian Rubythroat, Fair Isle
2007: Rose-breasted Grosbeak, St Agnes
2011: Ovenbird, Barra
2012: Chestnut-eared Bunting, Shetland; Siberian Rubythroat, Fair Isle
2013: Cape May Warbler, Unst
... and that's before you take into account birds that turned up on 22nd and were twitchable for the first day on 23rd — that list includes likes of the Durham Eastern Crowned Warbler in 2009.
So, what did 2014 have in store? Well, it's fair to say that this autumn has been a fairly subdued affair (especially when compared to 2013) and many birders were perhaps not anticipating the mega-alert onslaught that was to unfold, despite the remnants of Hurricane Gonzalo whipping across the Atlantic in the preceding few days.
The first evidence that Gonzalo was going to be fruitful came in the form of a somewhat soggy Hermit Thrush, found behind the beach at Balranald (North Uist) late in the afternoon on Wednesday 22nd in quite unpleasant conditions. Favouring a particularly large depression in the dunes, it lingered until the following day, showing considerably better in the perkier weather throughout Thursday, but had gone by Friday. This is the third Hermit Thrush in the space of a year following 2013's well-twitched bird at Porthgwarra (Cornwall) and then a four-dayer on Fair Isle this spring — quite an impressive run given that there have been just 13 records, split between Britain and Ireland, since the first in 1975. Read a finder's account on the North Uist bird here.

Hermit Thrush, Balranald RSPB, N.Uist, Outer Hebrides (Photo: Martin Benson)
Content continues after advertisements
During Wednesday afternoon, a Forster's Tern flew past Cape Cornwall — following hot on the heels of nearby Pendeen's Bridled Tern of last week. Though Ireland continues to attract the occasional new arrival (such as last winter's youngster in County Mayo) and also holds a long-staying resident that seemingly tours the island throughout the year, it must still be considered exceedingly rare in Britain. In fact, the last British bird to hang around for any sort of time was one around Oban (Argyll) for a few days back in January 2003! No doubt the next bird to linger will attract rather a lot of attention; there was no sign of this bird pitching down anywhere though.
Then came the hallowed date: the 23rd. With a couple of strong indicators the previous day, surely something had to be found? As it turned out, the morning passed without incident but the lull did not last long past noon: a Grey-cheeked Thrush was discovered around the football pitch at Castlebay, Barra (Outer Hebrides) and then, half an hour later, even bigger news came from Porthgwarra: a Yellow-billed Cuckoo had materialised in front of one fortunate observer not far from the toilet block at the foot of the valley!

Yellow-billed Cuckoo, Porthgwarra, Cornwall (Photo: Lee Fuller)
Since the last remotely twitchable Yellow-billed occurred 14 years ago (also in Cornwall), this was bound to draw admirers. But within 50 minutes another Coccyzus utterly blew it out of the water: this time on North Ronaldsay, this time the altogether rarer and infinitely more difficult-to-see Black-billed Cuckoo. Jaws dropped; heads were scratched. The 23rd had done it again, and in utterly mind-blowing style!
Unfortunately the Black-billed proved an all-too-brief affair: it was seen perched for just a few minutes before flying off, never to be seen again. There have been 14 previous occurrences of Black-billed Cuckoo in Britain and Ireland but the species is notorious for its fleeting appearances: only one has ever lasted naturally into a second day (1982, Scilly) — that bird lingered for three days but was picked up dead on its fourth, a fate it shares with many of the other occurrences.
Happily, the Yellow-billed down at 'gwarra was being a little more co-operative. Though mobile, it showed throughout the afternoon to fast-moving birders and, more crucially, seemed healthy enough. Like Black-billed, Yellow-billed represents an avian ticking time bomb on our shores. Though altogether more frequent than Black-billed (63 records), a good proportion of these have been dead, dying or simply very brief affairs. Though it may seem a little morbid, it is invariably a race against time to see a vagrant Coccyzus before it kicks the bucket — a race in which birders often lose out. As such, the gathered crowd in West Cornwall on Friday morning were naturally a little nervous before it popped into view — but pop in it did, and it showed well throughout Friday. Evidently a third day was a little too much to ask for, though, and the clear, cold conditions of Friday evening either caused it to move on or expire.

Yellow-billed Cuckoo, Porthgwarra, Cornwall (Photo: David Campbell)

Yellow-billed Cuckoo, Porthgwarra, Cornwall (Video: John Chapple)
The 23rd wasn't done there: the late afternoon saw the breaking news of a Chimney Swift on the Isle of Lewis. It transpired that the bird had been seen briefly in the morning at the Butt of Lewis but happily was relocated at Loch Stiapavat in the afternoon. It was then at Port Nis on Friday and again briefly on Saturday. This is the first to be recorded anywhere in Britain and Ireland since late October and early November 2005, when a famous influx off the back of Hurricane Wilma also saw flocks of up to 27 recorded in the Azores.

Chimney Swift, Port Nis, Lewis, Outer Hebrides (Photo: Nick Davies)
The second Grey-cheeked Thrush of 23rd was found on North Ronaldsay by birders searching for the Black-billed Cuckoo, though this bird had moved on by the following morning; could it be the bird that went on to show well outside the observatory on Fair Isle on 24th–25th? The two islands are not too far apart but, given the quantity of landbirds that evidently arrived off the back of Gonzalo, there must be every chance that this too was a new bird.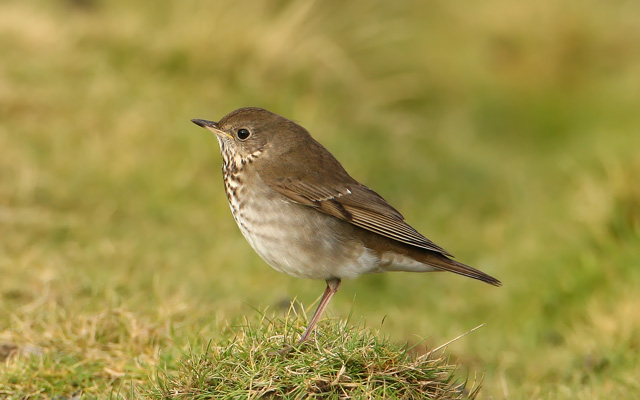 Gray-cheeked Thrush, Fair Isle, Shetland (Photo: Steve Arlow)
And now back to normality... Black Brant records came from predictable locations this week: The Naze (Essex), Kilnsea (E Yorks) and Ferrybridge (Dorset). Similarly typical was a Richardson's Cackling Goose on Islay (Argyll) though the arrival of a Lesser Canada Goose (parvipes) with the Pink-feet at Holkham Freshmarsh (Norfolk) on 23rd was more significant.

Black Brant, The Naze, Essex (Photo: Thomas Harris)

Richardson's Cackling Goose, Loch Gruinart RSPB, Islay, Argyll (Photo: Stephen Percival)
As their plumage gradually moults towards breeding finery, further drake Green-winged Teal were identified countrywide: new birds were on North Ronaldsay (Orkney), Hesketh Out Marsh (Lancs) and Foula (Shetland) on 26th and Islay on 28th, with lingering birds still at Caerlaverock (Dumfries & Galloway) and Great Pool, Tresco (Scilly). The latter waterbody also attracted a pair of American Wigeon from 23rd, and drakes were still in Orkney, Highland and County Donegal.
Two Ring-necked Ducks were at Loch a'Phuill, Tiree (Argyll) on 28th, with a drake back in the Fintown area of County Donegal; lingering birds comprised the drake at Rutland Water and the female at Drift Reservoir (Cornwall). A drake Lesser Scaup returned to Lough Gill (Kerry) on 22nd and the drake with red nasal saddle was still at Llangorse Lake (Powys) on 27th, alongside a possible female. Others were still at Loch a'Phuill and in Cardiff Bay (Glamorgan).
The Black Scoter was again in Lunan Bay (Angus & Dundee) on 25th–26th and a drake Surf Scoter was reported there on 28th. Other Surf Scoters included a female reported past St Mary's Island (Northumberland) on 24th and a drake past Spurn on 22nd; the latter later flew past Holme (Norfolk) before settling in Holkham Bay, where it lingered until the week's end. Also in Norfolk, another drake flew past Caister on 26th. Lastly, the King Eider was off Nairn on 22–23rd.
Seawatching was again quite productive throughout the week with a nice selection on offer (though no really exceptional counts); Grey Phalaropes featured quite prominently as did all four skuas and the odd Little Auk was thrown in for good measure. Standout record, though, was a Wilson's Storm-petrel seen in bizarre circumstances off Tayinloan (Argyll) before being consumed by hungry gulls.

Grey Phalarope, Otter Estuary NR, Devon (Photo: Tom Wallis)
New Cattle Egrets were at Kilcoole (Wicklow) and Pett Level (E Sussex) this week, the latter lingering from 25–28th. Long-stayers also remained at Dungeness (Kent) and Burton Mere (Cheshire). A Purple Heron was at Seaview (IoW) on 25th.
A juvenile Pallid Harrier was a nice find at WWT Steart (Somerset) on 22nd and lingered until the week's end. It seems we can't go a year without a brief Eleonora's Falcon or two; a couple of reports came from Kingston Seymour and Sand Point (both Somerset) on 25th and 26th respectively, while a third sighting concerned a possible near Burnham Deepdale (Norfolk) on 28th. The recent influx of Rough-legged Buzzards wavered a little in the less-than-ideal conditions for new arrivals, though plenty were still on offer including a particularly popular and showy bird at Grindale (E Yorks) from 24th.

Pallid Harrier, Steart WWT, Somerset & Bristol (Photo: Peter Heather)

Rough-legged Buzzard, Grindale, East Yorkshire (Photo: David Aitken)
American Golden Plovers comprised lingering birds at Davidstow Airfield (Cornwall) all week and Aillebrack (Galway); the Spotted Sandpiper was also still at Inverallochy (Aberdeenshire) on 28th and Lesser Yellowlegs remained at Rogerstown Estuary (Dublin) and Hayle Estuary (Cornwall), with a third new in at Poulnasherry Bay (Clare) on 27th. Just two White-rumped Sandpipers were noted, both brief: on Tresco (Scilly) on 24th and not far from the Butt of Lewis on 27th. Two Pectoral Sandpipers were at Loch Gruinart, Islay on 24th and another was reported from Walney Island (Cumbria) on 24th and 26th.

American Golden Plover, Davidstow Airfield, Cornwall (Photo: Brian Harrison)

Pectoral Sandpiper, Loch Gruinart RSPB, Islay, Argyll (Photo: Stephen Percival)
After an nine-day absence, the Franklin's Gull reappeared at Blashford Lakes (Hants) during the afternoon of 28th; the adult Bonaparte's Gull was in Devon at Dawlish Warren on 22nd and the Ring-billed Gull returned to Gosport (Hants) for its 12th winter. Other 'Ringers' included first-winters at Rubha Ardvule (South Uist) on 22nd and Kilkee (Clare) on 25th, a second-winter at Lough Leane (Kerry) on 24th and further birds still at Portrush (Antrim) and Bray (Wicklow). The apparent adult Azorean Gull was still around Dingle Harbour (Kerry) on 25th, the long-staying Forster's Tern was still at Rogerstown Estuary (Dublin), and last week's White-winged Black Tern lingered another seven days at Rye Harbour (E Sussex).

White-winged Black Tern, Rye Harbour NR, East Sussex (Photo: Chris Bond)
A late Wryneck was still on Skokholm (Pembrokeshire) to 24th and another was in Cornwall at Kenneggy Cove the previous day; a Hoopoe on Bressay (Shetland) on 25th must have been feeling chilly, while another was well watched at Kessingland (Suffolk) on 25–27th; it or another then appeared in the county at Framsden on 28th.

Hoopoe, Kessingland, Suffolk (Photo: Keith Bilverstone)
Up to three Short-toed Larks continued to roam around St Mary's (Scilly) this week, and another was reported from Oronsay (Argyll) on 23rd. Another good showing of Olive-backed Pipits saw several new birds reported: at Swinister, Shetland on 22–26th; St Agnes (Scilly) on 24th; Mid Yell (Shetland) on 26th; and Papa Westray (Orkney) on 27th in addition to the Sunderland (Durham) bird last seen on 22nd and one still on Fair Isle to at least 24th. A Red-throated Pipit report came from St Osyth (Essex) on 26th, and an elusive bird was seen twice briefly on St Mary's (Scilly) on 26th and 28th. A light dusting of Richard's Pipits included a bird inland at Fordham (Cambs) on 26–27th.
Late autumn is the time for Desert Wheatears and the arrival of a male on Skomer (Pembrokeshire) on 28th was right on cue. Also on 28th, Ireland's fourth Red-flanked Bluetail was a fine discovery for Dave Suddaby in his productive garden near Blacksod, at the southern tip of the Mullet peninsula (Mayo). A young male Siberian Stonechat was briefly near Porthgwarra (Cornwall) on 27th; the Hampshire bird was still at Titchfield Haven throughout. The long-staying Bluethroat was also still at Levenwick (Shetland) on 27th.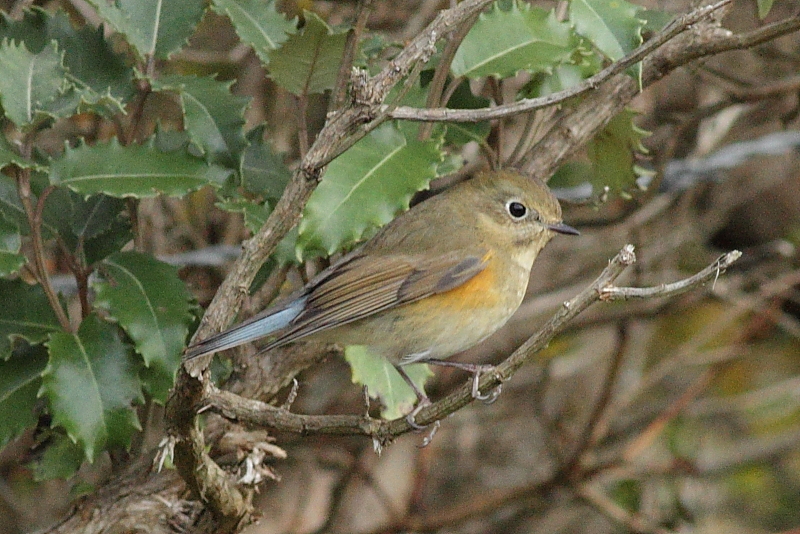 Red-flanked Bluetail, Blacksod, Mayo (Photo: Dermot Breen)
Lothian's Booted Warbler appears to have finally moved on from Torness Power Station, its last sighting coming on 23rd. The Hume's Leaf Warbler was still on Shetland at Voe that day, while two Radde's Warblers were located in the South-West: at Kenidjack Valley (Cornwall) on 26th and on Bryher (Scilly) on 28th. Just one Pallas's Warbler was seen, at Church Norton (W Sussex) on 28th, though Yellow-browed Warblers remained numerous, particularly in the far south-west.
Of the scarcities the highlight has to be the male Red-breasted Flycatcher present at Beachy Head (E Sussex) throughout the week. A better-looking example is seldom encountered and for one to linger for several days (and be so confiding!) makes it an impressive record. Elsewhere, at least four were on Scilly, two in Cornwall and one on Lundy (Devon). The Red-backed Shrike was still at Ness Point, Lowestoft (Suffolk) on 28th — its 32nd day there — and another was on St Mary's (Scilly) from 25th. Juvenile Rose-coloured Starlings were found on Tiree (Argyll) on 25th and in Leven (Fife) on 26th in addition to lingering birds on Shetland, Scilly and in Cornwall.

Red-breasted Flycatcher, Beachy Head, East Sussex (Photo: Leigh Prevost)

Red-breasted Flycatcher, Beachy Head, East Sussex (Photo: Mark Tomlins)

Red-backed Shrike, Lowestoft, Suffolk (Photo: Paul Sawer)

Rose-coloured Starling, Voe, Mainland, Shetland (Photo: Hugh Harrop)
Two Penduline Tits arrived at Minsmere (Suffolk) on 25th, and another was on private land not too far away at Snape that day. Little Buntings were at Bridport (Dorset) on 22nd, Out Skerries (Shetland) on 23rd, Lundy (Devon) on 25th and Polgigga (Cornwall) on 27th, and two were also still on Fair Isle. Late Ortolans were at Soar (Devon) on 22nd and still on St Agnes (Scilly) to 28th.

Ortolan Bunting, St. Agnes, Isles of Scilly (Photo: Jim Almond)
Next week will mark the end of another October but the autumn is not necessarily done just yet; November habitually produces one or two surprises and it may be that the bird of the autumn is yet to materialise. A brief interlude of promising conditions from the east from Thursday may bring us one or two more eastern waifs — Hume's and Pallas's Warblers are the likely candidates but if thinking bigger, how about a Long-tailed Shrike or an altogether rarer Phylloscopus? Of course, there's every chance Gonzalo may still yet deliver one final blow. It's about time we had one of these...coming to a rocky shore near you?

Willet, São Miguel (Azores), October 2014 (Video: Janne Aalto)
Photo of the Week

Hoopoe, Kessingland, Suffolk (Photo: Nick Appleton)
Steve Young writes: there were two particularly popular birds among Iris photographers this week: the Hoopoe at Kessingland, Suffolk, and the male Red-breasted Flycatcher at Beachy Head, East Sussex. Together these two individuals amassed more than eighty images — they were almost a photo competition within themselves!
So it must come as no surprise that Photo of the Week is of one of these two birds, with the Hoopoe just coming out on top with this lovely shot, caught beautifully in full feeding mode by Nick Appleton. The perfect side-on pose shows all of the bird, while a shutter speed of 1/800th sec has just been enough to freeze the action of the Hoopoe throwing back the insect into its mouth — a worthy winning image.
Other notable images

Bar-tailed Godwit, Ribble Estuary, Lancashire (Photo: John Tymon)

Green-barred Woodpecker, Brazil (Photo: Sean Johnston)

Red-breasted Flycatcher, Beachy Head, East Sussex (Photo: John Stanton)

Goldcrest, Bawdsey, Suffolk (Photo: John Richardson)

Tawny Owl, South Kilworth, Leicestershire and Rutland (Photo: Paul Riddle)

Jay, North Wirral, Cheshire (Photo: Richard Steel)

Mandarin Duck, Yarner Wood, Devon (Photo: Gary Reeves)

Knot, Ribble Estuary, Lancashire (Photo: John Tymon)

Purple Sandpiper, Lowestoft, Suffolk (Photo: Chris Thornton)