The week at a glance
After snow caused disruption in some northern areas in the first few days of the review period, mild and settled conditions returned in the second half of the week — which in turn helped to reignite spring migration after a 10-day lull.
Annual 'firsts' included a Sedge Warbler singing at Blakeney Freshmarsh, Norfolk, on a very chilly day on 22nd (this followed by birds in East Sussex on 25th and Somerset on 27th), a Hobby on St Martin's, Scilly, on 22nd (with others latterly seen in Kent, Dorset and Cornwall), Tree Pipit at Cley, Norfolk, on 22nd and Common Tern at Swillington, West Yorks, on 28th but, most surprisingly, a (presumed) Common Swift over London's Alexandra Park on 27th. A few more Yellow Wagtails also sneaked through, while Osprey and Ring Ouzel numbers began to rise. Garganey were noted at well over 50 sites and a good arrival of Little Ringed Plovers took place from the weekend onwards. Willow Warblers and the three commoner hirundines are all rapidly increasing in the southern half of the country — by this time next week they should be much more widespread further north, if conditions remain favourable.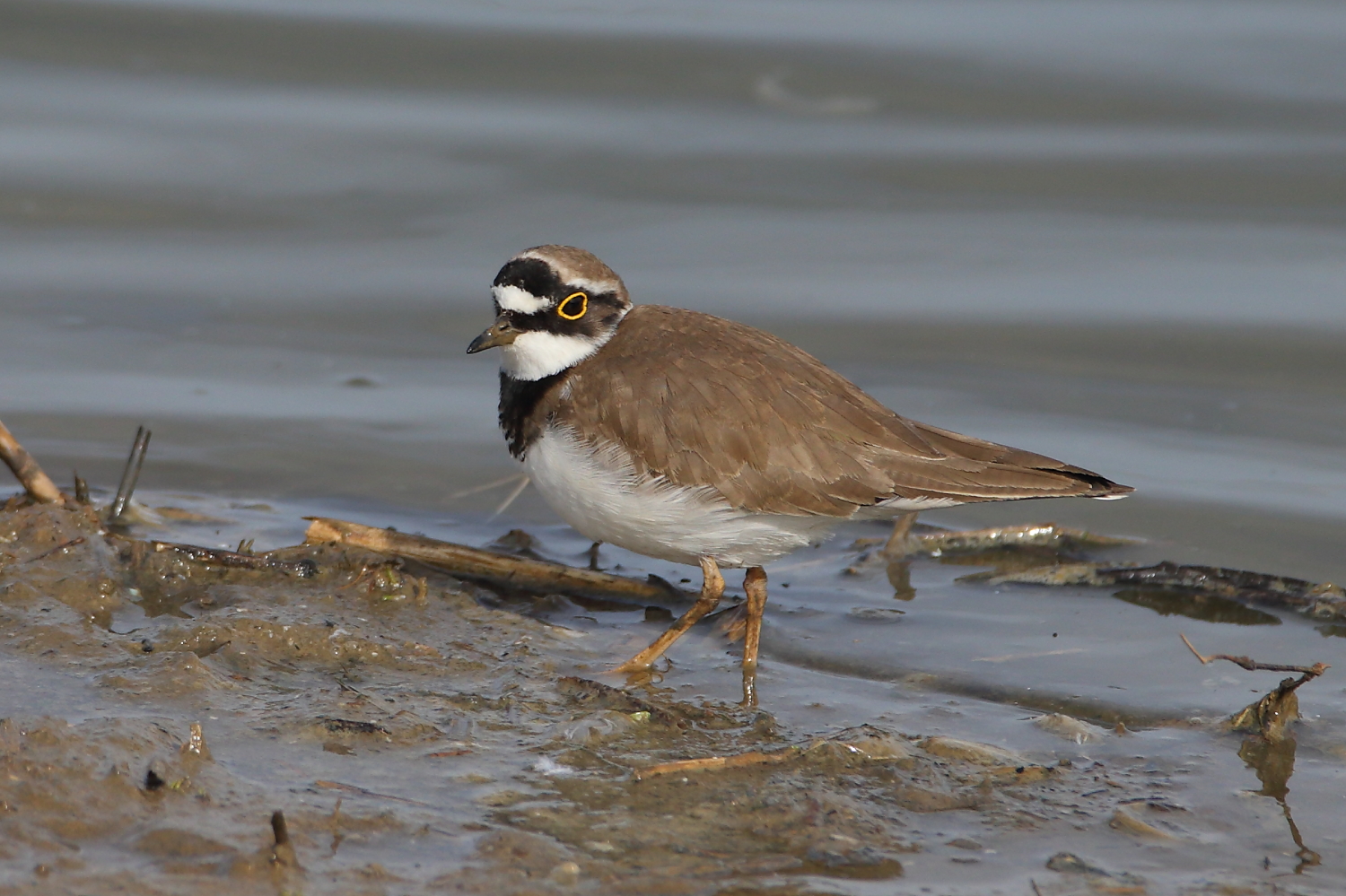 Little Ringed Plover, undisclosed site, Worcestershire (Photo: Chris Cook)
Content continues after advertisements
Scarcer migrants remain just that, though, and our predicted showing of a White-spotted Bluethroat failed to materialize — despite the easterlies. Alpine Swifts were over Tacumshin, Co Wexford, on 25th and St Mary's, Scilly, on 26th, though both were brief. A third was on Guernsey on 27th. A Hoopoe was near Abercych, Pembrokeshire, on 27th, but the highlight of the week was an early Iberian Chiffchaff singing at Yate on 25th — this first for Gloucestershire lingered until 26th only.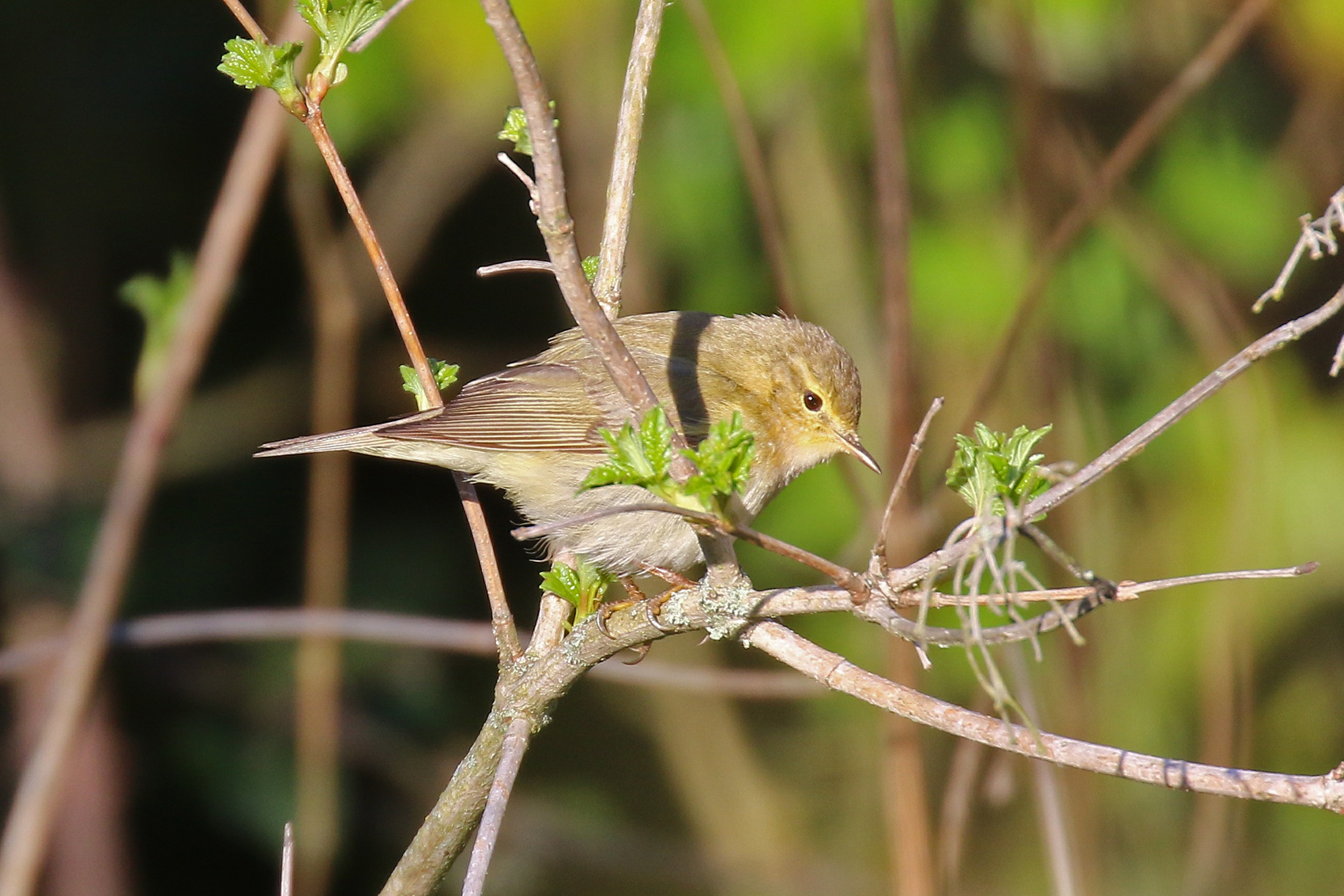 Iberian Chiffchaff, Yate, Gloucestershire (Photo: Chris Teague)
Just when would-be tickers had breathed a collective sigh of relief after its apparent departure, the Blue Rock Thrush reappeared in Stow-on-the-Wold, Glos, on 26th. It's perhaps no great worry just yet, though, with the Eastern Black Redstart still in residence at Skinningrove all week and the Bluethroat still performing well at Willow Tree Fen, Lincs, both illustrating that wintering passerines are still hanging on and that the rock thrush's continued presence doesn't necessarily point to an uncertain origin ... yet!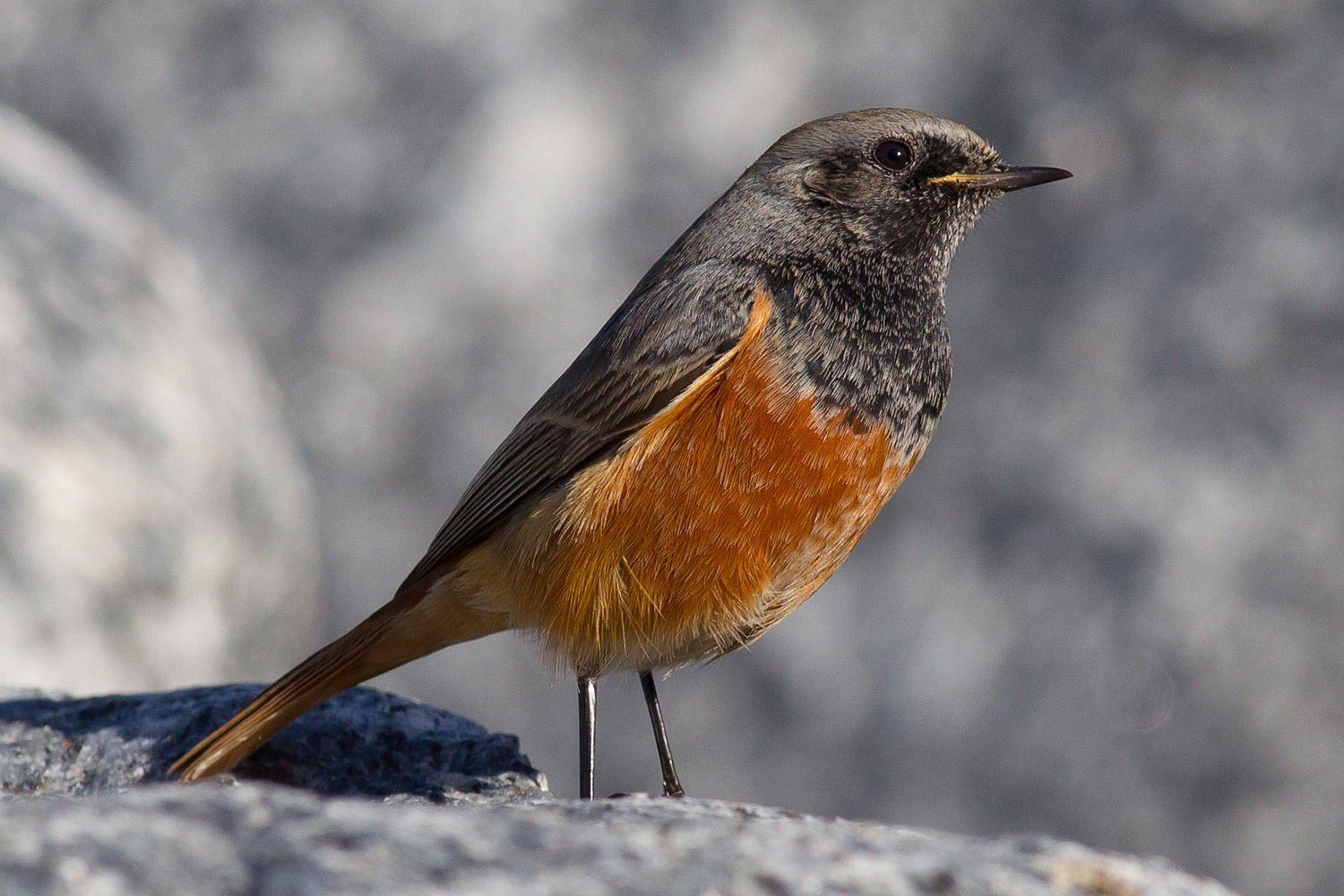 Eastern Black Redstart, Skinningrove, Cleveland (Photo: Martyn Sidwell)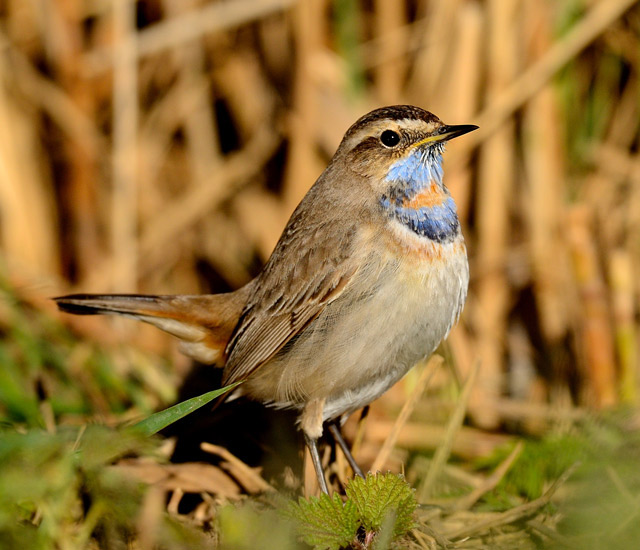 Red-spotted Bluethroat, Willow Tree Fen LWT, Lincolnshire (Photo: Ian Curran)
A familiar face popped up on Tuesday — the male Pied-billed Grebe at Loch Feorlin, Argyll. This bird has been present here now for a couple of years and is again advertising itself at this remote site. It was also seen in January, and seems to be resident here. Visiting birders are asked to keep strictly to footpaths at this sensitive site. It'll be interesting to see whether the bird is reported more regularly in the coming weeks and months.
The American Royal Tern continued to frequent the coast of Guernsey this week, showing well at Fort Doyle and Belle Greve Bay on 25th. It was a bit of a surprise to hear that the Hudsonian Whimbrel was back at Perranuthnoe from 24–26th, but for how long? Also still around were the Killdeer at Sandwick, Shetland, and the American Coot at Balranald, North Uist, to 23rd.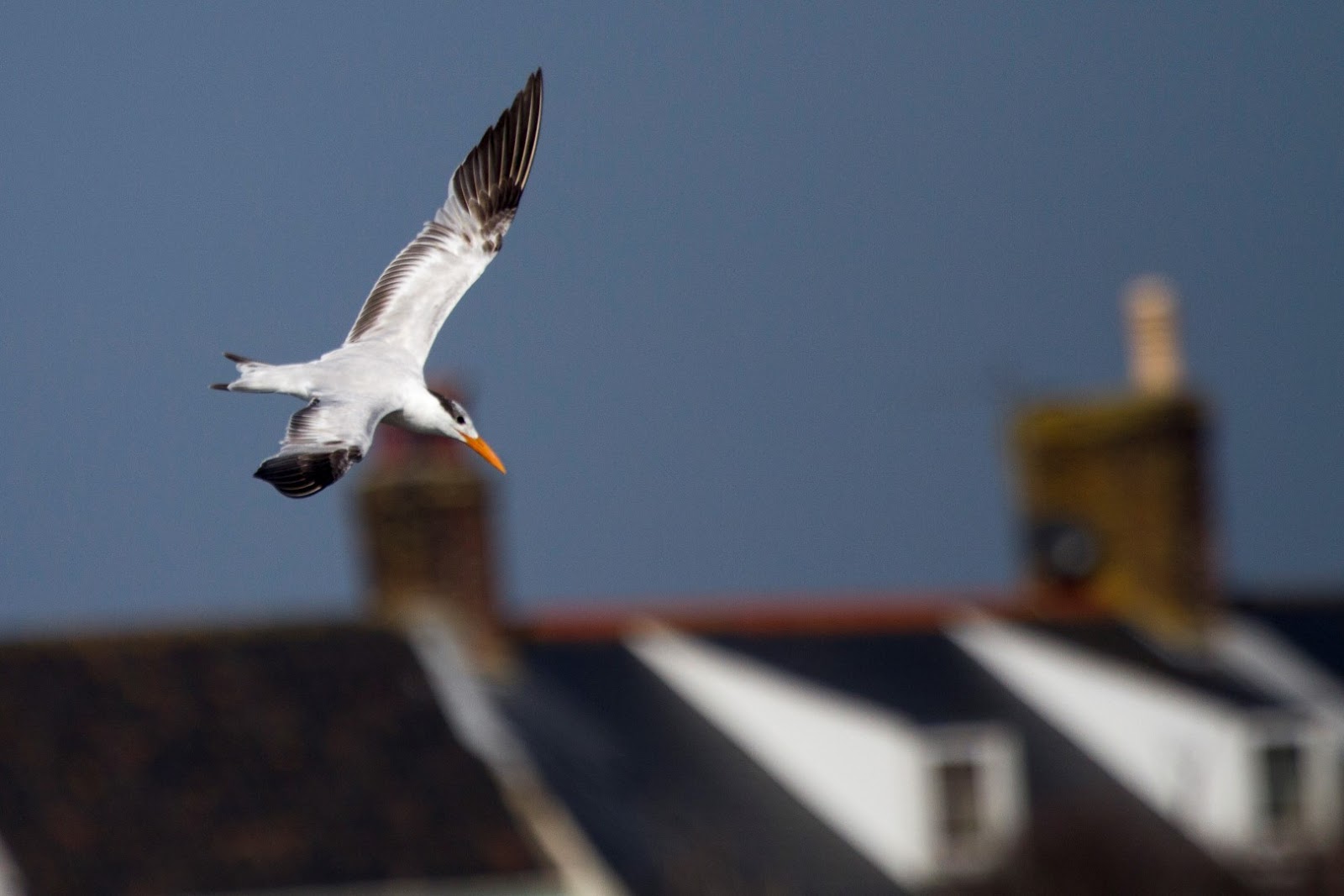 Royal Tern, Belle Greve Bay, Guernsey (Photo: Dave Andrews)
White-billed Diver passage appears to have commenced, with up to six off the Portsoy and Sandend area of Aberdeenshire on 23rd. Another was off Cullen, Moray/Nairn, on 23rd, and a second record for that county came from Burghead on 27th. Others were seen off Tory Island, Co Donegal, Barra, Outer Hebrides, and South Ronaldsay, Orkney.
It's always good news to hear that the drake King Eider has returned to the Ythan Estuary, Aberdeenshire, and that's exactly what happened on 27th. Elsewhere the female continued off Castlegregory, Co Kerry. A drake Surf Scoter off Uyeasound, Unst, on 27th is presumably the bird last noted there in January. Two drakes were off Salterstown, Co Louth, on 25th.
A female Lesser Scaup was reported briefly from Crosby Marine Park, Lancs, on 22nd, with the usual drake still at Dozmary Pool, Cornwall, to 24th (but not since). A fine drake Ring-necked Duck showed well for a day at Cosmeston Lakes, Glamorgan, on 27th, and another male was found at Hauxley, Northumberland. The drake was also reported from Pitlochry, Perthshire, for the first time in three weeks, while others continued in Kent, Cambridgeshire and Co Sligo. The drake Ferruginous Duck was still showing well at Gosforth Park, Northumberland, to 23rd then relocated to Killingworth Lake for a day on 24th.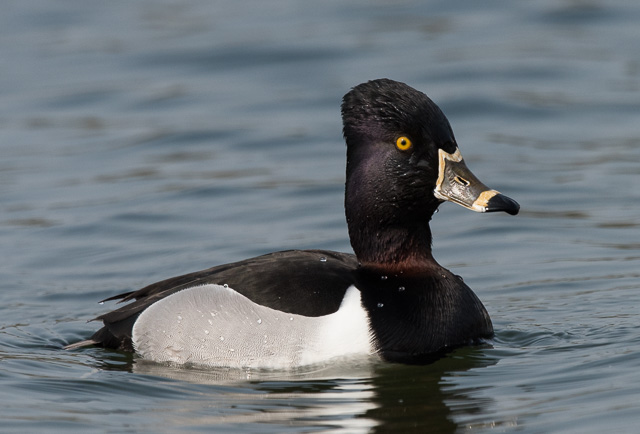 Ring-necked Duck, Cosmeston Lakes CP, Glamorgan (Photo: Peter Howlett)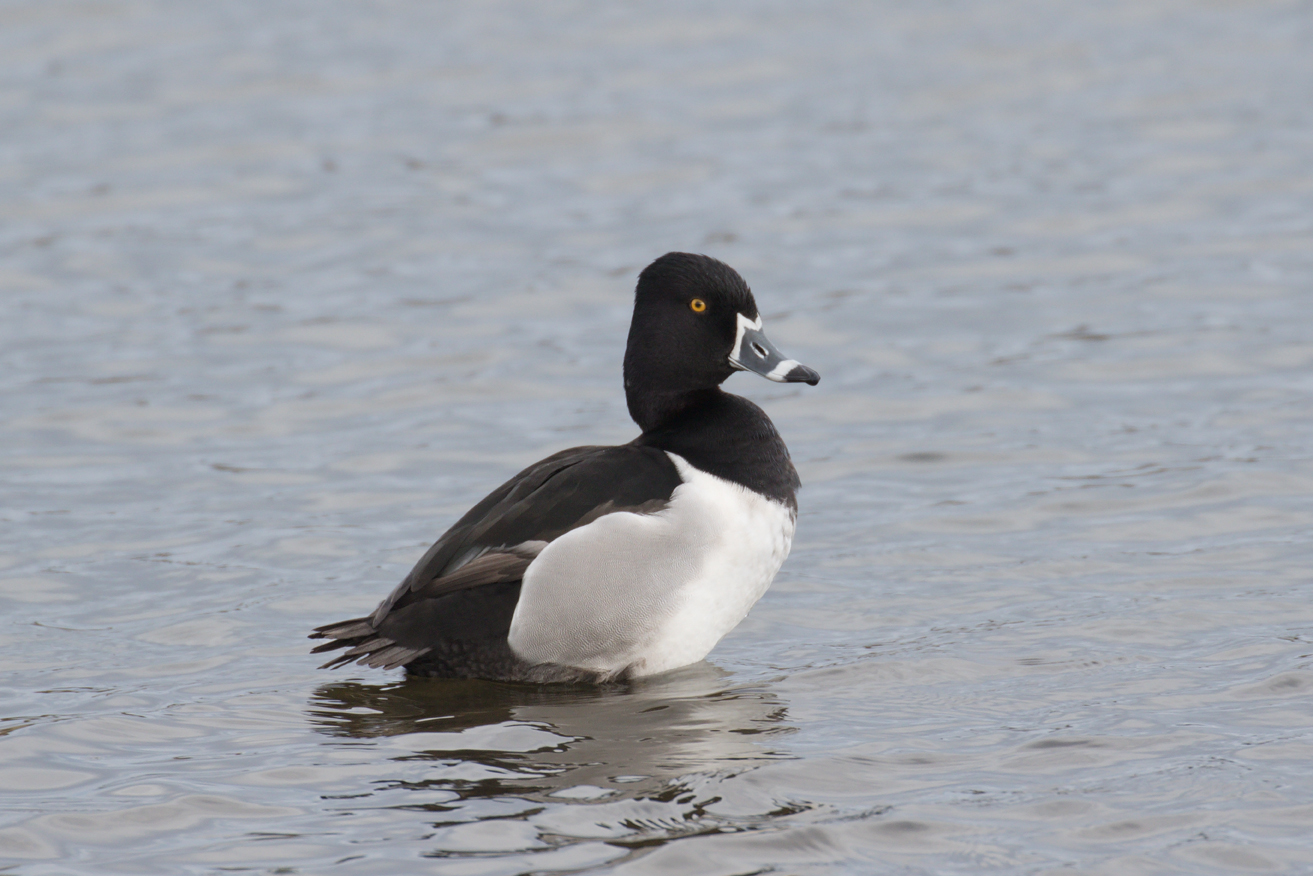 Ring-necked Duck, Hauxley NR, Northumberland (Photo: Tim Mason)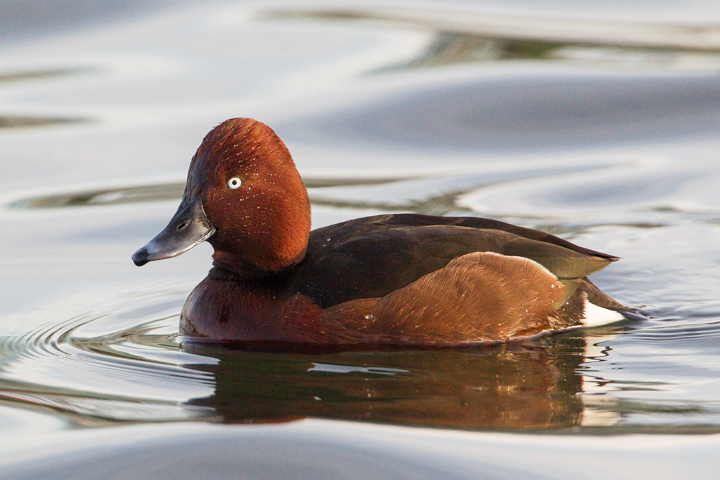 Ferruginous Duck, Killingworth, Northumberland (Photo: Alan Curry)
The female American Wigeon remained at Holt, Worcs, throughout the week and males hung on at Hunterston Sands, Ayrshire, to 23rd and Dundrum Bay, Co Down, to 27th. New drake Green-winged Teal were found on Papa Westray, Orkney, and at Lough Beg, Co Londonderry, Ballysadare Bay, Co Sligo, and Pool of Virkie, Shetland, with others still in Dorset, Gloucestershire, Cleveland and Dumfries & Galloway. Two female Blue-winged Teal were reported at Clumber Park, Notts, on the evening of 26th but couldn't be found there the following morning.
Snow Geese remain in the country, with a blue morph still at Sandbach Flashes, Cheshire, to 23rd and two blue morphs in with Pink-feet at Findhorn Bay, Moray/Nairn, on 27th. Todd's Canada Geese remained in Lancashire and Co Wexford, with another found on the Mullet, Co Mayo, on 28th, where there was also a Richardson's Cackling Goose at Annagh Marsh. Black Brants were logged in Lincolnshire and East Yorkshire. A Red-breasted Goose at Derwent Water, Cumbria, on 28th is considered to be of suspicious origin.
A slight decrease in Cattle Egrets saw birds report from just shy of 40 sites. They appear to be attempting to cover the length and breadth of our isles, with two probables reports past Butt of Lewis, Outer Hebrides, on 24th. Meanwhile Glossy Ibises remained in Somerset, Essex, Cambridgeshire, Leicestershire and on the Isle of Wight. A White Stork tracked over four sites in the Fakenham area of Norfolk on 25th may well be one of the East Norfolk escapees out on a jolly — though it could also have been the bird seen at Badingham, Suffolk, on 24th.

Glossy Ibis, Cossington Meadows LRWT, Leicestershire and Rutland (Photo: Stuart King)
An intriguing report concerned a White-tailed Eagle over Nare Head, Cornwall, on 27th. A white Gyr was at the north end of North Uist on 22nd, while the juvenile Pallid Harrier continued to range around a sizeable area of north Norfolk and the male Northern Harrier remained on North Ronaldsay, Orkney.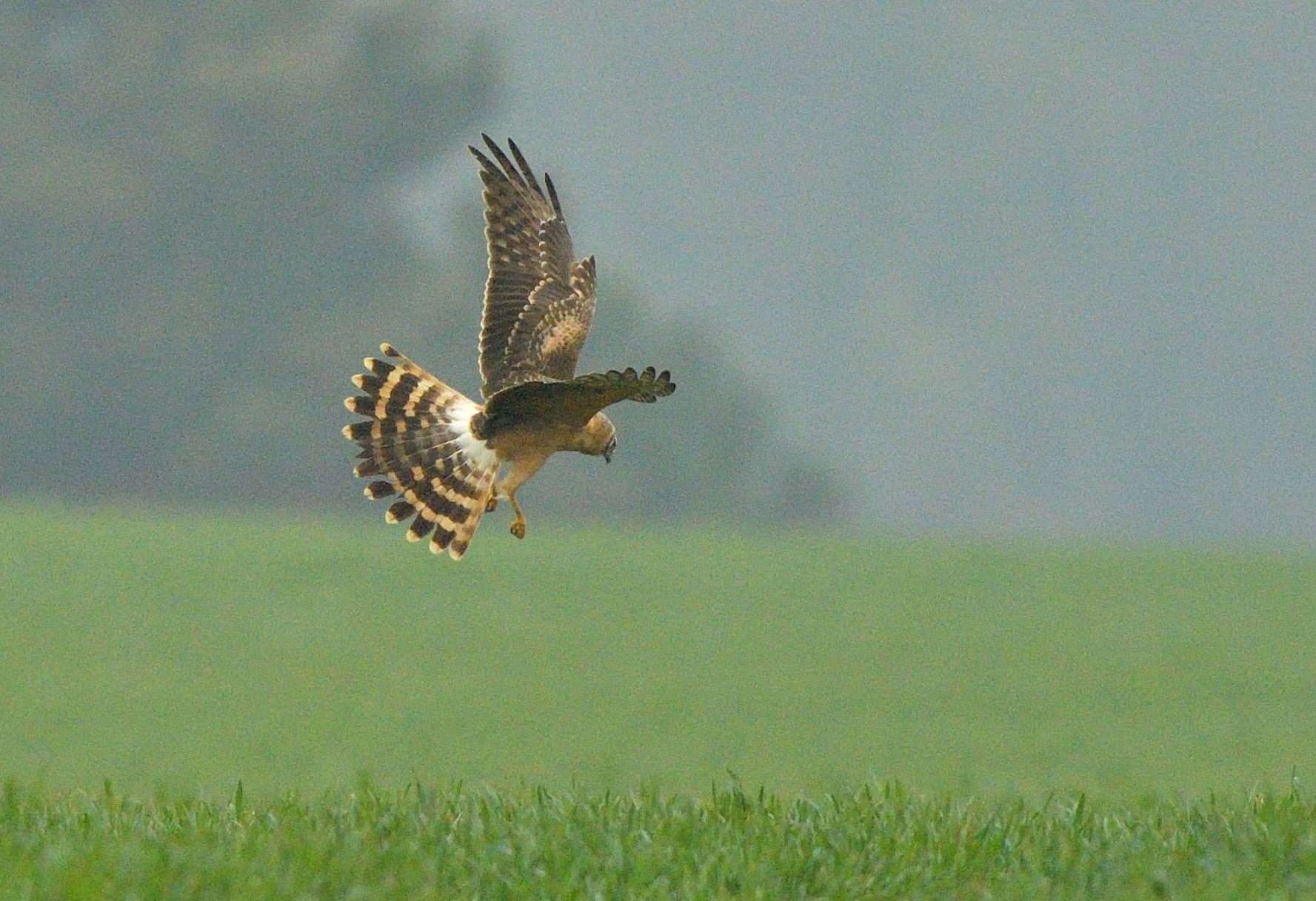 Pallid Harrier, New Holkham, Norfolk (Photo: Baz Scampion)
Both the Lesser Yellowlegs at Lytchett Bay, Dorset, and the Long-billed Dowitcher at Tacumshin, Co Wexford, remained in situ. Shorebirds on the move included a decent selection of inland Avocets and early Grey Plovers and Black-tailed Godwits.
An adult Bonaparte's Gull showed well at Largs, Ayrshire, on 23–24th, while first-winters were found at Bowling Green Marsh, Devon, and the Hayle Estuary, Cornwall, on 26th; the latter could well be the recent Helston bird, which was last noted on 24th. Ring-billed Gulls were noted at six sites, with new first-winters at Ballydehob, Co Cork, on 23rd and Falcarragh, Co Donegal, on 25th, and another new individual at Newport, Pembrokeshire, on 23rd. A yellow-ringed Caspian Gull was at Llanrhystud, Ceredigion, on 27th, while good numbers of Glaucous and Iceland Gulls appear to be on the move, almost all of them immatures. The Forster's Tern was at Furbogh, Co Galway, on 25–26th. It was a good week for Little Gulls with over 60 sites logging this diminutive beauty; a good spread of records from inland waterbodies included 31 at Norfolk's Barton Broad on 28th.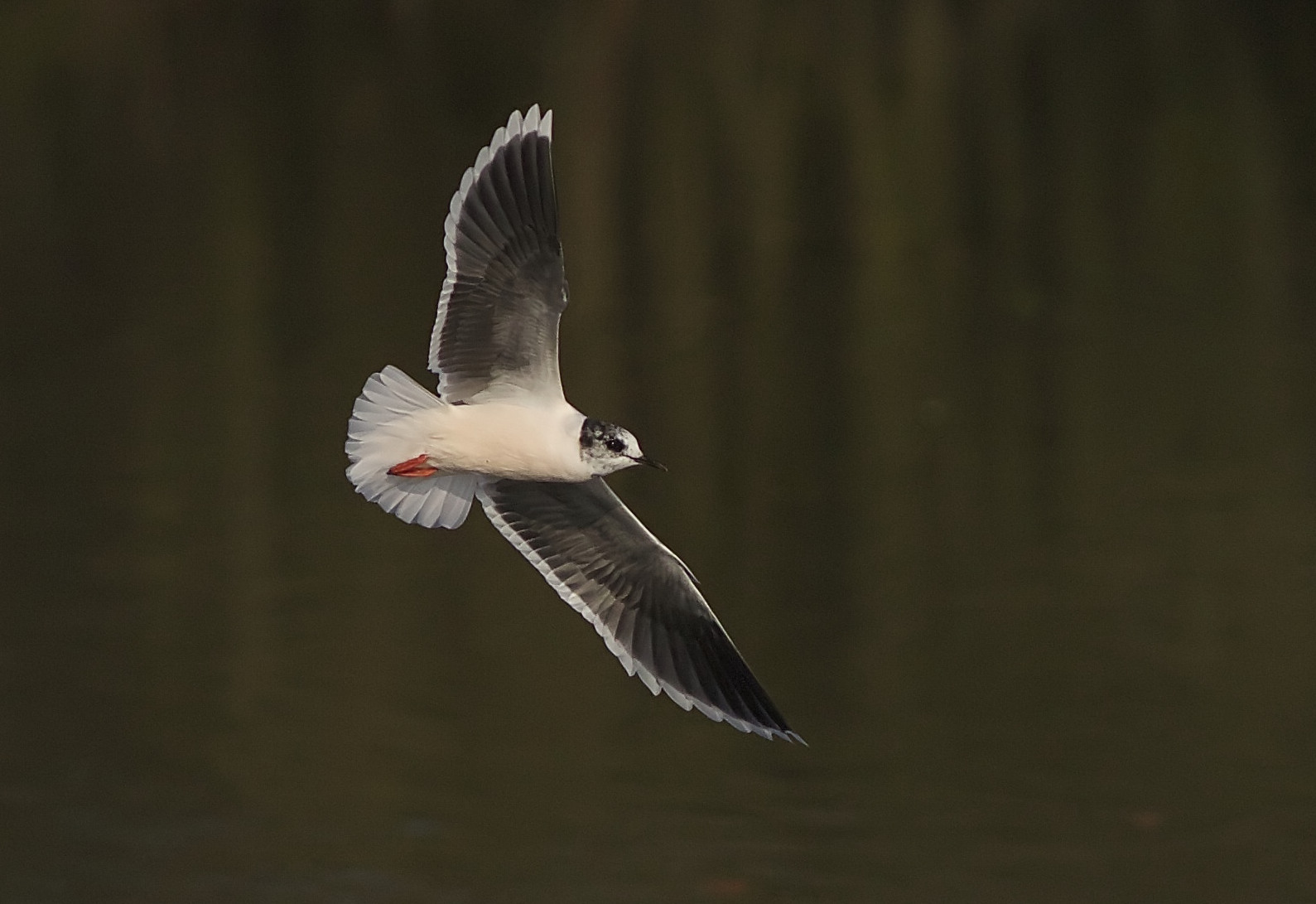 Little Gull, Brandon Marsh NR, Warwickshire (Photo: Dave J)
Portland's Hume's Leaf Warbler lasted another week on the Dorset island — it was still on show on 28th, albeit a little elusive. Ten sites logged Yellow-browed Warblers, the only exceptions to birds in Devon and Cornwall being the wintering individual at Whittington, Staffs, and a new bird at Rawcliffe, North Yorks, on 23rd. A Black-bellied Dipper called in briefly at Santon Downham, Norfolk, on 23rd, while Great Grey Shrikes were noted at 30 sites. A Dusky Warbler at Nanjizal, Cornwall, on 27th is presumably a new bird rather than the bird seen there in late November.
As well as the Dusky, further evidence that 'Sibes' were on the move came in the form of a smart Red-flanked Bluetail at Titchwell RSPB, Norfolk, from 25–28th (doesn't it seem remarkable that we barely bat an eyelid at a spring occurrence of this once-mega rarity?) and a new Little Bunting at Flamborough Head, E Yorks, on 25th. The Bedfordshire Little Bunting also remained to 23rd. Finally, a female Desert Wheatear arrived on Alderney on 22nd.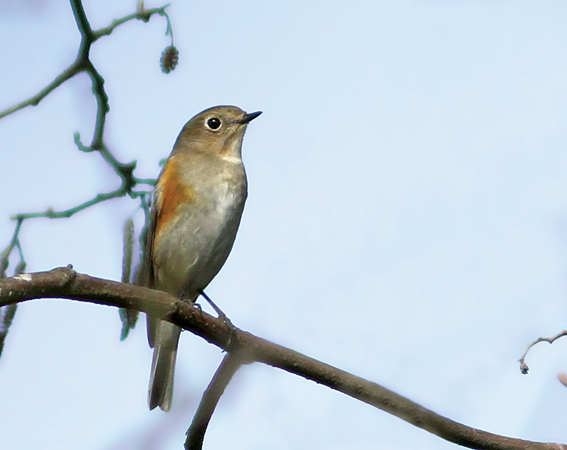 Red-flanked Bluetail, Titchwell RSPB, Norfolk (Photo: Penny Clarke)
Western Palearctic news
As it was last seen in early January, it was a slight surprise when the Sora was seen again at Sete Cidades, São Miguel, Azores, on 27th, with at least one American Coot also still there. The Thayer's Gull was still in Galicia, Spain, on 28th, while the Hudsonian Whimbrel was still at Santoña, Cantabria, on 24th. Also in Spain, an American Robin was in Navarra on 24th.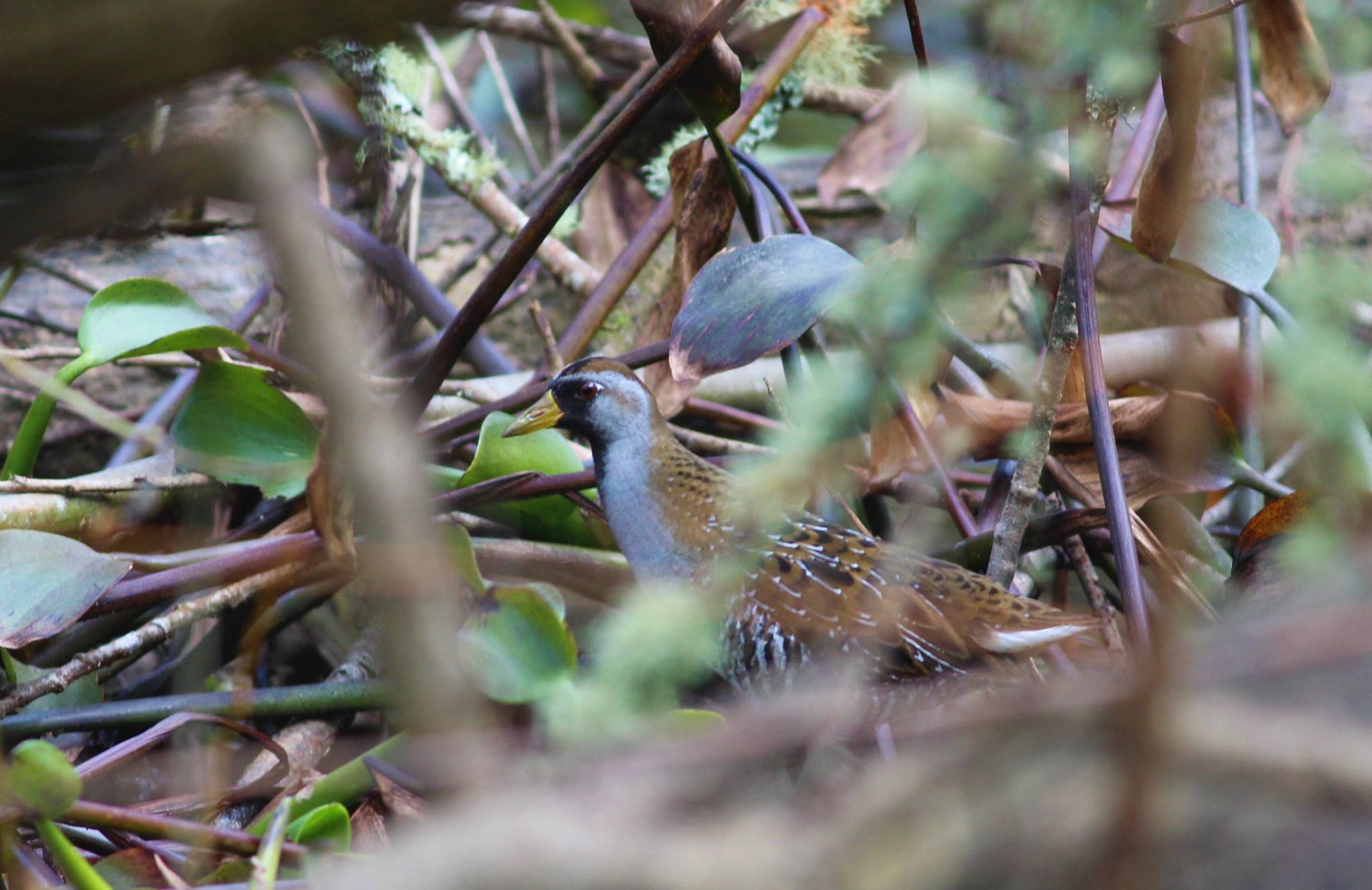 Sora, Azores (Photo: Gerby Michielsen)

American Coot, Azores (Photo: Gerby Michielsen)
Both the Baikal Teal and Blyth's Pipit remained in the Netherlands, with a Black-winged Kite noted in Utrecht on 28th. Two drake Black Scoters were off Hirtshals, Denmark, on 28th. The Siberian Accentor was still near Løten, Norway, on 28th. Other records included Cyprus' ninth Pine Bunting, a male in the Troodos mountains on 24th, and the White-throated Bee-eater still at Dakhla, Western Sahara, the same day.