The week at a glance
It's hard to believe that a year ago this week Irish birders were enjoying their first modern-day Baillon's Crake under pristine blue skies as many areas basked in temperatures as high as 24°C. There was a Scops Owl on Scilly, a Red-flanked Bluetail in Cork, as many as 30 Hoopoes, early Woodchat Shrikes and Wrynecks in the south... need I go on? This week, much of the UK and Ireland has been exposed to sub-zero temperatures, a raw easterly wind and many areas buried under snowdrifts metres deep — such is the fickle temperament of British weather.
It was perhaps no surprise, then, that the week's headline bird was one that we readily associate with winter appearances in the UK — a first-winter male Black-throated Thrush in Banchory (Aberdeenshire). First reported on 26th, the bird was still present the following morning and had apparently been present at least two days prior to news breaking. Due to the sensitive nature of its favoured location (a back garden), please do wait for details on access arrangements before thinking of an Easter weekend twitch...

Black-throated Thrush, Banchory, Aberdeenshire (Photo: Ian Hastie)

Black-throated Thrush, Banchory, Aberdeenshire (Photo: Joseph Nichols (aged 18))
Back in England, a few migrants managed to defy the Baltic conditions and appear on the south coast. The Red-rumped Swallow on St. Mary's (Scilly) on 23rd must have felt a little chilly and the Hoopoe on nearby St. Agnes evidently did too, for it was found dead on 24th. White-spotted Bluethroats are somewhat hardier birds, regularly turning up on our shores in cool easterlies at the very start of spring — this week proved no exception with three birds found. A showy male was at Portland Bill (Dorset) on 23rd–24th, a second was at St. Helen's (IoW) on 26th–27th and a third was discovered at Samphire Hoe (Kent) on 27th. A male Serin was at Porthgwarra (Cornwall) on 24th while Kentish Plovers concerned one at Ferrybridge (Dorset) on 24th and two males at Rye Harbour (E Sussex) from 25th — one of which was colour-ringed as an adult in Germany in 2009 and was last seen there in June 2010! Commoner migrants also continued to trickle in, with a few Redstarts, Tree Pipits, Willow Warblers, Common Terns and Stone Curlews noted while Wheatears, Sand Martins and Garganey now appear numerous in the south at least.

Red-rumped Swallow, St. Mary's, Isles of Scilly (Photo: Martin Goodey)

White-spotted Bluethroat, Portland, Dorset (Photo: anon)

White-spotted Bluethroat, Samphire Hoe CP, Kent (Photo: Martin Casemore)

Kentish Plover, Rye Harbour NR, East Sussex (Photo: Martin Casemore)
Lingering headline acts included the immature drake Harlequin still off Balranald, North Uist (Outer Hebrides) to 27th which, judging by the stunning photographs taken by local birders Steve Duffield and John Kemp, appears to have put on the best show of its stay. The American Coot was also still at Ballyconneely (Galway), the Pied-billed Grebe was still at Ham Wall (Somerset) on 27th and the Cornish Pacific Diver was again in Mount's Bay on 24th.

Harlequin Duck, Balranald RSPB, N.Uist, Outer Hebrides (Photo: Steve Duffield)

Pied-billed Grebe, Ham Wall RSPB, Somerset & Bristol (Photo: Andrew Steele)
Not going anywhere in the easterly gales are Dark-bellied Brent Geese, and as such it was no surprise that the Red-breasted Goose and Black Brant both stayed put at Farlington Marshes (Hants) throughout, as did the Kilnsea (E Yorks) bird while two were with the Pale-bellied Brents at Rosslare Back Strand (Wexford). The white morph Snow Goose was again in County Donegal on 21st and Richardson's Canada Geese were on North Uist and Mull, the latter reported near Fionnphort on 26th. A Todd's Canada Goose was seen on Islay (Argyll) on 27th.

Red-breasted Goose, Farlington Marshes HWT, Hampshire (Photo: Simon Johnson)
A fine drake Blue-winged Teal at Ballylongford (Kerry) on 27th was found in exactly the same spot as a 'female/juvenile' was present last autumn — could this be the same bird, now in rather more resplendent condition? Elsewhere, the drake was last seen at Threave (Dumf & Gall) on 21st while drake American Wigeon remained in Devon, Lincolnshire, Highland and on Orkney. Seven Green-winged Teal included a new bird at Stanwick Gravel Pits (Northants) from 24th, with other British drakes remaining in Hampshire, Cleveland, Dumfries & Galloway and Angus & Dundee. In Dublin, the drake on the Rogerstown Estuary was reported for the first time since early February and another was seen again on The Mullet (Mayo).
Content continues after advertisements

Blue-winged Teal, Threave, Dumfries & Galloway (Photo: Darren Robson)

Blue-winged Teal, Ballylongford, Kerry (Photo: Davey)
A solid showing of at least half-a-dozen drake Lesser Scaup concerned continuing birds at Siblyback Lake (Cornwall), Cardiff Bay (Glamorgan), Wellington Gravel Pits (Herefordshire), Freiston Shore (Lincs), Auchendores & Leperstone Reservoirs (Clyde) and Oxford Island (Armagh), with Gwent's first at Bryn Bach Park late on 27th — could this be the Glamorgan bird? A drake Ferruginous Duck found at Otmoor (Oxon) from 25th might be the recent Ham Wall (Somerset) individual; that site retained its drake Ring-necked Duck this week with another in the county at Wimbleball Lake on 27th. Further Ring-necks remained in Devon, East Yorkshire and on North Uist, while in County Mayo two drakes were together on Keel Lough, Achill Island on 26th. A drake Surf Scoter was found off Balbriggan (Dublin) on 25th–26th with familiar birds still off Rosslare (Wexford) on 23rd and Ruddon's Point (Fife) on 24th. A White-billed Diver was off Port Nis, Lewis (Outer Hebrides) on 27th.

Lesser Scaup, Freiston Shore RSPB, Lincolnshire (Photo: Dave Goddard)
Glossy Ibis remained in place at Warblington (Hants) to 23rd and Marloes Mere (Pembrokeshire) to 24th, while the County Donegal Cattle Egret was still at St. Johnston on 21st — the first report of it during March. Several Spoonbills continued to tour the southern half of England while around 20 Great White Egrets included six at Catcott Lows (Somerset) on 23rd and new birds in Norfolk and North Yorkshire. A White Stork at Hest Bank (Lancs) on 24th drifted over Leighton Moss the following day — presumably this is the Cumbrian escape on tour.
A white morph Gyr Falcon was seen at Tresta, Fetlar (Shetland) on 26th with a Rough-legged Buzzard on the island that day and two further Rough-legs lingering in east Norfolk. A further Gyr at Ballinvarry (Kilkenny) on 26th proved to be an escape from a west Wicklow collection, although the County Wexford Northern Harrier ensured southeast Ireland didn't miss out on rare raptors altogether as it alternated between Tacumshin and Lady's Island Lake throughout the week.
Kentish Plovers aside, it was familiar line-up for rare and scarce waders this week: the Long-billed Dowitcher remained on the Gann Estuary (Pembrokeshire) to 23rd, the Lesser Yellowlegs at Ernesettle (Devon) to 26th and the Temminck's Stint also still at Steart (Somerset) that day. That said, a handful of Grey Phalaropes were noted at coastal locations in the easterly gales, with the same adverse conditions causing a sobering wreck of auks — predominately Puffins — on the east coast. It remains to be seen how devastating this proves to be so early in the breeding season.

Lesser Yellowlegs, Ernesettle, Devon (Photo: Phil Edmonds)
The only Bonaparte's Gull reported this week was the adult still in Cardiff Bay (Glamorgan) on 24th while a reduction in Ring-billed Gull numbers saw just two reported from Britain — the first-winter in Glamorgan and the adult in Hampshire — and seven in Ireland including three together at Tralee (Kerry). White-winged gull numbers also reduced further although up to four Glaucous Gulls in the Sea Palling (Norfolk) area was a great congregation for the county. Back over in County Galway, the Forster's Tern was seen off Kinvarra on 23rd and 25th.

Glaucous Gull, Sea Palling, Norfolk (Photo: Ron McIntyre)
The female Desert Wheatear at Rattray Head (Aberdeenshire) broke all records for the longest-staying of its kind ever on British soil this week as its stay reached an incredible 115 days on 26th. Funnily enough, it appeared this might have been her final day for there was no sign during two visits in fine weather on 27th. Norfolk's Black-bellied Dipper was remarkably joined by a second bird along the River Thet in Thetford on 21st–24th, with just the one again there after that — this presumably represents the first multiple record of continental individuals at a single British site.

Black-bellied Dipper, Thetford, Norfolk (Photo: Kevin Du Rose)
Other bits and bobs included the lingering Pallas's Warbler on the Berkshire/Hampshire border, the Common Rosefinch again in Broadstone (Dorset) on 21st and the Rose-coloured Starling still in Exminster (Devon) throughout — the latter is now beginning to look rather more respectable as it moults in to first-summer plumage. Just seven Great Grey Shrikes were noted, all wintering individuals — perhaps northbound migrants might ensure an increase in numbers over the next few weeks. In Surrey, upwards of 60 Hawfinches remained near Mickleham throughout the week while a Shore Lark graced Havergate Island (Suffolk) on 27th.

Rose-coloured Starling, Exminster, Devon (Photo: Charlie Fleming)
Photo of the Week

Firecrest, Bardsey Island, Gwynedd (Photo: Ben Porter)
A wild and windswept rock off the tip of the Lleyn Peninsula in Wales, Bardsey Island is just the type of place that gets more than its share of great birds and, thanks to the staff of the island's bird observatory, the comings and goings are well documented (see the blog here). Over the last two or three years, we've had almost 200 images of a mouthwatering selection of the island's rarities and resident species sent to us by Ben Porter, a number of which have featured in our weekly Notable Images. Where we've had such a sustained stream of great images, we often make special note when the 'seasoned contributor' finally gets a Photo of the Week. What's amazing in this case though is that Ben is still only 16! On to Ben's winning image, then: the first thing of note is that the subject, a Firecrest, is a notoriously difficult species to get close to and only rarely gives open views. Since this particular individual has been around the island for much of the winter, Ben has managed a number of good shots already but, this week, he bagged a head-and-shoulders close-up showing pin-sharp feather detail. This image is so magnified that it even appears life-size when viewed full-screen on an iPhone! On a typical monitor, the details and colours of this tiny bird — one of Britain's smallest — can be appreciated in a way that few people will ever be able to do in the wild. Keep up the great work, Ben!
Other notable images

Tawny Owl, Llandudno, Conwy (Photo: Mike Nesbitt)

Greenfinch, Upton Warren NR (Permit Only), Worcestershire (Photo: Robert Hart)

Red-crowned Crane, Japan (Photo: Mike Buckland)

Steller's Sea Eagle, Japan (Photo: Mike Buckland)

Black-headed Gull, undisclosed site, Lancashire (Photo: Tom Charles)

Wren, Wayoh Reservoir, Lancashire (Photo: John Barlow)

Little Owl, Cosby, Leicestershire and Rutland (Photo: Paul Riddle)

Fulmar, Fife Ness, Fife (Photo: John Anderson)

Common Snipe, Marsh Lane NR (PERMIT ONLY), West Midlands (Photo: Peter Walkden)

Wryneck, Malta (Photo: Natalino Fenech)

Green Violet-ear, Costa Rica (Photo: Wayne Geater)

Pintail, undisclosed site, Gloucestershire (Photo: Mike McKenzie)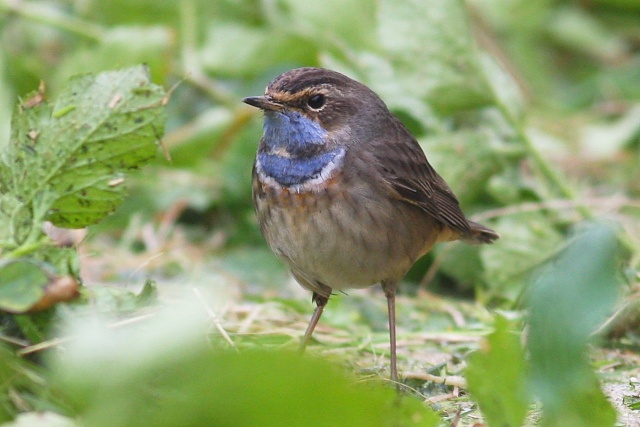 White-spotted Bluethroat, Portland, Dorset (Photo: anon)

Yellowhammer, Frampton Marsh RSPB, Lincolnshire (Photo: Mike McKenzie)