The week at a glance
It seems like we say this week after week at the moment, but autumn 2013 just keeps on giving. Though there is no denying that the pace of migration has decreased dramatically over the past fortnight, top birds continue to be discovered. This week's highlight, though, actually refers to a bird found during the previous review period (Sunday 17th), although its true identity was only realised on Thursday 21st, when its wheatear-like tail pattern was finally seen in the field. That bird was Britain's fourth Caspian Stonechat, present at St Warna's Cove on St Agnes (Scilly). Lingering throughout the weekend and until the end of the review period, the bird received a surprisingly small number of visitors throughout the week, but showed extremely well in the process. This is the first British record since a one-day wonder on Shetland in May 2006 but, despite their apparent rarity on UK soil, confidence seems high that a twitchable mainland bird will soon be forthcoming, given recent records from Brittany and the Netherlands.

Caspian Stonechat, St Agnes, Isles of Scilly (Photo: Alastair Wilson)

Caspian Stonechat, St Agnes, Isles of Scilly (Photo: Josh Jones)

Caspian Stonechat, St Agnes, Isles of Scilly (Video: Ashley Fisher)
In similar circumstances to the stonechat, the American Robin first reported from South Loch Eynort (Outer Hebrides) on 21st had apparently been present there since Sunday 17th, albeit in a private garden. Fortunately for Hebridean birders, the bird showed well there on and off to at least 25th and represents the first record for the isles since a two-day bird on St Kilda in January 1975! It is also the third of the autumn in Britain — one wonders how many more are out there.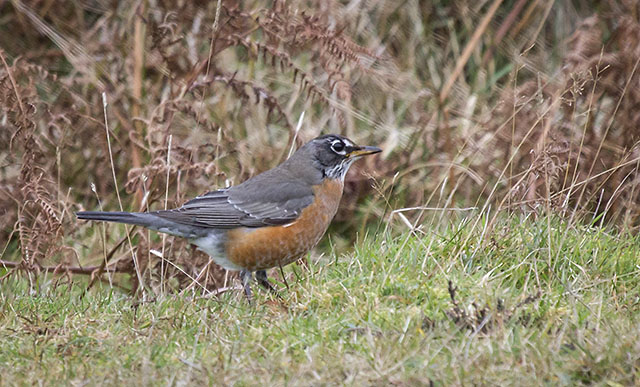 American Robin, Loch Eynort, S.Uist, Outer Hebrides (Photo: Ian Thompson)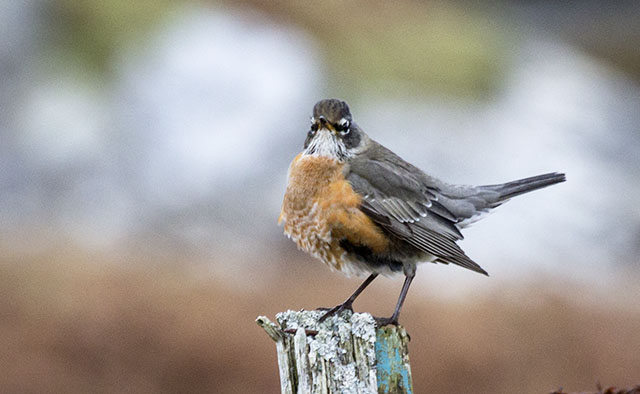 American Robin, Loch Eynort, S.Uist, Outer Hebrides (Photo: Ian Thompson)
What is potentially the autumn's third Northern Harrier was discovered at Men-an-Tol (Cornwall) late in the afternoon on 23rd. There seem to be little controversy surrounding this one, though: the bird, a male, was photographed very well and shows just about everything you'd want to see on a hudsonicus, including the extent of black on the primaries (roughly half black, half white) and the rufous markings on the underwing and body. This, of course, adds further weight to the argument that hudsonicus are indeed making it here with some regularity, and therefore bolsters other recent claims of juvenile birds.

Northern Harrier, Men-an-Tol, Cornwall (Photo: Bobbster)

Northern Harrier, Men-an-Tol, Cornwall (Photo: Bobbster)
Further lingering highlights included the Western Orphean Warbler still frequenting the garden at Orlandon Kilns, near St Brides (Pembrokeshire) to at least 24th, the Short-billed Dowitcher still on North Ronaldsay (Orkney) to 23rd and the Pacific Diver still off Pendower Beach (Cornwall) to at least 25th, though this last bird could disappear for up to a day at a time.

Western Orphean Warbler, St Brides, Pembrokeshire (Photo: Ian Curran)

Western Orphean Warbler, St Brides, Pembrokeshire (Photo: Mark Hipkin)
Two Richardson's Canada Geese were again on Islay (Argyll) on 24th, and the county also continued to host the two Snow Geese near Rhunahaorine on 26th. The white-morph Snow Goose was also still at Carrahane Strand (Kerry) throughout the week while, over in Dublin, the apparent Grey-bellied Brant proved reliable near Bull Island throughout the week. Several Black Brants included a new bird at Roa Island (Cumbria) on 26th and two at Farlington Marshes (Hants) on 25th, in addition to birds in Dorset, Kent, Norfolk (2) and County Kerry. Hampshire's Red-breasted Goose was last noted at Pennington Marshes on 24th.

Richardson's Canada Goose, Ballygrant, Islay, Argyll (Photo: Colin Bradshaw)

Grey-bellied Brant, Bull Island, Dublin (Photo: Niall Keogh)

Black Brant, Castlegregory, Kerry (Photo: Fionn Moore)
A couple of new drake American Wigeon were discovered in Ireland this week: a first-winter near Trawbreaga Bay (Donegal) on 23rd and another at Reedy Flats, Lough Neagh (Armagh) on 22nd–24th. The drake was again at Tullaghan (Leitrim) on 22nd, but the only British bird was the long-staying drake at Udale Bay (Highland) on 21st. Five Green-winged Teal included new birds at Loch of Lintrathen (Angus & Dundee) and Tacumshin (Wexford) on 24th, though the latter is likely a returning individual. Further individuals remained on North Ronaldsay, at Rutland Water and at Caerlaverock (Dumfries & Galloway).

Green-winged Teal, Rutland Water, Leicestershire and Rutland (Photo: Robin Brace)
A female Lesser Scaup was found at Ardmore, South Uist on 24th and the drake was again in Cardiff Bay (Glamorgan) from 23rd; further individuals also remained in Counties Kerry and Galway. New drake Ring-necked Ducks were on Lough Owel (Westmeath) on 24th and Lough Leane (Kerry) on 26th, with the first-winter still on Lough Gill in the latter county. The drake Ferruginous Duck returned to Blashford Lakes (Hants) on 22nd and was still there at the week's end.

Ring-necked Duck, Lough Leane, Kerry (Photo: Davey Farrar)
Content continues after advertisements
A female King Eider off Blacksod from 22nd was yet another great bird for The Mullet (Mayo), and the sub-adult drake was still off Fetlar (Shetland) on 21st. Another bountiful week for Surf Scoter records included Irish birds off Courtmacsherry and Ballycotton (both Cork). Welsh records comprised two drakes still off Llanddulas (Conwy) and the female off Black Rock Sands (Gwynedd). The first-winter remained in Brand's Bay (Dorset) and a drake was off Ruddon's Point (Fife) on 21st.

King Eider, Bluemull Sound, Shetland (Photo: Brydon Thomason)
Right on cue, the Cattle Egret returned to its favoured winter roost site at Hillsborough Lake (Down) on 26th. As many as 25 Great White Egrets continued to be reported, with threes at Pitsford Reservoir (Northants) and Dungeness (Kent) as well as twos in Lancashire and Powys. Slimbridge's two Glossy Ibis were last seen early on 24th, before later being seen over Hengistbury Head (Dorset). Early on 25th, they flew over Pennington Marshes (Hants) before returning to Christchurch Harbour later that day and, on 26th, were seen briefly at Chew Valley Lake (Somerset)! Further birds were in Lancashire, Nottinghamshire and Kent, while a bird at Tacumshin (Wexford) on 22nd could well be a returning bird.

Great White Egret, Coate Water CP, Wiltshire (Photo: Graham Cox)
The wandering Black Kite continued to do just that around south Kent throughout the week, being seen at Dungeness on 23rd and 26th and at New Romney and Lade in between. A white-morph Gyr Falcon was seen in the spectacular setting of Ferriter's Cove (Kerry) on 24th, and may well relate to a bird reported from Ballinskelligs, on the next peninsula south, back on 19th. An apparent grey juvenile was also photographed at Paull (E Yorks) on 24th, though it was not seen again. A Snowy Owl was seen out on St Kilda (Outer Hebrides) on 24th, while the week's only Rough-legged Buzzard was again the bird at Orford Ness (Suffolk).
West Cornwall's American Golden Plover was again in fields near Sennen on 24th–25th, but rare waders were generally — as you'd expect for late November — thin on the ground. The Lesser Yellowlegs was still at Lepe Country Park (Hants) all week (though there were no reports of the Long-billed Dowitcher), White-rumped Sandpipers remained at Frampton Marsh (Lincs) to 22nd and Ardivachar Point, South Uist to 24th, and a late Pectoral Sandpiper was at Lough Neagh (Armagh) on 23rd.
In contrast, gull numbers seem to be on the rise, with at least 18 Glaucous Gulls and slightly lower numbers of Iceland Gulls nationwide including several of each penetrating the English Midlands; Killybegs (Donegal) also laid claimed to a juvenile Kumlien's Gull on 23rd. The Bonaparte's Gull was still at Dawlish Warren (Devon) on 25th, while 10 Ring-billed Gulls included three (first-winter, second-winter and adult) at Nimmo's Pier (Galway) on 24th, with the Forster's Tern still there that day.

Glaucous Gull, Lowestoft, Suffolk (Photo: Mike Arreff)

Distribution of this week's Iceland Gull records, illustrating the first mini-influx of the winter to the English Midlands.
Somewhat unexpected were two brief Hoopoes on 24th: one was at Stodland (Kent) and another was by the Kent Estuary (Cumbria). A late Barred Warbler was discovered at Dunbar (Lothian) on 23rd but had moved on by the following day; similarly brief were Dusky Warblers at Quendale (Shetland) on 22nd and Spurn (E Yorks) on 23rd. Around 10 Yellow-browed Warblers included lingering birds at Clennon Valley Lakes (Devon) and Margate (Kent), while Siberian Chiffchaffs showed a southwesterly bias to records — though six were at Quendale (Shetland) on 23rd. A Little Bunting was at Halligarth, Unst (Shetland) on 23rd–24th. Meanwhile, the Rose-coloured Starling continued to delight visitors to Caister (Norfolk) throughout the week, as did the Serin at Flamborough (E Yorks).

Barred Warbler, Dunbar, Lothian (Photo: Ian Andrews)

Siberian Chiffchaff, Halligarth, Unst, Shetland (Photo: Mike Pennington)

Little Bunting, Halligarth, Unst, Shetland (Photo: Brydon Thomason)

Rose-coloured Starling, Caister-on-Sea, Norfolk (Photo: David Rounce)
Northumberland's Lesser Grey Shrike prolonged its stay by another week, and was still showing well by the Long Nanny car park on 26th. In County Wexford, a late Isabelline Shrike was found at Lady's Island Lake on 24th, and was still there the following day. Around 20 Great Grey Shrikes included five birds spread across traditional Welsh sites, with the rest in England.

Lesser Grey Shrike, Long Nanny, Northumberland (Photo: David dack)
Continuing the influx, 10 Parrot Crossbills were found in Tunstall Forest (Suffolk) on 23rd, the figure rising to an impressive 16 individuals by 25th. A dozen remained at Holt Country Park (Norfolk) and males were still in Hemsted Forest (Kent) and Slufter's Inclosure (Hants). A dozen Two-barred Crossbills were still at Kensleyridge (Glos) on 25th, with 10 still on 26th (see Lewis Thomson's finder's account). A female was new in the Ashdown Forest (E Sussex) on 23rd and another was reported at Ideford Common (Devon) that day; the female also remained in Leith Hill Wood (Surrey) all week, though reports of a male still at Lynford Arboretum (Norfolk) may refer to an exceptionally wing-barred Common Crossbill there.

Parrot Crossbill, Tunstall Forest, Suffolk (Photo: Allan King)

Parrot Crossbill, Holt, Norfolk (Photo: Craig Shaw)

Parrot Crossbill, Hemsted Forest, Kent (Photo: Mike Buckland)

Parrot Crossbill, Tunstall Forest, Suffolk (Photo: David Fairhurst)
Photo of the Week

Tawny Owl, Ipswich, Suffolk (Photo: Graham Bickers)
Every now and then, someone sends us an 'off the wall' photo that makes us chuckle and want to know more about the story behind the shot. This week, that's what happened when Graham Bickers uploaded a couple of images of a Tawny Owl perched on a curtain pole. Thankfully, Graham added comments to share the details of the situation: he awoke in the early hours of the morning to find the owl relaxing in his lounge, having apparently fallen down his chimney. After Graham opened his patio doors, the uninjured owl was able to fly off into the surrounding woods. The owl looks quite relaxed in both photos, but the bird's closed eyes on this one wonderfully conveys the notion of its having fallen asleep taking advantage of the central heating. Graham's humorous and heart-warming image earns him his first Photo of the Week.
Other notable images

Lesser Grey Shrike, Long Nanny, Northumberland (Photo: Andy Hood)

Crossbill, West Stow CP, Suffolk (Photo: Garth Peacock)

Pintail, Slimbridge WWT, Gloucestershire (Photo: Pete Blanchard)

Merlin, Malta (Photo: Natalino Fenech)

Bittern, Kenfig NNR, Glamorgan (Photo: Bob Hopkins)

Ring-necked Parakeet, Richmond Park, Greater London (Photo: Ian Clarke)

Stonechat, Salisbury Plain, Wiltshire (Photo: Mike Trew)

Purple Sandpiper, Ness Point, Lowestoft, Suffolk (Photo: Jon Evans)