The week at a glance
After an explosive start to the year it looked as if the fourth week of January was set to pass without a significant new find until late on Tuesday afternoon, when belated news broke of a Little Bustard found dead by the road at Blofield, Norfolk, on Thursday 22nd. Given location and the nature of the bird's injuries (the neck looks broken and the face covered in blood), one suspects it has been the unfortunate victim of a traffic collision. This represents at least the third (probably fourth) bird seen in Britain this winter and reflects a wider influx in Europe; another bird was found this week among Wigeon in the Netherlands.
Otherwise it was the young drake Harlequin in Aberdeen that once again took top billing. The bird seems quite mobile along the River Don and did go missing for long periods on at least a couple of days. Nevertheless, perseverance should reward any prospective twitchers. Both American Coots were still in situ, the North Uist bird still at Balranald on 26th and the Lough Gill, Co Kerry, individual still on 27th. Meanwhile, in the far south-west, the Pacific Diver was also noted in Mount's Bay, Cornwall, with some consistency throughout the week.

Harlequin Duck, Aberdeen, Aberdeenshire (Photo: Jonathan Clarke)
A Red-breasted Goose was on Alderney during the week, while what must be the recent Scottish Ross's Goose had relocated to Northumberland, being seen at East Chevington on 24–27th. A Richardson's Cackling Goose was still on North Uist on 24th and belated news was received of another among the Barnacle Geese at West Freugh Airfield, Dumfries & Galloway, on 17th. What looks a good shout for a first-winter Black Brant was at Spurn, E Yorks, from 25th with the adult also still there; at least five were reported in Essex and others were in West Sussex, Hampshire, Devon and Lincolnshire.

Probable Black Brant (or hybrid), Spurn YWT, East Yorkshire (Photo: Tim)
The drake Black Duck was seen again in the Isles of Scilly, this time on Great Pool, Tresco, on 27th. Orkney's drake Blue-winged Teal was still at The Shunan on 25th, while a dozen Green-winged Teal included new birds at North Duffield Carrs, N Yorks, on 24–25th and Knock, Co Clare, and Rogerstown Estuary, Co Dublin, both on 24th. Continuing the productive winter for sightings, drake American Wigeon were nice finds at Belclare Turlough, Co Galway, on 24th (with an apparent Baikal Teal hybrid there too) and Dornoch, Highland, on 25th. Cornwall held on to three — the two females at Gannel Estuary and the drake at Kingsmill Lake — while other drakes were still on North Uist and in Aberdeenshire and Co Donegal.

American Wigeon, Belclare, Galway (Photo: Dermot Breen)
A female Ring-necked Duck was new at St John's Loch, Highland, on 21st; two remained at Carlingwark Loch, Dumfries & Galloway, while singles remained at the following sites: Bray Gravel Pits, Berkshire; Calvert Lakes, Bucks; Loch Sandary, North Uist; Lough Leane, Co Kerry; Roo Lough, Co Clare; Carrowmore Lake, Co Mayo; and Knockaderry Lake, Co Waterford. Drake Lesser Scaup also continued in Cornwall, Glamorgan, Powys and Ayrshire, though the latter moved from Trabboch to Martnaham Loch from 24th. The female Ferruginous Duck was also still at Slimbridge, Glos, often to be found snoozing among the Baer's Pochards in the Asian Pen!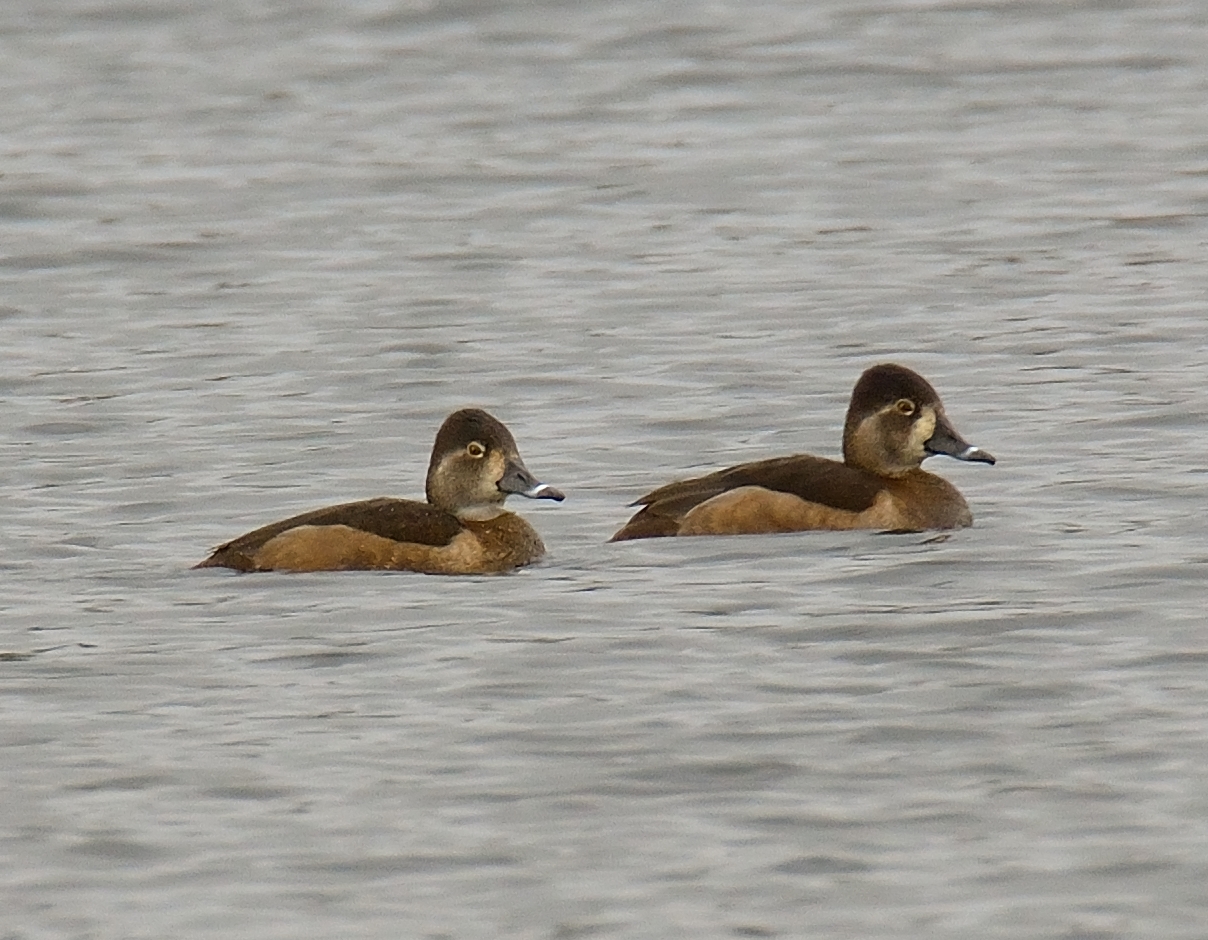 Ring-necked Duck, Carlingwark Loch, Dumfries & Galloway (Photo: Dennis Morrison)
The Irish Black Scoter continued to show well off Rossbeigh, Co Kerry, all week, while the Northumberland bird was noted off Cheswick Sands on 21st and again from 24th. A young drake King Eider was a nice find off Maenporth, Cornwall, on 27th and the female also remained at Ruddon's Point, the latter site also hosting the long-staying drake Surf Scoter. Five Surf Scoters were still off Old Colwyn, Conwy, at the weekend, and other birds remained off Unst, Shetland, Musselburgh Lagoons, Lothian, and on the Stour Estuary, Suffolk/Essex. Two first-winters (one of each sex) were off Rosslare, Co Wexford, and a female was off Clogher Head, Co Louth, on 25th. Meanwhile, back up on Shetland, a White-billed Diver was off the 'traditional' site of Kirkabister on 26th.

Black Scoter, Rossbeigh, Kerry (Photo: Davey Farrar)
Two Cattle Egrets remained faithful to their chosen fields along Dengemarsh Road, Dungeness, Kent, throughout while a Glossy Ibis was still at Fen Drayton, Cambs, on 22nd. The juvenile Night Heron was last seen at Nickoll's Quarry, Kent, on 23rd and what could feasibly have been the same bird was later at Steyning, W Sussex, on 25th. The juvenile also remained at Youghal, Co Cork, on 26th, and the recent Norfolk adult was seen at Lenwade on 21st.

Night Heron, Lenwade, Norfolk (Photo: Jake Gearty)
Rough-legged Buzzards continue to feature prominently on our news page, with 62 reports of the species during the week. It appears that the Grindale, E Yorks, bird is again showing extremely well around its favoured fields, while two were seen at Upper Midhope, S Yorks, on 27th. Others included long-stayers at their usual haunts in East Sussex, Essex, Norfolk, Cambridgeshire and Durham and a bird at Watten, Highland, on 22nd.

Rough-legged Buzzard, Grindale, East Yorkshire (Photo: Darren Ward)
With no sign of the Aberdeenshire Spotted Sandpiper, the only shorebirds of significance were Lesser Yellowlegs still at Poulnasherry Bay, Co Clare, on 24th, Rogerstown Estuary, Co Dublin, on 26th and the East Sussex bird which was seen at several sites including Rye Harbour.
Though there have been no reports since 21st, it seems possible that the Ivory Gull in the Ullapool area may still be around. More straightforward were the Laughing Gull at Ballycotton, Co Cork, which was still present on 26th, and the Bonaparte's Gull at Dawlish Warren, Devon. A decent candidate for a first-winter American Herring Gull was photographed on Tiree, Argyll, on 21st, while what could well be the recent Yorkshire Thayer's Gull was possibly seen in the roost at Chasewater, Staffs, on 24th. Littlehampton, W Sussex, welcomed back last winter's Kumlien's Gull, which is now in a quite striking second-winter plumage. Another smart bird — a juvenile — was at Bubbenhall, Warks, on 22–24th, while there were sporadic reports from west-coast sites in Britain and Ireland including an adult at Coverack, Cornwall — where there were also at least five Glaucous Gulls. Small congregations of Glaucs were seen right up the west coast, though Iceland Gull numbers remain low. At least 24 Ring-billed Gulls were seen, six of them in Britain.

Possible American Herring Gull, Tiree, Argyll (Photo: John Bowler)

Kumlien's Gull, Littlehampton, West Sussex (Photo: Mark Leitch)

Ring-billed Gull, Tralee, Kerry (Photo: Ed Carty)

Ring-billed Gull, Portrush, Antrim (Photo: Christine Cassidy)
Dorset's Richard's Pipit was again seen at Redcliff Point on 27th; a new bird was found at Swale NNR, Kent, on 25th and lingered until the week's end. Others remained at Horse Eye Level, E Sussex, and Cloughton Wyke, N Yorks, while a Yellow Wagtail at Shepherd's Chine, IoW, from 25th was touted as a possible Eastern on 27th — photos can be found on the Birding Frontiers blog.
Presumed blythi Lesser Whitethroats remained at Carrigaline, Co Cork, to 21st and in gardens at Lochwinnoch, Clyde, throughout the week. A new Yellow-browed Warbler was found in Bristol on 27th, while others remained in Cornwall at College Reservoir and Helston and a third continued by the Plym Estuary, Devon.
The three Penduline Tits remained at Darts Farm, Devon, on and off throughout the week, while the Rose-coloured Starling, though at times elusive, was noted in Prudhoe, Northumberland, until 27th.

Rose-coloured Starling, Prudhoe, Northumberland (Photo: Martyn Sidwell)
Western Palearctic news
It was a week of continuing rarities around the Western Palearctic, the highlight being probably the Lesser Flamingo again reported from Kuwait City on 21st.
In the Netherlands, the Oriental Turtle Dove continued to show well in Vlaardingen and a Rose-coloured Starling was also there. The Spotted Sandpiper remained at Medemblik all week and a Little Bustard near Nijkerk, Gelderland, was the country's 46th record. Neighbouring Belgium also held on to the wintering Wallcreeper in Dinant.
Other records included the Pygmy Cormorant still in Catalonia, Spain, and the Willet and Great Blue Heron were still on São Miguel and Terceira, Azores, respectively.
Photo of the Week, 21–27 January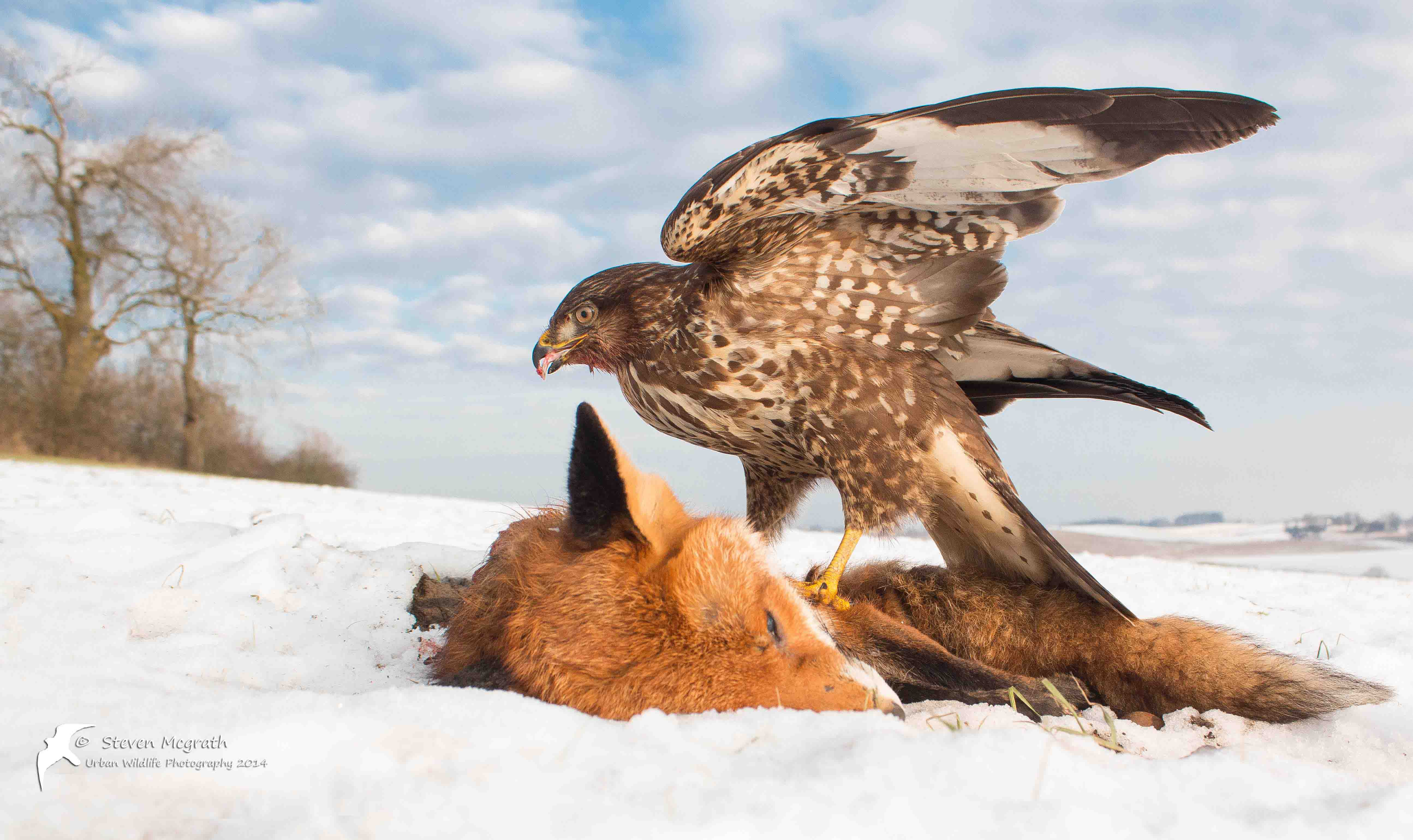 Buzzard, Glasgow, Clyde (Photo: Steven Mcgrath)
Birds are difficult to photograph successfully with a wide-angle lens, writes Steve Young. Either the photographer has a very tame bird that can be shot at close range or, as in this superb Photo of the Week from Steven McGrath, they use a remote-control set-up firing the shutter from a distance via a hand-held control or through an App on a mobile.

Steven used Wi-Fi via the EOS App to activate his camera for this stunning image of a Common Buzzard feeding on a dead Fox. The entire photo has that special impact with the bird, snow, prey and low wide angle all combining to produce his winning shot; the buzzard conveniently raising its wings is just one of those moments that you hope happens, but rarely does! An 18–55 mm lens (at 21 mm setting) was used, with a shutter speed of 1/1250th second at f5.6.

Congratulations to Steven on his POTW; with three totally different styles in among our POTW winners already this year, it looks like it's going to be a fantastic 2015 on Iris.


Other notable images

Eider, Fife Ness, Fife (Photo: William Dickson)

Grey-headed Gull, Italy (Photo: Mick Southcott)

Wren, Wayoh Reservoir, Lancashire (Photo: John Barlow)

Common Snipe, Wood Lane NR, Shropshire (Photo: Paul Burgess)

Bearded Tit, Minsmere RSPB, Suffolk (Photo: Nick Brown)

Short-eared Owl, Hawling, Gloucestershire (Photo: Phil Carter)

Collared Dove, Hengistbury Head, Dorset (Photo: Joe)

Jay, Shrewsbury, Shropshire (Photo: John Fielding)

Tawny Owl, Bradwell-on-Sea, Essex (Photo: Jason Ward)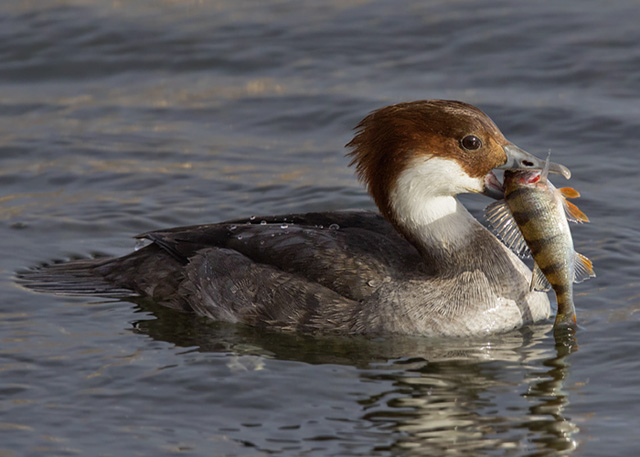 Smew, Dungeness RSPB, Kent (Photo: Steve Ashton)

Spur-winged Plover, Gambia (Photo: Dave Williams)
Content continues after advertisements