The week at a glance
Some hot hairdryer-like southerly winds at the end of the weekend across parts of England made it feel as though the summer still had some legs. But it wasn't the same everywhere as the Atlantic weather ensured some cracking seawatching out on the west coast of Ireland. Would Hurricane Bill drop an early autumn American landbird for good measure? Plenty of drift migrants appeared, but despite the blast of intercontinental air it seems as though the truly big birds have skipped us, for another week at least.
The best bird of the week belonged to Ireland and was logged by birders clustered around the mini-amphitheatre at Bridges of Ross (Co. Clare) on 20th: a Little Shearwater heading west during the middle of the morning. There are three accepted record for the site this decade (2000, 2001 and 2005) and all of them have been seen in the last 10 days of August. The "best bird" crown might have been stolen if a possible Madeiran Storm-petrel seen from Pendeen (Cornwall), also on 20th, could have been confirmed. Another fly-by that only made it to "possible" status was a Bridled Tern off Spurn (East Yorkshire) on 23rd; the same date also saw mention of a possible Little Whimbrel at the Newport Wetlands in Gwent. The previous British occurrences, at Sker Point in August 1982 and Blakeney, Cley and Salthouse in August 1985, both drew huge crowds; a bird now, 24 years on, would be a massive affair, but this Welsh offering came to nothing. Another mega wader reported as a possible this week was Short-billed Dowitcher, heard in flight over Stronsay (Orkney) on 26th. Though not quite as sought-after as Little Whimbrel, it's been four years since the bird in Dublin and almost a decade has passed since the only record for Scotland and England, the juvenile that moved from Rosehearty to Greenabella Marsh and Greatham Creek.
Little Shearwater and possible megas aside, the pick of the seabird bunch this week had to be the presumed Fea's Petrel seen briefly from a pelagic trip in Lyme Bay (Dorset) on 22nd. Wilson's Storm-petrels again nudged into double figures, with five passing Bridges of Ross and another off Pendeen on 20th, and at least eight on a Scilly pelagic on 23rd. Further singles were seen off Bridges on 25th and 26th. Cory's Shearwater just about managed to pass the double-figure mark as well: some 15 birds were noted off Irish and Cornish coasts, including four from Porthgwarra on 20th and one from Inisheer (Co. Galway) on 21st. One individual made it into the North Sea, seen off Whitburn (Co. Durham) on 23rd, with presumably the same bird there again on 24th. Meanwhile some 35 Great Shearwaters were noted, all from regular seawatching locations, with five off Pendeen and nine off Annagh Head (Co. Mayo) on 21st the high counts for the week. It was a decent week for Balearic Shearwaters: over 200 birds were recorded, with birders at Porthgwarra scoring 47 on 26th, and 30 were recorded off Pendeen on 21st. Nearly 800 Sooty Shearwaters were logged over the past week, with three three-figure totals for Bridges of Ross: 134 on 20th, 100 on 23rd and 120 on 26th.

Wilson's Storm-petrel, Scilly pelagic, Isles of Scilly (Photo: Gary Thoburn)

Cory's Shearwater, Whitburn, Durham (Photo: Ross Ahmed)

Great Shearwater, Scilly pelagic, Isles of Scilly (Photo: Gary Thoburn)
Seawatchers at Bridges of Ross also fared rather well for Sabine's Gulls throughout the course of the review period: 19 were counted on 20th, 16 the following day, three on 22nd, four on 24th, at least 15 on 25th and four on 26th. Also on 26th, five birds flew past Kilcummin Head (Co. Mayo). Singles were seen off Scilly, Strumble Head (Pembrokeshire) and Helvick Head (Co. Waterford) in the week, with another again around Loch Gairloch (Highland) off and on throughout the week. In Northumberland, a Sabine's Gull flew past St. Mary's Island on 22nd and another was seen near Ulverston (Cumbria) on 23rd. A juvenile was seen in Kent on 26th, flying past Reculver Towers. The pick of the Sabine's Gulls this week may well have been the inland first-summer that appeared at Upton Warren (Worcestershire) on 20th and was seen (off and on) throughout the week. Then, on 26th, the Upton bird was seen again throughout the early evening, while two adults spent a couple of hours on Westwood Pools!

Sabine's Gull, Upton Warren NR, Worcestershire (Photo: Jim Almond)
The super passage of birds off Bridges of Ross on 20th was boosted further by 10 Long-tailed Skuas, with another single bird there the following day and two on 25th. Further single Long-tails flew past Galley Head (Co. Cork) on 23rd and Berry Head (Devon) on 26th. Ten Pomarine Skuas were also seen from Bridges on 20th, part of a total of some 45 birds logged around the rest of Britain and Ireland through the week. Grey Phalaropes included twos each for Bridges and Annagh Head on 20th and a Scilly pelagic on 23rd, while the weekly high was seven, on 25th, seen from (unsurprisingly) Bridges of Ross.
On 20th, a couple of hundred miles west from the coast of Cork, a survey vessel (with two of Ireland's top birders aboard) recorded a Fea's/Zino's Petrel, a Wilson's Storm-petrel, several hundred Great Shearwaters and (rather bizarrely) a Baird's Sandpiper. Further sightings during the week from the vessel included more Great and Cory's Shearwaters, Long-tailed Skuas, Sabine's Gull, Grey Phalarope and at least four more Wilson's Storm-petrels.
A Cattle Egret was seen around the marshes at Pennington and Keyhaven (Hampshire) from 21st–26th. Two Great White Egrets remained at Over Fen (Cambridgeshire) to 24th, and singles remained at Chard Reservoir (Somerset), Dungeness (Kent) and again at Hen Reedbeds (Suffolk) throughout much of the week. Further singles were seen at Lake Vyrnwy (Powys) and Blashford Lakes (Hampshire), both on 24th, with another at Hornsea Mere (East Yorkshire) on 26th. Back in Suffolk, at least 18 Spoonbills remained around Havergate Island to 22nd at least, while in Norfolk five birds flew over Cley Marshes on 23rd. A further 10 or so were reported elsewhere, including twos at Leighton Moss (Lancashire) on 20th–21st and Alkborough Flats (Lincolnshire) on 21st and an inland bird at Chelmarsh Reservoir (Shropshire) on 22nd.

Great White Egret, Chard Reservoir, Somerset & Bristol (Photo: Ian Seward)

Spoonbill, Cley Marshes NWT, Norfolk (Photo: Chris Cook)
Aside from birds in the Norfolk Broads, Common Cranes this week included two near Sunk Island (East Yorkshire) on 23rd, with presumably the same two then seen the following day over Cleethorpes and Gibraltar Point (Lincolnshire). One was again on Shetland, at Walls, on 24th and another single bird was seen in mainland Scotland, at Tyninghame Bay (Lothian) on 25th. The blue-ringed bird in north Norfolk was seen at Stiffkey and Wiveton on 22nd.
In South Yorkshire, last week's Spotted Crake at Edderthorpe Flash was joined by a second bird on 21st, with at least one remaining until 25th. In Kent, a Spotted Crake appeared at Grove Ferry on 20th and this too was joined by a second bird, this time on 22nd. Elsewhere singles were reported in Cornwall, at Marazion Marsh on 22nd and Walmsley Sanctuary on 23rd–25th, with further birds on 24th appearing at Greylake (Somerset), Abbotsbury Swannery (Dorset) and Farlington Marshes (Hampshire). Also on 24th, news came in of a Spotted Crake at Sandwell Valley (West Midlands) present for its eighth day. On 25th, a Spotted Crake was found at the Conwy RSPB reserve in north Wales and a good week for the species was rounded off by one at Frampton Marsh (Lincolnshire) on 26th. A presumed "wild" migrant Corncrake (rather than a re-introduced bird) was on North Ronaldsay (Orkney) on 25th.

Spotted Crake, Greylake RSPB, Somerset & Bristol (Photo: James Packer)
The Snow Goose remained on Deerness (Orkney) until 23rd, seemingly enjoying the company of the thousand Greylag Geese it was with. Both of the recent drake Ferruginous Ducks remained into another week, at Chew Valley Lake (Somerset) and Loch Gelly (Fife). The latter site also still hosted the drake Ring-necked Duck (both Fife Aythyas present to 24th at least), with a drake appearing at Loch Leven (Perth & Kinross) on 25th. South of the border, another eclipse drake Ring-necked Duck was found at Westport Lake (Staffordshire) on 22nd but by 24th it was being hit with a double whammy of suspicion from some (firstly was it an escape, followed quickly by a few thoughts that it was a hybrid). Are either well founded? A drake Surf Scoter was in Burghead Bay (Moray) on 24th and on the border of North Yorkshire and Cleveland a female-type Hooded Merganser arrived at Scaling Dam Reservoir — after weeks of westerly winds, and the autumn's first hurricane approaching, would this bird have been treated with more respect if it had been, say, a Blue-winged Teal? The counter argument is a strong one though: this site has had its fair share of rather dubious ducks in recent years, so the bin seems favourite (although it appears to have been a one-day wonder anyway).

Ferruginous Duck, Loch Gelly, Fife (Photo: John Nadin)

Ring-necked Duck, Loch Gelly, Fife (Photo: John Nadin)
The adult female Snowy Owl was still around Termon Hill, Blacksod Bay (Co. Mayo) from 20th–22nd at least. In Norfolk, the first-summer male Red-footed Falcon was seen at Hickling Broad on 22nd and again on 24th (if only it could have been the female Amur Falcon seen in Belgium this week...). The second Red-footed Falcon of the week was seen at Sandwich Bay (Kent) for just three minutes on 26th. Back in Norfolk, a mysterious eagle species seems to be at large — seen at Forncett St. Peter on 26th (where it seems to have been for three weeks or so), it may be the bird that was noted near Norwich on 24th (with another eagle, possibly a Golden, seen along the northeast coast a few days beforehand). Could the Norfolk bird be the Golden Eagle seen in April and May in Cornwall and Suffolk? A Montagu's Harrier at Rainham Marshes was an welcome county tick for London birders.

Montagu's Harrier, Rainham Marshes RSPB, Greater London (Photo: Simon West)
Content continues after advertisements
In Lancashire, an adult Wilson's Phalarope was found at Martin Mere on 21st and lingered across the weekend, to 23rd. On 24th, the bird relocated to Marshside for a little while during the afternoon, and was still there on 26th. Aside from the first-summer seen at Seaforth last June, Wilson's Phalarope remains a rare bird in Lancashire, with just seven accepted records on the books (the most recent before these two was in 1991). In Northumberland, an adult Semipalmated Sandpiper continued to show well at Cresswell Ponds to 25th at least, while in the Outer Hebrides an early juvenile was found near South Ford, South Uist on 20th. In Wexford, an adult Buff-breasted Sandpiper was at Tacumshin on 21st–22nd and another was on the Cloghane Estuary (Co. Kerry) on 23rd.

Semipalmated Sandpiper, Cresswell, Northumberland (Photo: Stef McElwee)
Last week's two Lesser Yellowlegs both remained in place this week, on Porth Hellick Pool, St. Mary's (Scilly) and at Aberlady Bay (Lothian). Up to eight Pectoral Sandpipers were noted during the week: one was at Loch of Houll, Whalsay (Shetland) on 20th–24th and was followed by singles at Hollowell Reservoir (Northamptonshire), Myroe Levels (Co. Derry), Tacumshin (Co. Wexford), Loch of Strathbeg (Aberdeenshire), Snettisham (Norfolk), Stromness (Orkney) and the Walmsley Sanctuary (Cornwall). A juvenile Red-necked Phalarope was seen on South Uist (Outer Hebrides) on 24th and the second juvenile of the week was found at Keyhaven Marshes (Hampshire) on 25th–26th.

Lesser Yellowlegs, St. Mary's, Isles of Scilly (Photo: Gary Thoburn)

Pectoral Sandpiper, Brough, Whalsay, Shetland (Photo: Jason Atkinson)
A Temminck's Stint was reported briefly at Kelling (Norfolk) on 24th and another spent much of the afternoon at Pett Levels (East Sussex) on 25th. The first returning Dotterel were seen on 25th, at Hatfield Moors (South Yorkshire) and on Ramsey Island (Pembrokeshire). Finally, belated news came from Devon of a probable Black-winged Pratincole seen flying towards Appledore on 9th August — galling for local listers, as it's a potential county first.
The adult Ring-billed Gull was again around the Isle of Dogs (London) on 21st, appearing at Greenwich the following day. A second-summer or adult-type was found at Spanish Point (Co. Clare) on 25th–26th. There were slightly fewer Caspian Gulls to report this week, with a second-summer at the London Wetland Centre on 20th–22nd, and single juveniles amongst roosts at King George VI Reservoir (Surrey) and Pitsford Reservoir (Northamptonshire) both on 22nd. A first-summer was at Farmoor Reservoir (Oxfordshire) on 23rd when the adult (or hybrid) was seen again at Pitsford. On 24th, a juvenile Caspian Gull was seen at Pitsford, and an adult was at Rutland Water (Leicestershire).
In County Dublin, a Caspian Tern was seen over the Swords Estuary on 22nd, while in Kent an adult White-winged Black Tern arrived at Cliffe Pools on 23rd and a juvenile was identified at Dungeness on 24th (having possibly been present the previous day). On the Isle of Wight, two juvenile White-winged Black Terns were seen at Bembridge Harbour on 24th. Special mention has to be made of the huge haul of Roseate Terns counted at Sandymount Strand in Dublin on 24th — at least 575 birds were counted, a truly stunning figure.

White-winged Black Tern, Dungeness RSPB, Kent (Photo: Martyn Wilson)
A juvenile Citrine Wagtail was a neat find at Saltholme Pools (Cleveland) on 23rd, the bird remaining to the following day. This is the first record of Citrine Wagtail in the county for almost a decade, that bird also appearing at Saltholme. A probable Citrine Wagtail was seen on rocks at High Newton-by-the-Sea (Northumberland) on 25th and again on 26th.

Citrine Wagtail, Saltholme Pools RSPB, Cleveland (Photo: Mark Newsome)
An Alpine Swift spent five minutes over Colyford Common (Devon) on 24th, reappearing again the following evening, while a Wryneck at Evesham (Worcestershire) met an untimely end in the clutches of a local moggy on 21st. Rather more lively singles followed on St. Agnes (Scilly) and at Market Harborough (Leicestershire), Queen Mary Reservoir (Surrey) — this bird trapped, ringed and released on 25th — Witcombe Reservoir (Gloucestershire) and Geosetter (Shetland). In Kent, a Hoopoe was at Samphire Hoe CP on 25th.

Hoopoe, Samphire Hoe CP, Kent (Photo: Steve Ray)
A juvenile Red-backed Shrike was at Dungeness (Kent) from 23rd and another was at Salthouse (Norfolk) briefly on 24th before one (the same one?) appeared at nearby Kelling later the same morning. Also in East Anglia, another juvenile Red-backed Shrike was found at Benacre (Suffolk) on 25th.

Red-backed Shrike, Benacre, Suffolk (Photo: Jon Evans)
A Great Reed Warbler was something of an August curio this week, seen at Porth Hellick Pool on Scilly on 23rd (you have to go way back to 1980 to find another accepted new arrival in August). Rather more expected at this time of year are Aquatic Warblers and, as is the norm, both this week's arrivals (on 22nd) were trapped. The first of the day was at Titchfield Haven (Hampshire) followed by one at the Newport Wetlands (Gwent).
In Shetland, a mini-fall on 26th yielded a Greenish Warbler, a Wryneck, an Icterine Warbler and two Barred Warblers. Fair Isle also hosted single Barred Warblers on 23rd and 25th, with further Shetland singles at Skaw, Whalsay on 24th and Sumburgh on 26th. Another was seen on North Ronaldsay (Orkney) on 24th. Back on Fair Isle, another of up to eight Icterine Warblers seen around Shetland this week was found on 22nd; two more were in a birder's garden at Scatness on 22nd–24th and further singles followed at Skaw, Whalsay on 23rd, Fetlar on 24th, Wester Quarff on 25th and Hillswick on 26th. An Icterine Warbler was found at Kilnsea (East Yorkshire) on 24th. There were two Melodious Warblers to report: one was found on Bardsey Island (Gwynedd) on 20th and stayed to 21st, while another was trapped, ringed and released at Beachy Head (East Sussex) on 22nd.

Icterine Warbler, Scatness, Mainland, Shetland (Photo: Steve Minton)
Shetland laid claim to two Common Rosefinches this week: one was at Skaw, Whalsay on 20th and another was found on Fair Isle on 22nd. This week's review concludes with a nice find in east Devon, an Ortolan Bunting on Beer Head, early on the morning of 22nd. Another Ortolan was found on Inner Farne on 24th — and was, for several hours, identified as a Yellow-breasted Bunting — while a bird at Landguard NR (Suffolk) on 25th caused a few heart-in-mouth moments for those watching the news unfold from afar. This stunning individual was in a strange, rather beautiful, aberrant or partially leucistic plumage, quite unlike a "regular" Ortolan, but the face pattern, size, shape and call were all typical of the species. There is an opinion that perhaps the bird had been captive-bred (hence the odd coloration), but with two standard Ortolans appearing elsewhere this week, and with this individual arriving at a recognised migration hotspot, it is more likely that the bird is a genuine lost migrant.

Ortolan Bunting, Landguard NR, Suffolk (Photo: Chris Mayne)
Photo of the Week

Greenshank, Rutland Water, Leicestershire and Rutland (Photo: Garth Peacock)
This week's choice is an image that's easily overlooked, especially because the subject is not clearly isolated from the background. However, this image of a feeding Greenshank taken by Garth Peacock is one of those images that improves with close scrutiny. The close crop leads the eye down the bird's body past the eye to the open bill, before drawing you in to the small fish between its mandibles and even further in to the tiny splashes at the head end of the fish. Only then do you realise the staggering level of detail in the image, from the creases in the bird's legs to the bubbles in the water. With the low shooting angle and the sense of depth created by the defocused foreground and background, this image really takes you into the Greenshank's world, making it easy to imagine being another wader feeding alongside.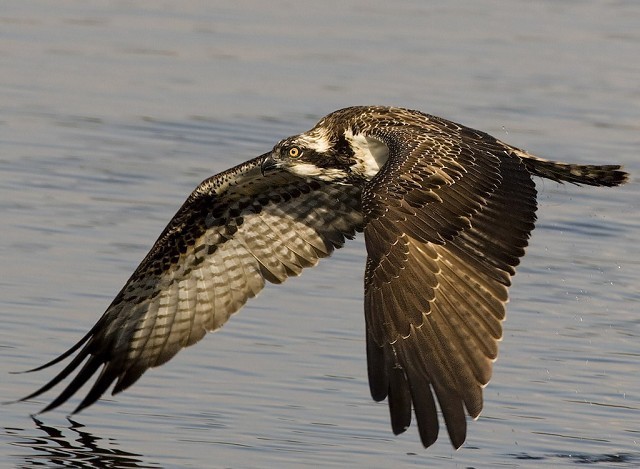 Osprey, Far Ings NR, Lincolnshire (Photo: Don Davis)

Common Kingfisher, undisclosed site, Northamptonshire (Photo: Richard Bedford)

Great White Egret, Chard Reservoir, Somerset & Bristol (Photo: James Packer)

Common Kestrel, Trevose Head, Cornwall (Photo: Pixellence)

Swallow, Minsmere RSPB, Suffolk (Photo: Jon Evans)

Little Gull, Salthouse, Norfolk (Photo: Chris Cook)

Spotted Crake, Greece (Photo: Kit Day)

Gannet, Bempton Cliffs RSPB, East Yorkshire (Photo: Alan Saunders)

Feral Pigeon/Rock Dove, New Brighton, Cheshire (Photo: Richard Steel)

Knot, Snettisham RSPB, Norfolk (Photo: David Whistlecraft)

Spotted Flycatcher, Fressingfield, Suffolk (Photo: Jon Evans)

Reed Warbler, Upton Warren NR, Worcestershire (Photo: Rob Smith)

Canada and Greylag Geese, Weir Wood Reservoir, East Sussex (Photo: Derek Washington)