The week at a glance
The calm after the storm applied to both the weather and the bird news this week. The fierce snowstorms that brought chaos to northern Britain and Ireland faded away and the week's news arrivals (even those of the highest order) failed to create the stir that we saw last week.
The cause of last week's commotion, the adult male Lesser Kestrel in Suffolk, was reported again briefly from Westleton Heath on 1st and 2nd, but all subsequent searches have drawn blanks and it does appear now that he's moved on or, given the weather, maybe even succumbed.
In Kent, it was a case of another week, another Fan-tailed Warbler! This time it was Pegwell Bay that scored, on 1st, inevitably raising the questions as to whether it was last year's long-staying bird reappearing (maybe it arrived last week at St. Margaret's ?), or last year's bird that hadn't actually gone anywhere at all (thought unlikely) or, option three, yet another new bird. It didn't seem to linger though, heading southwest, and hasn't been seen again.
After four birds in the first few weeks of 2010, including the popular and photogenic female in North Yorkshire, the arrival of a Black-throated Thrush at Hartlepool Headland (Cleveland) on 3rd didn't create the stir it might have done, but it was no less exciting for all that. A fine young male, this handsome individual showed throughout the day, to the obvious delight of local birders keen to enjoy a county first. Records of re-orientating Black-throated Thrushes at this time of year aren't unheard of nowadays — recent accepted records include two April birds in 2007 (on Shetland and in Shropshire) and one in late March of the same year (in East Yorkshire).

Black-throated Thrush, Hartlepool Headland, Cleveland (Photo: Frank Golding)
Norfolk's second Iberian Chiffchaff was found in sallows near Stiffkey Fen on 3rd, singing and showing off and on throughout the day. The bird was reported as still present to 5th although it appeared to become much less obliging. The county's first record of this, somewhat subtle, full species was found on the outskirts of Norwich in April 2007.
In Ireland, the Pied-billed Grebe was still present on Lough Atedaun (Co. Clare) on 3rd. In Suffolk the intriguing drake Aythya, resembling a Canvasback, was again on Cavenham Heath NNR on 1st. Little attention has been paid to this bird, given that hybrid status has been conferred upon it, but there seems to have been little discussion as to exactly why it is a hybrid (pale smear near the nail aside).
Over on the Outer Hebrides, the now traditional herald of an oncoming spring, White-billed Diver, appeared on the evening of 6th, when two birds were noted off Port Skigersta, Lewis. Three or four Pomarine Skuas during the week included singles off Lizard Point (Cornwall) and Saltcoats (Ayrshire), on 3rd and 4th respectively.
As spring swings our way, the only Glossy Ibis reported this week was in Lancashire, near Caton, on 2nd. "Regular" Great White Egrets were still in Somerset, Gloucestershire and Kent (still two birds in the county), while new birds included singles on 2nd in East Sussex and Northumberland, and on 4th at Farranfore (Co. Kerry). Another reappeared at Hendre Lake (Glamorgan) from 4th and one was back in Cambridgeshire on 6th. As the week drew to a close, two birds were at Martlesham (Suffolk) and single birds were at Rescobie Loch (Angus) and again at Alkborough Flats (Lincolnshire).

Glossy Ibis, Tacumshin, Wexford (Photo: Paul Kelly)

Great White Egret, Dungeness RSPB, Kent (Photo: Mark Pearson)
The only Cattle Egret of the week remained at Wareham (Dorset), while Spoonbills included nine together in Poole Harbour (Dorset) on 5th, five in Cornwall (two in the southeast and three in the north of the county), two in Norfolk and two still in Cork. Odd singles were seen in Cheshire, Lincolnshire and Essex.
The Common Crane remained at Eshott (Northumberland) all week, while two were seen around the Brecks (on both the Norfolk and Suffolk sides) on 4th, with perhaps the same pair then appearing, later in the day, in Cambridgeshire, at Streatham. Two were then seen in Leicestershire on 6th followed by two in Hampshire and West Sussex the following day, while a single bird was seen near Glandford (Norfolk), also on 7th. A single was on Guernsey on 1st and 2nd. A ringed White Stork was noted at three sites in Lancashire on 2nd–3rd and one (of unknown origin) was seen in West Yorkshire, at Otley, on 2nd and then in North Yorkshire, near Settle, on 3rd. One seen over Dunblane (Forth) on 7th was labelled an escape.

Common Crane, Claire Mare NR, Guernsey (Photo: Mark Guppy)

White Stork, Sawley, Lancashire (Photo: Mark Fanshawe)
A blue Snow Goose was at Loch of Strathbeg (Aberdeenshire) on 3rd, while four white birds were still at Leighton Moss (Lancashire) on 2nd (with three there the following day). The two blue and lone white Snow Geese popped up again this week, seen at Inverness Airport (Highland) on 7th.
Single Black Brants were noted as still present in East Yorkshire (at Spurn) and Lincolnshire (at Frampton Marsh), with singles at the end of the week in Norfolk and Hampshire.
The female Lesser Scaup was still on Eglyws Nunydd Reservoir (Glamorgan) on 1st–5th (where it was joined by a drake Ring-necked Duck) and the county's drake Lesser Scaup was again in Cardiff Bay on 3rd and 5th. The first-winter drake remained at Chew Valley Lake (Somerset) to 6th, while the young female remained on Guernsey for much of the week. In Surrey, a female Ferruginous Duck was found on Holmethorpe Sand Pits on 4th.

Lesser Scaup, La Grande Mare, Guernsey (Photo: Mark Guppy)

Ring-necked Duck, Eglwys Nunydd Reservoir, Glamorgan (Photo: Peter Morgan)

Ring-necked Duck, Cwm Rheidol Reservoir, Ceredigion (Photo: John A Davis)
In Ireland, four single drake Ring-necked Ducks were noted during the week, in Galway on 1st, Mayo on 2nd, Donegal on 3rd and Waterford on 4th. In Devon, the drake at Roadford Reservoir reappeared on 2nd, while a trio of long-staying females lingered at Llyn Pencarreg (Carmarthenshire), Cwm Rheidol Reservoir (Ceredigion) and on North Ronaldsay (Orkney).
On Scilly, the drake Black Duck was again on Tresco on 3rd while rather more unexpected was the drake Black Duck found at Conwy RSPB in north Wales on 7th (harking back to the days of the long-staying drake way back at Aber). The drake American Wigeon was at Martin Mere (Lancashire) to 6th with the other familiar drake of recent weeks remaining at Caerlaverock (Dumfries & Galloway) also on site to the same date. Just three Green-winged Teals were noted, birds again at Eyebrook Reservoir (Leicestershire), Kildrochat (Dumfries & Galloway) and Burren (Co. Clare).
Content continues after advertisements
A female-type Surf Scoter flew north past Girdle Ness (Aberdeenshire) on 1st and the female at Dawlish Warren (Devon) was present to 6th. Two drakes were again off Luskentyre (Outer Hebrides) until 3rd and the second-winter drake King Eider at Burghead Bay (Moray) lingered to 6th at least.
In Dorset, a drake Bufflehead was reported from Poole Park Lake (Dorset) on the early morning of 7th, but subsequent searches proved fruitless in terms of that particular species, although a drake Hooded Merganser was present! The Fleet Bufflehead meets the Radipole Hoodie?
A White-tailed Eagle was seen over Flamborough Head (East Yorkshire) on 4th (after one was seen over the A1 near Leeming Bar in North Yorkshire the previous day). Whether these records relate to the radio-tagged bird that was still in Northumberland on 1st is, at the moment, unclear but they presumably accounted for the bird seen at various sites across East Yorkshire and Lincolnshire on 7th.

White-tailed Eagle, Prestwick Carr, Northumberland (Photo: Keith Cochrane)
In Somerset, the first of the week's three Black Kites flew over Leighland Chapel on 4th and was followed by birds at Ipplepen (Devon) on 5th and at Ringaskiddy (Co. Cork) on 7th. Three Rough-legged Buzzards were seen this week: at Flamborough Head on 1st, again at Coveney (Cambridgeshire) on 3rd and at Letheringsett (Norfolk) on 7th. On Guernsey, the female Snowy Owl was relocated on Herm on 2nd.
A Black-winged Stilt made use of the warmer, brisk southerly airflow on 6th, dropping in to Yarmouth (Isle of Wight). This was only the third island record, following two together in April 1987. The Long-billed Dowitcher was seen again at Marshside (Lancashire) on 7th (it was last reported here on 28th March). In Kent, a Kentish Plover was at Shell Ness from 2nd–4th. A Dotterel was seen near Sennen (Cornwall), off and on from 1st–6th, with it or another again at Porthgwarra on 7th. A Marsh Sandpiper was reported from Badshot Lea (Surrey) on 7th — although only a Greenshank could be found the next morning.

Black-winged Stilt, Yarmouth, Isle of Wight (Photo: Derek Hale)
An adult Sabine's Gull was an early April surprise off Rathlin Island (Co. Antrim) on 3rd. The adult Bonaparte's Gull was still around the River Taff, Cardiff (Glamorgan) until 6th and Ring-billed Gulls included two (an adult and second-winter) at Sandymount (Co. Dublin) on 2nd along with two more adults at Dundalk (Co. Louth) on 5th. Further Irish adults were seen in Antrim, Meath, Louth, Galway and Cork, while a second-winter was in Limerick on 4th. Further adults on the UK side of the Irish Sea were at Oban (Argyll) and, again, at Seaforth (Lancashire) during the week, while on 7th an adult was at Rutland Water (Leicestershire).
Iceland Gulls just about maintained double-figure status this week, with around 12 or 13 birds noted in Britain and Ireland, while Glaucous Gulls dropped to just around eight birds. Caspian Gulls included at least three singles at Minsmere (Suffolk) between 3rd and 7th (a second-winter, followed by a third-winter and then a first-winter).

Iceland Gull, Loch Ryan, Dumfries & Galloway (Photo: Pete Berry)
The showy, and very popular, Pallid Swift was still performing well around the sewage works at Kessingland (Suffolk) to 6th while the influx of Alpine Swifts eased to a trickle this week: singles lingered at Cromer (Norfolk) and North Foreland (Kent) on 1st, with further All Fools Day birds appearing over Stoke Newington Reservoir (London), Dungeness (Kent) and Radipole Lake (Dorset). In Hampshire, an Alpine Swift was again over Fleet Pond on 3rd and the same date saw one appear at Chafford Hundred (Essex), the latter bird present to 5th. In London, an Alpine Swift was a brief visitor to Rainham Marshes on 5th and one was at Folkestone (Kent) the same day. The 7th saw an Alpine Swift zap over Holland Haven CP (Essex).

Pallid Swift, Kessingland, Suffolk (Photo: Chris Darby)

Alpine Swift, Chafford Hundred, Essex (Photo: Steve Arlow)
The first Woodchat Shrike of 2010, a male, was found at Church Cove, Lizard (Cornwall) on 2nd, and remained until 7th. Two Hoopoes were still in Dorset at the start of the week and were followed by birds at Knockadoon Head (Co. Cork) and Ramsey Island (Pembrokeshire) on 2nd, Sheppey (Kent) on 3rd, Dunglass (Borders/Lothian) and Rainham Marshes (London) on 4th and Stronsay (Orkney), Tregonissey, near St. Austell, and Sennen (Cornwall), all on 6th. The White-spotted Bluethroat remained on the Farnes (Northumberland) to 2nd and a female was found at Skateraw (Lothian) on 4th and was seen again on 5th.

Woodchat Shrike, Church Cove, Cornwall (Photo: Steve Bury)

Hoopoe, Dunglass Burn, Borders (Photo: Bruce Kerr)

Bluethroat, Skateraw, Lothian (Photo: Mike Thrower)
On Shetland, a Black-bellied Dipper was on Bressay on 2nd. A flock of 20 Waxwings were in Newcastle-upon-Tyne on 1st with a further 45 or so birds reported elsewhere (in Clyde, West, East and South Yorkshire, Buckinghamshire and Suffolk). With winter starting to drift away, it was no real surprise that Great Grey Shrikes did likewise: only seven birds were reported this week, all of them regulars (in Somerset, Hampshire, Ceredigion, Pembrokeshire, Clwyd, Lancashire and Northumberland).

Waxwing, Glasgow, Clyde (Photo: William Thom)

Great Grey Shrike, Burley, Hampshire (Photo: Aidan)
The female Two-barred Crossbill was still at The Lodge, Sandy (Bedfordshire) on 1st and was reported again on 2nd, 4th and 7th. In Dorset, a Rose-coloured Starling was seen in Weymouth on 5th, while two of the week's Serin records appeared in the same county: at Durlston CP on 2nd and singing at Christchurch on 6th. The third bird was found at North Foreland (Kent) on 7th.
The female Penduline Tit was still at Grove Ferry (Kent) on 3rd and the trio remained at Dungeness to 5th. In Highland, the male Little Bunting was still at Dunnet Bay throughout the week.

Penduline Tit, Grove Ferry NNR, Kent (Photo: Marc Heath)
Photo of the Week 1st-7th April 2010

Great Crested Grebe, undisclosed site, Lancashire (Photo: Tom Charles)
After what seems to have been a long winter in the UK, the transition into springtime is now advancing rapidly. Longer, warmer, brighter days are increasing the activity levels of many creatures, including bird photographers! With most birds now well into their breeding season, there are countless opportunities to capture the behaviours specific to this time of year. Among the best-known of these special behaviours are the various courtship rituals of the Great Crested Grebe. This week, photographer Tom Charles captured one of these intimate moments as a pair of grebes swam together, their bodies and head-plumes touching. A strong eye-line and the heart-shape formed by the bills and necks make an excellent focal point, whilst the foreground screen of reflected vegetation adds to the sense of depth and intimacy.

Long-tailed Tit, Wigan, Greater Manchester (Photo: David Cookson)

Red Kite, Gigrin Farm, Powys (Photo: John Betts)

White-tailed Eagle, Norway (Photo: Antony Ward)

Blue Tit, Shrewsbury, Shropshire (Photo: Maurice Baker)

Robin, undisclosed site, Suffolk (Photo: Amanda Hayes)

Common Treecreeper, undisclosed site, Lancashire (Photo: Adam Jarvis)

Goldfinch, undisclosed site, North Yorkshire (Photo: Andrew Holmes)

Hawfinch, Forest of Dean, Gloucestershire (Photo: Lewis Thomson)

Goldcrest, Spital, Cheshire (Photo: Steve Round)

Wryneck, Israel (Photo: Robin Edwards)

Golden Eagle, Norway (Photo: Ian Cook)

Little Owl, East Walton, Norfolk (Photo: Stephen Durrant)

Red Grouse, undisclosed site, Highland (Photo: Marcus Conway - ebirder)

Baya Weaver, India (Photo: Mital Patel)

White-throated Robin, Qatar (Photo: Dileep Kumar)

Herring Gull, Ardglass, Down (Photo: Craig Nash)

Blackcap, France (Photo: Chris Bale)

Cirl Bunting, Broadsands, Devon (Photo: Jim Almond)
Photo of the Week 25th-31st March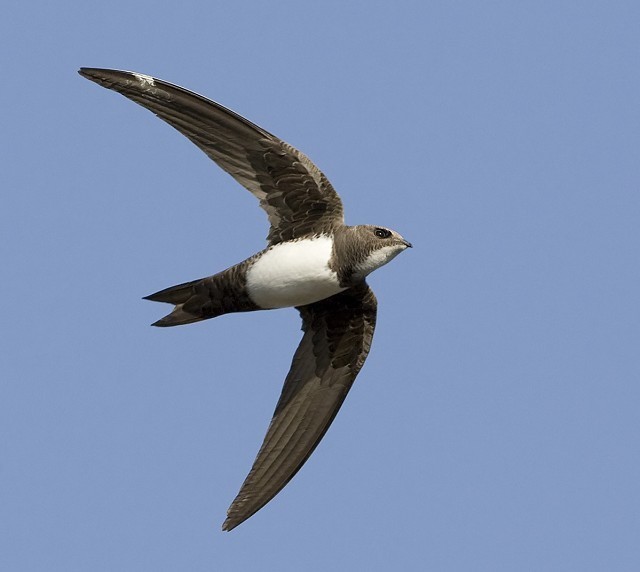 Alpine Swift, Lowestoft, Suffolk (Photo: Kevin Du Rose)
Every spring, the arrival of martins, swallows and swifts sees a new wave of bird photographers attempting to get flight shots of these aerial masters. In most cases, though, all they get is memory cards full of reject images, a high proportion of which don't even have a bird in the frame. After practising for a few sessions, the odd sharp shot creeps in, but normally with the bird at an unflattering angle and/or poorly exposed. Only after a lot more practice do most photographers start to appreciate what's needed to get a successful shot: choosing a sunny day with a blue sky to get an appealing setting, working out where the birds are repeatedly flying, positioning yourself with your back to the sun to get a well-lit bird, panning accurately during 'fly-bys' to keep the bird in focus, and so on. This week, the arrival of overshooting Alpine and Pallid Swifts in the UK has given photographers even more interesting subjects on which to test their skills. With his textbook shot of an Alpine Swift, Kevin Du Rose shows how it's done. Apart from its technical quality, what really makes Kevin's shot stand out is the angle of the bird, which captures both the shape and the plumage detail of the bird (including a sunlit face and underwing) and creates a great composition with the bird dynamically flying into the frame.

Great Crested Grebe, undisclosed site, Lancashire (Photo: Tom Charles)

Common Treecreeper, undisclosed site, Lancashire (Photo: Tom Charles)

Little Grebe, Minsmere RSPB, Suffolk (Photo: Garth Peacock)

Slavonian Grebe, Holt Fleet, Worcestershire (Photo: Carl)

Dipper, undisclosed site, Derbyshire (Photo: RichardP)

Marsh Harrier, Cley Marshes NWT, Norfolk (Photo: John Betts)

Pheasant, East Walton, Norfolk (Photo: Stephen Durrant)

Black-tailed Godwit, Blacktoft Sands RSPB, East Yorkshire (Photo: Rick Thornton)

Pied Wagtail, Titchwell RSPB, Norfolk (Photo: Ian)

Wren, Spital, Cheshire (Photo: Steve Round)

Brambling, Llandrindod Wells, Powys (Photo: Kev Joynes)

Crested Tit, undisclosed site, Highland (Photo: Pauline Greenhalgh)

Long-tailed Tit, East Tilbury, Essex (Photo: Lea Roberts)

Long-tailed Duck, Fife Ness, Fife (Photo: John Anderson)

Cormorant, undisclosed site, Lancashire (Photo: Adam Jarvis)

Isabelline Shrike, Bahrain (Photo: Adrian Drummond-Hill)

Northern Wheatear, Torness Power Station, Lothian (Photo: James Wood)