The week at a glance
That's more like it! Finally, it really felt like autumn 2013 was beginning to kick off. Britain and Ireland enjoyed the best of both worlds this week as the review period kicked off with a transatlantic weather system careering across the Atlantic and passing just to the northwest of Ireland and Scotland. Then, in conjunction with the new working week, an easterly airflow began to waft continental and Siberian migrants towards eastern coastlines — particularly Shetland which, as it almost does at this time of year, fared best.
The undeniable highlight of the week was a glowing male Wilson's Warbler on Dursey Island (Cork). Identified during the afternoon of Friday, news was released late that evening but, despite the hour, still allowed perhaps 50 Brits to join a contingent of Irish twitchers in journeying across to the island on the Saturday. Fortunately, after a foggy night, the warbler was still present and, although mobile and elusive in Derek Scott's garden, showed well at times. It emerged that the bird had been present since Wednesday (when the system passed to the north of Ireland), and had likely arrived then. It was seen only very briefly both then and on Thursday despite hours of searching, remaining frightfully elusive until it was finally clinched late on the Friday. This, a species that has yet to occur on the Azores, was probably quite low on many birders' lists of likely repeats and, as such, may well be considered an early contender for bird of the autumn. The bird had sadly moved on by Sunday, leaving a disappointed British and Irish contingent on the island that day.

Wilson's Warbler, Dursey Island, Cork (Photo: Victor Caschera)

Wilson's Warbler, Dursey Island, Cork (Photo: Richard Bonser)
Not far off was County Galway, Ireland and the Western Palearctic's second Eastern Kingbird. Following last year's one-afternoon-wonder on Inishmore, there was rather more than a subtle sense of déjà vu as Anthony McGeehan discovered the bird around the church on Inishbofin late on 24th. Needless to say, a clear window early on in the night saw the kingbird make its escape before a band of both British and Irish twitchers arrived on the island the following morning, making it two kingbird dips in the county within a year! It later transpired that the bird had been present since the Monday (and perhaps even Sunday), for the local vicar gave an excellent description of the bird to the finder prior to him independently locating and identifying it. The similarity between this and last year's records — and the surrounding circumstances — is uncanny to say the least; many will just be hoping that the next kingbird (whenever it may be) is a little more co-operative. It was not a wasted day for the dippers, though, with a tick-infested Blackpoll Warbler found there on 25th along with Wryneck, Barred Warbler and both Pied and Spotted Flycatchers.

Blackpoll Warbler, Inishbofin, Galway (Photo: Josh Jones)
Also in Ireland was the stunning Elegant-type Tern, still at Beale Strand (Kerry) on and off to 24th. It also visited Rinevella Bay (Clare) on 20th.

orange-billed tern sp., Beale Strand, Kerry (Photo: Colin Bradshaw)

orange-billed tern sp., Beale Strand, Kerry (Photo: Colin Bradshaw)

orange-billed tern sp., Beale Strand, Kerry (Photo: Colin Bradshaw)
Earlier in the week, Shetland had scored heavily in the form of an extremely elusive Baltimore Oriole — no doubt a victim of the same system as the kingbird and Wilson's, it showed in the Halligarth and Baltasound area of Unst a couple of times only on 19th before being relocated there, but again elusive, on 23rd. This is the first Shetland record since one on Fair Isle in September 1974; the first for the archipelago was also at Baltasound as long ago as 1890!
In fact, Shetland had a pretty productive week in general. The year's first Pallas's Grasshopper Warbler showed well on Out Skerries on 23rd, while Fair Isle kicked off in a big way on 25th as White's Thrush, Lanceolated Warbler, Upland Sandpiper and Hornemann's Arctic Redpoll were all found. The redpoll proved one of half a dozen on the archipelago throughout the week, with typically showy birds involving two on Fetlar, two on Mainland and another on Unst — this species has become an expected visitor in September in modern times, and is seemingly more regular than nominate exilipes!

Hornemann's Arctic Redpoll, Funzie, Fetlar, Shetland (Photo: Brydon Thomason)

Hornemann's Arctic Redpoll, Hoswick, Mainland, Shetland (Photo: Hugh Harrop)
Orkney was not to be outdone, though. After a River Warbler was trapped and ringed on North Ronaldsay on 23rd, the island weighed in with a first-winter Brown Shrike on 24th. This species continues to experience a dramatic upturn in records, with the North Ron bird preceded by Hampshire's first — another first-winter — delighting quick-movers at Hook-with-Warsash Nature Reserve on 20th. Back up to Orkney, and a Bonelli's warbler sp. was on Burray briefly on 23rd.

Brown Shrike, Hook-with-Warsash LNR, Hampshire (Photo: Lee Fuller)
Further fresh Shetland score included a fine juvenile Two-barred Crossbill at Valyie then Skaw, Unst, from 22nd. Four Arctic Warblers were on Unst (Lund and Muness, the former already ringed) and Mainland (Scalloway and Bigton), a Western Subalpine Warbler was at Mid Yell, Olive-backed Pipits were unearthed at Voe and Frakkafield, a Short-toed Lark at Exnaboe on 21st-22nd, a Citrine Wagtail and up to two Little Buntings on Foula (with another Little Bunt on Fetlar), and a couple of Ortolans on Unst and at Sumburgh. No fewer than five Blyth's Reed Warblers were also found: on the mainland at Scatness, Voe and Quendale, on Unst at Norwick and on Foula.

Two-barred Crossbill, Foula, Shetland (Photo: N Thomas)

Arctic Warbler, Bigton, Mainland, Shetland (Photo: Hugh Harrop)

Western Subalpine Warbler, Mid Yell, Yell, Shetland (Photo: John Forbes)
This bout of quality was found among an impressive quantity of scarce migrants. In fact, one wonders whether the most numerous of all of these — Yellow-browed Warblers — even deserve 'scarce' status these days. Numbers rose exponentially as the week wore on with single-site counts peaking with 16 on Fair Isle on 25th, though this will no doubt be topped next week. Yellow-broweds also arrived en mass in the north east of England; counts again peaked on 25th with 17 on Holy Island and ten on St. Mary's Island (both Northumbs), while the previous day saw ten also on the Isle of May (Fife). In total, 238 reports of the species were broadcast on Bird News Extra!

Yellow-browed Warbler, Quendale, Mainland, Shetland (Photo: James Wood)

Yellow-browed Warbler, Burrafirth, Unst, Shetland (Photo: Mike Pennington)

Yellow-browed Warbler, Noss Head, Highland (Photo: Chris Griffin)
Rarities, however, were hard to find on the British mainland. An Olive-backed Pipit was at Runswick Bay (N Yorks) on 25th and three Parrot Crossbills were particularly significant on the Angus coastline at Mains of Usan that day. Suffolk's Lesser Grey Shrike lingered at Aldringham Walks to 23rd while there was a surprise reappearance from the Borders Sardinian Warbler — the fine male last seen in late June — at Mire Loch on 25th. The Welsh islands fared well with a frosty first-winter Siberian Stonechat on Bardsey Island (Gwynedd) from 24th while two of the week's three Booted Warblers were in Pembrokeshire — on Ramsey Island on 23rd and then Skokholm on 25th. The third was at Hook Head (Wexford) from 24th — the fifth national record, this remains a very rare bird in Ireland.

Lesser Grey Shrike, Leiston, Suffolk (Photo: Ian Curran)

Sardinian Warbler, Mire Loch, Borders (Photo: Kris Gibb)
Content continues after advertisements

Siberian Stonechat, Bardsey Island, Gwynedd (Photo: Steve Stansfield)

Siberian Stonechat, Bardsey Island, Gwynedd (Photo: Steve Stansfield)
A good spread of expected scarcities could be found around British and Irish coastlines throughout the week — Barred and Icterine Warblers, Bluethroats, Wrynecks, Red-breasted Flycatchers and Common Rosefinches all figured in varying numbers, while there were Richard's Pipits on Shetland and in Highland. An inland Red-backed Shrike at Greenham Common (Berks) on 20th-24th was popular, though a bird at Cannock Chase (Staffs) on 23rd proved untwitchable — also significant were two together at Thorney Island (W Sussex). A Melodious Warbler performed extremely well in the Bill Quarry at Portland (Dorset) on 23rd-24th, a Tawny Pipit was at Cuckmere Haven (E Sussex) on 25th and a Red-rumped Swallow flew past Wakering Stairs (Essex) on 22nd.

Red-spotted Bluethroat, Whitley Bay, Northumberland (Photo: Steven Fryer)

Common Rosefinch, Sumburgh, Mainland, Shetland (Photo: James Wood)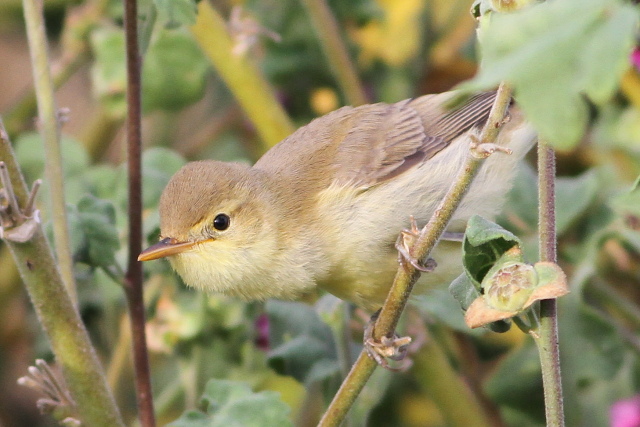 Melodious Warbler, Portland, Dorset (Photo: Peter Moore)

Red-breasted Flycatcher, Sumburgh, Mainland, Shetland (Photo: Hugh Harrop)
A good showing of juvenile Rose-coloured Starlings typically saw birds focussed in the south and southwest; in addition to lingering birds at Caister (Norfolk), Dawlish Warren (Devon) and on St. Agnes (Scilly), new individuals were found in Lizard village (Cornwall) on 21st-24th, Long Rock (Cornwall) from 24th, St. Catherine's Point (IoW) on 24th and Prawle Point (Devon) on 25th. Also in Cornwall, a Hoopoe was in Nanjizal valley on 24th while there was belated news of an Aquatic Warbler trapped and ringed there on 22nd. An Ortolan flew over Sandy Point (Hants) on 21st while a showy bird was on Peninnis Head, St. Mary's (Scilly) late on.

Red-backed Shrike, Greenham Common, Berkshire (Photo: Richard Collins)
Continuing Two-barred Crossbill flocks remained in Norfolk and South Yorkshire. The Lynford birds totalled six, perhaps more, throughout the week — it is thought an adult male, a second-winter male, at least one first-winter male, an adult female and at least two other first-winters are present. Up in Yorkshire, at least four remained at Broomhead Reservoir.
Highlight of the seawatching week was a Fea's-type Petrel south past Dursey Island on 23rd. It was otherwise fairly quiet, though 44 Leach's Storm-petrels passed Bridges of Ross (Clare) on 19th and a dozen Great Shearwaters were seen from a Scilly pelagic that day.
In County Mayo, the Pied-billed Grebe was again reported from Achill Island on 19th. Three Small Canada Geese arrived on Sanday (Orkney) with a large flock of Pink-footed Geese on 22nd. The trio of Blue-winged Teals remained at Boultham Mere (Lincs) throughout the week, as did the drake at Frankfield Loch (Clyde). The female Ring-necked Duck returned to Killadoon (Mayo) on 22nd and the drake was still at Meikle Loch (Aberdeens) on 22nd. Also returning was the drake Lesser Scaup at Bryn Bach Country Park (Gwent) on 21st in addition to the long-staying drake in Greater Manchester. The female Ferruginous Duck also continued its stay at Chew Valley Lake (Somerset). Off Burghead (Moray/Nairn), the drake King Eider was again seen while drake Surf Scoter were in the Sound of Taransay (Outer Hebs) and off Murcar Golf Course (Aberdeens).

Blue-winged Teal, Boultham Mere, Lincolnshire (Photo: Graham Catley)

Lesser Scaup, Pennington Flash CP, Greater Manchester (Photo: John Tymon)
An influx of Glossy Ibis was one of the week's talking points — this is rapidly become a regular autumn event, and good numbers of birds were seen in addition to the long-stayer still at Meare Heath (Somerset). Eleven over Torcross (Devon) on 23rd was the highest single count, though nine at South Huish Marsh (Devon) on 23rd-24th gave them a run for their money. Four were seen at Torpoint on 22nd, with a single bird presumably responsible for Somerset sightings from the Axey Estuary, Weston-super-Mare sewage works, Stolford and Stockland Bristol. Another was at Man Sands (Devon) on 25th while Cornish singletons were on the Camel Estuary and at Lizard Point. Eight Great White Egrets remained in Somerset at Meare Heath, as did threes in Suffolk and Kent. The Cattle Egret continued at Tetney Lock (Lincs) and a Black Stork flew over Portinscale (Cumbria) on 23rd.

Glossy Ibis, South Huish Marsh, Devon (Photo: Alan Doidge)

Cattle Egret, Tetney, Lincolnshire (Photo: Tom Victory)
Cley's Wilson's Phalarope was still there on 19th, while other Nearctic waders included new Lesser Yellowlegs at Ballyconneely (Galway) from 20th and Cliffe Pools (Kent) on 23rd in addition to birds still in Devon and County Wexford. An adult Semipalmated Sandpiper was at Hoylake (Cheshire) on 21st and further new birds were at Pilmore (Cork) on 22nd, up to two at Tacumshin (Wexford) throughout the week and the juvenile again on Brownsea Island (Dorset). An adult White-rumped Sandpiper was on the Farne Islands (Northumbs) on 25th, eight Buff-breasted Sandpipers included new birds in Gloucestershire, Kent and County Cork, and there were 82 Pectoral Sandpiper reports on Bird News Extra throughout the week. Sixteen American Golden Plovers were almost all adults, and included twos on Shetland and in Counties Londonderry and Wexford. Two juvenile Baird's Sandpipers were fresh in at Blanket Nook (Donegal) on 22nd-24th with further juveniles found in County Kerry at Ventry from 19th and Black Rock Strand from 24th.

Lesser Yellowlegs, Ballyconneely, Galway (Photo: Dermot Breen)

Lesser Yellowlegs, Wexford Wildfowl Reserve, Wexford (Photo: Mark Carmody)

Pectoral Sandpiper, Rumworth Lodge Reservoir, Greater Manchester (Photo: Jon Worthington)

American Golden Plover, St. Mary's Island, Northumberland (Photo: Chris Barlow)

Baird's Sandpiper, Ventry, Kerry (Photo: Richard Bonser)
An adult Laughing Gull was an excellent find on Sanday (Orkney) on 19th-21st. Adult Bonaparte's Gulls remained at Teignmouth (Devon) and Heysham (Lancs), and the first-winter was again reported from St. Mary's (Scilly) on 20th. All but one of six Ring-billed Gulls were in Ireland; the lone British record concerned the returning Dingwall (Highland) bird. A second-winter Kumlien's Gull at Peel on 23rd was a first for the Isle of Man. Finally, the juvenile White-winged Black Tern remained at Tacumshin (Wexford) to 24th.

Kumlien's Gull, Peel, Isle of Man (Photo: CJWormwell)

Laughing Gull, Sanday, Orkney (Photo: Mark Lewis)

White-winged Black Tern, Tacumshin, Wexford (Photo: Derek Charles)
Photo of the Week

White's Thrush, Fair Isle, Shetland (Photo: Steve Arlow)
For European birders, the mega-rare White's Thrush is a species guaranteed to spark interest. As well as the rarity value of these birds, they are stunningly marked, oversized thrushes that don't give themselves up easily to would-be observers. Before this week, our photo galleries contained only 23 images of this species, nine of which were taken in east Asia and four were of a dead individual found in East Yorkshire in 2007. The remaining 10 images (taken between 2003 and 2008) were very much in the 'record shot' category. This week, the discovery of a White's Thrush on Fair Isle (Shetland) was therefore an opportunity for a major 'scoop'. Birder Steve Arlow explains on his website how, true to form, this individual did its best to avoid detection, in this case repeatedly using a rabbit burrow for cover. With patience, though, Steve eventually managed to get a few fantastic images, the best of which he shared through BirdGuides. This sharp and well-lit image shows the bird out in the open in classic 'field guide pose'. We were not surprised to see that this image received the most thumbs-up from our members this week and we're delighted to choose it as Steve's first Photo of the Week.

Sparrowhawk, Laurieston, Dumfries & Galloway (Photo: Chas Moonie)

Osprey, Rothiemurchus, Highland (Photo: Bill Doherty)

Sabine's Gull, Scilly pelagic, Isles of Scilly (Photo: Joe Pender)

Buzzard, Llandderfel, Gwynedd (Photo: Neill Carden)

Golden Plover, Landguard NR, Suffolk (Photo: Chris Mayne)

Bittern, Minsmere RSPB, Suffolk (Photo: Carl Wright)

Pectoral Sandpiper, Rumworth Lodge Reservoir, Greater Manchester (Photo: Ivan Ellison)

Two-barred Crossbill, Skaw, Unst, Shetland (Photo: Dave Perrett)

Wilson's Phalarope, Cley Marshes NWT, Norfolk (Photo: Ian Clarke)

Hobby, undisclosed site, Surrey (Photo: Andrew Moon)

Baird's Sandpiper, Ventry, Kerry (Photo: Colin Bradshaw)