The week at a glance
The onset of spring appeared slightly more hesitant this week as the pace of migrant arrivals seemed, if anything, to ease off rather than accelerate. However, Tree Pipit was new for the year and a number of Ospreys filtered north among a trickle of other migrants, while eyes on the ground did pick up some unexpected discoveries. A report of a pale-morph Booted Eagle at Cockley Cley Warren, Norfolk, on 22nd certainly raised a few eyebrows. After drifting west-south-west, a familiar routine unfolded in which subsequent searches of the area revealed no eagle. It has not been claimed since but, despite the early date for a vagrant Booted Eagle, it might be worth keeping one's fingers crossed for follow-up claims and an eventually twitchable individual; it is also worth remembering that the wide-ranging bird of 1999–2000, which many feel deserves a place on Category A of the British List, was first seen on 5 March.
The Booted was not the only topical eagle reported in East Anglia this week: the immature White-tailed Eagle continued to tour the region. Some reports suggested there may have been two different birds but it seemed likely in the end that just one was involved. Sightings came from the Horsey area of Norfolk from 18-23 and at Minsmere and Benacre in Suffolk on 20th, before a return visit to the latter county on 23rd where it was picked up at Sizewell and Felixstowe. There was also a claim of the bird feasting on a duck at Horsey Island, Essex, on 24th. Other out-of-range White-tailed Eagle reports came from Taffs Well, Glamorgan, on 19th and Eastgate, Durham, on 24th.

White-tailed Eagle, Horsey, Norfolk (Photo: Charles Cuthbert)
In a week when the number of incoming passerine migrants perhaps did not quite live up to hopes, the discovery of a male Desert Wheatear at Port Askin on St Agnes, Scilly, on 21st came entirely out of the blue, as spring records are uncharacteristic of the species. It was nevertheless entirely welcome, especially as the bird lingered for several days and occasionally belted out snippets of song. Otherwise, it was another lean weak for fresh rarities, with a first-winter Bonaparte's Gull on Tiree being new on 24th. The first-winter drake Harlequin Duck was as comfortable as ever on the River Don in Aberdeen on 24th and the female at Brora was noted on 20th, when the drake Black Scoter was still off Rossbeigh, Co Kerry, and the American Coot was on North Uist. Cornwall's second-winter American Herring Gull proved unusually predictable in its behaviour, spending time in the fields at Jericho Farm, St Just, each day from 20-24th.

Desert Wheatear, St. Agnes, Isles of Scilly (Photo: Martin Goodey)

Harlequin Duck, Aberdeen, Aberdeenshire (Photo: Lee Johnson)
Co Galway's ever-faithful Forster's Tern was logged again at Mutton Island on 19th. Both Laughing Gulls stayed put this week, the first-winter at New Brighton, Cheshire, continuing to perform on 23rd and news of Co Cork's second-winter at Ballycotton being received on 19th. In addition to the new bird in Argyll, existing Bonaparte's Gulls included the first-winters at Radipole Lake, Dorset, to 18th and Tramore, Co Waterford, to 23rd, while several sightings of an adult around Cardiff Bay during the week concluded on 24th with news of two at this traditional site for the species. In Co Dublin, the Rogerstown Estuary held onto its Lesser Yellowlegs to at least 22nd.

Laughing Gull, New Brighton, Cheshire (Photo: Peter Wood)

Bonaparte's Gull, Radipole Lake RSPB, Dorset (Photo: Peter Moore)
The only King Eider reported was the 'Queen' at Ruddon's Point, Fife, still there on 22nd. Much further south, the drake American Black Duck was still on Tresco, Scilly, on 21st. Lesser Scaup reports involved lingering drakes in Glamorgan, Sligo and Ayrshire. Half of the week's six American Wigeon were new: a pair on Papil Water, West Burra, Shetland, on 21st and a drake on the Taw Estuary in Devon on 24th; staying drakes were in Nottinghamshire, West Yorkshire and Co Leitrim. A female Ferruginous Duck showed up at Lakenheath Fen, Suffolk, on 21st and was reported again the next day. The fields near Tullibody, Forth, evidently met with the approval of the Ross's Goose as it could be readily found there with Pink-feet to 24th. The Ridgway's Cackling Goose was again at Cults Loch, Dumfries & Galloway, on 24th and Wexford's North Slob had its Lesser Canada Goose to at least 20th. Other scarce wildfowl nationwide included five Black Brants, 12 Ring-necked Ducks and 10 each of Green-winged Teal and Surf Scoter.

Ring-necked Duck, Priorslee Lake, Shropshire (Photo: Chris Cook)
On 22nd, an intriguing report came through of a very early Black Kite at Eastry, Kent. It was still there on the afternoon of 23rd and just 95 minutes later one flew over Bough Beech Reservoir, in the same county but much further west. Meanwhile, the adult known to be an escapee survived in Suffolk. The week saw the number of White-billed Divers off Portsoy, Aberdeenshire, swell to a minimum of six on 21st, while the adult remained in Water Sound, Orkney, on 24th and Shetland had two early in the review period. Kent held onto its three Cattle Egrets, with the reappearance of the lone bird near the Royal Military Canal at Warehorne and the extended stay of the pair at Dungeness, while reports of long-staying Glossy Ibis came from Nottinghamshire, Cambridgeshire and Co Waterford.
For all we know a left-over from the 2013 invasion, the male Two-barred Crossbill reappeared with Common Crossbills in a larch at Yew Tree Brake, Speech House, Gloucestershire, on 21st. The two Penduline Tits carried on visiting the bulrushes at Darts Farm, Devon, all week, but the Black-bellied Dipper on Kelk Beck, E Yorks, seemed to vanish after the morning of 23rd. The two male European Serins at Gunners Park, Essex, were in place to 21st before they flew off and no news has yet followed. Forest Farm, Glamorgan, and Gulval, Cornwall, hosted their respective Little Buntings to at least 23rd and 22nd and a new individual was rather too fleeting at Stanpit Marsh, Dorset, on 20th.

Penduline Tit, Darts Farm RSPB, Devon (Photo: Vern Wright)

Little Bunting, Forest Farm, Glamorgan (Photo: John Freeman)
During the week the two Richard's Pipits were still at Breydon Water, Norfolk, and singles remained at Parton, Cumbria, on the Isle of Sheppey, Kent, and at Newhaven, E Sussex, although this last bird sadly ended up as Sparrowhawk fodder. The Yellow-browed Warblers residing at Sedgebarrow, Worcs, and Branscombe, Devon, both remained to 22nd at least. A minimum of 14 Waxwings were still in the country over the week but more spring-like were a Hoopoe near Allihies, Cork, on 24th and a Bluethroat at Longis Pond, Alderney, on 23-24th; there will surely be more in this ilk to come as we approach April.
Photo of the Week, 18—24 March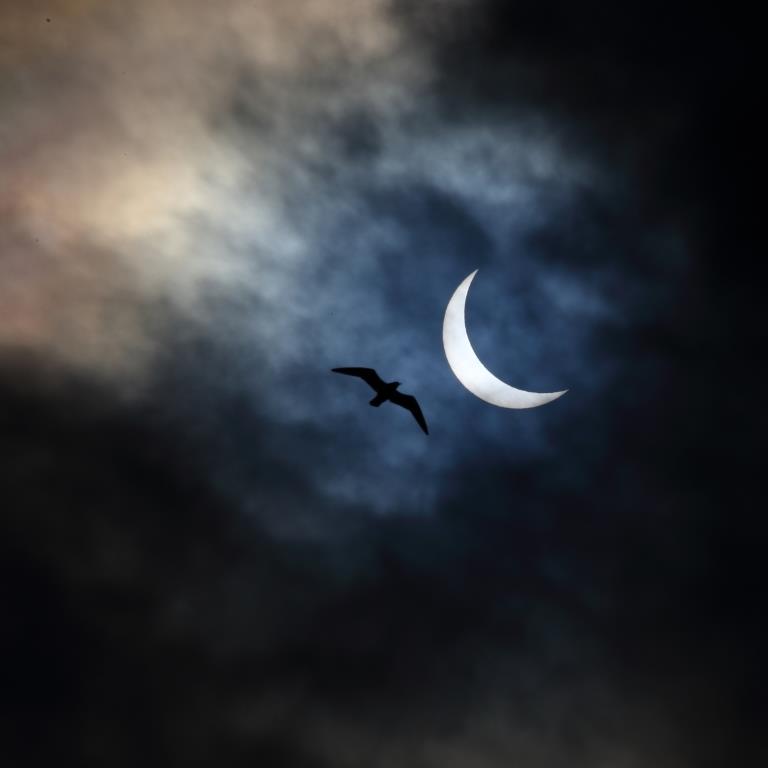 Herring Gull, Newcastle upon Tyne, Northumberland (Photo: Heiko Peters)
Shooting straight into the sun is not what photographers usually try to do, writes Steve Young, but it's all part of the challenge on the rare occasion of a solar eclipse. There's also a limited window of opportunity to try and make your shot somehow different and special. Heiko Peters has managed to do just that with this outstanding image; perfect timing captures the moment as a Herring Gull flies past just as the eclipse reaches its zenith through the clouds.
It's interesting to note the exposure details, which are the opposite of what might usually be used: low ISO of 100 and f32 aperture, yet still managing a shutter speed of 1/1600th second. The eclipse is a photographically tricky subject but Heiko has done very well to capture it in this way. With the next similar solar eclipse in the UK not due until 12 August 2026, it will be a long wait before everyone can try something similar again. Congratulations to Heiko on his very different shot, which is a worthy winner of our Photo of the Week award.
Other notable images

Corn Bunting, undisclosed site, Suffolk (Photo: John Richardson)

Bonaparte's Gull, Radipole Lake RSPB, Dorset (Photo: Peter Moore)

Penduline Tit, Darts Farm RSPB, Devon (Photo: Tim White)

Siskin, undisclosed site, Lothian (Photo: Dennis Morrison)

Buzzard, Stover CP, Devon (Photo: Gray Clements)

Hoffmann's Woodpecker, Costa Rica (Photo: Paul Cools)

Redshank, West Kirby Marine Lake, Cheshire (Photo: Charles Farnell)

Oystercatcher, Sandwick, Unst, Shetland (Photo: Robbie Brookes)

Eider, Fife Ness, Fife (Photo: Joe Graham)

Lesser Kestrel, Spain (Photo: Mark ferris)

Kestrel, undisclosed site, West Sussex (Photo: Howard Kearley)

Bonaparte's Gull, Cardiff Bay, Glamorgan (Photo: Mark Hipkin)