The week at a glance
The only real quality new bird of the week was not an expected one. You might think that a big high-pressure system at the start of spring would bring a European stray, but the new arrival was from points west, though presumably has been with us all winter. The elusive Pied-billed Grebe at Salen, Mull (Argyll) on 22nd–23rd is actually the second for Argyll, following one on Mull in summer 1998.
In Ireland, most of the megas remained, the drake White-winged Scoter being present all week and showing quite well at times off Rossbeigh (Co Kerry). The American Coot also remained at Termoncarragh Loch (Co Mayo) to at least 22nd and the House Crow spent the week at Cobh (Co Cork). Elsewhere, the only other mega was also a long-stayer: the Oriental Turtle Dove in Chipping Norton (Oxfordshire).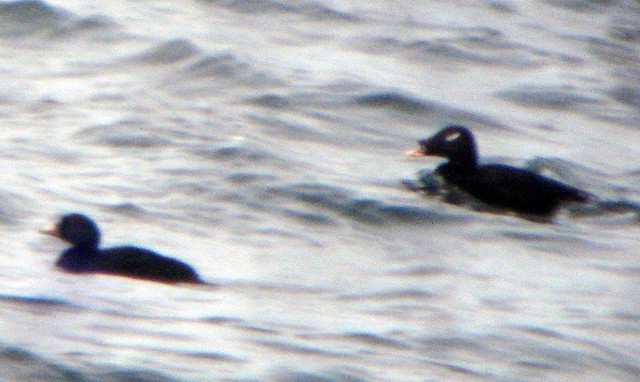 White-winged Scoter, Rossbeigh, Kerry (Photo: Finn Moore)

Oriental (Rufous) Turtle Dove, Chipping Norton, Oxfordshire (Photo: Chris Thomas)
Various Snow Geese were reported this week, with birds still near Portmough (Co Antrim) to at least 22nd and at Strand Loch (Shetland) to 18th and Craobh Haven (Argyll) again on 21st. One at Ashington (Northumberland) on 20th and then past the Farne Islands on 23rd may have been the same as on Holy Island 10 days previously. The sole Ross's Goose was again in Norfolk, seen with Pink-footed Geese and feral Barnacle Geese past Cley Marshes on 19th.

Snow Goose, Strand Loch, Mainland, Shetland (Photo: Hugh Harrop)

Ross's Goose, Cley Marshes NWT, Norfolk (Photo: Andy Thompson)
Numbers of Black Brants continued to decline, with just two this week: at Rosslare (Co Wexford) on 19th and Hoo St Werburgh (Kent) on 21st. Apart from a presumed escape at Rainham Marshes (London) on 19th, the only Red-breasted Goose was at Vane Farm (Perth & Kinross) on 19th. The only other geese of note were the Richardson's Canada Goose still on Islay (Argyll) on 22nd and a Lesser Canada Goose again at Malin Head (Co Donegal) on 23rd, present since October 2010.
The same two Ferruginous Ducks were still staying put, at Oulton Broad (Suffolk) to at least 18th and on Lurgan Park Lake (Co Armagh) all week. There was another possible as well, at Frampton-on-Severn (Gloucestershire) on 22nd. There was just one new Ring-necked Duck this week, a drake at Lower Lough Erne (Co Fermanagh) on 22nd. After a month-long absence the female was back at Bosherston Lily Ponds (Pembrokeshire) on 17th and elsewhere, others remained at Ballyherly Lough (Co Down) to 19th and Craigavon Balancing Lakes (Co Armagh) to 21st, and the drake remained elusive (to me at least!) at Stithians Reservoir (Cornwall) to 21st.

Ferruginous Duck, Lurgan, Armagh (Photo: Derek Charles)
Many of the winter's Green-winged Teal seemed to pop up again this week, along with a popular new bird at Newburgh Priory (North Yorkshire) form 18th–21st. The only other new bird was at Crown Lakes Country Park (Cambridgeshire) on 17th. Some of the longer-staying birds were again at Kildrochat (Dumfries & Galloway), Rossie Bog (Fife) and Caerlaverock (Dumfries & Galloway). In Ireland, birds were reported from Tacumshin (Co Wexford) again on 21st and Coonagh (Co Limerick) on 22nd. Also in Ireland, the drake Black Duck was at Ventry Harbour (Co Kerry) all week, looking to be paired with a female Mallard, which should make for some confusing hybrids.

Green-winged Teal, Newburgh Priory, North Yorkshire (Photo: Andy Booth)

Black Duck, Ventry, Kerry (Photo: Ronan McLaughlin)
One very showy new bird was a fine drake Blue-winged Teal at Sandy Water Park (Carmarthen) on 20th–22nd. This is only the second for the county, following one in March 2000.

Blue-winged Teal, Sandy Water Park, Carmarthen (Photo: Chris Thomas)
The only remaining American Wigeon was the drake at Rushy Common (Oxfordshire), present again from 19th–21st. A drake Lesser Scaup at Marshside RSPB (Lancashire) from 19th caused some discussion, with speculation rife as to whether it showed some hybrid features. It does look like the real deal, though, but then that's not for us to decide... A certain hybrid was at Abbotsbury Swannery (Dorset) on 22nd. Other genuine birds remained at Slimbridge (Gloucestershire) to at least 21st and Cosmeston Lakes (Glamorgan) to 22nd. There was another new bird at Milton Loch (Dumfries & Galloway) on 22nd.

Lesser Scaup, Marshside RSPB, Lancashire (Photo: Gavin Thomas)

Lesser Scaup, Marshside RSPB, Lancashire (Photo: Gavin Thomas)

Lesser Scaup, Marshside RSPB, Lancashire (Film: MrRonjax).
The female Surf Scoter is sticking it out off Dawlish Warren (Devon), with other lingering birds in Colwyn Bay (Conwy) on 18th and off Finvarra Point (Co Clare) on 22nd. The latter was with 13 Black-throated Divers, but more impressive were the divers and grebes still in Gerrans Bay (Cornwall): up to 42 Black-throated and 20 Great Northern Divers and 14 Slavonian and 2 Black-necked Grebes. Shetland also held onto several King Eiders, with an adult drake and first-winter in Uyeasound, Unst on 21st–23rd and possibly the same drake roosting on Lings, Yell on 21st. Linga also saw the only Northern Eider of the week, reported on 22nd. This week Smew were reported from fewer than 20 sites, with many birds on the move now. Most were in central and eastern locations, with none in Wales or Ireland. The peak count was down to just seven, at Paxton Pits (Cambridgeshire) on 22nd.
Many seabirds are well and truly back around colonies now, with colonies starting to bustle — check out Bass Rock's Gannets on the Scottish Seabird Centre webcam. It's often surprising how birds sneak back in, and a count of 1,170 Puffins at St Brides (near Skomer, Pembrokeshire) on 19th might surprise some western seawatchers.
There were just six sites reporting Great White Egrets this week, including Meare Heath/Shapwick Heath (Shropshire) with two birds present. Other regulars were at Blithfield Reservoir (Staffordshire) and Manby (Lincolnshire), with new birds at Buckenham Marshes (Norfolk) on 18th, Arne (Dorset) on 20th and Slimbridge (Gloucestershire) on 21st. Slimbridge also played host to a Cattle Egret on 19th–21st, with one still on Guernsey, at Ruette Julienne on 17th, and a new bird briefly at Stoke Ferry (Norfolk) on 22nd. Spoonbills were seen at 12 sites along the south coast, with two singletons still also in Ireland, at Courtmacsherry (Co Cork) and Cromane (Co Kerry). Most were small groups of two or three, including some colour-ringed birds, but there were nine at Arne (Dorset) on 17th.

Spoonbill, Warleigh Point, Devon (Photo: Phil Edmonds)
Following the report last week of a White Stork in Ayrshire, one or the same was at Musselburgh (Lothian) on 18th–20th, but looks to be the same ringed bird that has been returning to central Scotland for possibly as long as 10 years. Further south, there was also one seen over Rugby (Warwickshire) on 20th. Similarly, after last week's squadron of fly-over Glossy Ibis over Cambridge, there was another seen over St Albans (Hertfordshire) on 22nd, though despite searching all likely touchdown sites it couldn't be relocated. There was then another report of three 'possibles' over Harlow (Essex) on 23rd, which may be the same birds. Next stop Dungeness?

White Stork, Musselburgh, Lothian (Photo: Ian Andrews)
Unusually, there were rather more reports of Rough-legged Buzzards this week, with birds at half a dozen new sites, along with regular wintering birds still at sites in Norfolk, Lincolnshire, South Yorkshire and Durham. New birds included one at Minsmere (Suffolk) on 21st and possibly the same at nearby Boyton Marshes on 22nd–23rd. The bird at Cholsey Downs (Oxfordshire) also remained to 19th. A small flurry of eagle activity saw the juvenile White-tailed Eagle at Old Basing (Hampshire) to 19th, then over Hook, near Basingstoke, on 23rd. There was then a Golden Eagle of unknown origin wandering around Cornwall, seen at eight sites during the week, and an unidentified eagle headed south over Burwell (Lincolnshire) on 20th.
Following the lead of the Outer Hebrides bird, there was a further resurgence of records of Northern Harriers during the week. After an absence of a month, the possible juvenile was reported from Broad Lough and Five Mile Point (Co Wicklow) again on 19th–20th and, also in Ireland, the juvenile was again at Tacumshin (Co Wexford) on 19th–21st. The Norfolk bird also put in further appearances, at Thornham and Titchwell on 22nd and Burnham Overy on 23rd. The only other birds of prey of note were a white Gyr Falcon at Loch Barvas and Lional, Lewis (Outer Hebrides) on 19th and 21st and the possible Tundra Peregrine, which was reported at Walmsley Sanctuary (Cornwall) on three dates.
Content continues after advertisements
Migrant raptors included Hobbies in Dorset and Essex and good numbers of Ospreys, some already back at breeding sites, including Wales' famous birds at Glaslyn, which can now be watched on their own webcam. The most celebrated Osprey, though, was the one that headed over the RSPB HQ on 21st, adding a precious migrant 'tick' to the RSPB list in the BTO–RSPB BirdTrack Challenge.
Another sign of spring was the return of Spotted Crakes. A photogenic bird was at Marshside RSPB (Lancashire) on 18th and two were also reported from Walberswick (Suffolk) on 18th. Dorset's Long-billed Dowitcher almost stayed put all week, at Lodmoor most of the time, with one brief trip out to Radipole Lake on 22nd.

Spotted Crake, Marshside RSPB, Lancashire (Photo: Simon St. Carter)
It must be the warm spring weather that finally convinced some of our white-winged gulls to jump ship, with far fewer records this week. There were just 12 records of Glaucous Gulls from widely scattered locations. There were, however, still good numbers of Iceland Gulls around, with birds at over 25 sites, but again none in Wales. The popular and photogenic bird remained at Lowestoft (Suffolk) and there were two juveniles and a second-winter at Loch Barvas, Lewis (Outer Hebrides), two juveniles as Richmond Bank (Cheshire) and two adults at Reenard Point (Co Kerry). The only Kumlien's Gull remaining was the juvenile still in Sligo on 21st.

Iceland Gull, Lowestoft, Suffolk (Photo: Graham Harden)
Long-staying Ring-billed Gulls were present at just six of the regular sites this week, in Highland, Essex, Dorset, Co Galway and Co Cork. There were then several reports of new birds, including adults at Rutland Water on 19th, Balivanich, Benbecula (Outer Hebrides) on 19th and Ballyronan (Co Londonderry) on 20th. There was then an impressive count of three adults at Clarecastle Quay (Co Clare) on 21st, but this was overshadowed by an incredible seven adults at Cuskinny Marsh (Co Cork) on 20th: three adults, two sub-adults and two first-winters. This appears to be the equal highest site count ever for Ring-billed Gull, with equivalent counts coming from Sandymount (Co Dublin) in April 2007 and Ring (Co Cork) in January 2006.

Ring-billed Gull, Nimmo's Pier, Galway (Photo: Derek Charles)
Other gulls worthy of more attention included the possible near-adult Baltic Gull at Lackford Lakes (Suffolk), which was seen there to at least 20th, and the probable first-winter American Herring Gull in Cheshire, which continued to elude most observers, seen at Meols and Red Rocks over 19th–21st. There was also a report of a possible first-winter in Stornoway Harbour, Lewis (Outer Hebrides) on 18th.
The two Welsh Bonaparte's Gulls both remained this week, in Lligwy Bay (Anglesey) to at least 22nd and in Cardiff Bay (Glamorgan) until 23rd. There was another returning bird reported, an adult at Castletown (Highland) on 23rd. This is almost certainly the same bird that has commuted between Thurso and Castletown since September 2004. It hasn't been seen every year, but has turned up in the springs of 2005, 2008 and 2010, though rarely for more than a couple of days.

Bonaparte's Gull, Lligwy Bay, Anglesey (Photo: Andy Booth)
Almost nothing changed with Shore Larks, apart from numbers, with birds still hanging on at the usual spots. There were nine at Cley Marshes (Norfolk), three at Reculver (Kent) and two at Dingle Marshes (Suffolk). Most unusually, having been last seen on 19th February, the bird was back at Warton, near Carnforth (Lancashire) on 23rd.

Shore Lark, Dingle Marshes SWT, Suffolk (Photo: Rob Wilson)
Both of last week's Hoopoes remained, at Portland (Dorset) to 17th and St Levan (Cornwall) until 21st. The week of high pressure ensured more arrived along the south coast, with birds at Axmouth (Devon) on 21st–23rd, briefly at Swineham Gravel Pits (Dorset) on 21st and back in Cornwall at Drift Reservoir on 23rd.

Hoopoe, Axmouth, Devon (Photo: Steve Waite)
Sand Martins are now well and truly 'in' with records this week as far north as Perth & Kinross. Swallows were still scarce, though, which is surprising. There were more early House Martins, with birds appearing at several sites across the Midlands and as far north as North Yorkshire. Last week's Guernsey Richard's Pipit was followed by another spring bird, this time at Neston Marsh (Lancashire) on 21st. These spring birds are quite rare, with only one or two every year, but perhaps increasing?
You know spring is here when the first Bluethroats arrive, as they did this week. Two white-spotted males both arrived on 20th, one at Spurn (East Yorkshire) and another at Oulton Broad (Suffolk). Both were typically brief for early birds, with the Suffolk bird a one-day stayer and the Spurn bird only lingering to 21st. Other new migrants included a male Redstart in Glamorgan and a singing Lesser Whitethroat on the Isle of Wight. However, the arrival of Willow Warblers still seems slow, with birds restricted to the south coast. There was also another probable Spotted Flycatcher in Cornwall, at St Michael Penkevil on 21st though never confirmed. Also of note was another report of the Cetti's Warbler at Tacumshin (Co Wexford) on 18th. This was first reported back in November 2010 and is just the third record for Ireland.

Bluethroat, Oulton Broad, Suffolk (Photo: Andrew Easton)
The usual groups of Waxwings were still widely reported, including one in the southwest, in Penzance (Cornwall) all week; in Northern Ireland, 10 remained in Belfast and one was again at Derrymacash (Co Armagh) on 19th. Flocks into triple figures were restricted to the southeast, with the largest being up to 370 commuting between Debenhams and Primark at West Thurrock (Essex). Other large flocks were 210 in Chafford Hundred (Essex), 190 in Norwich (Norfolk) and 100 in Kettering (Northamptonshire).

Waxwing, Longridge, Lancashire (Photo: Gavin Thomas)
With no sign of the Minsmere birds, only the one Penduline Tit remained this week, at Dungeness (Kent) to at least 21st. Numbers of Great Grey Shrikes remained high, with as many as 14 birds in south-coast counties and at 11 sites in Wales and adjacent counties. Another nine were spread across northern England, with two in southern Scotland and one on Fair Isle (Shetland) on 22nd.

Great Grey Shrike, Upper Hollesley Common, Suffolk (Photo: Chris Mayne)
The first-winter Rose-coloured Starling remained in Penzance (Cornwall) all week. As flocks of redpolls began to break up and head back from whence they came, the only Coues' Arctic Redpoll reported was one at Thrushgill Fell (Lancashire) on 20th, though there was also one unidentified to race (but most likely a Coues') at Scaling Dam Reservoir (Cleveland) on 22nd.
Surprisingly widespread Lapland Buntings continued to be reported. Apart from five on the machair on South Uist (Outer Hebrides) on 20th and two at Low-Newton-by-the-Sea (Northumberland) on 20th (with 94 Twite), all others were south of the Humber. The only double-figure count came from Weybourne (Norfolk), where up to 50 remained. Last week's brief and elusive Little Bunting in Norfolk was followed this week by a similarly inaccessible Rustic Bunting, seen at a private site in Kelling on 18th. Other passerine interest came in the form of a very impressive spring flock of 265 Snow Buntings at Lochawe (Argyll) on 17th, though one at Kilvington (Nottinghamshire) on 20th–21st was somewhat out of place.

Snow Bunting, Kilvington, Nottinghamshire (Photo: Robin Brace)
Three Northern Long-tailed Tits remained at North Foreland (Kent) to 21st, with one also reported from Minsmere (Suffolk) on 22nd, though this wasn't relocated. Other racial interest came in the form of the Central Asian Lesser Whitethroat in Drogheda (Co Louth) all week and a late Northern Bullfinch was at Pool of Virkie (Shetland) on 19th.
Photo of the Week: 17th–23rd March 2011

Great Black-backed Gull, Portland, Dorset (Photo: Simon Johnson)
This week, we've received images that are notable for a wide variety of reasons, including freezing action, capturing unusual events, revealing close-up detail, conveying beauty, expressing atmosphere, using colour, pattern and composition, and more. A look through this week's Notables should provide food for thought for any bird photographer. In the end, though, our chosen Photo of the Week illustrates the ability of a simple, artistic composition to stick in the mind. Simon Johnson's near-monochrome image of a flying Great Black-backed Gull is, at first glance, an 80% black frame with nothing more than the gull's head and the thin white line of the wings' leading edge. The graceful curve of that white line, though, leads the eye into the image to the focal point provided by the bird's piercing eye and the menacing but colourful bill. A longer look reveals the subtle tonal details retained in both the white head and black back: blown highlights or blocked shadows would have ruined the shot. 'Rule of Thirds' placement of the eye adds to the composition and shows that this guideline can be effective even for flight shots. The combination of simplicity and detail makes the image work from thumbnail size to full screen and gives the image lasting appeal.
Other notable photos

Goldfinch, Haigh CP, Greater Manchester (Photo: Roy)

Goldcrest, Stourport-on-Severn, Worcestershire (Photo: Mark Hancox)

Avocet, Marshside RSPB, Lancashire (Photo: David Cookson)

House Sparrow, undisclosed site, Northamptonshire (Photo: Ben the Plumber)

Purple Sandpiper, Flamborough Head, East Yorkshire (Photo: Dean Eades)

Bittern, Minsmere RSPB, Suffolk (Photo: Bryan Wright)

Blue Tit, Fisher's Green NR, Essex (Photo: Peter Woods)

Little Grebe, Minsmere RSPB, Suffolk (Photo: Carl Wright)

Dartford Warbler, undisclosed site, Devon (Photo: Steve Spry)

Linnet, Dingle Marshes SWT, Suffolk (Photo: Chris Mayne)

Siskin, Whitacre Heath NR, Warwickshire (Photo: Peter Walkden)

Black Guillemot, Glenarm, Antrim (Photo: Geoff Campbell)

Grey Crowned Crane, Kenya (Photo: John Fielding)

Bald Ibis, Morocco (Photo: Terry Piggott)

Green Woodpecker, Hungary (Photo: Eduardo Balogh)

Ring-necked Parakeet, Bushy Park, Greater London (Photo: Billy Dykes)

Turnstone, undisclosed site, Norfolk (Photo: Nigel Pye)

Lesser Spotted Woodpecker, undisclosed site, Warwickshire (Photo: Max Silverman)

Dipper, undisclosed site, Powys (Photo: Mike Warburton)

Common Treecreeper, undisclosed site, Hertfordshire (Photo: Tom Melton)