The week at a glance
The lengthy supply of easterly winds enjoyed since late August finally began to falter this week. Notwithstanding the shift to a more westerly airflow from Saturday, arrivals from the east continued to dominate the news page and we are yet to receive any significant quantity of Nearctic vagrants. It's early days yet, however, and the top-notch birding leaves few reasons to complain.
There is little question that the Masked Shrike at Kilnsea (East Yorkshire) has proved to be the most relished bird of the week. This first-calendar-year individual was discovered behind Rose Cottage on Saturday 20th and, if accepted, will represent the third British record. Despite the two previous occurrences being in the last 10 years, not everybody was able to get to Fife in 2004 for Britain's first and the bird on Scilly in 2006 was a one-day wonder. So, with Masked Shrike representing a gap on many lists and the bird showing well, the relatively central and accessible location has made the Kilnsea individual popular. Spurn Bird Observatory has done a fine job of welcoming and marshalling the swelled number of visitors. Still present on 23rd, the shrike may be set to stay put for a while seeing as the Fife bird lingered for 17 days.

Masked Shrike, Kilnsea, East Yorkshire (Photo: Martin Standley)

Masked Shrike, Kilnsea, East Yorkshire (Photo: Dave Hutton)
A Fea's Petrel which cruised north along the east coast on 21st was not as available to the masses as the shrike, but birders able to take advantage of the opportunity and swiftly adopt a position at viewpoints ahead of the bird's trajectory had great success in connecting with this thrilling Pterodroma. The bird was tracked from Flamborough Head (E Yorks) at 8.15 am all the way to Holy Island (Northumberland), where it was seen at 6.15 pm. Between these times it passed various sites in North Yorkshire, Cleveland, Co Durham and Northumberland, including Whitburn Coastal Park (Durham), off which it loitered for a full 20 minutes; staggeringly, a second Fea's passed the site just over two hours later!
There was no chance of twitching this week's North Atlantic Little Shearwater at sea over the Porcupine Seabight, 50 nautical miles off Skelligs (Kerry), but that did not made the record any less terrific, and the bird was a fitting reward for diligent observers on board the RV Celtic Explorer. The vessel also enjoyed a good run of Wilson's Storm-petrel sightings, with birds over Porcupine Bank on 18th and 19th and over the Porcupine Seabight on 21st and 22nd.

Fea's Petrel, Newbiggin-by-the-Sea, Northumberland (Photo: Stef McElwee)
A juvenile Pallid Harrier, perhaps the possible seen at Choseley last week, was located at Blakeney (Norfolk) on 18th; it remained there to 19th before appearing at Wells Woods and Warham Greens later that day. The bird was possibly seen once more over Wells Woods on 20th. The juvenile on Fair Isle (Shetland) lingered to 17th and another was on Foula from 17-19th. Also on Shetland, a juvenile frequented Loch of Hillwell and Loch of Spiggie from 18-21st before moving through Fleck and towards Exnaboe. Elsewhere, one was reported at Sculthorpe Moor (Norfolk) on 22nd and another was on South Ronaldsay (Orkney) on 19th. With possibly as many as six Pallid Harriers present this week, it looks set to be another good year for this once mega-rare raptor.

Pallid Harrier, Loch of Hillwell, Mainland, Shetland (Photo: Hugh Harrop)
The Snowy Owl on Ben Macdui (Moray and Nairn) continued to enthral a steady trickle of admirers willing to tackle the three- to four-hour hike to the bird's territory; a new male was found near Loch nan Cuaran, Inchnadamph (Highland) on 20th. Black Kites were reported over Lizard Downs (Cornwall) on 21st and Wittering (Cambs) on 20th, but more accommodating was an individual at Sculthorpe Moor (Norfolk) on 21st, present for more than three hours. A small-scale movement of Honey Buzzards took place this week, mainly in eastern counties.

Snowy Owl, Ben Macdui, Moray & Nairn (Photo: Jake Gearty)
In Glamorgan, Cardiff Bay's Lesser Scaup lingered to 23rd and, together with a female Surf Scoter off Ballinskelligs (Kerry) on 22nd and an American Wigeon at Loch Leven (Perth and Kinross) on 23rd, made for the only noteworthy wildfowl of the week.
The Purple Heron first seen on 10th reappeared at Thurlestone (Devon) on 18th, but no more was heard of it; one circled over Meare Heath (Somerset) on the latter date, before cropping up at nearby Westhay Moor on 21st. A juvenile Night Heron at Brockholes (Lancs) represented an outstanding county record; it proved obliging on 17th, but chose not to stay any longer. The same county held a Cattle Egret at Leighton Moss on 23rd, conceivably the long-stayer at Burton Mere (Cheshire) relocating, with no reports from this site after 20th; another bird was on Jersey on 18th. Cornwall produced two Spotted Crakes, with singles at Marazion and Helston Loe Pool on 23rd and 22nd respectively, while the Tresco (Scilly) bird stayed to 21st.

Night Heron, Brockholes Nature Reserve LWT, Lancashire (Photo: Gavin Thomas)
The week offered up a respectable assortment of waders, with the first Semipalmated Sandpiper of the autumn, a juvenile, surfacing somewhat unexpectedly at Keyhaven Marshes (Hants) on 20th but vanishing by the following day. The Lesser Yellowlegs at Titchfield Haven (Hants) was still present on 23rd and the bird at Blanket Nook (Donegal) lingered to 19th, but the juvenile at Marloes Mere (Pembrokeshire) made only a fleeting appearance on 17th. An adult American Golden Plover was located at Deerness (Orkney) on 21st and the bird at Ferriter's Cove (Kerry) stayed put to 19th. Blanket Nook (Donegal) produced a juvenile White-rumped Sandpiper on 21st; the individual at Lady Bay, Lough Neagh (Antrim) was last seen on the same date.

Lesser Yellowlegs, Titchfield Haven NNR, Hampshire (Photo: Brian Harrison)
Two Buff-breasted Sandpipers were still on Mainland Shetland at Clevigarth on 23rd, while one of three at Ballycotton (Cork) on 20th met its demise upon an encounter with a Peregrine. Another Buff-breasted Sandpiper was witnessed flying in off the sea on 18th with Golden Plovers at Butt of Lewis (Outer Hebrides); more are surely yet to appear on our shores shortly. There remained a smattering of Pectoral Sandpipers across the British Isles, but all sightings involved singles except three at Grindon Lough (Northumberland) on 17th and two at Leighton Moss (Lancs) from 17-19th. The popular and rather photogenic Temminck's Stint at Upton Warren (Worcs) unfortunately fell prey to a Sparrowhawk on 21st, while the Red-necked Phalarope remained at Burton Mere Wetlands (Cheshire) on the same date.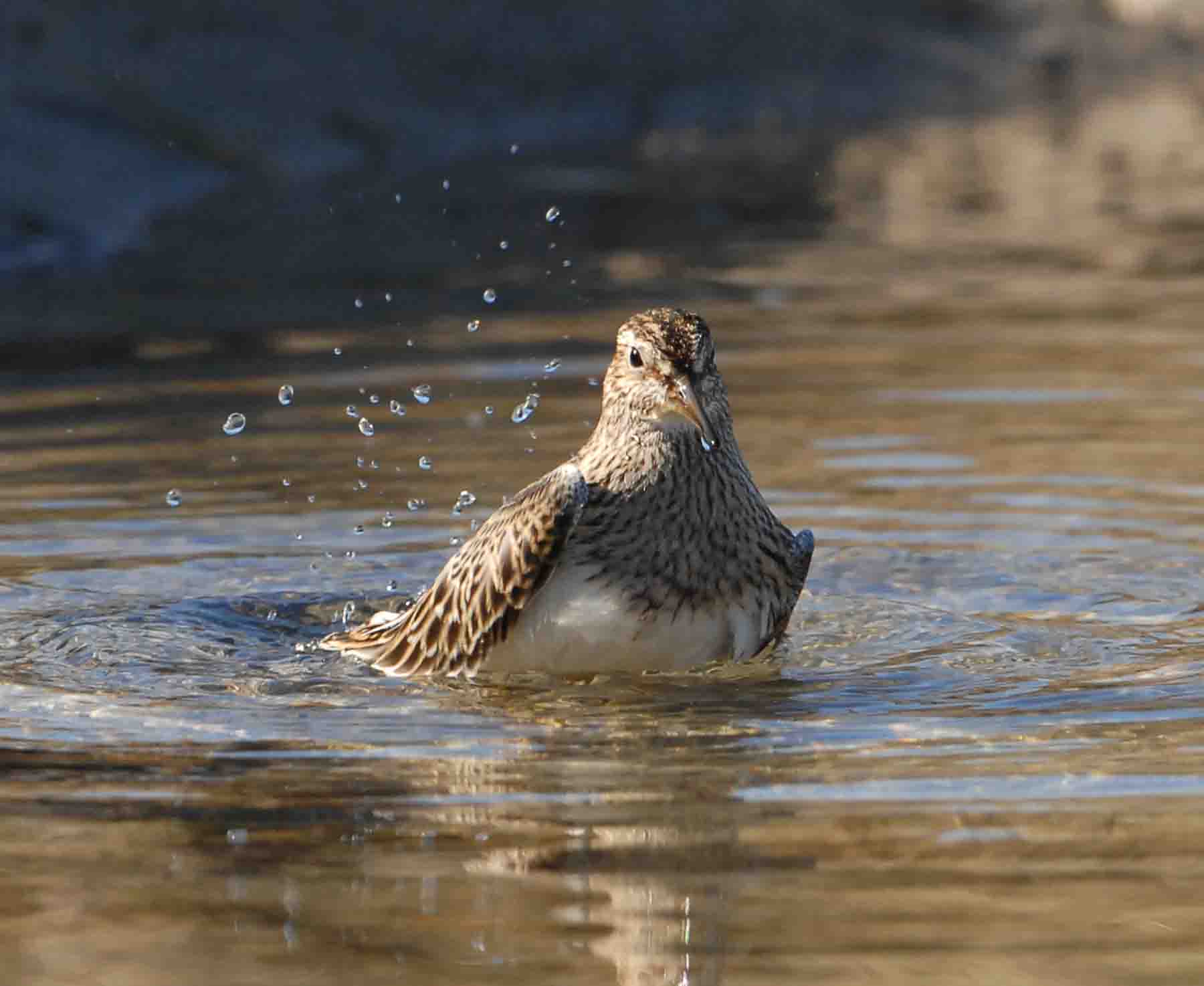 Pectoral Sandpiper, Lissagriffin, Cork (Photo: Richard Mills)
The adult Forster's Tern at Soldier's Point (Louth) continued to be seen to 23rd and a juvenile White-winged Black Tern showed at Grafham Water (Cambs) from 20th to mid-morning the next day. A second-winter Franklin's Gull was reported at St John's Point (Down) on 20th, but there were no subsequent reports of the bird. The faithful adult Ring-billed Gull was at Dingwall (Highland) to 23rd, while 17th saw reports of an immature in Dublin and an adult at Black Rock Strand (Kerry). The east coast claimed a high proportion of the week's light trickle of Cory's Shearwaters, Great Shearwaters and Sabine's Gulls.

Forster's Tern, Soldier's Point, Louth (Photo: Gerry O Neill)

Sabine's Gull, The Minch, Highland (Photo: Nick Davies)
Although not the rarity it once was, Red-flanked Bluetail is still an exciting find, as well as an indicator of rich autumn birding, so news of one at Sumburgh (Shetland) on 19th qualified as one of the highlights of the week. Pechora Pipit retains its status as something of a Shetland speciality and the first of the year was found on Unst at Baltasound on 22nd. Olive-backed Pipits came in good supply this week, with singles at Gibraltar Point (Lincs) from 17-20th, on North Ronaldsay (Orkney) from 18-20th, at Wells Woods (Norfolk) from 19-22nd, Spurn (E Yorks) on 20-21st and on Fair Isle (Shetland) on 21- 22nd.

Red-flanked Bluetail, Sumburgh, Mainland, Shetland (Photo: Hugh Harrop)

Olive-backed Pipit, Wells Woods, Norfolk (Photo: Steve Blain)
The Isabelline Shrike extended its stay on North Ronaldsay (Orkney) to 20th. The Great Grey Shrike was at Kilnsea to 21st and Foula (Shetland) boasted one on 19th. Landguard (Suffolk) had three Red-backed Shrikes on 21st, a remarkable number these days to have at a site so far south. A few other Red-backed Shrikes were dotted around the country, mainly on Shetland, with others in Aberdeenshire, Dorset, Hampshire, Kent, Norfolk, Northumberland and Somerset. A Golden Oriole was at Halligarth (Unst) on 23rd, Barra (Outer Hebrides) played brief host to another on 22nd, while the Farne Islands were treated to their third record of the species on 17th. A Hoopoe was in the Loch of Vatster area (Shetland) on 23rd, following a report of one at Veensgarth on 21st.

Red-backed Shrike, Landguard NR, Suffolk (Photo: Gary Richardson)
The first numbers of Bluethroats this autumn were heralded by two on Fair Isle and one at Sandwick (Shetland) on 18th. Foula (Shetland) had two on 20th and Fair Isle went on to report two again on 20th then a single over the next two days. Other Bluethroats were on Out Skerries (Shetland) on 22nd and 23rd and at Baltasound, Unst, on 22nd. A report also emerged from St Mary's (Scilly) on 23rd. Wrynecks and, more so, Red-breasted Flycatchers sustained a high reporting rate, with a number evidently continuing to arrive, the majority of flycatchers being seen to the east. A small number of Rose-coloured Starlings included juveniles at Barrow Gurney (Somerset), Dawlish Warren (Devon), St David's (Pembrokeshire), Fair Isle (Shetland), St Mary's (Scilly), North Ronaldsay (Orkney), Galley Head (Cork), Balnakeil (Highland), Lizard and Carn Brea (Cornwall). The pick of Common Rosefinch reports included three on Fair Isle on 21st and on Out Skerries on 20th.

Red-breasted Flycatcher, Burnham Overy, Norfolk (Photo: Keith Bilverstone)

Red-breasted Flycatcher, Burnham Overy, Norfolk (Photo: Neil Rendall)

Wryneck, Portland, Dorset (Photo: Steve Carey)
In a plentiful week for rare and scarce warblers, a Lanceolated Warbler on Fair Isle (Shetland) was a top-biller on 22nd, as was the Great Reed Warbler on Bressay (Shetland) on 20th. A Bonelli's Warbler at Kenidjack Valley (Cornwall) seemingly evaded specific identification. Baltasound (Unst) held an Eastern Subalpine Warbler from 22-23rd and Fetlar offered up a Blyth's Reed Warbler on 22nd. A Booted Warbler was unearthed on St Mary's (Scilly) on 19th and was reported the next day but no later. Shetland claimed single Arctic Warblers at Garth, Mainland, on 21-22nd and on Fair Isle on 22nd; another was in a garden on Mizen Head (Cork) on 21-22nd. A Greenish Warbler found at Winterton Dunes (Norfolk) on 17th stayed to 23rd but was elusive at times; others were on Holy Island (Northumberland) to 19th and Barra (Outer Hebrides) on 18th. Shetland made up the remainder of the week's Greenish Warbler tally with singles on Whalsay on 20th and Foula on 19th.

Eastern Subalpine Warbler, Baltasound, Unst, Shetland (Photo: Mike Pennington)

Booted Warbler, St. Mary's, Isles of Scilly (Photo: Chris Moore)

Blyth's Reed Warbler, Funzie, Fetlar, Shetland (Photo: Brydon Thomason)
Marsh Warblers remained on a low ebb. One ringed at Kilnsea last week was retrapped on 18th, and on 20thnearby Easington gas terminal added another bird to the Spurn area's unusually strong run of records this autumn. Yellow-browed Warbler numbers built up this week and the species began to outnumber Barred Warbler, although the latter still very much held a presence on the Northern Isles and east coast, with the peak count being five on North Ronaldsay (Orkney) on 19th. Yellow-broweds were noted in 23 counties and one even appeared in Regent's Park (London). On the other hand, Icterine Warblers are clearly past their peak, with the only one reported this week being at Norwick, Unst (Shetland), on 20th. A light scattering of Melodious Warblers comprised of singles on Cape Clear (Cork) from 20-23rd, Tiree (Argyll) from 18-23rd, St Mary's (Scilly) from 19-23rd and on Barra (Outer Hebrides) on 22nd.

Yellow-browed Warbler, Salthouse, Norfolk (Photo: John Miller)

Barred Warbler, Gramborough Hill, Norfolk (Photo: Steve Blain)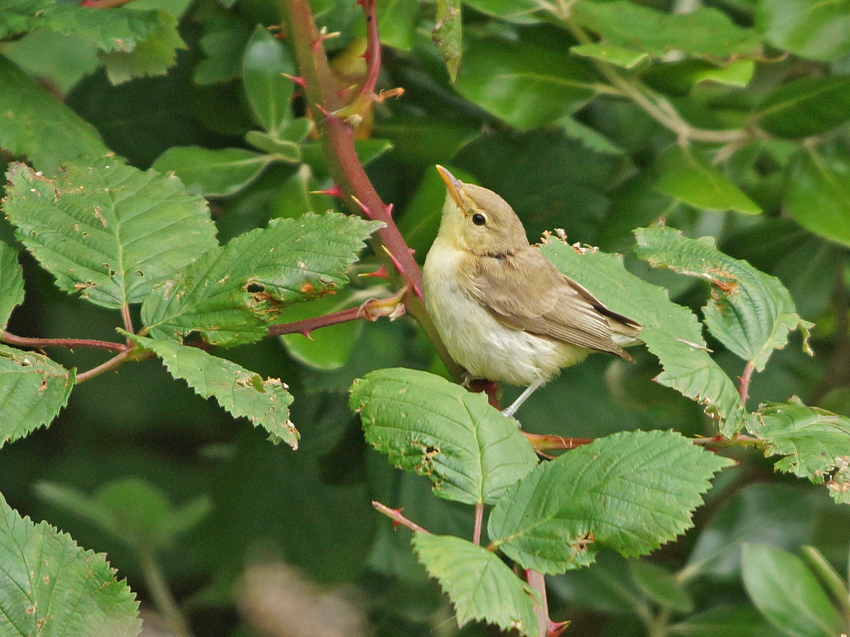 Melodious Warbler, Tiree, Argyll (Photo: Jim Dickson)
A first-winter male Siberian Stonechat on Holy Island (Northumberland) from 19-22nd would often perform at intimate range and further reinforced the week's eastern theme. The Rustic Buntings on the Farne Islands (Northumberland) and at Baltasound, Unst (Shetland), both chose to loiter to 19th and 22nd respectively. A new Rustic Bunting was found at Filey (N Yorks) on 17th and was seen again the following day. Little Buntings were more prevalent and the majority were to be found on Orkney and Shetland: three were on Out Skerries (Shetland) on 19th, leaving two to stay to 23rd, and other doubles were at Sumburgh (Shetland) from 17-19th and on North Ronaldsay (Orkney) on 17th and 19th. Having become much rarer than it once was, an Ortolan Bunting in Kent at Langdon Cliffs was an appreciated find on 17th, but it was not reported again until 22nd. The Ortolan loitered on Tresco (Scilly) to 18th and another flew east over Durlston CP (Dorset) on 17th. A report of an Arctic Redpoll on St. Martin's (Scilly) came somewhat out of the blue.

Siberian Stonechat, Holy Island, Northumberland (Photo: Jonathan Farooqi (Age 13))

Siberian Stonechat, Holy Island, Northumberland (Photo: Andy Mould)

Ortolan Bunting, Langdon Cliffs NT, Kent (Photo: Steve Ray)

Little Bunting, Sumburgh, Mainland, Shetland (Photo: Roger Riddington)
Small scale arrivals of commoner Scandinavian migrants such as Lapland Bunting, Jack Snipe, Brambling, Redwing and Fieldfare certainly added to the impression that autumn movement is in the process of shifting into the next gear and coming weeks are bound to prove dynamic and rewarding.
Photo of the Week

Barn Owl, Newent, Gloucestershire (Photo: Wayne Davies)
Barn Owl is one of those species that's a perennial favourite with bird photographers, writes Steve Young, and nice shots of hunting birds can be seen every week on Iris. But this stunning portrait by Wayne Davies of a flying bird on the downstroke is a very different style of image. Taken with a 300 mm lens using a fast 1/6,400th sec shutter speed, the movement is completely frozen, the bird is pin sharp and the plain background sets it off perfectly. You just pity the prey that it has spotted – I don't think there's any escape judging by the look on the owl's face. Congratulations to Wayne on his superb winning shot.
Other notable images

Lesser Whitethroat, Burnham Overy, Norfolk (Photo: Keith Bilverstone)

Red-breasted Flycatcher, Burnham Overy, Norfolk (Photo: Neil Rendall)

Dotterel, Switzerland (Photo: Jacques Cloutier)

Red-backed Shrike, Landguard NR, Suffolk (Photo: Nick Brown)

Pallid Harrier, Loch of Hillwell, Mainland, Shetland (Photo: Hugh Harrop)

Red-flanked Bluetail, Sumburgh, Mainland, Shetland (Photo: Rebecca Nason)

Black Redstart, Sizewell, Suffolk (Photo: John Richardson)

Peregrine, undisclosed site, Derbyshire (Photo: Simon Richardson)

Ruff, Italy (Photo: Paolo Caretta)

Red-breasted Flycatcher, Donna Nook, Lincolnshire (Photo: Mark Johnson)

Hobby, Richmond Park, Greater London (Photo: Mark Slocombe)

Ringed Plover, Shustoke Reservoir, Warwickshire (Photo: Dave Hutton)