The week at a glance
Another unsettled week saw various fronts move eastwards over Britain & Ireland, with most areas experiencing a real contrast of mild and wet conditions as well as those crisp and clear. Although there was an ever more wintery theme to the birds on offer, a spell of southerly winds early in the week gave a platform for some high-quality late-autumn arrivals to make landfall in southern areas.
The best of these was Britain's first Asian Desert Warbler for twelve years, found and photographed as a "possible" at Samphire Hoe (Kent) during the mid-morning of 18th. Its identity was confirmed from the images but the bird disappeared pretty sharply and, despite thorough searches on what was a glorious Sunday in the southeast, it was not seen again. Yet another of autumn 2012's biggest birds fails to play ball...
Also in Kent was a rather predictable male Desert Wheatear at Harty Marshes, Sheppey for the day on 18th, although the presence of a pesky dyke between the footpath and the bird's favoured mound ensured that it failed to provide such close views as some of its recent predecessors. Also on 18th came a Dusky Warbler to Winspit Valley (Dorset), which again proved to be a one-day wonder. Last week's Pallas's Warbler was still at Dungeness (Kent) to 17th with a second in the county at Kingsdown the same day.

Pallas's Warbler, Dungeness NNR, Kent (Photo: Martin Casemore)
An elusive Subalpine Warbler in gardens in St. Just (Cornwall) from 17th was late, as was a new Barred Warbler on Tiree (Argyll) on 16th; the Chamber's Wall (Kent) bird was last seen on 15th. The Eastern Olivaceous Warbler continued to prolong its stay at Kilminning (Fife): the last report on 20th was its 38th day on site, and no doubt it has been 'enjoying' the reasonably mild weather. Of the six Yellow-browed Warblers seen, birds at Kilnsea (E Yorks) on 15th, Swanage (Dorset) on 17th and Oldbury Power Station (Glos) on 17th–19th were notable in addition to birds in more expected southwest locations at Mabe Burnthouse and Helston Boating Lake (Cornwall) and on St. Mary's (Scilly).
In Northern Ireland, the Buff-bellied Pipit remained on the beach near Tyrella (Down), with a second reported there on 18th. It was a decent week for Richard's Pipit records, with at least eight found. Two were at Calshot (Hants) on 17th, a two-day bird was at Tacumshin (Wexford) from 16th and another flew over Rainham Marshes (London) on 17th. Other reports came from East Yorkshire, Norfolk (2) and Anglesey. A Hoopoe spent the day by Portland Castle (Dorset) on 15th. In Breckland, the unpredictable Black-bellied Dipper again performed well in Thetford on 15th–16th.

Buff-bellied Pipit, Tyrella, Down (Photo: Ed O'Hara)

Black-bellied Dipper, Thetford, Norfolk (Photo: Lawrie Webb)
Other passerine odds and sods included four Penduline Tits on Jersey and juvenile Rose-coloured Starlings in Northrepps (Norfolk) on 17th and Port Isaac (Cornwall) on 18th. Serins were at Porthgwarra (Cornwall) on 15th and at Portland Bill (Dorset) on 17th; the latter was trapped and ringed. Up on Unst (Shetland), the four Hornemann's Arctic Redpolls continued at Baltasound to at least 17th, with three also at Uyeasound.

Rose-coloured Starling, Northrepps, Norfolk (Photo: Carl Chapman)
What is presumably Islay's Red-breasted Goose has moved south to the Solway Firth with the Barnacle Geese; it was seen at Whitrigg (Cumbria) on 16th–18th. Also in the area, the Richardson's Canada Goose was seen at Loaningfoot (Dumf & Gall) on the same dates, while up to three hutchinsii also remained in Sligo. An apparent family party of at least four, possibly six, Todd's Canada Geese was a fantastic find among the local Canada Goose flock at Woodhorn Flashes (Northumberland) on 18th–20th, and a further Todd's was with Greenland White-fronts at Rhunahaorine Point (Argyll) on 21st.

Todd's Canada Goose, Woodhorn Flashes, Northumberland (Photo: Alan Tilmouth)
Down on the south coast, the adult Red-breasted Goose remained among the Dark-bellied Brents at Farlington Marshes (Hants) throughout. A Black Brant nearby was one of four noted this week, the others being familiar birds in West Sussex, Dorset and Kerry. In east Norfolk, the Ross's Goose was again seen at Haddiscoe Marshes on 19th.
One of the recent highlights (albeit contentious!) on Bird News Extra lately has been the Hooded Merganser at Pagham Harbour (W Sussex). It was last seen during the afternoon of Saturday 17th when it was observed to fly high to the northwest — much to the frustration of several Sunday-morning twitchers including a Belgian contingent that had come across the Channel specifically to see it!

Hooded Merganser, Pagham Harbour LNR, West Sussex (Photo: Andrew Madgwick)
Content continues after advertisements
A drake Lesser Scaup was found at St. John's Loch (Highland) on 18th — was it one of the two seen recently at Loch Watten? Other drakes remained at Lough Gash (Clare) and Lough Gill (Kerry), while the Somerset individual was last seen at Chew Valley Lake on 15th — perhaps it has hopped back over to Glamorgan. A upturn in Ring-necked Duck records saw 11 reported: new birds consisted of drakes at Helston Loe Pool (Cornwall) on 16th–19th, Cross Lough, Mullet (Mayo) on 18th and Eyebrook Reservoir (Leics) from 18th and a female at Siblyback Reservoir (Cornwall), also on 18th. The three first-winters were still on Tresco (Scilly) on 15th and singletons also remained at Slapton Ley (Devon), Skomer (Pembrokeshire) and Chew Valley Lake in addition to a probable first-winter at Lough Gill (Kerry) at the weekend.

Lesser Scaup, Chew Valley Lake, Somerset & Bristol (Photo: Chris Stone)
American Wigeon were limited to familiar drakes at St. John's Loch (Highland) on 18th and at Wintersett Reservoir/Angler's Country Park (West Yorks) throughout. New drake Green-winged Teal were seen at Tacumshin (Wexford) on 17th, at Loch of Strathbeg (Aberdeenshire) on 18th and at Loch a'Phuill, Tiree (Argyll) the same day, in addition to those still at Hodbarrow (Cumbria) and Caerlaverock (Dumf & Gall). Up to four Surf Scoters remained in residence off Llanddulas (Conwy) throughout, with two (1 drake) in Brandon Bay (Kerry) on 16th and a female in The Kingdom off Glenbeigh on 16th. Meanwhile, a juvenile off Sheringham (Norfolk) for the day on 17th was an excellent Norfolk record.
At least 20 Great White Egrets followed a very similar pattern to last week, with at least two still touring South Wales and up to four still around Dungeness (Kent); notable new birds included those at Llangorse Lake (Powys) on 18th and near Whittlesey (Cambs) over the weekend. The Cattle Egret also continued around the Axe Estuary (Devon) to 18th at least and another was still on Jersey. Meanwhile, the Glossy Ibis soldiered on at Marloes Mere (Pembrokeshire) and the Crane was still at Amberley Wild Brooks (W Sussex) to 17th, in addition to the five still at Tacumshin on 18th.
Tacumshin's juvenile female Northern Harrier also continued throughout the week, although this week's bird-of-prey highlight was a magnificent white-morph Gyr Falcon providing one fortunate observer with a garden tick to be envied at Bornish, South Uist (Outer Hebrides) on 18th. Five Rough-legged Buzzards were limited to just two counties: Norfolk claimed birds at Haddiscoe Marshes, Roughton and Holkham Freshmarsh and Lincolnshire produced records from South Somercotes and Gibraltar Point.

Gyrfalcon, Bornish, S.Uist, Outer Hebrides (Photo: Andrew Stevenson)
In keeping with what has been a great autumn for the species, Myroe Levels (L'derry) provided a swansong of four American Golden Plovers — an adult and three juveniles — on 18th, with one still there on 20th. Two juveniles were also still at Tacumshin (Wexford) on 17th, while the three Long-billed Dowitchers remained in residence at Long Nanny (Northumberland), Alkborough Flats (Lincs) and Slimbridge (Glos). The two Lesser Yellowlegs remained at Ernesettle (Devon) and Aldcliffe Marshes (Lancs), with the Wood Sandpiper also still in residence at the latter site and another photographed by the Cashen Estuary (Kerry) on 16th. Back over in Staffordshire, the first-winter White-rumped Sandpiper was still frequenting the Staffordshire section of Middleton Lakes all week.

Long-billed Dowitcher, Alkborough Flats, Lincolnshire (Photo: J Farmer)

Lesser Yellowlegs, Aldcliffe Marshes, Lancashire (Photo: Julie Rogers)

White-rumped Sandpiper, Drayton Bassett Pits, Staffordshire (Photo: Mark Priest)
In Devon, the adult Bonaparte's Gull continued to perform very well along the seafront at Dawlish Warren to 19th at least, although only two familiar Ring-billed Gulls were reported from Groomsport (Down) and Gosport (Hants). Iceland and Glaucous Gull numbers remained relatively low, although decent numbers of Caspian Gulls included at least eight in the Rainham (London) area over the weekend and four at Seaton Common (Cleveland) on 21st.

Glaucous Gull, Scarborough, North Yorkshire (Photo: Terry Hobson)
Finally, we cannot conclude without a quick update on Waxwings: 'just' 762 reports on Bird News Extra throughout the week ensured it was a little quieter this time out, with 155 of these coming on Sunday 18th. The southward push seems to have slowed considerably, although the first birds are now making their way into the Home Counties and across the South Midlands to South Wales.

Waxwing, Warrington, Cheshire (Photo: Steve Dolan)
Photo of the Week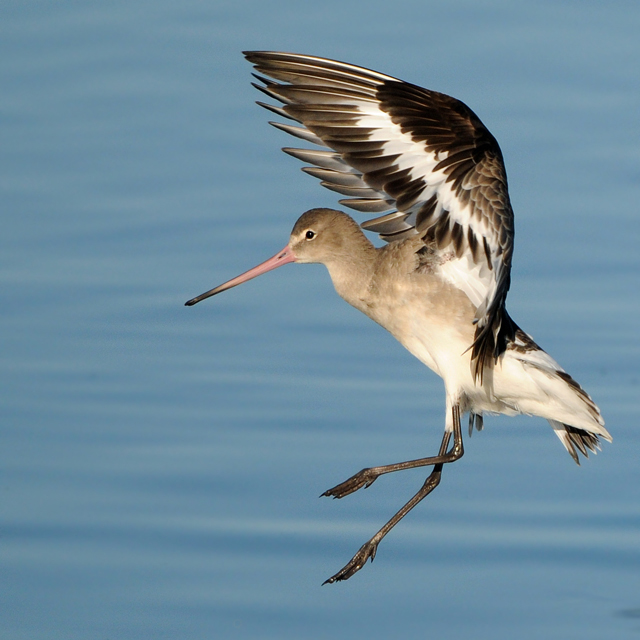 Black-tailed Godwit, Mistley, Essex (Photo: Carl Wright)
Black-tailed Godwits are among the most elegant of wader species and manage to look like supermodels in all their poses. As with human portrait photography, though, there is considerable skill in finding a combination of lighting and pose that really makes the most of a subject's attributes. Carl Wright's image of an alighting bird bathed in winter sunlight shows how it can be done. For this type of shot, it's difficult to avoid parts of the bird being lost in shadows, but Carl positioned himself perfectly relative to the sun to avoid that problem and also to benefit from the uplighting of the sunlight reflecting off the water. The blue sky reflected in the calm water provides a serene setting and complements the warm colours of the godwit. Best of all, though, is the bird's pose, which emphasises its slender form and creates an aesthetic arc-shape that Carl has positioned perfectly within the frame. Compositionally, the use of a square frame with the bird flying into space, its eye on the centre-line, is spot-on and makes the most of a beautifully executed capture.
Other notable images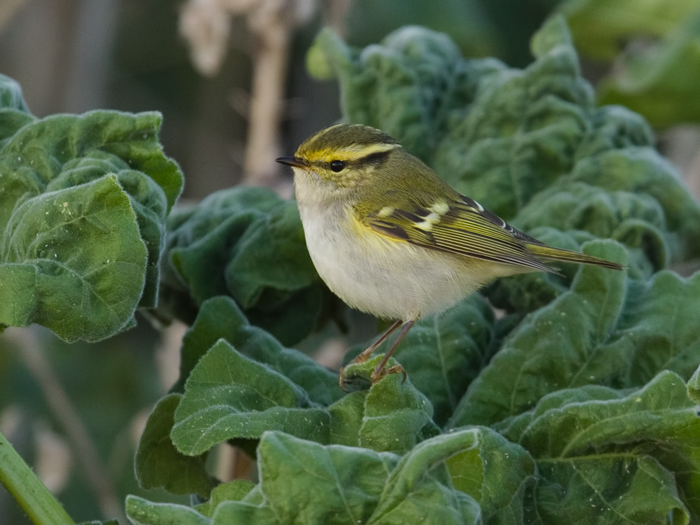 Pallas's Warbler, Dungeness NNR, Kent (Photo: Mark Tomlins)

Black-bellied Dipper, Thetford, Norfolk (Photo: Lawrie Webb)

Hen Harrier, Strumpshaw Fen RSPB, Norfolk (Photo: Wayne Geater)

Magpie, Bardsey Island, Gwynedd (Photo: Ben Porter)

White-fronted Bee-eater, Kenya (Photo: Jeff Hazell)

Hoopoe, Sand Point, Somerset & Bristol (Photo: Steve Spry)

Wren, Kelso, Borders (Photo: Ron McCombe)

Waxwing, Warrington, Cheshire (Photo: John Tymon)

Short-eared Owl, Aust Warth, Gloucestershire (Photo: Pete Blanchard)

Kestrel, Saltholme RSPB, Cleveland (Photo: Derek Bilton)