The week at a glance
It's been a surprisingly busy week, with the volume of news at a very healthy level for mid-December. For example, a total in excess of 320 reports on Monday was particularly impressive for a weekday at this time of year. This has certainly been helped by the large numbers of Waxwings that continue to frequent much of Scotland and northern parts of England — over 250 reports of the species this week suggested either a pulse of movement or renewed interest in the species among birders as things quietened off elsewhere.

Waxwing, Lumsden, Aberdeenshire (Photo: Stewart Woolley)
Rare birds continue to be found, the arguable highlight being a Blyth's Pipit at Blagdon Lake, Somerset. First reported on Monday, it had been present since the previous Wednesday though remained unidentified for six days. This is, unsurprisingly, a first for Somerset and will no doubt be popular over Christmas, should it decide to stay.
Content continues after advertisements

Blyth's Pipit, Blagdon Lake, Somerset & Bristol (Photo: Brian Thompson)
Another highlight was the autumn's eighth Eastern Black Redstart along the shore at Mousehole, Cornwall, from 18th. A fairly brownish ('dull', if you're being harsh) individual, it's clearly not the bird seen recently at two sites in the Lower Severn Valley. Elsewhere males remained in Cleveland and Lothian.

Eastern Black Redstart, Mousehole, Cornwall (Photo: P Tongue)
A Greater Yellowlegs was a fine new discovery at Cahore Marsh, Co Wexford, on 18th; it was still present the next day. One wonders whether it might be the long-staying and well-watched bird that spent over a year on the English south coast — either way it's the first seen in Ireland since one in Co Down in 2004, and so is likely a tick for a fair few Irish twitchers. It's also a first for Co Wexford which, when you consider the pulling power of the nearby mecca of Tacumshin for rare shorebirds, is genuinely surprising.
With no sign from mid-morning on 14th and again negative news on both 15th and 16th, it appeared that the Dusky Thrush had moved on from Beeley, Derbyshire. It was therefore a mild surprise to hear that it was back in its favoured orchards from 17th onwards; hopefully it'll stick around over the Christmas period. A female Black-throated Thrush at St Asaph, Clwyd, initially proved elusive after being discovered on 16th but eventually showed fairly well by the week's end — impressively this is just the second for Wales, following a male in Swansea in winter 2005/6.

Dusky Thrush, Beeley, Derbyshire (Photo: Richard Stonier)

Dusky Thrush, Beeley, Derbyshire (Photo: Steph Thorpe)

Black-throated Thrush, St. Asaph, Clwyd (Photo: Alex Jones)
Other news included the Masked Wagtail lingering another week in Camrose, Pembrokeshire, and the Killdeer still at Sandwick, Shetland, to 16th. It was nice to hear that the Pacific Diver had returned to Mount's Bay, Cornwall, for its 11th winter — it was back off Marazion from 18th. Confirmation came that 'Norman' the Red-footed Booby was indeed off to the Cayman Islands, but there was no news on the Isabelline Wheatear in Norfolk.

Masked Wagtail, Camrose, Pembrokeshire (Photo: Matt Scott)
Another week passes and the drake Hooded Merganser remains settled on the Ayrshire–Clyde border. Last seen at Kilbirnie Loch on 14th, it was re-found at its other favoured haunt — Barr Loch — on 18th. Elsewhere the escaped drake was again at Hawkridge Reservoir, Somerset. Two drake Ring-necked Ducks were new in at Drift Reservoir, Cornwall, from 16th, while another returned to Milton Loch, Dumfries & Galloway, on 17th. A further male was new in at Highland's Loch Scarmclate on 17th, and another shared Lough Rea, Co Galway, with one of the week's two Lesser Scaup — the other continuing on Orkney. A drake Ferruginous Duck was a nice find at Titchwell RSPB, Norfolk, on 19th, while the long-staying drake of unknown origin continued at Washington WWT, Durham.

Ferruginous Duck, Titchwell RSPB, Norfolk (Photo: Tom Whiley)
Each of the eight drake American Wigeon recorded was a lingering bird but there were at least a couple of new Green-winged Teal among the nine logged. A drake was found at Rutland Water on 17th and remained thereafter, while another was found at Inch Island Lake, Co Donegal. Three Surf Scoters were off Ballinskelligs, Co Kerry, on 14th, with further birds still in Devon, Lothian and Orkney. Both of last week's drake King Eiders remained on the Co Sligo coast, at Mullaghmore and Ballysadare Bay respectively.
A blue Snow Goose was among Pink-feet at Marshside, Lancs, from 16–18th, with the three still together in Aberdeenshire and a further bird (of unspecified colour morph) at Hill of Fearn, Highland, on 20th. Part of a good influx of geese from the continent this week, a Red-breasted Goose was a great find among Pink-feet in the Docking and Brancaster area of Norfolk on 19th; it was often seen in the same area as the continuing Todd's Canada Goose. Another Todd's continued at Wexford Wildfowl Reserve, with two (and the Richardson's Cackling Goose) also still on show in Co Sligo. Decent numbers of Tundra Bean and Eurasian White-fronted Geese arrived in eastern areas, generally occupying traditional sites/areas.

Red-breasted Goose, Docking, Norfolk (Photo: Toby Carter)

Todd's Canada Goose, Docking, Norfolk (Photo: Baz Scampion)
The Pallid Harrier put in another week at Welwick Saltmarsh, E Yorks, but there was no sign of last week's Snowy Owl near Spiddal, Co Galway. There were reports of white-morph Gyr Falcons at Morvah, Cornwall, on 14th and Shapinsay, Orkney, on 17th. The only Rough-legged Buzzard report concerned a bird seen from a train near Saxmundham, Suffolk, on 14th.

Pallid Harrier, Welwick Saltmarsh YWT, East Yorkshire (Photo: Martin Standley)
Cattle Egrets continue to be prolific, with reports from 30 sites this week, the highest count being an impressive 13 roosting at Penpol Creek, Cornwall, on 18th and new birds found in several counties. Glossy Ibises were logged at six sites as far north as Aberdeenshire, where one was at Loch of Strathbeg on 18–19th. Peak count was of two again at Ham Wall, Somerset, from 16th. The juvenile Night Heron was still on Sanday, Orkney, on 13th.

Cattle Egret, Hightown, Lancashire (Photo: Steve Young)
Shorebird news was in short supply, the continuing Lesser Yellowlegs at Lytchett Fields, Dorset, being just about the only record of any great significance.
The Bonaparte's Gull continued in Devon, and Ring-billed Gulls were noted in Hampshire, Co Galway and Co Clare, the latter county also hosting a new bird at Ballyalia Lake on 17th. Glaucous Gulls were reported from a paltry 10 sites, while Iceland Gulls (16 sites) fared barely any better. Kumlien's Gulls were in Co Kerry and Shetland.
Hot on the heels of last week's bird in Norfolk, a new Hume's Leaf Warbler was found at Portland, Dorset, on 14th and showed well thereafter. Another possible was in Hove, E Sussex, on 15th. Yellow-browed Warblers were noted at 14 sites, with a peak count of three at Nanjizal, Cornwall, and one as far north as Whittington, Staffs, from 16th. A new Dusky Warbler was found at Coombe Hill Meadows, Glos, on 20th, with one still lingering at Ripple Gravel Pits, Worcs, to 19th.

Hume's Leaf Warbler, Portland, Dorset (Photo: Martin Cade)
The Desert Wheatear continues along the coast at Thurlestone, Devon, with the Rose-coloured Starling in Crawley, W Sussex, showing almost as well. Two Richard's Pipits were at Abbotsbury, Dorset, from 15th, and another at Arlingham, Glos, from 16–18th. A Little Bunting graced Nanjizal, Cornwall, on 18th, while Great Grey Shrikes were noted at 14 sites. Peak Shore Lark counts included 32 at Holkham Gap, Norfolk, and 15 at John Muir Country Park, Lothian.

Rose-coloured Starling, Crawley, West Sussex (Photo: Mark Leitch)

Great Grey Shrike, Moine Mhor NNR, Argyll (Photo: Jim Dickson)
Western Palearctic news
What may well be the Western Palearctic's first Asian House Martin was unearthed at Ma'agan Michael, Israel, on 16th and was still present there the following day. Certainly the series of photos obtained by local birders seem to show features in favour of this subtle taxon.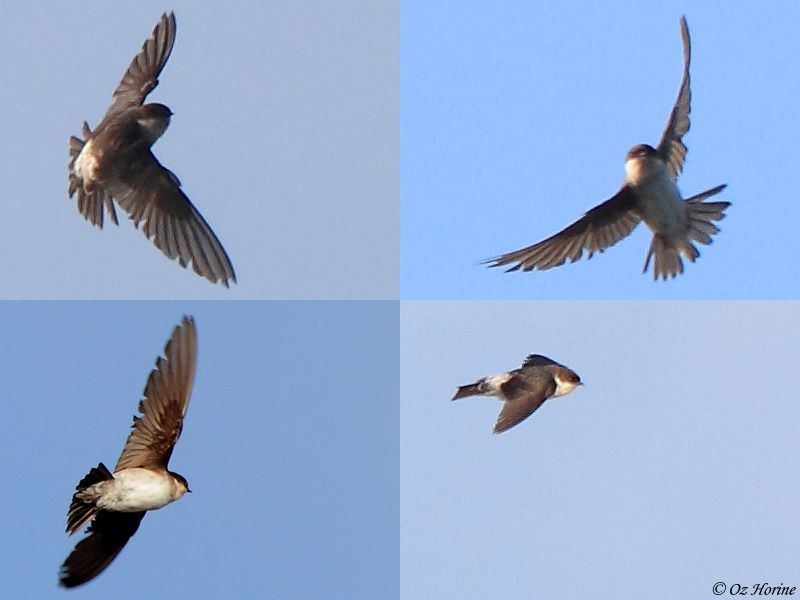 Apparent Asian House Martin, Israel (Photos: Oz Horine)
The Stejneger's Scoter continued to float around off Alicante, Spain, all week, while a Marabou Stork of presumed suspect origin was at Almería on 19th. A couple of American Herring Gulls were logged in coastal Portugal, while Azores records included the isles' sixth Snow Goose alongside two American Coots on São Miguel on 20th and a presumed returning drake Hooded Merganser on Terceira, the latter island also producing Forster's Tern and multiple Ring-necked Ducks and Lesser Scaup.

Snow Goose, Azores (Photo: Gerby Michielsen)

American Coot, Azores (Photo: Gerby Michielsen)

Hooded Merganser, Azores (Photo: Sofia Goulart)
Long-stayers that look set to winter include the Siberian Accentor at Hirtshals, Denmark, and the Red-necked Stint at Vejbystrand, Sweden. A Black-shouldered Kite in Seine-et-Marne, France, was a reminder that a British record is surely not far away. It seems an excellent winter for Pine Buntings right across Europe, with one at Kleinwarasdorf, Austria, on 17th and three different males in the Netherlands, including a new bird on Texel.

Pine Bunting, Netherlands (Photo: Eric Menkveld)