The week at a glance
Following a fortnight of wintry conditions, the weather rapidly switched to a more Christmassy mixture of mild temperatures, gusty winds and no shortage of the wet stuff as several fronts progressed eastwards across Britain and Ireland. However, that didn't stop further new birds being found just in time for the festive period, so 2012, despite misfiring at times, looks set to end positively, with a relative abundance of rare birds on offer.
Scilly claimed the week's most surprising record in the form of a first-winter male Rose-breasted Grosbeak frequenting feeders around Hugh Town, St. Mary's from 18th. This, the 35th record for Britain and Ireland combined, is only the second December occurrence (following one in Leigh-on-Sea, Essex from December 1975 in to January 1976) and prompts the question — where exactly has it come from? Logic would suggest that this is an autumn arrival that has made a recent southwesterly movement in response to the freezing conditions further north and east in Britain (and Northern Europe) over the past fortnight. While the possibility of a ship-assisted arrival has been suggested, it would seem strange that a transatlantic crossing would occur in midwinter but, as ever, how this bird ended up on Scilly is speculative. It was still present on 19th.

Rose-breasted Grosbeak, St. Mary's, Isles of Scilly (Photo: Joe Pender)

Rose-breasted Grosbeak, St. Mary's, Scilly (Video: Ashley Fisher)
Last week's eleventh-hour Buff-bellied Pipit — found at Queen Mother Reservoir (Berks) on 12th — continued to perform extremely well along the concrete banks there throughout the week. Thanks to the sterling effort of local birders, access was possible over the weekend and a fantastic £1,465 in donations had been raised for the Berkshire Ornithological Club by Sunday evening. With further access arranged for the weekend coming, this figure looks set to swell further, a testament to the generosity of birders — donations have been greatly appreciated.

Buff-bellied Pipit, Queen Mother Resr (Permit Only), Berkshire (Photo: John Dickenson)

Buff-bellied Pipit, Queen Mother Resr (Permit Only), Berkshire (Photo: David H Hatton)
Rivalling the pipit for showiness (although perhaps edging it just slightly) was Suffolk's continuing Hornemann's Arctic Redpoll along the seafront at Aldeburgh. It has been photographed perching on people's optics and feeding between their legs, so suffice it to say that this bulky snowball of a redpoll will prove to be many birders' highlight of 2012. Along with the two birds above, a stay into the New Year looks increasingly likely and could mean a fantastic start to the year for 2013 listers.

Hornemann's Arctic Redpoll, Aldeburgh, Suffolk (Photo: Adi Sheppard)
Meanwhile, back down in the far southwest, the adult Pacific Diver was still floating about Mount's Bay (Cornwall) at tantalising distances to at least 16th, while the Irish American Coot showed altogether more obligingly at Ballyconneely (Galway) throughout.

American Coot, Ballyconneely, Galway (Video: watbirdvideos)
Rare geese this week included the Red-breasted Goose still among the Brents at Farlington Marshes (Hants) on 18th, with the two white-morph Snow Geese again seen on North Uist — this time at Loch Paible — on 16th and the blue morph again at Lower Lough MacNean (Fermanagh) on 19th. A couple of Richardson's Canada Geese were at Kilchenzie (Argyll) on 19th and the Solway bird reappeared at Mersehead (Dumf & Gall) from 15th. Just a couple of Black Brants were reported, from West Sussex and Wexford.

Richardson's Canada Goose, Campbeltown, Argyll (Photo: John Nadin)
The week's two drake American Wigeon were familiar fixtures near Bawburgh (Norfolk) and at Angler's Country Park (W Yorks), while five drake Green-winged Teal included new birds at Barnaby's Sands (Lancs) on 16th–17th and St. John's Lake (Cornwall) from 17th in addition to continuing birds at Martin Mere (Lancs), Tacumshin (Wexford) and Baleshare (Outer Hebrides). The drake Blue-winged Teal remained at Threave (Dumf & Gall) throughout, although was generally rather distant.

American Wigeon, Anglers CP, West Yorkshire (Photo: Chris Downes)
A Ferruginous Duck at Girton Pit Complex (Notts) on 18th suplemented the continuing bird still at Wimbleball Lake (Somerset) on 13th. Drake Lesser Scaup consisted of remaining birds at Lough Gill (Kerry) and Blagdon Lake (Somerset), while the Siblyback Lake (Cornwall) bird moved to Dozmary Pool from 16th. Also in the county, an adult drake Ring-necked Duck at Par Beach Pool from 15th was no doubt a returning bird, while a first-winter drake was at Hawkridge Reservoir (Somerset) from 15th. Other records concerned remaining birds at Whitlingham (Norfolk) on 13th and Lough Gill (Kerry) on 13th, and Siblyback Lake (Cornwall) on 15th.

Ring-necked Duck, Par, Cornwall (Photo: Brian Mellow)
A juvenile Surf Scoter off Minsmere (Suffolk) on 13th was a fine county record, though it had departed by the following day. Other records concerned remaining birds off Dungarvan (Waterford) and in Largo Bay (Fife), with another drake in the latter county flying past Kinghorn on 18th.
A familiar line-up of Glossy Ibis were those still at Marloes Mere (Pembrokeshire) and Ringwood (Hants), the latter joined by one of around 20 Great White Egrets still in the country. Four GWEs remained at Dungeness (Kent) and twos were on the Gower (Glamorgan) and at Ham Wall (Somerset), while a popular bird at Alton Water (Suffolk) lingered throughout and a bird near Latimer (Bucks) was a decent inland find. Irish Cattle Egrets were at St. Johnston (Donegal) on 14th and Little Island (Cork) on 15th, with two remaining on Jersey. Sixteen Spoonbills were at Arne (Dorset) on 17th, while the Cromane (Kerry) individual passed the seven-year anniversary of its first appearance.

Great White Egret, Alton Water, Suffolk (Photo: Chris Mayne)
One of the talking points of the week was the continuing mini-influx of Gyr Falcons to the north and west. One was again seen near Loch Paible, North Uist (Outer Hebrides) on 16th while, quite remarkably, the same observer was then able to photograph a second white morph at Kilpheder, South Uist on 17th (still there on 18th)! Another was seen at Mull Head (Orkney) on 13th, while late news of a bird seen and photographed on the south side of the Myroe Levels (L'derry) on 12th raised hopes of a twitchable Northern Irish bird. With so many about, perhaps a good bet for an early 2013 highlight is another showy bird further south? Meanwhile, the juvenile female Northern Harrier was still at Tacumshin (Wexford), although just one Rough-legged Buzzard could be located — at Haddiscoe Marshes (Norfolk).

Gyrfalcon, Kilpheder, S.Uist, Outer Hebrides (Photo: JB Kemp)
A juvenile American Golden Plover near Burnfoot (Donegal) on 13th was presumably one of the recent quartet seen in Londonderry. Otherwise, unusual waders were limited to the Temminck's Stint still at Steart (Somerset), the Long-billed Dowitcher at Alkborough Flats (Lincs) and the Devon Lesser Yellowlegs still in Ernesettle Creek. The Grey Phalarope was still at Dunstable Sewage Works (Beds) to 17th, with others seen at Christchurch Harbour (Dorset) on 13th and past Cape Cornwall on 17th.

Temminck's Stint, Steart, Somerset & Bristol (Photo: Mike Trew)
Larid highlight of the week was a fine, sooty-coloured second-winter Laughing Gull around Rosehearty (Aberdeenshire) on 19th — the first record for Northeast Scotland of what has been a rather rare bird in recent years. Elsewhere, the Bonaparte's Gull was again at Dawlish Warren (Devon) on 15th, what was probably the returning adult American Herring Gull was seen briefly at Nimmo's Pier (Galway) for the first time in almost two years, and eleven Ring-billed Gulls included no fewer than nine in the Emerald Isle, where the adult Sabine's Gull was again seen at Cobh (Cork). Further asserting Ireland's dominance was the adult Forster's Tern, again on the south side of Galway Bay off Doorus on 15th.

Laughing Gull, Rosehearty, Aberdeenshire (Photo: Tim Marshall)
Moving on to passerines, the two female Desert Wheatears remained at Rattray Head (Aberdeenshire) to 17th (but not since) and on Guernsey on 13th. A Dipper, presumably a Black-bellied, was reported at Narborough (Norfolk) on 13th although there were no reports of the Thetford bird this week. Waxwings were limited to 'just' 730 records on Bird News Extra during the week; either the southward exodus has begun or people are starting to become complacent/bored after a six-week barrage of reports!

Desert Wheatear, Rattray Head, Aberdeenshire (Photo: Tim Marshall)
Cornwall's Subalpine Warbler continued to defy the odds and linger on in St. Just throughout the week; with the forecast set mild, a stay into 2013 now looks likely. The Dusky Warbler was again seen on St. Mary's (Scilly) on 15th, while a new Yellow-browed Warbler was turfed out at Llandudno Junction (Conwy) on 17th–18th.
First-winter Rose-coloured Starlings remained in Wadebridge (Cornwall) to 15th and Exminster (Devon) throughout, while last week's Cornish Red-breasted Flycatcher was still in Nanquidno Valley on 13th. Just half-a-dozen Great Grey Shrikes were noted, from Dorset, Hampshire (2), Surrey, Hertfordshire and Conwy. And, to conclude 2012's series of weekly reviews, we leave you with news that the two Penduline Tits were still at Ouse Fen (Cambs) on 15th.

Great Grey Shrike, Thursley Common, Surrey (Photo: Bill Dykes)
We wish all our readers a Merry Christmas and a Happy New Year, and let us all hope that the season is a bird-filled one. Furthermore, many thanks to our contributors — of both sightings and photographs — throughout 2012: your generosity and dedication is hugely appreciated by all of us. As ever, the Bird News Extra team will be working daily over the festive period, so please do continue to submit your sightings via the usual means and, most of all, enjoy yourself! You never know, it could be you who finds that wintering Dusky Thrush that we all so greatly crave. See you in 2013!
Photo of the Week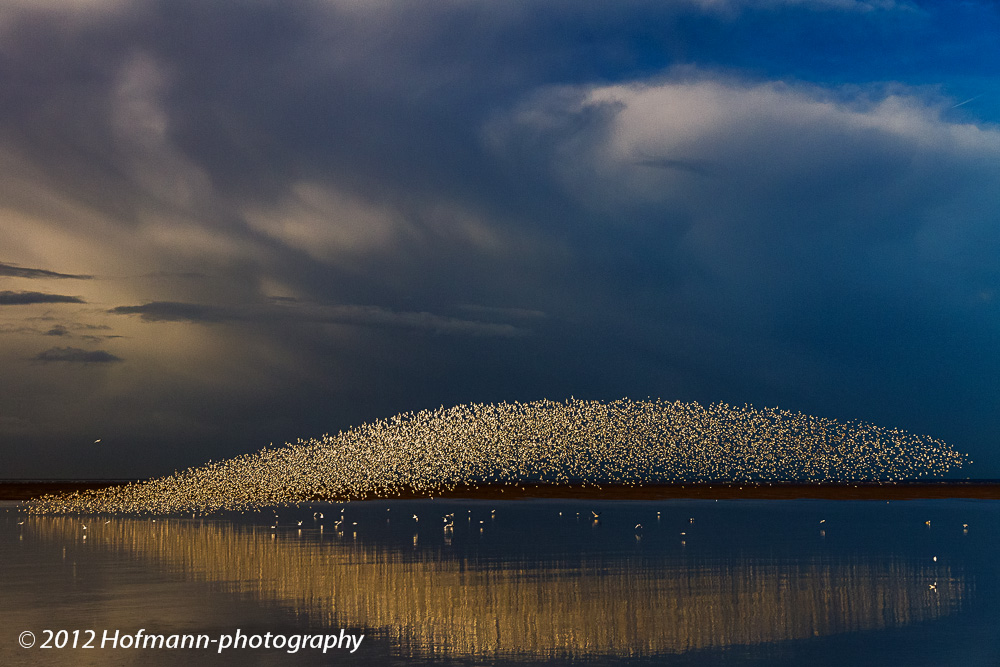 Knot, Hoylake, Cheshire (Photo: Gerhard)
It's almost unheard of for us to choose consecutive Photos of the Week by the same photographer (it happened only once before, in 2006), but we couldn't overlook the superb submission by Gerhard Hofmann this week. What's even more surprising is that both images feature wader flocks taken at the same location. Despite these similarities, though, the images could hardly be more different: whereas last week's winner was all about action, this week's image is pure art. The background is a Turneresque seascape with a dramatic stormy sky while, in contrast, the shallow water of the foreground is calm enough to provide a clear reflection. Where, last week, the waders formed the backdrop to the image, this week they form the focal point. Despite each bird being reduced to a glowing dot, the graceful shape of the massed flock, mirrored by the dark reflective water, creates a truly sublime scene. Last week's image of predation may have showed the harsh side of nature, but this week's reminds us that nature can also provide the greatest beauty.
Other notable images

Waxwing, Preston, Lancashire (Photo: Martin Jump)

Wren, Wayoh Reservoir, Lancashire (Photo: John Barlow)

Buzzard, Venus Pool NR, Shropshire (Photo: Jim Almond)

Starling, undisclosed site, Lancashire (Photo: David Cookson)

Hornemann's Arctic Redpoll, Aldeburgh, Suffolk (Photo: Mark Bicknell)

Whimbrel, Gambia (Photo: Dave Williams)

Kestrel, Wigan, Greater Manchester (Photo: Roy)

Spoonbill, Holes Bay, Dorset (Photo: Simon Johnson)

Tufted Duck, Slimbridge WWT, Gloucestershire (Photo: Norman West)

Buff-bellied Pipit, Queen Mother Resr (Permit Only), Berkshire (Photo: Ian Curran)

Fieldfare, undisclosed site, Lancashire (Photo: Tom Charles)

Great White Egret, Alton Water, Suffolk (Photo: Chris Upson)

Sacred Ibis, Cley next the Sea, Norfolk (Photo: Steve)

Robin, Hucknall, Nottinghamshire (Photo: Ray Hall)