While the laboured start to autumn continued, the week nevertheless saw the first appreciable influx of a few Nearctic wader species, most noticeably Pectoral, Buff-breasted and Baird's Sandpipers. No fewer than 75 'Pecs' were spread across 58 sites – including at least eight at Tacumshin, Co Wexford – with 14 Buff-breasts at 11 sites.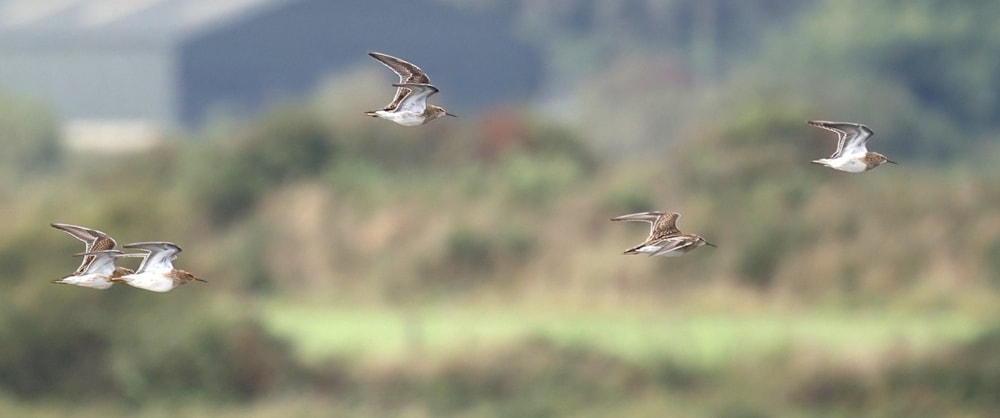 Pectoral Sandpipers, Tacumshin, Wexford (Tom Shevlin).
A one-day Isabelline Wheatear at Easington, East Yorkshire, on 17th was one of the best new birds of the week. Remarkably the fifth for the Spurn recording area since the first in October 1990, all records since have occurred in the last decade, with birds in 2011, 2016 and 2019. This evident upturn in records correlates with a noticeable upward trend across Britain, with the species downgraded from its former BirdGuides mega status during 2019.
Isabelline Wheatear, Easington, East Yorkshire (Stephen Tomlinson).
The 'Issy' made for a pleasing East Yorkshire rarity trio, with the Black-browed Albatross at Bempton Cliffs RSPB and White-tailed Lapwing at Blacktoft Sands RSPB both present until the week's end.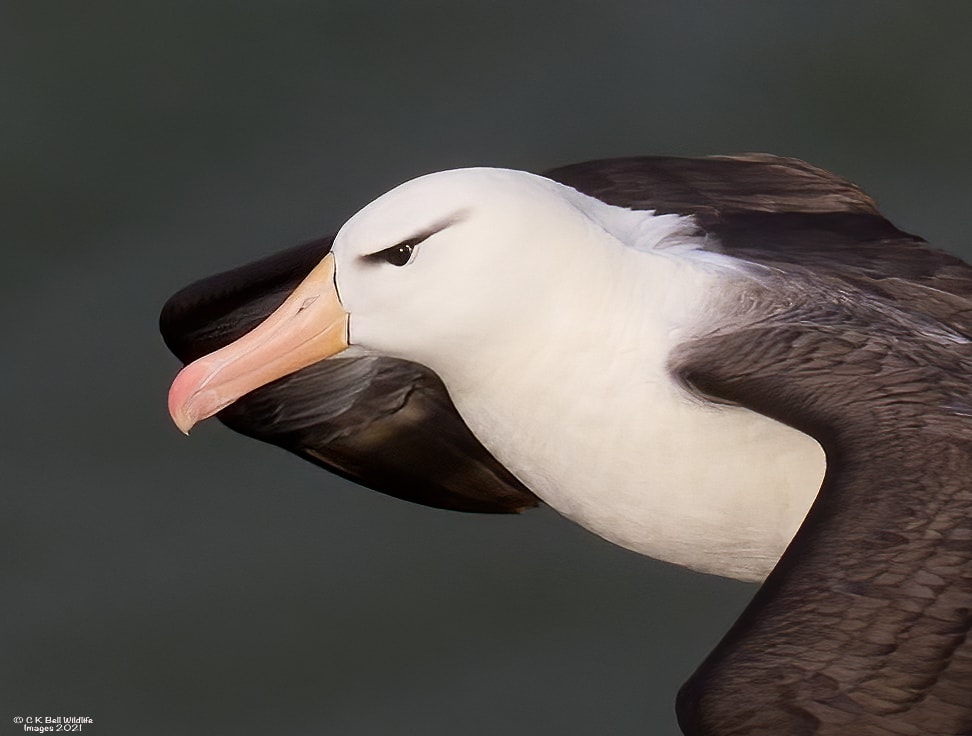 Black-browed Albatross, Bempton Cliffs RSPB, East Yorkshire (Craig Bell).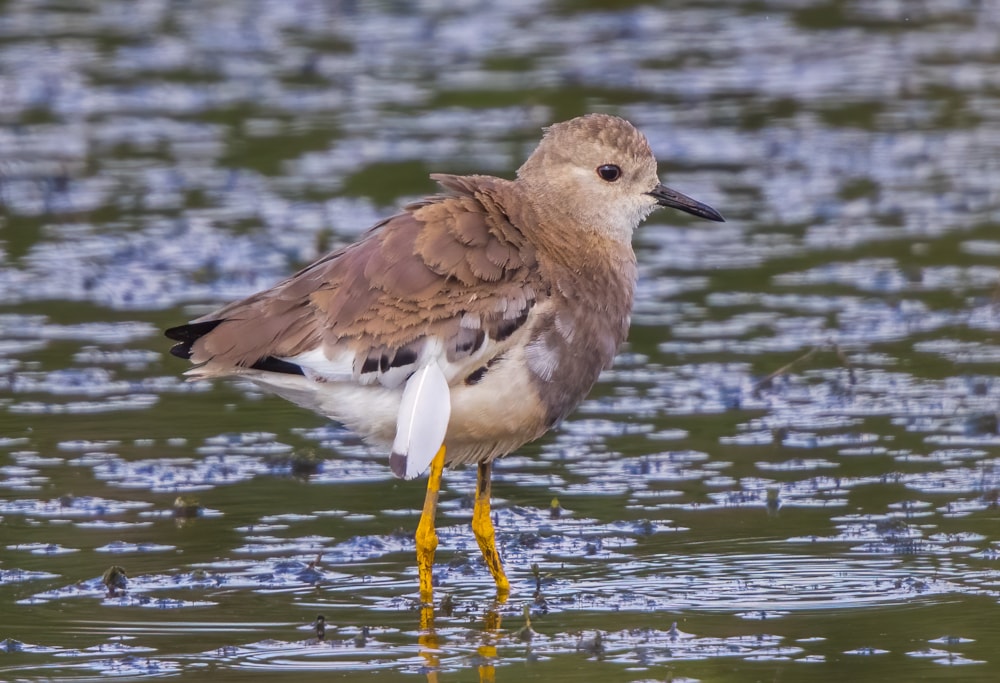 White-tailed Lapwing, Blacktoft Sands RSPB, East Yorkshire (Peter Garrity).
Also in East Yorkshire, the Buckton Green Warbler wasn't recorded after 14th.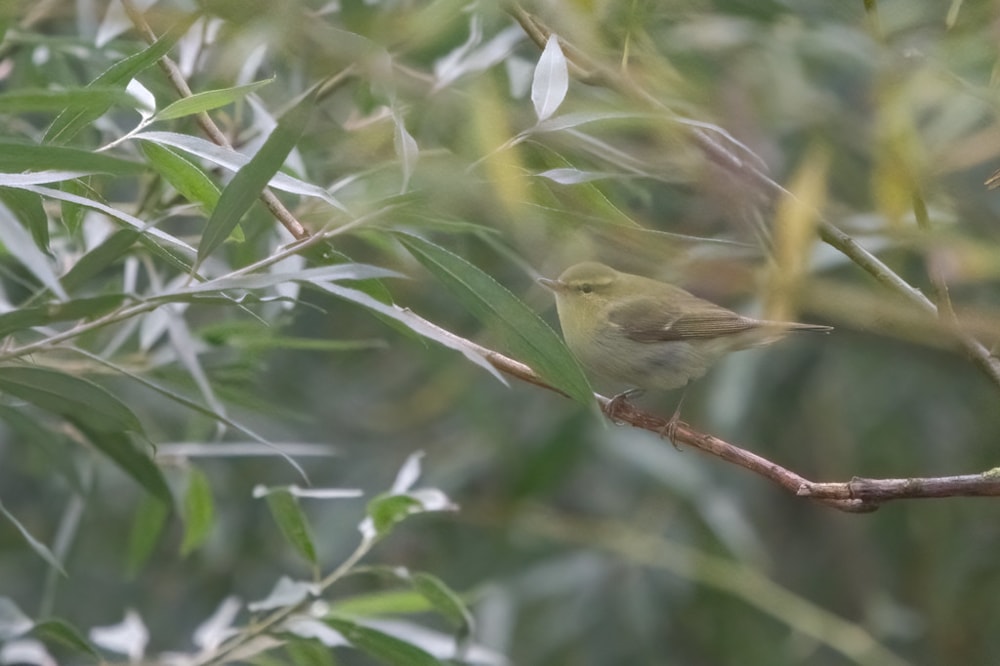 Green Warbler, Buckton, East Yorkshire (Tim Melling).
A Squacco Heron at Big Pool Wood near Gronant, Clwyd, from 15th was the week's best Facebook find. It was a county tick for everyone, with the only previous record shot near Furnace on 11 July 1828!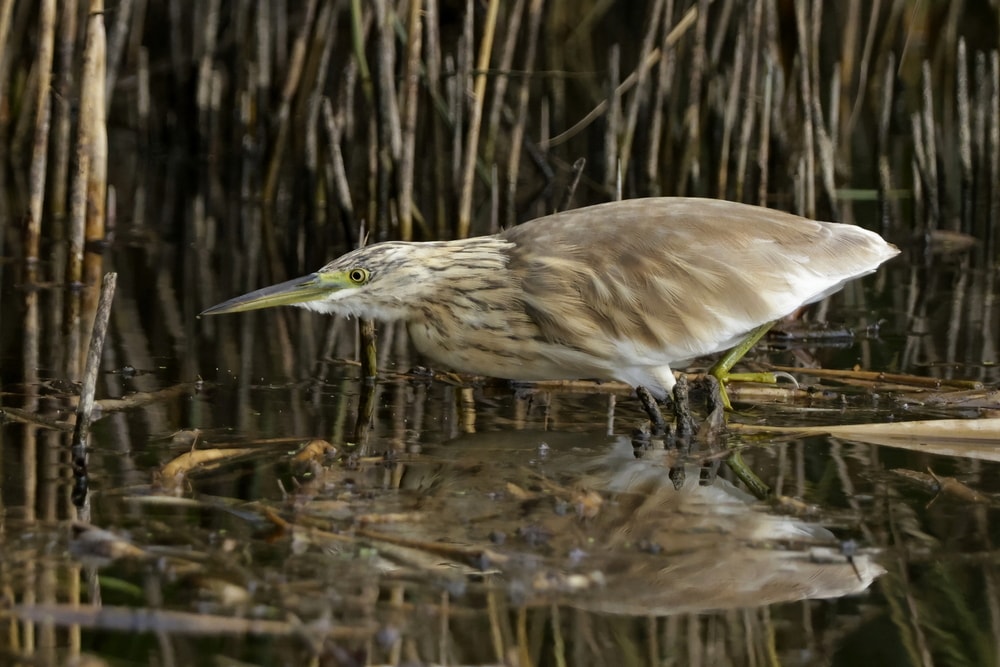 Squacco Heron, Gronant, Clwyd (Stephen Tomlinson).
In Shetland, a Whinchat × Common Redstart hybrid at Grutness, Mainland, made for an unlikely highlight. Found over the weekend but not identified until 16th, it appears to be the first British example of this ultra-rare intergeneric hybrid (see here).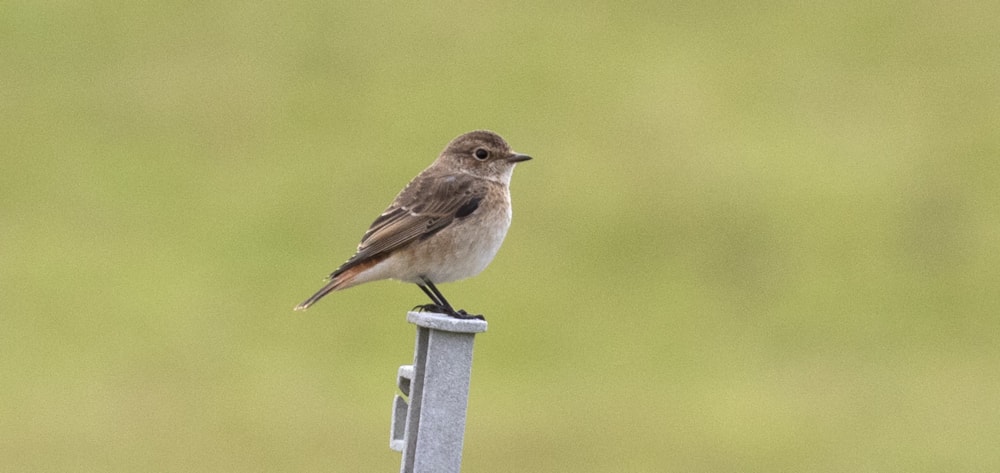 Whinchat × Common Redstart, Grutness, Mainland, Shetland (Roger Riddington).
An influx of Baird's Sandpipers to Ireland and the Outer Hebrides included individuals at Cashen Estuary, Carrahane Strand and Inny Strand, Co Kerry, Clonakilty, Timoleague and Haulbowline Island, Co Cork, and Ballyconneely, Co Galway, as well as Stoneybridge and Howmore, South Uist, and Loch Paible, North Uist. Another was on Bryher, Scilly, from 16th. Elsewhere in the Outer Hebrides, Long-billed Dowitchers were at Loch Bee, South Uist, and Greinetobht, North Uist, on 19th.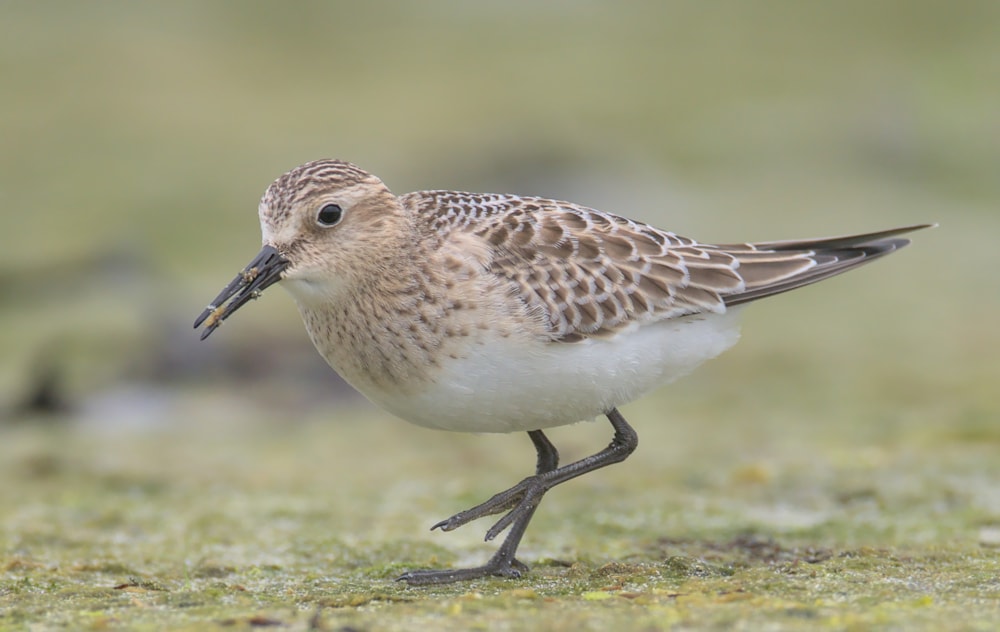 Baird's Sandpiper, Loch Paible, N Uist, Outer Hebrides (Ron Macdonald).
A Shetland WeBS count produced a brief Great Snipe at Loch of Brow, Mainland, on 15th. The species used to be a rare but near-annual autumn migrant to the islands, yet this is the first for the archipelago since one on Fair Isle in 2017 – and the first for the Mainland since two in autumn 2011.
Northumberland's first Semipalmated Sandpiper since 2009 was a smart find at Boulmer on 17th. Nearby, an adult Pacific Golden Plover was discovered on Holy Island among its European congeners from the same date, while a possible overflew Nosterfield Quarry, North Yorkshire, too.

Semipalmated Sandpiper, Boulmer, Northumberland (Frank Golding).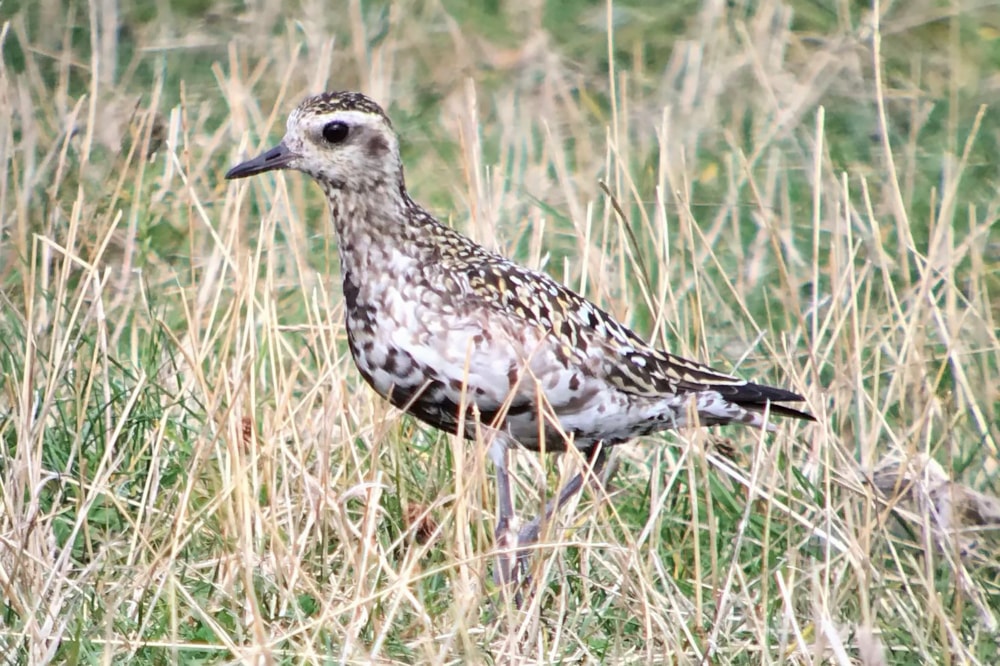 Pacific Golden Plover, Holy Island, Northumberland (Ashley Saunders).
On North Ronaldsay, Orkney, a second probable Wilson's Snipe was photographed on 13th, while a juvenile Lesser Scaup was a notable record towards the end of the week.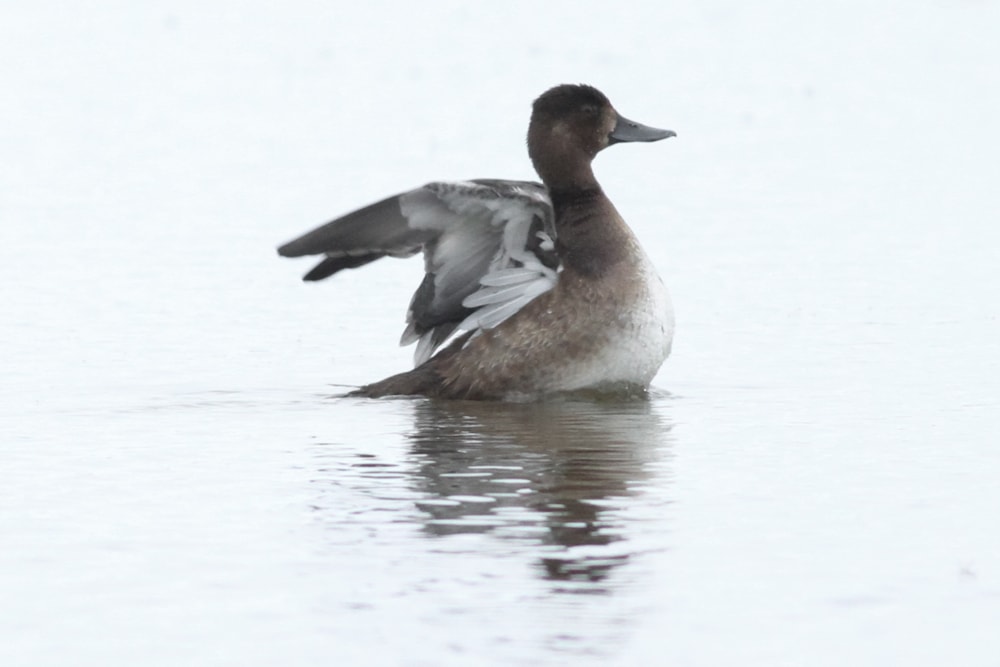 Lesser Scaup, North Ronaldsay, Orkney (Dante Shepherd).
A probable Blue-winged Teal flew west past Cley Marshes, Norfolk, in the company of Common Scoter on 15th. In Co Mayo, the drake American Black Duck was again at Cross Lough, Mullet, while the drake Black Scoter remained at Kinnaber Links, Angus & Dundee, until 14th. In Shetland, the second-winter drake King Eider continued at Wadbister Voe, Mainland.
Bonaparte's Gulls held out at both Kinnegar, Co Down, and Oare Marshes, Kent, while a possible immature Laughing Gull overflew Trevose Head, Cornwall, on 13th. In Ireland, a possible Azores Gull was at The Gearagh, Co Cork, and the Forster's Tern hung on at Soldier's Point, Co Louth.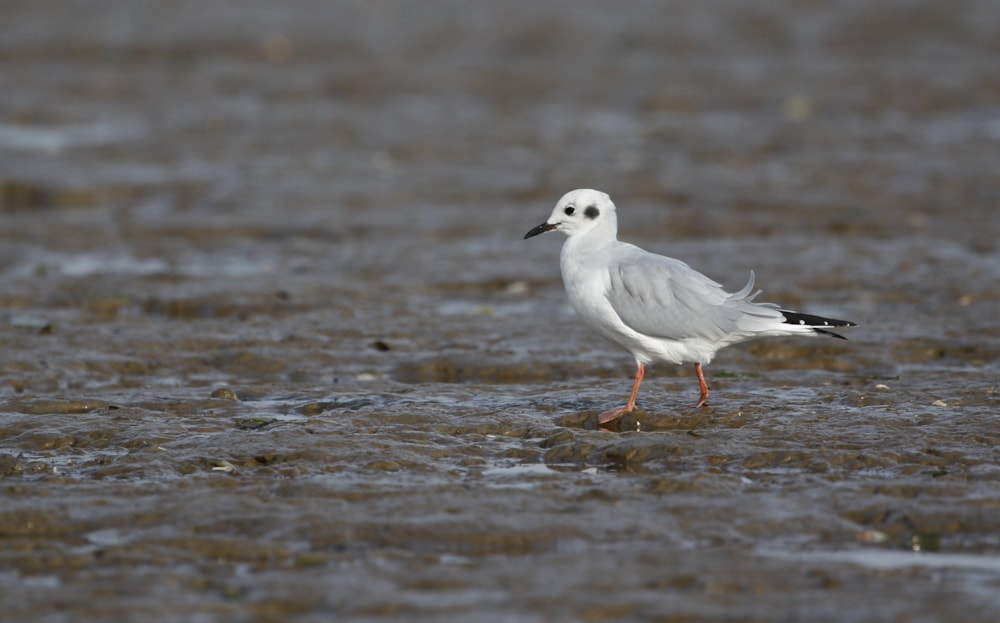 Bonaparte's Gull, Oare Marshes NR, Kent (Andrew Edwards).
On 18th, a Red-throated Pipit overflew Worth Marsh, Kent; a Booted Warbler was a brief visitor to Houbie, Fetlar, the previous day. The Isle of Man's first Paddyfield Warbler was trapped and ringed at Calf of Man on 16th, the same day an Aquatic Warbler was reported at Ham Wall RSPB, Somerset. Rounding off the week, a Tawny Pipit flew west over Beachy Head, East Sussex, on 19th.

Paddyfield Warbler, Calf of Man, Isle of Man (Rob Fisher / Calf of Man Bird Observatory).
On St Mary's, Scilly, the Balearic Woodchat Shrike was last recorded at Helvear, St Mary's, on 17th, with the Western Bonelli's Warbler last noted on 14th.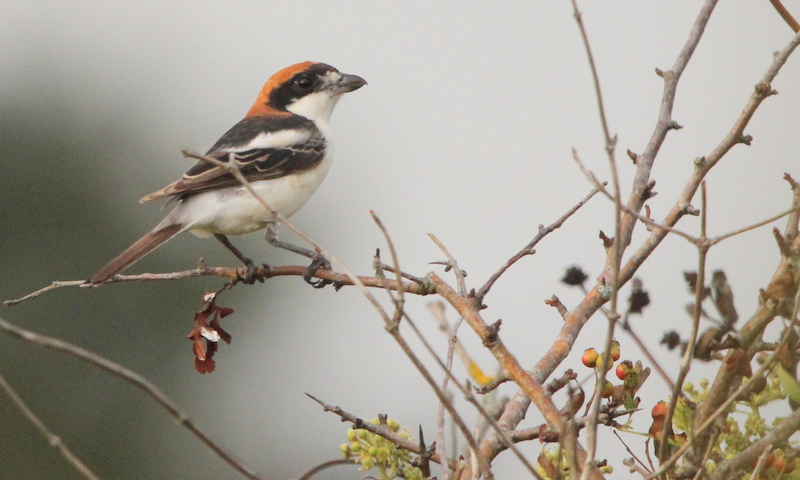 Balearic Woodchat Shrike, St Mary's, Isles of Scilly (Kris Webb).
A juvenile Pallid Harrier at Toe Head, Co Cork, on 17th was followed by another tracked in off the North Sea at Lower Kilminning, Fife, on 19th – a first for the Fife mainland. Elsewhere, both Snowy Owls persevered – at St Kilda, Outer Hebrides, and Ben Macdui, Angus & Dundee.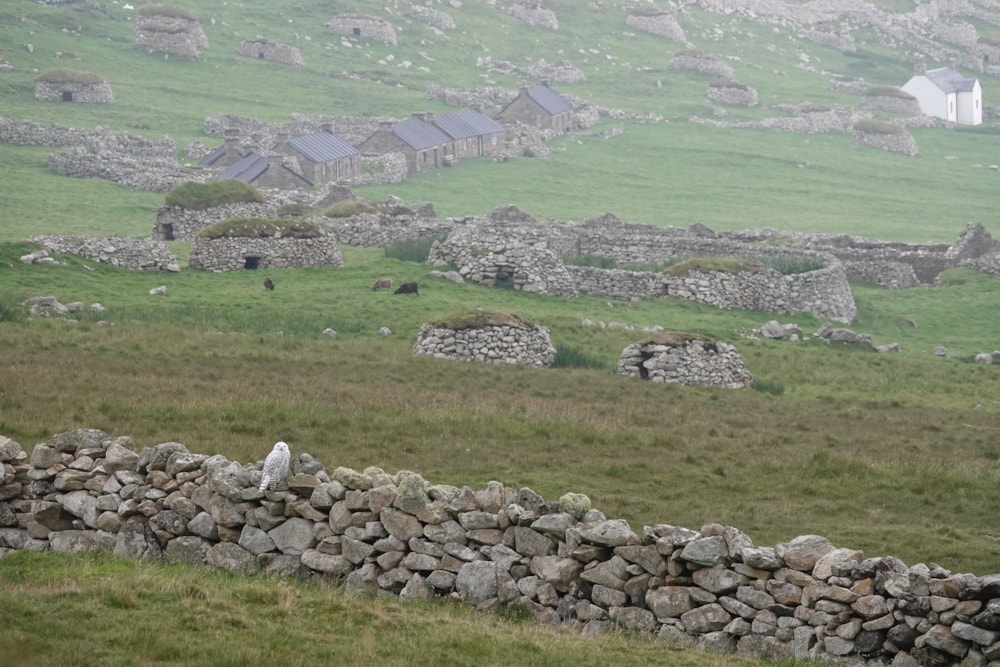 Snowy Owl, St Kilda, Outer Hebrides (Craig Nisbet).
Lincolnshire's young Black Stork headed high south from Frampton Marsh RSPB on 15th and is perhaps the bird picked up heading south over Hatfield Heath, Essex, the following day.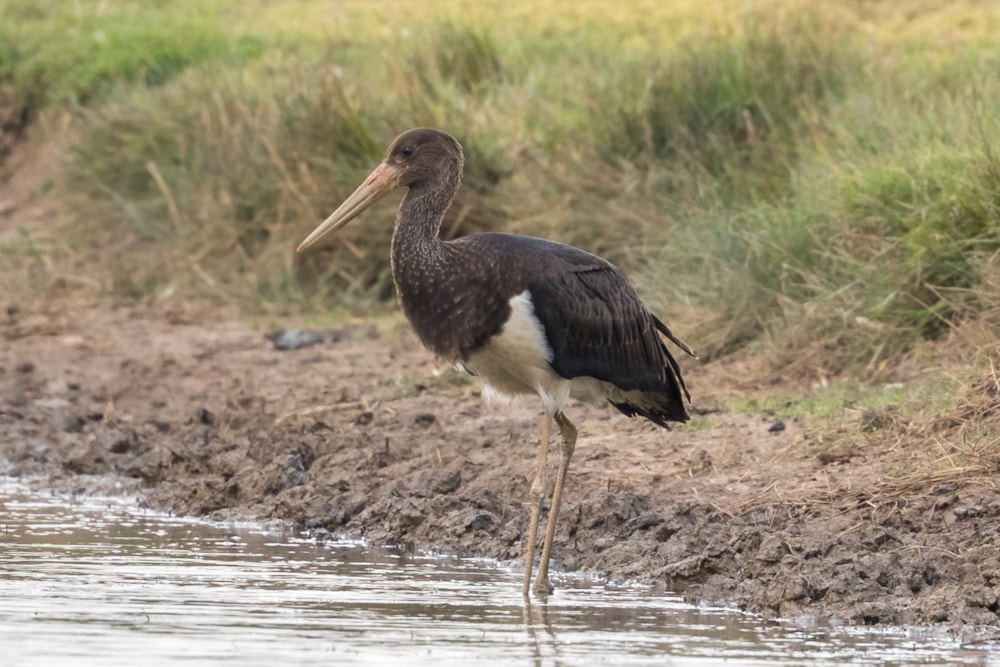 Black Stork, Frampton Marsh RSPB, Lincolnshire (Ian Bollen).
In Lepidoptera news, another Camberwell Beauty ended the week at Scarborough Mere, North Yorkshire, with another at North Berwick, Lothian, recently. In Shetland, an Oleander Hawkmoth was at South Nesting, Mainland.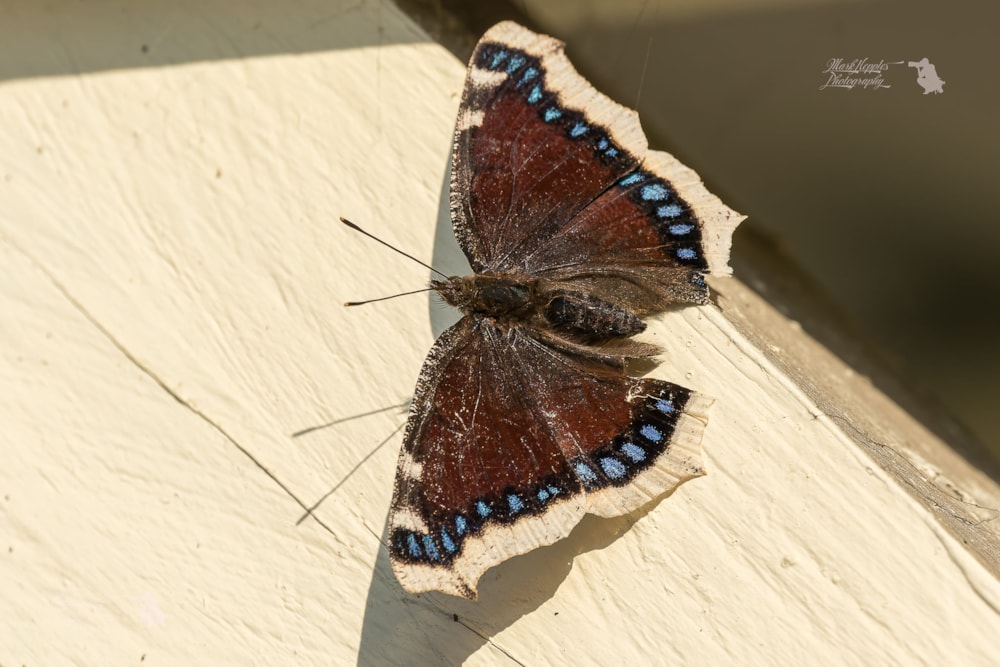 Camberwell Beauty, Scarborough Mere, North Yorkshire (Mark Hepples).
Scottish mainland
In Highland, a juvenile Buff-breasted Sandpiper at Balnakeil among European Golden Plovers on 16-17th was a rare record for the northern Scottish coastline. Meanwhile, an impressive showing of Pectoral Sandpipers included birds at Spey Bay, Moray & Nairn, Frankfield Loch, Clyde, Tyninghame Bay, Lothian and Loch of Strathbeg RSPB, Aberdeenshire (three), with a probable at Spey Dam, Highland.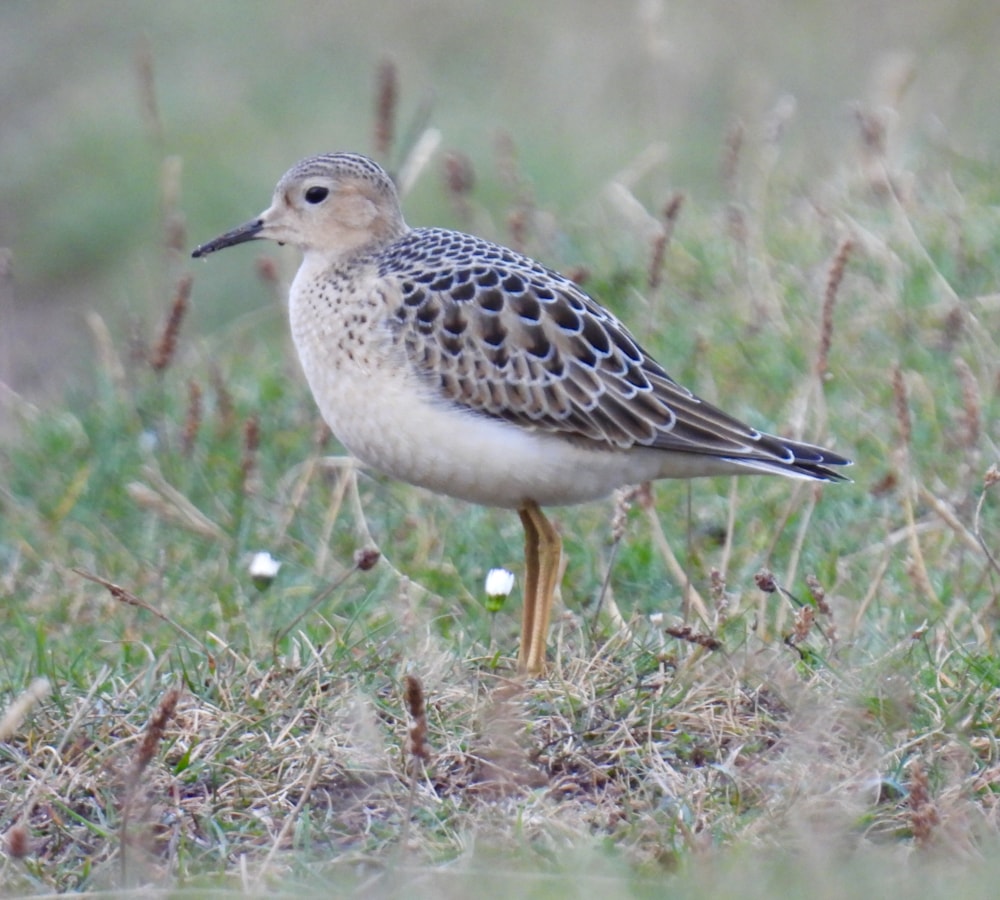 Buff-breasted Sandpiper, Balnakeil, Highland (Brendan Threlfall).
A southbound juvenile European Honey Buzzard was a good find over Isle of May, Fife, early on 18th, with a juvenile Rosy Starling at Balnakeil Marsh, Highland, the following day. Rattray Head, Aberdeenshire, hosted Wood and Barred Warblers; a Wryneck was in gorse at Ythan Estuary.
On 19th, a Grey Phalarope south off Kilminning, Fife, was notable, while Long-tailed Skuas loafed past North Queensferry and Fife Ness, Fife, Peterhead, Aberdeenshire, and Chanonry Point, Highland. A bumper week for Great Egrets included birds at Barassie and Saltcoats, Ayrshire, Montrose Basin, Angus & Dundee, and Lochwinnoch RSPB, Clyde.


Probable Northern Eider (far left), Tarbat Ness, Highland (Dave Tanner).
A probable drake Northern Eider was photographed off Tarbat Ness, Highland, on 14th, while a Ruddy Shelduck remained at Montrose Basin, Angus & Dundee. Elsewhere, a returning drake Surf Scoter was back off Musselburgh Lagoons, Lothian, from 13th, with two continuing off Kinnaber Links, Angus & Dundee. Two Garganey flew south past Maidens, Ayrshire, on 13th; another was at Frankfield Loch, Clyde.
Larid interest was provided by an immature Glaucous Gull at Lossie Estuary, Angus & Dundee and a second-winter Iceland Gull at Thurso, Caithness, while young Black Terns were at Dunnet Bay, Caithness, and Out Head, Fife.
Northern Isles and the Hebrides
Pectoral Sandpipers also had a good showing in Shetland this week, with birds at four localities – on Foula and at Loch of Huesbreck and Loch of Clevigarth, Mainland (two), and Pool of Virkie. A second-winter Glaucous Gull was in Lerwick harbour, Mainland; as many as three European Honey Buzzards flew south over South Mainland the following day. Meanwhile, an adult Rosy Starling was in gardens at Aith, Mainland, European Turtle Doves were at two sites on Fetlar, and a Hoopoe spent 13-14th at Breiwick, Mainland, before one (or the same) was on Bressay from 17th.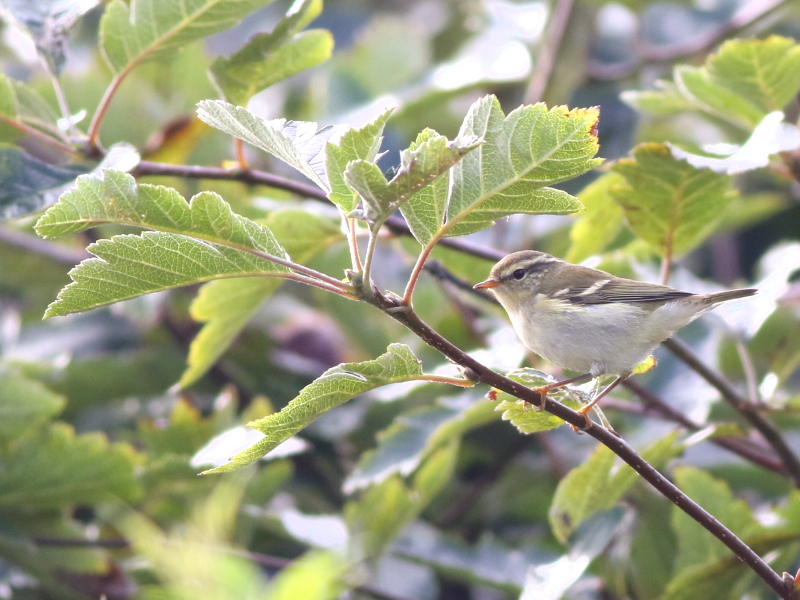 Yellow-browed Warbler, Valyie, Unst, Shetland (David Cooper).
The first three Yellow-browed Warblers of the autumn were found in a week where two Arctic Warblers graced Quendale and a Greenish Warbler was at Sumburgh. A Little Bunting was at Sandness, Mainland, on 13th and Red-breasted Flycatchers were at three South Mainland sites. Wrynecks were at Skaw, Whalsay, on 15th and Gulberwick, Mainland, on 18th.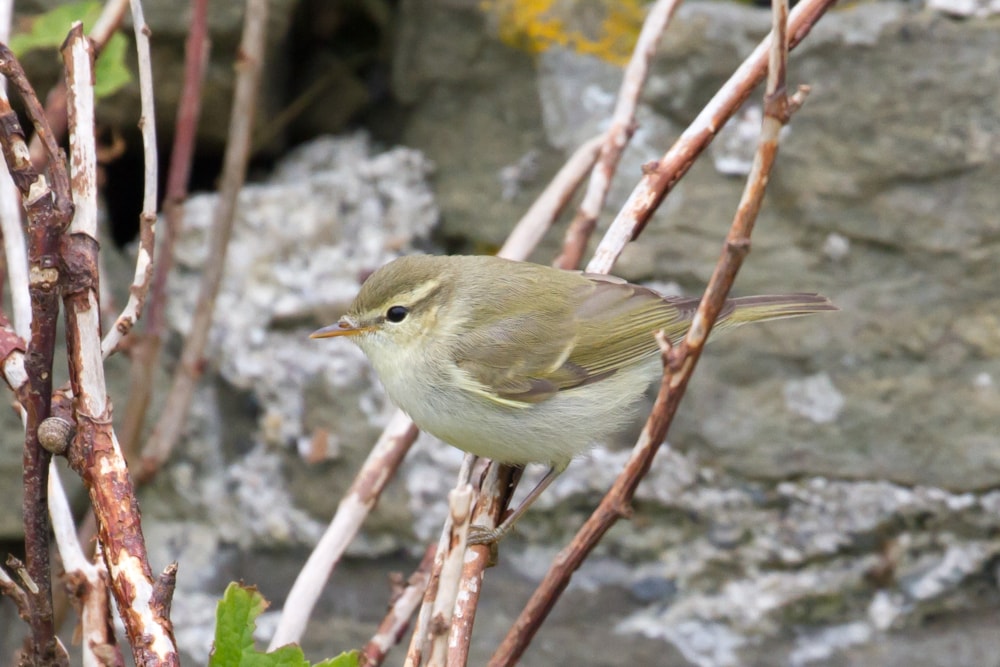 Greenish Warbler, Sumburgh, Mainland, Shetland (Mick Kemp).
It was a classic mid-September week on Fair Isle, with Little Bunting, Wryneck, Blyth's Reed Warbler, Richard's Pipit and Bluethroat all arriving this week. The Melodious Warbler lingered until 17th and the adult Woodchat Shrike remained throughout. The autumn's first Snow and Lapland Buntings made landfall, while the first Yellow-browed Warbler was trapped and ringed on 16th.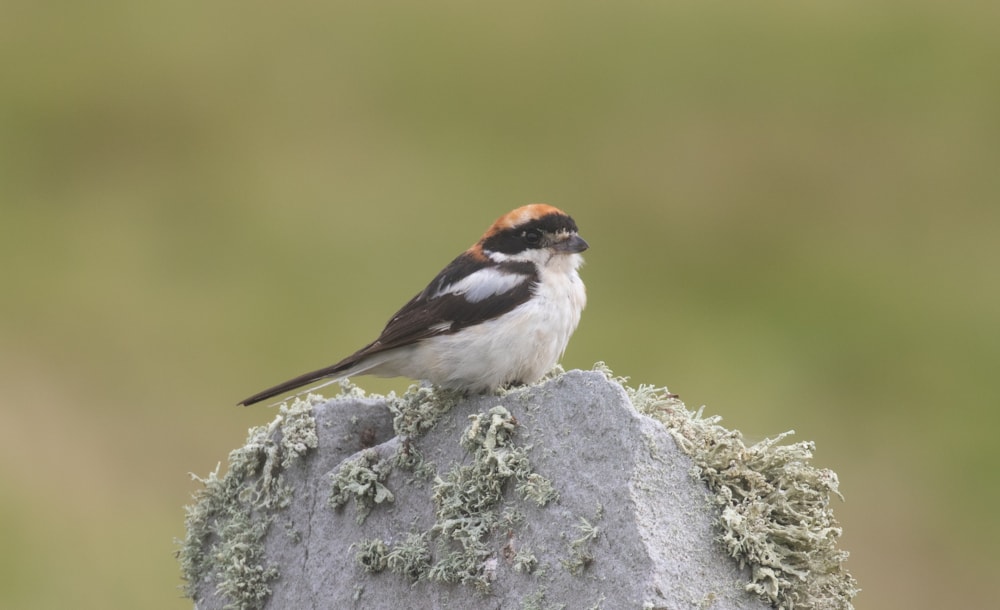 Woodchat Shrike, Fair Isle, Shetland (Daniel Gornall).
A juvenile American Golden Plover was mobile across Sanday, Orkney. Three Buff-breasted Sandpipers were at North Loch, Sanday, on 18th, as was a Pectoral Sandpiper. Other highlights on Sanday included Common Rosefinch, Barred Warbler and Common Quail, plus a Wryneck at Lettan on 13th. A Pectoral Sandpiper was at Deerness, Mainland, on 16-18th.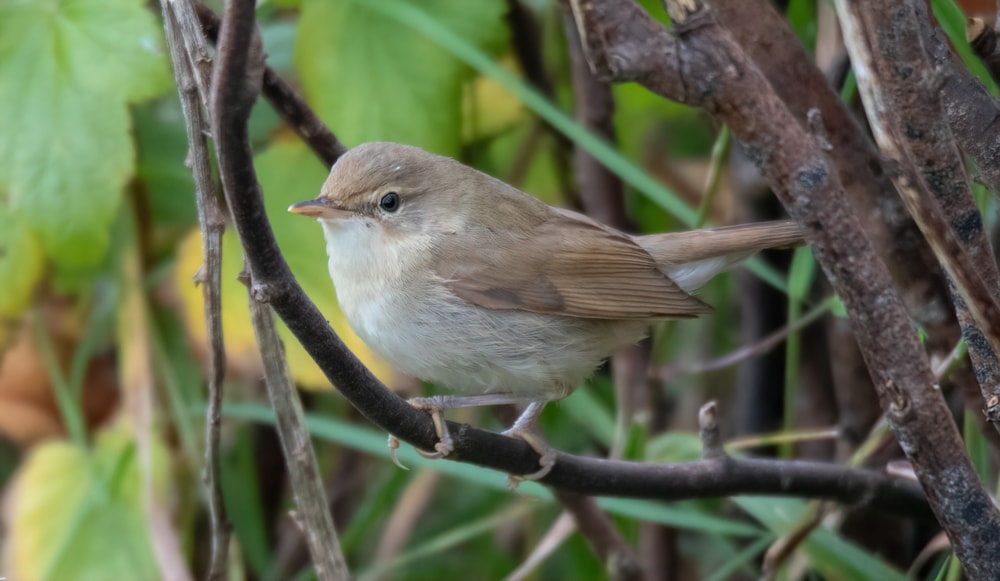 Blyth's Reed Warbler, Fair Isle, Shetland (Alex Penn).
A Buff-breasted Sandpiper was on North Ronaldsay on 13th, with a potential second bird on 17th. Two Pectoral Sandpipers were on the island on 14th while bits from the east included a Common Rosefinch and Barred Warbler. A Eurasian Dotterel was present on 13th and 18th too.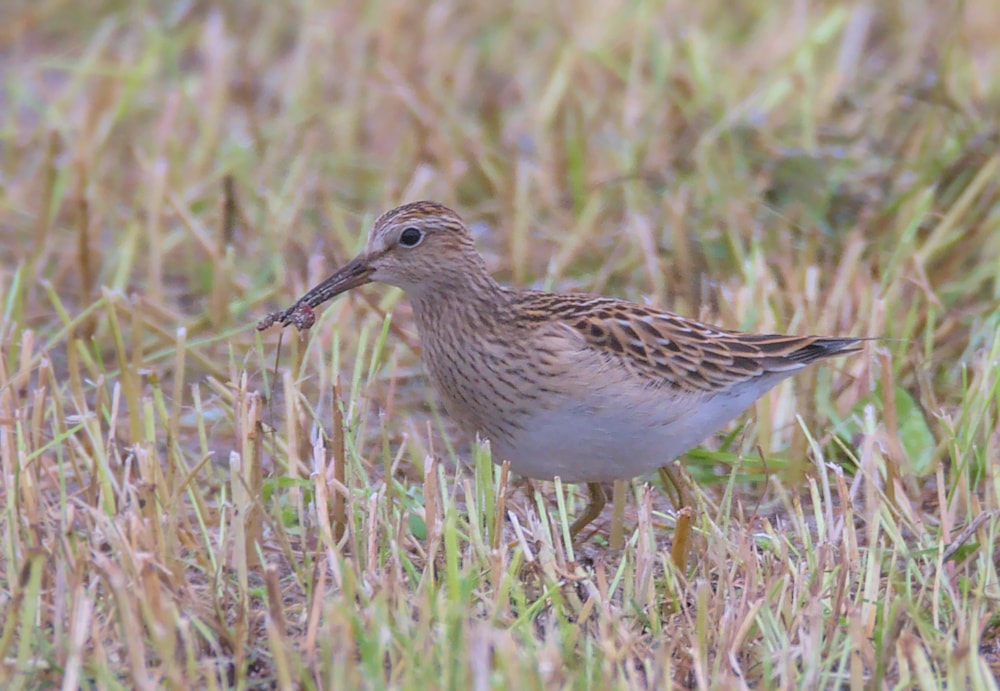 Pectoral Sandpiper, Bornish, S Uist, Outer Hebrides (Ron Macdonald).
The Outer Hebrides did well for Nearctic waders – a Lesser Yellowlegs was at Ahmore, North Uist, on 17th, and Buff-breasted Sandpipers were at Balranald RSPB, North Uist, and Bornish, South Uist (two). Pectoral Sandpipers made it to five sites, including two at Bornish. Passerines included Common Rosefinches at Askernish, South Uist, on 18th and Aird Mhor, Barra, on 19th, up to three Barred Warblers on Barra and a Firecrest at Langais, North Uist, on 14th.
Dan Owen
North-East England
In Northumberland, a Great Shearwater flew past Birling Carrs and Longhoughton Steel on 16th, with it or another off nearby Boulmer on Sunday. Just the one Pectoral Sandpiper was found this week – at Beal on 14th – and a Red-backed Shrike was at Druridge Pools. A report of a European Bee-eater came from Ponteland on 19th, the same day a juvenile Rosy Starling was at Wideopen. Other highlights included Red-necked and Slavonian Grebes past Newbiggin-by-the-Sea and a group of eight Eurasian Spoonbills touring the county.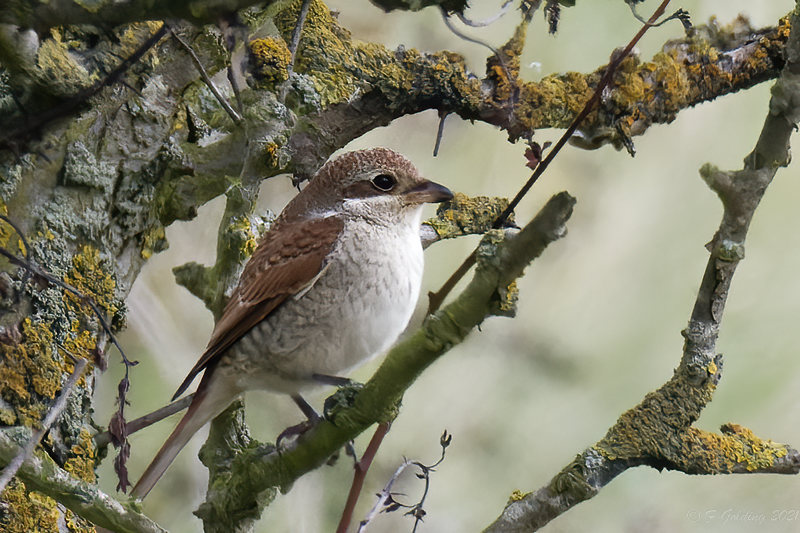 Red-backed Shrike, Druridge Pools, Northumberland (Frank Golding).
Durham scored two Pectoral Sandpipers, with singles at Boldon Flats NR and Hurworth Burn Reservoir. An adult female European Honey Buzzard flew over Blackhall Rocks on the morning of 18th, while a possible Red-footed Falcon reported over Whitburn the following day remained unconfirmed. Seawatching highlights at Whitburn Coastal Park included two Long-tailed Skuas, Balearic Shearwater, Red-necked Grebe, Slavonian Grebe and Black-throated Diver.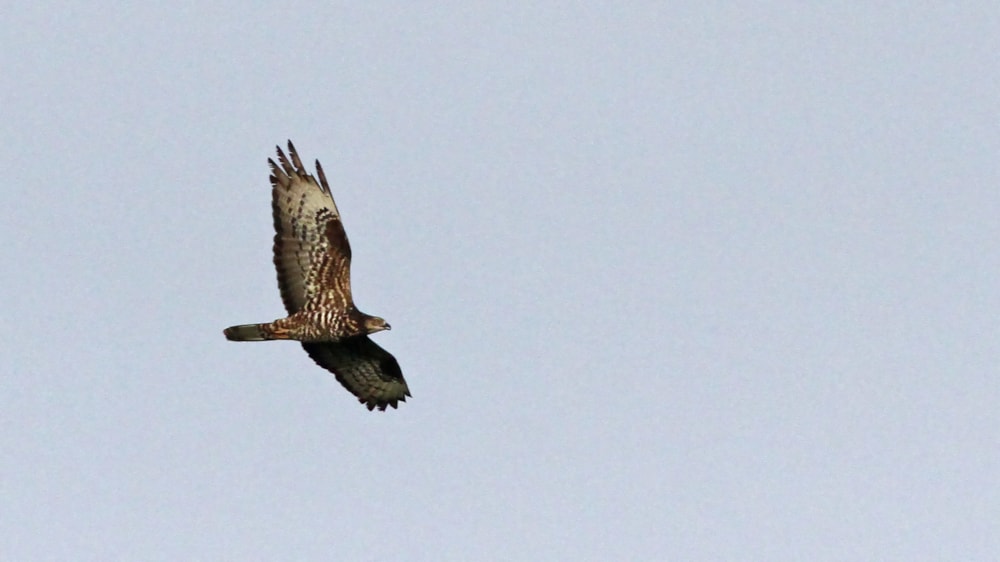 European Honey Buzzard, Blackhall Rocks, Durham (Kieran Lawrence).
Seawatching at Hartlepool Headland, Cleveland, produced a Long-tailed Skua on 13th and a probable White-billed Diver on 19th (also seen off Ryhope, Durham). A Pectoral Sandpiper was briefly at Saltholme RSPB on 16th and a scattering of commoner passage waders were spread between there and the surrounding marshes.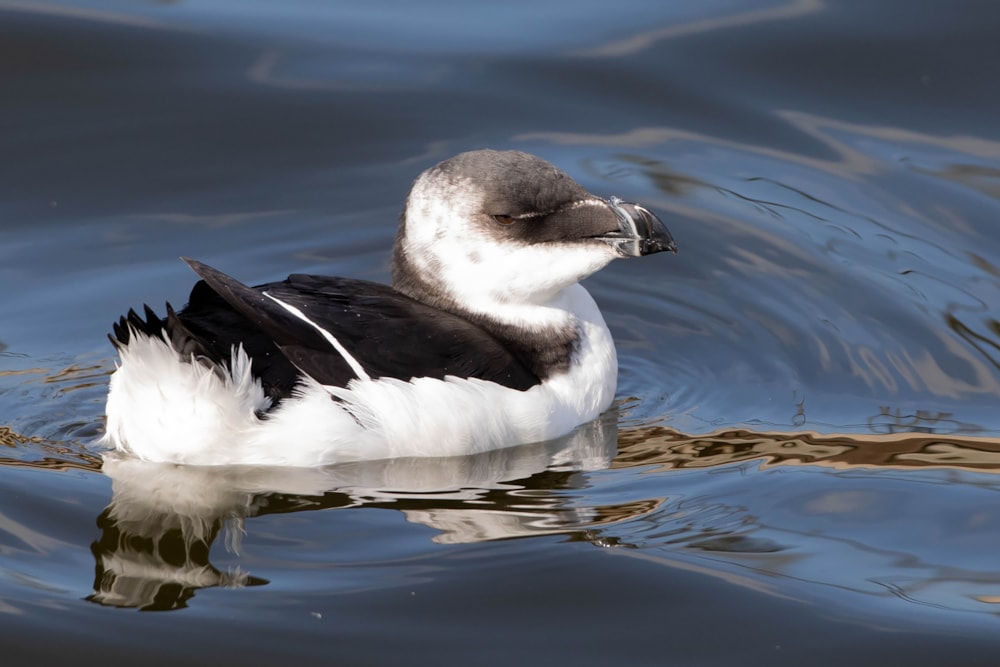 Razorbill, Middlesbrough, Cleveland (Martyn Sidwell).
Unusually high numbers of Razorbills turned up on rivers in the North-East, stretching as far inland as Washington, Durham, and Portrack Marsh, Cleveland – a worrying sign coinciding with reports of many birds being unwell or washing up dead on beaches.
Jonathan Farooqi
North-West England
A flyover European Honey Buzzard over Sedgwick on 13th highlighted an otherwise quiet week in Cumbria. Lancashire enjoyed three Pectoral Sandpipers, with singles at Leighton Moss RSPB and Alston Reservoirs while Hesketh Out Marsh RSPB scored two on 18th. Curlew Sandpipers and Little Stints also continued their good showing and five Ruddy Shelduck were on the Alt Estuary at Hightown on 15th.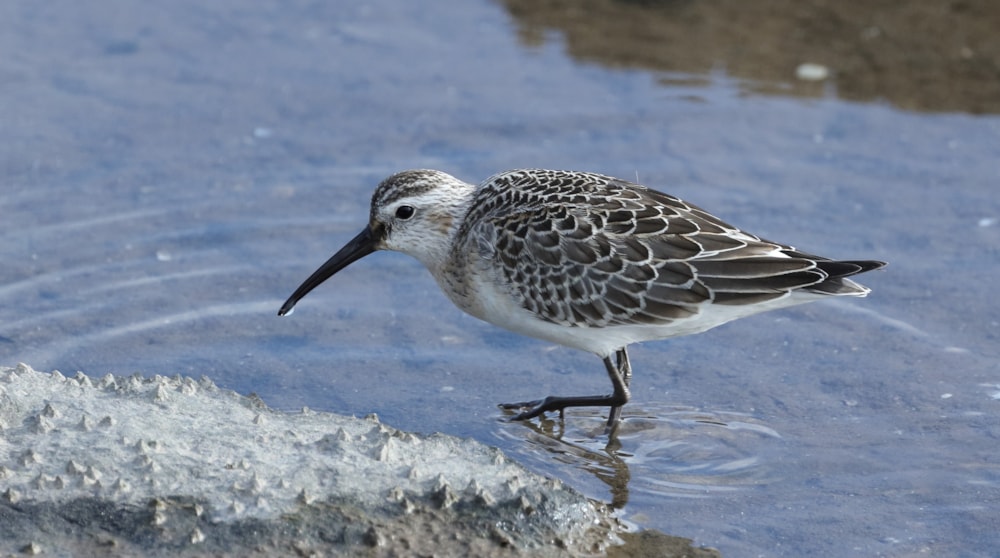 Curlew Sandpiper, West Kirby Marine Lake, Cheshire (David Bradshaw).
Cheshire was quiet. Curlew Sandpipers had a good run, with up to seven off West Kirby Marine Lake and two off Heswall. A Manx Shearwater was off the Weaver Sluice at Frodsham Marsh on 12th, while Ruddy Shelduck continued at their regular haunts. A Little Stint was a good record for Pennington Flash CP, Greater Manchester.
Dan Owen
Content continues after advertisements
Lincolnshire and Yorkshire
Lincolnshire got in on the wider influx of Pectoral Sandpipers, with up to three seen a Frampton Marsh RSPB in the latter half of the week. A Lapland Bunting also flew south there on 15th, with another over Gibraltar Point NNR the same day. Covenham Reservoir scored a Russian White-fronted Goose on 16th, followed by a Purple Sandpiper on 19th.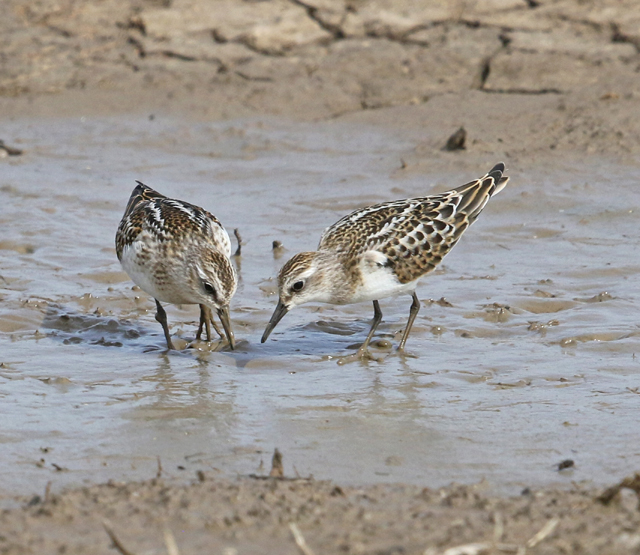 Little Stints, Frampton Marsh RSPB, Lincolnshire (Simon Spavin).
The Wryneck was still at Thorne Moors, South Yorkshire, to at least 16th, with the White-tailed Eagle still on the moors west of Sheffield. Curlew Sandpipers, Little Stints and Spotted Redshanks were the highlights in the Dearne Valley, while a European Nightjar was an unusual visitor to a garden patio adjacent to Orgreave Lagoons on 13th.
One Pectoral Sandpiper at St Aidan's RSPB, West Yorkshire, on 16th increased to two on 17th, with a variety of other waders as supporting cast. Two Red-throated Divers flew over Oxenhope, West Yorkshire, on 17th. Further Pectoral Sandpipers were at Tophill Low, East Yorkshire, on 17th, Smallways Lake, North Yorkshire, on 19th, and still at Nosterfield LNR.

Pectoral Sandpiper, Tophill Low NR, East Yorkshire (Lee Johnson).
On the Yorkshire coast, the first Bramblings were noted and Long-tailed Skuas passed a few sites. A European Honey Buzzard moved south over Flamborough Head on 19th, with another over Hornsea Mere on 16th. The latter site also had the juvenile Red-necked Grebe, plus a drake Ring-necked Duck on 17th. A scattering of migrants at Spurn included a Hoopoe on 15th, Red-breasted Flycatcher on 18th, Red-backed Shrike and a couple of Barred Warblers, plus Sabine's Gull offshore.
Josh Jones
West Midlands
In Staffordshire, a Pectoral Sandpiper was at Belvide Reservoir briefly on 13th. An adult Black-necked Grebe was at Middleton Lakes RSPB between 13-16th and another adult at Dosthill NR from 17th with both birds in-situ on 18th. A pale-morph skua species flew over Tittesworth Reservoir on 14th. A juvenile Black Tern was at Branston GPs on 19th. A Black Tern was at Wellington GPs, Herefordshire, on 14th. West Midlands scored two Wrynecks, with one reported from a garden in Walsall and another in a garden in Balsall Common on 16th.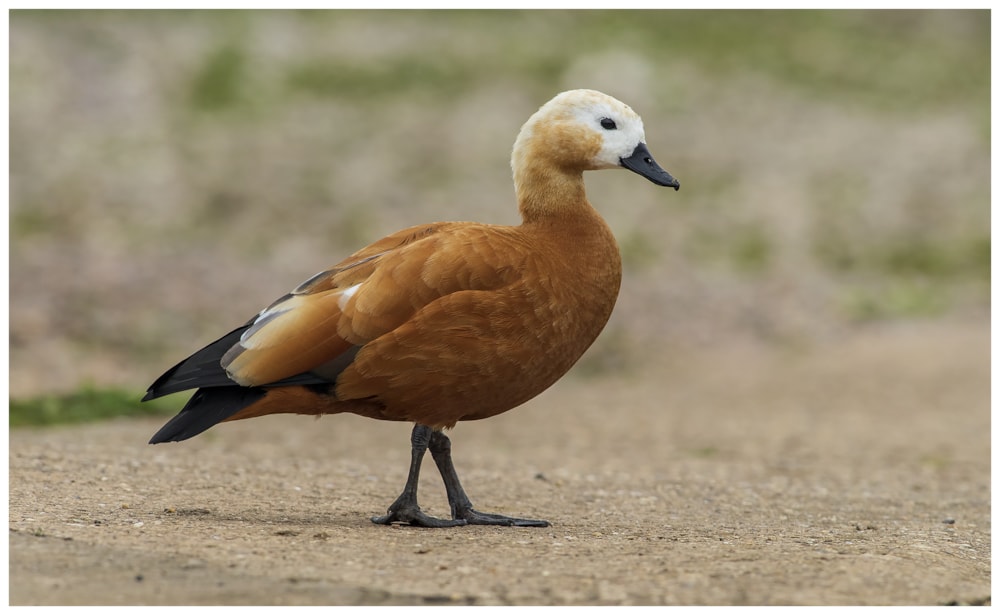 Ruddy Shelduck, Draycote Water, Warwickshire (Nigel Kiteley).
An adult Black Tern spent the 14th at Camp Lane Pools, Worcestershire and a Ring Ouzel was at Tenbury Wells on 19th. The pair of Little Stints remained at Bodymoor Heath, Warwickshire, as did the female Ruddy Shelduck at Draycote Water.
Dan Owen
East Midlands
In Derbyshire, a juvenile Arctic Tern was at Ogston Reservoir on 14th and a Little Stint was at Carsington Water on 18th. The Pectoral Sandpiper continued to find Attenborough NR, Notts, to its liking and remained until 18th. The drake Ruddy Shelduck made a re-appearance at Kilvington Lakes and a Black-necked Grebe was at Idle Valley NR on 15-17th. A Glossy Ibis was at Langford Lowfields RSPB on 17th.
Northants remained much the same, with two Little Stints continuing at the DIRFT 3 pools at Lilbourne. An adult Black-necked Grebe was at Daventry Reservoir CP on 14th. The Pectoral Sandpiper lengthened its stay at Eyebrook Reservoir, Leicestershire & Rutland, with Common Scoter, Sandwich Tern and Curlew Sandpiper also reported. A Sandwich Tern overflew Oaks in Charnwood on 16th and a Glossy Ibis circled over Watermead CP on 19th. Rutland Water hosted a Little Stint and Black Tern this week.
Dan Owen
East of England
Among the arriving migrants, a Common Rosefinch was at Winterton Dunes on 16th, with a Barred Warbler at Blakeney Point the same day. Three Wrynecks in the county included one at Welney WWT on 17th. Part of a small influx this week, at least three European Honey Buzzards were seen in Norfolk. Pectoral Sandpipers were at Cley Marshes NWT and Titchwell RSPB. A Purple Heron at Holme on 19th had apparently been present a fortnight. Offshore, a Cory's Shearwater flew north at Great Yarmouth on 14th; two Razorbills were inland on the River Bure near Horning.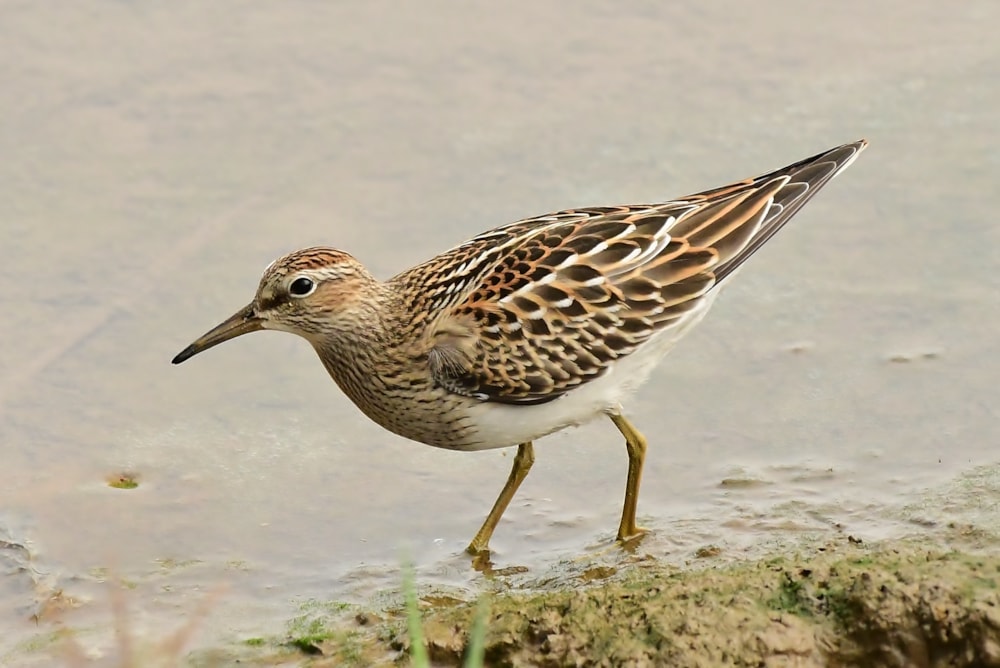 Pectoral Sandpiper, Titchwell RSPB, Norfolk (Neil Rendall).
A juvenile Lesser Yellowlegs was a terrific find inland near Shelley, Suffolk, on 13th; it lingered all week. A Pectoral Sandpiper at Carlton Marshes SWT on 19th added to the Nearctic feel. A Cory's Shearwater was tracked between Thorpeness and Covehithe on 14th, while a European Honey Buzzard flew over near Stowmarket on 16th. A Vagrant Emperor was photographed at Raydon on 16th.
An unringed White Stork at Stairway Green, Essex, from 15th visited nearby Abberton Reservoir on 19th; the latter site had a Pectoral Sandpiper. Peldon produced a Eurasian Dotterel on 17th, the same day a Purple Heron was at Bowers Marsh RSPB. Wallasea Island held two Ruddy Shelduck.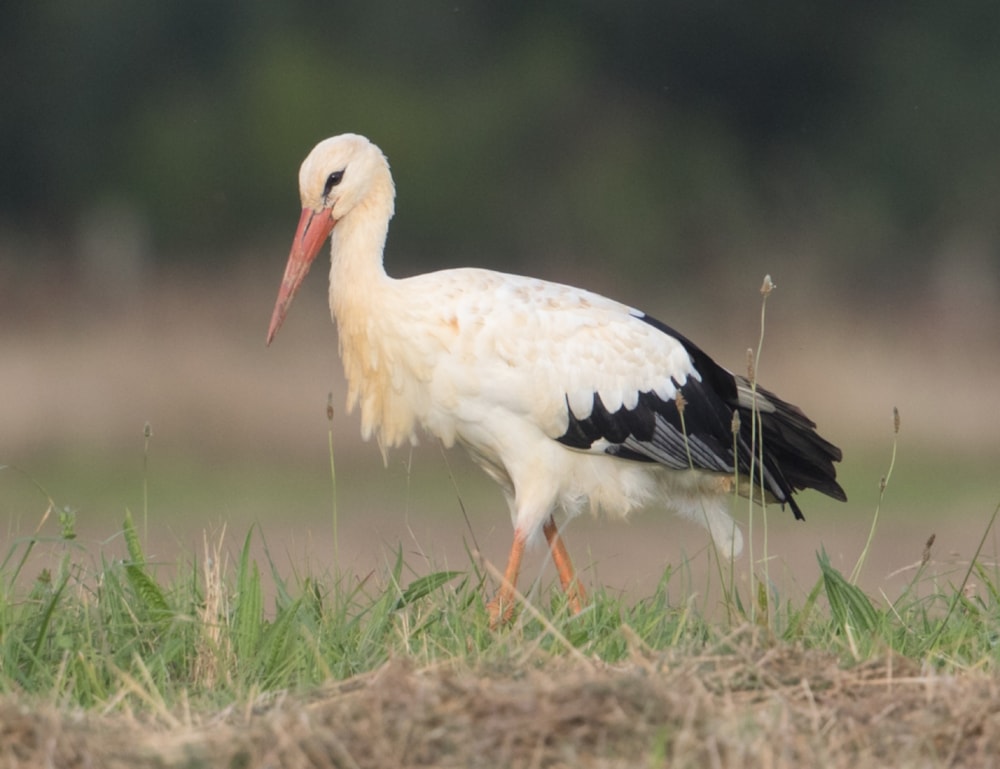 White Stork, Stanway Green, Essex (Sean Nixon).
Hertfordshire's main contribution was the continuing Garganey at Rye Meads RSPB. Bedfordshire had two Pectoral Sandpipers on 17th, at Grovebury Sand Pit and Brogborough Tip Pools, plus a Pied Flycatcher at Brogborough Hill. At least one Pectoral Sandpiper was also in Cambridgeshire, with sightings at Burwell and Smithy Fens. Two Glossy Ibises continued at Fen Drayton RSPB, with a Great Skua visiting Grafham Water on 14th.
Josh Jones
South-East England
Sussex enjoyed some decent bits during the review period, with the headliner a Greater Short-toed Lark at Climping on 16th. A great rarity in the South-East these days, news went out just in time for most county birders to enjoy this first Sussex occurrence since 2008. A Hoopoe flew over Seaford Head on 15th, while Wrynecks were at Hastings CP, West Rise Marsh and in gardens in Lancing and Pulborough. The latter site continued to host the juvenile Pectoral Sandpiper throughout; another individual was at Rye Harbour. Late news of a Purple Heron photographed at North Wall, Pagham Harbour, on 12th was followed up by an unconfirmed report on 17th. European Honey Buzzards were logged over Beachy Head and Brighton.

Purple Heron, Pagham Harbour LNR, West Sussex (Steve Maddocks).
Kent scored a Black Kite over Lydd on 12th, a Red-rumped Swallow at St Margaret's at Cliffe on 16th and up to two Pectoral Sandpipers at Worth Marsh from 17th. Both Cooling Marshes and Dungeness hosted Glossy Ibises, with the latter site also recording a flyover European Honey Buzzard on 15th (with another over Langdon Cliffs on 18th). Sooty and Balearic Shearwaters were noted moving past Dunge, with a single Balearic past Dymchurch on 17th. The Eurasian Dotterel was again reported at Worth on 15th.
In London, some decent seabird action at Rainham included a mighty push of 115 Sandwich and seven Little Terns up the Thames during drizzly easterlies on Tuesday. Even rarer was the occurrence of at least one Guillemot on 18-19th, offering hope for landlocked counties further west that this mega inland species could be on the cards during what appears to be a grim period for British alcids. The Pectoral Sandpiper remained happily at London Wetland Centre throughout and a European Honey Buzzard flew over Southall on 19th.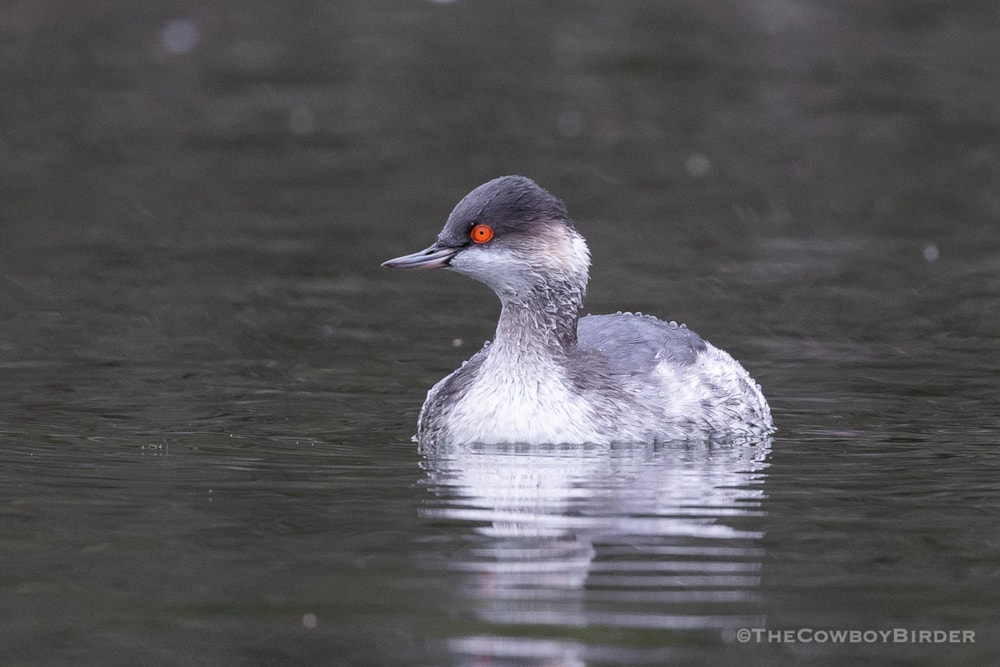 Black-necked Grebe, Wanstead, London (Tony Brown).
Blenheim Park, Oxfordshire, hosted a juvenile Purple Heron from 13th but it proved rather elusive. A Wryneck as at Wantage on 19th and a Glossy Ibis at Otmoor on 18th. The same weather that pushed the terns up the Thames in London delivered two Roseate Terns to Farmoor, Oxfordshire, on 14th – this species seems to be increasing ever so slightly inland, presumably in line with population gains at British and Irish breeding colonies. Two Sandwich Terns visited the same site the previous day.
Both Berkshire and Buckinghamshire cashed in on the Sarnie movement, with a single at Theale GPs on 13th and three at Watermead Lake on 15th. The former site also hosted a European Shag on 19th. Presumably the same Little Stint at Tuesley on 14th and at Tice's Meadow from 14-15th was notable for outer Surrey.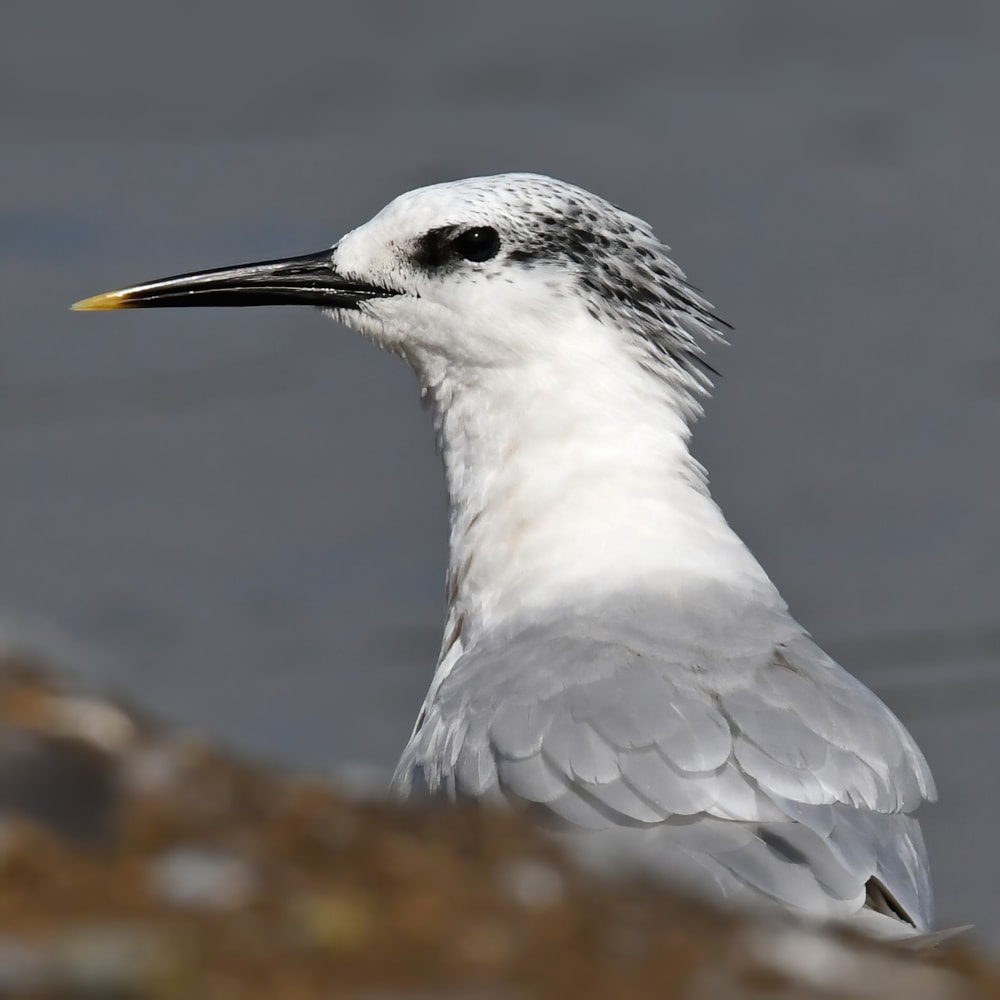 Sandwich Tern, Watermead Lake, Buckinghamshire (Dan Forder (@DanFWildlife)).
It was rather quiet in Hampshire, though early Greater Scaup (Blashford Lakes from 18th) and Black-throated Diver (past Gilkicker Point on 15th) were of note. Perhaps the same Glossy Ibis was at Oxey Marsh on 13th and in Emsworth Harbour from 15th. The early theme continued on the Isle of Wight, where a Glaucous Gull flew past Ventnor on 16th. Two European Honey Buzzards were recorded in the same area and a Eurasian Dotterel flew over Porchfield on 13th
Ed Stubbs
South-West England
Scilly enjoyed some nice wader action, including a Buff-breasted Sandpiper on St Martin's and Pectoral Sandpipers on Bryher and Tresco. Tresco also held two Glossy Ibis, a couple of Ortolan Buntings and a Eurasian Dotterel. Another Ortolan was on St Agnes and three Rosy Starlings were discovered on Bryher. St Mary's produced a Melodious Warbler on 16th and a possible Spotted Crake later in the week. Wrynecks continued to feature in good numbers and a Common Rosefinch was the highlight on Gugh.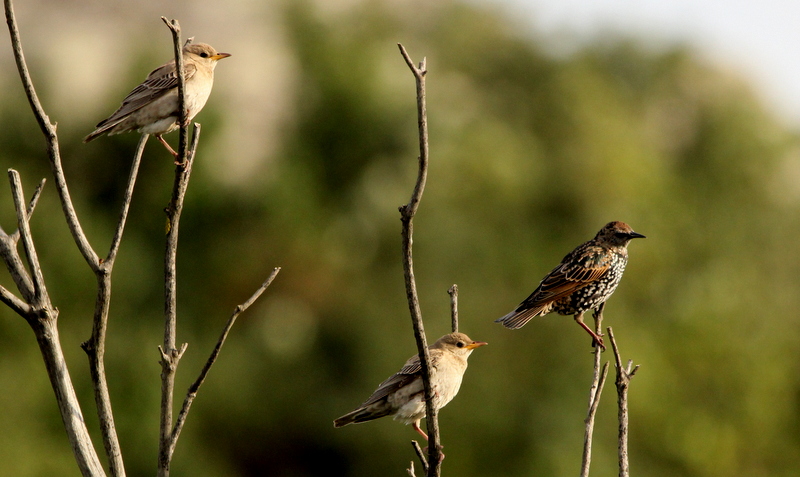 Rosy Starlings (left and centre), Bryher, Isles of Scilly (Kris Webb).
In Cornwall, Ortolan Buntings were seen at Housel Bay and Lizard Point, while a Melodious Warbler at Kynance Cove, Hoopoe near Gweek and Glossy Ibises at four sites added a further Mediterranean feel. Land's End and Trevescan both produced Rosy Starlings, a Barred Warbler was at Penzance and 11 localities hosted Wrynecks. Seawatching highlights came in the form of a Wilson's Storm Petrel off East Pentire on 17th and a Sabine's Gull past Pendeen. Both the Ring-necked Duck at Foxholes and Red-backed Shrike at Sancreed lingered, with a Pectoral Sandpiper at Hayle Estuary on 16th.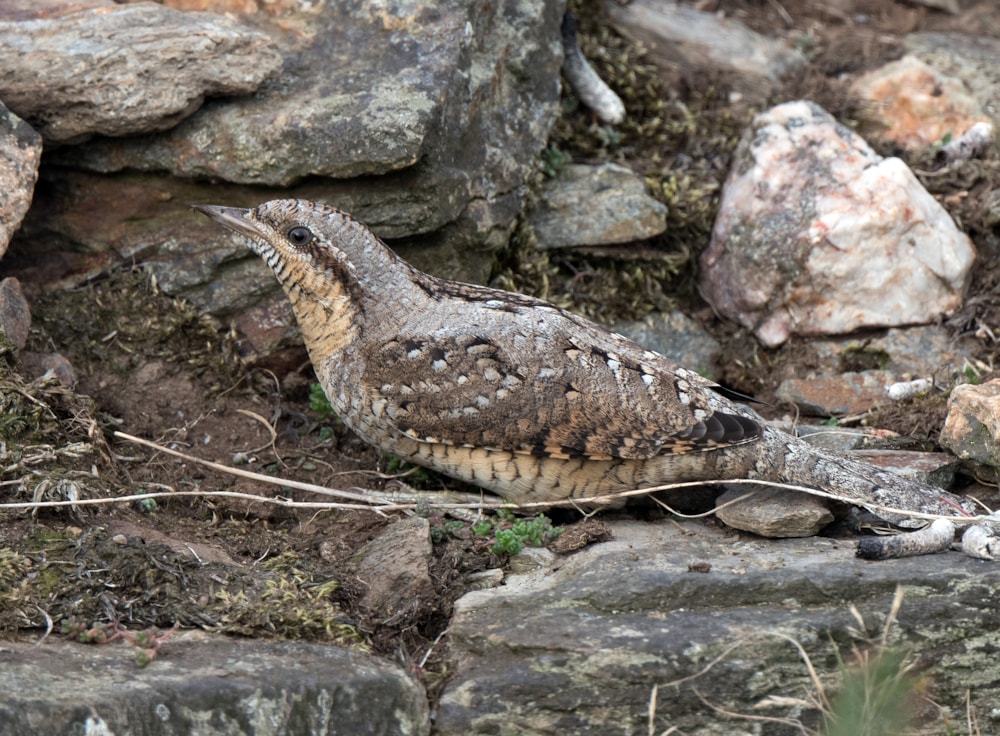 Wryneck, Pendeen, Cornwall (Alex Mckechnie).
Wrynecks were at six sites in Devon, with two at Prawle Point the only multiple occurrence. Axmouth's Ortolan Bunting continued at the start of the week and another flew over Hartland on 18th. Sightings of Glossy Ibis came from four localities, a Pectoral Sandpiper was at South Huish Marsh on 14th and a Long-tailed Skua was logged from a boat off Start Point. A juvenile Eurasian Dotterel showed well at Dawlish Warren NNR over the weekend.

Pectoral Sandpiper, South Huish Marsh, Devon (Steve Hopper).
In Dorset, highlights on Portland included at least one Ortolan Bunting, as many as five European Honey Buzzards, a Common Rosefinch, fly-over Glossy Ibis and a couple of Wrynecks. Another Ortolan was at Hengistbury Head and a possible was briefly at Abbotsbury Swannery. A juvenile Spotted Crake was trapped and ringed at the latter locality on Tuesday and a European Honey Buzzard flew over Bournemouth. No fewer than 36 White Storks from the Knepp reintroduction scheme flew over the county on 15-16th.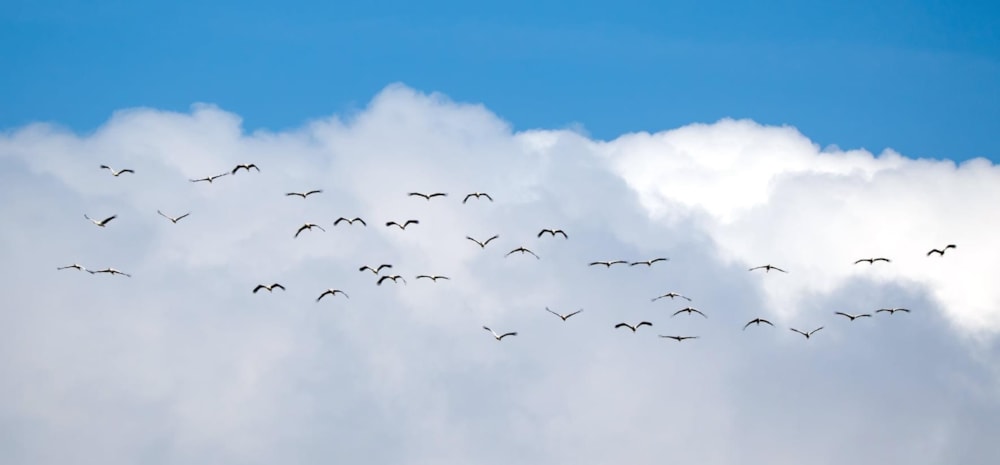 White Storks, Christchurch Harbour, Dorset (David Faulkner).
Two Glossy Ibis and a possible Citrine Wagtail at Northwick Warth on 14th were Gloucestershire's highlights. A scattering of Little Stints and Curlew Sandpipers continued to be recorded and two Black Terns, Eurasian Spoonbill and several Garganey were seen at Slimbridge WWT.
In Somerset, Glossy Ibises were seen at four localities, including two at Steart WWT and Berrow, and one lingering at Catcott Lows NR. A Rosy Starling at Kingston Seymour on 14th remained the following day and a Wryneck was briefly at Chew Valley Lake. Wiltshire produced three Wrynecks over the weekend – at Salisbury Plain, Swindon Sewage Works and Cley Hill.
Jonathan Farooqi
Wales
The Hoopoe at Sker Point, Glamorgan, from 15th stole the show, while a probable Bluethroat was reported from a garden in nearby Marcross the following day. On the Gower, a Wryneck trapped and ringed at Pennard was a nice find. A Common Rosefinch was the best on Skokholm, Pembrokeshire, although was joined by no fewer than three Wrynecks. A new juvenile Rosy Starling graced Llandudno Junction, Conwy, from 16th, with another still at Amlwch, Anglesey. Nearby Cemaes Bay hosted a European Turtle Dove from 17th.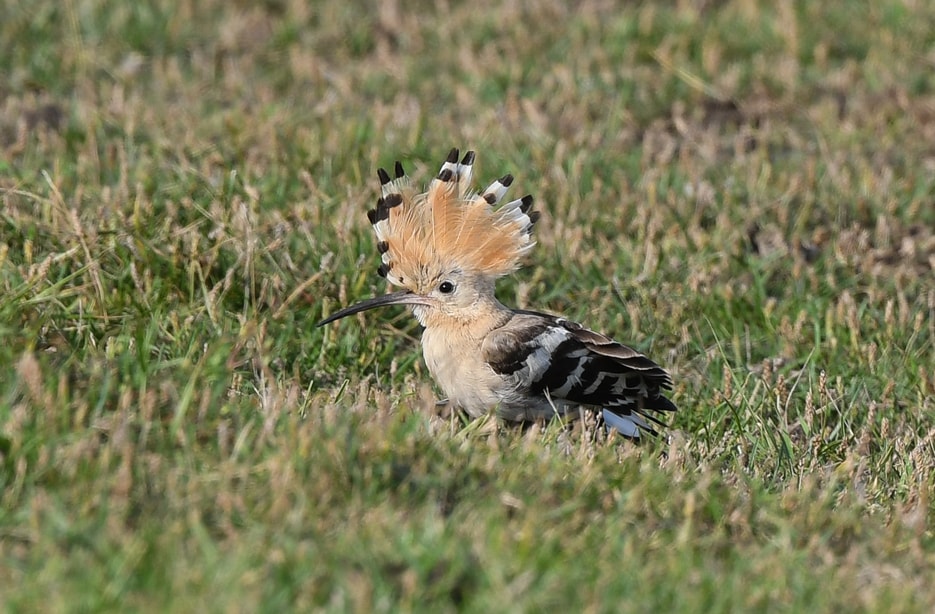 Hoopoe, Sker Point, Glamorgan (Paul Denning).
Juvenile Eurasian Dotterel littered the southern portion of the country, with birds at Mynydd Y Glyn, Glamorgan, Llanelli Wetland Centre WWT and Garreg Lwyd, Carmarthen, and Dale (three) and Skokholm (two), Pembrokeshire. An adult was at Tal-y-bont, Gwynedd, too on 14th. Pectoral Sandpipers cropped up at Goldcliff Pools, Gwent, and Angle Bay, Pembrokeshire, while a drake Green-winged Teal was reported at Pant Pool, Powys, on 18th. A day later, an adult Sabine's Gull and Grey Phalarope flew past Mwnt, Ceredigion.
On 15th, Pembrokeshire scored a smart dragonfly duo of Southern Migrant Hawker at Dale and Vagrant Emperor at Freshwater West – the former a county first.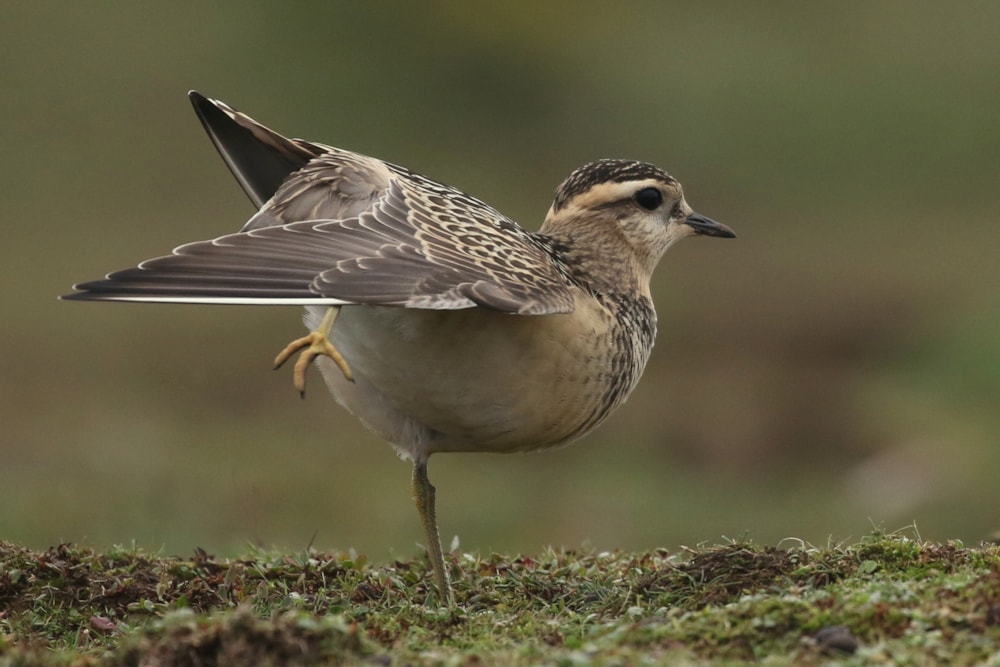 Eurasian Dotterel, Skokholm, Pembrokeshire (Richard Brown / Skokholm Warden).
Ireland
A decent week for waders saw Pectoral Sandpipers at eight sites, with peak counts of nine at Tacumshin, Co Wexford, and three at Annagh Marsh, Co Mayo. Tacumshin also produced a juvenile Lesser Yellowlegs on 17th, with two different birds on The Mullet, Co Mayo, and a fourth in Co Waterford at Kinsalebeg. Single Buff-breasted Sandpipers were at Tacumshin and Carrahane Strand, Co Kerry, with two at Myroe Levels, Co Derry.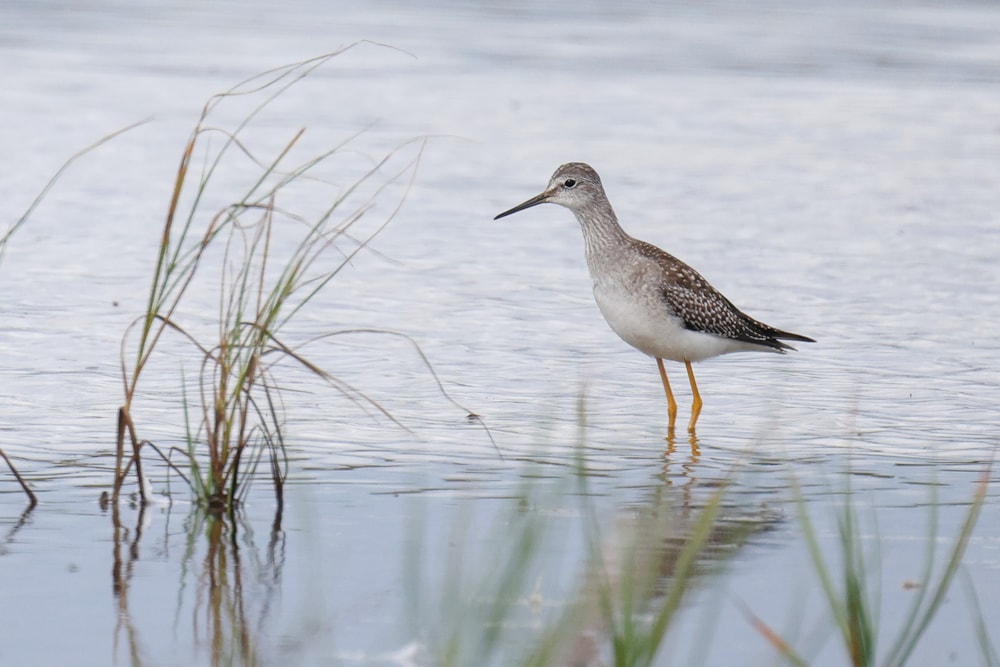 Lesser Yellowlegs, Tacumshin, Wexford (Tom Shevlin).
Two Icterine Warblers were noted in Cork: on Cape Clear on 17th and at Barrys Head on 19th. A Red-backed Shrike was at Mizen Head on 18th, with the popular Howth Head, Co Dublin, still to 15th. Rosy Starlings were on Co Kerry's Skellig Islands on 15th and Black Rock Strand on 13th, plus in Sligo Town from 14th. No fewer than six Wrynecks were seen in southern counties between Wexford and Cork.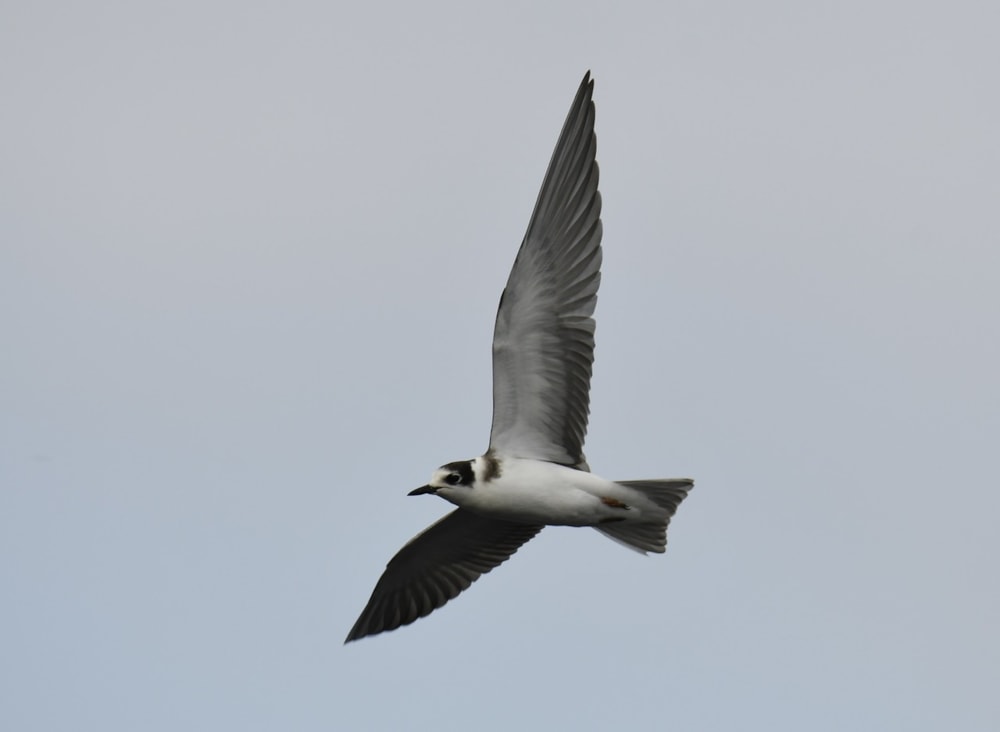 Black Tern, Oxford Island NNR, Armagh (Ed O'Hara).
Ring-billed Gulls were at traditional localities in Galway City and Blackrock, Co Louth. Up to two Black Terns lingered at Oxford Island NNR, Co Armagh, with others noted in Dublin Bay. The only Glaucous Gull was the second-winter still in Burger King car park at Coleraine, Co Derry.
Josh Jones
Western Palearctic
Hurricane Larry deposited the goods into Iceland mid-week, peaking with the country's fifth American Yellow Warbler at Þorlákshöfn from 17th. An American Buff-bellied Pipit was at Garðskagi from 15th too, alongside several individuals of the 'classic' Nearctic wader species.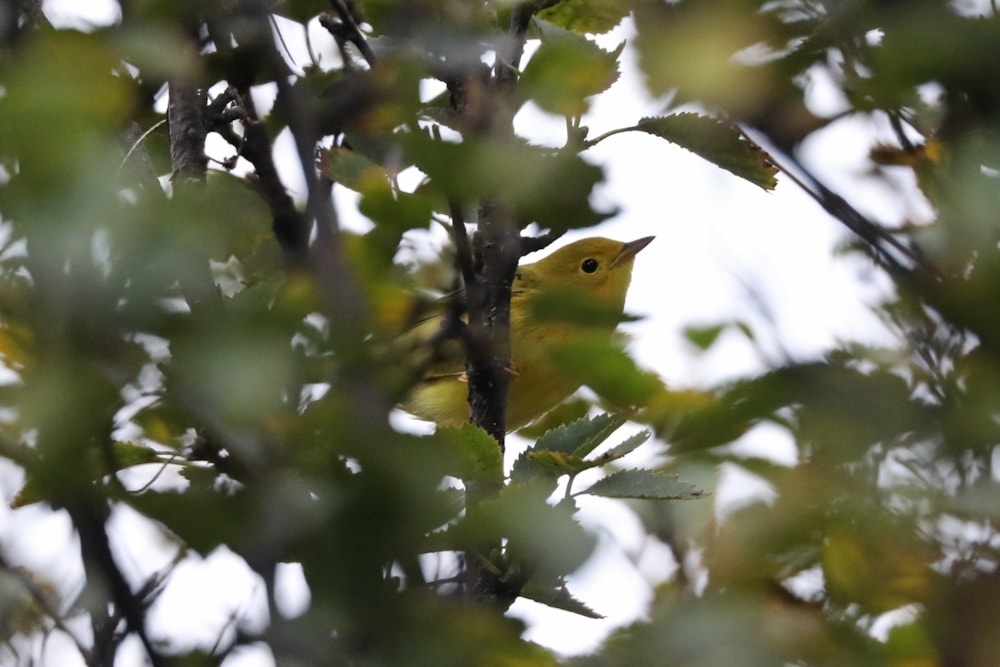 American Yellow Warbler, Þorlákshöfn, Suðurland (Sigmundur Ásgeirsson).
A Grey Catbird was best on Corvo, Azores, on 14th, where the American Yellow Warbler remained. The Cape May Warbler was still at Porto Pim, Faial, until 15th at least. On Sal, Cape Verde, a Hudsonian Whimbrel visited Murdeira and a juvenile Eurasian Dotterel graced Santa Maria. A juvenile Short-billed Dowitcher – Spain's second – visited Embalse de Aguilar on 19th, with a Wilson's Phalarope at Castro de Ribeiras. In Gibraltar, a House Bunting was trapped and ringed at Jews Gate on 19th.
An adult Western Sandpiper – Switzerland's first – was at Delta de la Maggia, Ascona, from 15th, where visiting twitchers found a first-winter Audouin's Gull on 18th. Denmark's eighth Lanceolated Warbler was trapped and ringed on Christiansø on 14th, with just the second Wilson's Storm Petrel for the Faroes at sea off Fugloy the following day.

Western Sandpiper, Ascona, Ticino (Arno Schneider).
New Pygmy Cormorants reached France, with singletons at Lavours and Chanaz and a further two at Erstein along the German border. Meanwhile, Germany's immature female Walrus reappeared on Wangerooge on 14th and another Pygmy Cormorant was at Römerberg.
The first Red-flanked Bluetail for Belarus was trapped and ringed at Krasnyi Bor, Krychaw, on 14th, with a Rustic Bunting at Sasnovy on 16th. The Pygmy Cormorant continued near Utrecht, The Netherlands, and three Swinhoe's Storm Petrels were in the Gulf of Aqaba off Eilat, Israel, on 17th.