The week at a glance
An apparent reflection of the week's changeable weather, it was something of a mixed seven days for birding nationwide. Spring ebbed and flowed, occasionally tossing up a snippet of excitement for eager birders to get their teeth into, but similarly laying frustratingly dormant for extended periods — not least after the weekend, when unremarkable conditions resulted in an almost lethargic feel to Monday and Tuesday.
Highlight of the week was a species that has been very much on birders' radars in recent days. Ever since the first individuals started showing up out-of-range in the Netherlands and Germany in the opening days of April, British birders have been anticipating the arrival of an Alpine Accentor. Right on cue, a typically confiding (though frustratingly brief) bird was discovered at Brownwich Cliff, Hants, on 13th. Lingering for all of five minutes mid-morning, its identification wasn't clinched until the evening and it goes without saying that the bird was long gone by the following afternoon, when news hit the airwaves. All of Britain's most recent Alpine 'Accs' have been fleeting affairs — a Norfolk bird for a matter of minutes at Holme in April 2014 and a one-evening-wonder in the same county as long ago as 2004. One suspects this isn't the last we've heard of the species this spring, though.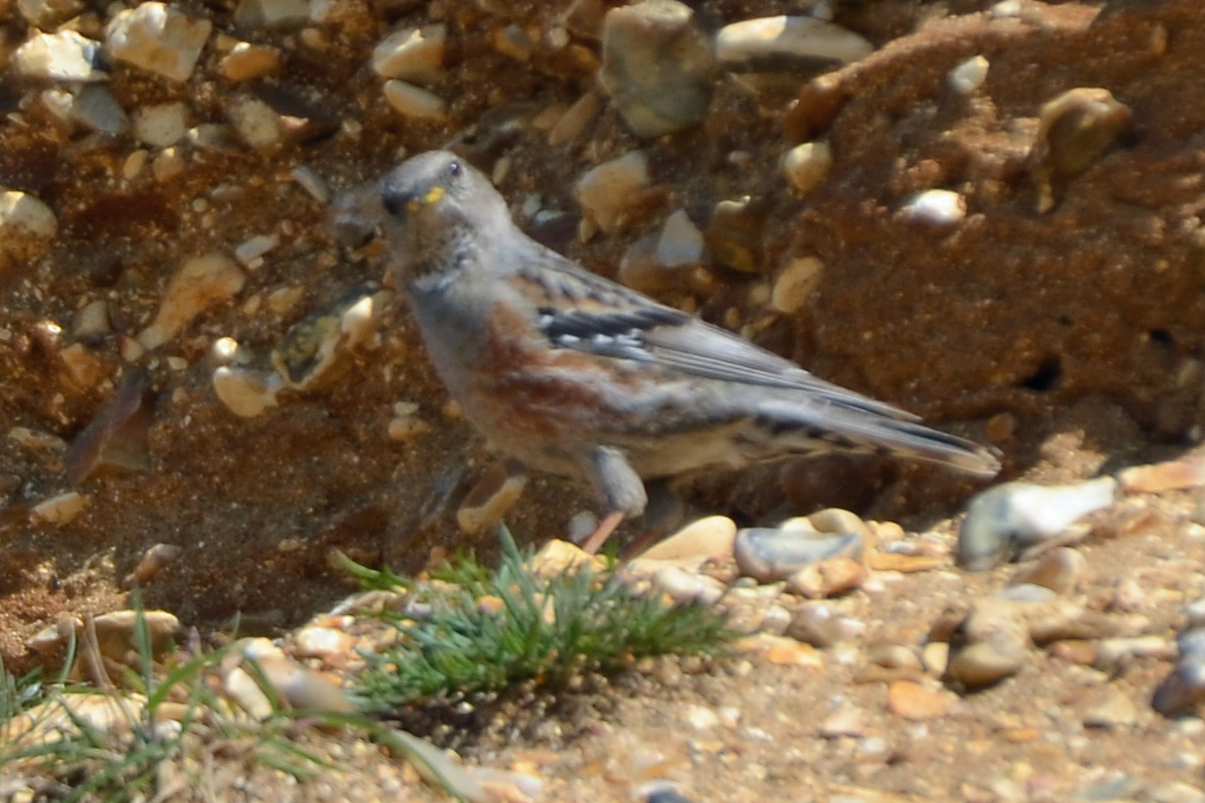 Alpine Accentor, Brownwich and Chilling, Hampshire (Photo: G Else)
Other mega-rarities on offer were those that have been entertaining birders for months now: in Co Cork the Glaucous-winged Gull was still loafing around Castletown Bearhaven on 17th and has now lost most of its winter shawl; the Hudsonian Whimbrel continued in residence at Perranuthnoe, Cornwall, on 18th; and the Pacific Diver was again reported off Marazion on 13th. After having disappeared shortly after its discovery, the male Snowy Owl was back near St Just on 15th before apparently making the short flight to the Isles of Scilly on 18th, where it spent much of the afternoon on Tresco before hopping over to Bryher in the evening.

Hudsonian Whimbrel, Perranuthnoe, Cornwall (Photo: Mark Worden)
Summer migrants continue to arrive and by the end of the week, almost all species had been recorded — including small numbers of European Turtle Doves back on territory as far north as Lincolnshire. Familiar species such as Pied Flycatcher, Common Redstart and Ring Ouzel continued to move through the interior of the country in decent (if not exceptional) numbers, ensuring patchworkers had enough interest to keep them going. A handful of Black Terns included five through Grafham Water, Cambs, on 14th but Arctic Tern numbers remain quite low in the Midlands — we're expecting the big push imminently. Dotterel was new for the year in Cornwall on Tuesday.
Montagu's Harriers included stunning males in Norfolk and London and a confiding female that lingered in coastal Devon for a couple of days. Rarer still was a first-summer Pallid Harrier photographed near Marshfield, Glos, on 12th but only conclusively identified a couple of days later.

Montagu's Harrier, Colyford Common LNR, Devon (Photo: Tim White)
It seems that 2016 is going to be a decent year for Iberian Chiffchaffs. In addition to males still singing heartily in Cornwall and Shropshire all week, a further individual was advertising itself on Tresco, Scilly, from 17th.

Iberian Chiffchaff, Coverack, Cornwall (Photo: Linton Proctor)
The only overshoot to appear in any sort of number was Hoopoe, with a total of at least 20 recorded. At least two were seen on Portland, Dorset, including the week's most popular individual — a showy bird in Suckthumb Quarry to 17th. In fact Portland enjoyed one of those purple patches it seems to get so often (at least compared to other south coast sites): a male Western Subalpine Warbler was near the Observatory for five days after being ringed there on 13th (a second 'subalpine warbler' was glimpsed on the East Cliffs on 16th), a stunning White-spotted Bluethroat showed well on 16–17th and a Red-rumped Swallow was noted on 16th among good numbers of arriving migrants.

Hoopoe, Portland, Dorset (Photo: Mark Wright)

White-spotted Bluethroat, Portland, Dorset (Photo: Martin Cade)
Away from Portland, scarce overshoots were once again far from plentiful. A male Savi's Warbler buzzed from the reedbeds of Minsmere, Suffolk, from 13th though altogether more surprising was one singing on the undercliff at Hummersea, Cleveland, on 15th. Woodchat Shrikes were limited to a couple of females arriving on Scilly, just four further Red-rumped Swallows were noted (all brief), a couple of Purple Herons were fleetingly recorded in Kent (where there were also Black Kites on 14th and 19th) and three Wrynecks (Hampshire, E Sussex and Gwynedd) were logged. European Serins were at Selsey Bill, W Sussex, on 13th and 19th, St Margaret's at Cliffe, Kent, on 17th (2) and 19th, and Nanjizal, Cornwall, on 18th. The first Grey-headed Wagtail popped in at Salthouse, Norfolk, on 15th. A Short-toed Lark spent the day at Long Nab, N Yorks, on 18th.
Half-a-dozen Cattle Egrets were strewn across Britain and Ireland during the week, with a new bird in breeding fettle entertaining birders in the Pagham Harbour area from 13th and the Co Sligo bird still around on 16th. Glossy Ibis were reported from eight sites, new birds including two on floods near Limerick City from 15th and another circling over Maidenhead, Berks, on 13th. Just how many White Storks there are in the country continues to bemuse birders: it appears one is lingering in north-west Wales as a fly-over was at South Stack, Anglesey, on 13th, followed by one photographed near Caernarfon on 18th. There were reports from East Sussex on 14th and West Sussex on 17th; further reports on the latter date came from Leicestershire, Staffordshire and Lancashire. One flew over Dungeness, Kent, on 18th.

Cattle Egret, Pagham Harbour LNR, West Sussex (Photo: Dorian Mason)
White-billed Divers were noted off Barra, Lewis, South Ronaldsay and Poolewe, Highland, this last bird being new-in on 13th. A splendid drake King Eider was off Achiltibuie, Highland, from 14th and the male returned to the Ythan Estuary, Aberdeenshire, on 18th. Four Surf Scoters were still off Claggan Island, Co Mayo, and up to two males were off Great Orme, Conwy. Further males continued in Fife and North Yorkshire. A female American Wigeon was at Belfast Lough, Co Antrim, on 16th, with drakes still persisting in Co Donegal and W Sussex. At least eight Green-winged Teal were seen across Britain and Ireland as well as four Ring-necked Ducks and the Cardiff Lesser Scaup still present. News to celebrate was the return of the drake Black Duck at Strontian, Highland, on 17th.

King Eider, Achiltibuie, Highland (Photo: Robert McMillan)

Ring-necked Duck, Skinflats Lagoons, Forth (Photo: Scott Wotherspoon)
The Northumberland Long-billed Dowitcher was still at Cresswell Pond throughout the week and is now looking utterly splendid; the Hampshire bird was also still in situ on 19th. A female Kentish Plover bearing a slightly absurd combination of colour rings and flags was on rocks at Sker Point, Glamorgan, on 18th, this somewhat OTT assemblage at least proving it to be of French origin.

Long-billed Dowitcher, Cresswell Pond NWT, Northumberland (Photo: Rob Stonehouse)
Two American Herring Gulls were again seen in Cornwall — the first-winter was again at Drift Reservoir on 17th and the fourth-calendar-year individual was again in fields near St Just the previous day, its first report since the start of March. Meanwhile, up on Barra, the first-winter was still present on 19th. Five Ring-billed Gulls included a first-winter bird flying past Lizard Point, Cornwall, on 13th. In the same county, an adult Kumlien's Gull was again at Drift Reservoir on 16th. Bonaparte's Gulls continued in Glamorgan and Devon.
Other odds and sods included the Pallas's Warbler still in Dorset all week, a Yellow-browed Warbler in the same county at Oakford Fitzpaine on 16th and another still in London at Brent Reservoir to 17th. Two Richard's Pipits stuck out another week at Flamborough Head, E Yorks, and the Hornemann's Arctic Redpoll was still on Fair Isle on 18th. A Rose-coloured Starling was on Guernsey on 15th.

Yellow-browed Warbler, Brent Reservoir, Greater London (Photo: Richard Jones)

Rose-coloured Starling, Vazon Bay, Guernsey (Photo: Mark Guppy)
Western Palearctic news
Undoubted highlight of the week was what is probably the Western Palearctic's first Cape Gannet, photographed in the channel between Corvo and Flores, Azores, on 14th by one fortunate observer. The uncertainty arises from a bird seen off Spain on 28 January 1985; though originally accepted, it was subsequently relegated to "Cape or Australian Gannet", and also (bizarrely) treated as "of unknown origin".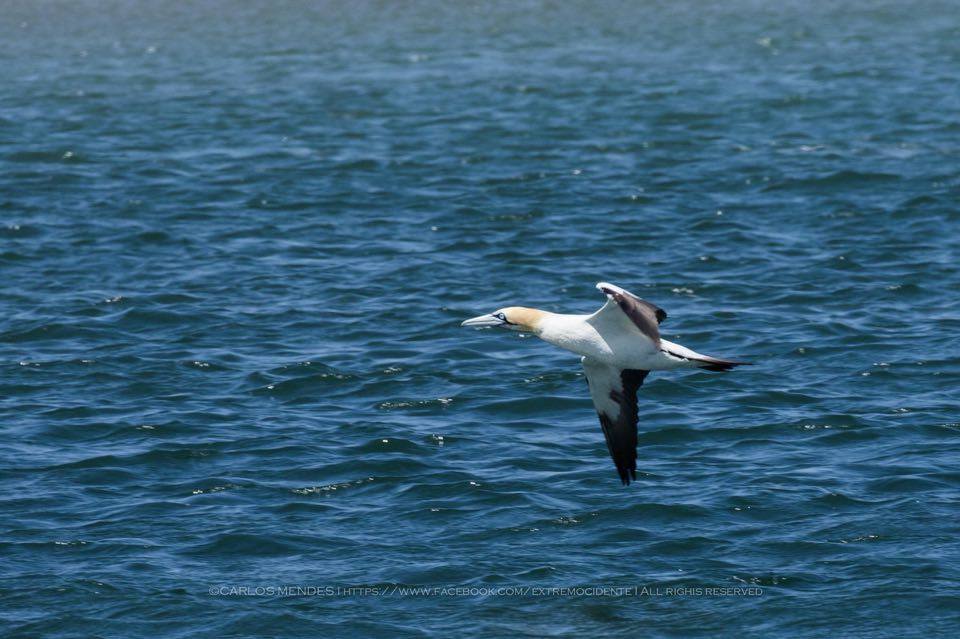 Cape Gannet, Azores (Photos: Carlos Mendes)
Elsewhere Kuwait scored highly with a Great Knot at Jahra Pools on 16th and, the previous day, the country's second Masked Booby at Al-Zour Port. An Oriental Honey Buzzard migrated over Eilat, Israel, on 17th. The Black-browed Albatross was back on Heligoland, Germany, for a matter of hours on 17th, while the Siberian Rubythroat was last reported in Holland on 14th (though the Forster's Tern remains there). A drake Steller's Eider continues south of Oslo, Norway, and out-of-range Alpine Accentors included 15 atop Le Hohneck, Lorraine, France, alongside five White-winged Snowfinches.
Content continues after advertisements