The week at a glance
It appears that last week's prediction of a mini-influx of Siberian Accentors might well turn out to be the understatement of the century, as a further four individuals were discovered in Britain as part of a wider invasion numbering in excess of 80 birds across northern Europe.
As more and more piled into Fennoscandia, another British record seemed inevitable — and so it proved. Birders only had to wait three days for a second bite at the cherry when a bird was found at Easington, E Yorks, in mid-afternoon on 13th. A mass twitch, expertly marshalled by the ever-professional team at Spurn Bird Observatory, ensued the following day and over the weekend; the bird, seemingly oblivious to its thousands of admirers, continued to show within just a few feet and was still present on 18th. For those that connected with the Shetland bird ... well, that blocker lasted a long time, didn't it?!

Siberian Accentor, Easington, East Yorkshire (Photo: Jonathan Theobald)

Siberian Accentor, Easington, E Yorks (Video: Mike Alibone)
A third accentor quickly followed at Saltburn, Cleveland, on 15th — it showed well on a few occasions that day but had disappeared by the following morning (though there was an unsubstantiated report from the site on 17th). The fourth was found just up the coast at Hendon, Durham, on 16th. Though favouring a private dock, it occasionally popped up in trees viewable from public land and was still entertaining a comparatively small crowd to 18th. Number five was found on 18th, this time on Holy Island, Northumberland. A distinctive individual bird with a bright face pattern and more extensive greyish upperparts than the others, it showed well on the north side of the island throughout the day. Just how many are lurking along the east coast at present, and how many more will arrive? What's caused this extraordinary event? Why this species but no other mega-rarities in such numbers? So many questions ... of which no doubt many will remain unanswered. Such is the spectacle and unpredictability of birds and birding sometimes.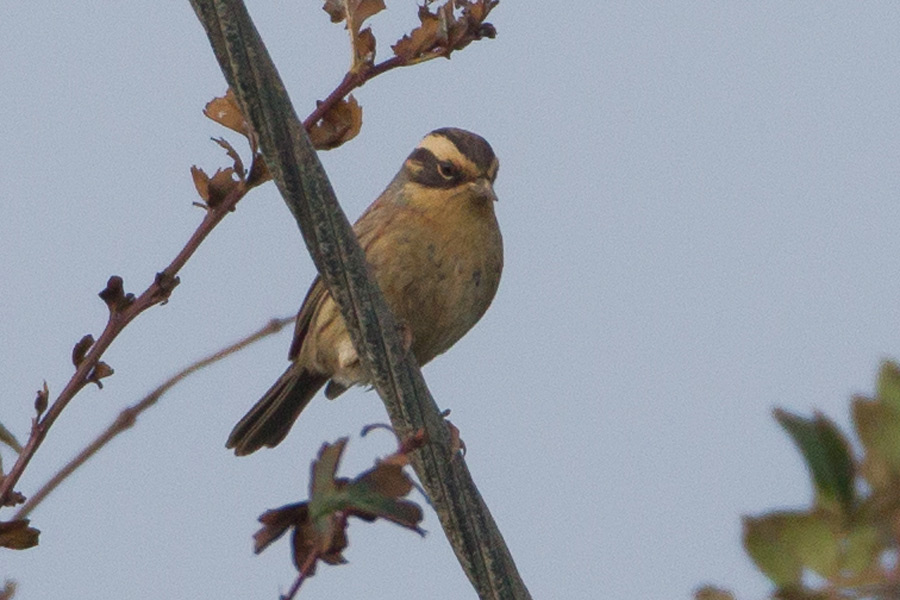 Siberian Accentor, Saltburn, Cleveland (Photo: Martyn Sidwell)

Siberian Accentor, Hendon, Durham (Photo: Frank Golding)

Siberian Accentor, Holy Island, Northumberland (Photo: Alan Jack)
While the flow of megas was otherwise not quite up to the stratospheric level of the previous week, this latest seven-day period nevertheless did pretty well, with a Western Orphean Warbler trapped and ringed at Finstown, Orkney, on 18th probably the rarest of the new discoveries; photos show it's clearly a different bird to that seen on Shetland earlier in the month. Incredibly, Fair Isle's lone female Pine Bunting was joined by a second on 16th and a third on 17th — how many more must be out there? Meanwhile, across on Bressay, the Black-faced Bunting lingered at Gunnista all week and has apparently (by 18th) lost its tail — and therefore might be present for a while yet, assuming it doesn't succumb.

Western Orphean Warbler, Finstown, Mainland, Orkney (Photo: Paul Higson)
Three Isabelline Wheatears also arrived: one near Loch of Spiggie, Shetland, on 16–17th and another at Easington, E Yorks, on 17–18th, followed by a third on Holy Island, Northumberland, on 18th. Spiggie also produced a White's Thrush on 17th, while Shetland's South Mainland area also revealed a candidate Stejneger's Stonechat at Sandwick on 17–18th. This potential stejnegeri was one of at least three seen this week, with richly hued birds also on Fair Isle on 17th and still at Donna Nook, Lincs, to at least 16th.

Isabelline Wheatear, Holy Island, Northumberland (Photo: Frank Golding)

Isabelline Wheatear, Easington, East Yorkshire (Photo: Chris Teague)
Further Black-browed Albatross reports, all involving immatures (and thus presumably one roving individual), this week came as follows: lingering for a few hours off Bardsey Island, Gwynedd, on 16th; past St Mary's, Scilly, on 17th and, finally, past Cape Cornwall in the early morning on 18th. After last week's reports, it would make sense that this is the bird seen in Highland, but given how albatrosses travel there's nothing to suggest it isn't the east coast bird relocating.
A minimum of three candidate Eastern Yellow Wagtails were seen, last week's Shetland bird presumably being relocated near Virkie on 12th and another first-winter at Cley Marshes, Norfolk, on the evening of 4th. Most confiding, though, was a cracking first-winter on St Mary's, Scilly, from 13–17th, which often showed extremely well in the Lower Moors area — it looks (and sounds) spot on.

Eastern Yellow Wagtail, St Mary's, Isles of Scilly (Photo: Jim Almond)
It almost goes without saying that the Western Swamphen added another seven days to its stay at Alkborough Flats, Lincs, though the Hudsonian Whimbrel wasn't reported at Perranuthnoe, Cornwall, after 12th. Neither of last week's Semipalmated Plovers, nor the Sharp-tailed Sandpiper in Co Kerry, were reported.

Hudsonian Whimbrel, Perranuthnoe, Cornwall (Photo: Mark ferris)
A fabulous week for Dusky Warblers saw birds reported from at least 30 sites, with a spike in reports on 14–15th that included an amazing seven at Spurn (and an eighth at neighbouring Kilnsea) and four at Flamborough Head on Saturday. Radde's Warblers were less numerous, with around 20 reported. These included a bird ringed at Brownstown Head, Co Waterford on 9th (and retrapped there on 11th) which then relocated to Barry's Head, Co Cork, from 15th — where it joined an unringed bird already present! At least two were also at Flamborough Head on 15th. Perhaps as many as 50 Pallas's Warblers were across Britain and Ireland.

Dusky Warbler, Spurn YWT, East Yorkshire (Photo: Ron Marshall)

Radde's Warbler, Barrys Head, Cork (Photo: Ronan McLaughlin)

Radde's Warbler, Warham Greens, Norfolk (Photo: James Lowen)

Pallas's Warbler, Bempton Cliffs RSPB, East Yorkshire (Photo: Peter Garrity)

Pallas's Warbler, St Mary's Island, Northumberland (Photo: Alan Curry)
Three Arctic Warblers included two on Shetland — at Baltasound, Unst, on 12th and at Weisdale Voe on 14th. The third was on Barra, Outer Hebrides, on 13th. A Greenish Warbler on Cape Clear, Co Cork, on 14th was the only one confirmed this week, that island also hosting a Western Bonelli's Warbler from 15–18th. The only Booted Warbler this week was at Seaford Head, E Sussex, on 12th, while a lingering bird at Skaw, Whalsay, was the only confirmed Blyth's Reed Warbler. A Paddyfield Warbler at Flamborough Head on 12–13th offered many the chance of a Yorkshire tick.

Arctic Warbler, Baltasound, Unst, Shetland (Photo: John Nadin)
Rare wheatears usually figure during easterlies in mid-October so it was no great surprise when a young male Pied Wheatear arrived at Flamborough Head on 14th; alas, it failed to hang around and was seen by just a few before moving on. A female Pied lingered at Scatness, Shetland, from 14th and either a Pied or Black-eared graced Sennen, Cornwall, on 14th. Birders often talk of Desert Wheatears as a signal that the end of autumn is imminent, but one gets the feeling that this week's records aren't harbingers of a change of season — this fantastic October will surely continue to produce, particularly looking ahead at the forecast for the coming days. A male at Hartlepool, Cleveland, on 14th was perhaps the same as that seen in Bridlington, E Yorks, from 15–17th. Another, also a male, was just a stone's throw from the Isabelline Wheatear at Spiggie, Shetland, on 18th.

Pied Wheatear, Flamborough Head, East Yorkshire (Photo: Tony Dixon)

Pied Wheatear, Scatness, Mainland, Shetland (Photo: G W Petrie)

Desert Wheatear, Bridlington, East Yorkshire (Photo: Frank Moffatt)
Isabelline Shrikes are also classic October rarities and two duly arrived on 18th. One was at Girdle Ness, Aberdeenshire, and the other joined both the Siberian Accentor and Isabelline Wheatear on Holy Island. A Woodchat Shrike was at Mizen Head, Co Cork, from 13–16th and last week's bird at Spurn remained to 13th. Aside from lone birds in Argyll and Shetland, the only Red-backed Shrike was the confiding first-winter at Westleton Heath, Suffolk, all week.

Isabelline Shrike, Girdle Ness, Aberdeenshire (Photo: Andrew Whitehouse)

Red-backed Shrike, Minsmere RSPB, Suffolk (Photo: Jon Evans)
A new Pechora Pipit was unearthed on Foula, Shetland, on 14th, while the long-staying Fair Isle bird continued to at least 15th. Fair Isle also claimed one of two Red-throated Pipits (on 14th), the other appearing at Cape Cornwall on 15th. At least 14 Olive-backed Pipits included up to three on Fair Isle and two in Wells Woods, Norfolk, from 14th.

Pechora Pipit, Fair Isle, Shetland (Photo: Marc FASOL)

Olive-backed Pipit, Kergord, Mainland, Shetland (Photo: David H Hatton)
No fewer than nine Red-flanked Bluetails were noted during the week, including at least half-a-dozen new individuals. As well as the candidate Stejneger's already mentioned, six Siberian Stonechats were logged — all but one either on the east coast or on Shetland. The exception was a bird at Barry's Head, Co Cork, to 15th. A brief Black-throated Thrush at Scolt Head Island, Norfolk, on 14th represented a gripping county record.

Red-flanked Bluetail, Donna Nook, Lincolnshire (Photo: Richard Aldam)

Siberian Stonechat, Donna Nook, Lincolnshire (Photo: Ron Marshall)

Siberian Stonechat, Barrys Head, Cork (Photo: Norma Gleeson)

Black-throated Thrush, Scolt Head Island, Norfolk (Video: Oriole Birding)
Juvenile Pallid Harriers were in Shetland, South Yorkshire (a fly-through at Potteric Carr on 14th) and Somerset (a juvenile male in the Greylake area from 16th).

Pallid Harrier, Potteric Carr YWT, South Yorkshire (Photo: Mr John Lilleyman)
A good influx of Shore Larks appears to be taking place for the first time in a number of years, though of course only time will tell whether many of them end up spending the winter with us. Reports were received from an impressive 27 sites, with a flock of 14 at Beacon Ponds, E Yorks, on 14th the highest count — most counts involved ones, twos and threes (though a five and a seven were logged in Norfolk).

Shore Lark, Winterton-on-Sea, Norfolk (Photo: Mick Davis)

Shore Lark, Kilnsea, East Yorkshire (Photo: Paul Coombes)
Also arriving in good numbers were Mealy Redpolls — again, probably their best showing for several years — and it was no great surprise that Coues's Arctic Redpolls were found at Blakeney Point, Norfolk, and Donna Nook, Lincs, on 12th and at Thornwick Bay, E Yorks, on 14th. With a probable Coues's also noted on Holy Island on 14th and further 'Arctic Redpolls' reported from Fetlar and North Ronaldsay, it's fair to say that we might be in for a decent redpoll winter. Bucking the trend was a Hornemann's Arctic Redpoll on Out Skerries on 12th.

Coues' Arctic Redpoll, Thornwick Bay, East Yorkshire (Photo: Simon Mitchell)

Hornemann's Arctic Redpoll, Baltasound, Unst, Shetland (Photo: John Nadin)
The first Waxwings also began to pop up — most were on Shetland, in their ones and twos, but birds reached as far south as Norfolk, where there were two records. Reports from Norway would suggest more are on their way. Northern Long-tailed Tits — the cute, white-headed caudatus — included two briefly at Sumburgh, Shetland, on 14th, three at Boddam, Aberdeenshire, from 16th and four on Sanday, Orkney, on 18th.

Northern Long-tailed Tit, Boddam, Aberdeenshire (Photo: Tim Marshall)
Slightly fewer Little Buntings were reported this week (at about 30 sites), though several multiple counts were still noted — including at least three on Fair Isle. Twenty-odd Red-breasted Flycatchers and Richard's Pipits were reported, while other scarce migrant totals included 40 Great Grey Shrikes, 10 or so Wrynecks and a handful of Common Rosefinches. Ortolans were in Norfolk and Shetland, and Short-toed Larks were on Scilly and in Cornwall, the latter a really confiding bird at St Agnes Head from 13th. The only subalpine warbler was the bird still on St Mary's, Scilly, to 15th.

Red-breasted Flycatcher, St Mary's, Isles of Scilly (Photo: Martin Goodey)

Great Grey Shrike, Holme Dunes NWT, Norfolk (Photo: Roger Ridley)

Short-toed Lark, St Agnes Head, Cornwall (Photo: Dave Helliar)

Subalpine Warbler, St Mary's, Isles of Scilly (Photo: Jim Almond)
Away from the deluge of 'Sibes', two Red-eyed Vireos reminded us that we should never give up on arrivals from the west in October — one was trapped and ringed at Portland Bill, Dorset, on 14th and another frequented Porthgwarra, Cornwall, on 15–16th.

Red-eyed Vireo, Portland, Dorset (Photo: Martin Cade)
Shorebirds included continuing Long-billed Dowitchers in Kent and Lincolnshire and a new Baird's Sandpiper performing brilliantly at Kenfig, Glamorgan, on 13–14th. Another Baird's, the long-stayer in Northumberland, was still around to at least 17th. Co Offaly's third Lesser Yellowlegs was at Shannon Harbour on 17th and the Dorset bird stayed at Lytchett Bay all week. Five Semipalmated Sandpipers were at the wader mecca of Tacumshin, and another was at Inch Island Lake, Co Donegal, on 14–15th. Pectoral Sandpipers were reported from seven sites, but the only Buff-breasted Sandpiper was last week's find in South Mainland Shetland. American Golden Plovers were in the Outer Hebrides and Counties Cork (2), Clare and Kerry.

Baird's Sandpiper, Kenfig NNR, Glamorgan (Photo: Jeff Lack)
A Caspian Tern flew past Bockhill Farm, Kent, on 16th and a juvenile White-winged Black Tern was photographed at Portmore Lough, Co Antrim, on 15th. A first-winter Franklin's Gull was in Kent's Stour Valley at Grove Ferry on 17th but not again; similarly a first-winter Ring-billed Gull was reported fleetingly at nearby Seaton Gravel Pits on 18th. Adults were in Antrim and Galway, while the second-winter lingered on in Co Fermanagh. The adult Bonaparte's Gull remained at Quilty, Co Clare, on 16th, and there was also a Semipalmated Sandpiper at the same site the previous day.
Strontian's American Black Duck was still on show this week. Six drake American Wigeon included two in Lancashire and a new bird at Covenham Reservoir, Lincs, on 18th. Lancashire also boasted a Blue-winged Teal at Leighton Moss on 15th. A drake Green-winged Teal returned to Caerlaverock, Dumfries & Galloway, and another was at Loch of Kinnordy, Angus & Dundee. A drake Ring-necked Duck was at Chew Valley Lake, Somerset, from 15–17th and that old favourite, the Cardiff Lesser Scaup, was back in the Bay on 12th. Chew also produced a female Ferruginous Duck on 18th. Three Surf Scoters were logged.

Surf Scoter, Musselburgh, Lothian (Photo: Lukasz Michal Pulawski)
The influx of Cattle Egrets continued, with birds noted at 15 sites, including fives at Carrigaline, Co Cork, on 17th and Burton Mere Wetlands, Cheshire, on 18th plus four at Blithfield Reservoir, Staffs, on 16th. Glossy Ibises were reported from nine sites.
Western Palearctic news
It goes without saying that the major talking point of the week was the major influx of Siberian Accentors witnessed across northern Europe, primarily around the Baltic, with at least 75 noted (excluding Britain). Sweden and Finland fared best with double-figures of records apiece. The island of Öland hosted several Sibe Accs this week as well as splendid Asian Desert Warbler and Sweden's fourth Azure Tit, the latter outrageously picking around on coastal rocks for three days. Sweden enjoyed a phenomenal week with its first-ever Pallas's Reed Bunting found on the island of Horssten on 13th, an Eastern Yellow Wagtail in Skåne on 12th and an Eastern Black Redstart noted in Gotland. Denmark also got in on the Siberian Accentor action with three together on Christiansø while a Pine Bunting was on one of the North Sea islands off the west coast. Norway finally registered its first Siberian Accentor of the influx in Sogn og Fjordane county on 16th (a national second). The nation also logged its sixth Sardinian Warbler in Nordland, while a juvenile Short-billed Dowitcher appeared in Rogaland on 14-15th and a Dusky Thrush graced the island of Husøy on 16th.

Azure Tit, Öland, Sweden (Video: Johan Nilsson)

Pallas's Reed Bunting, Sweden (Photo: Christian Leth)
Iceland boasted two national firsts this week, a Siberian Stonechat on Heimaey from 16th and, more impressively, a juvenile Red-necked Stint on the outskirts of Reykjavík from 13th — could it be the recent bird from western Norway?

Red-necked Stint, Reykjavík, Iceland (Video: Omar Runolfsson)
It's been a quiet autumn for American vagrants in the Azores so far this October so a Snowy Egret on the west coast of Flores was very welcome from 17th. This is the first seen in the archipelago for several years. A Bobolink was also on Flores this week with another on Corvo, the latter island also logging Yellow-billed Cuckoo, 2 Common Yellowthroats, Short-billed Dowitcher and Upland Sandpiper. Another Common Yellowthroat reached São Miguel on 12th.

Snowy Egret, Azores (Photo: Thierry Jansen)
Spain's second Steppe Eagle was at La Janda, Cádiz, on 17th while an Isabelline Wheatear showed well at Gravelines, on France's north coast, that day. A flyover Greater Spotted Eagle in Limburg, Netherlands, on 16th was a fantastic national record.

Steppe Eagle, Spain (Photo: Javi Elorriaga/Birding the Strait)
Content continues after advertisements