The week at a glance
There was a sense that autumn really started to get going this week. As well as the first pulse of scarce drift migrants appearing in southern and eastern areas among increased numbers of their commoner cousins, it was a good week for passage waders (particularly Wood Sandpipers) and terns (the latter including good numbers of Black Terns as well as a number of inland Little Terns).
It was therefore quite fitting that the first really 'big' bird of the autumn appeared: an elusive Zitting Cisticola found favouring rank vegetation on the coast at Atherington, W Sussex, during the evening of 18th. The last widely twitched bird was that at Pegwell Bay, Kent, almost six years ago. Turning up in early September 2009, that bird lingered to November and a similarly co-operative individual would no doubt be welcomed by a sizeable crowd. Here's hoping it's seen again.
After a fairly quiet start, Scilly's seabird season finally kicked off in style over the weekend, the highlight a stunningly confiding Fea's-type Petrel seen from a pelagic south-east of St Mary's, Scilly, in the late morning on Sunday 16th. It gave glorious views as it passed the boat, and the line of long lenses aboard Joe Pender's MV Sapphire ensured that this individual became the best-photographed of its kind to be seen in British waters.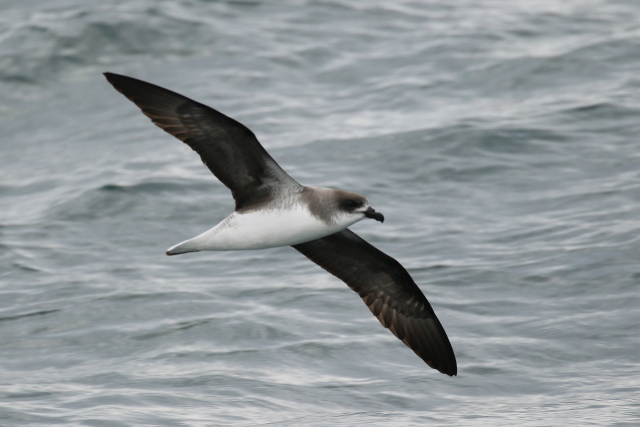 Fea's-type Petrel, at sea, Isles of Scilly (Photo: Peter Moore)

Fea's-type Petrel, at sea, Isles of Scilly (Photo: Paul French)
The Scilly pelagics also notched up their first Wilson's Storm-petrels of the season, with sightings of single birds daily from 14–16th; elsewhere two Wilson's were seen on a pelagic out of Baltimore, Co Cork, on 15th and another was off Brow Head, in the same county, on 12th. Large shearwater numbers remain low but 12 Great Shearwaters on a Scilly pelagic on 17th was promising; a Cory's Shearwater south past Spurn, E Yorks, on 14th was one of just a handful seen.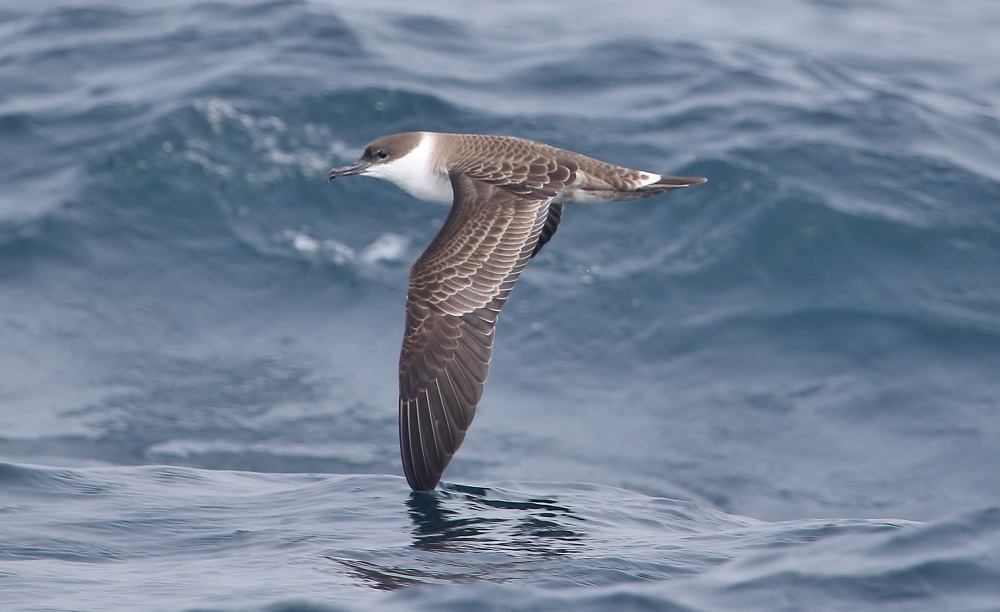 Great Shearwater, at sea, Isles of Scilly (Photo: Zac Hinchcliffe)
A considerably improved week for shorebird sightings included several quality finds. Best of the bunch was arguably the adult Baird's Sandpiper — a rarely seen plumage in the UK — at Seaton Marshes, Devon, for one day only on 15th. An adult Spotted Sandpiper took the unusual decision to linger inland at Coate Water Country Park, Wilts, from 16th and showed well at times, and another spotty adult was on the Teign Estuary, Devon, on 17th. The South-West also scored with a Wilson's Phalarope at Par Beach, Cornwall, on 16th — though it was not reported until 18th.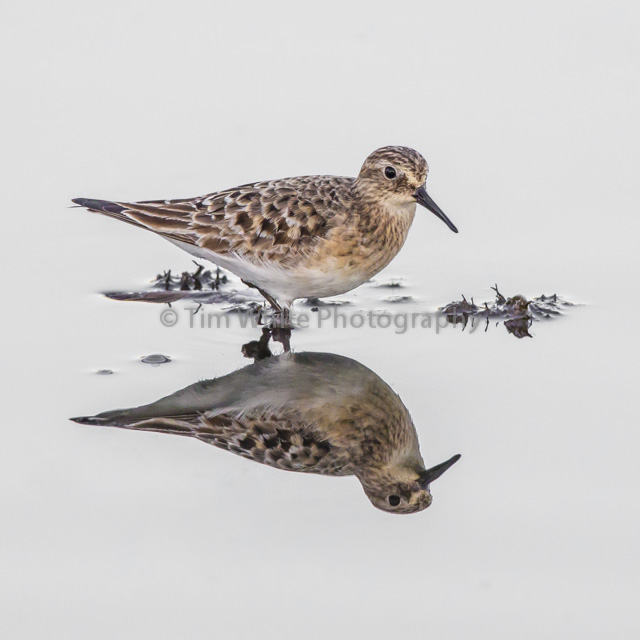 Baird's Sandpiper, Seaton Marshes, Devon (Photo: Tim White)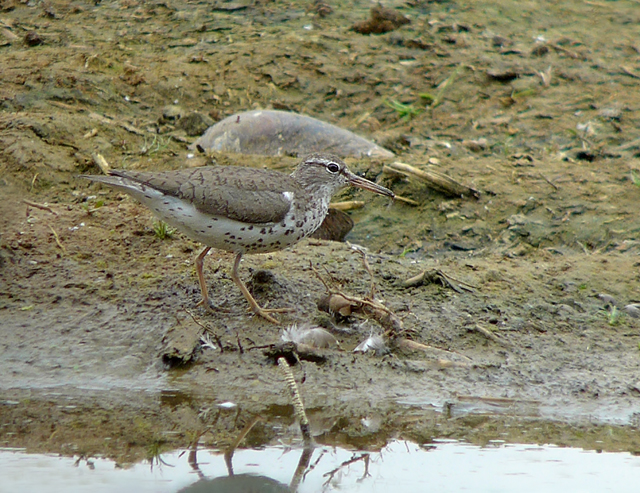 Spotted Sandpiper, Coate Water CP, Wiltshire (Photo: Mark Dowie)
An adult American Golden Plover was on North Ronaldsay, Orkney, from 14–18th, while the week's only Temminck's Stint called in at Dungeness, Kent, on 12th. New Pectoral Sandpipers were at Newington, Notts, from 13–15th; Rainton Meadows, Durham, on 14th; Laytown, Co Meath, from 15th; and at Pagham Harbour, W Sussex, on 18th, in addition to last week's bird still at Tetney, Lincs, on 14th. The long-staying White-rumped Sandpiper remained present at Beacon Ponds, E Yorks, on 17th, and the Kent adult was still showing well at Oare Marshes all week. New adults were at Baleshare, N Uist, on 14–15th and on the Ythan Estuary, Aberdeenshire, on 15–16th. A Buff-breasted Sandpiper was near Gwithian, Cornwall, on 18th. Five Grey Phalaropes were seen off Ram Head, Co Waterford, on 12th but no Red-necked Phalaropes were reported this week.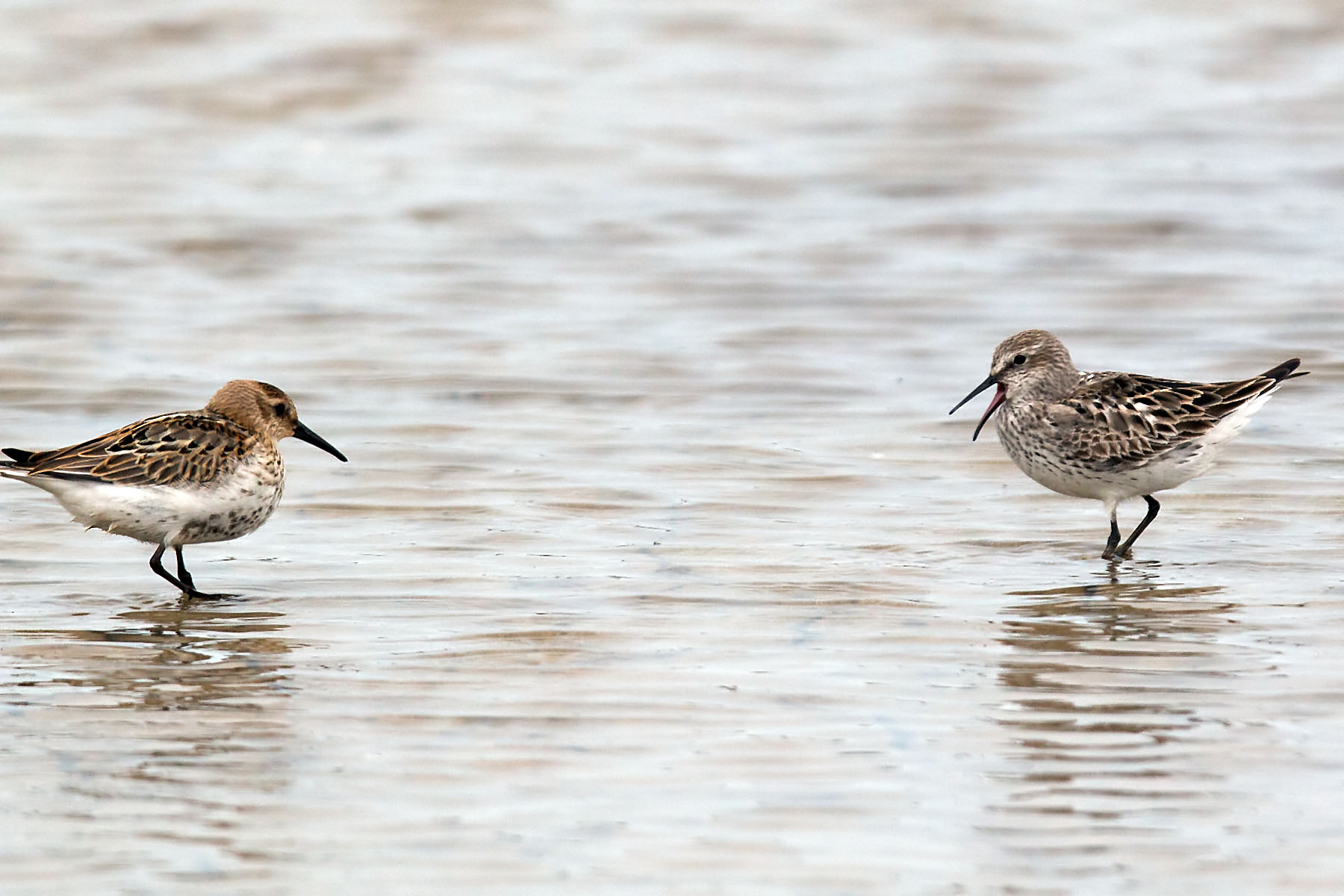 White-rumped Sandpiper, Titchwell RSPB, Norfolk (Photo: Michael Powell)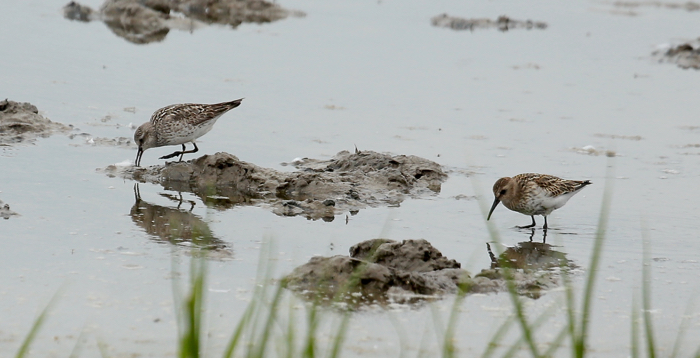 White-rumped Sandpiper, Oare Marshes NR, Kent (Photo: Chris Bond)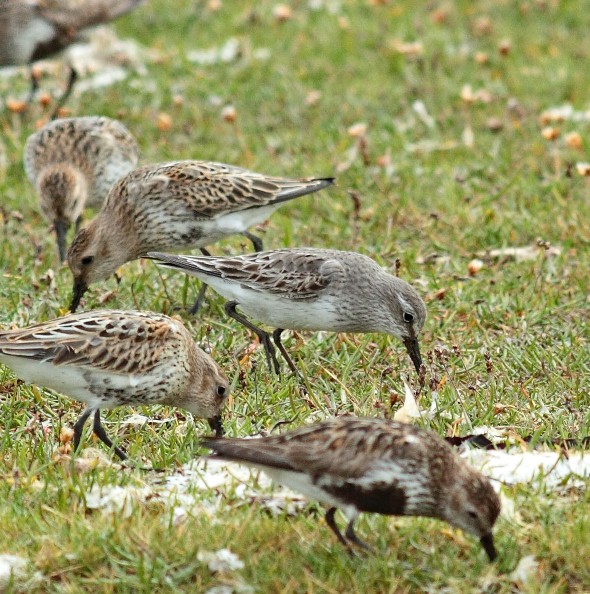 White-rumped Sandpiper, Baleshare, N Uist, Outer Hebrides (Photo: Steve Duffield)

Pectoral Sandpiper, West Sussex (Video: Bart Ives)
As well as the Lesser Scaup that was still in residence at Blagdon Lake, Somerset, throughout the week, drake Surf Scoters were again reported off Blackdog, Aberdeenshire, on 13th and Lunan Bay, Angus, on 16th.
The male Little Bittern was seen at Old Moor, S Yorks, for the first time in 10 days on 13th, while nearby Swillington Ings, W Yorks, claimed a mobile and elusive adult Night Heron on 18th. The juvenile Purple Heron spent the week recuperating from its reckless boating antics at Carlton Marshes, Suffolk, while the first-summer bird was still in the county at King's Fleet on 17th. A Cattle Egret was at Dungeness, Kent, on 15th, and the top single count of Great White Egrets on the Somerset Levels was 10 at Meare Heath.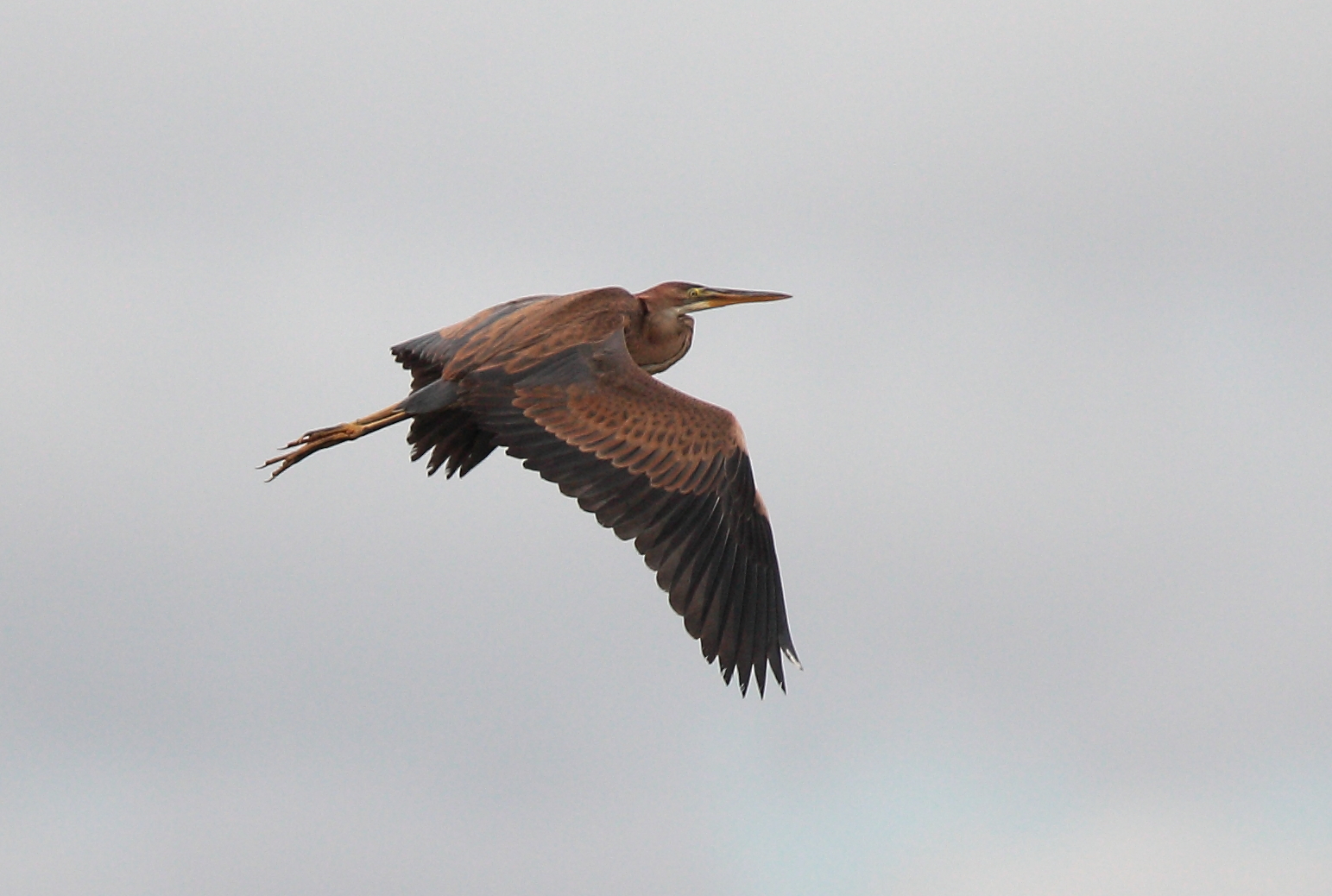 Purple Heron, Carlton Marshes, Suffolk (Photo: Chris Darby)
After roosting at West Bexington, Dorset, overnight the Black Stork left the area early on 12th. The Lincolnshire individual was seen again at Gibraltar Point on 15th. The recent Spurn bird flew over Sunk Island, E Yorks, on 17th after being flushed from nearby Keyingham, while its sibling remained at Loch of Strathbeg, Aberdeenshire, throughout. Arguably the most noteworthy of the lot, though, was a stupidly tame individual favouring the Bexhill area of East Sussex from 12th. Although generally proving elusive to birders by showing mainly in flight, it was also seen in residents' gardens (and even flew into a window on one occasion) and wandering around in the road, narrowly avoiding being run over by passing cars. This confiding nature is far from unknown in juvenile Black Storks, and it may well be that this dopey individual gives patient birders some brilliant views in the coming days.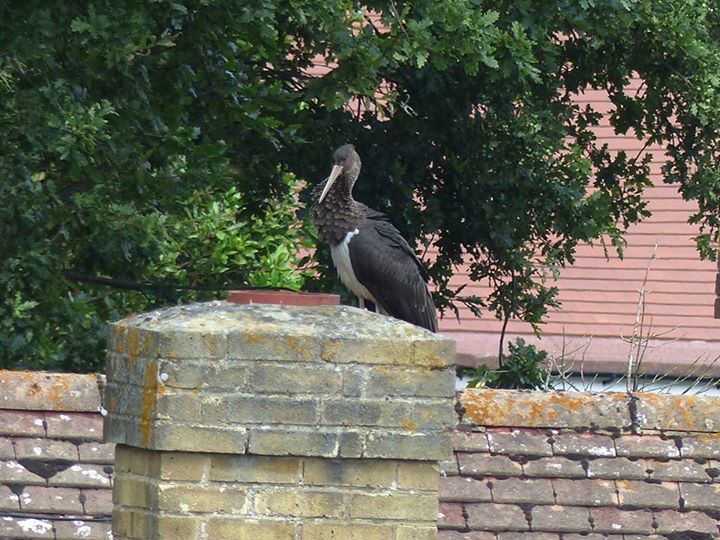 Black Stork, Bexhill, East Sussex (Photo: Annette Davies)
Many birders were understandably worried when the Staffordshire Red-footed Falcon disappeared, but they needn't have feared — the same bird relocated to south Lincolnshire, and showed well at Willow Tree Fen throughout the week. Presumed migrant (or at least wandering post-breeding) Honey Buzzards were seen in various counties including Kent, Norfolk, North Yorkshire and Orkney.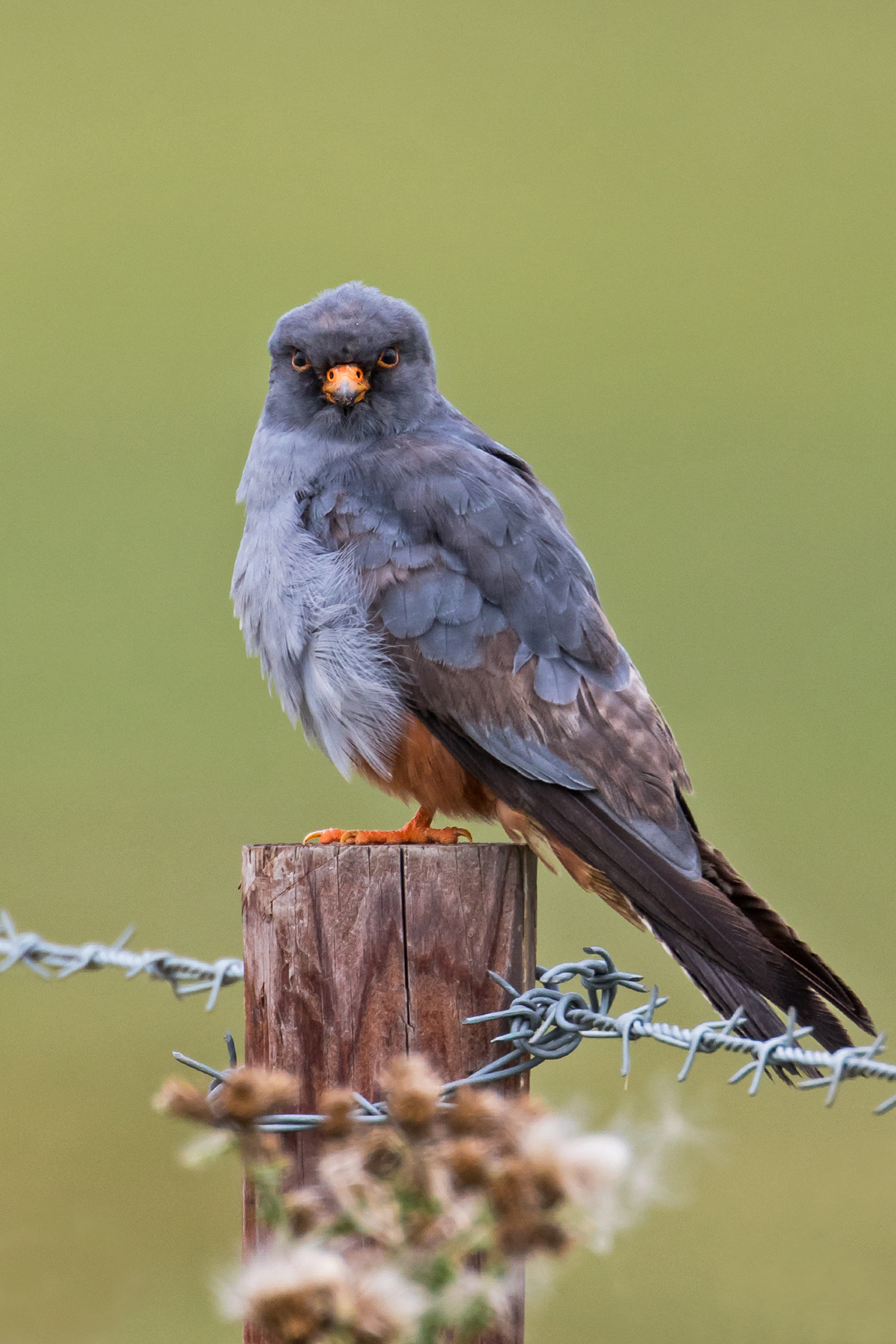 Red-footed Falcon, Willow Tree Fen LWT, Lincolnshire (Photo: Peter Beesley)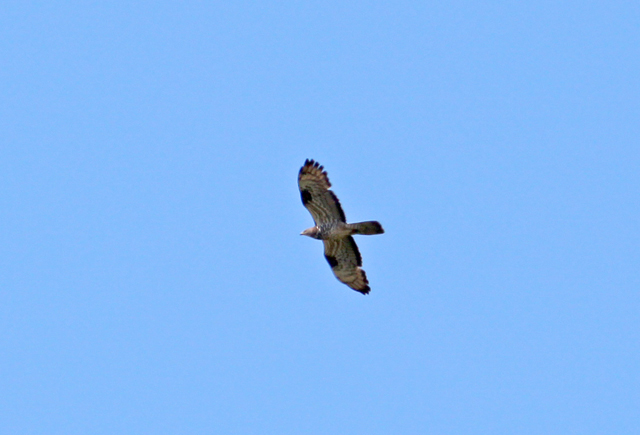 Honey Buzzard, High Kelling, Norfolk (Photo: Nigel Rogers)

Red-footed Falcon, Willow Tree Fen LWT, Lincolnshire (Video: Penny Clarke)
Just one Spotted Crake was seen: the Blacktoft Sands bird continued to show well at times throughout the week.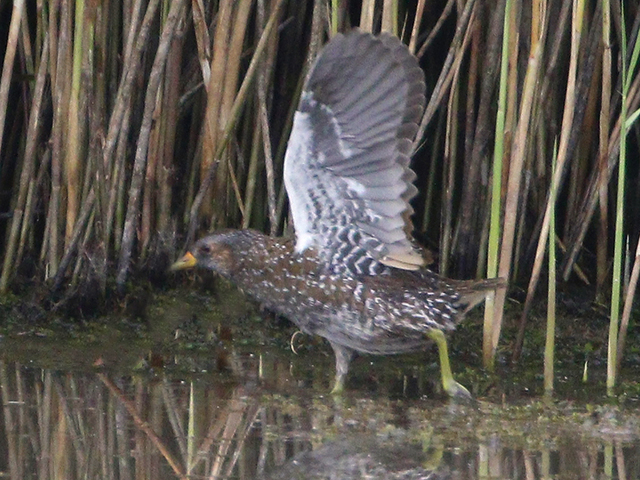 Spotted Crake, Blacktoft Sands RSPB, East Yorkshire (Photo: Mark Coates)
A first-summer Ring-billed Gull was on the Bann Estuary, Co Londonderry, on 14th in addition to the continuing individuals in Preston, Lancs, and on the Hayle Estuary, Cornwall. The Bonaparte's Gull remained on the Oare Marshes, Kent, to at least 16th. Caspian Gulls included the long-staying first-summer still on Loch Gilp, Argyll, and a showy bird of the same age on the beach at Ainsdale, Lancs. Peak counts included seven (and 72 Yellow-legged Gulls) at Livermere Lake, Suffolk, on 17th and six at Walberswick, Suffolk, on 15th. A juvenile White-winged Black Tern lingered on the Exminster Marshes, Devon, from 14–16th and another was briefly off Dungeness, Kent, on 17th. The Sabine's Gull was last seen at Pennington Flash, Grt Manchester, on Sunday afternoon.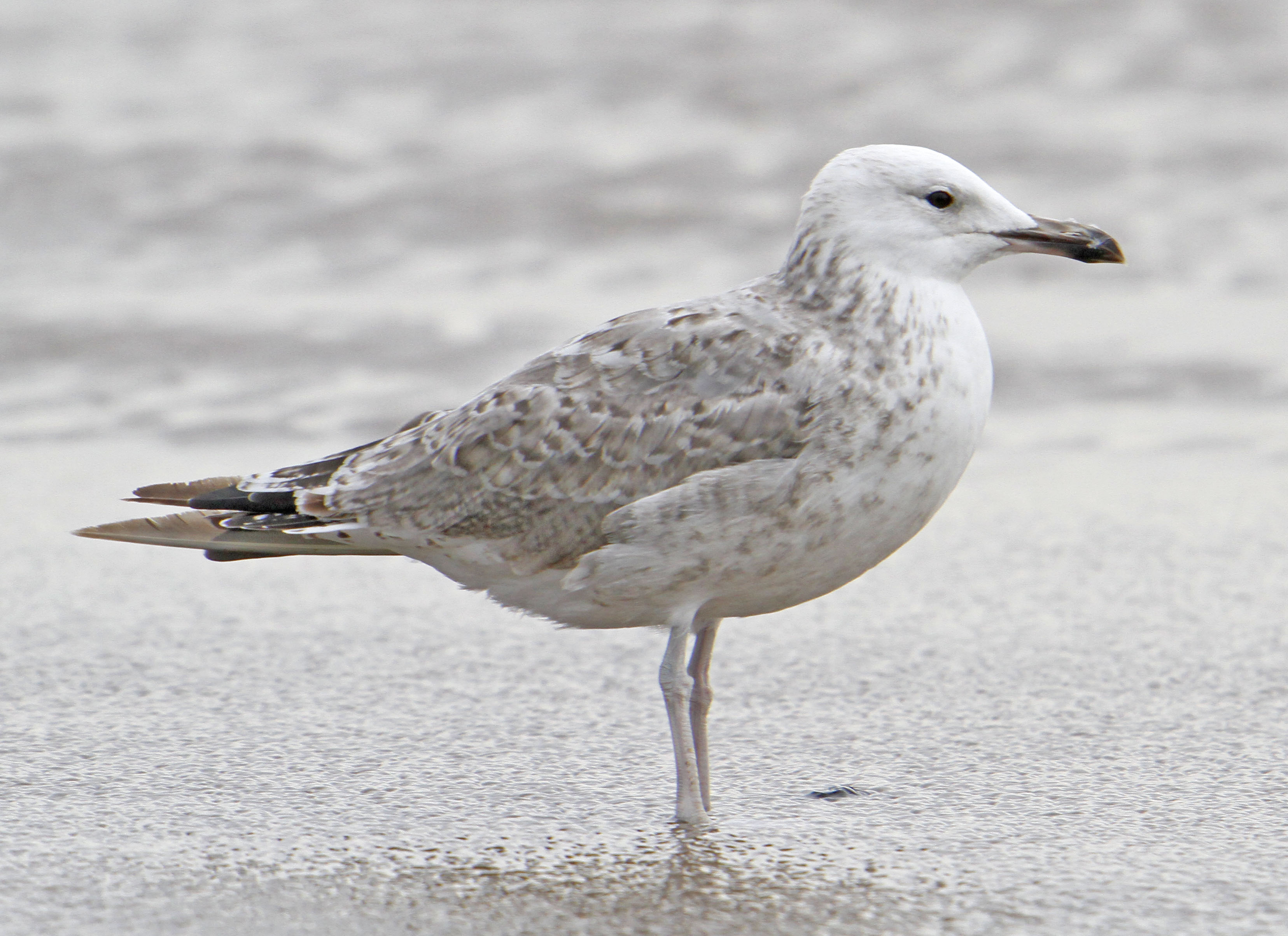 Caspian Gull, Ainsdale, Lancashire (Photo: Tony Conway)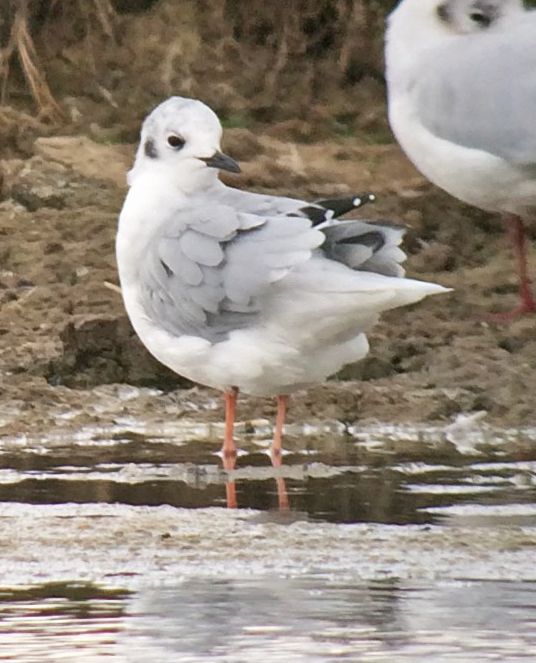 Bonaparte's Gull, Oare Marshes NR, Kent (Photo: Samuel West)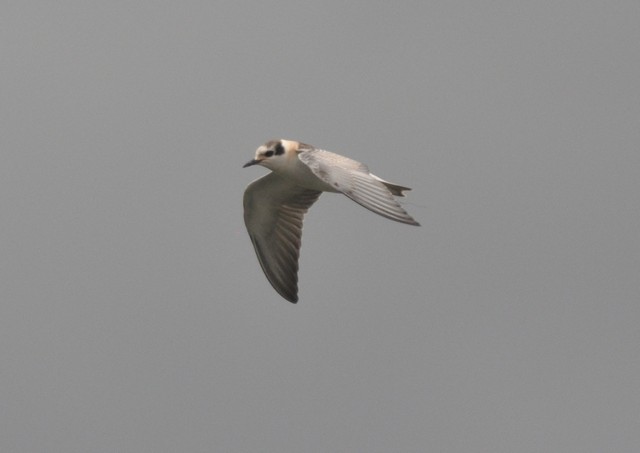 White-winged Black Tern, Exminster Marshes RSPB, Devon (Photo: Simon Thurgood)
Up to three adult European Bee-eaters continued to attend a single nest near Brampton, Cumbria, throughout the week, with other records coming from North Ronaldsay, Orkney, on 12th, Stevenston, Ayrshire, on 15th and Jersey on 15th. A Hoopoe was also on Jersey on 13th, and an Alpine Swift was reported flying over Cheddleton, Staffs, on 12th.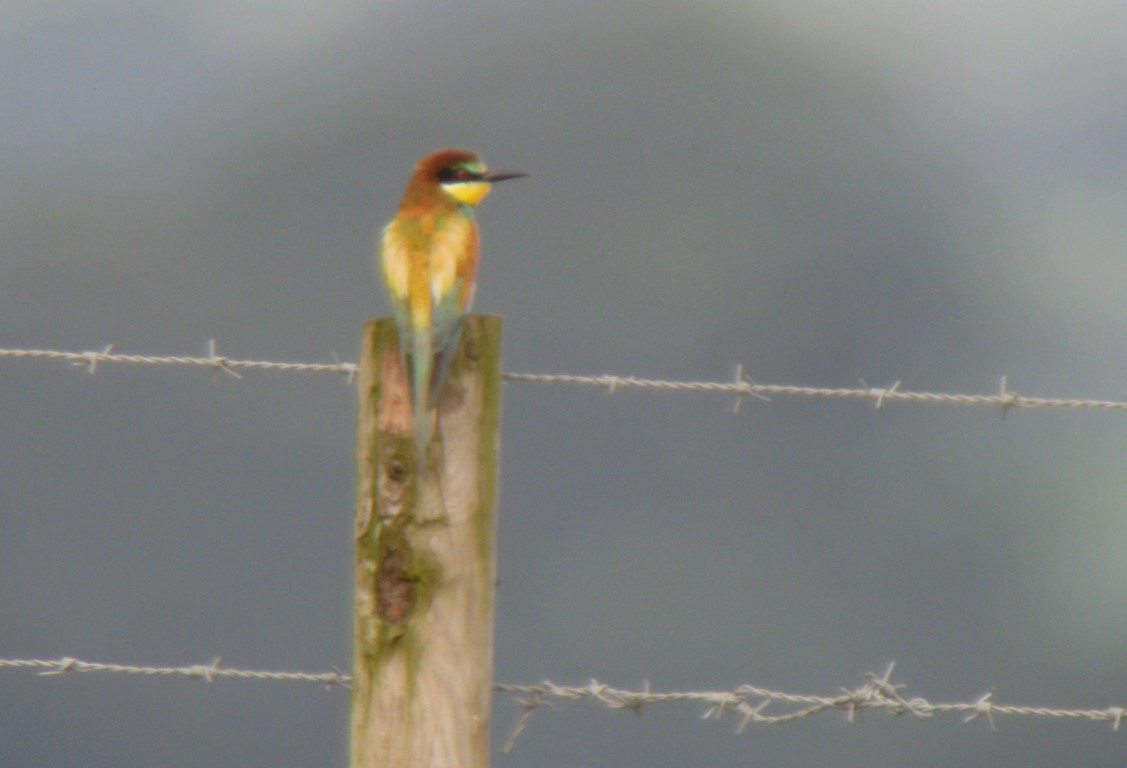 European Bee-eater, Brampton, Carlisle, Cumbria (Photo: Mark Fanshawe)
Wryneck numbers scraped into double figures this week as the first flush of return migrants began to appear. The first were found in East Sussex, Essex and Northumberland on 14th, and were followed by a typical scattering of records shared between the east and south coasts and, latterly, the far south-west of England — Cornish records came from Nanjizal on 17th and Porthgwarra on 18th. There was a single inland record, at Clifford Hill, Northants, on 15th.
There was a report of a Bluethroat at Meare Heath, Somerset, on 15th, while the first Thrush Nightingale of the autumn was a fairly early occurrence on the Farne Islands, Northumberland, on 15–16th.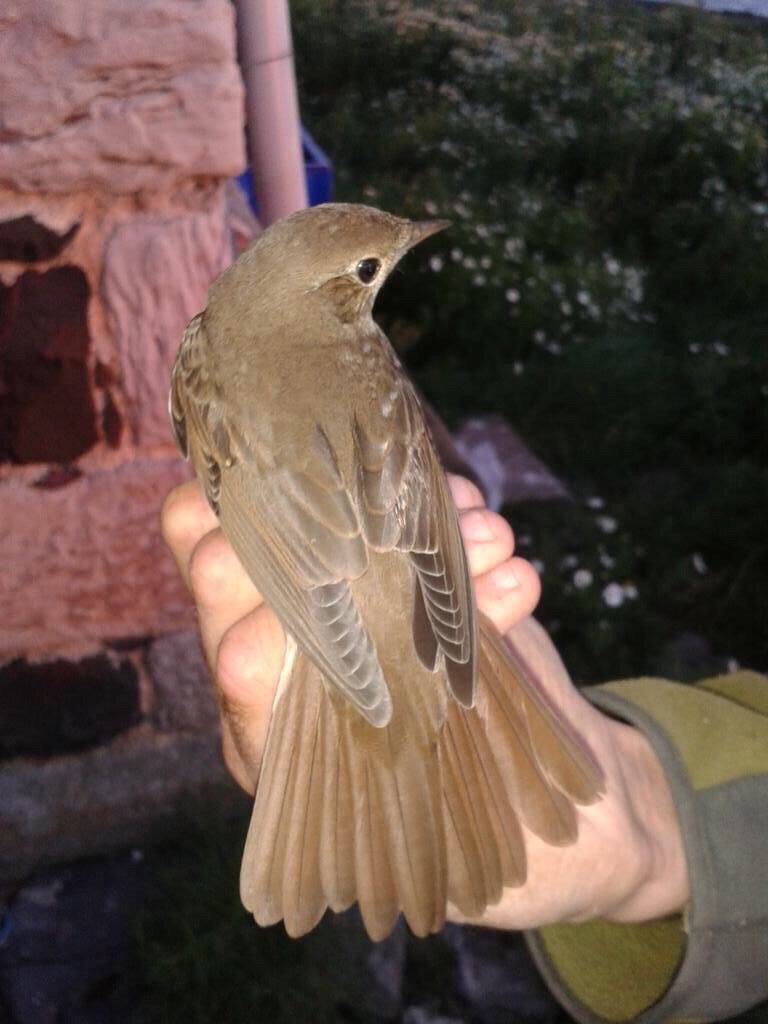 Thrush Nightingale, Farne Islands, Northumberland (Photo: David Roche)
Aquatic Warblers are becoming ever more difficult to catch up with, so it was slightly galling that the only bird to linger so far this year was on Fair Isle on 15–16th. This record followed news of one trapped and ringed at Wheldrake Ings, N Yorks, on 12th. The Paddyfield Warbler was last seen on the Isle of Noss, Shetland, on 16th, making its stay a total of 26 days — the third-longest stayer on record. A Western Bonelli's Warbler was in pines at Porthgwarra, Cornwall, on 17th.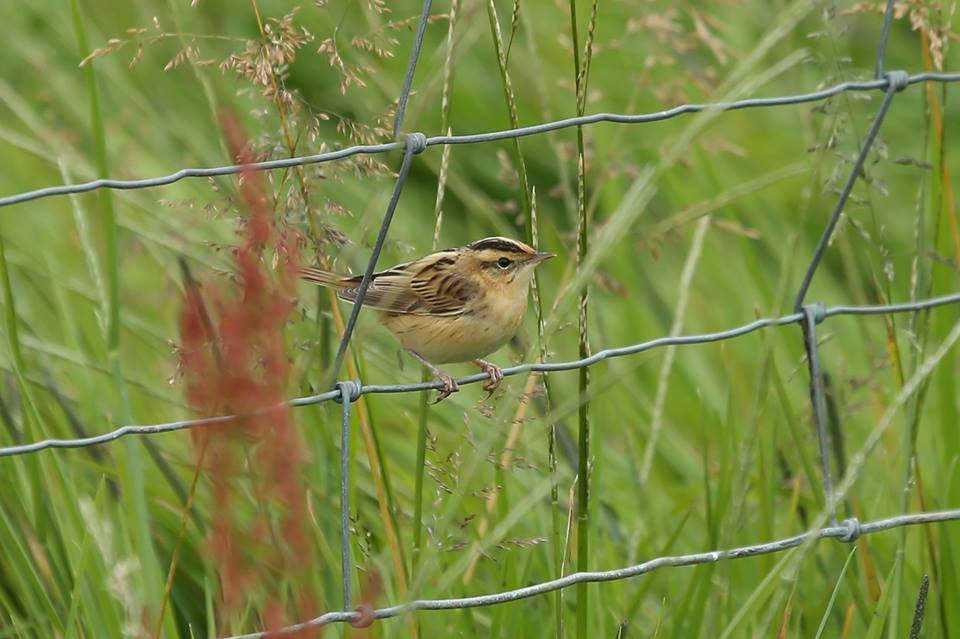 Aquatic Warbler, Fair Isle, Shetland (Photo: Lee Gregory/Fair Isle Bird Observatory)
Double-figure numbers of Barred Warblers between Unst and Norfolk included a peak count of two on Fair Isle on 15th. A Greenish Warbler appeared at Filey, N Yorks, in fog on 14th and was followed by two on Holy Island, Northumberland, the following day. Eight Icterine Warblers were seen in Shetland, Fife, Cleveland, East Yorkshire (2) and Norfolk (3), with the tally in this last county including an especially confiding bird at Burnham Overy from 14–17th. A single Marsh Warbler was on North Ronaldsay on 15th.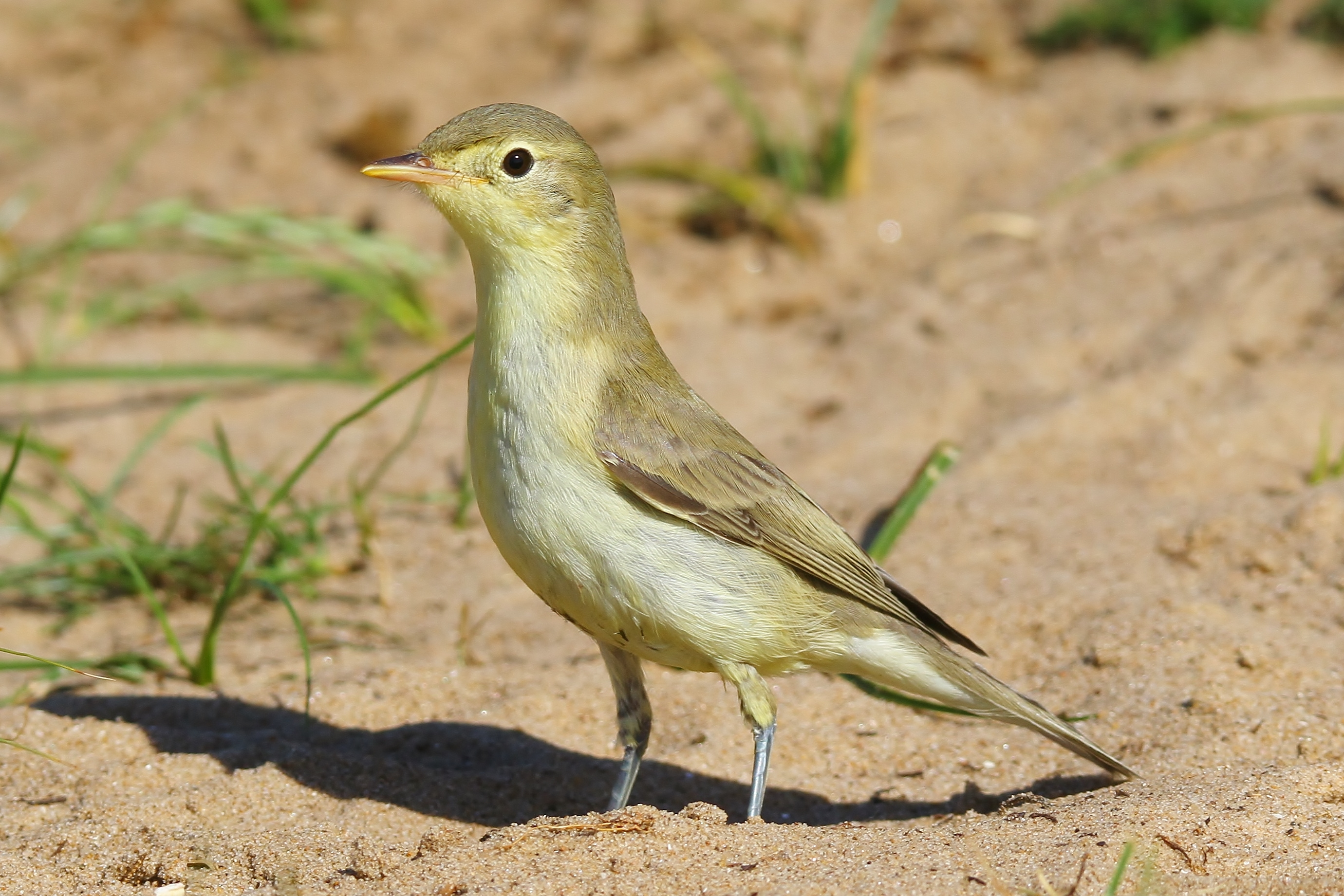 Icterine Warbler, Burnham Overy, Norfolk (Photo: Neil Rendall)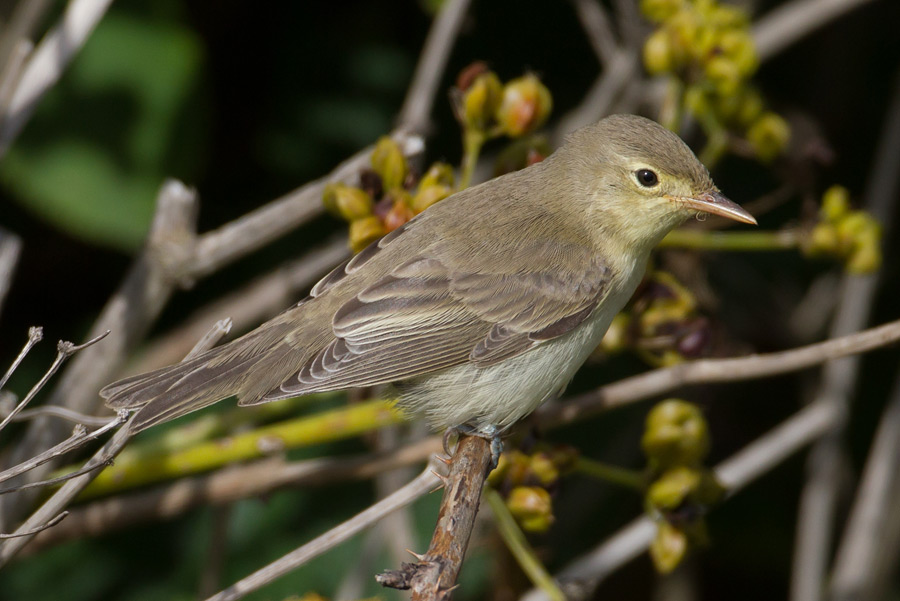 Icterine Warbler, South Gare, Cleveland (Photo: Martyn Sidwell)
In addition to the female still present at Bowers Marsh, Essex, to 17th, Red-backed Shrikes were at Winterton Dunes, Norfolk, and Farne Islands, Northumberland, on 15th; at Flamborough Head, E Yorks, on 15–16th; and at Hillwell, Shetland, on 16th. A male was at Cuckmere Haven, E Sussex, on 17th and another was at Noss Head, Highland, on 18th.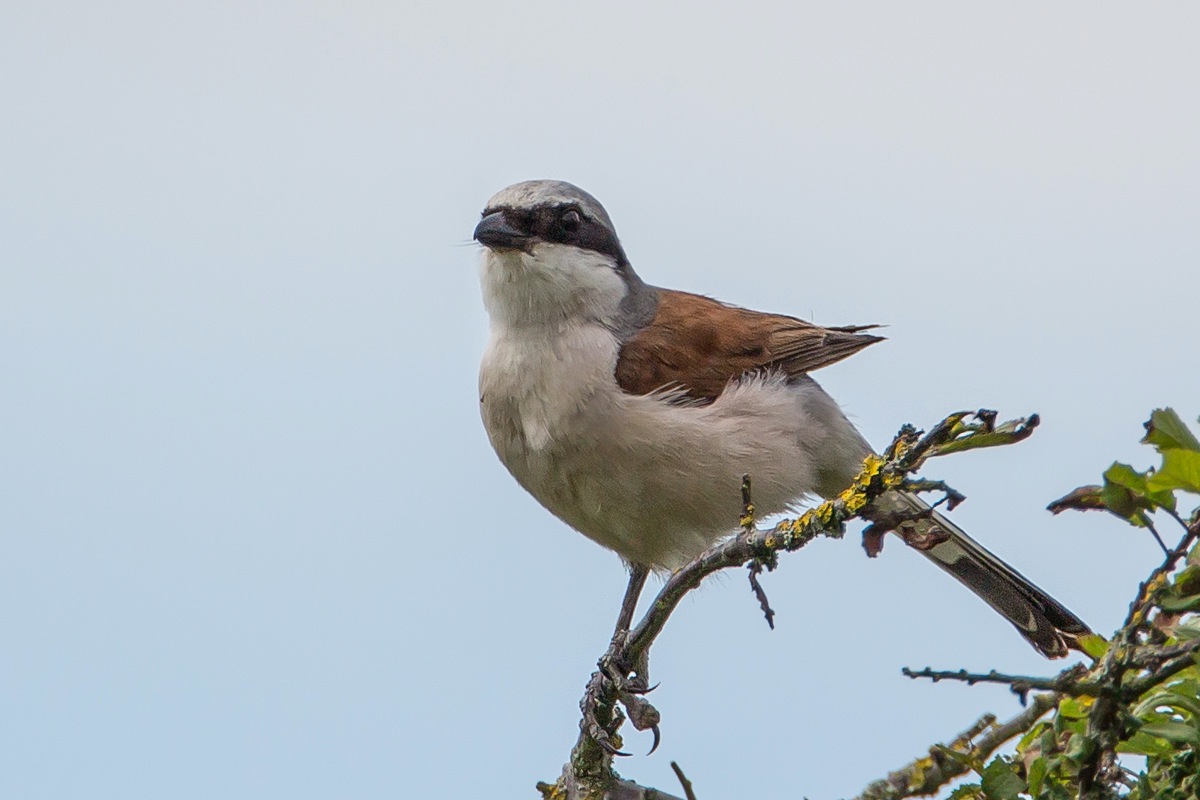 Red-backed Shrike, Cuckmere Haven, East Sussex (Photo: Dorian Mason)
An adult Rose-coloured Starling at Gairloch, Highland, on 15–16th was followed by the first juvenile of the autumn at Peterhead, Aberdeenshire, on 16th. A Serin was at Landguard, Suffolk, on 15th and an Ortolan flew over Nanjizal, Cornwall, on 17th.
Western Palearctic news
A fairly quiet week across the region was once again headlined by the Black-browed Albatross, which was seen at Agger Tange, Denmark, on 12th, 13th and 16–17th. On the last date it was involved in an extraordinary conflict with a pair of White-tailed Eagles, as photographer Jens Søgaard Hansen explained:
"A real-life drama unfolded this morning when two sea eagles began an intense and persistent hunt of poor Albert, lasting just over five minutes. There was direct contact between the birds on several occasions and it was undoubtedly pure luck that at just after 07.00, having collected himself as he sat among the Mute Swans, he once again flew off over the dunes and out into the North Sea."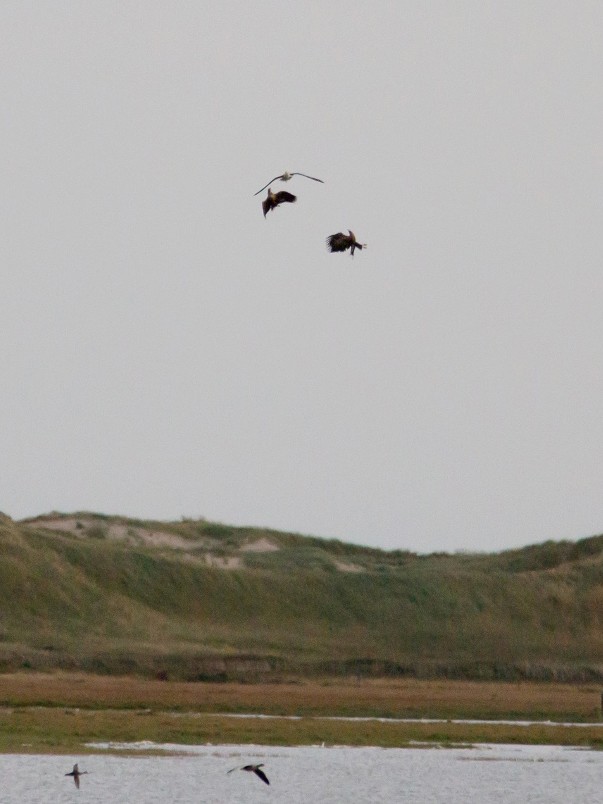 Black-browed Albatross evading White-tailed Eagles at Agger Tange Denmark (Photo: Jens Søgaard Hansen)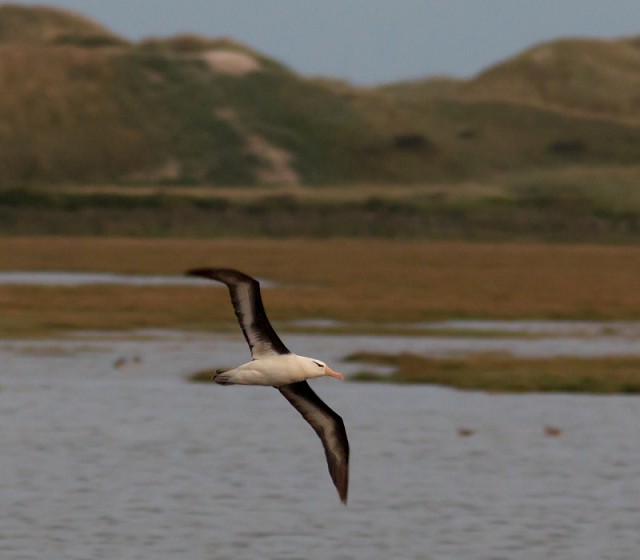 Somewhat shaken by the experience but looking none worse for wear... (Photo: Jens Søgaard Hansen)
Israel's third (or fourth) Saunders's Tern was a cryptic find at Eilat North Beach on 18th, while the Pink-backed Pelican remained near Ein Harod and the Bateleur was relocated at Kedma after a few weeks' absence. Sweden's first Audouin's Gull was seen at Simrishamn, Skåne, on 12th, while an amazingly early Yellow-browed Warbler was on Gotland on 12th.
Other records included the juvenile Semipalmated Sandpiper still in Germany, Poland's seventh Dalmatian Pelican near Bydgoszcz on 14th, a Western Reef Egret reported near Verona, Italy, on 17th and a Demoiselle Crane at Porto Lagos, Greece, on 18th.