The week at a glance
There were a few surprises, but generally the second week of October slipped by in relatively unremarkable fashion. In terms of pure rarity, the Eyebrowed Thrush on Foula (Shetland) during the late morning of 13th takes the prize — apart from a difficult-to-twitch bird on North Ronaldsay in 2009, one has to delve back as far as 1995 for a twitchable bird, when a spring individual graced Angus & Dundee.
However, the most popular bird was a welcome Eastern Olivaceous Warbler at Kilminning (Fife) from 14th. Coincidentally, it chose the same place to pitch down as an extremely worn Chiffchaff back in August that was initially suspected to be an Iduna warbler; Fife birders were no doubt happy to get the chance to add the 'real deal' to their county lists so soon afterwards. Also on the east coast, a Pallas's Grasshopper Warbler at Marsden on 12th was Durham's second record of the year following a bird at Whitburn a fortnight ago.

Eastern Olivaceous Warbler, Kilminning, Fife (Photo: John Anderson)
Bryher (Scilly) finally hit back with some seasonal fare in the form of a Blackpoll Warbler and a Solitary Sandpiper from 11th and 12th respectively. The warbler was last seen there on 16th, while the sandpiper moved to St. Mary's from 16th, where a possible Wilson's Snipe was seen on 17th. St. Mary's also claimed a Hume's Leaf Warbler from 15th.

Blackpoll Warbler, Bryher, Isles of Scilly (Photo: Steve Arlow)

Solitary Sandpiper, Bryher, Isles of Scilly (Photo: Steve Arlow)
Scotland's first Lesser Spotted Woodpecker was found in trees by the health centre in Scalloway (Shetland); the bird is presumed to be of the nominate Scandinavian race, which has not previously been recorded in the British Isles.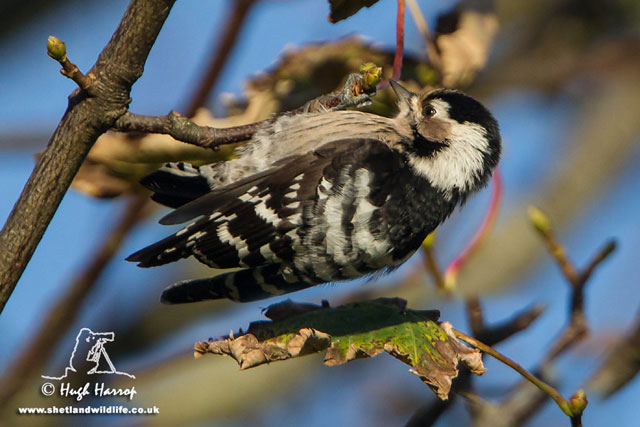 Lesser Spotted Woodpecker, Scalloway, Mainland, Shetland (Photo: Hugh Harrop)
Other excitement during the week included an immature Egyptian Vulture touring the north Norfolk coast on 17th that later transpired to be a known escapee — bearing a bell — from a Welsh collection. An interesting cormorant at Swanpool (Cornwall) on 16th showed some features of Double-crested Cormorant, but was not seen again.

Egyptian Vulture, Burnham Overy, Norfolk (Photo: Baz Scampion)
Returning geese included a splendid Red-breasted Goose with Brents at South Swale (Kent) from 14th, a Richardson's Canada Goose back with the Barnacles at Lissadell (Sligo) and Black Brants in Hampshire and Essex.

Red-breasted Goose, Seasalter, Kent (Photo: Steve Ashton)
Three Ring-necked Ducks on St. Mary's (Scilly) from 16th were undeniably fresh arrivals, while the continuing drake on Achill Island (Mayo) is no doubt a returning bird (the Black Duck was also still there). The adult drake Lesser Scaup at Chew Valley Lake (Somerset) was joined by a first-winter from 15th, and a Blue-winged Teal was new in at Rahasane Turlough (Galway) on 14th and a Green-winged Teal was at Netherfield (Notts) that day. The drake American Wigeon returned to Kirk Loch (Dumfries) while drakes remained in Wexford and West Yorkshire. In Moray/Nairn, the drake King Eider remained off Burghead while three drake Surf Scoters remained off the Conwy coast in addition to singletons in Clare, Fife and Orkney.

Ring-necked Duck, St. Mary's, Isles of Scilly (Photo: Steve Arlow)

American Wigeon, Anglers CP, West Yorkshire (Photo: Paul Thomas)
Seawatching records were fairly sparse this week, although a pale South Polar Skua was reported past Mizen Head (Cork) on 12th in addition to a Yelkouan Shearwater past Berry Head (Devon) twice on 17th.
The 2012 edition of the now-annual Glossy Ibis invasion continued with eight over Maidstone (Kent) on 15th, while at least four were still touring west Cornwall. A further bird was at Rainham Marshes (London) on 14th–15th and birds remained in Pembrokeshire and Cork. Last week's Purple Heron remained at Radipole Lake (Dorset) to 16th, with a second at College Reservoir (Cornwall) the following day. A Cattle Egret remained in the Catcott Lows (Somerset) area. The Spotted Crake remained at Seaton Marshes (Devon) and another was seen on Foula.

Glossy Ibis, Brew Pool, Cornwall (Photo: Tony Mills)
In Wexford, the juvenile Northern Harrier was again at Tacumshin on 11th although rare raptors were otherwise hard to find, a handful of Rough-legged Buzzards being the best of the bunch.
As well as birds still in Shetland, Orkney, Scilly, Clare and Wexford, new American Golden Plovers were at Cley (Norfolk) on 11th and on the Cashen Estuary (Kerry) on 15th. Long-billed Dowitchers remained at Alkborough Flats (Lincs), Burton Mere Wetlands (Cheshire) and Slimbridge (Glos), while a new Lesser Yellowlegs was found at Ballinskelligs (Kerry) on 13th–14th in addition to remaining birds in Somerset and Dublin. Two Spotted Sandpipers were at Moyasta (Clare) from 13th and a third was at Ballysadare Bay (Sligo) on 12th.

American Golden Plover, St. Mary's, Isles of Scilly (Photo: Tony Duckett)

Lesser Yellowlegs, Bull Island, Dublin (Photo: Grzegorz Burkowski)
New White-rumped Sandpipers were at Tacumshin (Wexford), Lough Beg (L'derry) and Cley Marshes (Norfolk), while a Baird's Sandpiper briefly touched down at Owenahincha (Cork) on 15th. New Buff-breasted Sandpipers included one in-off at Annagh Head (Mayo) on 12th, one at Aberlady Bay (Lothian) on 13th and one at Loch Hempriggs (Highland) on 14th, in addition to the long-stayer at Bridges of Ross (Clare). Several Pectoral Sandpipers were widely scattered.
Content continues after advertisements

Pectoral Sandpiper, Kelling, Norfolk (Photo: Michael Lawrence)
At Rutland Water, a possible adult Azorean Gull was noted from 11th, although the wingtip pattern does not look ideal for this taxon. An adult Bonaparte's Gull flew past Strumble Head (Pembrokeshire) on 16th and another was reported at Rubha Reidh (Highland), while second-winter Ring-billed Gulls at Timoleague (Cork) and Seaton Marshes (Devon) were both new (the adult was also still in Angus & Dundee). In Louth, the Forster's Tern continued to hang around between Soldier's Point and Dundalk docks.

Possible Azorean Yellow-legged Gull, Rutland Water, Leicestershire and Rutland (Photo: John Hague)

Possible Azorean Yellow-legged Gull, Rutland Water, Leicestershire and Rutland (Photo: Bob Pacey)
Just one Buff-bellied Pipit remained from the past fortnight's influx: the bird at Smerwick Harbour (Kerry). Red-throated Pipits were at Porthgwarra (Cornwall), Cape Clear (Cork) and St. Agnes (Scilly) all on 14th, while an impressive influx of Olive-backed Pipits involved at least 16 birds, of which a minimum of 11 were on Shetland. A Tawny Pipit lingered at Easington (E Yorks) from 12th–17th, the Citrine Wagtail was still on Bardsey (Gwynedd) to 14th, and a Red-rumped Swallow at Titchwell (Norfolk) on 15th was presumably that later seen at Cley on 17th. A Short-toed Lark was on St. Mary's (Scilly) on 15th–16th.

Buff-bellied Pipit, Baile an Reannaigh, Kerry (Photo: Ed Carty)
A fine male Pied Wheatear performed well on Holy Island (Northumberland) on 14th although it had gone by the following day, and a White's Thrush was trapped and ringed at Brevig, Barra (Outer Hebrides) on 13th. Hoopoes bizarrely showed up on Rathlin Island (Antrim) and Out Skerries (Shetland), while a second Scottish bird was at Buddon Ness (Angus & Dundee) on 12th.

Pied Wheatear, Holy Island, Northumberland (Photo: Andy Mould)
The first Radde's Warbler of 2012 was trapped and ringed at Spurn (E Yorks) on 11th, and a Dusky Warbler was at Symbister, Whalsay (Shetland) the following day. Portland (Dorset) scored a first-winter Subalpine Warbler on 14th. The week's two Greenish Warblers were both in Cork, at the Old Head of Kinsale on 12th and at Three Castles Head on 17th. A Hume's Leaf Warbler at Cambois (Northumberland) was reasonably early, and the first Pallas's Warblers of the autumn also chose to show up this week.

Hume's Leaf Warbler, Valyie, Unst, Shetland (Photo: Brydon Thomason)

Pallas's Warbler, Knott End-on-Sea, Lancashire (Photo: Geoff Gradwell)
Frustratingly for many, a Lanceolated Warbler at Long Nab, Burniston (N Yorks) on 12th was on private land — it's been a long time since the last mainland bird was accessible! Others were on Fair Isle on 16th–17th and North Ronaldsay on 17th. Last week's Paddyfield Warbler was still at Church Cove (Cornwall) on 13th; the same day, another was reported on St. Mary's Island (Northumberland) with a Blyth's Reed Warbler there the same day. Others were on Shetland (2), Barra and an excellent Irish record from Helvick Head (Waterford) on 15th–16th.

Paddyfield Warbler, Church Cove, Cornwall (Photo: Tom Whiley)

Blyth's Reed Warbler, St. Mary's Island, Northumberland (Photo: Frank Golding)
A minor influx of Hornemann's Arctic Redpolls involved two at Eoropie, Lewis (Outer Hebrides) on 16th with a singleton on the island at Port Nis on 14th. Further birds were on North Ronaldsay and Foula, while the Unst bird was also still present early on. It was therefore a little surprise that a Coues's Arctic Redpoll was found at Valyie, Unst on 13th.
Otherwise, scarce migrants included a typical scattering of Red-breasted Flycatchers, Barred Warblers, Wrynecks and Red-backed Shrikes, while the odd Great Grey Shrike was noted in northern and eastern areas. The Rose-coloured Starling remained on St. Mary's (Scilly), and a Penduline Tit at Dungeness (Kent) on 15th will presumably turn out to be the returning male that has been present for three previous winters.

Red-breasted Flycatcher, Tory Island, Donegal (Photo: Tom Shevlin)

Barred Warbler, Tory Island, Donegal (Photo: Tom Shevlin)

Wryneck, Crymlyn Burrows, Glamorgan (Photo: Mark Hipkin)

Red-backed Shrike, Everleigh, Wiltshire (Photo: Dave soons)

Rose-coloured Starling, St. Mary's, Isles of Scilly (Photo: Steven Fryer)
Photo of the Week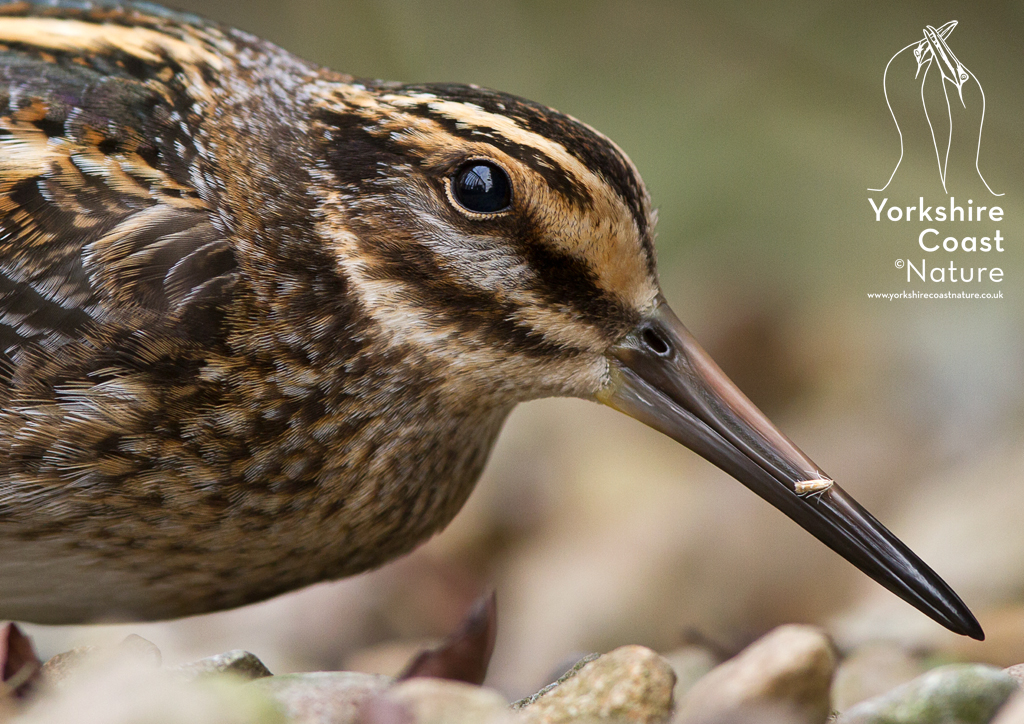 Jack Snipe, Bridlington, East Yorkshire (Photo: Steve Race)
Bird photographer Steve Race has been posting images to BirdGuides for over five years and has now uploaded almost a thousand images. Most of Steve's images are taken along the Yorkshire coast and a good number have appeared in our weekly Notables. This week, Steve uploaded a couple of superb images of a Jack Snipe, our pick of which is an intimate head-and-shoulders close-up taken from the bird's eye level for maximum impact. Often, when seeing an image like this, viewers wonder how on Earth the photographer gained such a photo opportunity. In this case, Steve was kind enough to share the story behind his picture, namely that a couple called him to say they had a strange little bird walking around their back garden. It's easy to dismiss this explanation without further consideration, but that would be to overlook two key factors that help make a bird photographer successful. The first is developing relationships with a network of contacts who will pass on sightings to you and the second is the dedication to follow up on reports even when there's uncertainty about what the outcome will be. Congratulations to Steve for his commitment to his art.
Other notable photos

Hobby, Lackford Lakes SWT, Suffolk (Photo: Bryan Wright)

Merlin, Anthorn, Cumbria (Photo: Roger Ridley)

Slavonian Grebe, Oulton Broad, Suffolk (Photo: Jon Evans)

Jay, North Wirral, Cheshire (Photo: Richard Steel)

Firecrest, Beachy Head, East Sussex (Photo: John Stanton)

Wheatear, undisclosed site, Shropshire (Photo: Dave Barnes)

American Golden Plover, St. Mary's, Isles of Scilly (Photo: Dave Perrett)

Eastern Olivaceous Warbler, Kilminning, Fife (Photo: Mike Thrower)

Paddyfield Warbler, Church Cove, Cornwall (Photo: James Packer)

Lesser Spotted Woodpecker, Scalloway, Mainland, Shetland (Photo: Hugh Harrop)

Dipper, undisclosed site, West Yorkshire (Photo: James Thomas)

Yellow-billed Oxpecker, Uganda (Photo: William Stephens)