The week at a glance
Until this week, the immature Short-toed Eagle had been fleeting in its appearances and somewhat peripatetic since it was initially found in Dorset over two weeks ago. However, it was pinned down in the Ashdown Forest area (E Sussex) on Sunday 15th (following a brief appearance there last week) and finally broke into a more predictable pattern of behaviour. Still there on 17th, it grew fond of a particular tree near the Long car park at Wych Cross and repeatedly inspected the reptile-rich habitat nearby, especially the ridge viewable from the Gills Lap car park. The bird's patient hunting was rewarded with the occasional snack, which appeared to be Slow-worms or young snakes. High-quality photographs of the bird began to emerge, allowing comparison of plumage and feather abrasion with images taken in Dorset and Hampshire, apparently confirming that all sightings indeed involve one and the same bird.
>
Short-toed Eagle, Ashdown Forest, East Sussex (Video: Hegura jima)

Short-toed Eagle, Ashdown Forest, East Sussex (Photo: John Stanton)
Content continues after advertisements

Short-toed Eagle, Ashdown Forest, East Sussex (Photo: Matthew Eade)
A Scops Owl generated a thrill among birders on North Ronaldsay (Orkney) when it flew straight from its roost into a mist net on Sunday 15th. The bird was duly processed and admired before soon being released back into the garden of Holland House, where it showed again in the first few minutes of 16th but not since. With the last twitchable bird at Thrupp (Oxon) being seven years ago now, the crippling photos in the hand saw birders across the country turn veritably green.

Scops Owl, North Ronaldsay, Orkney (Photo: Kevin Woodbridge)
The buzz from the Northern Isles was sustained by the discovery of a Bridled Tern on Fair Isle (Shetland) on Monday 16th. The bird, still present in the Arctic Tern colony at Buness then at South Light on 17th, would inevitably have caused quite a twitch were it not for the availability of last year's individual that was around for seven weeks, mainly on the Farne Islands (Northumberland). In fact, the idea of the Fair Isle bird being last year's individual returning to our shores does not seem overly fanciful. Yet more excitement from Shetland came in the form of a Lesser Grey Shrike at Baltasound, Unst, on 16th and 17th. Further south, another sterling find was a drake Black Scoter off Redcar (Cleveland), first seen off Stray Café on 16th and conclusively identified on 17th when it was watched well into the evening in the company of around 200 Common Scoters.

Bridled Tern, Fair Isle, Shetland (Photo: Roger Riddington)

Bridled Tern, Fair Isle, Shetland (Photo: Roger Riddington)

Black Scoter, Redcar, Cleveland (Photo: David Aitken)
A Black-winged Pratincole present at Hauxley NR (Northumberland) on 12th was a first for the county but unfortunately flew south early in the afternoon, before many could get there. As a number of birders predicted, the next day it was on view at Saltholme RSPB (Cleveland) but its stopover there was even shorter: it stayed for just a little over half an hour but again represented a first for the county.

Black-winged Pratincole, Hauxley NR, Northumberland (Photo: Hector Galley)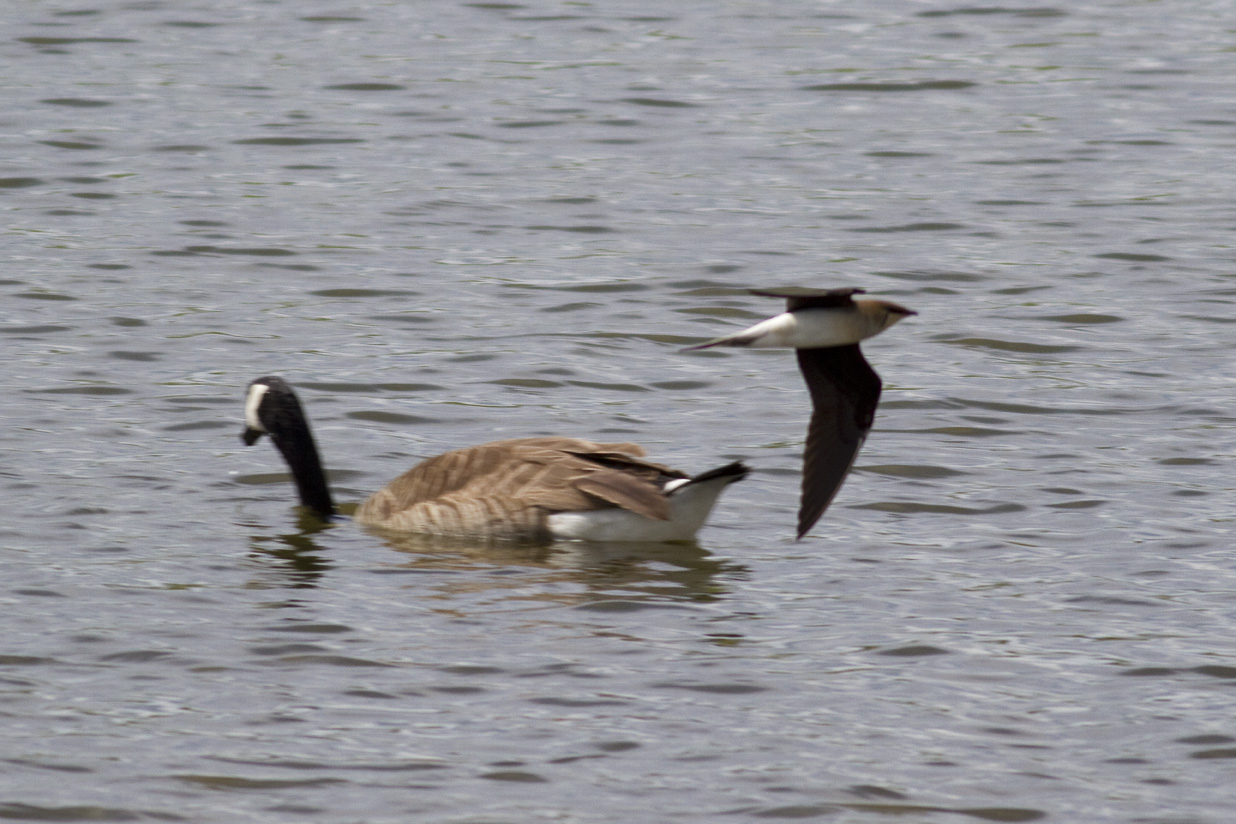 Black-winged Pratincole, Hauxley NR, Northumberland (Photo: Tim Mason)
Still very much a star attraction, even at 16 days of defending a territory, Norfolk's Spectacled Warbler remained at Gun Hill Dunes, Burnham Overy, to 17th, having performed to another grateful weekend crowd. The Ross's Gull was still at Bowling Green Marsh (Devon) and on the nearby estuary to 17th but the Bonaparte's Gull was a little more mobile, also spending time at Dawlish Warren on 15th and 17th.
>
Spectacled Warbler, Burnham Overy, Norfolk (Video: portmeadowbirding)

Spectacled Warbler, Burnham Overy, Norfolk (Photo: Chris Mayne)

Ross's Gull, Bowling Green Marsh RSPB, Devon (Photo: Mick Davis)
The mighty sound of a Thrush Nightingale in spring is always something to behold, not least when a male proclaims itself in Britain. A one-day wonder went unseen in the Top Fields at Portland (Dorset) but the bird pumped out its voice for several hours on 13th. A good number of other rare and scarce passerines were on offer this week, a Rustic Bunting trapped and ringed at Porth Hellick on St Mary's (Scilly) on 14th being a highlight. A Western Subalpine Warbler was on North Ronaldsay (Orkney) on 17th and another was found on Fair Isle (Shetland) on 13th. All the week's Blyth's Reed Warblers arrived on 13th, and all were on Shetland: one was on Fair Isle and others were on Mainland at Virkie and Scatness (the latter two remaining to 14th). At Tyninghame Bay (Lothian), the male Greenish Warbler sang to 16th and Savi's Warblers stayed at Loch of Strathbeg (Aberdeenshire) to 16th and Walberswick (Suffolk) to 15th. An Icterine Warbler, initially trapped and ringed at Donna Nook (Lincs) on May 30th, was retrapped there on 11th, and a small number of Marsh Warblers were on the Northern Isles this week.

Thrush Nightingale, Portland, Dorset

Rustic Bunting, St Mary's, Isles of Scilly (Photo: Robin Mawer)

Blyth's Reed Warbler, Scatness, Mainland, Shetland (Photo: Steve Minton)

Blyth's Reed Warbler, Pool of Virkie, Mainland, Shetland (Photo: James Wood)
A drake Blue-winged Teal was present at Loch Strathbeg (Aberdeenshire) from 14-16th. The same county held onto its King Eider on the Ythan Estuary to 15th and the Surf Scoter off Murcar Golf Course to 17th. In Highland, the female Surf Scoter was reported on 13th at Dunnet Bay. Other lingering wildfowl included the Lesser Scaup at Frodsham Marsh (Cheshire) to 16th, along with the drake American Wigeon at Loch na Reivil, North Uist (Outer Hebrides), to 16th and another still at Loch of Strathbeg (Aberdeenshire) on 15th, while a new drake was on the river at Port Allen (Perth/Kinross) on 12th. At Tacumshin (Wexford), the drake Green-winged Teal was still in place on 16th and the Ring-necked Duck lingered at Murton GP (Angus & Dundee) to 17th. Two Ring-necked Ducks were still at Lough Beg (Antrim) on 15th, and the same site produced a new Lesser Scaup on 12th (still present on 15th) and a Green-winged Teal on 15th. A Ring-necked Duck was at Loch Tarbhaidh (Highland) on 11th and another new Lesser Scaup turned up at Sandbach Flashes (Cheshire) on 16th, remaining till next day.

Lesser Scaup, Frodsham Marsh, Cheshire (Photo: Pete Mella)

American Wigeon, Hougharry, N. Uist, Outer Hebrides (Photo: John Nadin)
A Black Kite drifted over Ringmer (E Sussex) on 14th; other sightings emerged from Stoney Cross Plain and Portsdown Hill (both Hants) on 12th and 14th respectively. Further north, one flew over Culswick (Shetland) on 13th but the bird in the Bawdsey/Alderton area (Suffolk) on the same day turned out to be an escape when good views revealed that it was bearing colour rings. However, again in Suffolk on 13th, one seen over Walberswick probably referred to a different bird. Two adult Night Herons first seen on 12th proved popular: one was at Pittville Park, Cheltenham (Glos), to 13th and the other at Cosmeston Lakes (Glamorgan) to 15th. An immature at Rainham Marshes (London) was less accommodating, though, being seen only once in flight on the evening of 12th. A White Stork made a brief appearance in a field at Combe St Nicholas (Somerset) on 17th and the two Cattle Egrets were still at Tacumshin (Wexford) on 15th.
Developments from the breeding pairs of Black-winged Stilts on the RSPB reserves at Cliffe Pools (Kent) and Bracklesham Bay (W Sussex) were cause for celebration on 13th when the first chicks hatched at both sites. In the end, four young hatched at Cliffe Pools and the Bracklesham Bay pair produced three. The first successful British breeding attempt since 1987 is looking like it might well be on the cards; you can read more about the story here. A Pectoral Sandpiper that appeared at Swillington Ings (W Yorks) remained to 16th and a Grey Phalarope was on North Ronaldsay (Orkney) from 13th to 17th. The Red-necked Phalarope at Slimbridge (Glos) was reported again on 15th, and one at Eyebrook Reservoir (Leics) was very welcome locally, as was an individual at QEII Reservoir (Surrey) on 12th.

Black-winged Stilt, Bracklesham Bay RSPB, West Sussex (Photo: Gary Loader)

Red-necked Phalarope, Cley Marshes NWT, Norfolk (Photo: Trevor Williams)
A White-winged Black Tern arrived at Cemlyn Bay (Anglesey) on 16th and continued to perform well the next day. The Glaucous Gull at Ardivachar Point, South Uist (Outer Hebrides) lingered to 13th and, on the same island, one was at Peninerine on 15th. Other lone Glaucous Gulls were seen at Burry Holms (Glamorgan) on 14th and Stromness (Orkney) on 17th. The Tresco (Scilly) Iceland Gull flew over Abbey Pool on 11th and the bird on Harris (Outer Hebrides) was at Northton to 14th. A small number of Long-tailed Skuas moved through this week; Northumberland claimed the majority, with single birds past Farne Islands and flying inland at East Chevington on 14th, followed by one past Newbiggin-by-the-Sea the next day. In addition, 14th saw lone birds pass Loch na Muilne, Lewis (Outer Hebrides), and Torness Power Station (Lothian).

White-winged Black Tern, Cemlyn Bay, Anglesey (Photo: Shirley Roulston)
Two Woodchat Shrikes were in Pembrokeshire on 12th, birds at Martin's Haven and St Ann's Head. Approximately 10 Red-backed Shrikes were around the country this week, but Bee-eater numbers dropped off, with singles apparently heard at Hilbre Island (Cheshire) and Potton (Beds) on 11th and 13th respectively constituting the only reports. A Red-breasted Flycatcher was at Bornish, South Uist (Outer Hebrides), on 16th and Common Rosefinches were at Greinetobht, North Uist (Outer Hebrides), and Fair Isle (Shetland), both on 11th, and one was on Inishbofin (Galway) on 17th.
The most popular Rose-coloured Starling of the week was at Lowestoft (Suffolk) from 15-17th but a few others were dotted around: one found at Inishbofin (Galway) on 15th was still present on 17th and another was in a garden at Carrickfergus (Antrim) on 15th, having been there for several days. A garden at Bo'ness (Forth) hosted yet another on 15th but there was no sign on 16th. Mull (Argyll) had one in an area with no general access on 14th; it was probably the bird seen on the island on 12th. Finally, one was at Greinetobht, North Uist (Outer Hebrides) on 11th.

Rose-coloured Starling, Lowestoft, Suffolk (Photo: David Rounce)

Rose-coloured Starling, Lowestoft, Suffolk (Photo: Chris Darby)
A Hoopoe present on the cricket pitch at Ashton Keynes (Wilts) on 15-16th was appreciated by county birders but it was generally a lean week for the species, the only others being at Soar (Devon) on 13th and Mintlaw (Aberdeenshire) on 11th. The only reports of Golden Oriole this week came on 17th from Abberton Reservoir (Essex) and St Mary's (Scilly), and the latter location attracted a Serin which made brief appearances on 14th and 15th. Two female Two-barred Crossbills remained at Tyninghame Bay (Lothian) on 11th but were not reported subsequently.

Hoopoe, Ashton Keynes, Wiltshire (Photo: Gary Cox)
Photo of the Week

Fulmar, Iceland (Photo: Chris Rose)
"I see quite a few 'birds small in the frame' images which use plenty of background or landscape," writes Steve Young. "Some are successful and some less so, but Chris Rose's shot of a Fulmar with a dramatic waterfall backdrop is one that works wonderfully well."
"Taken in Iceland at Skogafoss, Suðurland, it would be spectacular enough without the Fulmar. With the bird small in the frame, however, the power and scale of the waterfall is further enhanced."
"Monochromatic in tone, this is a beautifully exposed image with lots of detail in all areas; you can almost feel the spray surrounding the Fulmar as it glides effortlessly past. Congratulations, Chris — I can imagine this shot as a 30×20 canvas print hanging on a wall somewhere in your home."
Other notable images

House Martin, Swillington Ings, West Yorkshire (Photo: John Derick Elvidge)

Reed Warbler, Lavell's Lake LNR, Berkshire (Photo: David Moran)

Little Owl, undisclosed site, Suffolk (Photo: Ian Clarke)

Swallow, Cannock Chase, Staffordshire (Photo: Derek Lees)

Redstart, Bridges, Shropshire (Photo: Dawn Micklewright)

Great Spotted Woodpecker, undisclosed site, Devon (Photo: Charlie Fleming)

Tree Sparrow, Bempton Cliffs RSPB, East Yorkshire (Photo: Nick Brown)

Starling, Old Hall Marshes RSPB, Essex (Photo: Pixellence)

Black Guillemot, Mousa, Shetland (Photo: Marcus Conway — ebirder)

Great Spotted Woodpecker, Bulgaria (Photo: Mark Walker)

Stonechat, Wayoh Reservoir, Lancashire (Photo: John Barlow)

Tawny Owl, Peatling Magna, Leicestershire and Rutland (Photo: Paul Riddle)