The week at a glance
Another week passes with a familiar story to it; Aberdeen's Harlequin Duck was again top of the pile as it extended its stay on the River Don by another week. Another Harlequin — this time a female — was reported off Brora, Highland, on 17th but subsequent searches failed to yield any further sightings.

Harlequin Duck, Aberdeen, Aberdeenshire (Photo: Ian Curran)
Both American Coots were reported again this week, the bird at Balranald, North Uist, still there on 16th and the Lough Gill, Co Kerry, bird still on 17th. Similarly the Pacific Diver was seen regularly in Mount's Bay, Cornwall, throughout the week and both Black Scoters remained at Rossbeigh, Co Kerry, and Cheswick Sands, Northumberland.
The young drake King Eider continued to show well at times at Maenporth, Cornwall, throughout, and a female was again in Bluemull Sound, Shetland, on 15th. Two White-billed Divers reported on Loch Ewe off Naast, Highland, on 11th weren't seen subsequently, though the usual bird remained faithful to the stretch of water between Burray and South Ronaldsay, Orkney.
One of the highlights of the week was a stunningly showy drake Surf Scoter off Filey, N Yorks, rewarding many observers with their best-ever views of the species in British waters. Others remained in Suffolk/Essex, Lothian, Fife and Co Clare.
Content continues after advertisements

Surf Scoter, Filey, North Yorkshire (Photo: Ian Williamson)

Surf Scoter, Filey, North Yorkshire (Photo: Martin Standley)
Two Lesser Scaup remained at Lough Gill, Co Kerry, with a possible drake on Achill Island, Co Mayo, on 15th and long-stayers still at Cardiff Bay, Glamorgan, and Martnaham Loch, Ayrshire. Irish Ring-necked Ducks were still in Counties Kerry, Waterford and Mayo, and British birds were still at Loch of Skaill, Orkney; Billing Gravel Pits, Northants; and Bray Gravel Pits, Berks. The female Ferruginous Duck continued to show intermittently at Slimbridge, Glos.

Ferruginous Duck, Slimbridge WWT, Gloucestershire (Photo: Chris Teague)
The drake American Black Duck was still on Tresco, Scilly, on 11th and the Blue-winged Teal at The Shunan, Orkney, on 15th. Two female American Wigeon were again on the Gannel Estuary, Cornwall, and the drake was also still in the county at Kingsmill Lake. Others were still in Co Wexford, Nottinghamshire, Aberdeenshire and on Orkney; what was presumably the same bird relocated from Nosterfield, N Yorks, to Swillington Ings, W Yorks, on 14th and then was at nearby Normanton on 16–17th. New Green-winged Teal were at Laytown, Co Meath, from 11th, at Stocks Reservoir, Lancs, on 12th and at Ashleworth Ham, Glos, on 17th, in addition to birds still in Somerset, Cleveland, Dumfries & Galloway, Moray/Nairn and Orkney (2).

American Wigeon, Normanton, West Yorkshire (Photo: Robert Hopson)
The adult Ross's Goose was still at Stobswood, Northumberland, throughout the week. Black Brants were still in Devon, Suffolk, Norfolk and Lincolnshire, with birds at Grainthorpe Haven and Frampton Marsh in the latter county. The Ridgway's Cackling Goose was still at Cults Loch, Dumfries & Galloway, on 11th but has not been reported since. Richardson's Cackling Geese remained in Co Sligo and Argyll, while the Lesser Canada Goose remained at Wexford Wildfowl Reserve.

Ross's Goose, Stobswood, Northumberland (Photo: Frank Golding)
Two Cattle Egrets hung on at Dungeness, Kent, all week and the lone individual was last reported from nearby Hamstreet on 15th. A surprise reappearance came from the Glossy Ibis at Gonalston, Notts, on 12th, which remained to 17th — it was last reported in this immediate area in May 2014. Others also remained at Tramore, Co Waterford, and Fen Drayton, Cambs.
The only shorebird of note was the Lesser Yellowlegs on Rogerstown Estuary, Co Dublin, which was still present on Valentine's Day.
Cheshire's Laughing Gull continued to draw a stream of admirers to New Brighton throughout the week, and the Bonaparte's Gull was again around the helipad at Cardiff, Glamorgan; the Devon Bonaparte's was also seen to 15th. Possible American Herring Gulls included a first-winter at Rufforth, N Yorks, on 12–13th and a second-winter still on the Hayle Estuary, Cornwall.

Laughing Gull, New Brighton, Cheshire (Photo: Colin Bradshaw)

Laughing Gull, New Brighton, Cheshire (Photo: Jim Welford)
It's something of a rarity when Britain outdoes Ireland for Ring-billed Gulls, but that's exactly what happened this week. Nine British birds included Cornish first-winters on the Hayle Estuary and at Swanpool, Falmouth, as well as adults in Hampshire (2), Pembrokeshire, Clyde, Fife and Highland, plus the first-winter still on North Uist. Just eight Irish birds included twos in Bray, Co Wicklow, and Tralee, Co Kerry.

Ring-billed Gull, Lough Foyle, Londonderry (Photo: Christine Cassidy)

Ring-billed Gull, Swanpool, Cornwall (Photo: John St Ledger)
Yet another Richard's Pipit record came from Parton, Cumbria, on 16th; the bird at Breydon Water, Norfolk, was also joined by a second from 15th and others remained at Shell Ness, Kent, and Cloughton Wyke, N Yorks.
A Black-bellied Dipper was a great find along Kelk Beck near Harpham, E Yorks. First reported on 13th, it had been present since 10th and was still there on Tuesday.

Black-bellied Dipper, Harpham, East Yorkshire (Photo: Richard Willison)
Yellow-browed Warblers were reported from Slapton Ley, Devon, and Carminowe, Cornwall, on 15th, while the three Penduline Tits were last reported from Exminster Marshes, Devon, on Valentine's Day. At least one Serin remained at Gunners Park, Essex, all week and a singing male Two-barred Crossbill at Speech House Woodland, Glos, on 15th was something of a surprise. Each of last week's three Little Buntings remained all week — near Marazion, Cornwall, at Forest Farm, Glamorgan, and in Ashdown Forest at Old Lodge, E Sussex.

Little Bunting, Penzance, Cornwall (Photo: John Rowe)
Western Palearctic news
New arrivals were also at a premium around the Western Palearctic, although Kuwait's second-ever Red-breasted Merganser, an adult drake, was at Al-Jahra Pools Reserve on 11th. In Spain the Pygmy Cormorant, Thayer's and Pallas's Gulls all hung around, as did the Brown Shrike at Deltebre, Catalonia.

Brown Shrike, Deltebre, Catalonia, Spain (Video: Ricard Gutiérrez)
In the Netherlands the Dark-eyed Junco again took top billing, with the Oriental Turtle Dove, Long-legged Buzzard and Spotted Sandpiper all still drawing crowds. The Wallcreeper remained at Dinant, Belgium, while a female Snowy Owl was taken into care on Flores, Azores — presumably this is last year's bird making a reappearance.
Finland's 12th Calandra Lark was a surprise mid-winter discovery at Masku. It was first reported on 11th but had already been present for three days and, as the video below demonstrates, has been playing a dangerous game — dodging local traffic. Also in Finland the Black-throated Accentor and Azure Tit hung on for another week at their respective wintering localities.
Calandra Lark, Masku, Finland (Video: maxipoika)
Photo of the Week, 11—18 February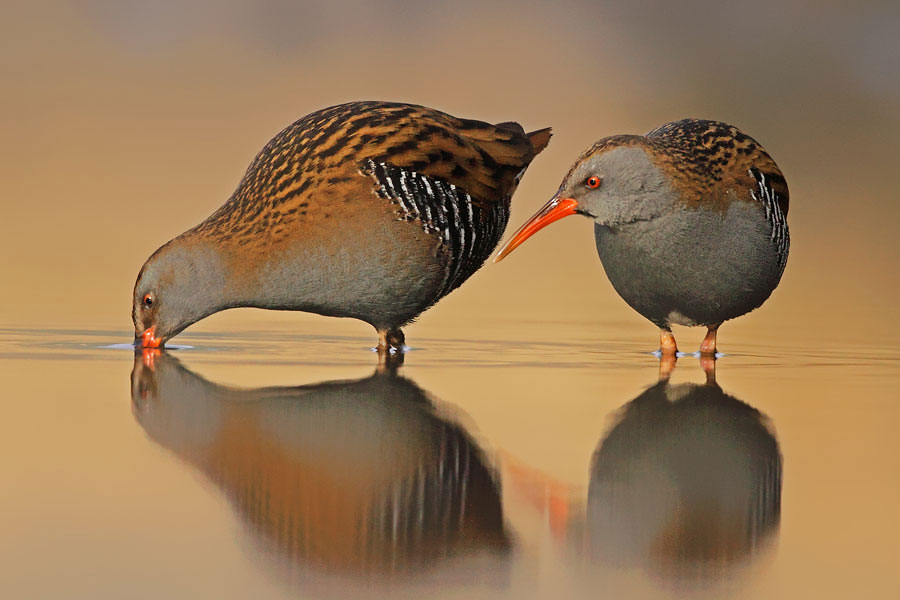 Water Rail, Kirkcudbright, Dumfries & Galloway (Photo: John Dickenson)
Another tough week of judging comes to a close with a number of candidates vying for the winning spot, writes Steve Young. After much deliberation I've finally gone for John Dickenson's superb image of two Water Rails.
Seeing a single Water Rail out in the open can be difficult enough given the naturally elusive nature of the species, but to have two birds together in perfect light, unobscured and with lovely diffuse reflections and colours makes this a POTW with a difference. Congratulations to John on this winning shot.
Other notable images

Iceland Gull, Balloch, Clyde (Photo: Jim Duncan)

Hawfinch, Forest of Dean, Gloucestershire (Photo: Geoff Holland)

Bearded Tit, Lakenheath (Hockwold) Fen, Suffolk (Photo: David Sparrow)

Crossbill, Forest of Dean, Gloucestershire (Photo: Geoff Holland)

Short-eared Owl, Orford, Suffolk (Photo: John Richardson)

Little Owl, undisclosed site, Leicestershire and Rutland (Photo: Paul Riddle)

Mandarin Duck, Cannop Ponds, Gloucestershire (Photo: Norman West)

Pin-tailed Whydah, South Africa (Photo: Charlie Fleming)

Yellow-billed Oxpecker, Gambia (Photo: Dave Williams)

Ptarmigan, Cairn Gorm, Highland (Photo: Dave Hutton)

Long-tailed Duck, Tresco, Isles of Scilly (Photo: Joe Pender)

Jay, Wayoh Reservoir, Lancashire (Photo: John Barlow)