The week at a glance
The highlight of the week was the reappearance of the Oriental Turtle Dove in Chipping Norton (Oxfordshire), minus a few tail feathers courtesy of a local raptor or cat. It rather fortuitously decided to grace the garden of a birder from 12th, though once the ID was confirmed access could only be arranged from 14th. As news broke early in the afternoon, birders had just a couple of hours to take their turn in the queue to view from the kitchen window, with the bird giving incredibly close views to the lucky 50 or so who made it in time. The next day saw a queue of over 600 waiting in the rain, but despite being seen first thing in the morning, it flew off an hour before official viewing was arranged and didn't return for the rest of the day. No kitchen-window access has been possible since, though the bird was still in the garden early in the mornings, including a live appearance on Daybreak on 16th. Just to allay any suspicion of profiteering, the proceeds from the £5 charge will be split between BirdLife International and BirdLife Malta. With the last twitchable bird being of the meena race, this orientalis bird will be doubly popular, with a possible split in the offing. Just to make life interesting, there was also a report of a fly-by Turtle Dove at Crayford Marshes (London) on 15th and one at Folkestone (Kent) on 16th.

Oriental (Rufous) Turtle Dove, Chipping Norton, Oxfordshire (Photo: Roger Wyatt)

Oriental Turtle Dove, Chipping Norton, Oxfordshire (Film: portmeadowbirding).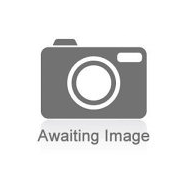 The queue (photo: oldbilluk, on Flickr)
Incredibly, having visited Essex 10 days ago, the adult Slaty-backed Gull was back in London again this week, seen at the landfill site at Rainham Marshes in the early afternoon of 16th. It remained there and on the nearby marshes for three hours before heading off east late afternoon. If it looks to be staying for the weekend it'll be a hard decision for many on Friday evening — dove or gull?
Apart from these two teasing megas, many of the usual suspects also stayed put. Both Pacific Divers remained, at Marazion (Cornwall) on 13th–14th and off Finvarra Point (Co Clare) on 11th–13th. The count of Great Northern Divers here also increased, with a peak of 90 on 12th. Also in Ireland were the American Coot at Termoncarragh Loch (Co Mayo) on 10th and the House Crow still in Cobh (Co Cork).
The only remaining Snow Goose was at Craobh Haven (Argyll) to at least 15th, with one at Filey (North Yorkshire) on 14th reidentified as a hybrid. Two Ross's Geese also remained, with one seen at Burnham Norton and Snettisham (Norfolk) on 11th–12th and the other again on Rockcliffe Marsh (Cumbria) on 15th.
Several new Black Brants appeared during the week, with birds at Elly Bay (Co Mayo) on 10th, Gibraltar Point (Lincolnshire) on 13th, Brancaster (Norfolk) on 14th and two at Rosslare (Co Wexford) on 12th. Other remaining birds included one at Frampton Marsh (Lincolnshire) on 13th and two at Ferrybridge (Dorset) on the same day.
Hampshire's Red-breasted Goose popped over to Freshwater Bay (Isle of Wight) on 12th before returning to Keyhaven Marshes on 14th–16th, with another long-stayer reported at Goose Green (Jersey) on 15th. New birds included one with 200 Greylag Geese at Rossie Bog (Fife) on 12th–13th. This is only the second for Fife, following one at Loch Leven in January 2001. Vagrant Canada Geese included a Lesser at Malin Head (Co Donegal) on 14th and Richardson's at Ballyconnell (Co Sligo) on 14th and Loch Gruinart, Islay (Argyll) on 15th.

Red-breasted Goose, Rossie Bog, Fife (Photo: Jacqui Herrington)
There were more interesting movements of Greylag Geese this week, with a Spanish-ringed bird shot at Shellness (Kent). It had originally been ringed as an adult at Reserva Biologica de Doñana in January 1999, so was at least 14 years old. So it's well worth keeping an eye out for neck-collared birds in amongst your local flocks.
A single Ferruginous Duck was again reported from Chew Valley Lake (Somerset), a timely reappearance following the recent paper in British Birds detailing the probable breeding there in 2003 and 2004. The only other was a possible or hybrid at Brockholes Nature Reserve (Lancashire) on 10th.
Many of the Ring-necked Ducks remained, with birds at Fleetwood (Lancashire), Gwithian (Cornwall), Cowpen Bewley (Cleveland), Loch Evelix (Highland), Lough Cowey (Co Down), Talley Lakes (Carmarthen) and Lough Gash Turlough (Co Clare). The female in Cork City (Co Cork) also reappeared on 14th. There were four new Green-winged Teal this week, at Martin Mere (Lancashire) on 10th–15th, Horbury (West Yorkshire) on 12th, Marloes Mere (Pembrokeshire) on 12th and Stockton-on-Tees (Cleveland) on 16th. Long-stayers were reported at Bowesfield Marsh (Cleveland), Carrowmore Lake (Co Mayo), Kilcoole (Co Wicklow), Hodbarrow (Cumbria) and Loch of Strathbeg (Aberdeenshire). Another long-stayer that was reported again this week was the female Blue-winged Teal at Bull Island (Co Dublin) on 13th.
Drake American Wigeon remained at Rutland Water and Udale Bay (Highland) through the week, and the Lesser Scaup were still present at Slimbridge (Gloucestershire) and Dozmary Pool (Cornwall). The week also saw another female, at Eglwys Nunydd Reservoir (Glamorgan) on 16th.
The Devon Surf Scoter turned up at Dawlish Warren again on 12th–13th, with one still off Ruddon's Point (Fife) to 15th; in Co Clare, a first-winter drake was off Finvarra Point on 13th–14th and a drake was off Black Head on 14th. There were no rare Eiders this week though plenty of Smew remained. The peak counts were still notable, with 21 at Dungeness (Kent), 12 at Paxton Pits (Cambridgeshire) and 10 at Rutland Water.

Smew, Bridge of Don, Aberdeenshire (Photo: Alan Sinclair)
Reports of single Sooty Shearwaters were still coming in, with birds off Selsey Bill (West Sussex) and Flamborough Head (East Yorkshire) on 13th. The only Manxie was past Prawle Point (Devon) on 13th. There was just one White-billed Diver, reported from Port Skigersta, Lewis (Outer Hebrides) on 15th. Also at sea were some early Storm Petrels, with eight off Durlston Country Park (Dorset) on 13th. Also of note were up to 32 Black-necked Grebes at Carrick Roads (Cornwall) on 13th and 39 Slavonian Grebes in Gosford Bay (Lothian) on 12th.
The number of Great White Egrets seems to have really dropped off now, with regular birds reported from Blashford Lakes (Hampshire), Pitsford Reservoir (Northamptonshire) and Hoveringham (Nottinghamshire). New birds were then at Peterstone Wentlooge (Gwent) on 11th, Deal (Kent) on 14th and Minsmere (Suffolk) on 15th–16th. Cattle Egrets were more numerous, though, and let's hope the one remaining at St Winnow (Cornwall), to at least 14th, might meet the two reported at Lelant Saltings on the same date. Presumably it was one of these birds that was seen going to roost over Wadebridge (Cornwall) on 16th. Elsewhere, one was still at Shapwick Heath (Somerset) to at least 14th, one was at Alderholt (Dorset) on 16th and another was reported from North Hykeham (Lincolnshire) on 15th.
Spoonbills remained in small groups in Cornwall, Devon, Norfolk and Co Cork and new birds also continued to turn up. These were all singletons, at Timoleague (Co Cork) on 12th, the National Wetlands Centre (Carmarthen) on 14th–16th and Fremington Quay (Devon) on 14th. Perhaps because the weather has warmed somewhat, reports of Bitterns were fewer in number, although four at Testwood Lakes (Hampshire) on 14th was notable. There was also an unusual report of an immature Little Bittern in a horse paddock at Leasowe (Cheshire), although the description could also have fitted several other species.
Content continues after advertisements
Aside from the wintering Rough-legged Buzzards in Norfolk, Lincolnshire, South Yorkshire and Shetland, new birds were reported from Old Moor (South Yorkshire) on 11th–12th and Stainborough Castle (South Yorkshire) on 15th, and two were on Mickleton Moor (Durham) on 12th–15th. It was a full house for Northern Harriers, with birds still at Thornham and Titchwell (Norfolk) and Tacumshin (Co Wexford), and the Cornish bird was seen at Skewjack on 10th. Also in Cornwall, the possible Tundra Peregrine was at Walmsley Sanctuary (Cornwall) to at least 13th. In Scotland, a grey-morph female Gyr Falcon was at Drumguish (Highland) on 11th, found by birders watching the Great Grey Shrike there. After its wanderings last week, the White-tailed Eagle was back at Hordle (Hampshire) again on 12th.

Gyr Falcon, Drumguish, Highland (Photo: Marcus Conway — ebirder)
The Long-billed Dowitcher remained at Poole Park (Dorset) to at least 14th, still sharing the site with the first-winter Ring-billed Gull, which remained all week. Several other Ring-billed Gulls remained at regular sites, including two still at Nimmo's Pier (Co Galway). Three new birds were all in Ireland, at Annagh Head (Co Mayo) on 10th and an adult and juvenile in Sligo City during the week. There was also a report of a probable at Wanstead Flats (London) on 11th.

Long-billed Dowitcher, Poole, Dorset (Photo: Darren Evans)

Long-billed Dowitcher, Poole, Dorset (Photo: Gary Thoburn)

Ring-billed Gull, Poole, Dorset (Photo: Dave Hutton)
Glaucous Gulls were relatively widespread with new birds at several sites, all singletons. Iceland Gulls were equally widespread, with two birds reported from Enniskillen (Co Fermanagh), Richmond Bank (Cheshire) and Strathclyde Loch (Clyde), all on 11th. There were no reports from Wales and only one in the Northern Isles, and the only other Irish report was of an adult and three juveniles at Killybegs (Co Donegal) on 12th, where there was also an adult Kumlien's Gull. The adult American Herring Gull was at Nimmo's Pier (Co Galway) on 12th–13th.

Glaucous Gull, Dungeness, Kent (Photo: Gavin Coultrip)

Iceland Gull, Lowestoft, Suffolk (Photo: Adi Sheppard)
Last but not least, an adult Bonaparte's Gull was at Dulas Bay (Anglesey) on 12th–13th, moving to nearby Lligwy Bay on 16th. You wonder if this is a returning bird, as previous Anglesey records include an adult in Dulas Bay in September 2009 and in Lligwy Bay in January and March 2010, with the only other record back in 1998.
Back in Ireland, the Forster's Tern was at Doorus (Co Galway) on 11th and back at Nimmo's Pier on 12th–16th, seen with up to 8 Sandwich Terns. The only other Sandwich Tern reported was in Portland Harbour (Dorset) on 16th.
Various small groups of Shore Larks remained, though smaller in number, peaking at 11 at Dingle Marshes (Kent). The only new birds to turn up were four at Landguard Nature Reserve (Suffolk) on 11th, and the only western bird remained at Warton, near Carnforth (Lancashire) to 11th. In contrast to these wintry visitors, the first returning migrants reached Cornwall, with a Wheatear at St Mawes on 15th and a Swallow over Camelford on 16th. Residents were also getting in on the act, with reports of nest-building by Robins, Blackbirds and Goldfinches.
The pattern of Waxwing records was back to normal, with most birds in central and southern England. There were none in Wales or the southwest and the only Irish records were 24 in Belfast (Co Antrim), 12 at Dundalk (Co Louth), 6 at Marlbank (Co Fermanagh) and one in Galway City. The biggest flocks reported were 250 at Chorlton-cum-Hardy (Gtr Manchester), 200 in Heaton Moor (Gtr Manchester), 200 at Upminster (London) and 160 at Sunbury (Surrey).

Waxwing, Redditch, Worcestershire (Photo: Mr Clive Daelman)
The spread of Great Grey Shrike records changed again, with birds quite widely spread across around 20 sites. The only Welsh bird remained at Wentwood Forest (Gwent) to 12th and new birds were at the traditional site of Santon Downham/Lynford Arboretum (Norfolk) and at Agden Reservoir (South Yorkshire).

Great Grey Shrike, Dewar Hill, Borders (Photo: Mike Thrower)
The first-winter Rose-coloured Starling remained in Penzance (Cornwall) all week, and at least two Coues' Arctic Redpolls were still at Rainton Meadows (Durham). Another was also in the county, at West Boldon on 12th.
Small numbers of Lapland Buntings remained, mostly in the south. The only double-figure count was 15 at Weybourne (Norfolk), and in the west singletons were at Llanon (Ceredigion) and Slimbridge (Gloucestershire), both on 16th. Also of note were three Snow Buntings at Baildon Moor (West Yorkshire) from 11th–16th. The five Northern Long-tailed Tits remained at Dymchurch (Kent) to at least 13th, and the Central Asian Lesser Whitethroat was at Drogheda (Co Louth) all week.

Northern Long-tailed Tit, Dymchurch, Kent (Photo: Peter Solly)
Photo of the Week: 10th–16th February 2011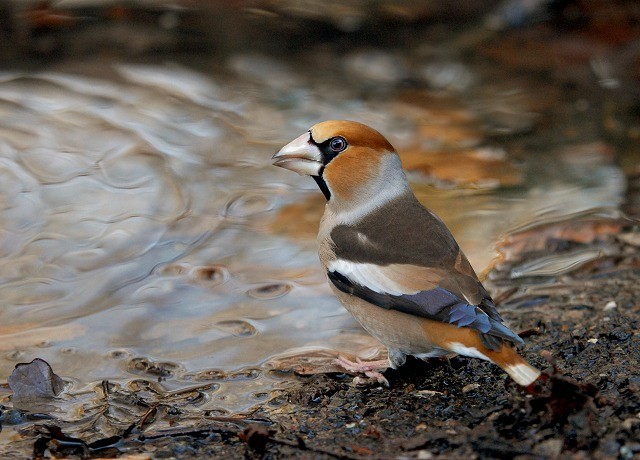 Hawfinch, undisclosed site, Shropshire (Photo: John Robinson)
Bird photographer John Robinson has been posting images to BirdGuides since 2004, mostly from the Wyre Forest in Worcestershire. John's speciality is woodland birds and his first Photo of the Week was of a Hawfinch taken in 2005. Since then, the number of Hawfinch photos we've received has increased nearly tenfold, but this continues to be a challenging species to photograph well, especially in the UK. The main difficulty is that these birds spend most of their time either high in the trees or down on the ground, making it difficult to get pleasing shots. It is particularly difficult to get 'clean compositions' in which these birds are isolated from their backgrounds, so the best option is normally to go for 'environmental shots' in which the setting is made into a feature. This is much easier said than done, but John has illustrated how this can be done with his latest shot of a Hawfinch drinking from a woodland pool. As John says, he's had this shot in mind for 50 years, so it's great to see his vision realised. In addition to the great pose and setting, it's wonderful to be able to work through all the different colours of the bird and see them duplicated in the background, and vice versa. It makes you realise the striking plumage of these birds is no accident: it provides protection at the time of their greatest vulnerability. John has captured that moment.
Other notable photos

Short-eared Owl, undisclosed site, Lincolnshire (Photo: Pauline Greenhalgh)

Siskin, Ayr, Ayrshire (Photo: Chas Moonie)

Whooper Swan, Martin Mere WWT, Lancashire (Photo: David Cookson)

Little Egret, Lympstone, Devon (Photo: Charlie Fleming)

Long-billed Dowitcher, Poole, Dorset (Photo: Dave Hutton)

Lesser Redpoll, Blashford Lakes HWT, Hampshire (Photo: Russ Tofts)

Rook, Ramsey, Isle of Man (Photo: Sean Gray)

Pallid Swift, Qatar (Photo: John A Thompson)

Jay, North Wirral, Cheshire (Photo: Richard Steel)

Bearded Tit, Belarus (Photo: Dmitry Yakubovich)

Mediterranean Gull, Mumbles Head, Gower, Glamorgan (Photo: Jim Almond)

Houbara Bustard, Canary Islands (Photo: Stephen Burch)

Bullfinch, undisclosed site, Derbyshire (Photo: Robert Askew)

Crested Tit, undisclosed site, Highland (Photo: Jim Duncan)

Thekla Lark, Spain (Photo: Steve Fletcher)

Snow Bunting, Kinmel Bay, Conwy (Photo: Malc Wright)

Mute Swan, Keyhaven Marshes, Hampshire (Photo: Adam Hough)