The week at a glance
There was a slightly chillier spell of winter weather for much of the country this week, apparently hinting at something altogether nippier that could be with us soon. Time will tell as to whether the predicted cold snap ahead will be a genuine blast of pre-Christmas winter weather or just a bit of frost and an occasional snow flurry. More importantly, will any cold snap enliven the birdlife on offer?
Very little changed this week: a quiet week passed by with few surprises (as may be expected at this time of year). In Surrey, the handsome first-winter Brown Shrike was still on Staines Moor (heading towards 70 days now — 67 notched up by 16th) and still seemed to be enjoying its winter quarters. Down in Cornwall, the adult Pacific Diver was reported again out in Carbis Bay on 13th.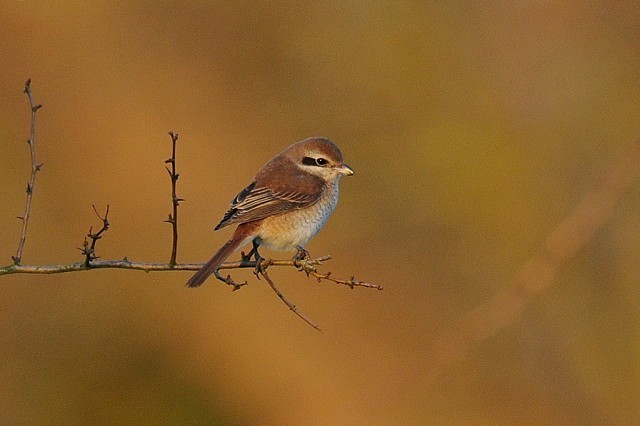 Brown Shrike, Staines Moor, Surrey (Photo: Tom Hines)
On Shetland, an adult White-billed Diver was seen off the north end of Fetlar on 11th but a lack of any convincing weather saw a pretty low yield of seabirds during the week. Balearic Shearwaters were noted in Cornwall, East Yorkshire and off the Jersey coast, while just three Pomarine Skuas were noted, all of them off the east coast of England. A single Grey Phalarope was noted, at Burry Port (Carmarthenshire) on 10th while five Little Auks were seen in three counties, including three off Kingsdown (Kent) on 12th.

Pomarine Skua, Hauxley NR, Northumberland (Photo: E Barnes)
Worcestershire's first ever Glossy Ibis was seen again at Holt Fleet on 10th–15th and the first-winter bird at Tacumshin (Co. Wexford) was still present on 13th–14th (having last been reported on 15th November). Another lone bird spent 25 minutes at Ham Road GPs (Kent) on 16th. In Somerset, the three first-winters remained at Catcott Lows to 14th and the duo at Dungeness (Kent) were still present to the middle of the review period at least, along with the Great White Egret. Two birds were seen at Grange-over-Sands (Cumbria) on 13th and two were at Pitsford Reservoir (Northamptonshire) on the same day (a single bird had been here for several days prior to this). New singles were noted in Somerset, Cambridgeshire, Angus and Aberdeenshire this week, while more familiar birds from previous days, weeks and months remained in Hampshire, Suffolk, Warwickshire (possibly heading in to Staffordshire on 14th), Lancashire and Fife.

Glossy Ibis, Holt Fleet, Worcestershire (Photo: Philip John Parsons)

Great White Egret, Bolton-le-Sands, Lancashire (Photo: Derek Mackie)
Three Cattle Egrets remained near Walton (Somerset) throughout the week and two birds were seen near Saltash (Cornwall) on 13th and Pennington Marshes (Hampshire) on 16th. Single birds were at Lydd (Kent), Isley Marsh (Devon), Timoleague (Co. Cork), and on Jersey one at Grouville Marsh became two on 15th. Two groups of five Spoonbills were seen on 13th in Cornwall, in the north of the county at Dinham Flats, and in the southeast at Wacker Quay. Half a dozen lingered around Isley Marsh throughout the week, while only three were noted in the Poole Harbour area (and three were still in County Cork too). Two birds were still around Scilly and two remained at Abberton Reservoir (Essex). A lone Spoonbill was seen in Cheshire, at Ince Marshes, on 10th. A group of 30 Common Cranes was seen around the Horsey area of east Norfolk on 11th and five were at Lakenheath (Suffolk) on 15th.
In Lancashire, the four white Snow Geese were still around the Aldcliffe Marshes until the weekend at least, while the (surprisingly) hard-to-find Snow Goose in Norfolk appeared in fields near Titchwell on 13th–15th. Further single white Snows were seen in Perth & Kinross and (back again) in Argyll, at Craobh Haven. In Donegal, a blue Snow Goose was at the Big Isle with Greenland White-fronted Geese on 12th and the blue Snow Goose in northeast Scotland was seen again on 14th, this time at Loch of Skene (Aberdeenshire).

Snow Goose, Titchwell (village), Norfolk (Photo: Graham Ruffles)
In Devon, the adult Red-breasted Goose continued to be the subject of some debate as to exactly where it might have come from; it remained around the fields at Topsham to 14th. Three Black Brants were back together again at Wyke Regis (Dorset) on 13th, with singles still present in Hampshire, Norfolk, Lincolnshire and Wexford, while new arrivals were seen at Pagham Harbour (West Sussex) on 12th and Ballyneety (Co. Waterford) on 13th. Vagrant Canada Geese this week included single "Small" Canada Geese at Balephetrish and Ruaig, Tiree (at least one a confirmed Richardson's) while another Richardson's Canada Goose was seen at Grainel, on Islay, on 12th. In Sligo on 16th a second small bird, presumably another Richardson's, joined the two birds that have been in place for the past few weeks around Lissadell.
A drake Black Duck was a neat find on Tresco (Scilly) on 10th (the bird was seen again the following day and again on 16th). The second drake Black Duck of the week was seen on Sruhillbeg Lough, Achill Island (Co. Mayo) on 14th (presumably the same drake that was seen here in February). Also in Ireland, the female Blue-winged Teal was still at North Bull Island (Co. Dublin) over the weekend, while the week's tally of drake Green-winged Teal was just five (or six), including birds at three different sites in Dumfries & Galloway (Caerlaverock, Kildrochat and West Freugh Airfield). Others were seen in Leicestershire, Warwickshire and Moray. The drake American Wigeon was again at Welney (Norfolk) on 13th–16th and further drakes remained on Castle Loch (Dumfries & Galloway) to 14th and on The Gearagh (Co. Cork) to 16th.

Green-winged Teal, Caerlaverock WWT, Dumfries & Galloway (Photo: Brian Henderson)

American Wigeon, Welney WWT, Norfolk (Photo: Simeon Grundy)
A drake Lesser Scaup was at Lough Sheelin (Cavan) on 14th (one was seen here in February this year) and a second Irish drake was on Loughrea (Co. Galway) on 16th. Ireland also hosted single drake Ring-necked Ducks at Dooniskey (Co. Cork) on 13th and (returning to) Cornabrass Lough (Co. Fermanagh) on 16th, while in Wales, the female was at Llyn Rhosrhydd (Ceredigion) throughout the week. On the Scottish islands, a female was on North Ronaldsay on 14th. England's only Ring-necked Duck was the drake at Foxcote Reservoir (Buckinghamshire) on 11th. Drake Ferruginous Ducks were at Pugney's CP (West Yorkshire) and Cheddar Reservoir (Somerset) this week and the female remained at Abbotsbury (Dorset) — all three birds were present to 14th at least.

Ferruginous Duck, Pugney's CP, West Yorkshire (Photo: Dennis Bell)
Content continues after advertisements
Single female Surf Scoters were seen at Dawlish Warren (Devon), Ruddon's Point (Fife) and Hough Bay, Tiree (Argyll), two drakes were in the Sound of Taransay (Outer Hebrides) on 14th and a single drake was around Inganess Bay (Orkney) during the week. The drake King Eider at Burghead (Moray) was still present from 10th–12th and in Cleveland, a Hooded Merganser (of unknown origin) was at Saltholme Pools on 14th.
In a very quiet week for birds of prey, a Rough-legged Buzzard seen near Feltwell (Norfolk) was the only raptor of note.
In Cumbria, at Port Carlisle, the Long-billed Dowitcher was seen again from 12th–16th (having last been reported there on 27th November). In Lothian, the Lesser Yellowlegs remained at Aberlady Bay until 15th and the Baird's Sandpiper reappeared at Barns Ness on 15th–16th, having been missing for a week. The four Spotted Sandpipers (in Devon, Hampshire, Essex and Clyde) were all still in place to 13th at least.

Long-billed Dowitcher, Port Carlisle, Cumbria (Photo: Chris Barlow)

Lesser Yellowlegs, Aberlady Bay, Lothian (Photo: Craig shaw)
At least 14 Iceland Gulls included three in counties around the Midlands, three in Scotland and six birds in Ireland, while 10 Glaucous Gulls included two at Loch Spynie (Moray) on 12th.

Glaucous Gull, Seton Sands, Lothian (Photo: Mike Thrower)
An Ring-billed Gull was back again at Kinneil Lagoon (Forth) on 10th (an adult was seen here on 10th February this year — an adult has been seen here on several dates annually since September 2005). Other regular adults this week were in Hampshire, Essex and Derbyshire, while in Ireland six adults included two at Nimmo's Pier (Co. Galway) on 12th–16th, one (with a second-winter) at Clonakilty (Co. Cork), a returning adult in Sligo, another at Cobh (Co. Cork) and one at Killybegs (Co. Donegal) — this famous gulling hotspot has only recorded a handful of Ring-billed Gulls over the years, and the bird there on 12th is the first this decade. In Cornwall, a third-winter type Ring-billed Gull was reported from Hannafore Point on 13th, along with an Iceland Gull and a Sabine's Gull (though there was no sign of any of them the following day). Back in Galway, the adult Forster's Tern was again off Mutton Island on 16th.

Ring-billed Gull, Cobh, Cork (Photo: Ronan mclaughlin)
Numbers of Caspian Gulls rose to at least 23 this week, with as many as six in Northamptonshire, including four birds at Ditchford GPs on 11th. A further 11 counties recorded this delightful gull during the week, including doubles for London, Suffolk, Warwickshire and Staffordshire. Also in London, a probable Azorean Atlantic Gull (form atlantis) was reported from Rainham Marshes on 11th.

Caspian Gull, Minsmere RSPB, Suffolk (Photo: Jon Evans)
A single Waxwing was seen in Suffolk this week; hopefully any predicted cold snaps may throw some more our way. A Richard's Pipit was seen at Porth Colman (Gwynedd) on 12th and another, also in Wales, was at Angle Bay (Pembrokeshire) on 16th.
Seven Great Grey Shrikes this week included two in Argyll (singles still at Kilmartin and Slockavullin), with further singles in Glamorgan (at Perthcelyn), in Somerset (at Flax Bourton), in Hampshire (again at the Holmsley Inclosure), in East Sussex (at Pannel Valley NR) and still in Norfolk (at Dersingham Bog).

Great Grey Shrike, Dersingham, Norfolk (Photo: John Hague)
Four Yellow-browed Warblers were seen this week: one remained at Maesteg (Glamorgan) until 10th, when one was noted on Tresco. Two singles were in Cornwall, at Gunwalloe on 13th and at Par on 14th–15th.

Yellow-browed Warbler, Gunwalloe, Cornwall (Photo: Steve Bury)
The Rose-coloured Starlings at Forest Hill (Oxfordshire) and New Hutton (Cumbria) were still present throughout much of the week. In Kent, a Penduline Tit was still at Dungeness on 14th, with two again on 16th, and two Serins were still at Rainham Marshes until 13th (with one there to 15th).

Rose-coloured Starling, New Hutton, Cumbria (Photo: Craig Shaw)
Photo of the Week

Pheasant, Summer Leys LNR, Northamptonshire (Photo: John Betts)
Although their presence in the UK is the result of introduction by Man, Common Pheasants have become a recognised feature of our countryside. These stunning birds have become especially associated with Christmas time and are probably second only to the Robin as a Christmas card bird. This week, then, it was wonderful to receive a particularly festive series of Pheasant images from bird photographer John Betts, featuring a flying male bird in golden winter sunlight. Our favourite freezes the bird in a dramatic alighting pose, perfectly lit and with great eye contact. Beyond their aesthetic value, John's images have shown how bird photos can spark important debates, in this case about the pros and cons of the game shooting industry. All in all, they've certainly earned John a well-deserved Photo of the Week.
Other notable photos

Water Rail, Marshside RSPB, Lancashire (Photo: Tom Charles)

Red Kite, Gigrin Farm, Powys (Photo: Ben the plumber)

Common Kingfisher, undisclosed site, Worcestershire (Photo: Mike Lane)

Great Crested Grebe, Yarrow Valley CP, Lancashire (Photo: David Cookson)

Barn Owl, undisclosed site, Worcestershire (Photo: Mark Hancox)

Snow Bunting, Salthouse, Norfolk (Photo: David Whistlecraft)

Jay, private site, Cheshire (Photo: Steve Round)

Tufted Duck, North Wirral, Cheshire (Photo: Richard Steel)

Moorhen, Salthouse, Norfolk (Photo: David Whistlecraft)

European Stonechat, Minsmere RSPB, Suffolk (Photo: Jon Evans)

Common Buzzard, Cwm Rheidol Reservoir, Ceredigion (Photo: Kev Joynes)

Common Redshank, Salthouse, Norfolk (Photo: Nigel Pye)

Great Northern Diver, Covenham Reservoir, Lincolnshire (Photo: Dean Eades)

Black-necked Grebe, Priorslee Lake, Shropshire (Photo: Jim Almond)

Mediterranean Gull, Scarborough, North Yorkshire (Photo: Steve Race)

Pomarine Skua, Hauxley NR, Northumberland (Photo: Alan Gilbertson)

American Dipper, Canada (Photo: Carl Wright)

Splendid Fairy Wren, Australia (Photo: Paul Bruty)

House Crow, India (Photo: Jaysukh Parekh Suman)