The week at a glance
The highlight of an improving seven days was a spectacular adult Royal Tern at Roonagh Lough, Co Mayo, on 16th. This greatly underwatched stretch of coastline bursts with promise and a rarity of this magnitude — a potential second for Ireland (ignoring a tideline corpse in Co Dublin in the Fifties) — is a fitting discovery. It was still present early on 17th and there is no doubt that many birders, both Irish and British, will be hoping it bucks the trend for the species and becomes twitchable.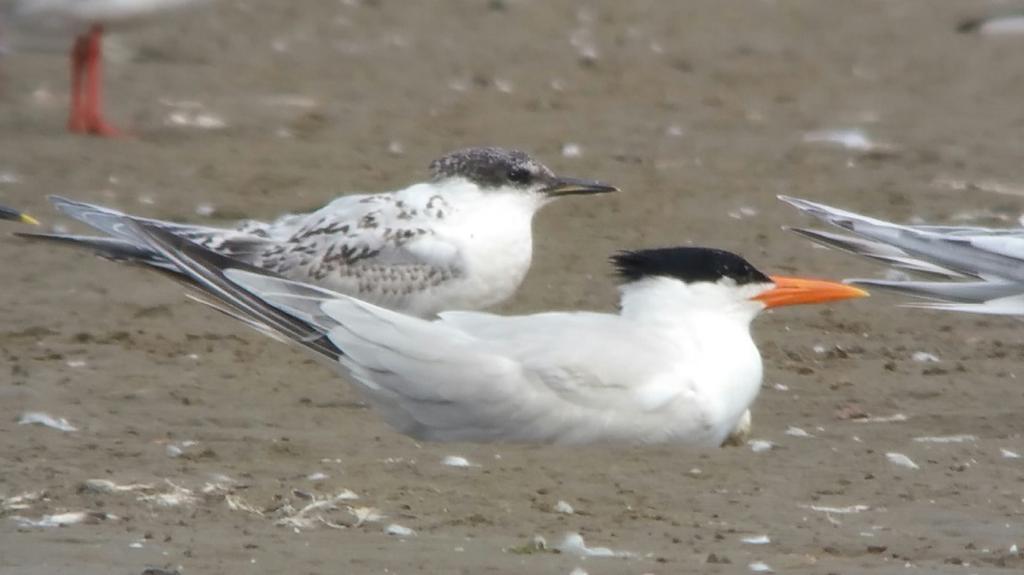 Royal Tern, Roonah Lough, Mayo (Photo: Dermot Breen)
It's been a fine week for shorebirds of a Nearctic flavour, the standout discovery being an adult Solitary Sandpiper at Cloghaun Lough, just east of Kilbaha, Co Clare, on 15th. This represents the first county record and just the seventh for Ireland (compared to 36 British occurrences). It was still present on 16th. But it was the presence of a Least Sandpiper on the same small waterbody that made the (joint) occurrence so extraordinary. Apparently found on 14th, it was still there alongside the Solitary on Tuesday and Wednesday, creating a double-act more akin to something you'd have hoped for at the legendary Akeragh Lough back in the Sixties.

Solitary Sandpiper and Least Sandpiper, Cloghaun Loch, Clare (Photo: Paul Connaughton)
The Least was actually one of two noted this week, continuing the fantastic run of records in Western Europe this August. The other was at Tacumshin, Co Wexford (where else?!), on 13th, that bird capping another fine week for the talismanic Irish site, which also produced two Red-necked Phalaropes on 10th, adult American Golden Plover on 12th and adult Pacific Golden Plover (a different bird to that seen in July) on 14th.
It's been a great August for Spotted Sandpipers, with the first juvenile of the autumn discovered on Tiree, Argyll, on 14th early, but by no means a European record — for example one was in Galicia, Spain, on 2 August 2009). An adult was found near Dunbar, Lothian, on 15th and last week's birds at Hauxley, Northumberland, and Aveton Gifford, Devon, were also still in residence — the former proving much more confiding than it had previously.

Spotted Sandpiper, Dunbar, Lothian (Photo: Kris Gibb)

Spotted Sandpiper, Hauxley NR, Northumberland (Photo: Frank Golding)
An early juvenile Lesser Yellowlegs arrived at Broadmeadows Estuary, Co Dublin, on 11th and showed well daily thereafter; elsewhere, adults were at Ring Marsh, Co Wexford, on 14th and White's Marsh, Co Cork, on 15th, the latter moving to nearby Clogheen Marsh the following day. A superb adult White-rumped Sandpiper showed gloriously in puddles at Girdle Ness, Aberdeenshire, from 10th, while the adult was last seen at Belfast Lough, Co Antrim, on the same date. A total of seven Pectoral Sandpipers were recorded, all but one in eastern counties, while the Semipalmated Sandpiper was last noted on the Gann Estuary, Pembrokeshire, on 10th. An adult Buff-breasted Sandpiper took a liking to the sixth hole at Narin and Portnoo Golf Club, Co Donegal, on 15th. Cornwall's Hudsonian Whimbrel shows no signs of leaving as it played out another week on the rocks at Perranuthnoe. Further Red-necked Phalarope records came from Unst, Shetland, on 12th and Snettisham, Norfolk, all week, while a Grey Phalarope dropped in briefly at Frampton Marsh, Lincs, on 15th. A Kentish Plover visited Pegwell Bay, Kent, on 10th, and an unidentified pratincole tantalised observers in flight at West Canvey Marsh, Essex, on 13th.

White-rumped Sandpiper, Girdle Ness, Aberdeenshire (Photo: John McHale)
But the week's big news (Royal Tern aside) concerned the return of a face last seen in July 2013. A Swinhoe's Storm-petrel, trapped on Fair Isle in the early hours of both 14th and 15th, proved to be ringed — and was quickly determined as the first of the two birds seen on the same island back in 2013. Trapped and processed on 27 July of that year, this bird hasn't been seen since, so it was a bit of a surprise when it turned up in the nets two nights running this week!

Swinhoe's Storm-petrel, Fair Isle, Shetland (Photo: Lee Gregory)
With settled weather in the southern half of the country, seawatching was generally quite quiet, so a Wilson's Storm-petrel distantly past Porthgwarra, Cornwall, on 12th was notable. Other Wilson's included one from a Scilly pelagic on 12th, two seen from Cork pelagics on both 12th and 13th and one from a pelagic out of Dingle, Co Kerry, on 16th. Both Cory's and Great Shearwaters were limited to ones and twos at just a few sites. An adult Sabine's Gull from a Scilly pelagic on 13th was one of just three this week.

Sabine's Gull, Staffin Bay, Skye, Highland (Photo: Nick Davies)
Aberdeenshire's American White-winged Scoter was still off Murcar Links, Aberdeenshire, all week and at least one drake Surf Scoter also remained. A drake Ring-necked Duck was at Loch of Bosquoy, Orkney, on 14th, and a drake Ferruginous Duck was found at Cotswold Water Park, Wilts, on 15th.

American White-winged Scoter, Murcar GC, Aberdeenshire (Photo: Kris Gibb)
The only White Stork this week was escapee 'Z1213', which was still favouring the Wye Valley in Herefordshire to 14th. Glossy Ibises were logged at nine sites and the Dalmatian Pelican lazily saw out another week at its currently favoured location of Restronguet Creek, Cornwall.

Dalmatian Pelican, Restronguet Creek, Cornwall (Photo: Martin Webb)
Last week's Squacco Heron wasn't seen again in north Lincolnshire but Oxfordshire's Purple Heron remained relatively reliable on Otmoor to at least 15th. Other Purple Herons included a fly-over at Bawdsey, Suffolk, on 14th and a juvenile at Reculver, Kent, on 15th. The first Night Heron for several weeks was an adult visiting a garden pond in Nuneaton, Warks, on 13th. Cattle Egrets continued at Tacumshin, Co Wexford, and Marshside, Lancs, all week.

Squacco Heron, Barton-upon-Humber Pits, Lincolnshire (Photo: Wayne Gillatt)

Cattle Egret, Marshside RSPB, Lancashire (Photo: Carl Fletcher-Poole)
A Black Kite between Waterville at Cahersiveen was a great record for Co Kerry on 15th; news also came in that day of another Black Kite apparently present in the Cottingham area of Northamptonshire in recent weeks.
Somewhat surprisingly there were no reports of Northumberland's Bonaparte's Gull this week, but the Kent bird remained at Oare Marshes to 15th. Good numbers of Caspian Gulls included eight at Walberswick, Suffolk, on 13th and five in the Great Livermere area on 11th. An adult Ring-billed Gull was reported on the Camel Estuary, Cornwall, on 16th.
A European Bee-eater flew over Walberswick, Suffolk, on 16th. The Melodious Warbler at Portland Bill, Dorset, on 16th represents a very typical early autumn record. Given the forecast for coming days, Icterine Warblers on Great Saltee, Co Wexford, on 14th, Fair Isle on 15th and in Norfolk and Scilly on 16th will likely prove the harbingers of a decent arrival. The same should apply to Wrynecks seen in Suffolk on 15th and Pembrokeshire and Guernsey on 16th, while the Greenish Warblers at Gibraltar Point, Lincs, Flamborough Head, E Yorks, and Winterton Dunes, Norfolk, on 16th were right on cue. Always difficult to catch up with, the Aquatic Warbler at Titchfield Haven, Hants, on 13th was trapped, ringed, released and typically not seen again. Another at Pagham Harbour, W Sussex, early on 16th was also a brief affair.

Aquatic Warbler, Titchfield Haven NNR, Hampshire (Photo: Trevor Codlin)

Icterine Warbler, Fair Isle, Shetland (Photo: Lee Gregory)
Western Palearctic news
Denmark's seventh Laughing Gull was on the island of Bornholm on 16th, while the country's recent Demoiselle Crane was relocated in Poland's Barycz Valley on 12th.
The Arabian Golden Sparrow continued to frequent the International Birdwatching and Research Center at Eilat, Israel, all week. Closer to home the Western Swamphen was still near Guidel, Morbihan, France, on 15th and the Least Sandpiper still in the Camargue to at least 14th. Two Ruppell's Vultures at Algeciras, Cádiz, Spain, on 13th are typical occurrences at this time of year, and more records will undoubtedly follow in the coming weeks — though it'll be interesting to see if the White-backed Vulture seen in north-east Spain earlier in the summer also passes through.
Content continues after advertisements