The week at a glance
Easter weekend seemed finally to signal a change as the cool weather and overall lethargy of late March gave way to more settled and, latterly, warmer conditions. With it came the inevitable push of northbound migrants — notably Ospreys as well as large numbers of arriving Willow Warblers, and Ring Ouzel passage rapidly climbing towards its mid-April peak. With a few scarcities sprinkled in for good measure it actually proved a respectable early spring week and, with warm conditions forecast into the coming weekend, the next few days may also prove quite productive.
Rarest report of the week was a Crag Martin seen by a single observer over Bonchurch, Isle of Wight, for less than a minute during the sunny afternoon of 7th. Steve Jones takes up the story:
"At around 2.20pm ... I dropped down from Bonchurch Village Road towards the entrance to the East Dene Field Centre. I looked up and, just above the roof of the centre and in bright sun, I saw a large-looking martin. I looked through bins: basically [it was] very washed out grey top and bottom. Obviously larger than Sand Martin and the underside was plain. I was stumped initially. It was doing a slow sort of leisurely flight, drifting in circles, flapping infrequently. Then it made a sharp turn and fanned its tail. It showed very obvious white on the underside of the tail feathers, forming what I interpreted to be V-shaped wedges. This made me think Crag Martin, but I've not seen that species before. It drifted around in what is a relatively restricted bit of 'airspace' for about 45 seconds, during which it spread its tail once more, again when making a sharp turn. It then drifted north and became obscured by trees which encircle the space, so out of view. I dithered, but then phoned Josh at BirdGuides. He, too, described the white in the tail as 'spots'. I headed up to Bonchurch Shoot then I checked Smugglers Haven, Nansen, the east end of Ventnor Downs and Leeson Road. No sign. Having checked Google Images, several photos show Crag Martin's white tail pattern more as lines than dots, and some appear to merge, creating triangular wedges as I'd seen on 'my' bird. I'm very happy that that's what it was."
Signs of spring included the first Black-winged Stilt of the year arriving at Abbotsbury, Dorset, where it lingered from 3–7th — hopefully the early vanguard of another fruitful summer for the species in the UK. As many as nine Night Herons arrived on the Isles of Scilly after the first report from St Mary's on 2nd — single counts never exceeded three, but there was obvious individual variation with both adult and first-summer birds seen. Away from St Mary's, birds were seen on St Agnes and Tresco.
Content continues after advertisements

Night Heron, St. Mary's, Isles of Scilly (Photo: Joe Pender)
Reports of Hoopoes at two sites in Devon on 2nd preceded a couple of records from the Isles of Scilly — on St Mary's and St Agnes, both on 7th. Tuesday also saw a small arrival of Wrynecks: two were on Skokholm, Pembrokeshire, with another on the Pembrokeshire mainland at Giltar Point, a fourth on Bardsey Island, Gwynedd, and a fifth on St Agnes, Scilly, with news of another at Morwenstow, Cornwall, on Monday. An Alpine Swift was reported over Pegwell Bay, Kent, on 6th and there was belated news of a male Woodchat Shrike at Porthgwarra, Cornwall, on 31 March. A male Serin was at Hemsby, Norfolk, on 3rd, with others in Dorset at Corfe Castle on 4th and Portland Bill on 7th.
Both Scottish Harlequin Ducks continued throughout the week, but it seems we may have bid farewell to the Balranald American Coot — reported as still present on 3rd, there was no sign over the following days. The Co Kerry Black Scoter was still at Rossbeigh on 3rd but there was no sign of the Northumberland bird.

Harlequin Duck, Aberdeen, Aberdeenshire (Photo: Ron McIntyre)
As predicted, the White-billed Diver count off Portsoy crept into double figures this week, with at least 10 seen from RV Gemini Explorer on 4th (though just three were seen from land); another was off Port Skigersta, Lewis, Outer Hebrides, on 6th. Three drake King Eiders were reported, with males off Burghead and Spey Bay on 4th as well as the male returning to the Ythan Estuary on 5–6th. The female remained off Ruddon's Point, Fife. The Wirral's first Surf Scoter continued off Hoylake, while two drakes were in Deer Sound, Orkney, on 2nd; three were seen off Old Colwyn, Conwy, that day with single males continuing in Suffolk and Lothian.

White-billed Divers, Portsoy, Aberdeenshire (Photo: Tim Marshall)
One of the highlights of the week was the discovery of a flock of four Ring-necked Ducks — including three males — at Standlake, Oxon, on 4th. Lingering to 7th, the foursome represent a rare multiple occurrence in a landlocked English county, with a pair even seen mating! The drake in east Norfolk was last seen at Hardley Street on 2nd while females remained in Northamptonshire and Co Sligo and a new male was found at Lough Beg, Londonderry. Five Lesser Scaup were seen, including new birds at Trimley Marshes, Suffolk, on 7th and Castleplunket, Co Roscommon, to 4th.

Mating Ring-necked Ducks in Oxfordshire (Video: Jason Coppock)
The drake American Black Duck was still on Tresco, Scilly, on 6th but was rather overshadowed by arriving summer migrants. A drake American Wigeon was new at Loch of Harray, Orkney, on 7th, with lingering males still in Nottinghamshire and West Yorkshire. Eight Green-winged Teal were also seen nationwide, but the only scarce geese were Black Brants in East Yorkshire and Suffolk (2). Two Cattle Egrets continued to find Dungeness, Kent, to their liking, while Glossy Ibises hung around in Cambridgeshire, Nottinghamshire and Co Waterford.
The white-morph Gyr was seen again on Inishbofin, Co Galway, on 7th and the second-calendar-year White-tailed Eagle — ringed on Mull in June 2014 — continued to show in County Durham, being seen at Westgate, Stanhope and Chapel Fell before 4th. A handful of Rough-legged Buzzards lingered on, with reports from Highland, East Yorkshire, Norfolk (2) and Essex. We carried an impressive 164 Osprey reports during the week, with a noticeable spike on 6th and 7th.

Rough-legged Buzzard, Halvergate Marshes, Norfolk (Photo: Keith Bilverstone)
A Red Grouse on the Isle of May, Fife, from 5–7th was an utterly perplexing record and somewhat upstages last March's male at Flamborough Head.

Red Grouse, Isle of May, Fife (Photo: David Steel)
The Lesser Yellowlegs was still at Rogerstown Estuary, Co Dublin, on 5th. The second-winter American Herring Gull was reported again in Cornwall at St Just on 3rd and Drift on 6th, though it continues to prove fleeting and evade a wider audience. Laughing Gulls remain in Cheshire and Co Cork, the former making visits to Seaforth, Lancs, on 5th and 7th. First-winter Bonaparte's Gulls continue to show well at Radipole Lake, Dorset, and Tramore, Co Waterford, and adults remain at Ormsary, Argyll, and Cardiff, Glamorgan. The latter site also claimed an adult Ring-billed Gull on 7th; first-summer birds were new at Barassie, Ayrshire, on 1st, Pendeen, Cornwall, on 6th and Bantry, Co Cork, on 3–4th. The peak count was of three adults at Sandymount, Co Dublin, on 3rd.

Laughing Gull, New Brighton, Cheshire (Photo: Richard Smith)

Bonaparte's Gull, Radipole Lake RSPB, Dorset (Photo: Lee Fuller)
Ring Ouzel reports rose sharply as the week progressed, with a strong arrival on the Isles of Scilly on 7th suggesting that peak passage is imminent — no doubt next week we will be reporting on birds back at familiar spring haunts. Other arriving migrants included the first wave of Common Cuckoos and a few Nightingales, Common Whitethroats and Reed Warblers. The two Penduline Tits finally moved on from Darts Farm, Devon — last seen on 4th, they called in at Seaton the following day before disappearing. Meanwhile the long-staying Little Bunting was still at Forest Farm, Glamorgan, on 7th.

Ring Ouzel, Crabtree Hill, Gloucestershire (Photo: Lewis Thomson)

Penduline Tit, Darts Farm RSPB, Devon (Photo: Mark Leitch)
Following its discovery last week, a Scarce Tortoiseshell was seen again at Peewit Hill in Felixstowe, Suffolk, on 2nd, while there was belated news of another photographed at Fowlmere RSPB, Cambs, on 21 March. Then, during warm conditions during the afternoon of 7th, a third individual was discovered at Pulborough Brooks, W Sussex. It lingered just long enough to be twitched by a lucky few but disappeared after a couple of hours; the wait for a truly twitchable insect goes on ...

Scarce Tortoiseshell, Felixstowe, Suffolk (Photo: Will Brame)

Scarce Tortoiseshell, Pulborough Brooks RSPB, West Sussex (Photo: Jan-Paul Charteris)
Western Palearctic news
It was a quieter week around the region, with one of the highlights a mini-influx of Semicollared Flycatchers to Romania. Just the country's second was at Vadu on 2nd and it was closely followed by the third at Eforie Sud on 4th. Late news concerned a male Eastern Black Redstart in Gard, France, during late March, and the Asian Desert Warbler was still on Noirmoutier Island, Vendée. The male Wallcreeper remained in Namur, Belgium, to at least 6th, and the Dark-eyed Junco was still at Groningen, Netherlands.

Semicollared Flycatcher, Romania (Photo: Jozsef Szabo/rombird.ro)
Other lingering highlights included the Brown Shrike and Pygmy Cormorant in Catalonia, Spain, and the female Grey Hypocolius still at Ashkelon, Israel. A Masked Booby at Jahra Pools Reserve, Kuwait, on April Fool's Day was a national first.

Grey Hypocolius, Israel (Photo: Yoav Perlman)
Photo of the Week, 1—7 April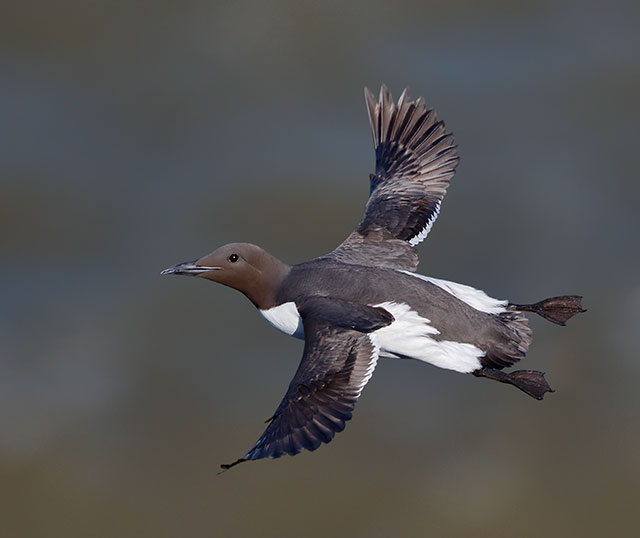 Guillemot, Bempton Cliffs RSPB, East Yorkshire (Photo: Nick Clayton)
Photographing auks in flight is a difficult task, writes Steve Young — so often they race past with whirring wings, heading for cliffs, or banking at the last minute just as the AF sensor shoots off to the sea in the background...
But Nick Clayton's shot of a flying Guillemot shows that it can be done. Beautiful light, perfect exposure showing detail in the dark chocolate brown head and the white breast, a perfect pose with wings spread and the head turned towards the photographer makes this an image well worthy of POTW. A highlight in the eye and a lovely background rounds off this superb shot and makes me want to head for Bempton tomorrow!
Nick used a 300mm lens plus a 1.4× converter, and to freeze all the movement shot at 1/8000th second, at f4. We will no doubt see plenty of auk shots during the coming months but this one sets the standard early, and is going to be very hard to beat. Congratulations to Nick on his superb winning shot.
Other notable images

Lesser Sand Plover, Thailand (Photo: Dave Williams)

Marsh Harrier, Minsmere RSPB, Suffolk (Photo: Harry Read)

Great Crested Grebe, undisclosed site, Lancashire (Photo: Brian Rafferty)

Great Crested Grebe, undisclosed site, Lancashire (Photo: Martin Jump)

Jay, Wayoh Reservoir, Lancashire (Photo: John Barlow)

Goldcrest, Stourbridge, West Midlands (Photo: Betsy Digger)

Pheasant, Lackford, Suffolk (Photo: Jamie MacArthur)

Bee-eater, Greece (Photo: Jamie MacArthur)

Stonechat, Hengistbury Head, Dorset (Photo: Joe)

Kestrel, Keil Point, Argyll (Photo: Fausto Riccioni)

Steller's Eider, Norway (Photo: Jon Mercer)

Hawfinch, undisclosed site, Gloucestershire (Photo: Lewis Thomson)

Black-headed Gull, undisclosed site, Suffolk (Photo: Jon Evans)

Stone Curlew, Canary Islands (Photo: Michael John O' Mahony)