I woke just before 06:00 on the morning of 20 July and decided to have a quick look at my favourite local birding spot, Tacumshin Lake, where almost anything is possible. I had to be back by 09:00 so didn't waste time with breakfast or even coffee, I just grabbed my stuff and sneaked out, anxious not to wake the kids and risk having to abandon my impromptu plan.
The incredibly warm weather of previous days lent a continental air to the 20-minute drive, which in turn got me thinking about what I might find at this fabulous spot. Maybe there would be a Caspian Tern standing on the lake shore, but I might have to settle for an early juvenile Yellow-legged Gull, or less, especially as I had very limited time.
My sense of anticipation diminished as I got closer to the lake and found that it was enveloped in thick fog, so thick I couldn't even see the lake from the car park! For a few minutes I contemplated just turning around and heading home, but I thought I'd give it half an hour or so, in case the fog would burn off quickly. While I waited I could hear the usual cacophony of Black-tailed Godwits, Lapwings and Black-headed Gulls coming from just beyond the expanse of rushes at the east end of the lake. A Wood Sandpiper – the first of the season – called, and I was surprised to hear a juvenile Roseate Tern, as they do not usually come to this part of the lake.
At around 07:00 the fog began to clear so I made my way out through the rushes, taking it very slowly and quietly as I didn't want to spook the gathering of birds before at least getting a look at what was there. On the way I had great views of a juvenile Little Egret that was so intent on fishing that it didn't notice me, as well as some very showy juvenile Sedge Warblers. As I emerged from the rushes I noticed a small- to medium-sized wader flying from my right but couldn't immediately put a name, or even a family to it. It landed on the mud with its back to me and as I registered its plover-like shape, long legs and the faded buff hindneck a bolt of adrenaline shot through me – it was a sand plover!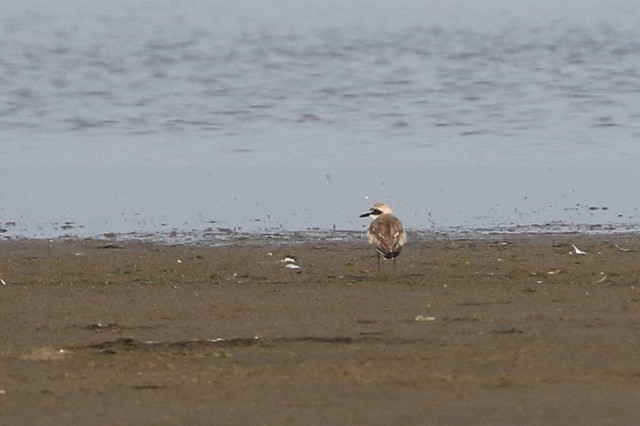 Greater Sand Plover, Tacumshin, Co Wexford, 20 July 2016 (Photo: Killian Mullarney)
I wasn't expecting this. It was over 100 m from me (at the time I estimated 80 m, but I measured it the following day and it was 130 m), so I calmly switched to using my scope. After several seconds it turned its head to one side, revealing an attractive black mask and an impressively long, weighty bill. I was looking at Ireland's first Greater Sand Plover, a bird that I and my birding peers have been talking about – trying to predict when and where we might find one – for over 30 years!
After quickly securing a dozen or so distant record shots (a strategy that proved crucial when some friends and I found a short-staying Semipalmated Plover at Tacumshin a couple of months ago), I watched the bird, standing all alone on the firm muddy lakeshore. After a minute or two it became active, and I got my first view of the beautiful, clearly demarcated pastel-orange breast-band. It was a fabulous-looking bird and I felt incredibly privileged to have had the good fortune to connect with it. The bird was alert and on a few occasions it looked as if it might go, so I hardly took my eyes off it to sketch, or take notes, committing as much as possible to memory.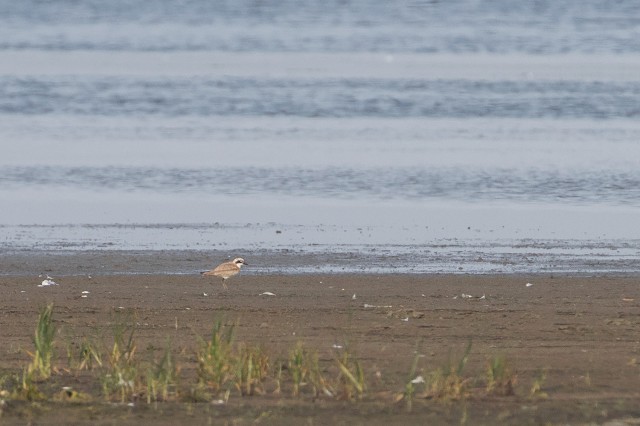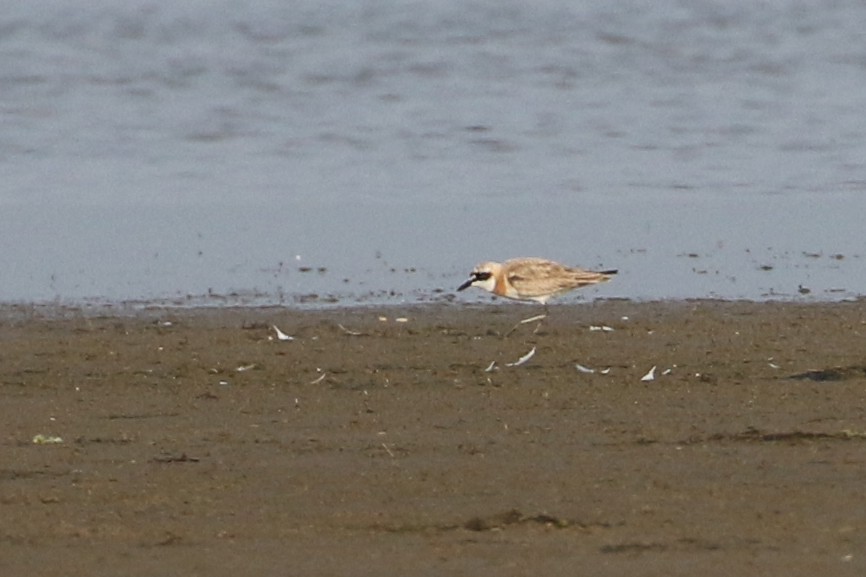 Greater Sand Plover, Tacumshin, Co Wexford, 20 July 2016 (Photos: Killian Mullarney)
Almost exactly 30 minutes after I first saw it – and alas just five minutes before the arrival of the first local birder – the bird took off for no apparent reason and flew away in a NNW trajectory, climbing steadily and with no deviation, until I lost it as a dot in my binoculars. I sensed that it really was leaving, and could offer little hope to those who were already on their way to Wexford.
In spite of a fair bit of effort put in at all likely spots over the following few days there has been no sign of the bird since, but a Pacific Golden Plover that evening, a Pectoral Sandpiper two days later, a first-summer Western Sandpiper on 23rd followed by a White-rumped Sandpiper on 24th and an adult summer Semipalmated Plover on 26th ensured that no-one went home empty-handed!
I wonder how many other birds have come and gone at this site, that no-one witnessed?