After a whole summer of seabird fieldwork, my partner Ella and I decided to go on a well-deserved holiday exploring the west coast of Scotland – an area I barely knew, but was eager to visit.
After spending our first night at Loch Lomond, we decided to make Skye our next destination. However, we found that I'd left the tent poles behind – not ideal when you have a two-week camping trip ahead! After spending the first night wild "sleeping" (luckily without rain), we sourced another tent in Oban (where we were greeted by a few Black Guillemots in the harbour) and set off towards Skye. The weather looked dreadful for the whole week, with high winds and non-stop rain. Our mood, as well as the birding, was quite poor because of it. After 48 hours on Skye and the surrounding areas, we hadn't seen any eagles nor divers of any species, and living out of a tent was quite miserable too!
One of our main targets of the trip was a species covered in fur rather than feathers. We sought good otter encounters as Ella was yet to have good views of one, and so we spent most of our rainy days visiting bays and rocky shores. We had read online that Milovaig harbour was a good spot for them and we decided to visit it on the evening of the 27th. As usual, rain was pouring down, although it was a windless evening for a change.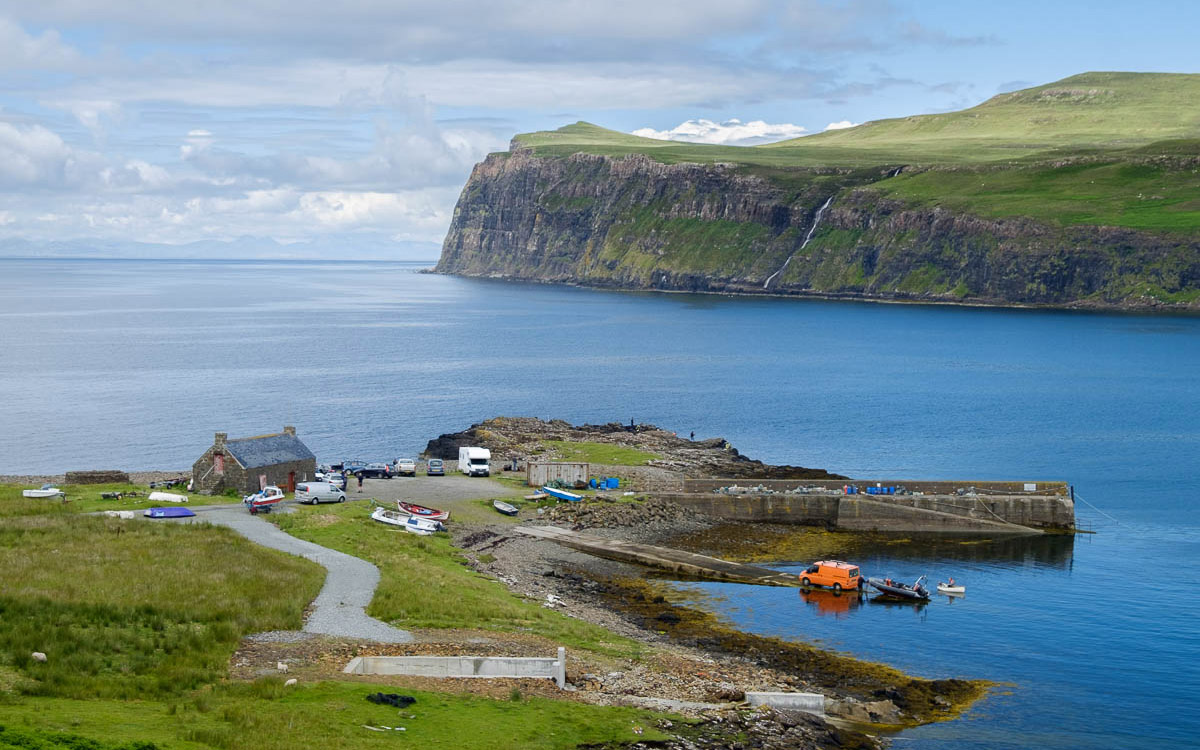 Milovaig is one of the most westerly points of the Isle of Skye. The American Cliff Swallow spent much of its time around the pier (Chris Downer / geograph.org).
We explored the pier and surrounding rocky shores, but there were no otters to be found. We did, however, see the first diver of the trip in the form of a stunning, summer-plumage Great Northern in the bay. Good numbers of Northern Wheatears were also around.
As the rain was getting heavier, we decided to call it a day and headed towards the car, but I decided to have one last look at the diver from the pier, as it's not a species I get to see often. It was then when Ella mentioned there was something that looked like a Sand Martin flying around the harbour. I said it would probably be a young Swallow or House Martin, but had a look at it anyway. The bird was flying just a few metres from us and, as soon as I got onto it, alarm bells started ringing in my head. It had a rusty-coloured rump.
"It can't be one," I thought to myself. Despite having never seen one before, I quickly realised the bird looked like an American Cliff Swallow!
Content continues after advertisements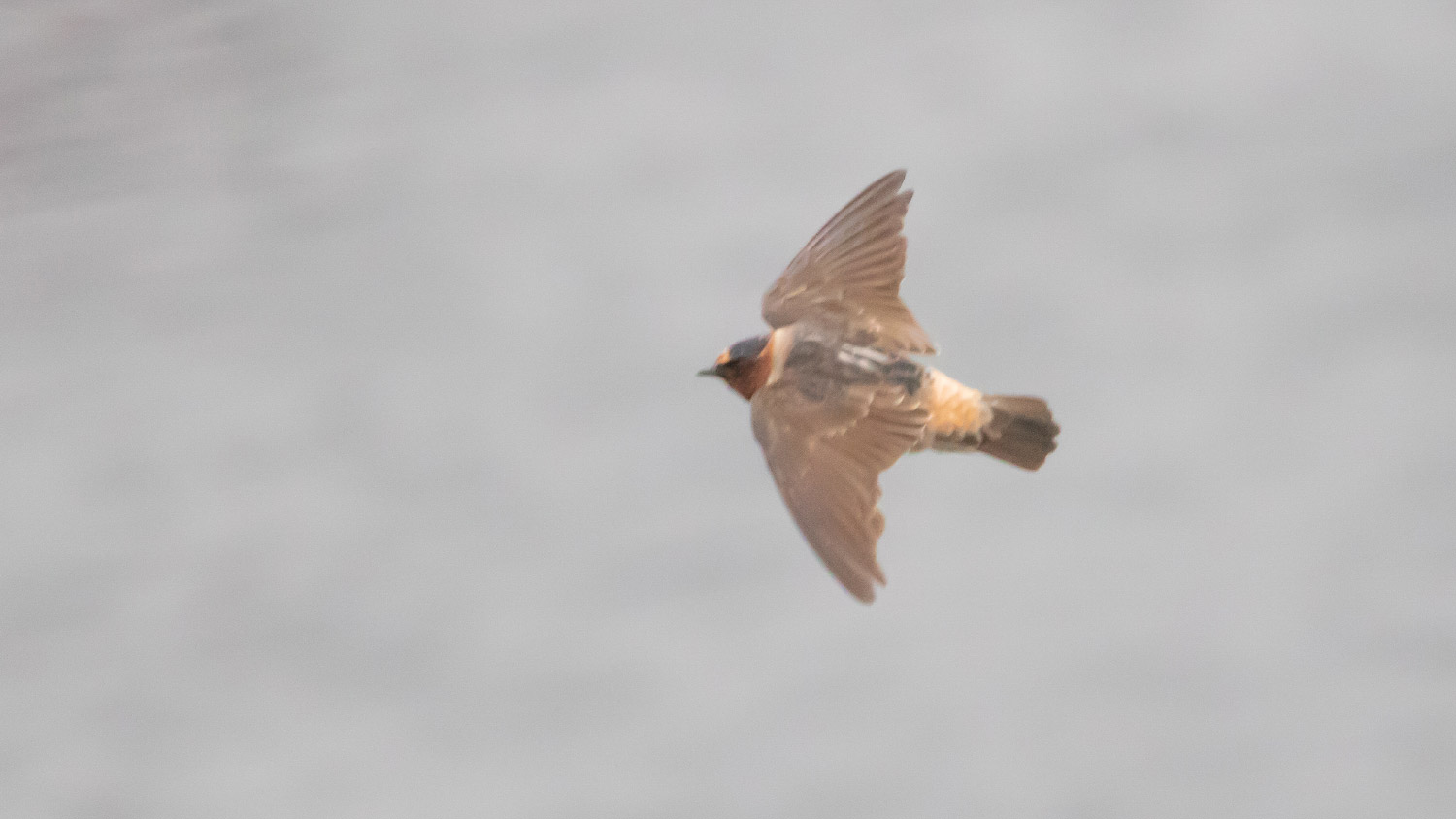 The rusty-coloured rump, square tail, chestnut throat and isolated dark blue cap easily identified the bird as an American Cliff Swallow (Sam Langlois).
I told Ella to keep an eye on it while I proceeded to sprint to the car and grab the camera. The bird was still there when I got back, and I quickly managed to get a few pictures. A quick look at the camera screen confirmed the identification beyond doubt – I started shaking with excitement and screaming "it's a bloody cliff swallow!" [note: language might've been a little stronger at the time!].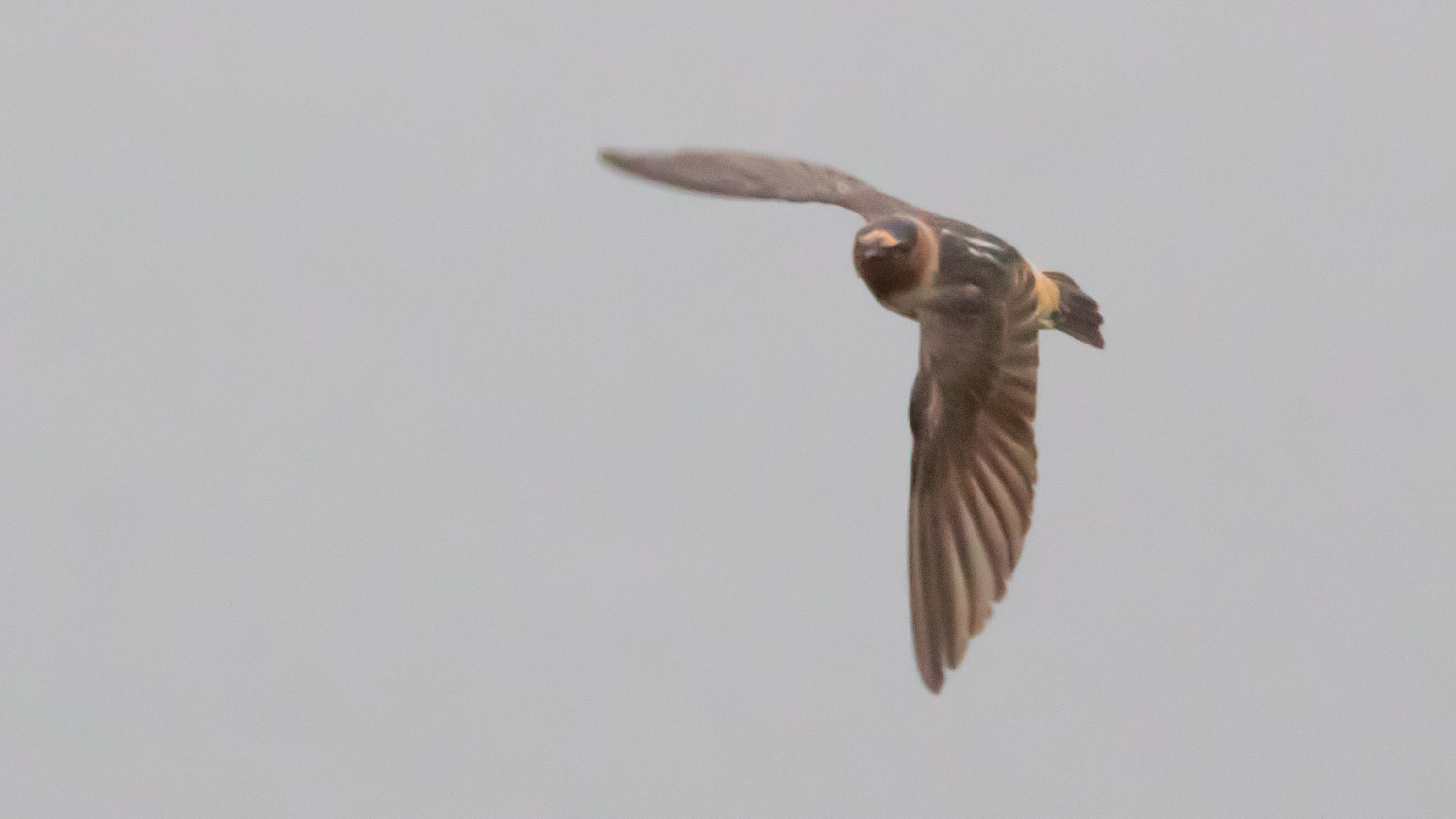 The bird showed extremely well in the short time Sam and Ella watched it, often flying around their heads at the pier (Sam Langlois).
We sheltered in the car from the rain and put the news out as quickly as possible before heading back out to enjoy the bird. Within 20 minutes, local birder Andy Stables showed up at the pier with the bird still showing brilliantly well and he was able to enjoy it too. After a further 15 minutes, the bird headed towards an area of trees and was never seen again.
What a fascinating experience it was. This little hirundine had just crossed the Atlantic Ocean and had found itself flying around a tiny Highland harbour. It was the only swallow in the area, and it kept flying back and forth over our heads and between the pier railings. You only get a handful of magical birding moments in your life and I am pretty sure that was one of mine. I could never have imagined myself finding a first for Scotland before – and I doubt it will happen again!
Also a video from last night filmed by @EllaLillyy. Cliff swallow insect hunting a metre away from us. So surreal! #mega #rarebirds pic.twitter.com/jSECyFFkIX

— Sammy (@samuellanglois1) August 28, 2019